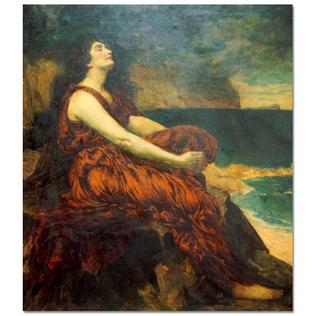 Cornish by A.S.D. Smith 'Caradar' 1934
Edited by E.G.R. Hooper 'Talek' 1968
Re-edited by Ian Jackson 2023
Originally the translation was spelled in Unified Cornish (UC). This has been transcribed into Kernowek Standard (KS). Caradar's archaized high diction has been retained. It is well suited to reflect the style of the Welsh original. A few substitutions have been made where revived Cornish grammar / vocabulary has changed since Caradar's day. Double m and double n are used only where pre-occlusion is permissible. Devoicing of sonorants l, n, r as a consequence of the development s > h in subjunctives and comparatives / superlatives has been left unmarked.
Bendigeidfrân mab Llŷr o mytern cùrunys wàr an enys-ma, uhelhës dell o gans cùrun Loundres. Hag unn dohajëdh yth o va in Harddlech in Ardudwy, in lÿs esa dhodho. Hag y fowns esedhys wàr garrek Harddlech, a-ugh an mor, ha ganso y vroder Manawydan mab Llŷr, ha'y dhew vroder unnvam Nisien hag Efnisien, ha wàr aga lergh tus uhel, dell gotha dhe vytern. Y dhew vroder unnvam o mebyon dhe Euroswydd dyworth y vamm Penarddun, myrgh Beli mab Mynogan. An eyl a'n wesyon-ma, gwas dâ o: ev a wre cres inter an dhew lu pàn vedhens serrys meur; hèn o Nisien. Y gela a wre strif inter y dhew vroder, pàn vedhens moyha aga herensa.
Hag y esedhys indella, y a welas tredhek gorhal ow tos a Dhyhow Wordhon, hag ow nes'he dhedha yn snell, ha'n gwyns adrÿv dhedha.
"My a wel lestry in hons," yn medh an mytern, "hag yn hardh ow tos tro ha'n tir. Erhowgh dhe dus an lÿs mayth omwyscons in arvow ha mos dhe viras pan towl a's teves."
An dus a wrug omwysca ha mos in nans dhedha. Hag y pàn welsons an lestry o ogas, diogel êns na welsens bythqweth gorholyon gwell taclys agessa y. Yth esa warnedha banerow teg, gwyw, fin, a baly. Hag ot, ena yth esa onen a'n lestry ow mos arâg an re erel, hag y whelsons costen drehevys a-ugh flûr an gorhal, ha bleyn an gosten wàr vàn in tôkyn a gres. Ha'n dus a wrug nes'he may halsons cafos omgows. Ena y a worras in mes scathow ha dos tro ha'n tir ha dynerhy an mytern rag an mytern a's clêwas a'n tyller mayth esa, wàr garrek uhel a-ugh aga fenn.
"Duw re'gas sowenno," yn medh ev, "ha bedhowgh wolcùm: pyw a bew an lu lestry-ma, ha pyw yw penn warnedha?"
"Arlùth," yn medhans y, "yma omma Matholwch mytern Wordhen hag ev a bew an lestry." "Pandra vynn ev? A vynn ev dos dhe'n tir?"
"Na vynn, Arlùth," yn medhans, "marnas bos grauntys y negys. Ev yw cannas dhis."
"Pÿth yw an negys?" yn medh an mytern.
"Ev a vynn omunnya genes dre dhemedhyans, Arlùth," yn medhans y, "rag govyn Branwen myrgh Llŷr y teuth, ha mars yw dâ genes, ev a vynn kelmy warbarth Enys an Re Galosek ha Wordhen, may fowns dhe greffa."
"In ewn gwir," yn medh ev, "gwrêns ev dos dhe'n tir, ha cùssul ny a gemmer wàr henna." An gorthyp-na êth bys dhodho.
"My â yn lowen," yn medh ev.
Ev a dheuth dhe'n tir ha lowen yth esens orto, ha meur o an lu i'n lÿs an nos-na, inter y dus ev ha tus an lÿs. Ha dyson ternos y a omgùssulyas intredha, hag y feu ervirys gansa a ry Branwen dhe Matholwch. Ha hy o onen a'n teyr fenn-arlodhes i'n enys-ma. An tecka moren i'n bÿs o hy.
Hag Aberffraw a veu dêwysys avell an le may whrussa ev cùsca gensy, ha hy ow tallath hy hens priasek a'n le-na. Hag yth êth an luyow-na wor'tu hag Aberffraw: Matholwch ha'y luyow i'n lestry ha Bendigeidfrân ha'y lu ev wàr an tir, erna dheuthons bys in Aberffraw. Hag in Aberffraw y talathsons an gool hag esedha: Mytern Enys an Re Galosek ha Manawydan mab Llŷr wàr an eyl tu, ha Matholwch wàr an tu aral, ha Branwen myrgh Llŷr ganso. Nyns esens in chy lemen in tyldys. Bythqweth ny veu chy a alla sensy Bendigeidfrân. Hag y talathsons an gool, hag eva ha kêwsel. Ha pàn welsons bos gwell dhedha kemeres hun ages gôlya, dhe gùsca yth ethons. Ha'n nos-na y cùscas Matholwch gans Branwen.
Ha ternos sevel a wrug tus an lÿs in kettep onen; ha'n sodhogyon a dhalathas kêwsel adro dhe gafos erberow inter an vergh ha'n pajys mergh. Hag y a's rannas in pùb erow bys dhe'n mor. Hag unn jëdh awotta Efnisien, an den a gara strif hag a veu campollys awartha, ow happya dos wàr woscovva mergh Matholwch ha govyn ev a wrug pyw a bewo an vergh.
"Mergh Matholwch, Mytern Wordhen yw an re-ma," yn medhans.
"Pÿth esons y ow cul omma?" yn medh ev.
"Yma mytern Wordhen omma, hag ev a gùscas gans Branwen dha whor. Y vergh yw an re-ma."
"Hag indelma y whrussons gul dhe voren mar dhâ avell honna, ow whor vy, ha'y ry heb ow hummyas? Ny alsens gorra despît moy warnaf," yn medh ev.
Ha wàr henna ev êth dhe'n vergh ha trehy aga gwelvow ogas dhe'n dens, ha'ga dywscovarn ogas dhe'n penn, ha reun aga lostow ogas dhe'n keyn; le may hylly ev settya dalhen in crohen aga dewlagas, ev a trohas bys i'n ascorn kyn fe: hag indella ev a wrug dyfâcya an vergh ma na dalsons tra vÿth oll.
An whedhel a dheuth dhe Matholwch fatell veu y vergh evredhek ha mans ma na allas cafos prow anedha.
"In gwir, Arlùth," yn medh onen, "y a wrug dha dhespîtya, hag indella y a vynnas gul."
"Re'm enef, marth yw genef mar mynnons ow despîtya, y dhe ry dhymm moren mar dhâ, genys mar uhel, ha hy kerys dell yw gans hy henedhel."
"Arlùth," yn medh an aral, "ty a wra gweles mars yw in ketelma. Ha nyns eus tra dhe wul, lemen dewheles dhe'n lestry." Ha wàr henna, whilas y lestry ev a wrug.
An nowodhow a dheuth dhe Bendigeidfrân bos Matholwch ow casa an lÿs heb govyn ha heb cummyas. Hag yth êth canasow ha govyn orto prag y whrug indella. Ha'n ganasow o Iddig mab Anarawd ha Hefeydd Hir. An dus-ma a'n hedhas hag a wovynnas orto pÿth o wàr y dowl ha prag yth esa ow mos dhe ves.
"In ewn gwir," yn medh ev, "mar cothfen, ny dhothyen omma. Despîtys yn tien my re beu. Den vÿth ny'n jeva gweth dyghtyans ès dell y'm beu omma. Hag yma marth dhymm a unn dra."
"Pÿth yw henna?" yn medhans y.
"Bos rës dhymm Branwen myrgh Llŷr, onen a'n teyr fenn-arlodhes i'n enys-ma, ha hy myrgh dhe Vytern Enys an Re Galosek, ha my ow cùsca gensy, hag ow despîtya vy. Ha marth yw genef na veu gwrës an despît kyns ès ry dhymm moren mar dhâ avell honna."
"In gwir, Arlùth, nyns o a vodh an den yw perhen an lÿs, na whath nyns o a vodh nagonen a'y gùssulyadoryon, pàn veu gwrës dhys an despît-na; ha kynth yw ty re beu despîtys, dhe voy whath yma an mewl dhe Bendigeidfrân rag an cast dyflas-na."
"Eâ," yn medh ev, "henna a gresaf. Bytegyns ny yll ev kemeres adhyworthyf an bysmêr anodho." An dus-na dhewhelys gans an gorthyp-na bys i'n tyller mayth esa Bendigeidfrân ha derivas orto an gorthyp a lavarsa Matholwch.
"In gwir," yn medh ev, "yth on ny dyswrës ev mars ella serrys dhe ves. Na ny'n gesyn."
"Eâ, Arlùth," yn medhans y, "gwra danvon wàr y lergh canasow arta."
"Aga danvon my a wra," yn medh ev. "Sevowgh in bàn, a Manawydan mab Llŷr, ha Hefeydd Hir, hag Unig Glew Ysgwydd, hag ewgh wàr y lergh, ha orto gwrewgh why a'n jevyth avell pris enor gwelen arhans a vÿdh maga tew avell y vÿs byhan ha mar uhel avello ev y honen, ha plât owr mar ledan avell y fâss ev; ha derivowgh orto py par den a wrug an drog-ober, ha bos erbynn ow bolùnjeth y feu henna gwrës, ha bos broder unnvam dhymm a'n gwrug, ma nag yw êsy dhymm y ladha na'y dhystrêwy; ha gwrêns ev dos er ow fynn, ha my a vynn gul cres ganso in neb maner pynag a vynno." An ganasow êth warlergh Matholwch ha derivas an cows-na yn cuv hag ev a woslowas orta.
"A dus," yn medh ev, "my a wra kemeres cùssul." Ev êth dh'y gonsel ha hòm yw an gùssul a gemersons: mar sconyens hemma, y cafsens, heb mar, mewl a via moy ages attal a via kemmys. Hag ev a erviras degemeres henna. Ha dhe'n lÿs y teuthons in cres.
Ha'n tyldys ha'n pavylyons a veu darbarys kepar ha hel; hag y êth ha debry. Ha kepar dell esethsons worth dallath an gool, in ketella yth esethsons ena. Ha dallath kêwsel a wrug Matholwch orth Bendigeidfrân. Hag awotta orth breus Bendigeidfrân, dyvêwnans ha dyspyrys o an cows a'n jeva gans Matholwch, hag ev prest yn lowen kyns. Hag ev a wrug tyby bos tristans dhe'n arlùth awos byhander an attal a'n jeva rag an camm.
"A dhen," yn medh Bendigeidfrân, "nyns osta cowsor mar dhâ dell veusta kyns. Ha henna mars yw awos byhander an attal, ty a wra y gressya myns a vynny, hag avorow my a vynn tylly dha vergh dhys."
"Arlùth," yn medh ev, "Duw re dallo dhis."
"My a vynn moghhe dha attal in dewhelyans dhis," yn medh Bendigeidfrân. "My a vynn ry dhys caltor; ha gnas an galtor yw, mar pe ledhys onen a'th tus hedhyw, ha'y dêwlel i'n galtor, y fÿdh ev maga tâ avorow dell o va pàn o gwella y jer, saw unsel na vÿdh dhodho y lavar." Hag ev a wodhya meur ras dhodho a henna, ha lowena brâs a'n kemeras awos an dra.
Ha ternos y feu tyllys dhodho an vergh, hedre ve an vergh temprys ow turya. Hag alena ev a'n hùmbroncas dhe unn geverang aral, ha tylly dhodho ebylly, bys pàn veu tyllys oll anedha. Hag awos henna an geverang-na a veu gelwys Talebolion alena rag.
Ha'n nessa nos y whrussons esedha warbarth. "Arlùth," yn medh Matholwch, "a ble teuth dhys an galtor a ressys dhymmo vy?"
"Y teuth dhymm," yn medh ev, "dyworth den a veu i'th welas jy. Ha ny wòn nag o ena y whrug y gafos."
"Pyw o henna?" yn medh ev.
"Llasar Llaes Gyfnewid," yn medh ev. "Ha henna a dheuth omma adhia Wordhen, ha Cymidei Cymeinfoll y wreg ganso, hag y dienkys a'n Chy Horn in Wordhen pàn o va gwrës yn whynn i'ga herhyn; ha diank alena a wrussons y. Hag yma marth dhymm na wodhes sy tra vÿth in y gever."
"Gòn yn tâ, Arlùth," yn medh ev. "Ha kemmys dell wòn, my a'n derif dhis:-
Ow helghya yth esen unn jëdh in Wordhen wàr benn meneth a-ugh logh o gelwys Logh an Galtor. Ha my a welas den brâs, melengogh y wols, ow tos a'n logh ha caltor wàr y geyn. Ha den uthyk brâs o va, hager y dremyn garow, ha gwreg wàr y lergh; ha mars o va brâs, brâssa vÿth dewgemmys o y wreg. Hag y a wrug nes'he dhymm ha'm dynerhy.
'Dhe wir,' y leverys vy, 'pandra wher dhywgh?'
'Ot omma'n pÿth a wher dhyn, Arlùth,' yn medh ev. 'Kyn penn dyw seythen ha mis an wreg-ma a wra omdhon, ha'n mab a vÿdh genys anedhy wàr dhyweth an dyw seythen ha mis a vÿdh gwerrour cowl-ervys.'
My a's degemeras ha'ga gwitha ha'ga mentêna; hag y fowns genef bledhen. An vledhen-na yth esens genef heb avy. Alena rag yth o croffolas er ow fynn. Ha kyn penn an peswora mis y a wrug aga honen dhe vos kesys, na ny's teva wolcùm i'n wlas, ow cul drog-oberow, ow tyscresya pobel, ha grêvya gwer dhâ ha gwrageth dâ. Alena rag y sordyas ow thus i'm kerhyn ha'm pesy a'ga danvon dhe ves, ha dêwys intredha y ha'm gwlas ow honen. Y whovynnys orth cùssulyoryon ow gwlas pandra dal bos gwrës orta y. Ny vynsens mos a'ga bodh: na ny yllys aga honstrîna dhe omdenna a'ga anvoth, dre omlath. Hag ena i'n consel pryva y feu têwlys genen dhe wruthyl stevel yn tien a horn. Ha pàn o cowlwrës an stevel, pùb gov in Wordhen neb a'n jeva gevel ha morthol, a veu gelwys dhy. Hag y a wrug berna golosk bys in penn an stevel, ha'ga frovia – an wreg, ha'y gour, ha'y flehes – gans pâls kig ha dewas. Ha pàn wodhyens y dhe vos medhow, y talathsons gorra tan i'n golosk adro dhe'n stevel, ha whetha an megynow a veu gorrys adro dhe'n chy – unn den ow conys y dhew vegynow – ha dallath whetha an megynow bys may feu an chy ow tywy yn pòr wynn i'ga herhyn. Hag ena y feu omgùssulya inter an re-na esa in perveth leur an stevel; ha'n gour a wortas ernag o an fosow horn yn whynn. Hag awos an tomder meur, ev a herdhyas an fos gans y scoodh ha'y scattya alês, ha diank dredhy, ha'y wreg wàr y lergh. Ha den vÿth ny wrug scappya alena marnas ev ha'y wreg.
"Hag ena, Arlùth," yn medh Matholwch dhe Bendigeidfrân, "y teuth ev dres an mor dhyso jy, dhymm dell hevel."
"Heb mar vÿth, y teuth omma," yn medh ev, "ha ry an galtor dhymm."
"Fatell wrussys sy aga degemeres, Arlùth?"
"My a's rannas a bùb tu i'm gwlascor, hag ymowns y lies, owth omsevel in pùb tyller hag ow crefhe an le may mowns gans tus hag arvow an gwella bythqweth re welas den."
Omdhydhana heb hedhy a wrussons y an nos-na maga pell dell o dâ gansa, gans ilow ha gool. Ha pàn welsons bos gwell dhedha mos cùsca ages esedha pella, dhe gùsca yth ethons. Hag indella an gool-na êth in rag gans lowena. Ha pàn o due, y whrug Matholwch dallath an hens wor'tu ha Wordhen ha ganso Branwen. Yth ethons mes a Abermenei, tredhek gorhal, hag y teuthons bys in Wordhen. In Wordhen yth o lowena meur orta. Ny wrug unn arlùth nag arlodhes mos dhe weles Branwen na ros hy dhedha delgh po bysow, po tegyn rial dhe witha ha trèm varthys yth o aga gweles ow mos in mes a'n lÿs. Hag indella hy a spênas an vledhen-na, meur hy reouta, yn tien lowenek, ha gensy enor ha cowetha. Ena yth happyas hy dhe vos gyllys gans flogh. Ha wosa bos an termyn ordnys, mab a veu genys dhedhy. An hanow a veu gorrys wàr an mab o Gwern mab Matholwch; hag y a wrug gorra an mab dhe bos megys gans mammeth in unn tyller mayth esa an gwella tus in Wordhen.
Ena i'n nessa bledhen, awotta kedrynn ow sordya in Wordhen, awos an bysmêr a gafsa Matholwch in Kembra, ha'n prat dyflas a veu dhodho gwrës i'n mater a'n vergh. Kefrÿs y vreder vêthryn ha'y nessevyn a wodhya dhodho blam anodho; na ny wrussons keles an dra. Hag awos an sordyans, ev ny'n jeva cres vÿth oll dyworta, erna wrella diala an bysmêr. Ha hèm o an dial a gemersons: châcya Branwen mes a'n keth chambour mayth o hy ganso, ha gul dhedhy pobas i'n lÿs; ha gul dhe'n kigor, wosa ev dhe drehy an kig, dos ha ry dhedhy whaff wàr hy scovarn pùb dëdh. Hag indella y feu gwrës hy hessydhyans.
"In gwir, Arlùth," yn medh y dus dhe Matholwch, "dyfen lemmyn orth an gorholyon ha'n scathow, brâs ha byhan, ma nag ellons dhe Gembra; ha'n re-na a dheffo a Gembra, aga frysonya omma gwra, ma na dhewhellons ha dolos an dra-ma." Hag in ketella y feu ervirys.
Ha nyns o le ès teyr bledhen may fowns indella. Hag ena maga trojen a wrug Branwen wàr benn hy new toos, ha desky dhedhy kêwsel: ha hy a leverys dhe'n edhen py par den o hy broder, may halla don dhodho lyther adro dhe'n galar ha'n fowt bry a wodhevy hy. Ha'n lyther a veu kelmys orth penn askel an edhen, ha hy a veu danvenys wor'tu ha Kembra. Ha'n edhen a dheuth dhe'n enys-ma, ha cafos Bendigeidfrân in Caer Seint in Arfon, hag ev ena in mesk y gùssulyadoryon; ha hy a wrug dieskyna wàr y scoodh, ha cryhy hy fluv; ena an lyther a veu gwelys, ha'n edhen a veu aswonys avell onen re bia mehys in mesk tus.
Hag ena ev a gemeras an lyther ha'y viras. Ha pàn o redys an lyther, govyjyon brâs a'n kemeras a wothfos kemmys anken a's teva Branwen. Hag alena y talathas danvon canasow rag cùntell warbarth tus oll an enys-ma. Hag yth erhys may teffa dhodho levy cowal a dus seyth ugans ha peswardhek keverang, hag ev y honen a wrug kyny dhedha adro dhe'n galar a wodhevy y whor. Hag ena y a gemeras cùssul. Ha'ga hùssul o mayth ellons dhe Wordhen, ha gasa seyth den avell hùmbrynkysy omma, ha Cradawg mab Brân in penn, gans aga seyth marhak. An seyth den o Cradawg mab Brân, ha Hefeydd Hir, hag Unig Glew Ysgwydd, hag Iddig mab Erfyll, hag Wlch Minasgwrn, ha Llashar mab Llaesar Llaesgyngwyd, ha Pendaran Dyfed, hag ev o gwas yonk i'ga herwyth. An seyth-na a drigas avell seyth pensodhak rag gwitha wàr an enys-ma, ha Cradawg mab Brân avell an kensa warnedha.
Bendigeidfrân, ha'n nyver a gwesyon anodho, a wrug golya tro ha Wordhen, ha'n mor nyns o brâs, hag yth êth ena wàr droos. Nyns o lemen dew awan, Lli hag Archan gelwys. Ha wosa henna an mor a omlêsas, ow lenky an gwlascorow. Hag ena ev a gerdhas, ha'y venestrouthy wàr y geyn in kettep penn, ha dos dhe dir Wordhen.
Hag unn jëdh yth esa bugeleth mogh Matholwch ow qwitha aga mogh ryb an mor. Hag awos an pÿth a welsons wàr an mor, y a dheuth dhe Matholwch.
"Arlùth," yn medhans y, "yma genen nowodhow marthys: coos re welsyn wàr an mor, in tyller na welsyn prenn."
"Marthusy yth yw henna," yn medh ev. "Nyns eus den vÿth omma a wothfo pÿth yw an dra-ma marnas Branwen. Govynnowgh orty hy."
Yth êth canasow dhe Branwen. "Arlodhes," yn medhans, "pÿth a dybyth yw henna?"
"Kyn na viv arlodhes," yn medh hy, "my a wor pÿth yw henna. Tus a Enys an Re Galosek yns y, hag ow tos adreus wosa clêwes son a'm galar ha'm fowt bry."
"Pÿth yw an coos yw gwelys wàr an mor?" yn medhans.
"Gwernow ha dêlyow," yn medh hy.
"Ogh!" yn medhans. "Pÿth o an meneth o gwelys orth tenewen an lestry?"
"Bendigeidfrân ow broder o henna," yn medh hy, "ow tos wàr droos. Nyns eus lester vÿth a'n senso."
"Pÿth yw an crib uhel ha'n logh a bùb tu dhe'n crib?"
"Ev yw," yn medh hy. "Hag ev ow miras orth an enys-ma, serrys yw. Y dhewlagas a bùb tu dh'y frigow yw an dhyw logh a bùb tu dhe'n crib."
Hag ena a doth men y feu cùntellys tus arvow Wordhen ha glannow an mor in kettep poll, hag omgùssulya a wrussons.
"Arlùth," yn medh y uheloryon dhe Matholwch, "nyns eus cùssul ma's omdenna dres Llinon ha gasa Llinon intredhos sy hag ev, ha terry an pons usy wàr an awan. Hag yma tennveyn in goles an awan; ny yll na gorhal na scath mos dresta."
Y a wrug omdenna adreus an awan ha terry an pons. Bendigeidfrân a dheuth dhe'n tir, ha'y lestry ganso, tro ha glan an awan.
"Arlùth," yn medh y dus uhel, "ty a wor gnas an awan; ny yll den vÿth mos dredhy, ha nyns eus pons warnedhy: pÿth yw dha gùssul worth an pons?" yn medhans.
"Cùssul nyns eus," yn medh ev, "lemen neb a vo pentern, ev bedhens pons. My a vÿdh pons," yn medh ev. Hag i'n eur-na y feu leverys an lavar-na kensa hag yma'n lavar coth godhvedhys whath. Hag ena wosa ev dhe wrowedha adreus an awan, clojow a veu têwlys warnodho, hag yth êth y luyow ev dresto adreus.
Gans henna hag ev ow sevel a'y sav, awotta canasow Matholwch ow tos dhodho ha'y dynerhy, ha kêwsel orto abarth Matholwch y gar ha derivas a'y vodh dâ ev ny wrussa y hedhes tra vÿth marnas dâ. "Hag y whra Matholwch ry revaneth Wordhen dhe Wern mab Matholwch, dha noy dha honen, mab dha whor, ha'y worra in stallacyon adhyragos sy, in attal dhe'n camm ha'n despît a veu gwrës dhe Branwen. Hag in le may mynny, pò omma, pò in Enys an Re Galosek, ty gwith ha mentên Matholwch."
Yn medh Bendigeidfrân, "In ewn gwir, a ny allaf vu ow honen cafos an revaneth? Ena par hap y kemeraf cùssul worth agas negys. Alemma rag bys i'n eur-na pàn dheffo neppÿth gwell, gorthyp ny'gas bÿdh dyworthyf."
"In gwir," yn medhans y, "an gwella gorthyp a gyffyn, dhyso jy ny a'n deg ha ty gorta agan negys ny."
"Gortaf," yn medh ev, "mar tewgh yn scon."
An ganasow êth in rag ha dos dhe Matholwch. "Arlùth," yn medhans, "darbar gorthyp a vo gwell dhe Bendigeidfrân. Ny vynna goslowes màn orth an gorthyp o degys genen dhodho."
"A dus," yn medh Matholwch, "pÿth yw dhymm cùssul dhe wruthyl?"
"Arlùth," yn medhans, "nyns eus dhys cùssul saw onen. Bythqweth ny veuva sensys in chy. Ty gwra, ytho, chy kehaval ha'y dynyta hag a'n senso ev ha tus Enys an Re Galosek a'n eyl parth, ha ty ha'th lu a'n barth aral. Ha ro dha revaneth dh'y vodh ha'y vynnas ha gwra omach dhodho. Hag awos an enor a veu dhodho gwrës dre wul an chy (yn medhans) hag ev heb cafos bÿth kyns chy a alla y sensy, ev a wra gul cres genes."
Ha'n ganasow a dheuth dhe Bendigeidfrân ha'n negys-na gansa. Hag ev a gemeras cùssul. Hag i'n consel y feu ervirys degemeres henna. Ha dre gùssul Branwen y feu henna gwrës, ha henna ma na via dyswrës an wlas.
Cres o ordnys, ha'n chy a veu drehevys yn frâs hag yn crev. Mès an Wydhyly a dêwlys towl fel ha hèm o an towl: gorra kenter a bùb tu dhe bùb onen a'n cans peul o i'n chy, ha sagh crohen wàr bùb kenter, ha den ervys in pùb onen anedha.
Ena Efnisien a dheuth ajy kyns an lu a Enys an Re Galosek hag aspia glew dre oll an chy gans y dhewlagas dydrueth hag asper ha gweles an seghyer crohen ahës an peulyow.
"Pÿth eus i'n sagh-ma?" yn medh ev dhe onen a'n Wydhyly.
"Bleus, enef," yn medh ev. Hag Efnisien a worras y dhorn ha tava adro dhe'n sagh bys pàn gafas an penn, ha gwrynnya an penn, erna glêwo y vesias ow tos warbarth I'n empynnyon dre an ascorn.
Hag ev a asas henna ha gorra y dhorn wàr unn aral ha govyn, "Pÿth eus omma?"
"Bleus," yn medh an Gwydhal.
Hag ev a wrug an keth prat warnedha in kettep onen bys pàn na veu gesys den in mes an dhew cans den oll saw onen. Hag ev a dheuth dhe henna ha govyn, "Pÿth eus omma?"
"Bleus, enef," yn medh an Gwydhal.
Ha pandra wrug mès y dava ev bys pàn gafas y benn? Ha kepar dell wrug gwrynnya an re erel, in ketella y whrug gwrynnya penn henna. Ev a gafas an penn-na gwyskys in arvow; bytegyns ny'n gasas erna'n ladhas. Hag ena y canas englyn:
"Yma I'n seghyer-ma bleus a bùb ehen
Penstrîforyon, breseloryon, kenkyoryon i'n arva,
Arâg cadoryon parys dhe'n gas.
Ha gans henna y teuth an luyow ajy. Ha tus a Enys Wordhen a dheuth ajy a'n eyl tu, ha tus a Enys an Re Galosek a'n tu aral. Ha kettel wrussons esedha y feu kessenyans intredha, ha'n revaneth a veu gorrys wàr an mab. Hag ena wosa y dhe gewera an cres, Bendigeidfrân a elwys dhodho an mab. Dyworth Bendigeidfrân yth êth dhe Manawydan ha myns a wrug y weles a'n caras. Dyworth Manawydan y whrug Nisien mab Euroswydd gelwel an mab dhodho. An mab êth dhodho yn cuv. Yn medh Efnisien, "Prag na dheu ow noy, mab ow whor, dhymmo vy? Kyn na ve va mytern wàr Wordhen, whath dâ via genef byrla'n mab."
"Êns yn lowen," yn medh Bendigeidfrân. An mab êth dhodho yn lowen.
"Re Dhuw a'm ros," yn medh Efnisien dhodho y honen in y golon, "uthycter heb y dhesevos gans an mêny chy yw an dra a wrav gul lemmyn."
Hag ev a wrug sevel ha kemeres an mab er y dreys ha heb strechya ha kyns ès bos in gallos den vÿth i'n chy dh'y dalhenna, ev a herdhyas an mab, y benn wàr rag, bys i'n tan. Ha Branwen pàn welas hy mab leskys i'n tan, hy a vynsa lemmel i'n tan a'n le mayth o hy esedhys inter hy dew vroder. Mès Bendigeidfrân a's dalhennas hy gans y eyl dorn, ha'y gosten gans y dhorn aral. Hag ena omlath a wrussons in kettep penn dres oll an chy. Hag awatta tros moyha bythqweth a veu gwrës gans mêny unn chy, ha pùbonen ow tenna dh'y arvow.
Hag ena y leverys Morddwyd Tyllion, "A geun Gwern, bedhowgh war a Morddwyd Tyllion!"
Ha pùb huny ow whilas y arvow y feu Branwen gwithys gans Bendigeidfrân inter y gosten ha'y scoodh. Hag ena y talathas an Wydhyly gorra tan in dann Galtor an Dasvêwnans". Hag ena corfow an marow a veu têwlys i'n galtor, ernag o lenwys, hag y a sevys ternos vyttyn ha bos gwerrours kepar ha kyns saw na yllens kêwsel.
Hag ena Efnisien pàn welas bos corfow marow an dus a Enys an Re Galosek mar vrâs aga nyver ma nag o le dh'aga sensy, y leverys in y golon. "A Dhuw, ellâs," yn medh ev, "govy pàn vena an skyla a'n dyswrians-ma a dus Enys an Re Galosek; ha mewl re'm bo," yn medh ev, "mar ny gafaf delyfryans anodho."
Hag ev a wrug omgudha in mesk corfow marow an Wydhyly, hag y teuth dhodho dew Wydhal fernoth ha'y dêwlel i'n galtor kepar ha pàn ve va Gwydhal. Hag ev a wrug omistyna i'n galtor bys pàn dorras an galtor inter peder rann, ha terry y golon ev inwedh.
I'n vaner-ma y teuth dhe dus Enys an Re Galosek myns a's teva a sowenyans: ny veu dienkys yn few lemen seyth anedha, ha Bendigeidfrân a veu golies in y droos gans guw venymys. Ot omma'n seyth den a wrug diank: Pryderi, Manawydan, Glifieu mab Taran, Taliesin hag Ynawg, Gruddieu mab Muriel, ha Heilyn mab Gwyn Hen.
Hag ena Bendigeidfrân a wrug dhedha trehy dhywarnodho y benn. "Ha kemerowgh an penn," yn medh ev, "ha degowgh e bys in Bronn Gwyn in Loundres, ha'y feth tro ha Frynk. Ha why a vÿdh pell wàr an hens. In Harddlech y fedhowgh ow côlya seyth bledhen, hag ÿdhyn Rhiannon a wra cana dhe why. Ha'n penn a vÿdh dhywgh kescoweth mar wheg vynytha dell veu pàn o warnaf vy. Hag in Gwales in Penfro y fedhowgh peswar ugans bledhen. Hag ena y hyllowgh triga ha'n penn genowgh heb pedry ernag egerowgh an daras abarth dhe Aber Henfelen wor'tu ha Kernow. Mès kettel egerowgh an daras-na ny yllowgh ena triga na felha. I'n eur-ma mos in hens dhe Loundres gwrewgh, rag encledhyas an penn. Hag ewgh why in rag adreus."
Hag ena trehy y benn ha mos ganso adreus y whrug an seyth den-ma, ha Branwen an êthes i'ga mesk. Ha dhe Aber Alaw in Talebolion y teuthons dhe'n tir. Hag ena esedha a wrussons ha powes. Ha Branwen a viras tro ha Wordhen ha tro ha Enys an Re Galosek, y mar a's gwella. "Ogh, a Vab Duw," yn medh hy, "govy bÿth pàn vena genys. Ass o dâ an dhyw enys re beu gwrës in dyfeth a'm govys vy." Ha gans henna hy a wrug hanasa yn town ha terry hy holon. Hag y a wrug dhedhy bedh pedrak, ha'y encledhyas hy ena wàr Lan Alaw.
Wosa henna lavurya a wrug an seyth den tro ha Harddlech, ha'n penn gansa. Hag y ow kerdhes awotta cowethas a dus ha benenes ow tos er aga fynn.
"Eus genowgh nowodhow?" yn medh Manawydan.
"Nag eus," yn medhans y, "marnas bos fethys Enys an Re Galosek gans Caswallawn mab Beli, ha'y vos e mytern cùrunys in Loundres."
"Pandra wharva," yn medh ev, "dhe Cradawg mab Brân, ha'n seyth den o gesys ganso ev i'n enys-ma?"
"Caswallawn a wrug omsettya warnedha ha ladha an whedden, ha Cradawg a dorras y golon rag moreth; rag ev a wely an cledha ow ladha y dus, mès ny wodhya pyw a's ladha. Caswallawn a wyscas cudhlen hus in y gerhyn, ha den vÿth ny'n gwely ev ow ladha'n dus, saw unsel an cledha o gwelys. Ny vynna Caswallawn ladha Cradawg, o noy dhodho, mab y genderow. Ha henna a veu an tressa den a dorras y golon rag moreth. Pendaran Dyfed, neb o gwas yonk in herwyth an seyth den, a wrug diank dhe'n dyfethcoos," yn medhans y.
Hag ena y êth in rag bys in Harddlech ha powes ena ha parusy boos ha dewas. Hag y ow tallath debry hag eva, y teuth try edhen ha dallath cana neb cân dhedha, ha pùb oll ilow re glêwsens kyns o anwheg orty hy. Hag y a welas an ÿdhyn abell dres enep an downvor. Bytegyns dhedha y yth esens mar dhyblans kepar ha pàn vêns i'ga ogas. Hag orth an gool-na y fowns seyth bledhen. Ha wàr dhyweth an seythves bledhen yth ethons in hens tro ha Gwales in Penfro, Hag ena yth esa dhedha le teg rial a-ugh an mor; hag yth esa hel brâs, ha dhe'n hel yth ethons. Hag y whelsons dew dharas yn egerys: an tressa daras o degës, henna adâl Kernow. Yn medh Manawydan, "Awot an daras na goodh dhyn y egery." Ha'n nos-na y a's teva lanwes a voos ha dewas hag y fowns lowen. Hag in despît oll dhe'n govyjyon a welsens i'ga herhyn, kefrÿs an govyjyon a's teva aga honen, nyns o dhedha cov vÿth anedha, naneyl a'n taclow-ma, nag a alarow i'n bÿs. Hag i'n tyller-ma y whrussons spêna peswar ugans bledhen, ma na wothfons i'ga oos termyn o moy dydhan ha wheg ages henna. Ha dhe benn an spâss-na, nyns o tyller le wheg dhedha ès dell veu pàn dheuthons ena kensa, na ny wrug an eyl aswonvos dyworth tremyn y gela bos tremenys kemmys prÿs, na pan dermyn y teuthons ena. Ha'n penn, hedre ve ena gansa, nyns o moy anwheg dhedha ages dell via Bendigeidfrân yn few i'ga mesk. Hag awos an peswar ugans bledhen-na y feu gelwys Trigans an Penn Bryntyn. (Trigans Branwen ha Matholwch o henna pàn ethons dhe Wordhen.)
Ot omma'n pÿth a wrug gul Heilyn mab Gwyn unn jëdh. "Meth a'm bo, wàr ow barv," yn medh ev, "mar ny egoraf an daras, rag gothfos mars yw gwir an pÿth a leverer anodho."
Egery an daras ev a wrug ha miras Kernow hag Aber Henfelen. Ha pàn viras, pùbonen a wothfa kenyver coll re golsa a'y ûs, ha kenyver car ha kescoweth re golsa, ha kenyver drocoleth a dhothya dhodho, poran kepar ha pàn ve i'n eur-na may whruga codha warnodho; ha kyns oll adro dh'y arlùth, fatell wharva dhodho.
Hag a'n eur-na ny alsons powes, lemen mos a wrussons gans an penn wor'tu ha Loundres. Pana dermyn pynag may fowns wàr an fordh, y a dheuth dhe Loundres hag a wrug encledhyas an penn i'n Bronn Gwynn. Hag ev pàn veu kelys, henna a veu onen a'n try Keladow Mas; hag onen a'n try Dysqwedhyans Anvas o pàn veu dysqwedhys; rag bÿth ny alla bal dos wàr vor bys i'n enys-ma hedre ve an penn i'n keladow-na.
Ha henna a dherif an whedhel-ma a'ga aneth; an dus a wrug mos in kergh adhia Wordhen yw henna.
In Wordhen ny veu gesys yn few saw pymp gwreg esa owth omdhon, hag y trigys in unn fogô in dyfeth Wordhen. Ha dhe'n pymp gwreg-na, i'n kettermyn, y feu genys pymp mab. Hag y a vagas an pymp mab erna vowns gwesyon vrâs, hag y ow predery a wrageth, ha gansa whans a'ga hafos. Hag ena cùsca yn kemyskys a wrussons, pùb onen gans mamm y gela, hag y a wrug rêwlya an wlas, ha'y fobla, ha'y ranna intredha aga fymp. Ha herwyth an rannans-na yma henwys whath pymp rann Wordhen. Ha whythra an wlas a wrussons y, in tyleryow may fia plain an gas kyns, hag y a gafas owr hag arhans, bys may teuthons ha bos golusak.
Hag indelma y teweth an scoren-ma a'n Mabinogi awos an whaff a veu rës dhe Branwen, hag ev onen an Try Whaff Anvas i'n enys-ma; hag awos Trigans Brân, pàn êth kemmys ha deg pow ha seyth ugans dhe Wordhen rag diala whaff Branwen; hag i'n mater a'n gool in Harddlech, seyth bledhen; hag ow tùchya Cana Ÿdhyn Rhiannon; hag ow tùchya Trigans an Penn, peswar ugans bledhen.