Hans Christian Andersen
Kernowek © 2016 Ian Jackson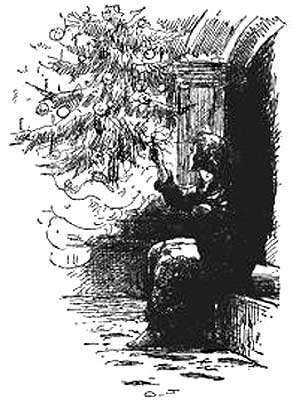 Lymnans gans A.J. Bayes
Yma Gerva orth pedn dewetha an whedhel.
Uthyk yêyn o an gewar; yth esa ergh ow codha ha cowlwrës ogasty o an tewolgow solabrës, ha'n gordhuwher a dheuth in bàn, gordhuwher dewetha an vledhen. I'n orny hag i'n tewlder yth esa mowes vian bohosek, noth hy fedn ha noth hy threys, ow kerdhes der an strêtys. Kyns, pàn êth hy in mes a'n chy, sur yth esa pawgednow in hy herhyn; saw scant ny ylly hy gwil devnyth anodhans. Pawgednow pòr vrâs êns y, ha hy mabm orth aga gwysca moy avarr, dre rêson an brâster. An vaghteth vian a's collas pàn wrug hy slynkya dres an fordh mayth esa dew garyach ow rattla in udn bassya toth men. Onen a'n pawgednow nyns o dhe gafos arta, ha mab gal a gachyas an aral, ha ponya gensy dhe ves. Yma ow tyby ev dh'y ûsya pòr dhâ avell presep, udn jëdh may fe flehes dhodho y honen. Ha lebmyn yth esa an vowes vian ow mos gans hy threys bian noth, hag anjy rudh ha glas lowr awos an yêynder. In apron coth yth esa hy ow ton nebes tanbrednyer, ha tysk anodhans in hy dorn. Tra vëth ny brenas nagonen dhyworty in oll an jëdh, heb ry dhedhy unweyth hanter-dema.
In dadn grena dre nown hag orny, yth esa hy ow crùppya in rag, pyctour a dhuwhan, an vowes vian truan! Pluv an ergh a gudhas hy blew melen hir esa ow codha crùllys teg dres hy gwarr; saw i'n eur-na nyns o hedna màn a vern. In oll an fenestry yth esa golowys ow tewynya, ha kig goodh dhe glôwes, gloryùs y sawor, rag Nos Calan Genver o an gool. A hedna, heb mar, dhedhy hy an preder.
In cornel inter dew jy, an eyl balegys dhyrag y gela, y whrug hy sedha, oll gyllys in gròn. Hy a dednas hy threys bian in bàn, mès yêynha whath o hy, heb bedha mos tre, rag nag o gwerthys tanbren vëth, na ny veu ferdhyn vëth a vona drës dhedhy. Dhyworth an das y fia hy ow kemeres strekesow yn certan, ha pelha, dyfeyth o an olas, ha'n mêny heb tra vëth a-ughtans saw to may fedha an gwyns ow whybana dredho, kynth o an brâssa sqwardyow stoppys gans cala ha pylednow.
Namnag o hy dêwla vian crobmys der an yêynder. Ogh! Dâ via tanbren, dell dybys hy, unweyth a calla tedna onen in mes a'n tysk ha'y rùttya wàr an fos, hag orto tobma hy dêwla. Hy a dednas onen in mes. Crrrav! Ass esa ow trewa hag ow facly! Flàm tobm spladn o va, avell cantol vian, ha hy ow sensy hy dêwla a-ughto; golow bian wondrys! Dhe'n vowes vian yth hevelly kepar ha pàn ve hy a'y eseth dhyrag forn bolsyes yn frâs, ha brest bryght treys sol wàr hodna, in dadn worher brest. Ass esa an tan ow lesky; ass o cles; saw dyfudhys veu an flàm bian, gyllys o an forn mes a wel, ha ny's teva an vowes vian ma's bohes remenant a'n tanbren inter hy dêwla.
Secùnd tanbren a veu rùttyes wàr an fos. Ev a loscas in bàn; ha dell godhas an golow wàr an fos, hobma êth boll avell veyl, hag y hylly meras dredhy aberth i'n rom. Wàr an bord yth esa lêsys lien erghwydn; ha settys lenter warnodho chêny kydnyow, ha'n woodh rôstys gloryùs i'n mog, ha stoffyes gans avallow ha fyges. Moy bryntyn whath dhe weles, an woodh a labmas dhywar an badel dhe'n dor, ha gwydyla dres an leur, gans collel ha forgh in hy brodn, tro ha'n vowes vian. Ena y whrug an tanbren dyfudhy, ma na veu tra vëth dhyrygthy ma's an fos tew lëb yêyn. Tanbren aral a veu cunys. I'n dro-ma yth esa an vowes vian a'y eseth in dadn wedhen deg a Nadelyk; brâssa o hodna, ha moy afînys, ages an wedhen welys dre dharas gweder chy an marchont rych. Yth esa mil gantol ow lesky wàr an scorr gwer, ha lymnansow lywys kepar ha'n re i'n shoppys pryntya ow meras ortans dhia'n barth avàn. An vowes vian a istynas hy dorn wor'tu hag an re-ma; ena y whrug an tanbren dyfudhy. An golowys Nadelyk a eskynas uhella. Yth esa hy orth aga gweles lebmyn avell ster i'n ebron; onen anodhans a godhas dhe'n dor, ow formya lînen hir a dan.
"I'n tor'-ma yth esa neb ow merwel," an vowes vian a brederys, drefen hy dama wydn dhe dhesky dhedhy (bythqweth nyns esa ken onen ow cara an vowes vian, ha'n venyn goth marow soladhëdh) bos neb enef owth ascendya dhe Dhuw pesqweyth may cotha steren dhe'n dor.
Hy a rùttyas tanbren aral wàr an fos; spladn yth o arta, hag i'n splander yth esa an dhama wydn goth ow sevel hag ow shînya, clor ha teg.
"A Dhama Wydn!" an flogh a grias, "Ogh! Kebmer vy genes! My a wor y fynta mos in kerdh pàn vo an tanbren colleskys. Te a vydn vansya kepar ha'n tan tobm, ha'n boos tobm, ha'n wedhen Nadelyk meur hy glory!" Ha hy a rùttyas hastyly an tysk dien a danbrednyer, rag whensys o hy dhe sensy hy dama wydn yn fast. Ha'n tanbrednyer a loscas gans kebmys golow may feu spladnha ès i'n hanter-dëdh; brâssa ha tecka nyns o hy dama wydn bythqweth. Hy a gemeras an vowes vian inter hy dywvregh, hag y whrussons y warbarth neyja in splander hag in joy a-ugh an nor, pòr pòr uhel, hag awartha i'n tyller-na nyns esa yêynder na nown na govyjyon – yth esens y gans Duw!
Mès i'n gornel, ow posa worth an fos, yth esa an vowes truan a'y eseth, rudh hy bohow ha gwen wàr hy min, rewys dhe'n mernans in gordhuwher dewetha an Vledhen Goth. Howl Calan Genver a dherevys dhe dhyskevera corf bian marow! Ot an flogh esedhys, serth ha yêyn, gans an tanbrednyer, hag oll leskys udn tysk anodhans. "Whans a's teva tobma hy honen," yn medh an dus. Ny wrug den vëth desmygy fatell veu mar deg an pëth a welas hy, na tell êth hy gans an dama wydn in glory mar vrâs bys in Calan an Vledhen Nowyth.
GERVA
Glossary
Definitions have generally been confined to those relevant for the story. To keep the glossary to a manageable length the listing excludes the most common words. These are best looked up in Gerlyver Kescows – A Cornish Dictionary for Conversation (Ian Jackson, Agan Tavas 2017), for which an up-to-date spell-checker is available on the Vocabulary tab at www.skeulantavas.com. If you need grammar, by far the most helpful book is Desky Kernowek (Nicholas Williams, Evertype 2012).
The format and abbreviations in the glossary are the same as in Gerlyver Kescows, with one refinement. In this listing a middle dot following a vowel sound shows that primary stress is on that syllable (in cases where it is not the penultimate syllable); a double vertical line after a disyllabic word indicates that both syllables are more-or-less evenly stressed.
balegy v jut out
bedha v dare
boll adj transparent
bryght adj bright
Calan m first day of the month
Calan an Vledhen Nowyth phr = Calan Genver
Calan Genver m New Year's Day
cr[rr]av sound ratch
crùppya v creep
cuna v light
dema m demys halfpenny
erghwydn ‖ adj snow-white
facly v flare
ferdhyn m ferdhydnow farthing
gwarr f gwarrow neck (nape)
gwen f gwenow smile
gwydyla v waddle
gyllys in gròn phr curled up
ha·styly adv hastily
kemeres strekesow phr receive a beating
kewar f weather
lenter adj gleaming, glossy
lywa v colour
Nos Calan Genver f New Year's Eve
orny m cold
pawgen ‖ f pawgednow slipper
presep m presebow cradle, crib
re·menant m re·menans remnant
shînya v shine
soladhë·dh adv for a while now
tysk m tyscow bunch, bundle
wondrys adj wonderful
Kernowek Kevardhu 2016, amendys Est 2020