Robert Louis Stevenson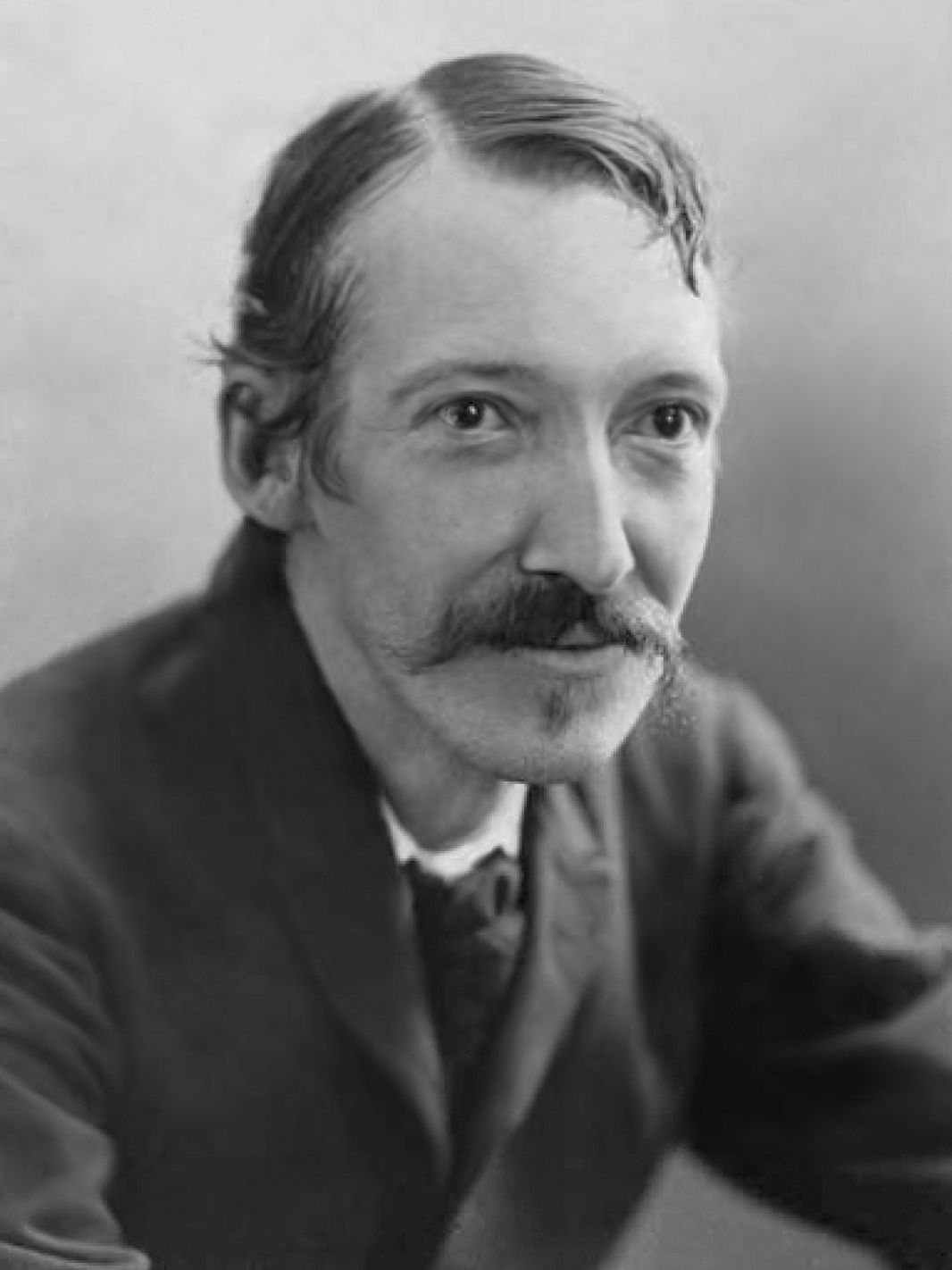 Chaptra 1
ASEN, PACK, STROTHER
Kernowek © 2022 Ian Jackson
Yma Gerva awoles
In tyller bian yw cries Le Monastier, in valy plesont a'n tir uhel, ha Le Puy pymthek mildir abell, me a wrug spêna mis a dhedhyow brav. Monastier yw gerys dâ rag gul pann lâss, rag medhêwnep, rag cows dygabester, ha rag dyssent polytyk heb parow. Dhe oll a'n peswar party Frynkek – Myternydhyon, Orlyanystyon, Imperyalydhyon, ha Repùblycans – yma'ga dywysyon i'n dre vian-ma a'n menydhyow, ha pùbonen owth hâtya, ow casa, ow tysprêsya, ow sclandra an eyl y gela. Marnas rag negyssya chyffar, pò rag conclûdya an eyl warbynn y gela in kedrynn a'n tavern, an re-ma re worras kefrÿs cyvylta an cows adenewen. Poloyn wàr unn meneth yw hy. In cres an Babylon-ma my a gafas poynt a scodhyans: y feu preder in kettep penn bos heweres cuv dhe dhen estren. Ny veu hemma drefen helder naturek pobel an menedhyow, na drefen an marth mayth esens y orth ow regardya avell neb o bêwys a'y vodh frank in Le Monastier, abyl dhe vêwa in kenyver ken le i'n bÿs brâs-ma kyn fe. Sordyes veu'n tybyans dhyworth ow thowlen kemeres tro i'n pow dhe'n soth der an Cevenas. Viajyor a'm ehen vy o neppÿth heb y gafos bythqweth i'n côstys-na. Me o sensys in dysdain, kepar ha den a garsa lavurya dhe'n loor, mès y feu revrons i'ga les byttele, kepar ha pàn ven vy den porposys dhe dhrehedhes asperyta Penn an Ehel. Oll o parys dhe wul gweres orth ow farusyans; rûth a scodhyoryon a dheuth i'm kerhyn orth prÿs tyckly pùb bargen; gwrës ny veu stap vÿth heb dewas dhe bùb huny adro, heb gôlya dre gon pò dre hawnsel.
Namna dheuth Hedra solabrÿs pàn veuma parys dhe dhallath dhe'm hens, hag i'n uhelder may fedha ow fordh vy nyns o hâv Eyndek dhe wetyas. Kyn na vynnen vy campya in dann ebron yn certan, me o ervirys dhe sensy mainys campya. Rag nyns eus tra vÿth moy vexus dhe gosoleth an brÿs ages otham trouvya goskes kyns dworenos, ha ny vëdh gwestva in tavern neb treveglos dhe reckna pùpprÿs yn sur gans an re usy ow travalya adroos. Tent yw, dres pùptra rag gwandryas y honen oll, tra droblus dhe dyldya, ha troblus arta dhe dhydacla. Ha kefrÿs wàr an fordh ev yw pòr apert i'n fardellow. Sagh cùsca, wàr an tu aral, yw parys pùb termyn. Nyns eus dhe wul ma's crambla aberth ino. Yma ow servya porpos dobyl – gwely i'n nos, portmantel i'n jëdh. Ha nyns usy owth argemynna dell eus ententys campya dhe bùb tremenyas yw whensys dhe wodhvos. Poynt moyha y bris yw hemma. Mars yw camp aswonys alês, nyns yw ma's powesva meur troblys; ty a vëdh caracter poblek; y fëdh magor tavasak an mogh ow vysytya tenewen dha wely warlergh soper avarr; ha res vëdh cùsca egerys unn lagas, ha sevel in bàn kyns terry an jëdh. Me a wrug dêwys sagh cùsca. Ha wosa vysytys menowgh dhe Le Puy, ha cals a genwes raga vy ha'm conslers, sagh cùsca a veu desînys, gwrës, ha drës tre yn trygh.
An flogh-ma a'm desmygyans o pedrak a whe troos'hës ogasty, heb reckna dew lappa trielyn rag servya avell pluvak i'n nos ha'vell goles ha gwartha an sagh i'n jëdh. Me a henow hemma 'an sagh' saw bythqweth ny veuva sagh dre namoy ès cortesy: ny veu ma's rol hir pò selsygen: lenn kert, stanch ha gwer, wàr an tu'ves, ha pelour blou a dhavas aberveth. Yth esa tyller ino mar efan avell trog dyllas, tomm ha sëgh rag gwely. Dhe unn den yth esa spâss rag omdrailya meur attês; hag in otham y fedha an dra servya rag dew. Dredho me a ylly cudha ow honen bys i'n conna. Rag ow fenn yth esen vy ow trestya dhe gappa pelour, ha cùgol dhodho rag plegya dres an scovornow, ha bond rag fastya in dann an dhewfrik kepar ha daffar anella. Ha warbynn glaw poos y feu ow thowlen gul tent bian, pô tentyk, a'm côta stanch, try men, hag unn scorren gamm.
Êsy yw convedhes na yllyn vy don an fardel gowrek-ma wàr ow scodhow vy, denyl only. Res o dêwys best whel. Now, margh yw arlodhes mesk an milas, brottel, ownek, dainty orth debry, bludh in yêhes. Ev yw re brecyùs ha re froward rag gasa heb rach, chainys may fedhys dhe'th ebal kepar ha pàn ve kesrevador keth. Fordh beryllys a wra y worra mes a'y rêwl. Wàr verr lavarow ev yw kefrysyas ancertan ha gorholus, hag y fëdh addya degplek warn ugans dhe droblys an viajyor. Reqwîrys o neppÿth bian ha smat hag a bris isel, ha cosel ha talsogh y jer; hag yth esa oll an poyntys-ma ow meneges asen.
Tregys in Monastier yth esa den coth, nebes diantel y skians dell vynna rann leverel, ha meur holyes gans mebyon an strêt, ha gelwys Tas Adam. Dhe Tas Adam yth esa kert, ha rag tenna an kert yth esa casek asen munys, scant brâssa ès ky, ha'n colour dhedhy a logosen, hegar hy lagas ha determys hy challa. Yth esa dhe'n javal-ma neb kempensys, neb bryntynsys, neb afînans a'n grenores a'm delîtyas heb let. Y wharva agan kensa keswel wàr blain an varhas in Monastier. Rag prevy hy cher dâ, y feu flehes settys an eyl warlergh y gela wàr hy heyn rag marhogeth; ha pùb flogh ow mos dres y benn ha'y scovornow; erna dhalathas fowt a fydhyans rainya i'n cowsesow yonk, ha'n arbrof cessys dre lack a dhevnyth. Scodhys en vy solabrÿs gans canaseth a'm cothmans, ha – pàn na ve hemma lowr – oll an brenoryon ha'n werthoryon o devedhys rag gul gweres i'n bargen; ha my ha Tas Adam ha'n gasek asen, y feun ny in cres an hùbbadùllya dres ogas ha hanter our. Wàr an dyweth hy a veu tremenys dhe'm servys ha'y fris o pymp frank ha try ugans, ha gwedren a dowr tomm ganso. Còst an sagh o peswar ugans frank solabrÿs ha dyw wedren coref ganso. Ytho Modestine – dell wrugam hy besydhya desempys – a veu an artykyl gwell heb dowt y varhas. In gwir y tegoth indelha; rag nyns o hy ma's tra geworransus dhe'm colhes, pò prenn gwely omwythresek wàr beder rosyk.
Y whrug vy dewetha keswel gans Tas Adam in rom bylyards pàn esa an gwrahas owth huda worth terry an jëdh, ha my ow menystra an dowr tomm. Ev a leverys bos an dyberth ow tava y golon, ha declarya fatell wrug ev prena bara gwynn rag an asen yn fenowgh, dâ lowr dhodho kyn fe bara du; mès res o hemma dhe vos, warlergh an auctorytas, neyj a fancy. An pollat a gafas hanow i'n dreveglos awos drokhandla an best yn harow. Certan yw bytegyns dell asas ev dagren dhe godha, ha honna ow cul mark glân wàr unn vogh.
Dre gùssul dybror gowek a'n vro, pad lether a veu gwrës ragof, ha kelhygow dhodho rag lâcya ow fardel. Ha me a gùntellas ow thaclow hag araya ow dyllas. Rag arvva hag aparell, me a gemeras revolver, loscor gwyras bian ha padel, lugarn ha nebes cantolyow dema, collel plegya, ha costrel brâs a grohen. An chif-carg o dew gowl-jaunj a dhyllas tomm – kefrÿs ha'm gwysk travalya a velvetîn an weryn, ow hôta lewyador, ha'm jerkyn gwlanek – nebes lyfryow, ha'm lenn hens horn – ha homma in form a sagh, ytho castel dobyl rag nosow yêyn.
Monastrians a bùb opynyon polytyk o unverhës pàn esens y ow codros lies droglamm gocky, ha mernans sodyn in lies form a sowthan. Orny, bleydhas, robbers, prattor an nos dres oll, y fedhens y constrînys dhe'm attendyans pùb dëdh hag yn helavar. Saw i'n profusans-ma an peryl gwir hag apert o gesys mes. Kepar ha Christian, y kefys vy sùffrans wàr an fordh awos ow fack. Kyns ès my dhe dherivas ow meschauns, gas vy dhe leverel dhis yn ferr an dyscas a dheuth in mes a'm experyens. Mar pëdh an pack strothys dâ i'n dhew benn, ha cregys hës ha hës – na bleg e, ren ow thas! – dres an strother, dhana saw vëdh an viajyor. Ny vëdh an strother ow fyttya, rag mar anperfeth yw'gan bêwnans cot y dhedhyow; sur y fynn dysevel dre dueth omwheles. Saw yma meyn ryb pùb fordh, ha den yn scon ow tesky an creft amendya neb tuedhyans kelly kespos gans men stoppys dâ in danno.
An jëdh may whrug vy departya me a sevys nebes wosa pymp eur in bàn. Warbynn whegh eur ny a dhalathas carga an asen. Ha kyns penn deg mynysen y feu oll ow govenek codhys dhe'n doust. Ny vynna an pad sedha wàr geyn Modestine ma's hanter tecken. My a'n ros arta dh'y wrior, may feu kemmys geryow bysmêr intredhon ha'n strêt leun dhia'n eyl fos bys in hy ben a whedloryon owth aspias hag ow colsowes. An pad a veu dascorys meur y vewecter. Moy descrefus via leverel, par hap, ny dhe dôwlel an dra, an eyl orth penn y gela. Heb dowt yth en ny pòr danek, pòr anwhek, ha'gan cows fest dhe blemmyk.
Me a besys desedha wàr Modestine strother gemmyn rag asen – an hanow yw barde; ha my orth hy harga a'm taclow arta. An sagh, plegys unweyth, ow hôta lewyador (rag tomm o an jëdh, ha my porposys dhe gerdhes i'm crispows), barr brâs a vara du, canstel ôpyn ha'n bara gwynn inhy, an kig davas, ha'n botellow, y feu an re-ma lâcys warbarth in unn gevreth complek a golmow, ha my ow miras orth an sewyans, contentys cog. In carg flûr mar dhygnas, oll antelys a-ugh scodhow an asen, ha tra vÿth rag omberthy awoles, ha wàr strother nowyth flàm heb askewera na whath dhe fyttya an best, ha lâcys gans kenglow nowyth flàm a vedha ow strechya hag ow lowsel i'n fordh, viajyor kyn fe dybreder glân a vensa dargana mothow dhe dhos. An gevreth complek-na a golmow, yn arbennyk, o gweyth gweresoryon re aga nùmber dhe vos desînys yn fel. Heb wow y a strothas an kerdyn gans màl; yth esa tredden i'n kettermyn ow settya troos orth Modestine ha'y fedrennow, ha hâlya, degës an dens; saw moy adhewedhes me a dhescas y hyll unn person dâ y breder, heb ûsya nerth vÿth, gul gwell ober ès hanter dêwdhek paja margh in gwres ha tan. I'n eur-na nyns en vy ma's dalathor. An pad kyn feu droglamm, ny ylly tra vÿth deraya ow certuster, ha my êth dhyworth daras an stâbel kepar hag ojyon ow mos dhe'n latty.
GERVA – GLOSSARY
Definitions have generally been confined to those relevant for the story. To keep the glossary to a manageable length the listing excludes the most common words. These are best looked up in Gerlyver Kescows (Ian Jackson).
On-line at https://www.skeulantavas.com/vocabulary/gerlyver-kescows-2nd-edition
If you need grammar, by far the most helpful book is Desky Kernowek (Nicholas Williams, Evertype 2012).
abell adv at a distance
adroos adv on foot
an Cevenas place-name the Cevennes
anperfeth adj imperfect
antel v poise
aparell m gear, utensils
arvva f armoury
attendyans m attention
berr adj brief
best whel m bestas beast of burden
bewecter m vivacity
brottel adj fickle, flighty
bryntynsys m nobility
bylyards pl billiards
bysmêr m contumely
caracter m caracters character
casa v loathe
casek asen f casygy she-ass
chainya v chain
challa m challys lower jaw
chyffar m deal, exchange
con f conyow dinner
conclûdya warbynn phr give the lie to
consler m conslers counsellor, adviser
cowsesow pl heart, bosom
crenores f crenoresow female quaker
cyvylta m civility
daffar anella m respirator
dagren f dagrennow tear (weeping)
degoth verb is fitting
degplek warn ugans phr tenfold
dema m demys halfpenny
deraya v disturb
descrefus adj descriptive
diantel adj unstable, unsound
dres y benn ha'y scovornow phr head over heels
dworenos adv at dusk
dyberth m separation
dybreder adj careless
dybror m dybroryon saddler
dydacla v take down, strike (tent)
dygabester adj unrestrained
dygnas adj monstrous
dysdain m disdain, contempt
dysevel v topple
dysprêsya v decry
dywys m dywysyon adherent
ebal m ebylyon colt
entent m ententys intention
frank m francow franc
froward adj restive, stubborn
fyttya v fit
gorholus adj demanding, exacting
gowek adj mendacious, fallacious
gwandryas m gwandrysy hiker
gwres f heat
gwrior m gwrioryon maker
hâv Eyndek m havow Indian summer
heb parow phr unparalleled
helder m hospitality
hës ha hës phr at full length
heweres adj helpful
huda v cast spells
Imperyalyth m Imperyalydhyon Imperialist
javal m javalys rogue
kefrysyas m kefrysysy ally
kelhyk m kelhygow (little) ring
kempensys m neatness
kengel f kenglow girth
kenwes m feast(ing), high living
kesrevador keth m kesrevadoryon fellow galley-slave
lack m lack
lâcya v tie, fix
lappa m lappys flap
latty m lattiow slaughterhouse
loscor gwyras m loscoryon spirit-lamp
magor mogh m magoryon yokel, rustic
medhêwnep m drunkenness
mes a'y rêwl phr out of his wits
mil m milas animal
Myternyth m Myternydhyon Royalist, Legitimist
negyssya v transact
ojyon m ohen ox
omberthy v balance
omwythresek adj self-acting
Orlyanyst m Orlyanystyon Orleanist
orny m cold
ownek adj timid
pack m packys pack
paja margh m pajys groom
parusyans m preparation(s)
pedren f pedrennow hindquarter
Penn an Ehel m the Pole
plain an varhas phr the market-place
portmantel m portmantlow portmanteau
powesva f powesvaow resting-place
prattor m pratoryon practical joker
precyùs adj precious, valuable
prenn gwely m prennyer bedstead
profusans m vaticination(s)
rainya v reign
Repùblycan m Repùblycans Republican
revolver m revolvers revolver
robber m robbers robber
rosyk f rosygow castor
sclandra v calumniate
smat adj hardy
strother f strotheryow pack-saddle
sùffrans m suffering
talsogh adj stolid
tanek adj warm (emotion)
tavasak adj talkative
tentyk m tentygow tentlet
travalya v go on foot
tredden m three men
troblus adj troublesome
trygh adj triumphant
tuedhyans m tendency
tueth m tuedhow tendency
tyldya v pitch (tent)
velvetîn m velveteen
vexus adj harassing
viajyor m viajyoryon traveller
whedhlor m whedhloryon gossip