The Newlyn Class uses this coursebook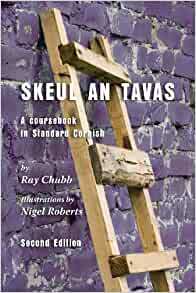 Skeul an Tavas, the first book of the Skeul an Tavas course in revived traditional Cornish, comprises all the grammar and vocabulary for the Agan Tavas Level 1 examination. This corresponds to 'Breakthrough' (Step 3) on the UK Language Ladder and to Common European Framework of Reference A1. The material is arranged in 18 Lessons, and is particularly suitable for use in weekly adult education classes over a single academic year.
Author Ray Chubb. Illustrations by Nigel Roberts.
Published by Evertype 2010, second edition 2013.