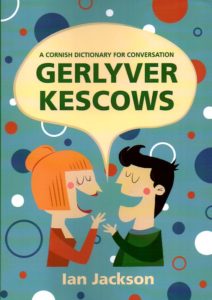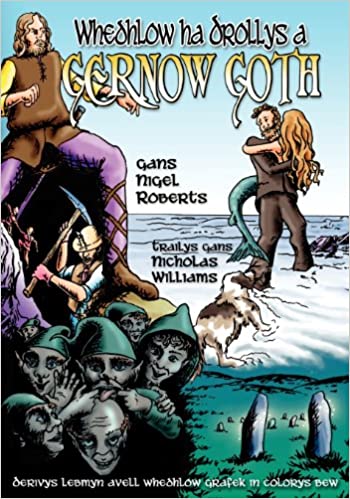 Extra vocabulary for reading
WHEDHLOW HA DROLLYS A GERNOW GOTH
by Nigel Roberts
using Gerlyver Kescows
Whedhlow ha drollys a Gernow Goth is particularly suitable for reading with young children who know some Cornish. The vocabulary is varied and idiomatic while avoiding difficult concepts. Here are all the extra words you need to understand the stories if you are using Gerlyver Kescows.
Definitions have generally been confined to those relevant for the story. The format and abbreviations in this supplement are the same as in Gerlyver Kescows, with one refinement. In this listing a middle dot following a vowel sound shows that primary stress is on that syllable (in cases where it is not the penultimate syllable); a double vertical line after a disyllabic word indicates that both syllables are more-or-less evenly stressed.
There are a few typographical errors in the book. And some spellings have changed in the light of further research since the book was published. The spellings in this listing are up-to-date. For the latest spellings of words in Gerlyver Kescows, go to the Kernowek Standard Spell-checker on the Vocabulary tab at www.skeulantavas.com.
abe·ll adv [from] afar
abrë·s adv timely
adhysto·wgh adv = dysto·wgh
alena rag phr from then on, thenceforth
amber m amber
An Greal Sans The Holy Grail
an tu wàr jy avês phr inside out
anjùstys m unjustice
ankensy adj grievous
ansans ‖ adj impious
avau·nt interj = avau·nd
awos hedna phr in spite of that
ba·cheler m ba·chelers bachelor
badna m banahow drop
banow f banowas sow
basket m baskettys basket
ber m beryow spit
bëth moy phr even more
bewta (beawty) m beauty
body m bodys body
bo·tteler m bo·ttelers butler
br[rr] sound br[rr]
brawehy v terrify Note pp brewehys
brynk m bryncow gill
bugel m bugeleth shepherd
bùly col rocks and pebbles
bydnar re2 phr + present subjunctive makes negative wish
bylen m villain
byscath adv = bythqweth
bythqweth adv ever in affirmative / positive interrogrative sentence (past reference)
calassa adj harder
cales y bedn phr stubborn
chùrnya v churn
chy-a ‖ interj calling an animal home
clang sound clang
clap sound clatter
clatter sound clatter
cogh adj scarlet
cryghlebmel v caper, jig
collan f colanow sheath knife
co·mpany m company
con f conyow evening meal, supper
cona v dine, sup
corel m coral
corr m corras dwarf
cosa v tickle
cosyn m cosyns cousin
cothenep m antiquity
cowlek adj gluttonous
crack sound crack, snap, crash
cravas m scratch
creatùr m creatùrs creature
crellas m ruins
cromlegh f cromleghyow cromlegh, dolmen
dader m goodness
dallhe· lagas phr put out an eye
dasterivas v retell
dauns meyn m dauncyow stone circle
dëdh fin phr doomsday
defolyor m defolyoryon defiler
dega m degevow tithe
dell wher phr as it happens
dêlya v (gans) deal (with)
den jentyl m tus jentyl gentleman
densa m good man
deseha v drain
devera dagrow phr shed tears
devrak adj watery, boggy
devorya v devour
dewynya (dewyny) v shine, gleam
dhia bàn2 conj since
dhyworth an jëdh phr as soon as it gets light
dre gevrîn phr mysteriously
dremâs ‖ m good man
dren m dreyn thorn, prickle
drockoleth m evil, wickedness
drogwas ‖ m drogwesyon scoundrel
drùshya v thresh
dynyak adj attractive, alluring
dywel ‖ adj invisible
dywith ‖ adj helpless, defenceless
e·lement m elementys element
elven f elvednow spark
er m êrys heir
fay m fays fairy
fëdh dâ m good faith
floryshya v flourish
flourya v flower
flownen f flownednow hussy
foly m folly, foolishness
fordh byna·g phr anyway
fortyn m fortune
frappyans m tapping, knocking
fusta v thresh
fysky m urgency, rush
fysment m fysmens (facial) feature(s), complexion
fyw interj phew
gadlyng m vagabond
gallas agas gober genowgh phr you've had your reward (= it serves you right)
gallas an gober genes phr you win
galow cû phr call (a cow)
gawl f gawlow fork
gèn prep = gans
gis-dauns adj in the form of a dance
go'dhor ‖ m godhas dor mole
Golowan m Midsummer (festival)
gorvydnek adj jealous
grafek adj graphic
grauntya v grant
gwandryas m gwandrysy wanderer
gwedhowes f gwedhwesow widow
gwetha compes phr stay true
gwethyades chy f gwethyadesow housekeeper
gwetyas na phr + subjunctive see to it that ... not
gwigh m squeak
gwre'ty f gwrageth ty housewife
gwry m gwriow stitch
gwydn adj pale
gyllys gans flogh phr pregnant, expecting
hâ hâ interj ha ha (representing laughter)
ha na hens phr and not before
hapnya worth phr happen upon
hau hau interj haw haw (representing laughter)
hedhyw i'n jëdh phr today (as opposed to the past)
hendas ‖ m hendasow grandfather
hengof ‖ m hengovyon tradition (as memory)
henwhedhel m henwhedhlow legend
helyk col helygen willow
henoos ‖ m henosow ancient times
henwragh ‖ f henwrahas old witch
heskyn m heskydnow marsh
hî hî interj tee-hee (representing laughter)
ho interj ho
ho ho inter aha
hordh m hordhas ram
horsen m horsens blackguard
howlderevel m sunrise
hûa interj yippee
huda v bewitch
hudol adj magic, enchanting
hûjes adj huge, enormous
hùrâ· interj hurrah
hùrlya v hurl (game)
hùrlyer m hùrlyers hurler
hus m magic
iê ‖ interj yey
ik interj eek
ilow m music, tune
imajynacyon m imagination
i'n mayth phr = le mayth
in lôk prep in sight of, in the presence of
in neb udn le phr somewhere (emphatic)
in stray phr astray, lost
intendya v intend
îyaw ‖ interj yeow
Jack Tan Nos name Jack o'Lantern
kel m kelyow hiding-place
kenegy pl reed-beds
kentrydna v spur, induce
kemeres cubmyas teg phr bid farewell
kepa·r adj the same
kepa·r ha Castel Rag phr in a total mess
kerdhes in mes phr court
kesen f kesow turf (of peat)
keuswask f keuswascow cheese-press
kewniek adj mossy; rotten (figuratively)
knouk m knoukys knock
knyvyas v shear
kyns lebmyn phr formerly, previously
lamentya v lament
lappya v leap, frisk
lenjy m lenjiow nunnery, convent
lesvyrgh ‖ f lesvyrhas stepdaughter
liesgweyth adv many times, often
lynaja m lineage, ancestry
lÿs m lÿsyow court
melynor m melynoryon miller
men growyn m granite
meppyk m meppygow young son
mêstry m dominance, power
miror m miroryon spectator
mîyaw ‖ sound miaow
mogh col swine, pigs
mollath f molothow curse
molethy v curse
mortîd ‖ m tide(s)
morvoren f morvoronyon mermaid
mostethes m dirt
mostya v soil
mùrnya v mourn
my·stery m mysterys mystery
neb udn(2) phr a certain
nefra adv ever in affirmative / positive interrogative sentence (present / future reference)
nes adv with express negative at all
nes'hevyn m neighbour(s); relative(s)
ô interj oh (surprise)
ojyon m ohen ox
ollgalosek adj almighty
omdowlor m omdowloryon wrestler
omglôwes v feel (in oneself)
omsqwîtha v tire intr
ôstes f ôstesow hostess, landlady
ôstya v stay (as guest)
ow melder phr my sweet, my dear
oynk sound oink
oynment m oynmens ointment
pagan adj/m pagans pagan
parkya v enclose (fields)
pehas m pehosow sin
pellor m pelloryon spellbreaker
pensevyges f pensevygesow princess, noblewoman
pensevyk m pensevygyon prince, nobleman
perhenogeth m possession, ownership
person m persons character (in play)
pesky v fatten
pîbor m pîboryon piper
pîss m pîcys piece
plenta (plenty) m plenty
plêsya v please
porhellyk m porhelygow piglet
poster m weight
power m power
pregoth m = progeth
prierynsys m pilgrimage
profusa v prophesy
prowt adj (dhe2) proud (to)
pryns m pryncys prince
pùb le phr = in pùb le
pystrior m pystrioryon wizard, sorcerer
pystriores f pystrioresow witch, enchantress
re adv (a2) too many
restorya v restore
rycheth m wealth
sacra v consecrate
sawment m healing
scaldya v heat (to boiling)
scochon an mytern phr the king's arms
sêmly adj seemly, handsome
sensy lagas wàr2 phr keep an eye on
sîra wydn m sîrys gwydn grandfather
skyvel m skyvlow (skyvly) talon
snap sound snap
soler m soleryow loft
sols m solsow shilling
so·mona v summon
sownd m sowndys sound
sowthan v = sowthanas
spedhes col spedhesen briars, brambles
spern col spernen thorn (plant)
splash sound splash
spyrys m spyryjyon sprite, pixie
spyrys knoukya m spyryjyon knocker
sqwier m sqwieryon squire
[ss]sh interj [ss]sh
stoppya v stop
stranjer m stranjers stranger
syger adj inert, lazy
sygeror m sygeroryon sluggard, lazybones
syra m sir (addressing someone)
tâk sound zap
tâl an chy phr the gable of the house
tan imperative take
tantor m tantoryon suitor
tastya v taste
tebel m tebeles wicked person
tebel-was m tebel-wesyon scoundrel
tegyn m tegydnow pretty thing
tellek adj holed, punctured
temptyor m temptyoryon tempter
tennvos m attraction
tergùsca v doze, slumber
ternos ‖ vyttyn phr next morning
teythiak adj native, original
tobmen tewas f tomednow sandbank
tomder m heat, warmth; passion
torn[a] m tornow lathe
trai·tury m treachery, betrayal
trap m trappys stile
travalya v make one's way, trudge, trek
trega (triga) v dwell
trigva f trigvaow dwelling
tristans m sadness
tropla v = trobla
tru tru interj alas
tylly v be worth
ûh interj uh
ùllya v howl
ùmpth sound oompth
ùntya v anoint
ùp a dey interj oops-a-daisy
ûps interj oops
va·nyta m vanity
voys m voycys voice
wàr jy phr inside
wàr an dyweth phr finally, ultimately
wàr anow phr oral[ly]
wàr dhelergh phr back
wàr woles phr down below, downstairs
wàr y geyn phr right behind him
wàr stray phr astray, lost
warya v beware, be wary (of)
wha[aa] interj wa[aa] (bay's cry)
whack sound whack
whedhlow pl rumour(s)
whiogen f whiogednow pastry, cake
w[h]ûsh sound w[h]oosh
worshyp m worship, respect
y Vrâster phr his Majesty
yn arbednek adv particularly, especially
yo hùp interj oy