George Orwell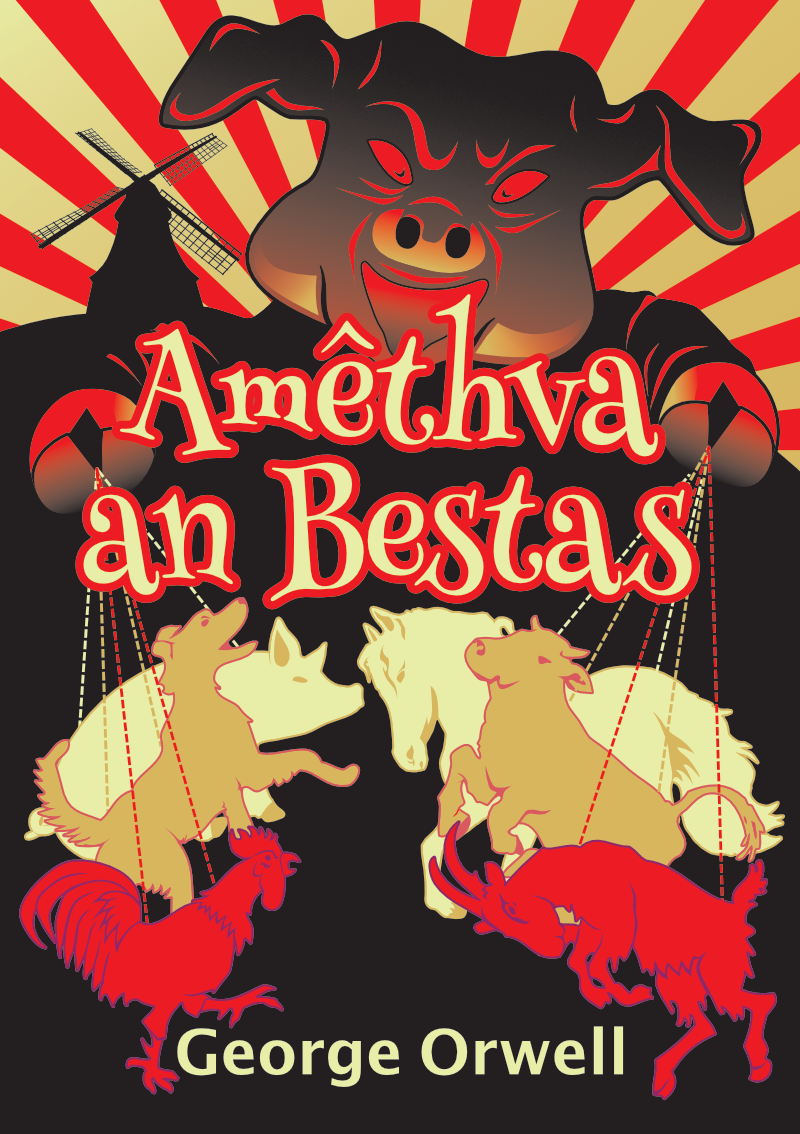 CHAPTRA 1
Kernowek © 2021 Ian Jackson
Yma Gerva awoles
Mêster Jowan, tiak amêthva Trevanor, a wrug desedha an yarjiow in dadn alwheth rag an nos, saw re vedhow o va, ma na ylly perthy cov degea an tardhellow. Th'esa kelgh golow y lugarn ow tauncya a'n eyl tenewen dhe'n aral, hag ev ow trebuchya dres an buarth. Ev a wrug dy'sky y votas ryb an daras dhelergh, heb aga thacla, ha dyvera dewetha gwedren a goref mes a'n balyer i'n gegyn adrëv, kyns mos an stairys in bàn dhe'n gwely, mayth esa Mêstres Jowan ow renky solabrës.
Kettel êth an golow dyfudhys i'n chambour, y teuth gway ha terneyj in pùb miljy. Dres an jorna y feu whedhel omlêsys, fatell wrug Major coth, an bôra Gwydn Cres a dhendylas pris, kemeres hunros coynt i'n nos tremenys, hag ev whensys dh'y dherivas dhe'n bestas erel. Agries o dell vydnens y metya onen hag oll i'n skyber vrâs, peskytter y fe Mêster Jowan gyllys diogel in kerdh. Major coth (cries indelma pùpprës, kynth o Rÿslegh Rial y hanow pàn veuva dysqwedhys i'n show), ev a'n jeva estêmyans mar uhel i'n wodref, mayth o kettep huny parys dhe gelly our a gùsk rag clôwes an pëth a vydna ev leverel.
Orth udn pedn a'n skyber vrâs, wàr sort a soler, yth esa Major esedhys solabrës wàr y wely cala, in dadn lugarn ow cregy wàr geber. Dêwdhek bloodh o va, ha tevys nebes tew agensow, saw ev o hogh whath rial y semlant, hegar ha fur y syght, in despît na veu y hirdhens trehys bythqweth. Kyns napell yth esa an bestas erel ow tos ajy hag ow settya gà honen attês, pùbonen acordyng dh'y gis ha maner. Kensa oll, y teuth an try hy, Blejen an Gog, Jessy, ha Pyncher. Nessa, an mogh, ow sedha i'n cala knack arâg an soler. Yth esa an yer esedhys wàr lehow an fenestry, an kelemy ow treneyja bys i'n styllyow, an deves ha'n buhas growedhys adrëv an mogh hag ow tallath dasknias. An dhew garrvil, Boxesor ha Mùllyon, a dheuth ajy, warbarth, ow kerdhes yn lent, hag ow corra aga harnow efan ha blewak yn pòr war, rag dowt neb best bian dhe vos in dadn gudh i'n cala. Mùllyon o casek tew hy horf ha mabmyl, ogas dh'y oos cres, ha ny veu hy fygùr oll daskefys wosa hy feswora ebal. Boxesor o eneval hûjes, ogas hag êtek leufhës y uhelder, ha mar grev avell kenyver dew vargh gorrys warbarth. Drefen lînen wydn wàr y dhewfrik ahës yth esa golok nebes gocky warnodho, ha defry nyns o va skentyl adhevîs, mès revrons ollkebmyn a'n jeva rag surneth y nas ha'y allos lavurya fest nerthek. Warlergh an vergh y teuth Mùryel, an avar wydn, ha Benjamyn, an asen. Benjamyn o an cotha best i'n wodref, ha'n best crowsak lacka oll. Ny vedha ev ow côwsel yn fenowgh, ha pàn vydnas ev leverel nampëth, hèn o neb merkyans cynycus dre vrâs – rag ensampyl, fatell ros Duw lost dhodho, ha'n porpos o gwetha rag kelyon, ha tell via gwell mar calla bos heb lost ha heb kelyon kefrës. Nyns esa nagonen mesk oll an bestas i'n wodref na ylly wherthyn, ma's ev yn udnyk. Mara qwrelles govyn prag, ev a vensa leverel nag esa ocasyon a wherthyn orth tra vëth. Byttele, heb confessya apert, ev o lel-cothman dhe Boxesor; yth esens y, aga dew, ow passya pùb De Sul warbarth i'n gew vian adrëv an avalednek, ow pory an eyl ryb y gela, oll heb cows.
An dhew vargh o nowyth growedhys pàn bagas heyjygow, neb a gollas aga mabm, a dheuth ajy dhe'n skyber, in udn rew, ow tynkyal yn whadn hag ow qwandra a'n eyl tu dh'y gela rag cafos tyller, le na vedhens y trettyes. Mùllyon a wrug sort a ge gans hy fer vrâs, ha'n heyjygow omneythys ino, hag dyson ow cùsca. Ogas holergh, Molly, an gasek wydn deg ha fol, o ûsys dhe dedna scavgarr Mêster Jowan, a gerdhas ajy, owth entra gwregyl dainty, hag ow tensel pîss shùgra. Hy a gemeras tyller wor'tu arâg ha dallath flyrtya hy mong gwydn, hag oll hy govenek o dynya lagasow dhe'n rybanys rudh esa plethys ino. Wàr an very dyweth, y teuth an gath, neb a wrug whelas an tobma tyller, avell ûsadow, ha gwrydnya inter Boxesor ha Mùllyon wosa polta; i'n sorn-na th'esa hy ow pùrrya contentys, oll der areth Major, heb attendya na cher na ger.
Yth esa pùb best devedhys, marnas Moyses, an varghvran dhov, hag ev ûsys dhe gùsca wàr welen adrëv an daras dhelergh. Pàn wrug Major gweles aga bos oll esedhys attës hag ow cortos yn cosel, ev a garthas y vranjen ha dallath:
"A gowetha, why a glôwas solabrës a'm hunros coynt, kemerys newher. Saw my a vydn côwsel a'm hunros moy adhewedhes. Yn kensa, yma otham leverel neppëth aral. Dell hevel dhybm, a gowetha, ny vedhaf lies mis moy i'gas cres, ha kyns merwel, ow devar yw treuscorra kebmys furneth dhywgh dell re beu kefys gena vy. Y'm bo bêwnans hir, y'm bo termyn lowr rag ombredery, a'm groweth i'm stalla, ha res yw alowa dell wòn vy convedhes natur an bêwnans i'gan bÿs mar dhâ avell kenyver best lebmyn yn few. Hobma yw testen dhe'm areth.
"Now, cowetha, pandr'yw natur agan bêwnans-ma? Gesowgh ny dhe leverel ôpyn. Agan bêwnans yw lavurys, dyflas, ha cot. Genys on ny, scant nyns eus boos lowr rës dhyn rag sensy anal i'gan corf, ha'n re-na a'n galla yw constrînys dhe wonys bys in dewetha atom agan nerth. Ha kettel na vo prow inon na felha yth on ny ledhys, ha hager an garowder. Nyns eus best vëth in Kernow a wor styr lowender pò termyn syger wosa ev dhe vos udn bloodh. Nyns eus best in oll Kernow hag ev frank. Bêwnans pùb best yw anken ha kethneth. Hèn yw an gwir noth.
"Mès yw hebma radn a res porrês in ordyr an natur? Yw agan tir mar vohosak, ma na yll affordya bêwnans sêmly dhe oll an re usy tregys warnodho? Nâ, cowetha, milweyth nâ! Gweras Kernow yw frûtus, an aireth yw dâ, y hyll affordya sosten pâls dhe vestas, brâssa dres ehen aga nùmber ages i'n tor'-ma. Udn amêthva gebmyn, agan godref-ma, y halsa mentênya hanter-ugans margh, ugans buwgh, lower cans davas – ha bêwnans dhe bùb huny in comfort ha dynyta a'n par nag yw scant dhe dhesmygy i'n eur-ma. Prag yth uson ny ow turya, ytho, i'n studh dyflas-ma? Dre rêson an ascoras a'gan lavur, ogas oll anodho, dhe vos ledrys gans an dus. Awotta, cowetha, an gorthyp dhe bùb agan caletter. Th'yw dhe sùmya wàr udn berr-lavar – mab den. Only mab den yw agan escar gwir. Mab den mar pe remôvys mes a wel, nena skyla hag ocasyon oll an nown ha'n gorlavur a via dylës bys vycken.
"Nyns eus ma's mab den ow consûmya heb ascor. Nyns usons y ow ry leth, nag ow tedhwy oy, re wadn yns y dhe dedna an ardar, ny yllons y ponya toth lowr rag cachya conynas. Bytegyns, mab den yw arlùth a-ugh pùb best. Mab den a'gan gorr dhe whel, mab den a dhascor an lyha possybyl dh'agan gwetha rag dyvotter, ha mab den a sens an gwedhyl dh'aga honen. Yma gàn lavur ny ow conys an tir, ha'gan bûsel ny orth y deyla, saw perhen nyns yw onen vëth ahanan a voy ès y grohen lobm. Why, an buhas usy aragof, pana lies gallon a leth a resowgh i'n dewetha bledhen? Ha pëth a wharva orth an leth-na, a dalvia maga leuhy crev? Pùb lebmyk êth in gasen agan escar. Ha why, an yer, py lies oy a wrussowgh dedhwy hevleny, ha py lies a veu covies bys in ÿdhnygow? An gwedhyl yw gyllys oll dhe'n varhas rag gwainya mona dhe Jowan ha'y dus. Ha ty, Mùllyon, ple ma an peswar ebal a wrussys denethy hag a dalvia bos scodhyans ha plesour i'th henys sy? Pùb ebal a veu gwerthys pàn o va udn bloodh – nefra ny welyth arta nagonen. In attal dhe'th peswar golovas hag oll dha lavur i'n park, pëth a wrusta recêva marnas dha stalla ha vytel tanow?
"Ha dh'agan bêwnans dyflas ny vëdh alowys unweyth y hës naturek. Dhe'm part vy, ny vadnaf croffolas, rag my dhe vos onen a'n re usy moy fortydnys. My yw dêwdhek bloodh, ha me a wrug denethy moy ès peswar cans flogh. Hèn yw bêwnans naturek dhe hogh. Saw ny wra eneval vëth scappya an gollel gruel wàr an dyweth. Why, an porhelly usy dhyragof a'gas eseth, pùbonen ahanowgh a wra scrîja dha vêwnans dhe ves orth an stock kyn pedn bledhen. Res yw dhyn oll dos bys i'n scruth-na – buhas, mogh, yer, deves, kettep huny. An vergh ha'n keun kefrës, nyns yw aga thenkys gwell. Ty, Boxesor, i'n very jorna may whrella an keherow brâs-na kelly aga gallos, Jowan a vydn dha wertha dhe'n latty. Ena y fëdh dha godna trehys ha ty bryjys dhe dybmyn rag keun an helgh. Ha'n keun obma, pàn vowns y coth heb dens, Jowan a vydn kelmy bryck dhe'n codna ha'ga budhy i'n nessa poll dowr.
"A nyns yw dhana cler glân, a gowetha, bos penfenten oll an drog i'gan bêwnans-ma yw turontieth an dus? Mar callon hepcor mab den, an ascoras a'gan lavur a via gesys dhe ny. Ogas heb let ny a via rych ha frank. Pandra vydnyn ny gwil ytho? Dar, lavuryn dëdh ha nos, corf hag enef, rag domhel kynda mab den! Ot ow messach dhywgh, a gowetha: Rebellyans! Ny worama pana dermyn a dheu an Rebellyans, wosa seythen par hap, wosa cans bledhen par hap, mès me a wor, mar sur dell esof ow qweles an cala-ma in dadn ow threys, jùstys dhe dhos yn certan kyns an dyweth. Gwrewgh fastya gàs golok wàr hedna, cowetha, der an remnant cot a'gas bêwnans! Ha dres oll, gwrewgh gorra ow messach dhe'n re a dheffa wàr gàs lergh, rag may fydna an kenedhlow devedhek strîvya pùb eur oll bys in budhygoleth.
"Ha gwrewgh perthy cov, a gowetha, dell yw res heb hockya porrês i'gas ervirans. Na wrewgh gasa argyans vëth agas lêdya wàr stray. Na wrewgh attendya pàn usons y ow leverel yma udn les kebmyn dhe vab den ha'n bestas, sowena dhe'n eyl th'yw sowena dh'y gela. Gowleverel yw hedna. Nyns usy mab den ow servya les creatùr vëth ma's anjy aga honen. Ha bedhens in mesk an bestas unvereth perfëth, cowethneth perfeth in oll an strîvyans. Escar yw kenyver den. Coweth yw kenyver best."
I'n prës-ma y feu tervans uthyk. Pàn esa Major owth arethya, peswar logosen vrâs a gramyas in mes a'ga tholl hag esedha wàr aga thin hag y wolsowes. Aspies vowns y desempys gans an keun, ha mar ny vednons an logas fysky scav dh'aga tholl, selwys ny via gà bêwnans. Major a wrug derevel y baw rag sîna tewel.
"A gowetha," yn medh, "otta poynt mayth yw res y dhetermya. An creatùrs gwyls, logas ha conynas rag ensampyl – yns y agan cothmans pò agan eskerens? Gesowgh ny dhe vôtya. My a worr an qwestyon dhe'n cùntellyans: Yw logas cowetha?"
An vôtyans a veu gwrës wàr nùk, hag y feu acordys gans moyhariv meur bos logas cowetha. Nyns esa ma's peswar lev dyssentys, an try hy ha'n gath, ha dyskevrys veu a'y wosa an gath dhe vôtya a bùb tu. Major a wrug pêsya:
"Nyns eus genef saw nebes moy dhe geworra. Ny vadnaf ma's dasleverel, gwrewgh remembra gàs devar bos escar dhe vab den hag oll aga manerow. Pypynag a gertha wàr dhew droos, hèn yw escar. Pypynag a gertha wàr beswar troos, pò may fo eskelly dhodho, yw coweth. Ha remembra inwedh, pàn wrellen ny batalyas warbydn mab den, fatell yw res heb omhevelly dhedhans. Kefrës pàn vowns y conqwerrys, na wrewgh degemeres aga vîcys. Nefra ny yll best vëth bos tregys in chy tus, pò cùsca in gwely tus, pò gwysca dyllas, pò eva alcohol, pò megy backa, pò tava mona, pò gwil chyffar. Drog yw kenyver maner a vab den. Kyns oll, nefra ny yll best vëth bos turont wàr y gynda y honen. Gwadn bò crev, conyng bò sempel, breder on ny oll. Nefra ny yll best ladha ken best vëth. Pùb best yw kehaval.
"Now, cowetha, me a vydn derivas tùchyng an hunros a gemerys newher. Ny allaf descrefa dhywgh an hunros-na. Hunros o va a'n norvÿs, fatla vëdh pàn vo Mab Den gyllys dhywar fâss an dor. Saw an hunros a dhros cov dhybm a neppëth ankevys nans yw termyn hir. Lies bledhen alebma, pàn en vy porhellyk, ow mabm ha'n banowas erel a wrug ûsya cana cân goth, na wodhyens y ma's an ton ha'n kensa pymp ger. Me a wodhya an ton-na i'm floholeth, ha slyppys pell o va mes a'm cov. Saw newher ev a dheuth dhybm i'm hunros unweyth arta. Ha dres hedna, y teuth gwersyow an gân arta kefrës – gwersyow kenys, dell ov vy certan, gans an bestas i'n termyn eus passys ha kellys heb covath dre lies kenedhel. Lebmyn, a gowetha, me a vydn cana an gân-na dhe why. Coth oma, ha lev hos dhybm, mès pàn wrellen vy desky dhywgh an ton, gwell y hyllo'why hy hana gàs honen. Hy hanow yw Bestas a Gernow."
Major coth a garthas y vranjen ha dallath cana. Dell wrug ev mencyon, y lev o hos, mès ev a ganas dâ lowr, hag entanuster i'n ton, polta par ha Clementine pò La Cucuracha. Ot an gwersyow:
Milas, bestas, why a Gernow,
Milas in pùb pow ha gwlas,
Gwrewgh golsowes whedhel lowen:
Fatell dheu dhyn termyn vas.
Mab den, turons, oll domhelys
Scon bò ken, y's gwelyn ny:
Parcow gwer ha frûtus Kernow,
Franchys bestas vedhons y.
Kelgh in dewfrik, van'shys â va,
Hernes lowsys wàr an scoodh;
Genva, kentryn: call rag nefra;
Ryddys vëdh dhe'n whyp y soodh.
Taclow moy ès dell dhesmygowgh:
Gwaneth, barlys, rychys meur!
Mùllyon, fav, ha betys mangel –
Y'gan bÿdh pàn dheffa'n eur.
Tireth Kernow, bryght a'n splanha,
Glânha pur y dhowrow 'vëdh.
Gwynsow clorha whath a'n whecka:
Franketh a surha an jëdh.
Ha kyn ferwyn i'gan strîvyans,
Res yw hedhes bora joy;
Buhas, mergh, ha culyak gyny,
Powes whar nyns eus namoy.
Milas, bestas, why a Gernow,
Milas in pùb pow ha gwlas,
Gwrewgh tavethly'n whedhel lowen:
Fatell dheu dhyn termyn vas.
An gân-ma a wrug tôwlel an bestas dhe frobmans a'n gwylsa. Scant ny dheuth Major bys i'n dyweth pàn wrussons ynsy dallath hy hana. Kefrës an moyha talsogh anodhans a gachyas an ton solabrës ha lower gwers ganso, ha'n re o sley – an mogh ha'n keun rag ensampyl – anjy a worras oll an gân dhe gov pòr gwyck ha scav. Ena, wosa neb assay pò dew, yth esa oll an wodref ow cana Bestas a Gernow in unson hag yn uhel brâs. Th'esa an buhas orth hy bedhygla, an keun orth hy hyny, an deves orth hy brivya, an vergh orth hy gryhias, an heyjy orth hy whackya. Mar dhelîtys êns y anedhy, may whrussons y cana oll an gân pympgweyth heb hedhy, ha dre lycklod y fiens y orth hy hana prest der an nos mar ny ve torrva dhe'n cana.
I'n gwetha prës, an tervans a wrug dyfuna Mêster Jowan, hag ev ow lebmel a'y wely, surhës bos lowarn i'n buarth. Ev a sêsyas an godn esa settys in cornel y jambour pùb termyn, ha dylla cartryjen a bellen nyver 6 i'n tewolgow aberveth. An pelednow a wrug tardra in fos an skyber ha'n cùntellyans ow cessya wàr hast. Pùbonen a scappyas dh'y gùskva. Pùb edhen a labmas wàr y welen, an gwarthek a wrug growedha i'n cala, hag oll an wodref ow cùsca dewhans.
GERVA – GLOSSARY
Definitions have generally been confined to those relevant for the story. To keep the glossary to a manageable length the listing excludes the most common words. These are best looked up in Gerlyver Kescows (Ian Jackson).
On-line at https://www.skeulantavas.com/vocabulary/gerlyver-kescows-2nd-edition
If you need grammar, by far the most helpful book is Desky Kernowek (Nicholas Williams, Evertype 2012).
a bùb tu phr on all / both sides
affordya v afford
amêthva f amêthvaow farm
an norvÿs ‖ m the world
arâg prep in front of
arethya v make a speech
argyans m argument
avalednek f avalenegow orchard
banow f banowas sow
barlys col barley
bedhygla v low, moo
betys mangel col betysen mangel-wurzels
blewak adj hairy
bora m morning
bôra m bôrys boar
boxesor m boxesoryon boxer
brivya v bleat
bryght adj bright
buarth m buardhow farmyard
budhygoleth f victory
bûsel m dung
call m rust
carrvil ‖ m carrvilas ‖ cart-horse
cartha y vranjen phr clear his throat
cartryjen f cartryjednow cartridge, charge
casek f casygy mare
conqwerrya v conquer
consûmya v consume
conyng adj clever
covia v hatch
cowethneth m comradeship
creatùr m creatùrs creature
cùskva f cùskvaow sleeping place
dasknias v chew the cud
dedhwy oy phr lay an egg
dewhans adv right away, at once
domhel v overthrow
dres hedna phr moreover, what is more
dyson adv promptly, without another word
dyvotter m starvation
ebal m ebylyon foal
entanuster m excitement
fer f ferow foreleg
floholeth m childhood, infancy
fortydnys adj lucky, fortunate
franketh m freedom
frûtus adj fertile
gasen = pengasen
genva f genvaow bit (of harness)
godref f godrevow small farm
golovas m confinement (giving birth)
gorlavur m overwork
gryhias v whinny
gwaneth col wheat
gweras m gwerasow soil
gwregyl adj feminine
helgh m hunt
henys m old age
heyjyk m heyjygow duckling
hirdhans ‖ m hirdhens ‖ tusk
hogh m hohas pig, boar
in dadn gudh phr hidden
kegyn adrëv f kegynow scullery
kentryn m kentrydnow spur
kew f kewyow paddock
kyny v whine
latty m lattiow slaughterhouse, knacker's yard
lebmyk m lemygow sip, drop
leufhës ‖ m hand (measure)
leugh m leuhy calf
lobm adj bare
mabmyl adj motherly
marghvran ‖ f marghvryny ‖ raven
miljy m miljiow farm building (for animals)
mogh col pigs
mong m mongow mane
moyhariv ‖ m majority
Moyses m Moses
nerthek adj powerful
norvÿs See an norvÿs
ocasyon m ocasyons cause, occasion
ollkebmyn ‖ adj universal
omhevelly v (dhe2) resemble, imitate
omneythy v nestle
pîss shùgra m pîcys lump of sugar
porhellyk m porhelygow piglet
qwackya v quack
qwyck adj quick
ryddya v rid
scavgarr ‖ m scavgerry ‖ horse-drawn trap
sosten m sustenance
styll m styllyow rafter
surneth m sureness, steadiness
tacla v make neat / tidy
talsogh ‖ adj stupid
tardhell f tardhellow pop-hole
terneyj m fluttering
tervans m uproar
teyla v fertilize
trettya v tread, trample
tynkyal v cheep
unson ‖ m unison
vîss m vîcys vice
vôtyans m voting
whyp m whyppys whip
yarjy m yarjiow hen-house
ÿdhnyk m ÿdhnygow chick