Fyrtøjet
Hans Christian Andersen
Kernowek © 2018 Ian Jackson
Yma Gerva orth pedn dewetha an whedhel.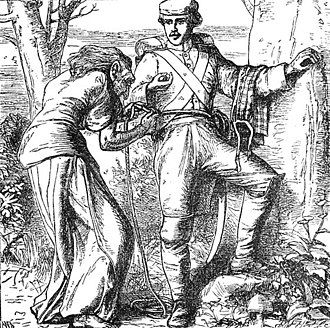 Y teuth soudor ow kerdhes, rêwlys y stappys, an bednfordh ahës – "onen, dew! onen, dew!" Yth esa y sagh wàr y geyn, ha crobmgledha a'y denewen, rag yth esa va agensow owth omlath i'n gwerryans, ha whans dhodho i'n eur-ma a dhos tre. Ha wàr an fordh ev a vetyas gans gwragh goth. Pòr uthyk o hy semlant, ha'y gwelv awoles ow cregy bys in hy brèst. Hy a leverys "Gordhuwher dâ, a soudor! Ass yw brav agas cledha, hag ass yw brâs agas sagh! Soudor ewn ow'whei! Lebmyn, mona a vednow'whei gawas, kebmys dell garsewgh."
"My a wor grâss dhis, te wragh goth!" an soudor a worthebys.
"A welow'whei an wedhen veur-na?" yn medh an wragh, ow tysqwedhes gwedhen a'y sav rypthans. "Cow yw hei yn tien aberra. Res yw dhe whei crambla bys in hy thop hag ena whei a wra gweles toll, le may hyllow'whei skydnya dredho ha dewana yn town i'n wedhen. Me a vedn kelmy lovan adro dh'agas body, rag may hallen vy gàs tedna arta in bàn, ha whei ow kelwel dhebm."
"Pëth a vednen vy gwil in downder an wedhen?" an soudor a wovydnas.
"Fanja mona," an wragh a worthebys. "Grew' cola orta vy. Pàn dheffow'whei dhe'n dor in dadn an wedhen, whei a wra gawas dell esow'whei in hel brâs. Hel golow lowr yw, rag yma moy ès tryhans lugarn ena. Whei a vedn gweles try daras. Whei'yll egery an re-ma, drefen an alwheth dhe sedha in pùb floren. Mars ew'whei ajei dhe'n kensa chambour, whei a wra gweles cofyr poos in cres an leur. Wàr an cofyr yma kei a'y eseth. Hag y'n jeves lagasow mar vrâs avell dew gùppa. Bès ny'gas deur. Me a ro dhe whei an aparn blou y jecker vy, whei'yll y lêsa wàr an leur. Nena kew' desempys bys i'n kei ha'y gibya, ha'y worra wàr an aparn. Nena grew' egery an cofyr ha kemeres oll an solsow eus ewl anodhans. Cober yns y. Mars yw gwell gena whei arhans, res yw mos ajei dhe'n nessa chambour. Saw ena yma kei a'y eseth gans lagasow mar vrâs avell rosow melyn. Bès ny'gas deur. Grew' worra ev wàr an aparn, ha kemeres neppyth a'n mona. Ha mars eus whans owr dhe whei, whei'yll gawas hedna kefrës, in g'rioneth, kebmys dell allow'whei degy – mars ew'whei ajei dhe'n tressa chambour. Bès an kei a'y eseth wàr an cofyr mona i'n teller-na a'n jeves lagasow mar vrâs avell tourow rownd. Kei fers yw va, heb dowt. Saw nynj eus otham a berthy own a hedna. Na wrew' ma's y worra wàr an aparn, ha ny vedn gàs myshevya. Ha grew' kemeres in mes a'n cofyr oll an owr eus ewl anodho."
"Tra gales nyns yw hodna," yn medh an soudor. "Saw pëth a rov dhyso in kendon, a wragh goth? Rag ny'n gwrêta heb còst, dhe'm desef."
"Nâ," an wragh a worthebys. "Sols vëth ny gavama. Nynj yw res dhe whei ma's dry bys dhybm corn tan, coth y gynda, a wrug dama wydn vy gasa wàr hy lergh pàn veu hei ena awoles an dewetha tro."
"Dhana gwra kelmy an lovan adro dhe'm corf!" an soudor a grias.
"Otta hei," yn medh an wragh, "hag ot obma an aparn blou y jecker."
Nena an soudor a gramblas in bàn hag aberth i'n wedhen, gwil dhodho y honen slynkya aberveth i'n toll, ha sevel, dell leverys an wragh, i'n hel meur mayth esa an lugern ow lesky, lower cans aga nùmber.
I'n tor'-ma ev a egoras an kensa daras. Agh! Ot an ky gans y lagasow mar vrâs avell cùppys, ow meras stag orto. "Te yw gwas wheg!" an soudor a grias in mes, hag ev a'n gorras wàr aparn an wragh, ha kemeres kebmys solsow a gober dell ylly y bockettys sensy, hag ena alwhedha an cofyr, gorra an ky warnodho arta, ha mos ajy dhe'n nessa chambour. Ahâ! Ot an ky a'y eseth gans y lagasow mar vrâs avell rosow melyn.
"Nyns yw res dhis meras orthyf mar stark," yn medh an soudor. "Te a wra sqwîtha dha dhewlagas." Hag ev a worras an ky wàr aparn an wragh. Ha pàn welas ev oll an mona arhans i'n cofyr, ev a dôwlys dhe ves oll an mona cober esa ganso, ha lenwel y bockettys ha'y sagh gans arhans yn udnyk. Ena ev êth ajy dhe'n tressa chambour. Ho! Ass o hedna scruthus! Yth esa in gwir dhe'n ky i'n tyller-na lagasow mar vrâs avell tourow, ha'n lagasow ow troyllya ader dro hag ader dro in y bedn kepar ha rosow.
"Gordhuwher dâ!" yn medh an soudor, hag ev ow tava y gappa, rag ny welas ev bythqweth ky a'n par-na kyns. Wosa ev dhe veras orto nebes hardlych, ev a brederys, hèn yw lowr lebmyn – ha'y lyftya dhe'n leur, hag egery an cofyr. Mercy! Owr ino, brâssa vyns! Ev a ylly prena anodho an dre gowal, ha'n porhelygow a shùgra a vedha benyn an tesednow ow qwertha, hag oll an vreseloryon a sten, an whyppys, ha'n vergh lesca i'n bÿs efan. Eâ, hûjes o an arhow! I'n tor'-ma an soudor a dôwlys dhe ves oll an bathow arhans may whrug ev lenwel solabrës y bockettys ha'y sagh gansa, ha kemeres owr i'ga le. Eâ, lenwys veu oll y bockettys, an sagh, y votas ha'y gappa. Ny ylly kerdhes scant. Pegans ha hanter a'n jeva lebmyn. Ev a worras an ky wàr an cofyr, degea an daras, hag ena garma der an wedhen. "Gwra ow thedna in bàn, te wragh goth."
"Eus an corn tan gena jy?" an wragh a wovydnas. "Pla warnodho!" an soudor a grias in mes. "My a'n ancovas glân" – hag ev ow mos dh'y gerhes.
An wragh a'n tednas in bàn, hag otta va sevys arta wàr an bednfordh, gans pockettys, botas, sagh ha cappa leun a owr.
"Pëth a vynta gwil gans an corn tan?" an soudor a wovydnas. "Ny'th teur," an wragh a worthebys yn sherp. "Che re fanjas mona dhys. Now roy dhebm an corn tan."
"Tety valy!" yn medh an soudor. "Gwra derivas dystowgh pandr'a vynta gwil ganso, boken me a vydn tedna ow cledha ha trehy dha bedn dhe ves."
"Na wrama!" an wragh a grias.
Ytho an soudor a drohas hy fedn dhe ves. Otta hy ena a'y groweth! Saw ev a drùssas oll y vona in hy aparn, kemeres pùptra wàr y geyn dhe vos fardel, gorra an corn tan in y bocket, ha dallath tro ha'n dre poran.
Tre vryntyn o hodna! Hag ev a wrug ôstya in tavern a'n very gwelha, ha demondya rômys a'n gwelha, hag erhy y sandys moyha kerys, rag i'n tor'-ma yth o va rych, ha dhodho kebmys mona. An servont, mayth esa dûta dhodho glanhe y votas, a wrug tyby an re-na dhe vos arhenas coth dres ehen rag den jentyl a rychyth meur. Ny wrug ev prena botas nowyth na whath. Saw an nessa jorna ev a gafas botas gwyw ha dyllas sêmly. I'n eur-na y feu agan soudor den jentyl afînys. Ha'n bobel a dheriva dhodho oll an taclow spladn esa in aga cyta, hag adro dhe'n mytern, ha fatell o myrgh an mytern pensevyges teg.
"Ple halsa den hy gweles?" an soudor a wovydnas. "Nyns yw hy cabmen dhe weles," yn medhans y oll warbarth. "Yma hy tregys in castel brâs a gober, gans lowr a fosow ha tourow in y gerhyn. Ny yll den vëth ma's an mytern ena mos ajy hag in mes. Rag profusys yw dell vëdh hy demedhys gans comen-soudor, ha dywodhaf pur yw hedna dhe'n mytern."
"Me a garsa hy gweles," an soudor a brederys. Saw ny ylly ev cafos cubmyas y wil. I'n prës-na yth esa va ow pewa yn jolyf, ow taromres i'n gwaryjy, ow trîvya in lowarth an mytern, hag ow ry meur a vona dhe'n vohosogyon. Ha hèm o ganso pòr garadow, rag ev dhe wodhvos, dhyworth y dermyn passys, pygebmys caletter yw plit pùb den pàn nag eus dhodho sols vëth oll. Lebmyn rych o va, hag y'n jeva dyllas feythus ha lies coweth, ha pùbonen anodhans ow leverel y bos ev pollat brâs, marhak gwir. Hag yth esa hedna ow plegya dhe'n soudor yn tâ. Saw hedre ve spênor a vona pùb dëdh heb dendyl bÿth moy, gesys o dhodho wortyweth dew sols. Ha constrînys veu dhe forsâkya y rômys a'n gwelha mayth esa tregys, ha res o dhodho anedhy tâlyk cul in dadn an to, ha glanhe y votas dhodho y honen, ha'ga êwna gans najeth y lodrow. Ny vedha onen vëth a'y gowetha worth y vysytya, rag yth esa re a stairys dhe eskyna.
Pòr dewl o, udn gordhuwher, ha nyns ylly ev prena cantol kyn fe, pàn dheuth dhodho in y vrës fatell esa stùbba a gantol i'n corn tan a gemeras ev a'n wedhen gow may cramblas aberth inhy gans gweres a'n wragh. Ev a dhros an corn tan ha stùbba an gantol in mes. Saw kettel wrug gweskel tan ha'n elvednow ow sordya a'n flynt, yn trobm y feu an daras egerys alês. Ha'n ky esa lagasow mar vrâs avell copel a gùppys dhodho, hag a wrug an soudor gweles i'n wedhen, an very hedna a veu sevys dhyragtho, ha leverel, "Pëth yw arhadow ow arlùth?"
"Pandr'yw an dra-ma?" yn medh an soudor. "Corn marthys yw, ha my ow cafos dredho pùptra mayth eus whans dhybm anodho! Doroy nebes mona," yn medh dhe'n ky. Ha sqwych, gyllys veu an ky, ha sqwych, devedhys arta o va, ha sahas a solsow in y anow.
Nena an soudor a wodhya convedhes pàn aneth o an corn tan-ma. Mar mydna y dùchya unweyth, y fedha ow tos an ky esa a'y eseth wàr an cofyr a vona cober. Mar mydna y dùchya dywweyth, y fedha ow tos an ky mayth esa an arhans. Ha mar mydna y dùchya terweyth, ena y fedna apperya an ky mayth esa an owr. I'n eur-ma an soudor a jaunjyas arta y drigva, ha dewheles bys i'n rômys a'n gwelha, ha'y dhysqwedhes y honen gans dyllas sêmly in y gerhyn. Hag oll y gowetha a'n aswony arta, ha nyns o den vëth bern dhedhans ma's ev.
Udn jëdh ev a brederys in y honen, "Fest coynt na yller gweles an bensevyges. Yma pùbonen ow leverel hy bos pòr deg. Saw pana brow, mars yw res dhedhy sedha pùpprës i'n castel brâs a gober gans an tourow lies aga nùmber? A ny allaf hy gweles in termyn vëth? Ple ma ow horn tan?" Ytho ev a wrug tùchya golow, ha sqwych, y teuth an ky gans y lagasow mar vrâs avell cùppys.
"Hanter-nos yw, yn sur," yn medh an soudor, "saw me a garsa dres musur gweles an bensevyges, pols bian cot" ha gyllys veu an ky heb let mes a wel, ha kyns ès an soudor dhe dyby an mater, an ky o dewhelys ha'n bensevyges ganso. Yth esa hy a'y eseth wàr geyn an ky, hag in cùsk. Apert o dhe bùbonen hy dhe vos pensevyges dhe wir, rag pòr hegar o hy. Ny ylly an soudor sevel orth abma dhedhy. rag ev dhe vos soudor dywysyk. Ena an ky a bonyas arta in kerdh gans an bensevyges. Saw pàn dheuth an bora, ha'n mytern ha'n vyternes owth eva tê, an bensevyges a leverys dell gafas hy hunros coynt, newher gordhuwher, hunros a gy hag a soudor: fatell wrug hy marhogeth wàr an ky, hag an soudor dell abmas dhedhy.
"Y fia hedna story mery!" yn medh an vyternes.
Now onen a'n mêstresow coth i'n gort a resa gôlyas dres an nessa nos ryb gwely an bensevyges, rag dyskevera mars o hebma hunros in gwir, boken pandra ylly bos.
Dhe'n soudor yth esa hireth veur dhe weles an bensevyges teg arta. ytho an ky a dheuth i'n nos, hy hemeres in kerdh, ha ponya scaffa galla. Saw an vêstres coth a wyscas botas dowr, ha ponya maga scav wàr y lergh. Pàn welas hy fatell wrussons y entra warbarth in chy brâs, hy a brederys, "lebmyn me a wor ple ma an tyller," ha delînya gans dernyk a galhen crows veur wàr an daras. Ena hy êth tre ha growedha, ha devedhys veu an ky gans an bensevyges. Saw pàn welas ev crows dhe vos delînyes wàr an daras mayth o tregys an soudor, ev a gemeras darn a galhen inwedh, ha delînya crowsow wàr oll an darajow i'n dre. Ha hèn o cast codnek. Rag i'n tor'-ma ny ylly an vêstres trouvya an daras ewn, abàn esa crowsow wàr oll an darajow.
Myttyn avarr y teuth an mytern ha'n vyternes, mêstres coth an gort hag oll an sodhogyon, rag gweles pleth esa an bensevyges i'n nos. "Otta va," yn medh an mytern, pàn welas ev an kensa daras gans y grows warnodho. "Nâ, gour cuv, ot obma," yn medh an vyternes, ha hy owth aspia ken daras esa ow tysqwedhes crows. "Saw ot onen, hag ot onen aral!" yn medh pùb huny, rag yth esa crowsow wàr an darajow py le pynag may whrellons y meras. Ytho anjy a wodhya convedhes bos whelas pelha heb prow.
Saw an vyternes o benyn skentyl dres ehen, hag a ylly gwil moy ès sedha in côcha rial. Hy a gemeras hy gweljow owrek, trehy clout owrlyn dhe dybmyn, ha sewa sehyk glanyth. An sehyk-ma a lenwys hy gans bleus gwaneth fin, ha'y gelmy wàr geyn an bensevyges. Wosa hedna hy a drohas toll bian i'n sehyk, rag may fe an bleus ow scùllya ahës wàr oll an fordh a vydna an bensevyges kerdhes dredhy.
I'n nos an ky a dheuth arta, recêva an bensevyges wàr y geyn, ha ponya gensy dhe'n soudor, esa orth hy hara a'y golon, ow predery assa via lowen a pe va unweyth pensevyk ha'y hemeres hy in gwreg. Ny verkyas an ky poynt fatell esa an bleus ow resek in fros dhia'n castel bys in fenestry an soudor hag ev ow ponya an fos in bàn gans an bensevyges. Ternos avarr y whrug an mytern ha'n vyternes gweles yn tâ lowr an tyller may feu aga myrgh dres an nos. Hag anjy a gachyas an soudor ha'y worra i'n pryson.
Otta va ena esedhys. Ogh, ass o an pryson dyflas ha dywolow! – ha'n dus ow leverel dhodho, "Avorow te a vëdh cregys!" Nyns o hedna plesont dhe glôwes, ha'n corn tan gesys i'n tavern. Myttyn ev a welas dre glos horn an fenester vian, fatell esa an bobel ow fystena in mes a'n dre rag meras orth y grog-vernans. Ev a glôwas an tabours dhe frappya, ha gweles an gwithlu dhe gerdhes i'ga renkyow. Yth esa oll an bobel ow ponya dresto. Hag i'ga mesk boya a geryor gans aparn ha whybanoryon a grohen, hag ev ow ponya mar scav, may codhas udn whybanor dhe ves, ha'n eskys ow neyja bys i'n fos mayth esa an soudor a'y eseth ow meras der an glos horn.
"Halô, te voya a geryor, nyns eus otham a gebmys fysky," an soudor a grias dhodho. "Ny vëdh an hôll-dra ow tallath erna dheffen vy ow honen. Saw mar mynta ponya dhe'm trigva, ha dry dhybm ow horn tan, te a wra cafos peswar sols, saw te a res ponya toth men." Whensys o boya an keryor dhe gafos an peswar sols. Ytho ev êth ha dry an corn tan, ha – wèl, lebmyn ny a wra clôwes an pëth a wharva.
Drehevys avês dhe'n dre yth esa cloghprednyer cowrek, ha'n gwethlu ow sevel adro dhedha, ha lies cans mil cytysan inwedh. Yth esa an mytern ha'n vyternes owth esedha wàr jairys spladn, adâl an jùjys ha'n consel dien. An soudor, yth esa ev solabrës a'y sav wàr an skeul. Saw ev a leverys (ha'n crogor ow parusy i'n kettermyn an lovan dh'y godna) ûsys dell o grauntya pùpprës neb fancy heb drog dhe felon truan, kyns ès ev dhe sùffra y bùnyshment. Pòr whensys o va dhe dùch pib backa, ha hedna dhe vos y dhewetha pîbas obma i'n bÿs. Nyns o an mytern parys dhe leverel 'Nâ.' Ytho an soudor a gemeras y gorn tan in mes, ha tùchya. Onen – dew – try! – hag awot oll an keun adhesempys: an ky gans y lagasow mar vrâs avell cùppys, an ky gans y lagasow mar vrâs avell rosow melyn, ha'n ky neb o y lagasow mar vrâs avell tourow rownd.
"Now gwrewgh gweres dhybm, na hallons y cregy vy!" yn medh an soudor. Ha'n keun a wrug omsettya orth an jùjys hag oll an consel, dalhedna onen er y arr ha ken onen er y dhewfrik, ha'ga dehesy pùb huny lower troos'hës in bàn, may whrussons y codha dhe'n dor ha terry oll in brewyon.
"Na vadnaf!" an mytern a grias. Saw an brâssa ky a'n kemeras ha'n vyternes kefrës, ha'ga thôwlel wàrlergh an erel. Ena yth esa an gwethlu ow perthy dowt, hag oll an bobel a grias, "A soudor bian, ty a vëdh agan mytern dhyn, ha ty a wra demedhy an bensevyges teg!"
Ytho anjy a worras an soudor in côcha an mytern, ha'n keun ow qwybya arâg, oll aga thry. Ha pùbonen a grias "Hùrâ!" ha'n vebyon a wrug whybana dre vesias, ha'n gwethlu a wrug presentya y arvow. An bensevyges a dheuth in mes a'n castel cober, ha declaryes veu hy myternes, ha dâ lowr o hedna gensy. Kyffewy an demedhyans a dhuryas oll an seythen, ha'n keun aga thry owth esedha ryb an bord inwedh, hag ow lagata orth pùptra o dhe weles.
GERVA
Glossary
Definitions have generally been confined to those relevant for the story. To keep the glossary to a manageable length the listing excludes the most common words. These are best looked up in Gerlyver Kescows – A Cornish Dictionary for Conversation (Ian Jackson, Agan Tavas 2017), for which an up-to-date spell-checker is available on the Vocabulary tab at www.skeulantavas.com. If you need grammar, by far the most helpful book is Desky Kernowek (Nicholas Williams, Evertype 2012).
The format and abbreviations in the glossary are the same as in Gerlyver Kescows, with one refinement. In this listing a middle dot following a vowel sound shows that primary stress is on that syllable (in cases where it is not the penultimate syllable); a double vertical line after a disyllabic word indicates that both syllables are more-or-less evenly stressed.
a resa v had to
a'y groweth phr lying
a'y sav phr standing
aberra adv = aberveth
adhesempys adv = desempys
afîna v refine
agh interj ah
ahâ· interj aha
alê·s adv wide
an gwithlu ‖ m the guards
an vohosogyon pl the poor
aneth m anethow marvellous thing
apperya v appear
arhenas m footwear
bès conj = mès
body m bodys body
bora m morning
boya m boyes boy, lad
breselor m breseloryon fighter
brewyon col brewyonen little pieces
bÿth adv ever, even
che pron = te
checker m check pattern
cloghprednyer pl gallows
comen-1 pref common
corn tan m kern tinderbox
crobmgledha m cromgledhydhyow sabre
crog-vernans m hanging
crogor m crogoryon hangman
cùppa m cùppys cup
cy·tysan m cy·tysans citizen
dewlagas du eyes
dûta m dûtys duty
dywolow adj dark
elven f elvednow spark
fanja v get
felon m felons felon
fers adj fierce
feythus adj beautiful
flynt m flint
fysky v rush
garma v call, yell
godhvos grâss dhe2 phr = aswon grâss dhe
gôlyas v keep watch
grauntya v grant
gwelv f gwelvow lip
gwybya v dart
hardlych adv carefully, precisely
hegar adj amiable, lovely
hûjes adj huge
hùrâ· interj hurrah
keryor m keryoryon shoemaker
lagata v stare wide-eyed
margh lesca m mergh rocking-horse
mercy m mercy
mery adj merry
mêstresow i'n gort phr ladies-in-waiting
ny'n deur phr he doesn't care
pednfordh ‖ f penfordhow highway
pensevyges f pensevygesow princess
pensevyk m pensevygyon prince
pîbas m pîbasow pipeful
porhellyk m porhelygow piglet
profusa v prophesy
py le adv = ple
rêwlys adj regular
rychyth m riches
sehyk m sehygow little bag
sêmly adj handsome
sewa v sew
sols m solsow shilling
spênor m spênoryon spender
sqwych m sqwychys twitch
stark adv fixedly
stùbba m stùbbys stub
sùffra v suffer
ternos adv next day
trobm adj sudden, all at once
whybanor m whybanoryon slipper
Kernowek Ebrel 2018, amendys Est 2020