Anthony Trollope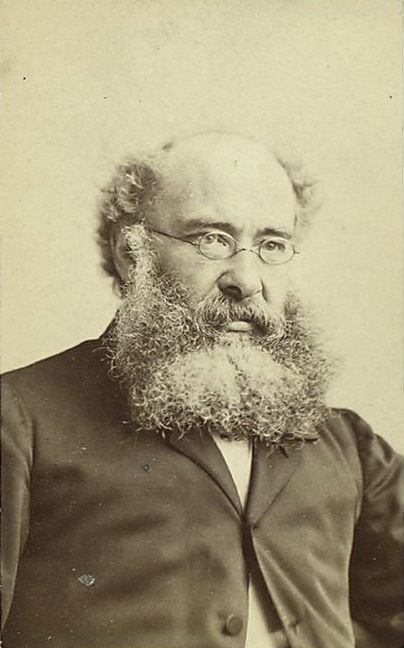 Portreyans a'n auctour gans Napoleon Sarony
Kevrol 1
AN WARDEN
Chaptra 1
SPYTY HIRAM
Kernowek © 2020 Ian Jackson
Yma Gerva awoles
An Revrond Septimus Harding o, nans yw nebes bledhydnyow, mab lien a venfys, trigys i'n tre beneglos –­ ; gesowgh ny dh'y cria Kervara. Mar teffen ny ha'y cria Wells pò Salisbury, Exeter, Hereford, pò Gloucester, y fensa den desevos bos agan porpos neppÿth personek. Ha dre rêson agan whedhel dhe gampolla brâsyon peneglos an dre-ma, yma bern dhyn na vo person vëth drog-dybys. Gesowgh ny dhe dhesevos bos Kervara tre gosel in Englond a'n west, moy nôtabyl rag tecter hy feneglos ha cothenep hy hovebow, ages rychys kenwerthek; bos pedn west Kervara kew an beneglos; ha bos bryntynyon Kervara an epscop, an deyn, ha'n chenons, ha'n gwrageth ha myrhas gansa.
Abrës in y vêwnans Mêster Harding a settyas y drigva in Kervara. Lev brav ha plesour in mûsyk sans a wrug determya an soodh may fydna ev obery galwans, ha lies bledhen yth esa va ow collenwel gweyth is-chenon, êsy ha scav y wober. Pàn veuva dêwgans bloodh, benfys vian in ogas dhe'n dre a wrug encressya y weyth ha'y wober, ha hanter-cans bloodh ev a veu henwys penkenyas an beneglos.
Mêster Harding a wrug demedhy avarr in y vêwnans, hag ev o tas dhe dhyw vyrgh. An cotha, Susan, a veu genys a verr spÿs warlergh y dhemedhyans; an aral, Eleanor, deg bledhen bell a'y wosa. I'n termyn mayth eson ny ow comendya Mêster Harding dh'agan redyoryon yth esa ev in Kervara, penkenyas, trigys gans y yonca myrgh, o peswar bloodh warn ugans; hag ev gesys gwedhow lies bledhen alebma, ha sowenys dhe ry y gotha myrgh in demedhyans dhe vab an epscop, termyn pòr got kyns y stallacyon dhe'n soodh a benkenyas.
Yth esa Sclander in Kervara ow pretendya, y fia Mêster Harding is-chenon whath, na ve an vyrgh dhe vos mar deg. Saw i'n negys-ma Sclander a wrug gowleverel, dell yw y ûsadow, rag na veu den vëth moy kerys gans oll y revrond bredereth i'n gew ages Mêster Harding, hag ev is-chenon kyn fe. Ha Sclander, kyns dysqwedhes cas a'y appoyntyans avell penkenyas gans y gothman an epscop, a wrug blâmya an epscop, in lev uhel, a'y sav mar bell orth avauncya neb fordh y gothman Mêster Harding. Bytegyns, Susan Harding a veu demedhys, nans o dêwdhek bledhen, gans an Revrond Doctour Theophilus Grantly, mab dhe'n epscop, Arghdiagon Kervara, ha rector Plumstead Episcopi, ha'y thas a veu appoyntys, nebes mîsyow a'y wosa, penkenyas peneglos Kervara, awos an soodh-na dhe vos, dell nag yw ûsadow, onen mayth esa dhe'n epscop an gwir dh'y lenwel.
Now yma cyrcùmstancys arbednyk dhe soodh an penkenyas ha res yw styrya an re-ma. I'n bledhen 1434 y ferwys in Kervara certan Jowan Hiram, neb a wrug gwainya rychys i'n dre avell marchont a'n dywysyans gwlân, hag in y lyther kemyn ev a stâtyas an chy may feuva marow, ha nebes park ha pras ogas dhe'n dre, cries Hiram's Butts ha Hiram's Patch, rag provia pencyon dhe dhêwdhek crîbyor omdednys, hag anjy genys ha tevys ha trigys oll aga bêwnans in Kervara. Ev a wrug ambosa inwedh, rag may fe alusenjy drehevys ha bos to dhedhans, kefrës ha trigva wyw dhe warden, ha rag may fe dhe'n warden sùbmen pùb bledhen mes a rentys an park ha'n pras-na. Ha pelha, ambos a'n gwrug, rag ev dhe vos enef whansek a gessenyans, y fe gwir dhe benkenyas an beneglos dôwys bos warden a'n alusenjy, mar pëdh an epscop, câss ha câss, ow comendya hedna.
Dhia'n jëdh-na bys in hedhyw yth esa an cheryta ow turya ha soweny – hèn yw, an cheryta ow turya ha'n stâtys tir ow soweny. Crîbya gwlân in Kervara, nyns esa den vëth y wil na felha. Nena y fedha an epscop, an deyn ha'n warden ow poyntya (hag anjy owth eylya gorra tus coth dhe'n jy) nebes colîtys in mes a'ga bodny aga honen: lowarthoryon lavurys, paloryon bedhow gyllys gwadn, pò tus clegh peswar ugans bloodh, ha'n re-ma ow recêva gans grassow aneth teg y gonfort, kefrës sols ha peswar dynar an jëdh, rag hedna dhe vos an gober may feu ambosys dhedhans in lyther kemyn Jowan Hiram. Dhe wir, i'n dedhyow kyns – hèn yw, bys i'n termyn hanter-cans bledhen kyns an present hedhyw – nyns esens y ow recêva ma's whednar an jëdh, ha'ga hawnsel ha'n kydnyow provies gans an warden wàr vord kebmyn, rag an arayans-na dhe sewya geryow Hiram coth yn moy strait. Saw nyns o hedna vas, dell hevelly, dhe vodh an warden, na dhe vodh an bencyonydhyon, ha sols ha peswar dynar an jëdh a veu gorthrës gans assentyans unver oll an partys, ha'n Epscop ha Corforeth Kervara intredhans.
Hebma o studh an dhêwdhek den coth pàn veu Mêster Harding appoyntys warden. Ha mars êns y sensys rych lowr warlergh aga flit i'n bÿs, meur moy lowen o an warden. In termyn Jowan Hiram yth esa an pras ha'n park owth ascor gora ha ry porva dhe vuhas, mès lebmyn anjy o leun a dreven in lies rew. Pùb bledhen, valew an tiryow a wrug encressya nebes ha nebes, cansvledhen ha cansvledhen, ha desevys o va hedhyw, gans an re usy ow codhvos an dra, dhe dhry rentys fest teg; ha desevys gans radn a'n bobel, na wodhya badna, dhe vos encressys bys in gradh wondrys ogasty.
Tiak an tiryow o den jentyl a Gervara, neb esa owth obery avell styward an epscop inwedh – den mayth o y das ha sîra wydn styward kyns dhe epscobow Kervara, ha tiogow wàr stâtys Jowan Hiram. Teylu Chadwick a wainyas hanow dâ in Kervara. Anjy a wrug bêwa in revrons epscobow, deynow, chenons, ha penkenysy. Anjy a veu encledhys ajy dhe oryon an beneglos. Bythqweth nyns êns y cries tus crefny ha smat, mès anjy a wrug bêwa meur aga honfort pùb eur, mentênya chy dâ, ha sensy savla uhel in cowethas Kervara. An present Mêster Chadwick o esel wordhy a deylu wordhy, ha dêlya gans styward mar wordhy, mar hel, o por dhà gans an wobrenoryon trigys wàr an park ha'n pras, kefrës ha'n re esa trigys wàr direth ledan an epscobeth.
Dres lies bledhen hir – an covath scant ny dherif pygebmys, dhia bàn veu whans Hiram colenwys rag an kensa prës – rent an stâtys a veu pës gans an styward pò gans an tiak dhe'n warden, ha ganso ev rydnys inter an bencyonydhyon. Wosa an radnans-ma, y fedha ev ow tylly dhodho y honen myns a ve y wober gwyw. Par termyn ny gafas an warden truan tra vëth saw y jy yn unsel, rag an pras a sùffras budhyans, ha tir park Kervara o diascor, dell esa pobel ow whedhla, hag in prejyow garow-na scant ny ylly an warden affordya an dol pùb jorna dh'y dhêwdhek serghyas. Saw tabm ha tabm an cyrcùmstancys a wrug gwella. An pras a veu desehys, ha pentiow a veu derevys wàr an park, ha'n wardens, in êwnder lowr, a dheuth hag astevery dh'aga honen rag an drog-dedhyow passys. I'n termyn cales y whrug an vohosogyon recêva aga gober, ytho i'n termyn sowyn ny yllens y gwetyas recêva moy esso. Indelma gober an warden a veu encressys; an chy pyctùresk ryb an spyty a veu moghhës hag afînys, ha'n soodh gyllys in onen a'n moyha covytyes a'n sodhow cles ha dygur a'gan eglos. Yth esa an gwir dh'y lenwel solabrës ow longya only dhe'n epscop. Convedhys o dhe'n deyn ha'n chaptra, kyn whrussons y sevel warbydn mellyans i'n dedhyow coth, fatell vedha gwell cafos penkenyas rych appoyntys gans an epscop, ages penkenyas bohosak appoyntys gansans y. Gober penkenyas Kervara o peswar ugans puns an vledhen. An gober ow tos a soodh warden an spyty, hèn o eth cans puns, heb reckna valew an chy.
Croffal, isel y son, o clôwys in Kervara – tanow in gwir, heb bos ma's traweythyow – na veu rentys tiryow Jowan Hiram rydnys yn teg. Mès scant nyns o musur an croffal lowr dhe sordya anês dhe dhen vëth. Byttele, whystrys o an whedhel, ha clôwys veuva gans Mêster Harding. Yth o y hanow in Kervara mar vrâs, y gerensa gans an bobel mar ollkebmyn, ma whrussa very feth y appoyntyans coselhe whystrans creffa ès myns a veu clôwys. Saw Mêster Harding o den egerys y leuv, ewnhensek y brederow. Ytho, pàn omsensys ev bos gwiryoneth i'n pëth a veu leverys, ev a wrug declarya, i'n prës may feu installyes, y vos porposys dhe geworra dew dhynar an jëdh dhe wober bian pùb pencyonyth. Sùm an mona addys o dew buns ha try ugans, udnek sols, peswar dynar, ha Mêster Harding ow tylly hedna mes a'y bocket y honen. Pàn wre y dylly, bytegyns, ev a vydna campolla cler ha menowgh dhe'n dus, y bromys fatell o promys personek, ha na ylly dedhewy abarth y sewysy; tell o an dhew dhynar dhe acowntya avell ro dhyworto ev, adar pêmont in mes a'n fydhyans. Saw an bencyonydhyon o cotha ès Mêster Harding dre vrâs, ha contentys êns y an gober addys dhe vos pòr dhiogel.
An helder-ma gans Mêster Harding, ny veuva heb enebyans. Mêster Chadwick a wrug dysswâdya orto, yn whar mès yn sad. Ha'y dheuv stordy, an arghdiagon, an udn person na berthy Mêster Harding own a nagonen ken, a wrug argya offens meur y gris, nâ! yn ter hag yn fen, warbydn alowans mar anfur. Saw an warden a nôtyas y borpos dhe'n spyty kyns ès an arghdiagon dhe vellya ganso, gwrÿth otta gwrës.
Spyty Hiram, henwys dell yw an tehyjy, yma va derevys yn pictùresk lowr, ow tysqwedhes an decernyans dâ o teythiak orth pensery an eglos i'n dedhyow eus passys. Desedhys yma wàr ladn an ryver bian usy ow resek adro dhe gew an beneglos, in kelgh ogasty, a'n tu pelha dhe'n dre. Yma fordh Loundres ow tremena an dowr wàr bons unwarek teg. Y fëdh kenyver estren, a'y sav i'n plâss-na, owth aspia fenestry rômys an dus coth, ha pùb copel a fenestry dyberthys an eyl orth y gela gans bùtres bian. Yma kerdhva ledan a rabmen inter an spyty ha'n dowr, ha hy gwithys kempen pùb eur oll. Ha worth pedn an gerdhva, in dadn grenel dallath an pons, yma scavel vrâs, polyshys dre ûsyans hir, may ma try pò peswar pencyonyth Hiram dhe weles a'ga eseth in pùb kewar glor. In hans dhe'n bùtressys-ma in udn rew, moy abell ès an pons, ha pelha kefrës dhyworth an dowr, usy ow stubma desempys i'n tyller-ma, yma chy Mêster Harding ha'y fenestry oryel teg, ha'y lesyn trehys yn tâ. Y hyller entra i'n spyty dhywar fordh Loundres, dre borth poos in dadn warek boos a ven, porth heb otham bythqweth, dell eus desevos, rag gwitha dêwdhek den coth, mès fest gwyw dhe witha semlant cheryta Hiram. An portal-ma pàn wrusses passya, ha bythqweth ny veuva degës, whegh eur myttyn bys deg eur nos, na ny veu bythqweth dhe egery wosa hedna, marnas dre brevy clogh cresosek, cowrek, cregys yn sley, ma na ylly omherdhyor vëth y gafos, y whelyr whe daras anedhow an dus coth, ha drestans yma scrin scav a horn, ha'n radn gwydnha y bÿs a welhevyn Kervara ow tremena dredhy, dhe'n Elysyùm ajy, hag o trigva Mêster Harding.
Mêster Harding yw den bian, lebmyn ogas ha try ugans bloodh, mès heb lower sin a'y oos. Y vlew yw nebes glas, adar loos oll. Y lagasow yw pòr guv, mès cler ha glew, kynth eus spectaclys dobyl ow lesca in y dhorn ha'n re-na, mar nyns usons y fast wàr y frigow, ow tysqwedhes pygebmys a wrug an termyn tùchya y wolok. Y dhêwla yw gwydn fin; kefrës dêwla ha treys yw bian. Gwyskys yw ev pùppres in frockcôta du, lavrak glin du, ha poltregas du. Ha tabm diegrys yw re a'y vredereth re eglosek awos y glout codna du.
Den vëth, estêmyor gwresak glân kyn fe, ny wor afydhya Mêster Harding dhe vos den dywysyk. Ny vydnas circùmstancys y vêwnans bythqweth gelwel dywysygneth. Scant ny yller, bytegyns, y gria losel. Warlergh ev dhe vos appoyntys penkenyas, y whrug ev pùblyshya, gans pùb keworrans a barchemyn, olsettyans ha gorowrans, tyscas ilow auncyent a'gan eglos, ha nebes studhyans compes inwedh a Purcell, Crotch, ha Nares. Ev a wrug gwellhe keur Kervara yn frâs, ha hedna mar dhâ, in y dhanjer, avell kenyver onen in peneglosyow an Sowson. Ev a gemeras nebes moy ès y ewnran in servyssyow an beneglos, ha seny an sedhgrowd pùb jorna dhe woslowysy, seul a ylly ev cùntell, pò, faute de mieux, heb goslowyas vëth.
Res yw compla in y gever udn arbenycter moy. Dell leversyn kyns, yma dhe Vêster Harding eth cans puns an vledhen in gober, ha nyns eus teylu dhodho ma's udn vyrgh. Mès nefra nyns yw ev oll attês in negys an mona. An parchemyn ha'n owrans a Harding's Church Music a wrug costya moy ès dell wor nebonen, saw an auctour, an dyllor, ha'n Revrond Theophilus Grantly, neb na wra alowa spênans scùllyak vëth dh'y sîra dâ, heb ev dh'y wodhvos. Ha Mêster Harding yw hel dh'y vyrgh, ow mentênya caryach bian ha copel a verhygow dh'y servya. In gwrioneth, ev yw hel dhe bùb huny, spessly dhe'n dhêwdhek den coth usy in maner arbednyk in dadn y scoos. Heb dowt, y coodh dhe Vêster Harding, a wel dh'y wober, bos a-ugh oll govyjyon an bÿs. Saw wàr neb cor nyns yw ev a-ugh Arghdiagon Theophilus Grantly, rag ev dhe vos pùb eur in kendon, neb fordh, dh'y dheuv; ha hedna, neb gradh, re gemeras negyssyow arhansek an penkenyas in charj.
GERVA – GLOSSARY
Definitions have generally been confined to those relevant for the story. To keep the glossary to a manageable length the listing excludes the most common words. These are best looked up in Gerlyver Kescows (Ian Jackson).
On-line at https://www.skeulantavas.com/vocabulary/gerlyver-kescows-2nd-edition
If you need grammar, by far the most helpful book is Desky Kernowek (Nicholas Williams, Evertype 2012).
a venfys phr as attributive adj beneficed
a wel dhe2 prep in view of
abrë·s adv early
affordya v afford
alowans m allowance
alusenjy ‖ m alusenjiow almshouse
ambosa v stipulate
anfur adj unwise, impolitic
appoyntya (poyntya) v appoint
appoyntyans Here in sense appointment to an office
arbenycter m peculiarity
arghdiagon ‖ m arghdiagonas archdeacon
auncyent adj ancient
benfys f benefice See also a venfys
bodh m will, wish
bodny m bonias coterie
bredereth pl brethren
bùtres m bùtressys buttress
chenon m chenons canon
cheryta m charity See also fydhyans cheryta
clout codna m cloutys neck-handkerfchief
colîta m colîtys hanger-on
corforeth f corforethow corporation
cothenep ‖ m antiquity
covytya v covet
crenel m crenellys parapet
cresosek adj mediaeval
crîbyor m crîbyoryon wool-carder
cro·nykyl m cronyclys chronicle
decernyans m taste
dêlya v (gans) deal (with)
den clegh m tus sexton
deuv m deuvyon son-in-law
deyn m deynow dean
diascor adj unproductive
dol m dôlys dole
dygur See soodh dhygur
dysswâdya v dissuade
dywysygneth m industriousness
eglosek adj ecclesiastical, clerical
Elysyùm m Elysium
enebyans m opposition
epscobeth m epscobedhow bishopric, see
estêmyor m estêmyoryon admirer
fenester oryel f fenestry oriel window
frockcôta m frockcôtys frock-coat
[fydhyans] che·ryta m charitable trust
glas adj greying (hair)
gorowrans m gilding
gorthry v substitute
goslowyas m goslowysy listener; pl audience
govyjyon pl worries, cares
gwelhevyn col elite
helder m generosity, munificence
is-chenon m is-chenons minor canon
kemeres in charj phr take on, assume (task)
kenwerthek adj commercial
kerdhva f kerdhvaow walk
Kervara f Barchester
kew f kewyow close
lavrak glin m lavregow knee-breeches
losel m losels idler
mab lien m mebyon clergyman
mellyans m interference
meur y gris phr urgently
moghhe ‖ v enlarge
nôtabyl adj notable, remarkable
ollkebmyn adj universal
olsettyans m typography
omherdhyor m omherdhyoryon intruder
omwitha v (rag) refrain (from)
owrans See gorowrans
palor m paloryon digger
parchemyn m parchment, vellum
pencyonyth m pencyonydhyon pensioner, bedesman
penkenyas m penkenysy precentor
penty ‖ m pentiow cottage
poltrega m poltregas gaiter
porva f grazing
Pow Bara m Barsetshire
poyntya See appoyntya
pùblyshya v publish
pyctùresk adj picturesque
rabmen m gravel
radnans m division
rector m rectoryon rector
revrond adj reverend
sav orth phr deliberate omission (to do sth)
sedhgrowd m sedhgrowdys violoncello
serghyas m serhysy dependant
sewyas m sewysy successor
smat adj tough, hard (person)
sols m solsow shilling
soodh dhygur f sodhow sinecure
sowyn adj prosperous
spênans m expenditure
spyty m spytiow hospice, hospital
stallacyon m installation
stâtya v convey, devise (land)
stordy adj strong-minded
styward m stywars steward
tehyjy m tehyjiow retreat
ter See yn ter hag yn fen
tireth m domains
tyscas m tyscasow collection
unsel See yn unsel
unver adj unanimous
unwarek adj one-arched
ûsyans m use
wàr neb cor phr with express negative in any way, at all
warden m wardens warden
whansek adj (a2) desirous (of)
whedhla v tell tales, gossip
whednar m sixpence
wondrys adj fabulous
wordhy adj worthy
[yn] unsel adv only
yn ter hag yn fen phr vehemently