TÂLA A'N MOR COSEL
R.M. Ballantyne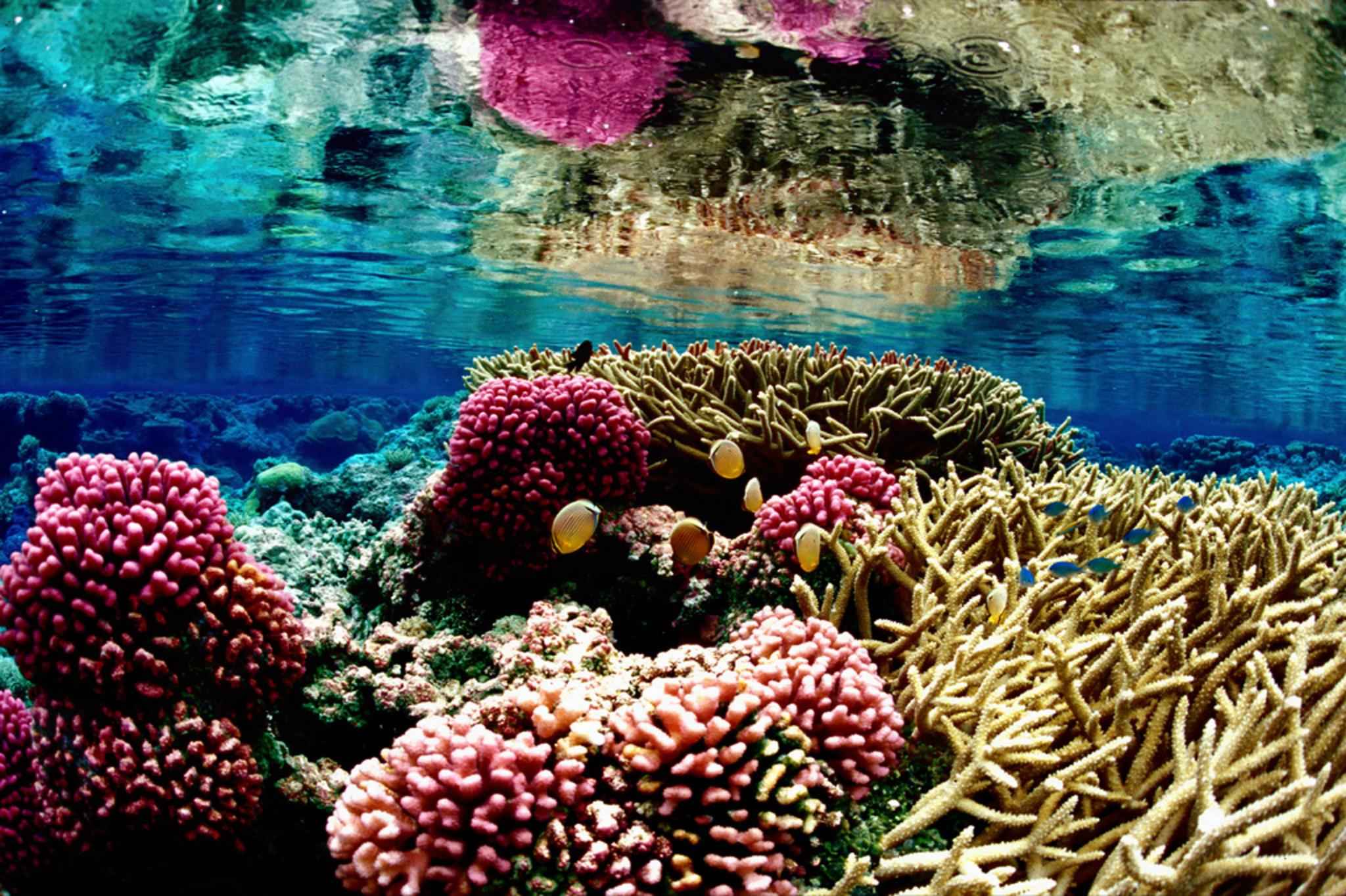 Tirwel rif coral leun a lyw
Chaptra 1
Kernowek © 2023 Ian Jackson
Yma Gerva awoles
Gwandrans yw vynytha ha whath bythqweth an brâssa heudh ha joy i'm colon, an very howl oll dhe'm bêwnans. Gwandryas pùpprÿs i'n floholeth, i'n maboleth, in stât an den tevys; pell dhyworth onen a wra rôsya mesk an glynnow cosak ha'n brynyow awartha i'm mammvro ow honen, yth oma vy gwandryas dywysyk dres oll an bÿs efan alês.
Yth o nos wyls, nos dhu, ha'n awel owth ùllya, pàn veuv vy genys in ascra ewonek an mor Atlantek meur. Ow thas o capten mor; an sîra wynn o capten mor; yth esa hengok dhymm o morgador. Ny ylly den vÿth leverel pana whel esa dh'y das ev, saw ow mamm wheg a wre afydhya ev dhe vos prentys sodhak mor, ha'y sîra wynn, abarth y vamm, o amyral i'n lu lestry rial. In neb câss ny a wodhya, mar bell a ylly bos agan lynaja helerhys, dell o va kelmys yn ogas orth an dyfeth devrak brâs. I'm teylu yth o hemma gwir abarth an eyl tu ha wàr y gela kefrÿs, rag y fedha ow mamm pùpprÿs ow mos dhe'n mor gans ow thas in y viajys hir, hag ow spêna moyha rann hy bêwnans ytho wàr an dhowrfordh.
In ketelma yn whirhaval, my inwedh a wrug eryta gnas o plegys dhe wandra. Termyn cot wosa henna, ow thas, pàn o cothwas, a wrug omdenna a'n vororieth, ha prena penty bian in treveglos pyskessa ryb an mor wàr arvor Pow an Sowson a'n west, rag spêna tewlwolow y oos ryb an keth mor-na, o spâss anedhys ganso kemmys termyn. Scon y fedhen vy ow tysqwedhes spyrys an gwandryas o gorrys inof. Ow garrow flohyl a wainya nerth nans o polta, ma nag en vy lowen namoy dhe rùttya knes dhywar ow glinyow tew dre walkya warnedha, ha my owth assaya lower torn dhe sevel in bàn rag kerdhes kepar ha den; saw dyweth pùb assay a veu sedha dhe'n leur yn harow lowr, sodyn an sowthan. Unn jëdh my a gemeras prow a'n hap nag esa ow mamm wheg i'n tyller, ha gul unn strîvyans moy; my a spêdyas er ow delît bys i'n troosow, ha codha in unn drebuchya in poll dowr lîsak, scolkys ryb penty ow thas dhyrag an daras. Ogh, ass yw glew, perthy cov a scruth ow mamm pàn y'm cafas ow whesa i'n lis-na mesk grèg brâs a heyjy, ha'y herensa glor pàn wrug hy stryppya ow dyllas glebys ha golhy ow horf bian plos! Alemma rag ow gwandrans o moy menowgh, seul bella seul voy bloodh, hag y feuma gwandrys der oll an morrep ha'n cosow adro dh'agan trigva uvel, heb bos contentys bys ma'm settyas ow thas dhe brentycieth wàr lester carg arvorek, ha ry cummyas dhymm mos dhe'n mor.
Nebes bledhynnyow yth esen vy ow vysytya an porthow yn lowen, hag ow corsya an côstys ow mammvro ahÿs. Ow hanow besyth yw Ralph, ha dhodho yth addyas ow howetha an hanow Rover, drefen ow whans gwresek a viajya pùb dëdh oll. Ow hanow nyns o Rover in gwiryoneth, mès pàn na gefys hanow na hen my a'n degemeras oteweth avell hanow mar naturek avell ow hanow gwir; hag abàn nag yw drog-hanow, nyns eus rêson vÿth warbynn my dhe gomendya ow honen dhe'n redyor in danno ev. Ow hesvororyon o gwesyon guv lowr, hag yth esen ny ow convedhes an eyl y gela yn pòr dhâ. Y fynnens y, pòr venowgh iredy, êsya ha gesya genef, saw heb bos dyguf; ha my a'ga clêwa traweythyow pàn leverens bos Ralph Rover "pollat coynt ha coth y fassyon". My a gemeras marth brâs worth hemma, res yw avowa, ha termyn pell my a ombredery an lavar-ma, saw ny wodhyen ervira prag y fe dhymm gnas mar goth. Sur yth en vy maw qwiet, heb kêwsel lies ger na ve re erel ow kêwsel orthyf vy. Gans henna ny wodhyen bythqweth ùnderstondya whedhlow wharthus an gowetha, kefrÿs pàn vêns y styrys dhymm, ha'w dylymder-ma a'm grêvya meur. Saw my a whila astevery, dre dremyn bryght ha plêsys ow min, bÿth pàn wrellen merkya aga bos ow wherthyn orth neb dyth na yllyn vy cafos an hûmour ino. Inwedh my a gara whythra orth natur ha skyla lies tra, ha pell ow brÿs yn fenowgh pàn vynnen vy pondra indella. Mès in hemma oll tra vÿth ny welyn nag o fest naturek, ha ny wodhyen convedhes an gowetha prag y fedhens ow gelwel vy "pollat coth y fassyon".
Now, pàn esen vy bysy in kenwerth an côstys, my a dheuth warbynn lies marner a lavuryas bys in pùb qwartron an norvÿs ogasty. Ha my a vynn avowa ow holon fatell esa ow tywy tanek pàn yllens y derivas aga aventurs mar freth tramor – pùb teweth hag enawel, pùb peryl uthyk ethons dienkys anodho, an bestas marthys a welsons in tir na mor, ha'n powyow reveth ha'n poblow stranj a wrussons vysytya. Saw intra oll an tyleryow a vynnens y derivas anedha, an re a gachyas ow desmygyans in unn huda moy ès pùptra o Enesow Coral an Mor Cosel. An marners a wrug descrefa mil enys frûtfùl ha teg, o formyes gans best bian henwys an prÿv coral, ha'n hâv namnag o pùb sêson ena – mayth o an gwÿdh leun a drevas parhus a frûtys gorfals – mayth o an aireth delycyùs pùb dëdh ogas dynam – saw mayth o trevesygyon an dor, ria sos, tus wyls ha gooscar, marnas an re esa trigys i'n enesow faverys-na may feu awayl agan Savyour drÿs dhy. An derivadow pòr bigus-ma a wrug effeth mar vrâs dhe'm brÿs mayth ervirys vy, kettel veuv pymthek bloodh, mos viajya bys i'n Mor Cosel.
Y feu fest cales perswâdya ow herens ker may hallen vy mos. Saw pàn wrug vy erya ow thas, na via bythqweth avauncys dhe vos capten a mynna ev gortos in kenwerth an côstys, ev a wodhya convedhes ow mênyng, ha ry cummyas dhymm. Ow mamm wheg pàn welas fatell veu ow thas determys, ny wrug hy profya offens na fella warbynn ow devîs. "A Ralph," yn medh bytegyns i'n keth dÿdh may whrug vy gorhemmyn farwèl orty, "deus arta dhyn yn scon, ow mab ker, rag a verr spÿs y fedhyn ny coth, Ralph, heb gallos bêwa lies bledhen nameur."
Ny vynnaf tropla termyn ow redyor gans manylyon a'n myns a wharva erna wrug vy dyberth oteweth orth ow herens ker. Lowr yw leverel ow thas dhe'm gorra avell charj dhe goweth moos a'y dhedhyow kyns, neb capten i'n lu marchont, o parys teg dhe wolya dhe'n Mor Cosel in y lester y honen, an Arrow. Ow mamm a ros hy bennath dhymm, ha Beybel bian; hag yth o hy dewetha govyn, na vennen vy ankevy redya unn chaptra pùb jorna, ha gul pesadow. My a dhedhewys heb mar, ha dagrow i'm lagasow.
Kyns napell my a veu eskynys dhe'n Arrow, o gorhal brav ha brâs, ha dallath ow viaj dhe enesow an Mor Cosel.
GERVA – GLOSSARY
Definitions have generally been confined to those relevant for the story. To keep the glossary to a manageable length the listing excludes the most common words. These are best looked up in Gerlyver Kescows (Ian Jackson).
On-line at https://www.skeulantavas.com/vocabulary/gerlyver-kescows-2nd-edition
If you need grammar, by far the most helpful book is Desky Kernowek (Nicholas Williams, Evertype 2012).
abarth prep on the side of
amyral m amyralys admiral
an lu lestry rial m the royal navy
an lu marchont m the merchant navy
an norvÿs m the world, the globe
anedhy v dwell, inhabit
arvorek adj coastal
ascra f bosom
awayl m awaylow gospel
bryght adj bright
coral m coral
corsya v cruise
cosak adj wooded
cost m côstys coast
cothwas ‖ m cothwesyon ‖ old man
coweth moos m cowetha voos messmate
devrak adj watery
dos warbynn phr encounter
dowrfordh ‖ f water (providing passage for a ship)
dylymder m dullness
dynam adj faultless
dywy v kindle
erya v challenge
êsya ha gesya phr make game and banter
ewonek adj foaming
favera v favour
floholeth m childhood
flohyl adj childish
frûtfùl adj fruitful, fertile
glyn m glynnow glen
gooscar ‖ adj bloodthirsty
gorfals adj luxuriant
grèg m cackle
gwandrans m roving
gwandryas m gwandrysy rover
gwresek adj ardent
hanow besyth m henwyn Christian name
hap m chance
helerhy v trace
hengok ‖ m hengogyon ‖ great-grandfather
heudh m joy, passion
huda v charm
in neb câss phr at any rate
kesvoror m kesvororyon shipmate
knes col skin
lynaja m lineage
maboleth m boyhood
mammvro ‖ f native land
morgador ‖ m morgadoryon ‖ marine
mororieth f seafaring
morrep m shore
oteweth adv = wosteweth
parhus adj constant
penty m pentiow cottage
pondra v ponder
prentycieth f apprenticeship
qwiet adj quiet
reveth adj curious, wonderful
ria sos phr strange to say
rif m rîfys reef
savyour m savyours saviour
scolkya v sculk
stryppya v strip
tâla m tâlys tale
tanek adj fiery
tramor adj overseas
trevesyk an dor m trevesygyon native
ùllya v howl
vynytha adv ever