WILHELM HAUFF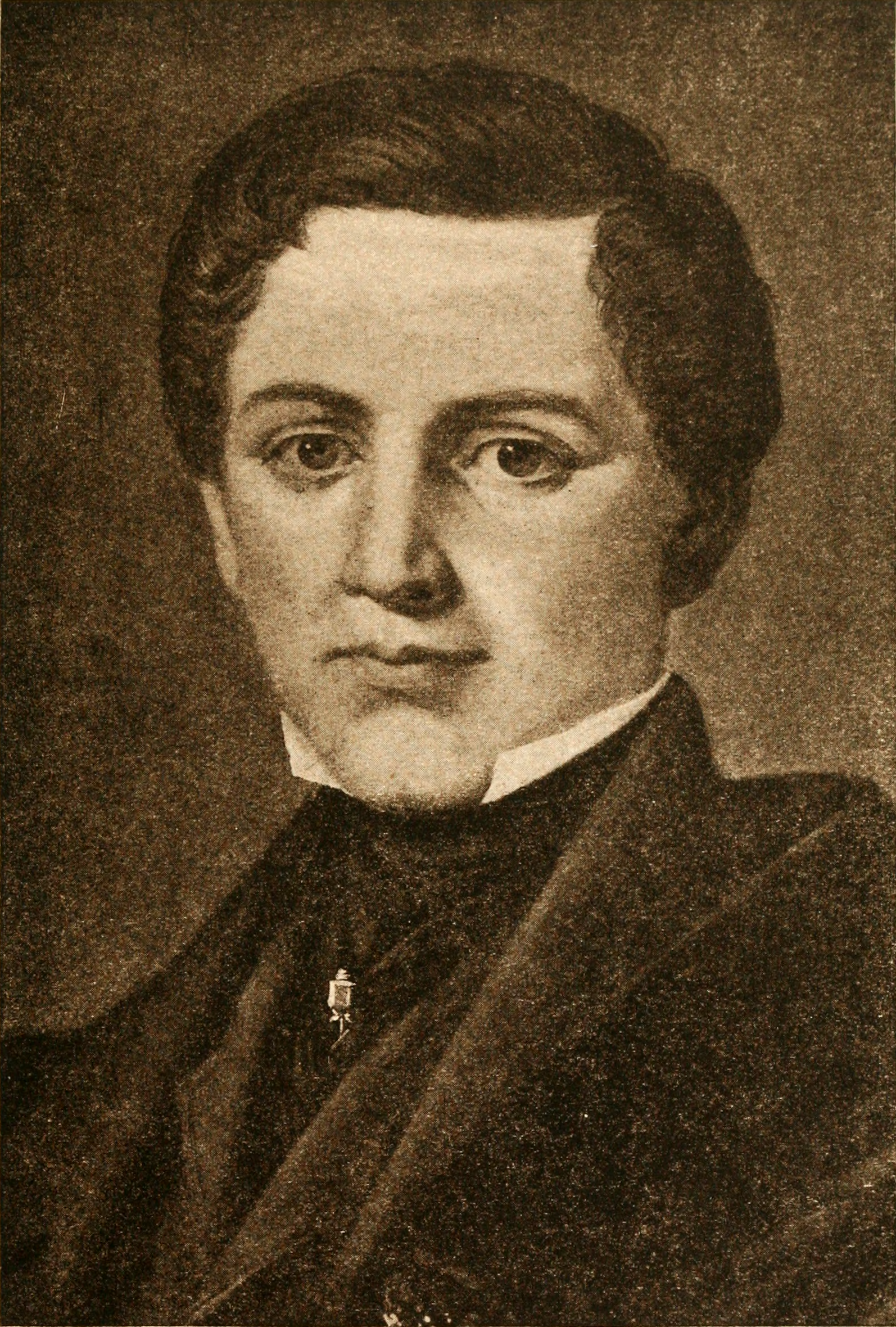 Kernowek © 2022 Nicholas Williams
Raglavar
Y feu an whedhel awoles dyllys rag an kensa prës gans Wilhelm Hauff i'n vledhen 1826 in dadn an tîtel Jerman Das kalte Herz ('An Golon Yêyn'). Yth o an whedhel radn a lyver hirha gelwys Das Wirtshaus im Spessart ('An Ostel i'n Spessart'). I'n lyver-na yma Das kalte Herz pryntys in dyw radn dyblans. I'n trailyans-ma me re worras an dhyw radn warbarth an eyl warlergh y ben ha rag comodyta ow redyoryon me re radnas an whedhel gwredhek inter peswardhek chaptra nag yw kefys i'n lyver Hauff. Me re drailyas an whedhel dhyworth versyon Sowsnek, saw devnyth re beu gwrÿs a'n Jerman gwredhek pàn nag o apert dhybm styr an Sowsnek.
Y feu Wilhelm Hauff genys in Stùttgart i'n vledhen 1802. Y sîra, sodhak in Menystrans Negyssyow Estren Würtemberg, a verwys pàn o Willhelm seyth bloodh. I'n vledhen 1820 Hauff a entras in Ûnyversyta Tübingen. Wosa gorfenna y studhyansow, ev a veu descador pryveth dhe flehes Menyster Gwerryans Würtemberg. Hauff a verwys a fevyr tyfoyd termyn cot dhyrag y bympes warn ugans pedn bloodh.
Hauff a screfas meur a whedhlow rag flehes an Menyster a Werryans. Das kalte Herz o onen an whedhlow moyha kerys. Y feu fylm lywys gwrÿs anodho in Repùblek Democratek Jermany i'n vledhen 1950.
Foreword
The present tale was written in German by Wilhelm Hauff with the title Das kalte Herz 'the Cold Heart' and published as part of a longer work Das Wirtshaus im Spessart ('The Guesthouse in the Spessart') in 1826. Das kalte Herz appears in two parts in the original longer work. I have below joined the two parts together and for the convenience of readers have divided the story into fourteen chapters, absent in Hauff's book. The translation into Cornish has been made from an English translation, but I have used the original German in places of difficulty.
Wilhelm Hauff was born in Stuttgart in 1802. His father, who was employed in the Stuttgart Ministry of Foreign affairs, died when Wilhelm was seven. In 1820 Hauff entered the University of Tübingen. After leaving university he became tutor to the children of the Würtemberg minister of war. He died of typhoid fever in 1827, shortly before his twenty fifth birthday.
Hauff wrote numerous tales for the children of the minister of war. Das kalte Herz was one of the most popular. It was made into a colour film in the German Democratic Republic in 1950.
1
PYNAG OLL a vo ow viajya dre Swâbya, y tâl dhodho meras aberth i'n Forest Du; ny via hedna dre rêson a'n gwëdh, kyn nag usy nebonen ow cafos in neb tyller nyver mar vrâs a sabwëdh spladn; nâ, saw awos an drevesygyon, rag yma meur a dhyffrans intredhons y ha'ga hentrevogyon. Pobel an Forest Du yw uhelha ès pobel erel, ledan aga scodhow ha crev aga esely. Yth hevel fatell usy wheg smyllyng clor an sabwëdh owth alowa dhodhans anella moy êsy, gweles dhe glerha hag inwedh yma va ow ry dhodhans spyrys moy determys, kyn nag ywa mar whar, avell trevesygyon an nansow ha'n plainys. Pelha nyns usy an dyffrans-ma ow longya dh'aga form ha dh'aga myns yn udnyk, saw yth yw dyhaval kefrÿs aga ûsadow ha'ga gwythresow. I'n radn-na a'n Forest Du neb yw comprehendys in Meur-Dhucheth Baden, y hyll bos gwelys an dyllas moyha marthys a oll pobel a'n forest. Yma an dus owth alowa dhe'n natur gwil a vo dâ ganso ow tùchya aga barvow; hag yma aga jerkyns du, aga lavregow glin stroth, aga hosanow rudh, ha'ga hottys uhel efan aga dêlyow, ow ry dhodhans semlant teg, saw fast ha galosek. I'n côstys-ma y fëdh moyhariv an bobel ow qwil gweder; ymowns y ow tarbary euryoryow inwedh hag orth aga gwertha dres hanter an norvÿs.
I'n termyn eus passys yth esa tregys in hans dhe'n forest ken scoren a'n bobel-ma, saw aga ober a ros dhodhans ûsadow ha manerow dyhaval. Y a wre trehy aga sabwëdh dhe'n dor, gwil scathow clos a'ga frednyer ha'ga gorra Dowr Nagold wàr nans bys in Dowr Neckar, ha dhyworth Dowr Neckar Uhel bys in Dowr Rin hag alena wàr nans bys i'n Iseldiryow. Yth o aswonys tus an scathow clos-ma dhyworth an Forest Du ryb an Mor North y honen. Wàr aga viajys an ryvers wàr nans y a wre stoppya orth pùb cyta ryb an gladnow ha gortos prenoryon rag aga frednyer ha'ga estyll, saw y a sensy aga frednyer brâssa may hallens y aga gwertha a vona moy dhe'n Iselalmans, neb a wre gorholyon anodhans. Tus an scathow clos o ûsys dhe vêwnans garow, dhe vêwnans gwandra. Aga joy o dhe wolya wàr aga frednyer an ryvers wàr nans; aga thristans o an kerdh hir tre wàr an gladnow. Rag hedna, awos aga ober res o dhodhans omwysca in gwysk dyffrans yn tien dhyworth dyllas tus an gweder wàr denewen aral an Forest Du. Y a vedha gwyskys in jerkyns a lin, galosys gwer ledan dres aga brèst gallosek, lavregow glin a lether du, hag ow meras in mes a'ga fockettys an re-na y hylly bos gwelys lînenoryon latten avell arwedhyow onour. Saw moy ès ken tra vëth y a gara aga botas, an botas brâssa martesen in ûsyans kebmyn in tyller vëth in oll an norvÿs, rag y hylly an botas bos tednys in bàn eth mêsva a-ugh an dewlin, may halla den an scath clos kerdhes adro in dowr try throosva in uhelder heb glebya y dreys.
Bys in termyn cot alebma yth esa pobel an Forest-ma ow cresy in spyryjyon an coos. Saw yth yw nebes coynt fatell esa an spyryjyon tregys i'n Forest warlergh an henwhedhlow, ow kemeres tenewen i'n dyffransow-ma a dhyllas. Indelha y fedha leverys na wre an Den Bian a Weder, spyrys dâ nag o ma's try throoshës in uhelder, omdhysqwedhes bythqweth ma's i'n hot uhel ledan y dhêlen, ha jerkyn, lavregow glin ha hosanow rudh adro dhodho, saw Myhâl Iselalman, neb o tregy i'n radn aral a'n forest, o cowr ledanscodhek in gwysk den prednyer. Pobel neb a'n gwelas a leverys na garsens poynt pe rag crehyn an warthek o res dhe wil dyw votasen dhodho. "Hag ev o mar uhel," yn medhons y, "na wre den kebmyn drehedhes y godna." Yth yw derivys fatell wrug den yonk a'n côstys-ma cafos experyens coynt gans an spyryjyon a'n forest-ma. Ha me a vydn derivas dhywgh a'n experyens-na.
Yth esa tregys i'n Forest Du gwedhowes henwys Frau Barbara Mùnk. Hy gour ty o den glow predn, ha warlergh y vernans hy a vagas hy mab dhe'n keth negys. Pedyr Mùnk yonk, den skentyl whêtek bloodh, o lowen dhe esedha der an seythen adro dh'y grugyow a brednyer ow megy, kepar dell welas ev gwrÿs gans y sîra. Ha duhës ha hylgethek dell o, ev a wre skydnya dhe'n trevow rag gwertha an glow predn gwrÿs ganso. Saw den glow predn a'n jeves meur a jauns dhe bredery anodho y honen hag a bobel erel; ha pàn esa Pedyr Mùnk owth esedha wàr y grugyow a brednyer hanter-leskys, an gwëdh tewl in y gerhyn, taw down an forest a lenwy y dhewlagas gans dagrow ha'y golon a hireth dhyhanow. Yth esa neb tra worth y ancrêsya ha ny wodhya ev pandr'o va poran. Wàr an dyweth ev a gonvedhas pandr'o an dra esa y dropla kebmys; y ober ev. "Den predn glow dygoweth," ev a levery dhodho y honen, "ass yw ankensy y vêwnans! Ass yw wordhy tus an gweder, an wrioryon a euryoryow ha mûsycyens de Sul gordhuwher aga honen. Ha pàn wrella Pedyr Mùnk, golhys glân ha brossys, omdhysqwedhes hag adro dhodho jerkyn gwelha y das gans an botodnow a arhans, ha hosanow rudh nowyth spladn adro dhy arrow, an den a vo ow kerdhes adhelergh dhybm a wra govyn orto y honen pyw yw an gwas fassyonus-na? Hag in y vrës yma va ow praisya ow hosanow ha'm kerdh stâtly—saw pàn wrella va passya dresof ha trailya dhe veras orthyf, certan yw na vydn ev leverel dhodho y honen ma's 'Dar, nyns yw hedna ma's Pedyr bian an Glow Predn!'"
Tus an scathow clos wàr denewen aral an forest, y inwedh o rêson rag envy dhodho. Pàn wrella an gewry-na dos bys in mesk tus an gweder, aga dyllas fin adro dhodhans, hag y ow ton hanter-cans puns dhe'n lyha a arhans in botodnow, boclys ha chainys, pàn wrellens vysytya dauns, ha sevel gans aga garrow alês, ow molethy in Iselalman, hag ow megy pîbow dhyworth Coloyn try throoshës in hirder, kepar ha den jentyl a'n Iseldiryow, ena certan o Pedyr tus scathow prednyer a'n par-na dhe vos tus pòr fortydnys. Ha pàn wrella an bobel fusyk-ma gorra aga dêwla aberth in aga fockettys ha tedna in mes dornas warlergh dornas a dhollars—ha tôwlel dîcyow rag whegh dollar kenyver towl—pymp gylder obma, deg gylder ena—i'n eur-na namna wre Pedyr muskegy, hag ev a wre slynkya tre dh'y grow hag ev in stât fest trist. Liesgweyth gordhuwher degol ev a welas onen a'n werthoryon tumbyr kelly moy in hapwary ès dell ylly y sîra ev dendyl in udn vledhen warbarth.
Moy nôtys ès ken den vëth yth esa tredden, ha ny wodhya Pedyr determya pyneyl anodhans o an moyha barthusek. Onen anodhans o den brâs ha poos, rudh y fâss, hag ev o consydrys an den rycha anodhans. Y hanow ev o Ezêkiel Tew. Ev a wre skydnya dhe Amsterdam dywweyth pùb bledhen ow try tumbyr ganso, hag ev a gefy lùck dâ pùpprës a'y wertha a bris uhelha yn frâs ès ken marchont vëth. Ytho ev a ylly dewheles tre in fordh wordhy wàr geyn margh, pàn vedha res dhe'n re erel dewheles adroos. An secùnd den a'n tredden-ma o an an den hirha ha tanowha in oll an forest ha'y hanow ev o Schlùrker Tanow. Yth esa Pedyr ow perthy envy anodho dre rêson a'y volder; ev a gontradia an bobel wordhy; y ûsadow o dhe ocûpya moy spâss i'n tavern ès moy a'n wesyon dewha, beva dre lêsa y elydnyow wàr an bord, poken dre worra y arrow in mes wàr an scavel— saw ny vedha den vëth mellya ganso drefen y rychys dhe vos uthyk brâs. An tressa den o gwas yonk sêmly hag ev o an dauncyor gwelha in oll an côstys-na. Rag hedna ev a gafas an les'hanow Mytern an Dauns. Wostallath ev o den bohosek ha servont dhe onen a'n werthoryon predn, pàn veu va yn sodyn gwrÿs pòr rych. Radn a levery fatell gafas ev pot owr in dadn sabwedhen goth; radn aral a dheclarya fatell wrug ev tedna in bàn ogas dhe Bingen wàr Dhowr Rin packet a vathow owr gans gwelen, a vedha ûsys traweythyow gans tus an scathow clos rag pychya pùscas; pelha fatell o an packet-na part a dresour an Nibelungen usy encledhys i'n tyller-na. Wàr verr lavarow ev a veu den rych yn sodyn hag y fedha gwelys gans yonk ha loos hag onorys kepar ha pryns.
Peder Glow Predn a bredery yn fenowgh a'n tredden-na hag ev esedhys dygoweth y honen oll in forest an sabwëdh. Gwir yw fatell o an keth fowt dhodhans aga thry mayth êns y hâtys gans an bobel; an fowt-na o aga hoveytys cruel—an lack dien inhans a kescodhevyans rag an vohosogyon ha'n re anfusyk; rag trevesygyon an Forest Du yw pobel tender aga holon. Saw why a wor fatla vëdh taclow an bÿs; mars êns y hâtys awos a'ga fythneth, y a ylly erhy worshyp dre rêson a'ga rychys; rag avês dhodhans aga thry, pyw a ylly tôwlel dollars dhe ves kepar ha na wrussons y ma's aga shakya dhywar an gwëdh?
2
NY vanaf vy perthy hebma meur pelha," yn medh Pedyr udn jëdh yn trist dhodho y honen; rag an jëdh de a veu degol, hag oll an bobel a skydnyas dhe'n tavern. "Mar ny wrama spêdya yn scon, me a vydn ladha ow honen. Govy nag oma mar rych ha mar wordhy avell Ezêkiel Tew, pò mar vold ha galosek avell Shlùrker Tanow, po mar dhâ aswonys ha mar abyl dhe dôwlel dollars dhe'n fyloryon avell Mytern an Dauns! In hanow Duw, ple cafas an gwas y vona?" Ev a brederys a oll an fordhow may hylly nebonen gwil mona, saw nyns esa onen vëth anodhans ow tesedha dhodho. Wàr an dyweth y teuth dhodho tradycyons a'n bobel a gafas rychys dre weres Myhâl Iselalman ha'n Den Bian a Weder. Pàn esa y sîra ow pêwa, y whre ken bohosogyon aga vysytya, ha Pedyr a's clôwas ow côwsel our wosa our a bobel rych hag a'n fordhow may feu kefys aga rychys. Y fedha hanow an Den Bian a Weder complys yn fenowgh i'n kescowsow-ma, avell nebonen a wrug gweres dhe'n dus rych-na ow cafos aga rychys. Namnag o Pedyr abyl dhe remembra an gwersyow a rêsa bos leverys orth Bryn an Sabwëdh in cres an cosow rag y somona in bàn. Yth êns y indelma:
Lies bledhen yw dha oos,
dhywgh yth yw sabwëdh an coos.
In cres oll an sabwëdh gwer
why a bew an rychys meur …
Kyn whrug ev sqwîtha y vrës ow whelas perth cov, ny ylly ev remembra moy a'n gwersyow. Ev a dhebâtyas ganso y honen yn fenowgh a gotha dhodho govyn orth an cothwas-ma pò worth an cothwas-na pandr'o remnant an gwersyow, saw an own a dhyskevra y brederow a'n lettyas—ha pelha nyns o tradycyon an Den Bian a Weder aswonys dhe lies huny. Dre lycklod nyns o an gwersyow godhvedhys ma's dhe very nebes, rag nyns esa meur bobel rych i'n forest. An dra moyha coynt o hebma: prag na wrug y sîra ev ha'n vohosogyon erel assaya aga fortyn? Wàr an dyweth ev a dhros y vabm dhe gôwsel adro dhe'n Den Bian a Weder; saw ny dherivas hy dhodho ma's an pÿth o godhvedhys ganso solabrës, ha na wodhya hy ma's kensa radn a'n gwersyow. Saw hy a addyas warlergh hedna, na vydna an spyrys omdhysqwedhes ma's dhe'n re-na a veu genys de Sul inter udnek eur myttyn ha dyw eur dohajëdh. I'n mater-na, yn medh hy, yth esa ev ow collenwel an condycyons rag ev a veu genys de Sul hanter-dëdh, mar kylly ev remembra an gwersyow.
Pàn wrug Pedyr Glow Predn clôwes hedna, namna wrug ev muskegy rag ewn joy hag ev ow predery a assaya an aventur-ma. Yth esa ev ow cresy fatell o lowr ragtho aswon radn a'n gwersyow, ha fatell veu va genys de Sul. Rag hedna ev a bredery y whre an Den Bian a Weder omdhysqwedhes dhodho. Ytho, udn jorna warlergh gwertha y low predn, ny wrug ev anowy tan aral vëth, saw omwysca in jerkyn y das, gorra y hosanow rudh adro dh'y arrow ha'y hot gwelha wàr y bedn, dalhedna y welen a bredn dreyn, gasa farwèl gans y vabm ha leverel: "Res yw dhybm mos dhe'n dre wàr negys. Y coodh dhybm yn scon tôwlel predn rag gweles pyw a wra servya i'n lu, hag arta me a vydn meneges dhe'n jùstys ow bosama unvab gwedhowes."
Y vabm a braisyas y borpos hag ev a dhalathas wàr y fordh bys in Bryn an Sabwëdh. Yth yw an Sabwëdh an poynt uhelha in oll an Forest, ha nyns eus pendra na chy kyn fe le ès kerdh dew our dhyworto, rag yma an bobel hegol ow cresy bos Bryn an Sabwëdh dhe vos tyller diantel. Kynth yw uhel stâtly gwëdh an côstys-ma, ny vedhens y tùchys ma's anvenowgh dre vool an treghyas gwëdh. Rag liesgweyth warlergh trehysy gwëdh dhe lavasos entra inter an gwëdh ena, yn fenowgh y whre pedn aga bool y neyjya dhywar an dornla ha pystyga aga threys, poken an wedhen a wre codha yn sodyn heb gwetyas kyns ès y dhe spêdya y goheles hag y feu lies huny ledhys ha golies indelha. Hag arta kynth o an gwëdh-na uhel ha spladn dres ehen, ny yllens y bos gwerthys ma's avell cunys, rag ny vydna tus an scathow clos kemeres udn predn y honen in mes a'n tyller-na dhe wil aga scathow clos, rag crev o an tradycyon intredhans y, mar teffens ha gwil indelha, y aga honen ha'gas scathow a via dyswrÿs. Rag hedna oll y feu gwëdh Bryn an Sabwëdh gesys dhe devy mar dew ha mar uhel, mayth o va mar dewl avell an nos i'n tyller-na in cres an jëdh ha'n howl ow spladna. Pedyr Mùnk a dhalathas omsensy nebes ownek i'n tyller, rag ny ylly ev clôwes lev vëth marnas y lev y honen, na stap vëth marnas y dreys y honen. Ny ylly bos clôwys bool vëth ow seny ha'n ÿdhyn aga honen a hevelly bos owth avoydya an skeusow du.
Wàr an dyweth Pedyr Glow Predn a dhrehedhas poynt uhelha Bryn an Sabwëdh hag ev a savas dhyrag sabwedhen mayth o hy horf uthyk ledan. In gwir gweythor gorholyon i'n Iseldiryow a vynsa ry lies cans gylder rag cafos an predn-na drÿs dh'y lysterva ev. "Obma," yn medh Pedyr dhodho y honen, "yth yw an tyller mayth yw moyha lyckly an Den Bian a Weder dhe vos tregys." Rag hedna ev a gemeras y hot gwelha dhywar y bedn, plêgya isel dhe'n dor dhyrag an wedhen, glanhe y vriansen, ha leverel ha'y lev ow crena: "Dùrda dhywgh why, a Vêster Den Bian." Saw ny dheuth gorthyp vëth, hag yth o pùptra adro dhodho mar gosel avell kyns. "Martesen y tal dhybm kyns oll declamya an gwersyow," ev a brederys hag ev a leverys in udn stlevy:
Lies bledhen yw dha oos,
te a bew oll an coos.
In mesk oll an sabwëdh gwer
ma genes rychys meur.
I'n coos kynth osta tregys
ow meras orth an stras …
Kepar dell esa ev ow leverel an geryow-ma, ev a welas er y own, fygûr munys coynt ow meras in mes adhelergh dhe'n wedhen vrâs. Hedna a hevelly dhe Pedyr dhe vos an Den Bian a Weder, kepar dell glôwas ev descrefys: jerkyn du, hosanow rudh, hot uhel ledan y dhêlen, ha fâss gwydn saw fin ha skentyl. Saw ellâs, peskytter may whrug an Den Bian meras adro dhe'n wedhen, ev êth mes a wel arta. "A Vêster Den Bian a Weder," Pedyr Mùnk a grias, "me a'gas pës na wrellowgh why ges ahanaf. A Vêster Den Bian a Weder, mars esowgh why ow predery na wrug vy agas gweles why, myskemerys owgh why yn tien. Me a'gas gwelas yn apert pàn wrussowgh why meras adro dhe'n wedhen." Ny dheuth gorthyp vëth whath, saw dhia dermyn dhe dermyn yth esa Pedyr ow cresy fatell glôwas ev wharth jolyf clor adhelergh dhe'n wedhen. Wàr an dyweth y berthyans cot a gonqwerryas an own esa worth y lettya. "Gorta, te was bian," ev a grias. "Me a vydn dha gachya heb let." Gan udn labm ev a spryngyas adhelergh dhe'n wedhen, saw ny veu gwelys an Den Bian a Weder, na ny welas ev ma's gwywer munys ow ponya an wedhen in bàn.
Pedyr Mùnk a shakyas y bedn. Ev a welas fatell a'n jeva ev radn a'n fordh ewn rag conjorya an Den Bian a Weder in radn. Martesen nag o otham ma's a lînen moy rag gwil dhe'n Den Bian a Weder omdhysqwedhes. Ev a gonsydras an dra-ma ha'n dra-na, saw ny ylly ev predery a dra vëth a brow. Y hylly an gwywer bos gwelys wàr scorednow iselha an gwedhen, hag yth hevelly fatell esa an gwywer ow whelas y gonfortya pò martesen ow qwil ges anodho. An best a levnas y belour, swaysya y lost teg bojek, ha meras orto skentyl y dhewlagas. Saw wàr an dyweth Pedyr a gemeras own a remainya i'n tyller-na heb coweth vëth marnas an best bian-na. Rag par termyn y hevelly fatell esa pedn mab den wàr an gwywer ha hot tryhornek warnodho, ha par termyn yth hevelly an gwywer dhe vos kepar ha pùb gwywer aral, saw yth esa hosanow rudh ha eskyjyow du adro dh'y dreys adhelergh. Wàr verr lavarow an gwywer o best jolyf bian. Pedyr an Glow Predn bytegyns a gemeras own brâs anodho, rag yth esa ev ow cresy fatell esa neb sort a bystry in oll an negys-na.
Pedyr a wrug dybarth liesgweyth uskys'ha ès dell dheuth ev. Yth esa ev ow cresy fatell esa skeusow an coos ow tewlhe, fatell esa uhelder an gwëdh ow moghhe, ha kebmys o an euth neb a'n sêsyas, may talathas ev ow ponya, ha ny wrug ev omsensy diogel erna glôwas ev keun owth hartha abell, ha pàn welas ev inter an gwëdh mog ow terevel dhywar grow. Saw pàn dheuth ev nes ha gweles dyllas pobel an crow, ev a dhyscudhas fatell wrug ev in y own mos dhe'n qwartron cabm, hag in le a dhrehedhes tyller an weythoryon gweder ev dhe vos devedhys dhe dus an scathow clos. An dus tregys i'n crow-na o trehysy predn; den coth ha'y vab, perhednak an chy, ha nebes flehes wydn. Y a wolcùbmas Pedyr Glow Predn yn tobm, heb govyn orto y hanow pò tyller y jy. Y a ros dhodho cîder dhe eva, hag avell kydnyow y feu settys dhyragtho wàr an bord culyak coos—hèn yw an gwelha sant i'n Forest Du.
Warlergh an kydnyow benyn an chy ha'y myrhes a gùntellas gans aga gwerthyjyow adro dhe'n golow; hag y whre an flehes bosa an golow gans an glus gwelha. An sîra wydn, mêster an chy ha'n ôstyas a wrug megy in udn veras orth besias bysy an benenes hag i'n men-termyn yth esa an vebyon ow trehy in mes fergh ha loyow a bredn. Wàr ves i'n forest yth esa hager-awel ow fernewy; ha traweythyow y hylly bos clôwys taredna poos. Yn fenowgh yth hevelly fatell ve cowl-wedhednow terrys ha herdhys warbarth. Yth o an flehes diown whensys dhe vos in mes i'n forest rag meras orth an syght gwyls ha teg-na. Saw aga sîra wydn a's lettyas dre er sherp ha dre wolok. "Me a vynsa cùssulya kenyver onen dhe wortos wàr jy," yn medh ev, "rag mar teffa ev ha mos in mes, ny wrussa va dewheles, rag yma Myhâl Iselalman ow trehy cùntellyans nowyth a brednyer haneth."
Oll an flehes a veras stark orto. Martesen y feu an hanow Myhâl Iselalman clôwys gansans kyns, saw i'n eur-na y a besys aga sîra wydn dhe dherivas dhodhans pùptra a wodhya ev adro dhodho. Ha Pedyr Mùnk, neb a glôwas Myhâl Iselalman complys wàr an tenewen aral a'n forest in fordh dhyscler yn udnyk, a jùnyas dhe wovynadow an flehes, hag a wovydnas pyw o Myhâl Iselalman ha ple hylly ev bos gwelys. "Ev yw mêster an forest-ma; ha dre rêson den a'th oos jy dhe wovyn orthyf anodho, res yw te dhe vos tregys wàr denewen aral Bryn an Sabwëdh pò pelha whath, pàn na wrusta clôwes adro dhodho kyns lebmyn. Me a vydn declarya dhywgh pùp tra godhvedhys genef a Myhâl Iselalman, ha'n whedhlow derivys adro dhodho."
3
"ADRO DHE gans bledhen alebma—dell levery ow hendasow dhe'n lyha—nyns esa pobel moy wordhy in oll an norvÿs ès trevesygyon an Forest Du. Saw hedhyw i'n jëdh wosa kebmys mona dhe entra i'n côstys-ma, an bobel yw fâls ha camhensek. Y fëdh an wesyon yonk ow tauncya hag ow cana de Sul, hag ymowns y ow molethy yn uthyk. Saw i'n prÿs mayth esoma ow côwsel anodho, taclow o dyffrans yn tien; ha kynth usy Myhâl Iselalman ow meras ajy der an fenester i'n tor'-ma, me a vydn leverel, kepar dell leverys vy yn fenowgh kyns lebmyn, fatell yw ev dhe vlâmya rag an chaunjyans truedhek-ma. Cans bledhen pò moy alebma, yth esa ow pêwa gwerthor tumbyr rych hag yth o meur a dus arvedhys ganso. Ev a wre negyssya abell Dowr Rin wàr nans, hag yth esa y negys ow soweny, rag yth esa ev ow pêwa in own Duw. Udn gordhuwher neb den a dheuth dh'y dharas na welas ev y hevelep bythqweth kyns. Y wysk ev o kepar ha dyllas gonesyjy an Forest Du, saw ev o pedn uhelha ès den vëth anodhans, ha bys i'n eur-na ny ylly an bobel cresy fatell esa cowr kepar hag ev in tyller vëth i'n bÿs. Ev a besys ober ha'n gwerthor predn, pàn welas ev y vos crev ha abyl dhe dhon cargow poos, ev a wrug bargen ganso. Myhâl ow gonesyas a sort na gafas an marchont bythqweth kyns. Avell treghyas gwëdh ev o mar grev avell tredden; hag ev y honen oll a ylly don pedn gwedhen may rêsa dhe whegh den don an hy fedn aral.
"Saw warlergh trehy gwëdh dres whegh mis, ev êth dh'y arvedhor ha leverel, 'Me re drohas prednyer obma hir lowr, ha me a garsa mos dhe weles ple ma ow mos an gwëdh trehys dhe'n dor genef. Rag hedna fatla via mar teffowgh why ha gasa dhybm mos an ryver wàr nans gans an scathow clos?' An gwerthor prednyer a worthebys, 'Ny wrama dha wetha rag gweles nebes a'n bÿs, a Myhâl. Rag leverel an gwiryoneth yma otham dhybm a dus crev rag trehy an gwëdh dhe'n dor, pàn yw otham a godnek wàr an scathow clos. Saw an dra a vëdh kepar dell vydny an termyn-ma.'
"An scath closow esa va ow mos warnedhy a's teva eth radn, ha'n ethves radn ow gwrÿs a'n prednyer brâssa. Sow a wodhowgh why pandra wharva? An gordhuwher kyns ès y dhe dhybarth, Myhâl uhel a dhros eth predn moy dhe'n dowr, y tewha ha hirha ès predn vëth a veu gwelys bythqweth kyns, ha ev a dhug kenyver anodhans wàr y scoodh kepar ha pàn nag o onen vëth ma's gwelen scav. Rag hedna pùbonen a veu sowthenys. Ple whrug Myhâl aga threhy yw mystery bys i'n jëdh hedhyw. An gwerthor predn a rejoycyas pàn wrug ev gweles an prednyer hûjes brâs hag ev a dhalathas pandr'o aga valew. Saw Myhâl a leverys, 'An re-na yw ragof vy dhe viajya warnodhans. Ny alsen vy mos re bell wàr an scobmow erel.' Y vêster, avell grassow a ros dhodho dyw votasen uhel; saw Myhâl a's towlas adenewen, ha dry in rag dyw votasen, ha dell dheclaryas ow sîra wydn dhybm, yth esa poster cans puns inhans hag yth êns y pymp troos'hës in uhelder.
"Y feu an scath closow herdhys in rag rag dallath hy viaj, ha mar qwrug Myhal sowthanas an drehysy predn dhyrag hedna, lebmyn yth o tro tus an scathow clos dhe gemeres marth. In le a'n scath clos dhe neyjya yn lent an fros wàr nans, kepar dell esens y ow qwetyas dre rêson a'n prednyer brâs dres ehen, kettel wrug an prednyer tùchya Dowr Neckar, y a neyjyas an ryver wàr nans avell seth. Pàn wrellens dos bys in stubm i'n ryver, neb a wrug ancombra tus an scathow clos kyns ès an eur-na, rag nyns o êsy hy sensy in cres an dowr hag ytho hy gwetha dhyworth mos wàr dreth i'n growyn pò i'n tewas, ny wre Myhâl ma's lebmel aberth i'n dowr ha herdhya an scath adhyhow pò aglêdh, may whrella hy passya in rag heb droglabm. Saw pàn wrellens y stoppya yn tien, ev a vydna ponya in rag bys in kensa radn a'n scath, erhy dhe oll an dus erel tôwlel aga gwelyny dhywortans, herdhya y welen cowrek in growyn gwely an ryver, ha dre udn herdhyans yn udnyk y fedha an scath ow neyjya an ryver wàr nans, mayth hevelly dhodhans fatell esa an gwëdh ha'n pentrevow wàr an gladnow ow ponya dhywortans.
"I'n vaner-na warlergh hanter an termyn ûsys, y a dhrehedhas Coloyn wàr Dhowr Rin, hag ena y oll a wre gwertha aga frednyer. Saw obma Myhâl a gôwsas in bàn arta: 'Yth hevel fatell owgh why marchons usy ow convedhes agas les agas honen. Esowgh why ow predery ytho fatell wra pobel Coloyn devnyth a oll a'n tumbyr-ma a vo ow tos dhyworth an Forest Du? Na wrowns, ymowns y worth y brena dhyworthowgh a hanter y gòst, hag ena orth y wertha dhe varchons an Iseldiryow rag profyt uthyk brâs. Gesowgh ny dhe wertha an prednyer bian obma, ha kemeres an prednyer brâs wàr nans bys i'n Iseldiryow. Pynag oll mona a wrellen ny recêva a-ugh an pris ûsys, hedna ny a yll gorra in agan pockettys agan honen.'
"Myhâl fel a gôwsas indelha, ha'n re erel o pës dâ dhe wil dell wrug ev cùssulya—radn anodhans dre rêson y dhe vos whensys dhe weles an Powyow Isel, ha radn aral dre rêson a'n mona a vydnens cafos. Nyns o gwiryon ma's udn den yn udnyk in aga mesk, hag ev a's cùssulyas na wrellens gorra pëth aga mêster in moy peryl, na na wrellens dre dùll kemeres dhyworto an pris uhelha a wrellens recêva. Saw ny wrussons goslowes orto, hag y a ancovas y eryow. Myhâl Iselalman bytegyns a's remembras. An dus a bêsyas ow skydnya wàr Dhowr Rin, ha Myhâl a lewyas an scath closow ha'y dry bys in Rotterdam. I'n cyta-na y feu profys dhodhans pedergweyth moy ès an sùmen wredhek; ha'n prednyer hûjes brâs drÿs gans Myhâl a dhendylas kebmys mona, scant ny yllens controllya aga honen rag ewn lowender. Myhâl a wrug radna an mona: udn part rag an gwerthor predn ha'n teyr radn erel inter an dus. Hag ena y a vysytyas an tavernyow in company marners ha losels erel, hag y a spênas aga mona wàr hapwary ha wàr daclow euver erel. Saw an den bold neb a gùssulyas warbydn skydnya bys i'n Iseldiryow a veu gwerthys gans Myhâl Iselalman dhe werthor kethyon ha ny veu clôwys anodho bythqweth arta. Dhyworth an termyn-na yth o an Iseldiryow paradîs tus an scathow clos dhyworth an Forest Du, ha Myhâl Iselalman o aga mytern. Ny wrug an werthoryon tumbyr dyscudha an fraws gwrÿs wàr aga fydn bys pedn termyn hir lowr; ha nebes ha nebes mona, molothow, drog-vanerow, medhêwnep ha hapwary a dheuth aberth i'n Forest Du heb bos merkys gans an bobel.
"Pàn veu dyscudhys oll an gwrians-ma, ny ylly Myhâl bos kefys in tyller vëth. Saw nyns ywa marow poynt. Nans yw cans bledhen yma va ow practycya y wythres hudol i'n forest. Yth yw leverys fatell veu va an mainys may cafas meur a bobel rychys brâs saw in keschaunj rag aga enef. In pana vaner a wharva hedna, ny vanaf vy leverel, saw hèm yw certan: i'n nosow-ma a hager-awel y fëdh ev ow tôwys an gwëdh moyha fin wàr Bryn an Sabwëdh, le nag usy den vëth ow lavasos trehy. Ow sîra vy unweyth a'n gwelas ow terry dhe'n dor gwedhen peswar troos'hës in tewder mar êsy ha kepar ve hy corsen. Yma va ow presentya an gwëdh-na dhe bynag oll dhen a vo parys dhe drailya dhyworth ewnhenseth ha'y sewya ev. Ena in prÿs hanter-nos ymowns y ow try an prednyer-na bys i'n ryver, hag yma va ow skydnya warbarth gans y sewysy bys i'n Iseldiryow. Saw a pen vy Mytern an Iseldiryow, me a vynsa gwil dhodho bos ledhys gans bùlettys godn. Nyns eus gorhal vëth may fëdh an welen lyha kyn fe a dumbyr Myhâl Iselalman inhy, na wra budhy. Hedna heb dowt vëth yw an rêson rag kenyver torrva gorhal eson ny ow clôwes anedhy. In pana vaner arall a yllyn ny styrya an dorrva wàr an mor a lestry crev mar vrâs avell eglos? Pàn wrella Myhâl Iselalman ow tôwlel dhe'n dor sabwedhen i'n Forest Du in hager-awel dres nos, yma onen a'y brednyer ow spryngya in mes a denewen gorhal, yma an dowr ow tewraga ajy ha kellys yw an gorhal warbarth gans oll hy felshyp. Pelha certan yw fatell yll pùb drog i'n Forest Du bos ascrîbys dhodho ev. Saw, ogh!, ass usy ev ow rychhe pobel!" an cothwas a addyas yn kevrînek. "Gwell yw genef vy bytegyns heb mellya ganso in fordh vëth oll—ny garsen vy rag owr na rag arhans sevel in eskyjyow Ezêkiel Tew na Schlùrker Tanow. Hag yma leverys fatell usy Mytern an Dauns ow longya dhodho kefrës."
Pàn esa an den coth ow terivas y whedhel, an hager-awel a cessyas. An myrhes methek a wrug anowy aga hantolyow ha mos dh'aga gwely. An den ros sagh dêlyow avell pluvak wàr an loven, ha leverel "Nos dhâ" dhodho.
4
NY WRUG Pedyr Glow Predn hunrosow bythqweth kepar ha'n hunrosow a wrug ev an nos-na. Par termyn an cowr grysyl, Myhâl Iselalman, a vydna derevel an fenester ha gans y vregh uthyk hir istyna dhyragtho pors leun a vathow owr, hag ev orth aga thynkyal warbarth; par termyn ev a wely an Den Bian a Weder, jolyf y nas, ow marhogeth adro i'n chambour wàr vottel vrâs gwer, ha Pedyr a ylly clôwes y wharth colodnek, poran kepar dell veu wàr Vryn an Sabwëdh. Ena y feu sies in y scovarn gledh:
"I'n Iseldiryow owr yma
hag y gafos te a wra
êsy lowr i'n dedhyow-ma
owr, owr melen, owr owr dâ!"
I'n eur-na ev a glôwas an gân "Lies bledhen yw dha oos, dhywgh yth yw sabwëdh an coos," ha lev cosel a whystra: "Pedyr Glow Predn, ass osta gocky! Pedyr Glow Predn, ass osta gocky. Ny ylta collenwel an gwersyow kyn feus genys de Sul hanter-dëdh. Gwra rîmya, Pedyr gocky, gwra rîmya!"
Ev a hanajas hag a ujas der y gùsk. Ev a wrug oll y ehen dhe gollenwel an gwersyow, saw dre rêson na wrug ev gwil bardhonieth bythqweth in oll y vêwnans, ny spêdyas ev poynt. Saw pàn wrug ev dyfuna gans an dëdhtardh, an hunros a dhewhelys dh'y vrës. Ev a esedhas orth an bord, plêgys y dhywvregh, hag a brederys a'n whystrans a ylly ev clôwes whath. "Gwra rîmya, Pedyr gocky, gwra rîmya!" hag ev ow frappya y dâl gans y vës arâg. Saw ny dheuth an rim dhodho.
Pàn esa ev a'y eseth indelha, hag ev ow meras dhyragtho yn trist, tredden yonk a bassyas dres an chy, hag yth esa onen anodhans ow cana:
"Orth an meneth me a savas
ha meras orth an stras,
hag ena me a's gwelas
heb wow na dowt i'n câss!"
Hedna a weskys scovarn dystowgh, hag ev a labmas in bàn ha gasa an chy yn uskys. Ev a jâcyas an tredden, sêsya an canor yn harow er y vregh ha leverel, "Sav, a goweth," yn medh ev, "Pëth o dyweth gwers dha gân? Mar plêk, gwra y dhasleverel dhybm."
"Pandr'yw an mater genes, a was yonk?" yn medh an canor. "Me a vydn cana pynagoll dra a garaf. Gwra relêssya ow bregh poken…"
"Nâ, nâ, res yw dhis leverel dhybm pandra wrusta cana!" Pedyr a grias, hag ev ow talhedna y vregh dhe strotha. Ny wrug an dhew dhen erel hockya re hir, pàn welsons y hedna, saw y a godhas wàr Bedyr gans aga dornow hag a ros stewan mar vrâs dhodho, may feu va constrînys dhe fria bregh an kensa den ha codha wàr y dhewlin. "Gallas dha wober genes lebmyn," yn medhons y dre wharth, "ha kebmer with, a goweth gocky, na wrylly nefra arta lebmel wàr bobel i'n fordh."
"Dar, me a vydn kemeres with surly!" yn medh Pedyr Glow Predn, "saw lebmyn, pàn yw godhevys genef an strocosow, leverowgh dhybm dyblans pandra a wrug an den-na cana."
Y a dhalathas cana arta, hag a'n mockyas; saw an den neb a ganas an gân, a wrug y dhasleverel dhodho, hag y a bêsyas wàr aga fordh.
"Ow meras orth an stras," yn medh Pedyr stewanys, hag ev ow whelas sevel in bàn, "Ow meras orth an stras…an geryow-na a wra rîmya gans dhe flehes de Sul genys dysqwa heb dowt i'n câss! Lebmyn, a Dhen Bian a Weder, ny a vydn kestalkya nebes." Ev a dhewhelys dhe'n crow, kemeres y hot ha'y lorgh, gasa farwèl gans an drevesygyon, ha dallath wàr y fordh wàr dhelergh dhe Vryn an Sabwëdh.
5
EV A gerdhas yn lent gyllys down in preder, rag yth o res dhodho desmygy neb ascûs ragtho y honen. Wàr an dyweth pàn esa ev ow tos nes dhe gôstys Bryn an Sabwëdh, ha'n gwëdh ow tevy dhe uhelha ha dhe dewha, ev a wrug dewedha an gwersyow in y vrës, hag ev a labmas i'n air rag ewn joy. I'n very eur-na den a vyns cowrek a omdhysqwedhas dhyragtho, hag in y dhorn yth esa gwelen mar hir avell gwern gorhal. Colon Pedyr a fyllys pàn welas ev an cowr ow kerdhes ryptho; rag yth esa ev ow cresy nag o va den vëth ken ès Myhâl Iselalman. Saw ny leverys an cowr ger vëth, ha dhia dermyn dhe dermyn Pedyr a veras yn ownek orto. Ev o pedn uhelha ès an den brâssa gwelys bythqweth gans Pedyr. Nyns o y fâss naneyl yonk na coth, saw yth esa meur a lînednow wàr an bejeth. Yth esa jerkyn lin adro dhodho ha'n botas hûjes brâs tednys in bàn der an lavregow a lether. Pedyr a's aswonas dhyworth an henwhedhel a glôwas evgordhuwher an jëdh tremenys.
"Pedyr Mùnk, pandr'esta ow qwil obma wàr Vryn an Sabwëdh?" Mytern an Forest a wovydnas, gans lev down, esa godros ino.
"Dùrda dhywgh why, a gentrevak," Pedyr a worthebys, hag ev ow whelas keles y own. "Yth esen vy ow tewheles tre dres Bryn an Sabwëdh."
"Pedyr Mùnk," an cowr a worthebys, hag ev ow meras orto gans golok lybm, "nyns usy dha fordh tre ow mos der an coos-ma."
"Nag usy poran," yn medh Pedyr, "saw tobm yw an gewar hag yth esen ow cresy y fedha an air goyêyn obma avàn."
"Na lavar gow, Pedyr Glow Predn!" Myhâl Iselalman a grias ha'y lev o kepar ha taran, "poken me a vydn dha weskel dhe'n dor gans ow gwelen. Esta ow cresy na wrug vy dha glôwes ow plêdya gans an Den Bian a Weder" ev a bêsyas dhe voy clor. "Deus, deus, hèn o tra wocky dhyworthys, ha fortydnys veu nag o godhvedhys dhis an gwersyow-na, rag ev yw pòr grefny, hag nyns usy ev ow ry nameur. An re-na a vo ow cafos mona dhyworto, nyns usons y owth enjoya bêwnans naneyl. Pedyr, te yw bohosek ha gocky, ha drog yw genef gweles gwas sêmly ha bewek kepar ha te, a alsa gwil taclow brâs i'n bÿs, ow lesky glow predn. Pàn vo ken re ow tôwlel adro dollars ha dùcatys, scant ny ylta jy cafos whednar. Ass yw truan dha vêwnans."
"Yth yw gwir pùptra a leverta. Truedhek yw ow bêwnans vy."
"Wèl, mar mynta, me a yll dha weres," Myhâl uthyk a bêsyas. "Me re wrug gweres lies gwas dâ ow scappya mes a'y vohosogneth. Ny viesta ytho an kensa. Cows dhybm lebmyn, pygebmys mil dhollar a garsesta wostallath?"
Gans an geryow-na ev a shakyas an bathow owr in y bocket hûjes brâs, hag y a wrug tynkyal kepar dell wrussons y in hunros Pedyr an nos kyns. Yth esa y golon ow qweskel yn whyls hag yn tydn. Par termyn yth o va tobm, par termyn yêyn. Ny hevelly Myhâl Iselalman dhe vos nebonen a wre ry mona dhe nebonen rag ewn tregereth heb cafos neb tra avell aqwytyans. Geryow kevrînek an cothwas i'n crow a entras in pedn Pedyr, ha drîvys dre anken uthyk ha dre euth ev a worthebys: "Gromercy dhis, a vêster; saw ny vanaf vy mellya genes poynt, rag te yw aswonys yn tâ genef." Ena ev a bonyas in kerdh scaffa gylly.
Saw Myhâl Iselalman a gerdhas wàr y lergh hag ev owth uja, ronk y lev ha leun a wodros: "Te a wra perthy edrega, Pedyr. Screfys yw wàr dha dâl, ha me a yll y redya in dha lagasow. Ny wrêta scappya dhyworthyf. Na wra ponya mar scav. Goslow pols orth udn ger a skentoleth. An cledh dhyragos yw ow oryon vy." Saw pàn glôwas Pedyr hedna ha gweles dhyragof cledh bian, ev a wrug uskys'he y doth may halla va passya an lînen. Rag hedna res veu dhe Myhâl ponya fest uskys'ha kefrës hag ev a'n sewyas owth ùttra molothow uthyk. An den yonk in dyspêr ogasty a labmas dres an cledh, hag ev ow meras wàr dhelergh hag ow qweles Myhâl Iselalman ow terevel y welen rag y dhystrôwy. Pedyr an diras yn salow wàr an tenewen aral, hag ev a welas an welen ow terry dhe dybmyn i'n air kepar ha pàn wrug hy gweskel fos dhywel. Skethren hir anedhy a godhas orth treys Pedyr. Ev a's kemeras in bàn, saw heb let an skethren a dhalathas gwaya in y dhorn hag ev a dhyscudhas er y euth hy dhe vos sarf uthyk brâs. Yth esa hy thavas ow qwibya in mes hag yth esa hy dewlagas ow spladna in hy fedn o derevys rag y weskel. Ev a relêssyas y dhalhen saw an serpont a wrug terhy hy honen adro dh'y vregh, hag yth esa hy skyvlow pòr ogas solabrës dh'y fâss. Saw dystowgh culyak coos a godhas wàr an sarf dhyworth an air, sêsya an cramvil er y lost ha neyjya in bàn pell dhyworth an cledh. Myhâl Iselalman a welas oll hedna dhyworth an oryon hag ev owth uja hag ow fernewy, rag y feu an sarf degys in kerdh gans escar creffa agessy hy honen.
Ow crena hag ow trebuchya Pedyr a bêsyas wàr y fordh. An hens a veu moy serth, ha'n forest dhe voy gwyls. Yn scon ev a gafas y honen orth goles sabwedhen vrâs. Kepar dell wrug ev an jorna de, Pedyr a blêgyas dhe'n Den Bian a Weder. Ena ev a dheclaryas y wersyow:
"Lies bledhen yw dha oos,
dhywgh yth yw sabwëdh an coos.
In cres oll an sabwëdh gwer
why a bew an rychys meur.
I'n coos kynth osta tregys
ow meras orth an stras,
gans flehes de Sul genys
dysqwa heb dowt i'n câss!"
"Ny wrusta leverel an gwersyow yn ewn poran, saw dre rêson te dh'aga declarya, Pedyr Glow Predn, ny a vydn gasa dhodhans servya," yn medh lev cosel wheg ryptho. Ev a veras adro yn sowthenys, hag in dadn sabwedhen stâtly yth o esedhys cothwas bian, jerkyn du adro dhodho ha hosanow rudh; hag yth esa hot brâs wàr y bedn. Y fâss o tender ha plesont ha'y varv ow mar fin avell gwias kevnysen. Yth esa va ow megy pîb a weder blou. Ha pàn nessas Pedyr dhodho, ev a welas er y sowthan, fatell o dyllas, eskyjyow ha hot an denyk gwrÿs a weder lywys, saw yth o an gweder mar heblyth whath avell gweder tedhys, rag yth esa ow plêgya kepar ha qweth gans kenyver gway gwrÿs gans an den bian.
6
"TE re vetyas gans an horsen-na, Myhâl Iselalman," yn medh an denyk, hag ev a wrug passa warlergh pùb ger. "Ervirys o dha ownekhe yn frâs; saw me re gemeras dhyworto y welen hudol ha ny wra va y dascafos nefra."
"Eâ, a Vêster," Pedyr a worthebys, hag ev ow plêgya yn isel. "Yth esen vy in ancombrynsy brâs. Res yw ytho te dhe vos an culyak du neb a ladhas an serpont! Gromercy dhis a'n jentylys. Saw me re dheuth obma rag omgùssulya genes. Yma taclow in drogstât genama. Ny yll den lesky glow avauncya, ha drefen me dhe vos yonk whath, yth esen ow cresy martesen y hylly neb tra bos gwrÿs ahanaf. Pàn wrellen meras orth pobel erel, me a wel fatell dheuthons y in rag ajy dhe dermyn cot—Ezêkiel Tew rag ensampyl, ha Mytern an Dauns. Y a's teva mona kepar ha cala."
"Pedyr," yn medh an den bian, hag ev ow whetha mog yn fast in mes a'y bib a bell, "na wra côwsel orthyf indelha. Fatla via prow dhis a pesta lowen dres nebes bledhydnyow, ha te trist'ha whath wosa hedna? Res yw dhis heb dysprêsya dha alow. Dha sîra ha'th sîra wydn o tus wordhy, hag y a sewyas an keth galow. Pedyr Mùnk! Ny vanaf vy predery te dhe dhos dhybm awos dha sygerneth."
Pedyr a blynchyas drefen an den bian dhe gôwsel dhe blebmyk. Ev a rudhyas. "A Vêster wheg an Sabwëdh, me a wor fatell yw an sygerneth an dallath a bùb sawgh. Saw ny godhvia dhis ow despîtya drefen me dhe dhesîrya amendya ow stât i'n bÿs. Nyns yw loscor glow predn acowntys ma's a nebes valew i'n bÿs-ma, saw wordhy yw whethoryon gweder, tus an scathow clos ha gwrioryon euryoryon."
"Yma gooth ow tos dhyrag coodh yn fenowgh," yn medh Mêster an Sabwëdh, hag ev nebes moy caradow. "Why mebyon tus yw bagas coynt. Bohes venowgh yth yw onen vëth ahanowgh contentys gans an destnans may feu va genys ha megys ragtho. A pes jy gwrÿs gwrior gweder, pandra vynsa wharvos? Ena te a garsa bos marchont tumbyr, saw ena bêwnans forstor a vynsa dha blêsya moy, ha mansyon an jùstys a vynsa apperya moy dynyak whath. Saw y fëdh an mater kepar dell osta whensys, wàr an ambos te dhe lavurya yn cales. Ow ûsadow yw dhe rauntya try whans dhe bubonen genys de Sul, mar qwra va soweny dhe'm trouvya, try whans. An kensa dew whans yw dygost, saw an tressa whans, me a yll y settya adenewen, mar pëdh hedna neb tra wocky. Rag hedna, Pedyr, gwra derivas dha whansow dhybm, saw bedhens y neb tra dâ hag a brow."
"Hùrâ! Ass osta an Den Bian Weder gwelha oll, hag yn ewn yth osta gelwys Warden an Rychys, rag yma oll an tresours dhe gafos in dha jy. Wèl mars yw alowys dhybm cafos an pëth desîrys gans ow holon, ow kensa whans a via me dhe dhauncya gwell ès Mytern an Dauns, ha dhe vos kebmys mona i'm pocket dell eus in pocket Ezêkiel Tew."
"Ass osta gocky!" an den bian a grias gans scorn in lev. "Ass yw truedhek an whans-na, te dhe dhauncya yn tâ ha dhe gafos mona rag gwil hapwary ganso! A nyns esta ow perthy meth, Pedyr gocky, dhe wastya dha jauns yn fol indelha? Pana brow a vëdh dha dhauncya dhis ha dhe'th vabm druan? Pana brow a vëdh an mona dhis, pàn ywa destnys, dell yw leverys genes, dhe vos spênys i'n tavern? Kepar ha Mytern an Dauns dha vona a wra remainya ena. Ena ny vëdh tra vëth gesys dhis rag remnant an seythen, ha te a wra sùffra dyvotter kepar ha kyns. Me a vydn ry whans aral dhis heb cost; saw kebmer with ha dôwys gans moy a furneth."
Pedyr a wrug cravas y bedn ha warlergh hockya nebes ev a leverys: "Wèl, me a garsa cafos an weythva weder decka ha moyha costly in oll an Forest Du, warbarth gans oll an daffar a vo res rygthy, ha mona rag hy sensy ow mos."
"A nyns esta ow whansa tra vëth moy?" a wovydnas an den bian nebes ownek. "Tra vëth moy, Pedyr?"
"Wèl, te a alsa addya margh ha caryach dhe oll hedna."
"Ogh, a Pedyr Glow Predn, ass osta gocky!" an den bian a elwys hag in y sorr ev a dôwlas y bib a weder orth sabwedhen vrâs, ha'n bib a dorras inter cans darn. "Mergh? Caryajys? Skentoleth, me a lever dhis, skentoleth, furneth, dothter ha ragpreder, an re-na yw an daclow a dalvia dhis whansa, adar mergh ha caryajys. Wèl, na vëdh mar drist. Ny a vydn assûrya na wrelles sùffra re dredho, rag nyns o mar dhrog dha secùnd whans. Gweythva gweder a vydn sostena den ha mêster. Ha mar teffes ha whansa ragpreder ha furneth gensy, in eur-na kertys ha mergh a vynsa sewya yn naturek."
"Saw, a Vêster an Sabwëdh," Pedyr a worthebys, "Yma udn whans gesys genef whath, ha mars esta ow cresy bos skentoleth a gebmys valew, dar, me a garsa y whansa i'n tor'-ma."
"Nâ, nâ. Te a wra metya meur a galeterow pàn ves lowen bos dhis udn whans moy whath. Rag hedna gwell via dhis dallath wàr dha fordh tre. Ot obma dhis," yn medh an den bian, hag ev ow tedna pors in mes a'y bocket, "dyw vil gylder, ha'n re-na a gotha bos lowr dhis. Ytho na wra dewheles dhe vy ow pesy moy mona, pò res vëdh dhybm dha gregy wàr an sabwedhen uhelha. Treddeth alebma Winkfritz coth a veu marow. Yth esa dhodho an weythva gweder i'n valy. Kê dy myttyn avorow dhe offra lowr rag an negys. Gwra omdhon yn tâ, bëdh dywysyk, ha me a vydn dha vysytya traweythyow ow qwil gweres dhis dre er ha dre wythres, rag ny wrusta whansa skentoleth. Saw—hag yth esoma worth y leverel in pùb sevureth—drog o an kensa whans a wrusta. Kebmer with, Pedyr, ha te ow ponya dhe'n tavern. Ny wrug den vëth cafos prow vëth dhyworth hedna."
Pàn esa ev ow côwsel indelha, an den bian a dhros in rag an secùnd pib, gwrÿs a weder gwydn. Ev a's lenwys a avallow saben brêwys, ha'y anowy in udn sensy gweder whedhy i'n howl. Pàn o hedna gwrÿs ganso, ev a shakyas dorn gans Pedyr in maner guv, mos nebes a'n fordh ganso, ry dhodho cùssul dhoth, hag ev prest ow whetha in mes mog dhe voy ha dhe voy tew. Wàr an dyweth ev êth in mes a wel in nywl mog, ha hedna kepar ha pàn esa ow tos dhyworth gwirdobackô Iselalman a wrug troyllya yn lent dres top an sabwëdh.
7
PÀN dheuth Pedyr tre, ev a gafas y vabm in anken brâs adro dhodho, rag ny ylly an venyn vas cresy tra vëth ken ès hy mab dhe vos dôwysys avell soudor. Pedyr, bytegyns, o pòr lowen, hag ev a dherivas dhedhy fatell vetyas ev gans cothman dâ i'n forest, hag ev dhe lendya dhodho mona dhe gemeres warnodho negys gwell ès lesky glow predn. Kynth esa hy mabm tregys i'n crow-na dres deg bledhen warn ugans, ha kynth o hy ûsys dhe'n syght a fâssow duhës dre fylgeth kepar dell vëdh benyn an melynor ûsys dhe'n bleus wàr fâss hy gour, hy o gothys lowr, pàn offras Pedyr dhedhy an possybylta a vêwnans moy wordhy ha dhe dhysprêsya hy bêwnans kyns ena. Hy a leverys: "Eâ, avell mabm den neb yw perhednak a'n weythva gweder, me yw pols gwel ès ow hentrevogesow Grête ha Bete. Hag alebma rag me a vydn esedha i'n kensa esedhva i'n eglos in mesk an bobel wordhy."
Kyns na pell Pedyr a weskys bargen gans an êrys rag an weythva. Ev a wethas an wonesyjy esa ow lavurya inhy hag ev a wre gweder dëdh ha nos. Wostallath ev o pòr lowen gans an negys. Ev a wre kerdhes adro dhe'n weythva, y dhêwla in y bockettys, ow meras orth neb tra obma, ow ry cùssul ena, may whre an wonesyjy wherthyn yn frâs adro dhedhy. Saw y blesour brâssa o dhe weles an gweder ow pos whethys. Yn fenowgh ev a wrug whelas whetha an gweder y honen ow qwil an shâpys moyha coynt i'n mes a'n gweder tedhys. Saw warlergh termyn ev a veu sqwith a'n negys, ha ny wre va spêna ma's udn our kenyver jorna i'n weythva; ena udn our pùb seythen, hag indelha y wonesyjy a wre pynag oll dra a garsens.
Hedna oll a dheuth dhyworth vysytys Pedyr dhe'n tavern. De Sul wosa ev dhe vetya gans an den bian i'n coos, ev êth dhe'n tavern ha trouvya Mytern an Dauns ow ledya an dauns solabrës. Yth esa Ezêkiel esedhys, gwedren dhyragtho, hag ev ow shakya dîcyow rag dollars owr. Pedyr a worras y dhon in y bocket dhe weles mar qwrug an den bian sensy y bromys dhodho. Ha merowgh, yth o y bockettys leun yn tien a arhans hag a owr. Y arrow inwedh a dhalathas gwaya kepar ha pàn êns y parys dhe dhauncya. Pàn o gorfennys an kensa dauns, Pedyr gans y gowethes dauncya a settyas y honen ogas dhe Vytern an Dauns, ha mar qwre hedna spryngya in bàn try throos'hës, Pedyr a wre spryngya peswar. Mar qwre an Mytern collenwel stappys completh, Pedyr a wre tôwlel y arrow in mês in maner varthys, may fe pùbonen present sowthenys gans lowender. Saw kettel veu godhvedhys fatell veu gweythva gweder pernys gans Pedyr, ha pàn welas an dhauncyoryon ev dhe dôwlel whednar warlergh whednar dhe'n mûcycyens peskytter may whre va passya ogas dhodhans, ny vedha finweth vëth dh'aga sowthan. Yth esa radn ow cresy fatell wrug ev trouvya tresour i'n forest, ha radn aral ev dhe eryta estât brâs. Saw y whre pùbonen plêgya dhodho avell den brâs, yn udnyk drefen ev dhe vos rych. An keth gordhuwher-na ev a gollas ugans gylder wàr an dîcyow. Saw yth esa an bathow whath ow tynkyal in y bocket, kepar ha pàn ve cans gylder ena.
Pàn welas Pedyr fatell o va gwrÿs den meur y bris, scant ny ylly controllya y honen rag ewn lowender ha gooth. Ev a spênas y vona adhyhow hag aglêdh hag a wrug y radna yn larch inter an vohosogyon, rag yth esa ev ow perthy cov pana gales veu an vohosogneth warnodho. Y feu codnek Mytern an Dauns shâmys dre art gornaturek an dauncyor nowyth, hag y feu Pedyr henwys Emprour an Dauns. An hapwarioryn boldha de Sul, ny wrêns y chauncya kebmys hag ev; saw ny wrêns y kelly kebmys naneyl. Saw dhe voy a wre va kelly, dhe voy a wre va gwainya. Hedna a wharva dre weres an Den Bian a Weder. Pedyr a whansas may fedha kebmys mona in y bocket y honen ha dell esa in pocket Ezêkiel Tew. Ha'n den-na o an keth person may whre Pedyr kelly y vona dhodho. Ha peskytter may whrella ev kelly ugans gylder pò deg warn ugans gylder gans udn towl, y fedha kebmys whath in y bocket warlergh Ezêkiel dhe wainya y vona ev.
Nebes ha nebes bytegyns ev a skydnyas downha in hapwary hag in medhêwnep ès an pednow medhow lacka in oll an Forest Du. Rag hedna y fedha ev gelwys Pedyr Hapwary moy menowgh ès Emprour an Dauns, rag warbydn an prës-na yth esa ev ow qwary pùb dëdh gweyth kefrÿs. Nyns o pell erna vo shyndys yn tien y negys ha rag hedna fowt skentoleth Pedyr o oll dhe vlâmya. Y weythva a wre kebmys gweder dell ylly bos gwrÿs gensy; saw ny wrug ev perna gans an negys an kevrîn a'n fordh ewn dh'y wertha. Ny wodhya ev poynt pandra a gotha dhodho gwil gans an gweder gwrÿs, ha wàr an dyweth ev a'n werthas dhe wycoryon a hanter y valew, may halla va pe gober an wonesyjy.
Udn gordhuwher pàn esa ev ow tewheles tre dell o ûsys dhyworth an tavern, hag awos oll an gwin evys ganso rag lowenhe y honen, ev a bredery gans euth hag gans anken a dhystrùcsyon y negys. Saw yn sodyn ev a bercêvas fatell esa nebonen ow kerdhes ryb y denewen. Ev a drailyas hag otta, yth o an Den Bian a Weder. Pedyr a sorras dystowgh ha croffolas hautîn ha gothys y eryow fatell o an Den Bian dhe vlâmya rag y veschauns.
"Pana brow yw dhybm an margh ha'n kert?" ev a grias. "Pana brow yw an gweythva gweder hag oll an gweder gwrÿs genen? Pàn en vy loscor glow predn bohosek, me o liesgweyth lowenha, ha nyns esa tra vëth orth ow throbla. Lebmyn ny worama pana dermyn a wra dos an jùstys ha sêsya oll ow thaclow dhe be ow hendon!"
"In gwir?" an Den Bian a Weder a worthebys, "in gwir? Oma vy dhe vlâmya rag oll dha anken? Yw hebma an grassow esta ow ry dhybm a bùb tra gwrÿs genef ragos? Pyw a'th cùssulyas dhe whansa taclow mar wocky? Certan o te dhe vos den gwil gweder, saw ny wodhyes pleth o res dhis gwertha dha wara. A ny wrug avy dha gùssulya dhe whansa yn fur? Furneth ha skentoleth, a Bedyr, yth esa otham dhis a'n re-na."
"Pandr'esta ow styrya gans an geryow furneth ha skentoleth?" Pedyr a wovydnas. "Me yw den mar skentyl avell ken den vëth, a Dhen Bian a Weder, ha me a vydn y brevy dhis." Gans hedna ev a dhalhedna an Den Bian a Weder yn harow er an codna, hag ev a grias, "Lebmyn yth osta kechys genef, a Warden Bryn an Sabwëdh gwer! Ha lebmyn me a vydn whansa rag an tressa treveth, ha res vëdh dhis grauntya hedna dhybm. Yth esoma ow whansa dew cans mil a dhollars stag obma ha chy ha—ogh, ogh!" ev a scrijas rag an Den Bian a Weder a wrug trailya y honen dhe weder tedhys tobm esa ow lesky dêwla Pedyr kepar ha flabmow tan. Ha ny ylly tra vëth moy bos gwelys a'n den bian.
8
DRES lies dëdh an bothlow wàr dhorn leskys Pedyr a wre dhodho perthy cov a'y wockyneneth ha'n fowt a aswon grâss dysqwedhys ganso. Saw pàn wrug y dhorn yaghhe, y gonscyans a gùscas hag ev a leverys, "Mar pëdh gwerthys ow gweythva gweder hag oll ow fosessyon, me a yll scodhya ow honen wàr Ezêkiel. Mar bell dell vo mona dhodho de Sul, ny vëdh mona ow lackya dhybm."
Hèn yw gwir, a Pedyr. Saw mar pëdh ev heb mona vëth? Ha'n very tra-na a wharva udn jëdh. Neb udn Sul Pedyr a skydnyas bys i'n tavern, ha'n bobel a istynas aga dednow in mes a'n fenester, hag onen anodhans a leverys, "Otta Pedyr Hapwary ow tos!" ha den aral a elwys , "In gwir, Emprour an Dauns, an gweythor gweder rych!' Ha tressa den a shakyas y bedn ha leverel, "Yth yw derivyas in pùb le y vos in kendon, hag yma pobel i'n dre ow leverel na vëdh re hir erna wrella an jùstys sêsya y weythva gweder." Pedyr rych, pàn dheuth ev in mes a'y garyach a elwys "Gordhuwher dâ," dhe bùbonen, hag ena ev a wovydnas orth ost an chy, "Yw Ezêkiel Tew devedhys whath?" Lev down a worthebys, "Deus ajy, Pedyr. Yth on ny esedhys orth bord an cartednow solabrës hag yma plâss gwethys ragos genen." Pedyr ytho a entras i'n rom brâs hag a worras y dhorn in y bocket. Ev a dhyscudhas fatell esa Ezêkiel Tew ow qwil yn tâ rag y bocket y honen o leun a vathow.
Ev a esedhas orth an bord gans an dus erel, hag ev a wre gwary ha gwainya, saw ev a gollas traweythyow. Y a wrug gwary ytho bys i'n gordhuwher, hag oll an bobel onest êth tre, hag y a bêsyas ow qwary gans golow cantolyow, erna leverys dew a'n warioryon erel, "Dewgh, ny re warias lowr ha res yw dhyn mos tre dh'agan gwrageth ha dh'agan flehes. Saw Pedyr Hapwary a jalynjyas Ezêkiel dhe reamainya. Rag pols ny garsa Ezêkiel acordya ganso, saw wàr an dyweth ev a leverys: "Dâ lowr, me a vydn reckna ow mona, hag ena ny a vydn tôwlel rag gwystlow a bymp gylder a owr, rag ny via gwystel le ès hedna ma's gwary flehes." Ev a gemereas y bors in mes ha reckna in mes udn cans gylder. Rag hedna Pedyr Hapwary a wodhya pygebmys mona a'n jeva ev heb trobla y honen dh'y reckna. Saw kynth o gwainys gans Ezêkiel oll an dohajëdh tremenys, ev a dhalathas haneth kelly towl wosa towl, hag a wrug molethy yn uthyk adro dhe genyver coll. Mar qwre va tôwlel an nyver try, Pedyr heb let a vydna tôwlel pymp. Wàr an dyweth Ezêkiel a settyas y bymp gylder dewetha wàr an bord ha leverel, "Unweyth arta, ha mar teuma ha kelly an re-ma, ny vanaf vy hedhy, rag res vëdh dhyso jy, Pedyr, lendya dhybm dhyworth dha vona gwainys. Udn den onest a dal gweres y goweth!"
"Kebmys dell vydnes, cans gylder kyn fe," yn medh Emprour an Dauns, hag ev pës dâ gans an mona gwainys ganso. Ezêkiel a shakyas an dîcyow ha tôwlel pymthek. "Tergweyth pymp!" ev a elwys, "Lebmyn ny a vydn gweles!" Saw Pedyr a dôwlas êtek, ha lev ronk aswonys dâ ganso a leverys adhelergh dhodho: "Otta, hedna a veu an towl dewetha!"
Pedyr a drailyas adro hag yth esa cowrek Myhâl Iselalman ow sevel adhelergh dhodho. Diegrys veu Pwdyr hag a asas dhe'n mona codha in mes a'y dhorn. Ny welas Eêkiel hedna bytegyns, saw ev a besys Pedyr may wrella ev lendya deg gylder dhodho. Sowthenys fest Pedyr a worras y dhorn in y bocket, saw ny gafas ev mona vëth. Ev a drailyas y bockettys an tu ajy wàr ves, saw ny gafas ev deneren kyn fe. I'n eur-na rag an kensa prës ev a borthas cov fatell o y kensa whans dhe gafos kebmys mona in y bocket avell Ezêkiel Tew. Gyllys o oll y vona kepar ha mog.
Ost an chy hag Ezêkiel a veras orth Pedyr pàn esa ev ow whelas y vona, ha ny yllens y gresy pàn dherivas ev fatell o gyllys pùb deneren. Saw wàr an dyweth, wosa y dhe sarchya y bockettys aga honen, y a sorras brâs hag a'n acûsyas a vos pystrior vil, hag ev a dhe worra oll y vona gwainys tre dh'y jy dre hus. Pedyr a wrug dyffres y honen mar dhâ dell ylly, saw yth hevelly fatell o cabmweyth gwrÿs ganso. Ezêkiel a dheclaryas fatell vydna ev derivas an whedhel uthyk-ma dhe genyver onen i'n Forest Du, hag ost an chy a bromyssyas dhe Ezêkiel fatell wre va mos myttyn avarr dhe'n dre ha gwil croffal sodhogyl Pedyr Mùnk dhe vos pystrior. Indelha ev a vydna gweles Pedyr leskys dhe'n mernans. Ena y a assaultyas Pedyr, sqwardya y jerkyn dhywar y geyn ha'y tôwel in mes a'n tavern.
9
NYNS esa steren vëth i'n ebron ha Pedyr ow slynkya tre. Awos an tewolgow, ev a wely shâp ow kerdhes ryptho, ha wàr an dyweth an form a leverys: "Yma dha dhyweth devedhys, Pedyr Mùnk! Oll dha vrâster yw dewedhys. Me a alsa derivas hedna dhis pàn na wrusta goslowes orthyf. Nâ, te êth in udn bonya dhe'n Den Bian a Weder. Lebmyn te a wel pandra wher pàn wrylly despîtya ow hùssul. Saw gwra ow assaya. Yma trueth dhybm ahanas awos dha dhestnans cruel. Ny wrug den vëth dos dhybmo vy ha kemeres edrek warlergh hedna. Ha mar ny vedhys ow perthy own a'n fordh, te a yll côwsel orthyf vy termyn vëth avorow wàr Bryn an Sabwëdh."
Pedyr a wodhya yn tâ pyw a gôwsas orto hag ev a grenas. Ny worthebys ev ger vëth, saw kerdhes in rag dh'y jy.
Pàn dhrehedhas Pedyr y weythva gweder de Lun myttyn, ev a gafas dhyragtho y wonesyjy hag inwedh tus nag o vysytyoryon plesont—an sheryf ha try baily. An sheryf a dhynerhys Pedyr gans "Dùrda dhe why" ha govyn orto fatla wrug ev cùsca. Ena ev a dhros in rag covrol hir, mayth o screfys warnedhy henwyn dettors Pedyr. "A yllowgh pe pò nâ?" an sheryf a dhemondyas, lybm y lev. "Ha bedhowgh strîk adro dhe'n negys, rag ny'm beus meur a dermyn dhe sparya, hag yma an pryson try our alebma wàr geyn margh." Pedyr, in dyspêr, a avowas na ylly ev tylly an mona in kendon, hag ev a asas an sheryf dhe reckna valew y jy, y weythva gweder, y vergh ha'y garyach.
Pàn esa an sodhogyon ow whythra pùptra, an preder a dheuth dhe Pedyr nag o Bryn an Sabwëdh pell dhyworto, ha dre rêson na wrug an den bian gwil gweres dhodho, ev a vydna assaya an den brâs. Ev a bonyas dhe Bryn an Sabwëdh scaffa gylly, hag yth hevelly dhodho, pàn esa ev ow fystena dres an plâss may whrug ev kestalkya kyns oll gans an Den Bian a Weder, fatell wrug dorn dywel y dhalhedna—saw ev a sqwardyas y honen dhyworto, ha ponya in rag, erna dheuth ev dhe lînen an or, tyller a remembras ev yn tâ; ha scant ny wrug ev cria: "Myhâl Iselalman! Myhâl Iselalman!", pàn omdhysqwedhas dhyragtho an den cowrek ha'y welen hûjes brâs in y dhorn.
"Osta devedhys wàr an dyweth?" an cowr a wovydnas gan wharth. "Yns yw whensys dhe'th tystryppya rag kerensa dha dhettors? Wèl, na lavar ger. Yma oll an trobel ow tos, dell leverys dhis solabrës, dhyworth an Den Bian a Weder—an fekyl fâls. Pàn wrella nebonen ry, ev a dalvia ry yn hel, adar kepar ha'n crav-ma. Saw deus," ev a bêsyas, in udn drailya tro ha'n forest, "gwra ow sewya aberth i'm chy ha ny a vydn gweles mar kyllyn ny gwil bargen."
"Gwil bargen?" Pedyr a leverys dhodho y honen. "Pandra garsa ev cafos dhyworthyf vy? In pana vaner a allama bargenya ganso? A garsa ev me dhe wil neb servys dhodho, pò pëth yw yw borpos?"
Y a gerdhas wàr drûlergh serth i'n forest ha dystowgh y a dheuth bys in keynans down ha tewl. Myhâl Iselalman a skydnyas an carygy kepar ha pàn vêns y stairys smoth a varbel. Saw namna wrug Pedyr clamderya der ewn euth, pàn wrug Myhâl Iselalman drehedhes an goles, omwil y honen mar uhel avell tour eglos, ha istyna in mes bregh mar hir avell keber gwiador, hag yth o an dorn mar ledan avell bord i'n tavern, ha cria mar ronk avell clogh ancledhyas: "Gwra esedha wàr ow dorn ha dalhedna an besias, ha ny wrêta codha." Pedyr a obeyas dhodho in udn grena, esedha wàr dhorn an cowr, ha sensy y vës brâs yn tydn.
Y a skydnyas termyn hir saw Pedyr a welas er y sowthan nag esa an air ow tevy tewl. I'n contrary part yth hevelly fatell esa an golow i'n keynans owth encressya, ha dre rêson a hedna ny ylly y lagasow perthy an splander. Dhe dhownha y dhe skydnya, dhe lyha y whre Myhâl Iselalman gwil y honen. I'n eur-na in y vyns ûsys yth esa ev ow sevel dhyrag chy nag o gwell na gweth ès treven trevesygyon rych an Forest Du. Ev a wrug hùmbrank Pedyr aberth in rom neb o kepar ha'n rômys erel in treven erel, saw yth esa airgelgh ancresadow a unycter dygoweth ino. An clock predn, an forn Iselalman a lehednow, an pottys wàr an estyll y oll o poran kepar ha'n re erel in ûsyans pùb le. Myhâl a'n lêdyas dhe jair adhelergh dhe vord brâs hag ena ev a asas an rom, ha dewheles ow ton pycher gwin ha gwedrednow. Ev a dheveras in mes an gwin, hag y a gôwsas nebes, erna dhalathas ev derivas a blesours an bÿs, a diryow estren, hag a cytas ha ryvers teg. Wàr an dyweth Pedyr a glôwas ino y honen whans crev dhe viajya inwedh, hag ev a venegas hedna yn egerys.
"Kyn fes fest whensys dhe gollenwel tra vëth, nebes labmow a'th colon wocky a vynsa gwil dhis trembla; hag ow tùchya dha hanow dâ myshevys, hag anfusy, prag a wrussa den skentyl tropla y honen gans taclow a'n par-n? A wrusta clôwes i'th pedn an despîtyans pàn wrug an bobel dha elwel faitour ha fâlsgwas? Esa painys i'th pengasen pàn dheuth an sheryf rag dha worra in mes a'th chy? Lavar dhybm in pana radn a'th corf a wrusta clôwes an painys?"
"I'm colon," Pedyr a worthebys hag ev a settyas y dhorn wàr y vrèst. Rag yth hevelly dhodho fatell esa y golon ow lesca in rag ha wàr dhelergh in maner dyckly.
"Te re wrug—na vëdh offendys—te re wrug tôwlel in kerdh lies cans gylder wàr veggyers diek ha wàr wesyon syger erel. Ha fatla veu hedna a brow dhis? Y a'th venegas, hag y a whansas bêwnans hir dhis. Eus govenek dhis ytho te dhe vêwa dhe belha? Rag hanter a'n mona wastys te a alsa arveth medhygyon rag dha gleves. Banothow?—Eâ, banath deg ywa pàn wrella pobel sêsya dha bëth ha'th worra in mes a'th chy! Ha pandra a wrug dhis gorra dha dhorn i'th pocket, peskytter may whrella beggyer sensy y hot in mes dhis?—dha golon, unweyth arta dha golon. Ny veu dha lagasow, na'th tavas, dha dhywvregh na'th arrow—nâ, dha golon yn udnyk. Te a gemeras pùptra—dell lever an lavar coth—re dhe'th colon."
"Saw fatl'yll nebonen desky y honen, ma na vo taclow indelha na felha? Yth esoma ow whelas i'n tor'-ma dhe rêwlya ow holon, saw yma hy whath ow qweskel ha worth ow thormentya."
"Eâ, heb dowt yth hevel dhis an negys dhe vos indelha," an cowr a worthebys in udn wherthyn. "Te was truan, ny ylta jy hy rêwlya poynt; saw ro dhybm an dra vian usy ow qweskel, ha te a welvyth pana well a vedhys hepthy."
"Ry ow holon dhis?" Pedyr a scrijas yn tiegrys. "Me a vynsa merwel dystowgh. Nâ, na rov nefra!"
"Eâ, mar teffa onen a'n chyrùrjens moyha deskys ha remôvya dha golon in mes a'th corf, heb dowt te a vynsa merwel. Saw genef vy, y fia ken tra yn tien. Na fors, deus an fordh-na ha te a yll contentya dha honen." Gans an geryow-na ev a savas in bàn hag egery daras rom ha hùmbrank Pedyr ajy. Colon an den yonk a wrug polsa hag ev ow stappya dres an troosow. Ny wrug Pedyr vry vëth anedhy, rag an wolok dhyragtho o fest coynt hag a'n sawthanas yn frâs. Wàr rew a estyll yth esa gwedrednow leun a lydn drelew. Hag in kenyver onen a'n gwedrednow yth esa colon mab den; yth o screfys tôkyn stag paper wàr an gwedrednow ha wàr bùb tôkyn y hylly bos gwelys hanow. Brâs o whans Pedyr dh'aga redya. Otta colon jùstys F—; hag ena colon Ezêkiel Tew ha colon Mytern an Dauns; ena colon an chîf-warden gam. Yth esa colodnow whegh gwerthor ÿs, colodnow eth sodhak lystya, colodnow try mainor arhansek—wàr verr lavarow yth esa dhyragtho cùntellyans a'n colodnow moyha wordhy ajy dhe dry ugans mildir alena.
"Mir!" yn medh Myhâl Iselalman. "Oll an bobel-ma re dôwlas dhywortans anken ha prederow an bÿs. Nyns eus onen vëth a'n colodnow-ma ow qweskel gans fienasow na felha, ha plêsys dâ yw aga ferhenogyon kyns dhe vos ryddys a'ga ôstysy treus."
"Saw pandr'usons y ow ton adro in aga brèst in le a'ga holon?" Pedyr a wovydnas rag yth esa ev ow clamderya dre rêson a'n taclow gwelys ganso.
"Hebma," an cowr a wortheybs, hag ev a istynas dhodho in mes a drog tedna colon a ven.
"Pywa!" Pedyr a elwys ha yêynder a'n sêsyas. "Colon a ven? Saw mir, a Myhâl Iselalman, res yw hedna dhe vos pòr yêyn i'n brèst."
"Surly, saw plesont yw an yêynder. Prag y cotha colon bos tobm? I'n gwâv nyns yw an tomder a brow, rag te a vynsa cafos moy a dhyffres warbydn an yêynder in gwyras keres ès in colon dobm. Hag i'n hâv, pàn ves ow whesa i'n wres, ny ylta desmygy fatla wra colon a'n par-na dha yêynhe. Kepar dell leverys vy solabrës, ny'fÿdh fienasow nag euth, nâ ny wrêta sensy pyteth gocky na galarow, mar pëdh colon a'n sort-na inos."
"Hag yw hedna pùptra a ylta jy ry dhybm?" Pedyr a wovydnas, meur y dhysconfort. "Yma govenek dhybm a vona, hag otta jy owth offra men dhybm!"
"Wèl, me a grës fatell vëdh cans mil gylder lowr ragos wostallath. Mar teuta ha'ga handla yn tâ, ny vëdh pell erna vy mylyonêr."
"Cans mil gylder!" an den lesky glow bohosek a grias gans joy. "Deus, deus, na wra gweskel mar wyls inof—ny a vëdh dewedhys yn scon an eyl gans y gela. Dâ lowr, a Myhâl; ro dhybm an men ha'n mona, ha te a yll kemeres an dra dhybowes in mes a'm clos dywvron."
"Yth esen vy ow cresy te dhe omdhysqwedhes gwas fur," yn medh Myhâl Iselalman hag ev ow minwherthyn. "Deus, gesowgh ny dhe eva warbarth unweyth arta, hag ena me a vydn reckna an mona in mes."
Y a esedhas ytho rag eva an gwin arta, hag y a evas erna wrug Pedyr codha down in cùsk. Eva a veu dyfunys wàr an dyweth gans tonyow wheg neb corn trùmpa. Ot, yth esa ev owth esedha in caryach teg ow trîvya dres fordh ledan, ha pàn drailyas ev dhe veras in mes a fenester an caryach, ev a welas an Forest Du ow crowedha pell adhelergh dhodho i'n pellder blou. Wostallath nyns o va certan ev y honen dhe vos an den esedhys i'n caryach, rag nyns o y dhyllas esa adro dhodho de. Saw ev a remembras kenyver tra a wharva, hag indelha ev a leverys: "Me yw Pedyr an Glow Predn. Hèn yw certan. Nyns oma ken den vëth."
10
SOWTHENYS veu Pedyr na glôwas ev sensacyon vëth a dristans, pàn esa ev i'n eur-na rag an kensa prës ow casa adhelergh dhodho y dre ha'n cosow mayth o va tregys mar lies bledhen. Ny ylly ev naneyl hanaja na devera dagrow, hag ev ow predery a'y vabm, hag ev orth hy forsâkya in otham hag in anken, nag nyns o hedna oll bern dhodho i'n present termyn. "Dagrow ha hanaja," yn medh ev dhodho y honen, "Hireth ha tristans, ymowns y oll ow tos dhyworth an golon, ha gromercy dhe Myhal Iselalman—yêyn ha meynek yw ow holon vy."
Ev a settyas y dhorn wàr y vrèst hag yth esa cosoleth perfëth ino. "Mar qwrug ev gwetha y er mar dhâ ow tùchya an cans mil gylder avell ow tùchya an golon, me a vëdh lowen," yn medh ev, ha dystowgh ev a dhalathas whelas in y garyach hag a gafas dyllas a bùb sort, mar fin dell ylly ev whansa, saw ny drouvyas mona vëth. Wàr an dyweth ev a gafas pocket esa lies mil gylder ino, hag arhebow bancoryon in oll an cytas brâs. "I'n tor'-ma yma taclow poran kepar dell garsen," ev a brederys. Ha warlergh esedha attês in cornel an caryach, ev a viajyas in mes dhe weles an bÿs efan.
Dres dyw vledhen ader dro Pedyr a viajyas i'n bÿs hag ev ow meras in mes a'y garyach adhyhow hag aglêdh orth an byldyansow esa ow mos dresto. Pàn wrella ev entra in cyta ny wre va whelas ma's arweth an tavern. Wos kydnyow ev a vedha drîvys adro i'n dre, hag y fedha dysqwedhys dhodho pùb golok a les. Saw ny wrug tra vëth, naneyl pyctour, chy, mûsyk, dauns na ken tra vëth y lowenhe. Ny ylly y golon a ven clôwes les in tra vëth. Pelha yth o y lagasow tewlhës ha'y scovarnow bodharhës dhe genyver tra deg. Nyns esa ow cortos dhodho ma's debry, ev ha cùsca. Traweythyow ev a remembras fatell o va lowenha pàn o va bohosek, hag ev ow lavurya rag sostena y honen. I'n eur-na pùb golok deg i'n valy, an sownd a vûsyk hag a gân a wre dhodho rejoycya. I'n eur-na ev o contentys gans an boos sempel preparys gans y vabm ha drÿs in mes bys in y dansysow i'n forest. Pan wrella ev predery a'n termyn passys, yth hevelly dhodho pòr goynt na ylly ev wherthyn i'n eur-na, saw i'n termyn eus passys pùb ges o mater a dhydhan dhodho. Pàn wrella pobel erel wherthyn, ny wre va ma's omwil y honen dhe vos ow wherthyn rag ewn cortesy; saw in gwir ny ylly ev bos radn a'n lowender. Ev a omglôwa i'n termynyow-na, kynth o va frank a bùb emôcyon, nag o va pës dâ màn. Ny veu an hireth na tristans neb a'n drîvyas wostallath wàr dhelergh dh'y dyller genesyk, saw sqwîthuster, fowt les ha bêwnans heb lowena vëth.
Pàn esa Pedyr ow mos dres Strasbourg ha pàn welas ev an forest tewl i'n pellder, pàn welas ev arta shâpys crev hag trevesygyon an Forest Du ha'ga fâssow onest lel, pàn glôwas y scovarn an ton down ha crev a levow y gestrevesygyon, ev a settyas y dhorn yn uskys wàr y golon, rag yth esa y woos ow tauncya der y wythy, hag ev a bredery y hylly ev ola ha lowenhe. Saw, fatl'ylly ev bos mar wocky? Ny'n jeva ev ma's golon a ven hag yma an meyn heb emôcyon, ha wrowns y naneyl wherthyn nag ola.
Kyns oll ev a vysytyas Myhâl Iselalman, neb a'n wolcùbmas dell hevelly yn caradow. "Myhâl," yn medh Pedyr, "me re viajyas ha me re welas pùptra, saw ny veu ow experyens ma's sqwîthter. Dre vrâs, yma an men i'm brèst worth ow gwetha rag lies tra. Nyns esoma nefra ow serry, nyns oma nefra trist, saw i'n keth termyn, nyns oma lowen naneyl. Yth hevel dhybm nag eus dhybm ma's hanter-bêwnans. A ny alsesta gwil ow holon a ven nebes moy tender? Poken a ylta jy ry dhybm an golon goth? Me o ûsys dhe hodna dres pymp bledhen warn ugans, ha mar qwre hy ow lêdya traweythyow dhe wil gockyneth, bytegyns colon gontentys ha lowen o hy."
Spyrys an Forest a wharthas gans scorn. "Pàn vy marow, Pedyr Mùnk," ev a worthebys, "te a gav dha golon vedhel ha tender wàr dhelergh. Ena te a gava an chauns dhe glôwes pynag oll a dheffo, joy pò tristans. Saw i'n bÿs-ma nefra ny vëdh an golon goth dhis arta. Whath, Pedyr, kyn whrusta viajya, ny vëdh dâ dhis bêwa kepar dell eses ow pêwa bys i'n tor'-ma. Gwra anedhy in neb le obma i'n forest, gwra chy dhis dha honen, demedhy, lies'he dha rychys. Nyns esa otham dhys ma's a neb sort a ober. Dre rêson ty dhe vos syger, te a veu lenwys a sqwîthter. Ha lebmyn dâ via genes blâmya pùptra wàr an golon inocent-ma."
Pedyr a gonvedhas fatell leverys Myhâl an gwir ow tùchya sygerneth. Ev a erviras ytho settya y vrës wàr gafos moy ha moy rychys. Myhâl a ros dhodho udn cans mil gylder moy, hag y a dhepartyas an eyl dhyworth y gela hag y cothmans dâ.
Nyns o pell kyns ès an nowodhow dhe lêsa der an Forest Du fatell o dewhelys Pedyr Glow Predn pò Pedyr Hapwary, hag ev moy rych ès bythqweth. Yth o taclow kepar ha kyns. Pàn veu va bohosekhës, ev a veu tôwlys in mes a'n tavern. I'n tor'-ma, de Sul dohajëdh, ev a dhrîvyas y garyach bys i'n tavern, y gowetha coth a shakyas y dhorn, praisya y vargh, govyn adro dh'y viaj, ha pàn wrug ev dallath gwary arta gans Ezêkiel Tew rag dollars a arhans, an rûth a'n estêmyas uhelha ès bythqweth. In le a negys an gweder, ev a veu marchont predn, saw nyns o hedna ma's rag fâcya. Y jîf-negys o avell gwerthor ÿs hag avell lendyor mona. Hanter trevesygyon yn tien a'n Forest Du a godhas in kendon ganso, rag ny wre va lendya mona marnas gans oker a dheg an cans, hag ev a werthas ÿs dhe'n vohogosyon, na ylly y brena gans mona parys, a deyrgweyth y valew. Yth o va coweth dâ gans an sheryf ha mar ny wre nebonen pe Mêster Pedyr Mùnk an jëdh kyns ès an kevambos dhe vos dewedhys, an sheryf a wre marhogeth bys in chy an kendonor, sêsya y jy, y wertha heb let, ha herdhya tas, mabm ha flehes aberth i'n forest. Wostallath an gwythres-na a wre ancrêsya Pedyr nebes, rag an bobel neb o herdhys in mes a'ga threven a wre cùntell adro dh'y yettys—an dus ow pesy termyn dhe be, an benenes ow whelas medhelhe y golon a ven, ha'n flehes owth ola rag nebes bara. Saw Pedyr a brovias dhodho y honen dew vrathky garow hag oll an tervans-na a cessyas yn scon. Ev a wre whybana dhe'n keun ha'ga inia warbydn rûth a veggyers ha'n keun a vydna aga scattra pùb qwartron in udn scrija. An anken brâs ragtho o causys dre venyn goth, nag o ken ès mabm Pedyr y honen. Hy a veu tôwlys in bohosogneth hag in dyvotter, drefen hy chy ha'y splat a dhor dhe vos gwerthys. Hy mab, pàn dhewhelys ev, kynth o va pòr rych, ny vydna ev kemeres with anedhy. Rag hedna traweythyow hy a wre omdhysqwedhes orth y dharas, hy gwadn ha posys wàr lorgh. Ny vedha hy entra i'n chy, rag unweyth ev a wrug hy châcya in mes; saw drog o gensy bêwa wàr jeryta pobel erel, pàn o hy mab hy honen abyl dh'y sostena in hy henys. Saw ny veu colon yêyn hy mab môvys bythqweth ow qweles hy fâss aswonys dâ mar wydn, pejadow hy bejeth, hy dorn crebogh istynys in mes na'y horf idhyl. Pàn wrella hy knoukya wàr y dharas de Sul, ev a wre kemeres whednar, y rollya in paper ha'y dhanvon in mes dhedhy gans servont. Ev a glôwa hy lev ow crena ha hy ow ry grassow hag ow whansa pùb lowena dhodho. Yth esa ev orth hy clôwes ow slynkya dhyworth y dharas in udn bassa, saw ny wrug ev bythqweth predery anedhy moy, marnas dhe rebukya y honen, drefen ev dhe wastya whednar dâ.
Wàr an dyweth Pedyr a dhalathas predery a dhemedhy. Ev a wodhya nag esa sîra in oll an Forest Du na via lowen dhe ry y vergh dhodho. Saw porposys o va dhe vos cales dhe blêsya in y dhôwys, rag ev a garsa i'n negys fatell vedha aswonys y furneth ha'y lùck dâ. Rag hedna ev a wrug marhogeth dres oll an forest ow whelas obma hag ena, saw nyns o onen vëth a vowysy an Forest Du teg lowr ragtho. Wàr an dyweth, wosa ev dhe whythra oll rômys dauncya yn euver rag cafos an vaghteth decka oll, ev a glôwas udn jëdh fatell o mergh neb udn treghyas predn an vowes tecka ha glânha in mesk oll meghtythyon an Forest Du. Yth esa hy ow pêwa yn cosel, hy a wetha chy hy sîra kempen dres ehen, ha ny wrug hy bythqweth dysqwedhes hy honen in dauns vëth, na wrug wàr dhegolyow kyn fe. Pàn glôwas Pedyr a'n vowes teg-ma, ev a erviras hy hemeres yn greg, hag ev a wrug marhogeth bys i'n crow comendys dhodho. Tas an vowes-ma, Lysbeth hy hanow, a recêvas an den bryntyn gans sowthan brâs, saw sowthenys moy veu, pàn glôwas ev fatell o va Mêster Pedyr Mùnk an rychys, ha pelha fatell o an den jentyl whensys dhe dhemedhy y vergh. Dre rêson ev dhe gresy fatell o dewedhys oll y anken ha'y vohosogneth, ny wrug an den coth hockya re hir, saw acordya dhe'n maryach, heb omgùssulya gans whans y vergh hy honen. Yth o an flogh dâ mar leun a dhevar tro ha'y sîra, na wrug hy y sconya poynt. Ytho nyns o pell kyns ès hy dhe vos Mêstres Pedyr Mùnk.
11
SAW ny wrug taclow wharvos mar dhâ dell esa an vowes truan owth hunrosa. Yth esa hy ow cresy fatell wodhya hy yn tâ an fordh ewn dhe dhyghtya chy; saw ny ylly hy gwil tra vëth rag plêsya hy gour ty. Yth esa hy ow kescodhevel gans an vohosogyon, ha drefen hy gour dhe vos mar rych, hy a bredery na vedha pehas ry ferdhyn dhe venyn vohosek pò dhe istyna hanaf a dê dhe gothwas. Saw udn jëdh pàn wrug Pedyr hy gweles ow qwil indelha, ev a leverys, asper y lev ha serrys y vejeth: "Prag yth esta ow wastya ow mona wàr wyllyow ha wàr bobel dhiek? A wrusta dry genes tra vëth aberth i'n chy-ma, may hylly tôwlel mona dhe goll kepar ha pensevyges? Mar qwrama dha gachya ow qwil hebma arta, te a vydn clôwes strocas ow dorn!"
Lysbeth deg a olas in hy chambour awos gnas cruel hy gour, hag yn fenowgh hy a bredery y fedha gwell dhedhy bos in chy hy sîra arta ès bos tregys gans Pedyr crefny, cales y golon. Ellâs, a pe godhvedhys gensy yth o colon a ven dh'y gour ty, ha na ylly ev hy hara hy na cara ken den vëth, ny vynsa hy bythqweth bos mar ancrêsys ow tùchya y wrians. Saw peskytter may whrella hy esedha orth an daras ha beggyer dhe dos dhe'n chy, kemeres y hot dhywar y bedn ha dallath côwsel, ny wre hy mas tôwlel hy dewlagas wàr nans ha fâcya na welas hy an gwas truan. Ha hy a wre gwrydnya hy dêwla dhe voy stroth, ma na wrella hy a'y anvoth tava in hy focket rag cafos mona. Ytho y wharva fatell wre pùbonen dres oll an forest côwsel adro dhe Lysbeth deg avell benyn grefny, ha leverys vedha hy dhe vos gwetha ès Pedyr y honen.
Saw udn jëdh pàn esa Lysbeth esedhys dhyrag an chy ha hy ow nedha hag ow sia cân dhedhy hy honen—rag yth esa hy owth omglôwes lowen, rag teg o an gewar ha Pedyr o gyllys in kerdh—y teuth den bian coth an fordh in bàn hag ev ow ton sagh brâs poos. Lysbeth a'n clôwas ow tiena pàn esa ev whath pell dhyworty, ha hy a veras orto yn caradow, rag hy a bredery na dalvia den mar goth ha mar wadn don sawgh mar boos.
I'n mêntermyn an den coth a wrug trebuchya ha diena bys i'n chy. Ha pàn esa ev adâl dhe Lysbeth, namna wrug ev codha dhe'n dor in dadn poster an sagh. "Ellâs, kemerowgh trueth ahanaf, a venyn vas, ha ro dhybm gwedren a dhowr," yn medh an den bian. "Ny allama mos udn stap pelha, hag yma own dhybm me dhe glamderya."
"Saw orth dha oos jy ny dalvia dhis don sawgh mar boos," yn medh Lysbeth.
"Ny dalvia, na ve me dhe vos constrînys dhe servya avell messejer," ev a worthebys. "Ellâs, ny wor arlodhes rych kepar ha why, pana dydn usy an vohosogneth ha pana wolcùm a via dewas dowr jorna mar dobm."
Pàn glôwas Lysbeth hedna, hy a fystenas ajy, kemeres pycher dhywar an estyllen ha'y lenwel a dhowr. Saw pàn dhewhelys hy ganso, ha dos nes dhe'n den, hy a welas pana druedhek o va, hag ev esedhys wàr a sagh, hy a remembras fatell o hy gour ty adre, ha hy a settyas an pycher a dhowr adenewen. Hy a gafas hanaf ha'y lenwel a win, settya trogh a vara sugal warnodho, ha'y dhon in mes dhe'n den coth. "Otta, lebmyk a win a vydn servya dhis gwell ès dowr ha te mar goth," yn medh hy. "Saw na wra eva yn uskys ha gwra debry dha vara ganso."
An den bian coth a veras orto yn sowthenys, hag yth esa dagrow ow cùntell in y lagasow. Ev a evas an gwin hag ena ev a leverys: "Me yw gyllys coth, saw scant ny wrug vy gweles pobel a veu mar dregeredhek, hag a wodhya ry ro mar deg ha mar golodnek avellowgh why, Mêstres Lysbeth. Rag hedna agas bêwnans wàr an bÿs-ma a vëdh lowen. Ny wra colon kepar ha'gas colon why gortos heb reward."
"Na wra! Ha hy a gav hy reward dystowgh!" a grias lev uthyk. Y a drailyas dhe weles Pedyr ow sevel dhyragthans ha conar wàr y fâss.
"Ytho yth esta ow tevera in mes ow gwin gwelha rag beggyers hag owth offra ow hanaf ow honen dhe wessyow gwyll. Otta jy, kebmer dha reward!"
Lysbeth a dôwlas hy honen orth y dreys rag pesy y yvyans; saw ny glôwas an golon a ven pyteth vëth. Ev a drailyas an whyp esa in y dhorn ha gweskel gans an dornla strocas mar grev wàr hy thâl teg, may whrug hy codha heb bêwnans inter dywregh an den coth. Pàn welas Pedyr hedna, yth hevelly fatell gemeras ev edrega pols, ha plêgya dhe weles esa bêwnans whath inhy, saw an den bian a leverys dhodho in lev aswonys dâ: "Na wra trobla dha honen, Pedyr an Glow Predn! Hy o an flour whecka ha tecka in oll an Forest Du. Saw te re wrug hy dystrôwy ha ny wra hy blejyowa nefra arta."
An goos a asas dywvogh Pedyr hag ev a leverys: "Hèn yw te, ytho, Mêster Warden an Sabwëdh? Wèl, an dra neb yw gwrÿs yw gwrÿs. Yma dhybm govenek bytegyns na wrêta ow acûsya dhyrag an jùstys a vos hy denladh."
"Ploswas cabm!" an Den Bian a Weder a grias. "Pana brow a via dhybm dry dha gorf mortal dhe'n cloghprednyer? Nyns yw res dhys perthy own a jùjys i'n bës-ma, saw dhe jùjys strotha erel ha moy ahas, rag te re werthas dha enef dhe'n Tebel-El."
"Ha mar qwrug vy gwertha ow holon," Pedyr a leverys gans scrij, "te ha'th tresours anfusyk yw oll dhe vlâmya! Te, dhrog-spyrys, re'm hùmbrancas dhe dhystrùcsyon, re'm drîvyas dhe whelas gweres dhyworth nebonen aral, ha te a dall omgemeres rag pùptra oll."
Scant nyns o hedna leverys gans Pedyr, pàn wrug an Den Bian a Weder whedhy ha tevy; ev a veu uhel ha ledan, y feu y dhewlagas mar vrâs avell plâtyow cowl hag y feu y anow kepar ha forn dobm esa flabmow ow tos in mes anedhy. Pedyr a dôwlas y honen wàr y dhewlin ha ny wrug y golon a varbel y wetha rag trembla kepar hag edhlen. Spyrys an Forest a'n sêsyas er an codna gans skyvlow hîr, y droyllya adro kepar dell usy corwyns ow scubya in bàn an dêlyow marow, hag ena ev a'n tôwlas wàr an dor mar boos may whrug y asow crackya. "Bùluk!" ev a grias in lev kepar ha taran, "Me a alsa dha sqwardya dhe dybmyn, a pen vy whensys, rag te re dhespîtyas Mêster an Forest. Saw rag kerensa an venyn varow-ma, a ros boos ha dewas dhybm, te a gav spâss a eth dëdh. Mar ny wrêta amendya dha fordhow i'n termyn-na, me a vydn dos ha melyas dha esely dhe bolter, ha te a verow in oll dha behosow!"
12
DEVEDHYS o an nos, pàn dheuth nebes tus an fordh ha gweles Pedyr Mùnk, an den rych, a'y wroweth wàr an dor. Y a'n trailyas adro ha whelas tôkyn vëth a vêwnans, saw dres termyn ny spêdyas aga gwythres. Wàr an dyweth onen anodhans a entras i'n chy ha dry in mes nebes dowr, hag ev a'n scùllyas wàr y fâss. Gans hedna Pedyr a anellas yn town, uja, egery y dhewlagas, meras adro ha govyn ow tùchya Lysbeth. Nyns o hy gwelys gans den vëth anodhans. Ev a ros grassow dhe'n dus a'ga gweres, slynkya aberth in y jy ha whelas pùb le, saw ny ylly Lysbeth bos gwelys in tyller vëth. An dra esa ev ow cresy dhe vos drokhunros o an gwiryoneth wherow.
Pàn esa ev owth esedha y honen oll i'n tyller-na, nebes prederow coynt a entras in y bedn. Nyns esa ev ow perthy own a dra vëth, rag yêyn o y golon. Saw pàn remembras ev mernans y wre'ty, ev a brederys a'y vernans y honen, hag yth esa ev ow consydra pana boos a vedha ev ow departya in mes a'n bÿs—behys gans dagrow an vohosogyon, gans nùmber aga molothow, gans anken an bobel druan may whrug ev inia y geun ortans, gans dyspêr tawesek y vabm ha gans goos Lysbeth dhâ ha teg. Mar ny ylly ev ry acownt gwiryon dh'y thas, hag ev ow covyn, "Ple ma ow myrgh vy?", fatla alsa ev gortheby qwestyons Nebonen aral, usy oll forestys, oll morow, oll menydhyow ha bêwnans oll mab den ow longya dhodho?
Ancrêsys veu y gùsk dre hunrosow, hag yn fenowgh ev a vedha dyfunys dre lev wheg ow kelwel dhodho: "Pedyr, cav colon a vo moy tobm!" Ha pàn wre va dyfuna, ev a vydna degea y dhewlagas arta; rag an lev a dheuth dhodho rag yw warnya, o lev Lysbeth, y wrê'ty.
Ternos ev êth dhe'n tavern may halla ev budhy y brederow in dewas medhow. Ena ev a vetyas gans Ezêkiel Tew. Pedyr a esedhas ryptho. Y a gestalkyas a daclow dyvers, a'n gewar vrav, a'n gwerryans, a'n tollow, ha wàr an dyweth y a dhalathas côwsel a vernans, ha fatell wrug an den-ma pò an den-na merwel yn sodyn. Pedyr a wovydnas orth Ezêkiel pandr'esa ev ow tyby adro dhe'n mernans ha bêwnans an bÿs dhe dhos. Ezêkiel a worthebys fatell vedha an corf encledhys, saw an enef dhe ascendya dhe'n nev pò skydnya dhe iffarn.
"Saw usons y owth encledhyas colon nebonen inwedh?" Pedyr a wovydnas, meur y les i'n qwestyon.
"Usons surly, ymowns y ow encledhyas hodna kefrës."
"Saw fatla via, mar ny via y golon in corf nebonen na felha?" Pedyr a wovydnas whath.
Ezêkiel a veras orto yn lybm hag ev a leverys: "Pandr'esta ow styrya gans hedna. Esta ow tesmygy na'm beus colon vëth?"
"Nâ, yma dhis colon yn certan, mar grev avell carrek," Pedyr a worthebys.
Ezêkiel a veras orto gans sowthan brâs. I'n eur-na ev a tôwlas y dewlagas adro dhe weles mar qwrug den vëth clôwes lavarow Pedyr. Ena Ezêkiel a leverys:
"Ple whrusta cafos an skians-na? Poken martesen nyns usy dha golon dha honen ow qweskel na felha?"
"Nag usy hy ow qweskel na felha. Dhe'n lyha nyns usy hy ow qweskel na felha i'm brèst," Pedyr Mùnk a worthebys. "Saw lavar dhybm—abàn wodhesta an pÿth esoma ow mênya—fatla vëdh taclow gans agan colodnow?"
"Prag y fynsa hedna dha ancrêsya, a goweth," Ezêkiel a wovydnas gans wharth. "Plegadow yw agan bêwnans wàr an norvës, ha hèn yw lowr. Yn certan onen a'n gwelha taclow ow tùchya agan colodnow yêyn, nag eson ny ow perthy own ha ny ow tyby prederow a'n par-na."
"Hèn yw gwir, saw yma nebonen ow predery a'n taclow-na bytegyns. Kyn na worama pandr'yw own, me a yll remembra fatell o iffarn chêson rag own dhybm pàn en vy maw bian inocent."
"Wèl, certan oma, na wren ny soweny re dhâ," yn medh Ezêkiel. "Unweyth me a wovydnas qwestyon orth scolvêster adro dhe'n negys-na. Ev a dherivas dhybm fatell vedha colodnow montollys warlergh mernans. An re scav a vydna ascendya saw an re poos a vydna skydnya. Yth hevel dhybm fatell vëdh agan colodnow ny poos lowr."
"Eâ, ellâs," Pedyr a worthebys; "hag yth esoma owth omglôwes anês, ow holon vy dhe vos heb kescodhevyans ha mygyl, ha me ow predery a daclow a'n par-na."
An nessa nos Pedyr a glôwas lev aswonys dâ ow whystra in y scovarn, pympgweyth pò wheghgweyth: "Pedyr, gwra cafos colon a vo moy tobm." Ny borthas ev edrek vëth a ladha y wreg, saw pàn dherivas ev dhe'n servysy fatell o hy gyllys wàr viaj, ev a wovydnas orto y honen, "Dre lycklod, pleth yw hy gyllys?"
Dres wheddyth ev a vêwas indelha, ha'n prederow-na worth y ancrêsya; ha pùb nos ev a glôwas an lev, ha hedna a wrug dhodho perthy cov a wodros uthyk an Den Bian a Weder. An seythves myttyn, bytegyns, ev a spryngyas in bàn dhywar y wely in udn elwel: "Lebmyn me a vydn dyscudha mar callama cafos colon a vo moy tobm, rag yma an golon-ma, heb emôcyon vëth i'm brèst ow qwil ow bêwnans sqwîthus ha dyglon." Ev a omwyscas yn uskys in y dhyllas gwelha, mos in bàn wàr y vargh ha marhogeth bys in Bryn an Sabwëdh.
13
WÀR Vryn an Sabwëdh yth esa an gwëdh ow sevel mar glos an eyl dh'y ben na ylly Pedyr marhogeth pelha. Rag hedna ev a golmas y vargh dhe wedhen ha dre hast kerdhes bys i'n top an meneth. Pàn wrug ev drehedhes an sabwedhen uhelha, ev a leverys an lînednow a dhescas ev gans kebmys caletter:
"Lies bledhen yw dha oos,
dhywgh yth yw sabwëdh an coos.
In cres oll an sabwëdh gwer
why a bew an rychys meur.
I'n coos kynth osta tregys
ow meras orth an stras,
dhe flehes de Sul genys
dysqwa heb dowt i'n câss!"
Gans hedna an Den Bian a Weder a omdhysqwedhas dhyragtho, saw ny wrug ev wolcùbma Pedyr kepar ha kyns. Nâ, y fâss o trist hag anwhek. Adro dhe'n den bian yth esa côta a weder du, hag yth esa skethen a grêp du ow terneyjya dhywar y hot. Pedyr a wodhya yn tâ pyw esa Spyrys an Coos ow mornya.
"Pandra garses jy cafos dhyworthyf vy, Pedyr Mùnk?" an Den Bian a wovydnas, ronk y lev.
"Yma udn whans gesys genef whath, a Warden an Rychys," Pedyr a worthebys, trist y dhewlagas.
"A yll colodnow a ven whansa tra vëth?" yn medh an Den a Weder. "Yma dhis pùptra eus otham anodho rag dha vêwnans camhensek, ha ny worama poynt mars yw compes ragof dhe rauntya dha whans dhis."
"Saw te a bromyssyas tre whans dhybm; hag yth yw onen anodhans gesys whath."
"Me a'm beus an gwir bytegyns dhe'th sconya, mar pëdh gocky an whans-na," an Den Bian a Weder a bêsyas. "Saw kê in rag. Me a vydn clôwes pandr'yw desîrys genes."
"Dâ via genef te dhe gemeres an golon dhyvew in mes a'm corf ha dhe ry dhybm in y le ow holon vew," yn medh Pedyr.
"A wrug vy an bargen-na genes? Oma Myhâl Iselalman, usy ow ry rychys ha colodnow yêyn? Res yw dhis mos dhodho ev rag cafos dhe golon dhyworto."
"Ellâs, ny vydn ev hy ry dhybm nefra arta," Pedyr a worthebys.
"Kynth osta camhensek, yma pyteth dhybm ahanas," yn medh an Den Bian a Weder wosa pols. "Saw drefen nag yw gocky dha whans, ny allama sconya dhe wil gweres dhis. Ytho goslow yn tâ. Ny ylta jy dascafos dhe golon dre nerth. Saw martesen ty a yll hy dascafos dre gast. Ha martesen ny vëdh hedna mar gales wosa pùptra, rag Myhâl, kynth usy ev ow consydra y honen dhe vos fur dres ehen, yw gwas fest gocky in gwiryoneth. Rag hedna, kê dhodho ha gwra poran kepar dell wrama comondya dhis.
An Den Bian a Weder a dhescas dhe Bedyr kenyver tra o res dhodho gwil. Ev a ros crows vian a grystal dhodho inwedh. "Ny yll ev dha bystyga, ha te ow pêwa, hag ev a wra dha dhelyfrya mar teuta ha sensy hobma in bàn dhyragtho ha gwil pejadow i'n kettermyn. Ha mar qwrêta dascafos dhe golon, ena gwra dewheles obma, ha me a vëdh orth dha wortos."
Pedyr Mùnk a gemeras an grows, hag a dhescas oll an geryow o res dhodho leverel ha mos strait dhe geynans Myhâl Iselalman. Ev a'n gelwys tergweyth er y hanow ha dystowgh yth esa an cowr ow sevel dhyragtho.
"A wrusta ladha dha wre'ty?" an cowr a wovydnas, dyowlek y wharth. "Me a vynsa hy ladha, a pen vy i'th le jy, rag yth esa hy ow radna dha rychys dhe'n wyllyow. Saw gwell via dhis gasa an pow dres termyn, rag alarm a vëdh clôwys, mar ny vëdh hy kefys. Y fëdh otham dhis a vona, ha dre lycklod devedhys osta dhybm dh'y gafos."
"Te re wrug desmygy yn ewn," yn medh Pedyr, "ha re bo brâs an sùmen a vona an prës-ma rag pell dhyworthyn yw Ameryca."
Myhâl êth dhyrag Pedyr aberth i'n crow, hag ena ev a egoras cofyr brâs mayth esa meur a vona. Ev a gemeras in mes rolyow a owr. Pàn esa ev worth aga reckna in mes wàr an bord, Pedyr a leverys, "Ass osta bobba, a Myhâl, rag te a'm tùllas dhe gresy bos colon a ven i'm brèst ha te dhe gafos ow holon vy!"
"A nyns yw hedna gwir?" Myhâl a wovydnas hag ev sowthenys brâs. "A ny ylta clôwes dha golon? A nyns yw hy mar yêyn avell rew? A ylta jy omglôwes ownek pò lowen, pò a yll tra vëth gwil dhis perthy edrek?"
"Ny wrusta tra vëth ma's gwil dhe'm colon coselhe, saw yth yw an keth colon usy i'm brèst whath. Pelha yma Ezêkiel ow leverel fatell wrusta leverel gow dhyn. Nyns osta jy an den a alla sqwardya colon in mes a vrèst nebonen heb ev dh'y wodhvos, ha heb gorra y vêwnans in peryl. Res via dhis bos pystrior rag gwil tra a'n par-na."
"Saw me a lever dhis in gwiryoneth," yn medh Myhâl serrys brâs, "fatell a'th eus dhyso jy, dhe Ezêkiel ha dhe oll an dus rych neb a wrug bargenya genef, colodnow mar yêyn avell marbel. Yma aga gwir-golodnow genama obma i'm chambour.
"Dar, ass usy an geryow gow ow slyppya in mes dres dha davas!" yn medh Pedyr. "Gwra leverel hedna dhe gen onen. A nyns esta ow tyby na welys vy lies colon greftus wàr ow viajys? An colodnow i'th chambour, yth yns y oll gwrÿs a gor! Te yw gwas rych heb dowt, saw pystrior nyns osta poynt."
An cowr in conar vrâs a egoras daras an chambour. "Deus ajy obma ha gwra redya oll an tôknys stag-ma. Ha mir, yma colon Pedyr Mùnk i'n wedren-na. A welta jy fatell usy hy ow qweskel? A yll hedna bos gwrÿs gans colon a gor?"
"Yth yw hy gwrÿs a gor bytegyns," Pedyr a grias. "Nyns usy gwirgolon ow qweskel indelha. Pelha yma ow holon ow honen whath i'm brèst. Nâ, nâ, gwir yw nag osta pystrior!"
"Saw me a vydn y brevy dhis!" an cowr a grias serrys brâs. "Te a wra hy clôwes inos dha honen hag avowa hy dhe vos dha golon dha honen." Ev a's kemeras in mes, sqwardya jerkyn Pedyr yn egerys, ha kemeres men in mes a vrèst an den yonk ha'y sensy in bàn dhyragtho. Ena ev a gemeras in bàn an golon esa ow qweskel, anella warnedhy, ha'y gorra gans rach brâs in hy thyller. Dystowgh Pedyr a's clôwas ow qweskel in y vrèst, hag unweyth arta ev a ylly lowenhe.
"Fatl'eus taclow genes i'n tor'-ma?" Myhâl a wovydnas gans minwharth.
"Surly," Pedyr a worthebys, "te a leverys an gwiryoneth, hag ev a dednas an grows a grystal in mes a'y bocket. "Ny vynsen cresy y halsa den vëth gwil tra kepar ha hedna!"
"A nyns yw an mater kepar dell leverys vy? Ha me a yll gwil pystry, dell welta. Saw deus, me a vydn i'n tor'-ma gorra an golon a ven arta inos."
"Yn cosel, a Vêster Myhâl!" Pedyr a grias hag ev a gemeras stap wàr dhelergh in udn sensy in bàn an grows vian intredhans. "Yma nebonen ow cachya logas gans keus, hag i'n tor'-ma te yw kechys." Dystowgh Pedyr a dhalathas gwil pejadow, ow leverel pynag oll geryow a entras in y bedn.
Gans hedna Myhâl a wrug lehe ha lehe ha codha wàr an leur. Ev a wrug troyllya ha terhy kepar ha prëv, ha diena ha hanaja, hag i'n kettermyn oll an colodnow i'n aga frysons a weder a dhalathas gweskel ha knoukya, erna veu clôwys sownd kepar ha'n sownd a weythva gwrior clockys. Pedyr a gemeras own brâs ha ponya in mes a'n chy. Herdhys in rag dre euth, ev a gramblas an âlsyow in bàn. Adhelergh dhodho ev a glôwas Myhâl ow terevel dhywar an leur, ow stankya, ow fernewy hag owth uja an molothow moyha uthyk wàr y lergh. Pàn dhrehedhas Pedyr top an keynans, ev a bonyas tro ha Bryn an Sabwëdh. Y wharva hager-awel uthyk in udn daredna; yth esa ow colowy aglêdh hag adhyhow, hag y feu lies gwedhen tôwlys dhe'n dor. Saw Pedyr a dheuth dhe direth an Den Bian a Weder heb pystyk vëth.
Yth esa y golon ow qweskel yn lowen, dre rêson a'n plesour a's teva a'n gweskel y honen. Saw yn scon Pedyr a veras wàr dhelergh wàr y vêwnans passys hag euth a'n jeva. Ev a brederys a Lysbeth, y wrê'ty deg ha dâ, ha hy ledhys ganso der y grefny. Yth esa ev ow cresy ev dhe vos atla, dyberthys dhyworth kynda mab den. Pàn dhrehedhas ev bryn an Den Bian a Weder, yth esa ev owth ola yn wherow.
14
YTH esa Warden an Rychys owth esedha in dadn sabwedhen ow megy pib vian saw yth hevelly ev lowenha ès bythqweth.
"Prag yth esta owth ola, Pedyr Glow Predn?" ev a wovydnas. "A ny wrusta cafos dha golon? Usy an golon yêyn whath ow crowedha in dha vrèst?"
"Ellâs, a Vêster!" yn medh Pedyr in udn hanaja, "pàn esa an golon yêyn a ven i'm brèst, ny wrugvy ola bythqweth. Ow dewlagas a remainyas mar sëgh avell an dor in mis Gortheren. Saw i'n tor'-ma namnag yw trogh ow holon goth pàn wryllyf predery a'n taclow gwrÿs genef. Me a dhrîvyas ow hendonoryon dhe anken ha dhe dhyvotter, me a inias ow heun wàr vohosogyon ha wàr glevyon—ha te dha honen a welas fatell weskys ow whypp hy thâl teg!"
"Pedyr, te a veu pehador brâs,!" yn medh an Den Bian a Weder. "Te a veu dystrôwys dre vona ha dre sygerneth. Ena, pàn o dha golon trailys dhe ven, ny wodhya hy naneyl lowender na tristans, edrega na tregereth. Saw gans edrega y teu gyvyans, hag a pen vy certan fatell yw drog genes in gwir dha vêwnans tremenys, me a alsa gwil neb tra ragos."
"Nyns oma whensys dhe gafos ken tra vëth," Pedyr a worthebys, hag ev a iselhas y bedn. "Ow bêwnans yw dewedhys. Ny vanaf vy lowenhe nefra arta. Pandr'allama gwil ha me ow honen oll i'n bës? Ny wra ow mabm gava dhybm nefra ow omdhegyans in hy hever, ha martesen, dell oma euthvil, me re's dros dhe'n bedh solabrës. Ha Lysbeth, ow gwre'ty! Nâ, gwell via ow ladha vy, a Warden an Rychys, ha gorfenna ow bêwnans anfusyk dystowgh."
"Dâ lowr," an den bian a worthebys, "mar mynta taclow dhe vos indelha. Yma ow bool rybof obma." Ev a gemeras y bib yn cosel in mes a'y anow, knoukya an lusow in mes anedhy ha'y gorra in y bocket. Ena ev a savas in bàn in lent ha mos adhelergh dhe'n wedhen. Pedyr a esedhas wàr an gwels hag ev owth ola. Nyns o bern dhodho y vêwnans. Yth esa ev ow cortos an strocas a vernans. Wosa pols ev a glôwas stappys scav adhelergh dhodho hag ev a brederys: "Lebmyn yma va ow tos."
"Mir adro unweyth arta, Pedyr Mùnk!" an den bian a grias. Pedyr a dhesehas y dhagrow ha meras adro dhodho. Ev a welas—y vabm ha Lysbeth y wreg, hag yth esens ow meras orto yn caradow. Ev a labmas in bàn yn lowen ha leverel:
"Ytho, Lysbeth, nyns osta marow? Ha te, a vabm, a wrusta gava dhybm?"
"Y a vydn dha bardona," yn medh an Den Bian a Weder, "drefen te dhe berthy gwir-edrega. Ha pùptra a vëdh ankevys. Dewhel tre lebmyn bys in crow dha sîra ha gwra lesky glow predn kepar ha kyns. Ha mar pedhys onest hag ewnhensek, te a vëdh onour dhe'th alwans, ha'th kentevogyon a vydn dha gara ha'th estêmya uhelha ès mara pe dhis deg tona a owr." Indelma an Den Bian a Weder a gôwsas hag ev a leverys farwèl dhodhans.
Y aga thry a wrug y braisya ha'y venega hag ena dallath wàr aga fordh tre. Gylly mes a wel o chy spladn Pedyr Mùnk rych. An luhes a'n gweskys ha'y gonsûmya, warbarth gans oll an taclow drûth ino. Saw nyns o pell bys in crow y vabm. Y êth dy heb bos ancrêsys der an coll a balys Pedyr.
Saw assa vowns y sowthenys pàn dhrehefsons an crow, rag yth o va chaunjys dhe jy brâs, kepar ha'n treven usy an tiogow brâs tregys inhans. Sempel o pùp tra ino saw dâ ha crev.
"An Den Bian a Weder re wrug hedna in y dhâder!" Pedyr a grias.
"Ass ywa teg!" yn medh Lysbeth, "ha me a vydn omglôwes liesgweyth moy attês obma ès i'n chy brâs gans kebmys servysy ino."
Dhyworth an termyn-na, yth o Pedyr Mùnk den brav ha dywysyk. Yth o va contentys gans y bÿth, hag ev a wre collenwel y greft yn lowen. Hag indelha y wharva der y wrians y honen ev a veu den rych hag estêmys der oll an Forest Du. Ny wrug ev bythqweth arta omlath gans y wre'ty. Ev a wre dyghtya y vabm gans worshyp ha ry alsusonow dhe'n vohosogyon a vydna passya dres y dharas. Pàn veu mab bian teg genys dhodho, Pedyr êth dhe Vryn an Sabwëdh ha declamya an gwersyow-ma:
"Clôw vy an termyn-ma,
a Warden an Sabwëdh wheg.
Bëdh tas bejyth, me a'th pÿs
a'm meppyk bian teg!"
Saw ny dheuth gorthyp vëth; ny wharva ma's wheth a wyns der an sabwëdh ha tôwlel nebes avallow saben dhe'n dor wàr an gwels. "Me a vydn dry an re-na tre genef avell covroyow dhyworthys, abàn na vynta dysqwedhes dha honen," yn medh Pedyr. Ev a worras an avallow saben in y bockettys ha mos tre. Saw pàn gemeras ev y jerkyn dhywarnodho ha'y ry dh'y vabm dh'y gregy in bàn, peder rol vrâs a bathow owr a godhas in mes a'n pockettys. Pàn vown y egerys y feu dhyscudhys fatell êns y dollars Baden nowyth ha dâ. Nyns esa fâls-vona vëth in aga mesk. Hèn o ro an tas bejyth wàr Vryn an Sabwëdh dhe Pedyr bian.
Indelha y a vêwas yn cosel hag yn contentys. Ha warlergh hedna, pàn dhalathas an blewednow apperya wàr bedn Pedyr, ev a vydna leverel: "Gwell yw bos pës dâ gans nebes ès bos perhednak a owr hag estâtys warbarth gans colon a ven."