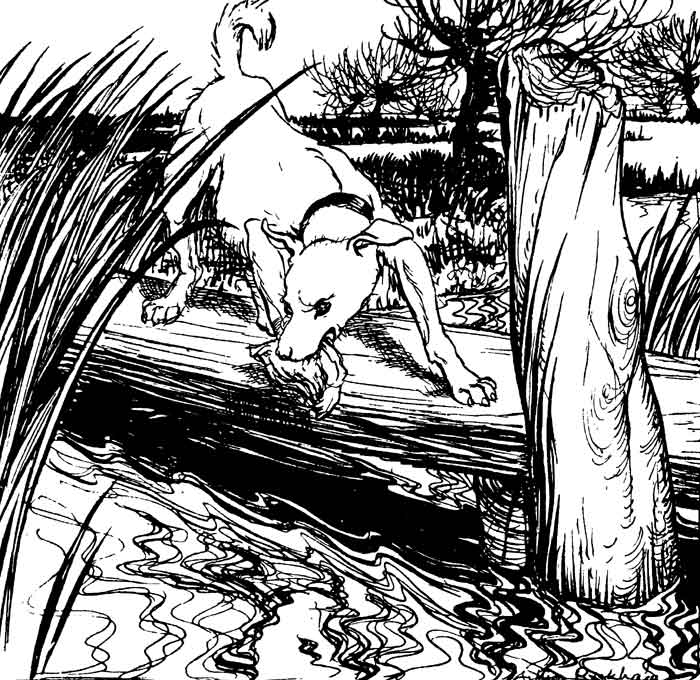 Kernowek © 2020 Ian Jackson
There is a Cornish translation by Eddie Climo of the English retelling of this fable by E.F. Young and W.T. Field. See An Ky ha'y Skes in Anethow Æsop ha whethlow erel (Gwask an Orlewen 2011). That book is spelled in Unified Cornish. Retellings of the tale generally add embellishments and many substitute a bone for the piece of meat. The translation here, spelled in Kernowek Standard (KS) and made directly from the Classical Greek, preserves the stark simplicity of the original.
Yth esa ky ow tremena dres ryver, ha darn a gig in y anow. Pàn wrug ev aspia y semlant dastewynys i'n dowr, y teuth ha cresy bos ken ky ena, ha brâssa darn a gig ganso. Ytho, ev a wrug gasa y dharn y honen dhe godha, ha lebmel aberth i'n dowr rag kemeres an darn dhyworth an ky-na. Saw in sewyans ev ny'n jeva kig vëth – an eyl darn ny veu màn, ha'n aral o scubys gans an fros dhe ves.
An poynt a skians:
Folneth yw bos crefny.