Devyn mes a Whedhlow Jacob ha Wilhelm Grimm
Lymnans gans Robert Anning Bell
Kernowek © 2019 Ian Jackson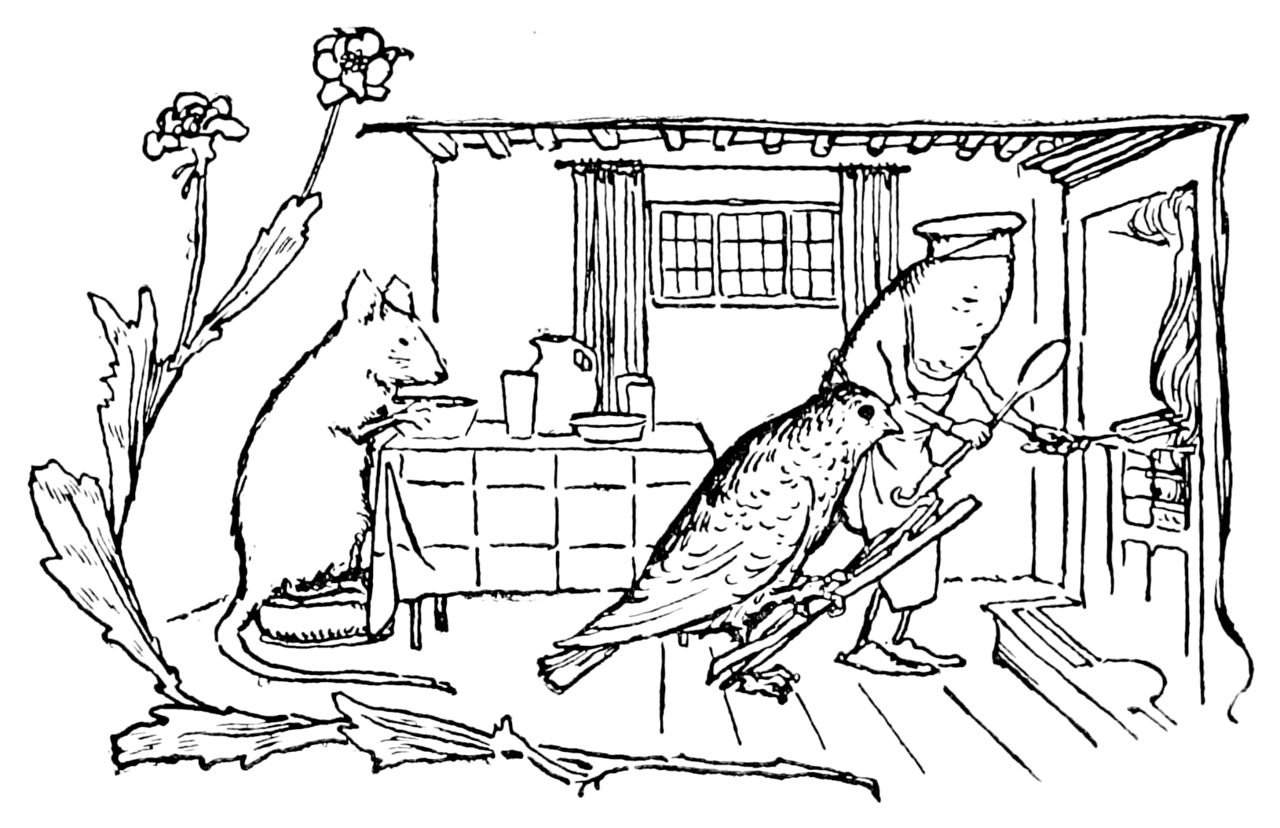 I'n termyn eus passys y feu logosen, edhen, ha selsygen kescowetha, ow sensy mêny kebmyn, ow pewa cosel brav, hag owth encressya marthys aga dâ. Gweyth an edhen o neyja pùb jorna aberth i'n coos ha dry cunys tre. Res o dhe'n logosen don dowr, cuna an tan, ha settya an bord, mès res o dhe'n selsygen kegy.
Seul a vo re wydn aga bÿs, y fedhons y prest hirethek warlergh neptra nowyth. Udn jëdh an edhen a vetyas gans ken edhen, ha whedhla y cyrcùmstancys bryntyn ha bôstya anodhans. An edhen aral, bytegyns, a'n crias gocky fol dre rêson y ober cales, in dadn leverel fatell esa dhe'n dhew chy negys êsy. Rag pàn wrug an logosen hy than solabrës ha don hy dowr, y fedha hy ow mos ajy dh'y rom bian ha powes erna ve hy gelwys dhe settya an bord. Gortos ryb an pot a wre an selsygen, ow qwetyas bos an vytel kegys yn tâ, ha, pàn o prës ogatty kynyewel, y fedha hy ow rolya hy honen unweyth hag arta der an bros pò dre'n losow hag indella amanydnys vowns y, sellys, ha parys. Pàn o an edhen devedhys tre ha'y vegh gorrys dhe'n leur, yth esens y owth esedha rag debry, ha wosa y dhe worfedna an boos, y fedhens y ow cafos gwalgh a gùsk bys i'n nessa myttyn, ha spladn o aga bêwnans.
Ternos an edhen, kentrydnys gans an edhen aral, ny veu whensys dhe neyja i'n coos, hag ev ow leverel y vos servont nans o termyn hir lowr, ha'y vos mockyes gansans, ha dell o res dhedha keschaunjya wortyweth, ha whelas araya an dra in ken maner. Ha kynth esa an logosen ha'n selsygen kefrës ow pesy pòr dhywysyk, stowt veu an edhen, ha leverel bos res y brevy. Anjy a dôwlys predn in y gever, ha'n predn a godhas wàr an selsygen dhe dhon cunys, y feu an logosen an kegynores, ha res o dhe'n edhen dry dowr.
Pandra wharva? An selsygen vian êth in mes tro ha'n coos, an edhen bian a wrug cuna an tan, an logosen a waityas ryb an pot ha, hy honen oll, gortos bys may teffa Selsygednyk Deg tre, ow try cunys rag an nessa jorna. Saw an selsygen vian a strechyas mar hir wàr an fordh, mayth esa own dhedhans y oll aga dew bos nampyth amyss, hag in ebron y whrug an edhen neyja pols in mes rag hy metya. Bytegyns, ev a vetyas wàr an fordh, ha nyns o napell, certan ky a wrug assaultya an selsygen druan kyns, avell pray lafyl, ha'y sêsya ha'y hollenky. An edhen a gùhudhas an ky a dhrog-ladrynsy noth, saw euver o geryow, rag an ky a leverys ev dhe gafos an selsygen dell esa ow ton lytherow fugys, ha rag hedna hy bêwnans o kellys orto.
Yn trist an edhen a gùntellas an cunys in bàn, neyja tre, ha derivas pùb pëth a welas ev ha'y glôwes. Troblys êns y yn frâs, mès unverhës dell vydnens y gwil oll aga ehen ha remainya warbarth. Ytho an edhen a settyas an bord, ha'n logosen a wrug obery an vytel, ha porposys veu hy dh'aga farusy, ha dhe worra hy honen i'n pot dell o an selsygen ûsys dhe wil, ha dhe rolya ha dhe gramyas i'n losow rag aga hemysky; saw kyns ès hy dhe dhrehedhes bys i'ga cres hy a veu lettyes, ha kellys o hy crohen ha'y bêwnans i'n assay.
Pàn dheuth an edhen rag don an kydnyow ajy, nyns esa kegynores dhe weles. In y awhêr an edhen a wre tôwlel an cunys obma ha dy, gelwel ha sarchya, mès nyns o kegynores vëth dhe drouvya! Drefen y fowt preder, an cunys a gemeras tan, may feu faclyans uthyk; an edhen a fystenas rag kerhes dowr, saw an kelorn a dhroppyas i'n pith, hag ev ow codha aberveth ganso, ha ny ylly scappya, mès res o dhodho budhy i'n tyller-na.
GERVA
GLOSSARY
Definitions have generally been confined to those relevant for the story. To keep the glossary to a manageable length the listing excludes the most common words. These are best looked up in Gerlyver Kescows – A Cornish Dictionary for Conversation (Ian Jackson, Agan Tavas 2017), for which an up-to-date spell-checker is available on the Vocabulary tab at www.skeulantavas.com. If you need grammar, by far the most helpful book is Desky Kernowek (Nicholas Williams, Evertype 2012).
The format and abbreviations in the glossary are the same as in Gerlyver Kescows.
amanydna v butter
amy·ss adv wrong, amiss
awhê·r m distress
begh m behow burden
collenky v swallow [whole]
cuna v set light to (fuel)
dâ m possessions
drog-ladrynsy m robbery
droppya v drop
encressya v increase
faclyans m conflagration
fugya v fake, forge
gwalgh m fill
gwil oll y ehen phr do one's best
kegynores f kegynoresow cook (female)
kentrydna v spur, prompt
kynyewel v dine
nape·ll adv a long time with express negative
pray m prey
predn m prednyer lot
salla v salt
sarchya v search for
selsygednyk f selsygednygow little sausage
sêsya v seize
stowt adj stubborn
tôwlel predn phr cast lots
vytel col food
whedhla v tell, relate