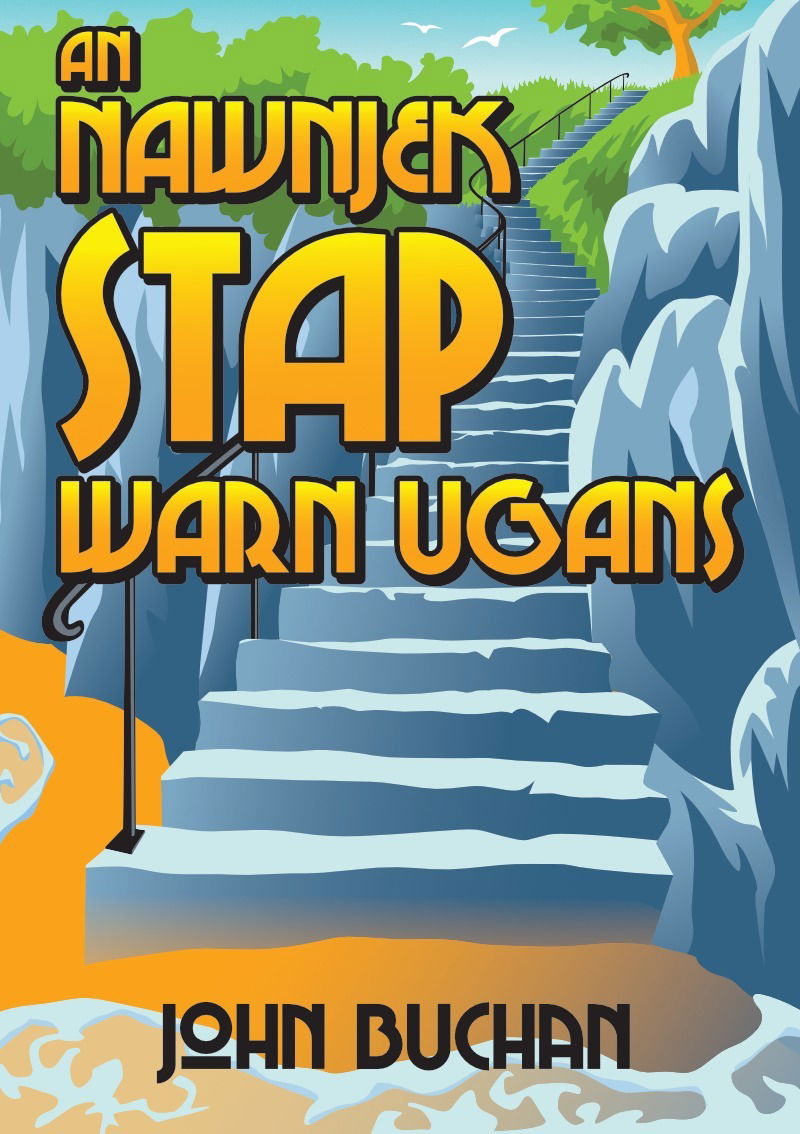 Kernowek gans
Ian Jackson
Yma Richard Hannay, pàn vensa ry harber dhe neb udn stranjer in cres an nos, ow tallath wàr fordh a beryl, a vùrder, a blottyans, eus orth y gemeres bys in hal dhianeth Gallowey, hag orth y lêdya wortyweth dhe'n nawnjek stap warn ugans, in onen a'n kensa whedhlow aspiyas a'gan dedhyow ny.
Kensa dyllans / First published 1915
Mamdîtel / Original title The Thirty-Nine Step
Trailyans / Translation © 2019 Ian Jackson
Pùb gwir gwethys. Nyns yw an pùblycacyon-ma dhe redya marnas wàr wiasva www.skeulantavas.com – ny yll radn vëth anodho naneyl bos copies, sensys aberth in ken system dascafos na treuscorrys in form vëth oll na dre vain vëth oll, poken electronek, jynweythek, dre fotocopians, dre recordyth bò fordh vëth aral, heb recêva cubmyas dhyrag dorn dhyworth an trailyor.
All rights reserved. This publication is exclusively for reading on the website www.skeulantavas.com – no part of it may be reproduced, stored in another retrieval system or transmitted, in any form or by any means, electronic, mechanical, photocopying, recording or otherwise whatsoever, without prior permission of the translator.
Olsettyans gans an trailyor / Typeset by the translator
Lymnans 'cudhlen' / 'Cover' illustration
Nigel Roberts
A note on the Cornish in this book
The Cornish of the translation takes William Jordan's Gwrians an Bÿs as its 'foundation text', while looking forward to John Keigwin, William Rowe and Nicholas Boson, and back to John Tregear, Sacrament an Alter, Bêwnans Ke, and Bêwnans Meriasek.
Spellings are those of Standard Cornish ('Kernowek Standard' or 'KS'). This orthography was developed under the leadership of Michael Everson in close cooperation with Professor Nicholas Williams. It aims for spellings that are as unambiguous as possible in their representation of the sounds of Cornish, and which at the same time remain faithful to the forms we encounter in the traditional Cornish texts – since these are our chief source for the language.
The whole corpus of traditional Cornish has been used to enlarge the vocabulary. This has been a necessary principle of the revival from the outset.
There is a Glossary at the end of the book.
CONTENS
Chaptra 1
An den hag a veu marow
Chaptra 2
An lethor ow tallath dh'y viajys
Chaptra 3
Aventur a'n tavernor lienak
Chaptra 4
Aventur a'n radycal ombrofyor
Chaptra 5
Aventur a'n oberwas fordh ha spectaclys ganso
Chaptra 6
Aventur a'n hendyscansyth mol
Chaptra 7
An pescador pluv sëgh
Chaptra 8
Devedhyans a'n Men Du
Chaptra 9
An nawnjek stap warn ugans
Chaptra 10
Lower person ow keskeverya dhe'n mor
DHE
THOMAS ARTHUR NELSON
(A VARHOGYON LODHYAN HA'N OR)
A TOMMY WHEG,
Yth eson ny ow cara nans yw pell, agan dew, pùb whedhel a'n sort elvednek, cries mesk Amerycans an 'dime novel' ha besydhys an 'shocker' i'n pow-ma – romans may ma wharvedhyans ow tefia lycklod, hag ow kerdhes bys in very cûr an possybyl. Pàn y'm bo cleves, gwâv passys, wosa redya oll ow creun a'n darbar lowender-na, y feuma constrînys dhe screfa whedhel dhybmo vy ow honen. Sewyans yw an lyvryn usy inter dha dhêwla, ha my whensys dhe worra dha hanow warnodho, dre gov agan felshyp hir, i'n termyn mayth yw fancys, gwyls teg aga gnas, meur moy gwirhaval ès an fethyow.
J.B.
CHAPTRA 1
Me a wrug dewheles dhia'n Cyta i'n dohajëdh-na a vis Mê, ogas dhe deyr eur, leun a dhyflassys a'm beweth. Yth esen vy i'n Wlas Coth nans o tremis, ha sqwith glân en vy anedhy solabrës. Mara pe nebonen ow targana bledhen alebma my dhe vos in cher kepar, me a vensa y sensy gesyor; saw feth o. Th'en vy bystlek drefen an gewar, th'esa cows an Sowson gebmyn ow qwil wheja dhybm, nyns esa omassayans lowr dhe'm corf, ha pùb solas Loundres o maga farow, dhe'm breus vy, avell dowr sôda gesys dhe bowes i'n howl.
"Richard Hannay," yn medhaf, ha hebma yn fenowgh, "crambla a wrussys, a vab, dhe'n cledh cabm, ha res porres yw crambla in mes."
Brathy gwelv a vydnen pàn esen vy owth ombredery wàr oll ow forposys formyes i'n dewetha bledhydnyow in Bùlawayô. Orth kevoth an empîr me a gùntellas ow radn dhybmo – nyns o hy onen a'n radnow brâs, mès dâ lowr i'm golok vy; ha me a wrug desmygy lower maner a gafos plesour. Ow thas a'm dros, whegh bloodh, mes a Scotlond, ha bythqweth ny veuv vy devedhys tre a'y wosa; ytho Englond o neb Mil Nosweyth hag Onen dhybm, dell hevelly, ha my ow qwetyas trega ino yn parhus.
Saw i'n very dallath yth en vy tùllys anodho. Kyns pedn seythen th'en vy sqwith a weles tyleryow meur gà hanow, ha kyns pedn mis y'm bo gwalgh a'n bêwnans boosty ha gwaryjy ha resegva mergh. Ny'm bo mâta vëth dhe bassya termyn ganso, pëth o skyla dhe'm awhêr, pùb lycklod. Somonys en vy dhe vysytya showr a bobel i'ga chy, saw nyns êns y kemerys yn frâs genef, dell o apert. Y fedhens y ow qwil nebes qwestyonow gwallus, tùchyng Afryca Soth, ena trailya dh'aga negys arta gà honen. Th'esa benenes Imperyalydhek pals orth ow gelwel dhe brës tê rag metya gans descadoryon a Sêlond Nowyth ha penscreforyon a Vancouver, ha hèn o an dra moyha dyflas oll. Otta vy obma, seytek bloodh warn ugans, yagh i'm anal ha'm esely, ha mona lowr genef rag lowenhe, ow tianowy gogô efan pùb dëdh. Ervirys ogatty veuv vy rag scappya dhe'n glasweltir arta, awos my dhe vos, i'n Wlascor Udnys, an den moyha ancombrys.
I'n dohajëdh-na my êth ha vexya ow mainor arhansek adro dhe'm kevarhow, rag may fe nampyth dhe wonys i'm brës, ha wàr ow fordh tre my a drailyas adenewen dhe'm clùb – hostlery dysawor, res alowa, ow tegemeres tus Wlasva. Me a gemeras dewas hir, ha redya an paperyow androw. Leun êns y a'n gedrydn i'n Ÿst Ogas, hag yth esa artykyl ow tùchya Carolydes, an Pedn-venyster Grêk. Pollat dâ lowr o va i'm estêm vy. Herwyth pùb derivas, nyns esa onen wordhy in oll an show saw ev yn unsel; ha dres hedna, th'esa va ow qwary teg, ha scant ny yller leverel ma's nahen a'n re erel. Dell wodhyen vy, hâtyes o va yn hager-dewl in Berlîn hag in Viena, saw th'esen nyny determys dhe vos len dhodho, hag udn paper owth afydhya nag esa barryas vëth inter Ewrop ha Har Magedon lemen ev. Dell eus cov genama, th'esa qwestyon i'm pedn mar kyllyn vy cafos neb soodh i'n côstys-na. Th'esa argraf dhybm bos Albânya neb tyller gwyw may fydna den mos ha hepcor dianowyans oll.
Whegh eur, ader dro, my êth tre, omwysca, kynyewel i'n Café Royal, ha vysytya hel ilow. Show gocky o, benenes ow lappya, ha gwer sym aga vysach, ha bohes termyn th'esen vy ena. Ebron an nos o clor ha cler pàn esen vy ow kerdhes tre, dhe'm ranjy gobrenys ogas dhe Portland Place. Th'esa an rûth owth herdhya wàr leghveyn an cauns dresta vy, leun a froth ha cows, ha my ow perthy envy a'n bobel rag anjy dhe vos bysy teg. Mowysy shoppys ha scrifwesyon, an dus payon ha'n greswesyon, th'esa gansa neb les i'ga bêwnans rag gwil pêsya dhedha. Me a ros hanter-cùrun dhe veggyor pàn wrug vy gweles dell esa va ow tianowy; kessùffror o hedna. Wàr Oxford Circus me a veras in bàn, dhe'n ebron a waynten, ha leverel promys solempna. Me a vydna ry dhe'n Wlas Coth udn jëdh moy, may halla gorra nampyth dhybm; mar ny wharva tra vëth, me a vydna kemeres trumach dhe Bow an Penrîn i'n nessa gorhal.
Th'esa ow ranjy a'n kensa leur in byldyans nowyth adrëv Langham Place. Stairys kevrydnys yth esa, ha porthor ha den eskyner i'n entryng, saw nyns esa boosty pò haval vëth, ha pùb ranjy o degës qwyt in y honen. Cas yw servons anedhys genef, ytho me a'm bo gwas rag ow cherya vy, hag ev heb obery ma's i'n jëdh. Y fedha ow tos kyns eth eur pùb myttyn hag ow tepartya seyth eur gordhuwher, rag nyns esen vy ow kynyewel i'n chy bythqweth.
Th'esen vy i'n very gwrians a dhesedha an alwheth i'n daras pàn wrug vy merkya den orth pedn ow elyn. Ny wrugama gweles y dhevedhyans, ha my ow plynchya orth y fygùr rybof mar sodyn. Den mon o va, ha barv got a vlew gorm ganso, ha dewlagas sherp ha blou ha bian. Me a'n aswonys, dell o va tregor udn ranjy wàr an leur awartha, ha my orth y salusy neb treveth kyns.
"Allama cows genowgh?" yn medh. "Allama dos ajy rag tecken?" Th'esa va ow qwetha y lev gans caletter rag crena, ha'y dhorn ow qwil pawa wàr ow bregh.
Pàn wrug vy egery an daras, me a sînas dhodho, entra m'alla. Kettel veuva dres an troosow, ev êth ha fysky dhe'm stevel dhelergh, mayth en vy ûsys dhe vegy ha dhe screfa lytherow. Ena ev a dheuth in udn wibya dhybm arta.
"Yw an daras in dadn alwheth?" ev a wovydnas yn fevrus, ow lâcya an chain gans y dhorn y honen.
"Drog yw genama glân," yn medh, uvel y vaner. "Favour brâs re wrug vy govyn, saw why yw den, a'gas syght, neb a wor convedhes. Th'esewgh i'm preder oll an seythen, abàn gefys trobel. Now, a vydnow'why gwil torn dâ dhybm?"
"Me a vydn goslowes orta why," yn medhaf. "Heb dedhewy moy." Anies veuv vy solabrës dre fara coynt an gwesyk frobmys-ma.
Yth esa servyour a dhewosow wàr an tâbel ryptho, may whrug ev lenwel dowr tobm Alban ha sôda ino. Ev a'n evas, try therlonk, ha terry an wedren crack pàn y's gorras dhe'n voos.
"Pardon," yn medh. "Tabm amayes ov vy haneth. Dell yw happyes, i'n eur-ma, a worowgh? th'ov yn farow."
Esedhys veuma wàr ow hader vrehek ha tùchya ow fib.
"Fatl'yw tastyans hedna?" me a wovydnas. Certan en vy lebmyn dell esa den muscok obma, ha res o dhybm y dhyghtya.
Minwharth a flyckras dres y vejeth gwydnyk. "Muscok nyns ov vy màn – na whath. Now, aspia a wrug vy orta why, ha my ow reckna why dhe vos pollat neb â wàr y gabm. Ow reckna inwedh dell ow'why onen onest, heb own a wary dornas hardh. Me a wra kyfya dhywgh. Otham a'm beus a socour, possa otham ès dell esa dhe dhen bythqweth, ha res yw dhybm surhe y hallaf vy scodhya warnowgh."
"Gwrewgh derivas gàs whedhel," yn medhaf, "ena me a laver dhywgh."
Ev a wrug crefhe y honen, dell hevelly, rag strîvyans brâs, ena dallath clatter a'n coynta. Me a wrug fyllel a'y gonvedhes i'n kensa prës, ha res o dhybm govyn hedhy ha styryans. Ot ascorn an câss:
Amerycan o va, dhia Kentùcky, ha wosa y benscolyans ha dâ y begans, ev a vedra gweles an bÿs efan. Ev a screfas nebes, hag obery avell gohebyth bresel dhe neb jornal in Chycâgo, ha passya bledhen pò dew in Ewrop a'n Soth-Ÿst. Dell o apert, yêthor spladn o va, hag aswon an gowethas i'n côstys-na yn tâ lowr. Th'esa ow côwsel meur y wodhvos a lies hanow a welys vy, ha cov dhybm whath, i'n paperyow nowodhow.
Ev a wrug mellya orth an wlasegeth, dell lavaras, rag hy dhe vos a les wàr an dallath, a'y wosa dre rêson na ylly ev hepthy. Dell esen vy orth y vrusy, ev o pollat lybm ha dybowes, porposys pùb termyn dhe hedhes bys in gwrëdh an dra. Ev a wrug hedhes nebes hirra inans ès dell esa cùssel dhâ ganso.
Th'esom ow tascor an pëth a dherivys ev kebmys dell wrug vy ùnderstondya. Adrëv kenyver Governans hag oll an luyow ervys yth esa môvyans brâs in dadn gel, devîsys gans tus pòr beryllys. An den-ma a'n cafas dre wall; dynyes o va ganso; ev êth pelha; ena ev a veu kychys. Dell wrug vy convedhes, anarkystyon dheskys o an moyha radn a'n dus ino, a'n sort plegys dhe wil wheldroyow, saw yth esa arhansoryon inwedh, ow qwary rag mona. Gwainya prow brâs a yll den conyng in marhas eus ow codha, ha porpos pùbonen a'n dhew rencas-ma o domhel oll Ewrop.
Ev a dherivys lower coyntys, hag anjy ow styrya cals a daclow o penpleth dhybm kyns – wharvosow in Bresel an Balcanyow, fatell veu udn stât conqwerrour desempys, prag y feu pùb kefrysyans gwrÿs ha dyswrÿs, prag yth êth certan tus mes a wel, hag a ble teuth pùb gyewen an vresel. Meder oll an bras o settya Rùssya ha Jermany an eyl warbydn y gela.
Pàn wovydnys vy praga, ev a lavaras bos breus gans an bagas anarkyst dell ylly hedna ry spâss dhe wythres. Y fedha pùptra i'n tedhlester, hag anjy intentys dhe weles bÿs nowyth ow tos anodho in mes. Y fedha an gevalavoryon ow crafa shekels pals, hag ow prena oll an browsyon rag gwil fortyn. Kevalaf ny's teva keskians, yn medh, na mabmvro naneyl. Ha pelha, th'esa an Yêdhow sevys in hy hilva, ha'n Yêdhow owth hâtya Rùssya lacka ès iffarn y honen.
"Eus marth dhe why?" ev a grias. "Dres tryhans bledhen yth yns y tormentys, ha hebma yw an gam wàr dhelergh wosa an pogromys. Yma an Yêdhow in pùb plâss, saw res yw mos dhe'n stairys dhelergh, ha pell wàr nans, rag y drouvya. Kemerowgh kenyver onen a'n cowethasow kenwerthek brâs an Tewtonas in ensompel. Pàn vydnow'why gwil negys orthy, an kensa den dell wrewgh metya yw Pryns von und zu Neppyth, den yonk ha jentyl, ow côwsel Sowsnek Eton-Harrow. Saw nyns yw ev gwarior a vry. Mars yw gàs negys brâs, why a wra mos adrëv dhodho ha cafos Westfâlyan, balek y jalla, kil-ledrek y dâl, ha'y vanerow kepar ha fara hogh. Ev yw an den negys Alman usy ow qwil crena dhe baperyow an Sowson. Saw mars eus dhywgh chyffar a'n brâssa ehen, mayth yw res bargednya gans an very mêster y honen, why a dheu ha dierbyn, chauns deg worth onen, Yêdhow bian, gwydn y fâss, esedhys wàr gader Bath, ha lagas nader ruglen ino. Eâ, sera, hèn yw an den usy ow rêwlya an bÿs i'n present termyn, ha'y gollel yw pychys in Empîr an Sar, drefen y das dhe vos scorjys ha'y vodryp outrayes in neb pendra udn margh ryb an Volga."
Ny yllyn vy hepcor leverel nag esa sowenyans teg dh'y anarkystyon Yêdhowek i'n tor'-ma.
"Nag eus, hag eus defry," yn medh. "Anjy a wrug gwainya neb gradh, saw bonkya warbydn tra yw brâssa ès mona, tra na yller y brena, anyen omlath coth a vab den. Bos ledhys mars yw gàs peryl, desmygy neb baner a vydnowgh, neb gwlas, ha batalyas abarth dhedha, ha mars owgh a'y wosa yn few, alebma in rag y fedhowgh warnodhans dôtys oll. An soudoryon-ma, dewolow wocky, re gafas neptra usons y ow cara, ha hedna a wrug omwheles pùb devîs dâ in Berlîn ha Viena. Saw whath ny worras ow hothmans aga dewetha carten i'n gwary – cabmen na wrussons y. An âss, yma ev cudhys i'ga brehel, ha mar ny allama gortos yn few dres an mis a dheu, anjy a vydn y settya trygh dhe'n tâbel."
"Saw dell esof ow convedhes, why yw marow," me a lavaras, ow coderry y gows.
"Mors janua vitae [Mernans yw porth dhe vêwnans (lavar coth an Frankmasons)]," yn medh ha minwherthyn. (Aswonys o an devyn dhybm: scant ny wodhyen vy Latyn vëth dresto.) "Me a wra y glerhe, saw res yw desky showr a daclow dhywgh yn kensa. Mars esow'why ow redya gàs baper nowodhow, nyns yw Constantyn Carolydes hanow ùncoth, dell dybama?"
Esedhys veuv vy serth dewhans, rag me a redyas anodho i'n very dohajëdh-na.
"Ev yw an den re wrug myshevya oll aga gwary. Ev yw an brâssa brës i'n hol show, ha den onest kefrës, dre hap. Ytho ma moldrans wàr rol an negys nans yw dewdhek mis. Me a dhyskeveras hedna – heb caletter, rag y hyll pùb den fol desmygy kebmys. Saw me a dhyskeveras an fordh dôwlednys dh'y wil inwedh, ha mortal veu an godhvos-na. Hèn yw skyla dhe'm tremen."
Ev a wrug kemeres secùnd dewas, ha my orth y gemysky ragtho, dre rêson an brybour dhe vos owth higedna wortyweth wàr ow fancy.
"Y ladha in y bow y honen ny yllons y màn, rag yma gwethysy Epyrôtas ganso a'n sort parys dhe dhyscrohedna dama wydn. Saw an 15ves mis Efen y fëdh ev ow vysytya an dre-ma. Hag yma ûsadow nowyth dhe'n Sodhva Dramor Vretednek: gelwel tus kesgwlasek dhe gyffewy tê, ha'n brâssa kyffewy trevnys dhe'n dedhyans-na. Now, Carolydes yw sur an chif-ôstyas, ha mar teu ow hothmans ha spêdya dell yns y whensys dhe wil, nefra nyns â va tre dh'y dhynasydhyon garadow."
"Hèn yw sempel lowr, neb cor," yn medhaf. "Gwrewgh y warnya ha'y wetha chy."
"Ha degemeres aga rêwlys ynsy?" ev a wovydnas sherp. "Mar ny dheuva, vyctory a vëdh dhedhans y, rag ny yll den vëth ma's ev dygabma oll an dhol. Ha mars yw y Wovernans gwarnyes, dos ny vydn an den, rag na wor ev kebmys a vëdh gaja an gwary fest uhel i'n 15ves mis Efen."
"Pandr'orth an Governans Bretednek?" yn medhaf. "Ny vydnons y gasa ôstysy dhe voldroryon. Gwrewgh sîna dhedha, hag anjy a wra gorqwitha dhe voy."
"Prow vëth. Mara pêns y ow stoffya dha dre-ma leun a helerhysy hag ow tobla an creslu, y fia Constantyn onen marow ha deu bytegyns. Nyns usy ow hothmans i'n hapwary-ma rag gwainya whegydnow. Ocasyon a vry, hèn yw gà whans rag cowlwil an ladhans, hag oll Ewrop orth y lagata. An moldror a vëdh Austryan, ha plenta vëdh an dùstuny rag dysqwedhes scodhyans kel a'n vrâsyon in Viena hag in Berlîn. Gow iffarnak vëdh hedna, sur, mès an câss a wra hevelly du lowr dhe'n bÿs. Nyns yw ow geryow air tobm, sera, an devîs melygys-ma yw godhvedhys dhybm in oll y vanylyon, ha my owth afydhya dhywgh fatell vëdh an purra drog-galneth wosa termyn an Borgias. Saw ny wher mars eus den, onen ow convedhes jynweyth an bras, knack obma in Loundres an 15ves mis Efen, yn few. Ha'n den-na, y fëdh ev agas servont, Franklin P. Scudder."
Tabm ha tabm, th'esa an gwesyk ow plegya dhybm. Degës veu y dhywawen kepar ha maglen logas brâs, hag yth esa tan a vatel in y lagasow lybm. Mars o va rackor a whedhlow gwag, th'o mêster a'n waryva kefrës.
"Ple whrussow'why dyskevera an story-ma?" me a wovydnas.
"An kensa hynt a gefys vy in tavern ryb an Achensee in Tyrol. Hèn o dallath an helgh, hag assembla tôknys erel an câss a wrug vy in shoppa pelour i'n qwartron Galycyan in Bùda, in Clùb Estrenyon in Viena, hag in gwerthjy bian a lyvrow ogas dhe'n Racknitzstrasse in Leipzig. Me a wrug collenwel oll an dùstuny deg dëdh alebma in Parys. Ny allama derivas an manylyon i'n eur-ma, rag istory hir lowr ywa. Pàn veuv vy perswâdys a'm tybyans yn tien, me a wodhya convedhes dell o res dhybm dysapperya, ha dos dhe'n dre-ma wàr fordh dhydro ha coynt dres ehen. Pàn wrug vy dyberth orth Parys, th'en vy Frank-Amerycan yonk ha fascyonus; pàn gemerys vy trumach mes a Hamborg, th'en vy marchont Yêdhowek in chyffar adamantys. In Norwey th'en vy studhyor Sows a scrifow Ibsen, cùntellor a dhevnyth rag arethyow, saw pàn wrug vy dyberth orth Bergen th'en vy den gwaya-mir a fylmys sky-resek specyal. Ha me a dheuth obma dhyworth Leith gans lower kydnyk glus predn i'm pocket rag profya dhe'n paperyow nowodhow in Loundres. Bys de, dyscleryes veu pùb ol genef yn tâ, dell hevelly, ha my lowen teg. Nena ..."
Dystemprys veuva, dell hevelly, orth cov a'n dra, hag ev a wrug terlenky nebes moy a'n dowr tobm.
"Nena me a spias den a'y sav i'n strêt ryb an byldyans-ma wàr ves. My a wrug ûsya gortos clos i'm rom der an jëdh, heb walkya an dre ma's i'n tewlder rag our pò dew. Th'esen vy orth y aspia pols dâ dre'm fenester, hag orth y aswon, dell dybys ... Ev a dheuth ajy ha côwsel orth an porthor ... Pàn veuv vy devedhys newher a'm kerdh dhe'n chy, me a gafas carten i'm lythergyst. Warnedhy th'esa hanow an den ov vy lyha whensys dh'y vetya i'n bÿs Duw a'm ros."
Heb dhowt, tremyn ha syght ow howeth, an ewn euth noth wàr y fâss, y feu ow surneth a'y onester collenwys dredha. Nebes lebmys veu ow lev ow honen pàn wovydnys pëth a wrug ev nessa.
"Convedhys veu dhybm dell en vy botellys mar certan avell pyckel hernen wydn, na nyns esa ma's udn scappyans. Res o dhybm merwel. Ow helhysy mars esens y ow cresy y feuv vy marow, anjy a vydna codha arta in cùsk."
"Fatell wrussow'why spêda a'n dra?"
"Me a lavaras dhe'n den usy chambrour dhybm dell en vy gyllys clâv lowr, ha me a wrug lywa ow bejeth rag mâkya newores. Nyns o hedna cales màn, rag my dhe vos tùllwyscor sley. Ena me a gemeras corf marow – yma body marow dhe gafos in Loundres pùb eur oll mar corowgh le may ma dhe fanja. Me a'n dros tre in cofyr wàr garyach peder ros, hag otham a weres wàr an stairys dhe'm rom in bàn. Dell wodhyr, res o dhybm grahella nebes dùstuny rag whythrans sodhogyl a'm ancow. My êth dhe'm gwely ha govyn orth ow chambrour kemysky draght cùsca dhybm, ena erhy dhodho voydya in kerdh. Whensys o va dhe dhry medhek, saw th'esen vy ow cùssya ha leverel na vydnen vy godhevel den fysek vëth. Pàn en vy genef ow honen oll, me a dhalathas contrefêtya wàr an corf-na. Y vusur o kehaval ha'm brâster vy, hag ev marow re y syker, dell veu breus dhybm, ytho me a settyas neb gwyrosow obma hag ena yn parys. An challa o an gwadnboynt i'n hevelepter, ytho me a wrug y dhystrôwy gans revolver. Dre lycklod, y fydn nebonen afydhya vorow fatell glôwas ev son a dedn, saw nyns eus kentrevak vëth wàr ow leur vy, ha me a reckna dell dal y lavasos. Ytho me a worras an corf i'm gwely, gwyskys i'm pyjamas vy, ha'm revolver a'y wroweth wàr dhyllas an gwely ha deray mynsek adhedro. Ena me a wyscas ow honen in sewt a veu sensys ryba vy dhe bùb otham. Ny vydnen vy bedha dyvarva, rag own may hallen vy gasa olow, ha dres hedna, dybrow glân o tria mos wàr an strêtys. Yth esew'why i'm prederow oll an jëdh, ha ny yllyn ma's gelwel orta why. Th'esen owth aspia mes a'm fenester erna welys why dhe dhos tre, ena me a slynkyas an stairys wàr nans rag omvetya genowgh ... Otta, sera, why a wor lebmyn a'n negys kebmys dell worama vy."
Esedhys o va whath, ha'y dhewlagas ow plynchya kepar ha pàn ve cowan, ha'y nervow in treneyj, mès cowl-dhetermys bytegyns. Surhës en vy yn tâ solabrës y vos ow leverel an gwir. Whedhel o va moyha gwyls, saw my re glôwas lies whedhel ascorn pedn leugh hag anjy dysqwedhys a'y wosa dhe vos gwiryon, ha'm ûsadow yw jùjya an den kyns an story. Mara mydna ev establyshya y honen i'm ranjy, ena trehy an gùdhùk dhybm, y whrussa derivas nampyth clorra.
"Roy gàs alwheth," yn medhaf. "My â ha gweles an corf marow. Gwrewgh ascûsya ow rach, saw res yw tabm prevy an gwrioneth mar callaf."
Ev a shakyas y bedn yn trist. "Gàs govynadow yw dell dhargenys, saw an alwheth ny'm beus. Yma va wàr ow chain ha hedna wàr an voos omwysca. Res o gasa an alwheth wàr ow lergh, rag na yllyn alowa chêson a dhrog-dybyans. An dus jentyl usy orth ow helghya, th'yns y cytysans skentyl lowr. Res yw dhywgh perthy fydhyans ina vy haneth, hag avorow y fëdh dùstuny a'n corf marow-na, yn tâ teg."
Th'esen vy ow predery tecken. "Unverhës. Me a vydn trestya dhywgh haneth. Me a wra gàs gorra in dadn alwheth i'n stevel-ma, ha'y alwheth genama vy. Marnas udn ger, a Vêster Scudder. Gwirleveryas ow'why, dell gresaf, mès mar nyns owgh yn tefry, res yw gwarnya dhywgh y bosaf handlor codnek a wodn."
"Sur," yn medh, ha sevel sodyn ha freth in bàn. "Godhvos gàs hanow, nyns ov enorys anodho, sera, saw gesowgh vy dhe leverel agas bos den gwydn. Ha gwrewgh lendya alsen dhybm, dre blegadow."
Me a'n hùmbroncas ajy dhe'm chambour ha gasa dhe wary frank. Wosa hanter-our y teuth fygùr in mes esen vy owth aswon scant. Nyns o tra vëth heb chaunj saw y lagasow yn unsel, sherp ha nownek. Dyvarvys o ev glân, y vlew o rydnys i'ga cres, ha trehys veu y abransow. Gans hedna, y'n jeva stauns a dhyscans breselek, exampyl perfeth o va, bys in arlyw gell y fâss, a neb soudor Bretednek a renk, wosa termyn hir a dûta Eyndek. Th'esa unweder ganso kefrës, neb a worra ev dh'y lagas, ha pùb leveryans Amerycan o gyllys dhywar y gows.
"Re'm pât! Mêster Scudder –" me a stlevys in udn hockya.
"Nyns ov vy Mêster Scudder," ev a wrug êwna. "Capten Theophilus Digby, a'n dewgansves Gùrcas, dewhelys dhe'n wlas tre in y dermyn frank. Remembra hedna, sera, th'yw gwaitys dell vednowgh."
Me a wrug darbary gwely dhodho i'm stevel megy, ha mos dhe'm groweth moy lowen ès dell en vy nans o mis leun. Traweythyow i'n bencyta-ma, nakevys gans Duw, y feu neb wharvos byttele.
***
Me a dhyfunas ternos ha clôwes ow gwas, Paddock, fatell esa va ow qwil noys an jowl orth daras an stevel megy. Paddock o pollat may whrug vy torn dâ dhodho alês wàr an Selaqwy, hag ev arfedhys genef kettel dheuth vy dhe Englond. Th'esa kebmys helavarder ganso dell eus gans dowrvargh, na nyns o va chambrour meur y dalent, mès y hyllyn trestya dh'y lelder, heb mar ha heb martesen.
"Sens dha hùbbadùllya, Paddock," yn medhaf. "Yma cothman dhybm, Capten – Capten" (kellys veu cov a'y hanow) "ow campya i'n stevel-na. Gwra parusy hawnsel dhe dhew dhen, ena deus ha my ow styrya."
Me a dherivys dhe Paddock whedhel brav, an cothman fatell o onen meur y vry, ha'y nervow in studh idhyl wosa gorlavuryans, ow tervyn powes ha cosoleth heb ambos. Res porres o, na wothfa nagonen y vos obma, poken y fedha omsettys gans messajys dhort an Sodhva Eyndek ha'n Pedn-venyster ha'y sawyans dyswrës. Y coodh alowa, th'esa Scudder ow qwary y bart yn fryntyn pàn dheuth ev dhe'n hawnsel. Ev a vera stark orth Paddock der y unweder, kepar ha sodhak Bretednek poran, govyn ow tùchya Bresel an Boers, ha tôwlel dhybm cals a story adro dhe vâtys fyscsyonek. Ny wodhya Paddock leverel "syra" dhybmo, mès yth esa ow qwil "syra syra" orth Scudder kepar ha pàn ve y vêwnans i'n vantol.
Me a'n gasas dhe gowethya gans an paper nowodhow ha box a cygarow, ha my ow mos dhe'n Cyta bys i'n eur ly. Pàn dheuth vy tre, th'esa tremyn brâs ha poos wàr dhen an eskyner.
"Hager-wharvos obma hedhyw vyttyn, syra. Anedhyas in Nyver 15 re wrug omladha y honen gans godn. Anjy re'n dug dhe'n marowjy namnygen. Ma'n creslu ena vàn lebmyn."
My êth dhe Nyver 15 in bàn, ha cafos copel a greswesyon hag arolegyth dhe vos bysy i'ga whythrans. Me a wrug nebes qwestyonow gocky, hag anjy a'm pôtyas mes yn scon. Ena me a gafas an den a veu chambrour kyns dhe Scudder, ha'y bùmpya, saw apert o nag esa gorgîs vëth ganso. Onen o va gans kynvan in y lev, ha'y fâss kepar ha corflan, hag êsy lowr y gonfortya dre hanter-cùrun.
My êth dhe whythrans an cùrunor i'n nessa dëdh. Cowethyas in neb chy dylla a ros dùstuny dell wrug an den tremenys dry dhodho kynygow glus predn, hag ev o, dh'y vreus, mainor dhe gowethas Amerycan. Seyth an cùrunor a jùjyas an câss dell o va omladhans ha'n brës mes a'y rêwl. An nebes taclow personek a veu dascorys dhe'n Consùl Amerycan rag gà dyghtya. Me a dherivys oll an dra dhe Scudder, ha meur y les ino. Ev a lavaras ass o va hirethek a vos i'n whythrans-na, rag ev dhe dyby fatell via mar spîssek dell ve redya artykyl a'th ancow dha honen.
I'n kensa dew dhëdh mayth esa ev tregys genef i'n rom dhelergh-na, th'o va pòr gosel. Ev a redya ha megy nebes, ha gwil cals a screfa in lyvryk cov, ha pùb gordhuwher y fedhen ny ow qwary gwëdhpoll, hag ev orth ow stewany vy. Dell gresaf, th'esa va ow cherya y nervow bys in yêhes arta, rag ev a bassyas termyn vexus lowr. Saw i'n tressa dëdh me a'n gwelas dell esa ow mos dybowes. Dhe'n fos ev a stagas rol a'n dedhyow bys i'n 15ves mis Efen, ha'ga thyckya an eyl wosa y gela gans pluven blobm rudh, ha keworra covnôtyans berrdhorn ryb pùbonen. Y fedhen vy ow tos ha'y gafos codhys in hunros morethek, ha'y lagasow lybm omdednys, ha wosa pùb prÿjweyth a'n ombrederyans yth o tuedhys pòr dhyglon.
Ena me a verkyas dell esa ev ow mos wàr bigow dreyn unweyth arta. Y fedha ow coslowes orth sonyow bian, hag ow covyn prest mars o Paddock den dhe drestya dhodho. Bohes weyth yth o pòr growsek, hag ev a wrug dyharas. Nyns ov vy whensys dh'y vlâmya. Me a vydna alowa dhodho moyha gallen, rag y oberen dhe vos onen vehus.
Sawder y grohen y honen, nyns o hedna y drobel, mès spêda y dowlen dell veu hy tôwlys. An denyk-na o colonecter pur dredho, heb spot medhel vëth. Udn nos y feuva pòr solempna.
"Now, Hannay," yn medh. "Dhe'm breus, y coodh dhybm ry downha ùnderstondyng a'n aventur-ma. Cas vëdh genef departya heb gasa ken onen wàr ow lergh rag batalyas." Hag ev a wrug derivas manylyon a'n pëth na glôwys vy ma's dyscler kyns.
Ny wrugam y attendya yn tywysyk. In gwrioneth, th'o y aventurs y honen a voy les dhybm ages y wlasegeth. I'm recknans vy, Carolydes ha'y wrÿth nyns o bern vëth genef, ha my whensys dhe jarjya hedna oll dhodho ev. Ytho radn vrâs a vyns a dherivys, hy oll êth slyppys mes a'm cov yn tien. Kebmys dell eus cov dhym, ev a lavaras pòr gler na dhalethy an jùparty erna ve Carolydes devedhys in Loundres, ha'n peryl ow sordya mes a'n very gwartha, le na vedha skeus vëth a dhrog-dybyans. Ev a wrug mencyon a venyn – Julia Czechenyi – esa maglys neb maner i'n peryl. Y fedha hy an edhen dynya, dell veu convedhys dhybm, rag kemeres Carolydes mes a with y wethysy. Th'esa Scudder ow côwsel a neb Men Du inwedh, hag a dhen stlav wàr y davas, hag ev a dhescrefas nebonen pòr gewar na ylly campolla heb scruth – den coth, mès yonk y lev, a wodhya gwil cûgh dh'y lagasow kepar ha falhun.
Th'esa ow côwsel a'y vernans yn fenowgh kefrës. Mortal porposys o va dhe wainya in y ober bys i'n dyweth, mès heb gwil fors vëth a'y vêwnans ev.
"Dell dybama, th'yw pecar ha codha in cùsk pàn vosta sqwith oll, ha dyfuna ha cafos dëdh a hâv ha sawor gora ow tos orth an fenester ajy. Dhe Dhuw y whrug vy grassa lies myttyn a'n par-na pàn esen vy in Pow an Glaswels pell, ha grassa Dhodho me a vydn, dell waitama, pàn wrellen vy dyfuna a'n tu aral dhe'n Jordan."
I'n nessa dëdh yth o va meur moy hudhyk, hag th'esa ow redya bewgraf Stonewall Jackson dres ourys. My êth ha kynyewel gans injynor bal mayth o res dhybm y weles rag tra negys, ha dewheles hanter wosa deg ader dro, abrës dh'agan gwëdhpoll kyns mos dhe'm gwely.
Th'esa cygar i'm min, dell eus cov dhybm, pàn wrugam egery daras an stevel megy. Nyns esa bollen vëth ow colowy, ha my ow cafos hedna coynt. O Scudder gyllys dh'y wely solabrës?
Me a wrug sqwychella crack, saw nyns esa den vëth i'n rom. Ena me a spias neppyth i'n gornel bell, ha gasa an cygar dhe godha, ha whës ow tardha dhybm in ewn euth.
Ow ôstyas vy, th'esa a'y wroweth omlêsys wàr geyn. Th'esa collel hir der y golon hag ev beryes stag i'n leur.
CHAPTRA 2
AN LETHOR OW TALLATH DH'Y VIAJYS
Me a sedhas wàr jair brehek, ha whans brâs dhybm a wheja. Pymp mynysen y turya, ha fyt a scruth ow sewya. An fâss truan wàr an leur, gwydn, stag y lagasow, th'o moy ès dell wodhyen vy perthy, ha me a gemeras lien moos ha'y gudha. Ena my êth in udn drebuchya dhe'n amary, cafos an dowr tobm ha lenky lower ganowas. Me a welas, kyns, tus a veu marow sodyn; gwir, re anodhans a ledhys mavy in Bresel an Matabele; saw dyffrans o an gwrians aflythys-ma in dadn do. Bytegyns, gans caletter me a wrug dascùntell ow honen. Me a veras orth ow euryor, ha gweles bos hanter wosa deg.
Desempys y teuth tybyans dhybm, ha me a whythras an ranjy dour. Nyns esa den vëth dhe gafos, nag ol vëth a dhen, saw me a worras keas ha predn wàr oll an fenestry ha settya an chain dhe'n daras.
Lebmyn th'en vy devedhys tabm ha tabm dhe'm rêwl, ha gallos predery arta. Cowl-dhesmygy an dra, me a'n gwrug dres udn our, heb hast, rag termyn frank dhe vos dhe'm ombrederyans bys whegh eur in nes, mar ny wrêns an voldroryon dewheles.
Th'esen vy in check pooth – hèn o lowr apert. Gyllys o pùb dowtyans oll a Scudder, y whedhel ha'y wiryoneth. Yth esa prov dyblans a'y wroweth in dadn an lien moos. An dus hag a wodhya ev dhe wodhvos myns a wodhya, anjy a'n cafas, hag ûsya an gwelha fordh rag diogelya y daw. Eâ; saw th'esa ev i'm rômys dres peswar dëdh, ha'y eskerens res o anjy dhe gonvedhes dell wrug ev kyfya dhybm. Ytho y fedhen vy an nessa tremenor. Haneth whath, pyw a wor? pò avorow, pò trenja, mès yth esa dewetha sentens warna vy, certan.
Ena me a dybys ken lycklod desempys. Mars ellen vy lebmyn ha gelwel an creslu? pò mos dhe'm gwely ha gasa Paddock myttyn dhe gafos an corf marow ha dh'aga gelwel? Pana whedhel a vydnen vy derivas a Scudder? Dhe Paddock me a lavaras gow in y gever, hag oll an dra fest skeusus. Mar teffen vy ha gwirleverel pùptra a dherivys Scudder dhybm, ny vensa an creslu ma's wherthyn orthyf. Mil worth onen o an chauns my dhe vos cùhudhys a'n moldrans, ha crev lowr o an dùstuny kerhydnek rag ow cregy. Aswonys en vy dhe vohes pobel in Englond, ny'm bo mâta ogas a ylly bos test a'm natur. Hedna, par hap, o dhe'n eskerens kel-na gà meder. Conyng lowr êns y dhe bynag oll a ve, ha pryson in Pow an Sowson o maner bos ryddys ahana vy bys dres an 15ves Efen, mar dhâ avell collel i'm dywvron.
Dres hedna, mar teffen vy ha derivas oll an dra, hag anjy ow cresy dhybm dre verkyl, y fien vy ow qwary gà gam gà honen. Carolydes a vydna gortos in chy, an very pëth o gà whans. Neb rêson, gweles Scudder ha'y fâss marow a'm gasas cryjyk lel a'y dowlen, leskys ow holon. Gyllys o va, saw ev a wrug kyfya dhybm, ha my constrînys lowr dhe bêsya y whel.
Y fydnys sensy hobma tra wharthus martesen in den mayth esa y vêwnans in kebmys peryl, saw indella me a dyby. Pollat kebmyn y gynda oma, heb bos moy colodnek ès re erel, mès cas yw gena vy gweles dremas ledhys, ha Scudder – ny vedha an gollel hir-na y worfen, mar kyllyn vy gwary in y le.
Me a wrug desmygy hebma oll, ourys dew, nena ervirys veuv vy. Res o dhybm vansya neb fordh, ha gortos vansyes bys pedn secùnd seythen Efen. Ena res vedha cafos maner omdava gans pobel an Governans ha derivas myns a dherivys Scudder dhybmo. A ve unweyth ev dhe dherivas moy, re Dhuw! Ha'n bohes pëth a dherivys ev defry – a ve unweyth my dh'y attendya dhe voy! Ny wodhyen vy tra vëth ma's fethow pòr aswiak. Brâs o an peryl, ha my ow tos der an perylyow erel yn salow kyn fe, na vydnens y cresy dhybm wàr an dyweth. Res o kemeres chauns a hedna, ha govenek genef a nebes happyans rag afydhya ow whedhel in gwel an Governans.
An kensa oberen o durya der an nessa teyr seythen. An jëdh-ma o an 24a mis Mê, ytho ugans dëdh a gudhans kyns lavasos côwsel orth an auctorytys. Dhe'm recknans, y fedha dew barcel a dus orth ow whelas – eskerens Scudder, rag trehy hanvos dhybm, ha'n creslu, a vydna cafos an den a wrug moldra Scudder. Helgh pednscav vedha ha, coynt teg, y wetyas o confort brâs. Lows en vy mar bell, wolcùm mayth o pùb gwythres nowyth. Hedre ve res esedha yn tygoweth gans an corf marow-na ha gwil tendans dhe Fortyn, nyns en vy gwell ès kenak sqwattyes; mars esa codna ha sawder ow scodhya wàr skians, ha'm skentylsys ow honen i'n prov, parys en vy dhe vos lowen anedhy.
An nessa preder a dheuth dhybm: esa gans Scudder neb scrifow rag ry gwell gedyans i'n mater? Me a dednas an lien moos wàr dhelergh ha sarchya in y bockettys, rag nag esa dhybm plynchyans na felha a'n corf. An fâss o marthys cosel gans den a veu gweskys wàr nùk dhe'n dor. Nyns esa tra vëth i'n ascra, tra vëth ma's nebes bathow munys ha sensor cygar in pocket an grispows. I'n lavrak yth esa kelyllyk bian ha nebes bathow arhans, hag in pocket tenewen y jerkyn th'esa câss cygarow coth a grohen gocodryl. Nyns esa ol vëth a'n lyvryn du bian may whrugam gweles Scudder ow covnôtya ino. Hedna a gemeras y voldror, heb dhowt.
Saw pàn wrug vy meras dhywar ow gweyth in bàn, me a spias fatell veu trogow tedna egerys i'n bord screfa. Ny via Scudder whensys màn dh'aga gasa i'n studh-na, rag ev dhe vos an moyha kempen inter sojetys an ancow. Res yw nebonen dhe whelas neppyth – an lyvryn martesen.
My êth oll adro dhe'n ranjy ha cafos pùptra dhe vos pyllys – lyvrow a'n tu aberveth, trogow tedna, amarys, boxys, ha pockettys pùb gwysk i'm dyllasva kefrës, ha'n bord lestry i'n kynyowva. Heb ol a'n lyvryn. Pùb lycklod, an envy a'n cafas, saw ny wrussons y cafos an dra orth corf Scudder y honen.
Ena me a gemeras lyver mappys in mes ha whythra orth mappa brâs a'n Enesow Bretednek. Th'esa tybyans dhybm a scappya dhe neb qwartron gwyls, may whre les dhybm ow creft an glasweltir, rag my dhe vos logosen vrâs ha maglen i'm kerhyn in kenyver tre. Dell dybys, y fedha Scotlond an gwelha dôwys, rag ow herens vy, th'êns y Albanas, ha my abyl dhe vos degemerys avell Alban kebmyn in pùb plâss. Ow hensa tybyans o omwil vysytyor Alman, rag ow thas a'n jeva cowethysy Alman, hag yth esen vy ow côwsel Almaynek pòr dhâ dhia'm megyans, heb gwil mencyon a'm teyr bledhen ow whelas mûn cober in Damaralond an Almanas. Saw me a gonsydras dell vedha le hewel mar pedhen vy Scot, ha le alînys dhe vyns a wodhya an creslu, par hap, a'm dedhyow a veu. Me a wrug determya Gallowey dhe vos an gwelha covva. Tyller gwyls o va, ha'n nessa dhe'n or, kebmys dell yllyn vy reckna, hag in syght an mappa nyns o tew y boblans.
Sarchyans in Bradshaw a dhysqwedhy train dhe voydya orth Sen Pancras dhe 7:10, rag ow londya vy androwweyth in neb gorsaf in Gallowey. Hèn o dâ lowr, saw moy a bris o an qwestyon, fatell dhov vy dhe Sen Pancras? rag certan y fedha cothmans Scudder owth aspia wàr an strêtys. Th'esen vy in penpleth pols dâ; ena me a'm beu awen, mayth êth vy dhe'm gwely ha cùsca dew our troblys warnedhy.
Me a dhyfunas orth peder eur hag egery keas fenester an chambour. Th'esa golow gwadn, devedhyans a vyttyn a hynon hâv, ow lenwel an ebron ha'n golvanas ow tallath aga hân. Ow tyflasa th'esen vy yn tien, hag owth omsensy fol nakevys gans Duw. Ow thuedhyans o gasa oll inter keun ha bryny, ha trestya dhe'n creslu Bretednek regardya an câss yn rêsonus. Saw pàn esen vy ow tasweles an savla, ny gefys vy argùment vëth warbydn ow ervirans newher, ytho, cabm ow min, me a dhetermyas pêsya i'm devîs. Nyns en vy ownek anodho, mès heb whans vëth a whelas trobel, cler mars yw ow mênyng.
Me a wrug turya ha cafos sewt brethyn ha meur-ûsys, botas crev ha kentrow ina, ha cris gwlanen, fast y wùdhùk. I'm pockettys me a stoffyas cappa gonesyas, nebes lienyow dorn, ha scubylen dens. Me a wrug tedna cals dâ a goynach owr mes a'n arhanty nans o dew dhëdh, rag dowt y fedha otham dhe Scudder a vona, ha me a gemeras hanter-cans pens a'n arhas-ma, in sovrans, in grugys a brenys in Rôdêsya. Hedna oll o gorholeth lowr dhybm. Ena me a wrug troncas, ha trehy an minvlew, o hir ha crîbellek, bys in pyllen got ha sowlek.
Lebmyn y sewyas an nessa stap. Y fedha Paddock ow tos 7:30 abrës hag entra gans alwheth clycket. Saw ugans mynysen dhe seyth eur, dell wodhyen vy experyens wherow, y fedha an lethor ow tos gans clatter brâs a ganys, ha gasa shara dhybm orth ow daras. Me a welas an lethor-na traweythyow kyns pàn en vy mes a'n chy hag in tro avarr wàr geyn margh. Den yonk o va a'n keth hirder ha my, gwanbeskys y vinvlew, ha côta gwydn in y gerhyn. Warnodho th'esen vy ow qwystla oll ow chauncys.
My êth ajy dhe'n stevel megy, o tewl ha dewyn golow an myttyn ow tallath slynkya dre geas an fenester. I'n rom-na me a gemeras hawnsel: dowr Alban ha sôda, ha nebes byskyttys mes a'n amary. Th'o whegh eur ader dro solabrës. Me a worras pib i'm pocket ha lenwel pors mes a'n seth backa wàr an tâbel ryb an olas.
Pàn esen vy ow pockya aberth i'n backa ow besias a davas nampyth cales, ha me a dednas lyvryn du bian Scudder in mes ...
Hèn o arweth dhâ, dhe'm breus. Me a wrug derevel an lien dhywar an corf ha kemeres marth a'n cres ha'n dynyta i'n bejeth marow. "Farwèl, a was," yn medhaf. "Me a vydn gwil oll ow ehen abarth dhys. Gwra benega ow whel, py le pynag may fy."
Ena me a darya i'n hel ha gortos an lethor. Hèn o an radn lacka oll i'n negys, rag namnag o vy tegys orth yêwnadow a scappya mes a'n jy. Y teuth an eur dhe hanter wosa whegh; dewgans wosa whegh; saw whath ny wrug ev dysqwedhes. An fol a dhôwysas an jëdh-ma, mesk oll an jornys, rag bos holergh.
Udn vynysen wosa an qwartron-our dhe seyth, me a glôwas clattrans a'n canys wàr ves. Me a egoras an daras arâg, ot an den, hag ev ow tyberth ow hanys vy dhyworth tysk esa va ow ton, hag ow whybana der y dhens. Ev a blynchyas nebes pàn y'm gwelas.
"Dewgh obma ajy rag tecken," yn medhaf. "Whans a'm beus a verr lavarow genowgh." Ha me a'n hùmbroncas i'n gynyowva.
"Den sport ow'why, dell dybam," me a lavaras. "Ha whensys ov vy dhe gafos servys orta why. Gwrewgh lendya dhybm gàs cappa ha'gas côta, deg mynysen, hag otta sovran dhe why."
Brâs-egerys veu y lagasow pàn welas an owr, hag ev ow qwenwherthyn yn ledan. "Pandr'ew'n gam?" ev a wovydnas.
"Prat a wystel," yn medhaf. "Ny'm beus termyn dh'y styrya, mès rag gwainya th'yw res dhybm bos lethor dres an nessa deg mynysen. Oll agas ober yw gortos obma erna dheffen vy arta. Tùch holergh vedhow'why, saw ny vëdh grêvons gans nagonen, ha'n pens-na, te a'n pew."
"Dalowr!" yn medh, heudh y jer. "Nynj oma den dhe vyshevya spot a sport. Ot an darbar, meyster."
Strik me a wyscas y hot glas plat ha'y gôta gwydn, kemeres an canys, degea ow daras sqwat, ha mos in udn whybana an stairys wàr nans. An porthor wàr woles a wrug gorhebmyn sensy ow min, pëth a gonfyrmyas ow tùllwysk dhe servya.
Argraf uskys, nyns esa nagonen wàr an strêt. Ena me a spias creswas cans lath y bellder, ha crowdror ow traylya y dreys a'n barth aral. Neb iny a'm gwrug dhe dhrehevel ow golok wàr an chy adâl, hag otta fâss orth fenester i'n kensa leur. Pàn dheuth an crowdror ha'm passya, ev a veras in bàn, ha neb sin a veu keschaunjys dell hevelly.
Me a wrug tremena dres an strêt, ha whybana gay ha mâkya kerdh an lethor, jolyf y lescans. Ena me a entras dhe'n kensa strêt adenewen, ha trailya agledh wàr amal splat a dir gwag. Nyns esa den vëth wàr an strêt bian-na, ytho gyllys veu an canys dhe godha heb let dres an ke predn, ha me a dôwlys an cappa ha'n côta wàr aga lergh. Me a wyscas ow happa gonesyas ha lytherwas ow tos dystowgh adro dhe'n gornel. Me a worhemynys myttyn dâ, hag ev ow cortheby heb skeus. I'n very prës-na clock in eglos an kentrevogeth a wrug gweskel seyth eur.
Nyns esa tecken vëth moy ès dell resa. Kettel dheuth vy dhe Fordh Euston, me a bonyas crackya codna. Th'esa an clock in Gorsaf Euston ow showya pymp mynysen wosa seyth. In Sen Pancras ny'm beus termyn lowr dhe brena tôkyn, heb mencyon a'n feth na wrug vy ervira pedn ow fordh na whath. Degor a dhysqwedhas an cay dhybm, ha pàn êth vy warnodho me a welas an train dhe vos in gwayans solabrës. Th'esa dew sodhak a'n gorsaf ow lettya an fordh, saw me a wrug diank ha crambla ajy dhe'n dewetha caryach.
Teyr mynysen a'y wosa, pàn esen ny ow mos in udn daredna dre geyfordhow an dre a'y north, gwethyas serrys a dheuth hag omweles genef. Ev a screfas tôkyn dhe Newton Stewart, hanow neb a dheuth dhe'm cov desempys, ha'm hùmbrank mes a'n radn adhevîs mayth esen vy esedhys attês bys in radn megy a'n tressa class, mayth esa marner tregys, ha benyn dew ha flogh in hy dywvregh. An gwethyas êth in kerdh, in dadn groffolas, ha me a wrug deseha ow thâl ha campolla dhe'm cowetha, ha'm leveryans a'n moyha Albanek, cachya train dell o gweyth cales. Solabrës th'en vy entrys aberth i'm part.
"Ass o'n gwethyas-na dyveth!" yn medh an venyn, wherow hy lev. "Ma othom a davas an Alban rag keredhy glan. O'croffolas therava'n vaby vian-ma na's teves tôkyn, ha nynj ew hei pajer bloodh kens Est war vledhen, hag ev o'lawl warbydn an den jentyl-ma ha'y drew."
An marner a wrug assentya yn asper, ha me a dhalathas ow bêwnans nowyth in airgelgh a brotestyans contrary dhe'n vêstrysy. Me a dhros dhe'm cov fatla hevelly an bÿs mar sqwîthus kyns, ha hodna heb bos ma's udn seythen alebma.
CHAPTRA 3
AVENTUR A'N TAVERNOR LIENAK
Termyn solempna o an viaj i'n jëdh-na dhe'n north. An ebron a vis Mê o cler teg, ha'n spern gwydn ow plejyowa wàr bùb ke, ha my ow covyn orthyf ow honen prag y whrug vy glena orth Loundres heb kemeres plesour a'n pow nevek-ma, kynth en vy den a franchys hogen. Ny yllyn vy lavasos an caryach boosty, saw me a brenas canstel ly in Leeds ha'y radna gans an venyn dew. Prena paperyow an myttyn inwedh, ha nowodhow inans a vergh ow tallath i'n Derby hag egeryans a'n sêson crycket, ha nebes paragrafow fatell esa an savla i'n Balcanyow ow coselhe ha'tell o sqwadron Bretednek danvenys dhe Kiel.
Pàn vowns y cowl-redyes, me a dhros lyvryn du bian Scudder in mes ha'y studhya. Leun lowr o va a screfa bysy, fygùrs dre vrâs, kynth esa hanow lytherednys obma hag ena. Rag exampyl, me a gafas an geryow 'Hofgaard', 'Luneville', hag 'Avocâdo' yn fenowgh, ha spessly an ger 'Pavia'.
Now certan en vy nag esa Scudder bythqweth ow qwil tra vëth heb rêson, ha sur lowr en vy bos cîfer ûsys i'n lyvryn. Hòn yw desten a les dhybm pùb termyn, ha my ow qwil nebes gweyth cîfer pàn esen vy sodhak aspiyas in Bay Delagoa, in Bresel an Boers. Desedhys yw ow fedn dhe wëdhpoll, desmygow hag erel: assoylya cîfers, nyns en vy heb ableth anodho, dhe'm breus ow honen. Dell hevelly, an cîfer-ma o onen dhe'n sort nyverek, may ma settys a fygùrs ow cortheby dhe lytherednow an abecedary, saw y hyll pùb den skentyl cafos gedyans dre cîfer a'n par-na kyns pedn our pò dew, ha dowtys en vy dell via Scudder contentys dhe scodhya wàr neptra mar êsy. Ytho me a worras fog wàr an geryow lytherednys, rag y hyllys gwil cîfer pòr dhâ mar y'th eus ger alwheth ha hedna ow ry aray dhe bùb lytheren.
Me a wrug assaya dres ourys, saw nyns esa assoylyans vëth i'n geryow. Ena me a godhas dhe gùsk ha dhyfuna in Dumfries scant adermyn dhe rolya mes hag eskyna i'n train lent dhe Gallowey. Th'esa den wàr an cay nag o y semlant dâ genef, saw ny drailyas golok vëth warnaf, heb marth hedna, ha my orth aspia ow syght in gweder meras neb jyn automatek. Drefen ow fâss howl-lywys, ow brethyn coth, ha'm stubm gwarrgren, yn tien th'en vy hevelep dhe onen a'n diogyon bryn esa owth eskyna, meur aga nùmber, in caryajys an tressa class.
Th'esen vy ow viajya gans pymp pò whegh aral in airgelgh a vacka garow ha pîbow pry. Devedhys êns y mes a varhas an seythen, ha'ga ganow leun a brîsyow. Me a glôwas derivadow a dhenethyans an ên in tir an Cairn ha'n Deuch ha deg dowr ken ha kevrînek. Moy ès hanter a'n dus a gemeras gà ly solabrës hag anjy saworys brâs a wyras Alban, saw ny wrussons y fors ahana vy. Th'esen ny ow rolya lent wàr ros ha tros aberth in glydnow bian ha cosak, wosa hedna wàr wûn efan, lenter hy lohow, ha brynyow glas hag uhel a'n tu north.
Adro dhe bymp eur an caryach a veu gyllys gwag, ha my gesys genef ow honen, dell esa govenek dhybm pàn wrug vy omjùnya. Me a skydnyas i'n nessa gorsaf, tyller bian ha'y hanow scant attendyes, tyller desedhys in kenegen in hy very cres. Drÿs i'm cov arta y feu onen a'n gorsavow nakevys bian i'n Karroo. Th'esa mêster coth an gorsaf ow palas in y lowarth. Ev a wrug kerdhes dhe'n train heb hast, ha'y bal wàr y scoodh, ha kemeres fardel in charj, ha dewheles dh'y batâtys. Flogh deg bloodh a recêvas ow thôkyn, ha my êth wàr fordh wydn in mes, ha hy ow qwandra dres an wûn worm.
Th'o gordhuwher spladn a hâv, ha pùb bre ow tysqwedhes mar gler avell amethyst trehys. Th'esa odour gwrëdh gwernek i'n air, coynt y deythy, mès fresk avell keynvor, hag ev owth effethya wàr ow spyrys yn astranj. Scaffa teg yth êth ow holon. Th'en vy kepar ha maw in tro walkya degolyow gwaynten, adar den seytek bloodh warn ugans ha'n creslu orth ow whelas yn fen. Th'esa emôcyon dhybm kepar ha pàn vedhen vy ow tallath dhe hirdravel brâs in myttyn yêyn wàr an glasweltir avàn. Mar cresyth dhybm, th'esen vy ow kerdhes hardh in udn whybana wàr an fordh-na. Nyns esa towl caskergh i'm pedn, nyns esa ma's porpos a gerdhes, rag ha rag i'n uhelbow benegys-ma, onest y sawor, ha pùb mildir ow qwella cher dhybm.
In dor plynsys ryb an fordh me a drohas lorgh a gollwedhen, ha dyberth orth an bednfordh wharê, dhe scochfordh ahës, ow sewya glyn gover tervus. Dell recknys, yth esen vy pell arâg pùb helghyas whath, hag abyl dhe wil orth ow flesour i'n nos-na. Ny wrug vy sawory vytel vëth nans o lies our, ha pòr wag en vy pàn dheuth dhe growjy bugel desedhys in sorn ryb pystyl. Th'esa benyn a'y sav i'n daras, howl-lywys hy bejeth, ha hy orth ow recêva gans meth caradow tus an hal. Pàn wovydnys gwestva udn nos, hy a lavaras y bosama wolcùm dhe'n "gwely i'n tâlyk", ha scon y feu boos larj teg settys dhyraga vy: hàm hag oyow, scons, ha levryth wheg ha tew.
Dhe dewlwolow y teuth hy gour dhywar an brynyow tre, cowr tanow, esa ow mos an keth hës in udn pâss dell via try stap dhe bùb mortal ken. Ny wrussons y gwil qwestyon vëth orthyf, rag norter perfeth dhe vos gansa, dell eus dhe bùb tregor i'n gwylfos, saw me a wodhya convedhes y bosama gwycor a neb sort dh'aga breus, ha my orth hy afydhya kebmys dell yllyn. Th'esen vy ow côwsel meur adro dhe warthek, ha'm ost ow codhvos nebes anedha, ha tùchyng marhajow bro Gallowey me a dhescas lower, ha'y vailya aberth i'm cov dh'y ûsya i'n devedhek. Dhe dheg eur th'esen vy ow pendroppya wàr ow chair, ha'n "gwely i'n tâlyk" a gemeras den sqwith na wrug egery lagas kyns ès pymp eur dhe worra an wodref vian unweyth arta in whel.
Sconya talas a wrussons y, ha warbydn whegh eur, wosa hawnsel, th'esen vy ow kerdhes stappys hir tro ha'n soth. Dewheles dhe lînen an hens horn yth esa tybyans genef, onen pò dew orsaf pelha ès may whrug vy skydnya de, hag omdrailya wàr dhelergh. Dell recknys, an sawa fordh o hobma, rag an creslu dhe soposya yn naturek y bosama prest ow mos pelha dhyworth Loundres wor'tu ha neb porth a'n west. Dell hevelly dhybm, bleynyans dâ a'm bo i'n resegva whath, rag ny wrêns y cably blam a'n bad-ober warna vy, dell rêsnys, marnas wosa lies our, ha lower moy bys may whrellens y aswon an pollat eskynys wàr an train in Sen Pancras.
Th'esa an keth ebron-na a waynten, jolyf ha cler, hag omsensy behys a wovyjyon ny yllyn vy badna. In gwir, ow cher o gwell ès dell veu dre lies mis. Dres crib hir a'n hal me a gemeras fordh, ow mos ryb tenewen bre uhel a wrug an bugel henwel Cairnsmore of Fleet. Th'esa gelvynogas ha kernwhyly ow carma orth aga neythyans in pùb le, hag enygow pals wàr welsek an borva ryb pùb gover. Lowsethes oll an dewetha mîsyow, th'esa ow slyppya mes a'm eskern, ha my ow pâcya kepar hag onen peswar bloodh. I'n by and by me a dheuth dhe vothan i'n hal, inclynyes aberth in golans ryver bian, hag aspia mog train udn vildir abell.
An gorsaf pàn veu drehedhys, th'o va delvrysek dhe'm porpos. An hal o omherdhys adedhro in bàn, ha nyns esa tyller gesys ma's dhe'n hens unplek, y gilfordh danow, rom gortos, sodhva, penty mêster an gorsaf, ha garth munys a brysk grows ha Wella bian. Dell hevelly, nyns esa bownder vëth ow lêdya dhodho a neb le, ha rag cressya an dyfëthter th'esa todnow neb lydn meneth ow lyckya wàr ladn rowyn hanter-mildir y bellder. Me a wortas i'n grug down erna wrug vy aspia, wàr an gorwel, mog train dhe'n ÿst. Ena my êth bys i'n dôkynva vunys ha prena tôkyn dhe Dumfries.
Nyns esa tregoryon i'n caryach ma's bugel coth ha'y gy – mil brith y lagas ha my orth y vystrestya. Ow cùsca th'esa an den, ha ryptho wàr an pluvogow th'esa an Scotsman a'n myttyn-na. Me a'n sêsyas yn fen, rag certan en vy bos derivadow a les ino.
Th'esa dyw goloven adro dhe 'Mùrder Portland Place', dell o henwys. Ow gwas Paddock a wrug alarm hag inia dalhednans a'n lethor. An den truan! heb dhowt ev a dhendylas y sovran fordh gales; saw isel an pris dhybmo, rag ev dhe sensy an creslu bysy lowr der ogas hag udn jorna. In mesk an nowodhow moyha degensow me a gafas radn nowyth a'n story. Gesys veu an lethor dhe wary, dell redys, ha'n drog-was gwir – tawesek o an creslu a'y hanow – a veu dienkys mes a Loundres, dell o cresys, wàr onen a'n hensy horn dhe'n north. Yth esa nôten got i'm kever vy avell perhen a'n ranjy. Dell dhesmygys, an creslu a geworras hedna rag assaya perswâdya dhybm, cledhek lowr, nag o vy drog-dybys.
Nyns esa ken tra vëth i'n paper, tra vëth a'n wlasegeth tramor pò a Carolydes, pò a'n taclow a veu dhe Scudder a les. Me a'n gorras tre, ha merkya y boson ny ow nes'he dhe'n gorsaf may whrug vy skydnya de. Mêster an gorsaf, an den a'n bal patâtys, o kenerthys dhe nebes gwythres, awos an train dhe'n west dhe vos ow cortos rag agan gasa dhe dremena, ha mes anodho y feu tredden skydnys, neb esa ow qwil qwestyonow. Dell soposys, anjy o creslu an vro, kentrydnys gans Scotland Yard rag ow helerhy bys i'n gilfordh udn margh-ma. Esedhys pell dhelergh i'n skeus th'esen vy owth aspia dour ortans. Onen a'n jeva lyver, hag ev ow screfa covnôtyans. Den coth an patâtys o gyllys crowsek, dell hevelly, saw an flogh hag a gemeras ow thôkyn de, th'esa va ow côwsel freth y davas. An hôll-vagas a vera dres an hal mayth esa an fordh wydn departyes. Th'esen vy ow qwetyas anjy dhe whelas ow olow i'n tyller-na.
Pàn esen ny ow qwaya dhyworth an gorsaf, ow howeth vy a dhyfunas. Ev a stagas golok a stray warna vy, pôtya y gy yn fylen, ha govyn pleth esen ny. Apert lowr, ev o pòr vedhow.
"Sew'ans a vos scon'or lycour," ev a wrug compla, wherow y edrek.
Me a levas marth, fatell wrug vy cafos ev y honen dhe vos onen stordy adhevîs.
"Ea, scon'or crev oma a'n lycour," yn medh, breselus y don. "Me a'n plyght'as dwetha Deg'l Martyn, na ny rugam tava badna dower Alban a'y woja. Ny rugam madn, Hogmanay kyn fe, ha my tempt'es yn froas."
Ev a dherevys y dhywwewen wàr an eseth in bàn, ha pockya pedn dygempen ajy dhe'n pluvogow.
"Ha hebm ew ow reward," yn medh, in udn hanaja. "Pedn tobma es tan iffarnak, ha dewlagas ow meras kescar i'n Sabot."
"Pëth a'n gwrug orthys?" me a wovydnas.
"Dewas hen'ys dower Frynkek. Dref'n bos scon'or lycour, savam wor'dower Alban, saw therom oth eva dowr Frynkek lebmyk lebmyk dre'n jedh, ha dout dhebm mar pedham sawys in pymthek nos." Y lev êth in stlaveth trew dhe ves, ha cùsk a wrug settya y dhalhen boos ino unweyth arta.
Ow thowlen vy o skydnya dhe orsaf nebes pelha i'n lînen, saw gwell chauns a ros an train dhybm desempys, rag ev dhe sevel stag wàr bedn tremen cul dres ryver tervus, coref gorm y golour. Me a veras in mes, ha merkya bos fenester pùb caryach degës, heb body denyl vëth dhe weles i'n dirwedh. Ytho me a egoras an daras, ha lebmel uskys aberth in magel a gollwëdh esa owth amala wàr an lînen.
Pòr dhâ, na ve an ky dyowlak dhe vellya. Ev a bredery dell esen vy ow voydya gans pëth y vêster, ha dallath hardha, ha settya y dhens i'm lavrak ogatty. Hebma a dhyfunas an bugel, esa a'y sav in daras an caryach, ow cresy dell wrug vy omladha ow honen. Me a slynkyas der an gardhen, drehedhes amal an strem, ha kemeres cans lath a bellder dhywortans in dadn woskes an prysk. Ena me a veras mes a'm covva wàr dhelergh gans rach, ha gweles gwethyas an train ha lower tremenyas cùntellys adro dhe dharas egerys an caryach hag owth aspia glew i'm qwartron vy. Ny alsen vy departya in maner moy poblek mara mednen vy qwyttya gans kernyas ha band brest.
I'n gwelha prës an bugel medhow a dednas attendyans an dus dhyworta vy. Ev ha'y gy, hag o jùnyes dh'y wast gans lovan, anjy a godhas sodyn sket mes a'n caryach, londya wàr aga fedn dhe'n leur, ha rolya an bank wàr nans, polta tro ha'n dowr. I'n rescous a sewyas, an ky a wrug brathy nebonen, rag my dhe glôwes son a gùssyans fers. Anjy a'm ancovas wharê, ha pàn wrug vy bedha meras wàr dhelergh wosa qwartron-mildir a scolkyans, dalethys o an train solabrës hag ev ow mos i'n droghva mes a wel.
Th'esen vy in hanter-kelgh ledan a hal, ha'n ryver gorm o gwrath dhodho, ha'n brynyow uhel ow formya y gompas adro a'n tu north. Nyns esa sin na son a vab den, tra vëth ma's lagyans a'n dowr ha crians an kernwhyly heb hedhy. Bytegyns, ha coynt lowr, kensa prës yth esa brawagh an best helghyes warna vy. Nyns esen vy ow predery a'n creslu, mès a'n dus erel, a wodhya fatell wodhyen vy tra gelys Scudder; a wodhya na yllens y godhevel dhybm bêwa. Certan en vy dell vydnens y châcya gans dywysygneth ha hewolder dres ûsadow an laha Bretednek, ha my heb cafos mercy vëth pàn wrella gà gavel degea i'm kerhyn.
Me a veras wàr dhelergh, saw nyns esa tra vëth i'n dirwedh. Yth esa an howl ow terlentry wàr olcan an hens ha wàr an veyn lëb i'n strem, ha nyns esa syght moy cosel dhe weles in oll an bÿs. Byttele me a dhalathas ponya. Me a blattyas in goverygow an genegen ha ponya erna wrug vy drehedhes min an meneth hag omdhehesy in udn dhiena wàr grib pell a-ugh dowrow yonk an ryver gorm.
Mes a'm tyller a brow th'esen vy ow whythra oll an hal alês, bys i'n hens horn, ha dresto i'n soth mayth esa gwelyow gwer ow kemeres le an grug. Dhybm yma lagasow a'n hôk, saw ny welys vy tra vëth in gwayans i'n hol bowdir. Ena me a veras dres an grib dhe'n ÿst ha gweles kynda nowyth a dirwedh – valys bas ha glas ha tyleryow plynsys, pals, ha gwanlînednow a dhoust esa ow tysqwedhes penfordhow. Dewetha oll, me a veras aberveth i'n ebron las a vis Mê, hag ena me a welas an pëth a drailyas pols ow gwythy in stêvyans ...
Isel i'n soth yth esa airen udn askel owth ascendya. Mar sur en vy dell pàn ve deskys dhybm bos an airen-na orth ow sarchya, ha hy heb bos jyn longus dhe'n creslu. Udn our, pò dew, th'esen vy owth aspia orty mes a'm poll i'n grug. Hy a neyjas yn isel, an badnow ahës, ena in kelhow idn dres an valy may teuth vy dredho. Ena y feu hy forpos chaunjys, dell hevelly, ha'n jyn ow terevel uhelder brâs, hag ow neyja dhe'n soth dhe ves.
Dâ genef nyns o cabmen an aspians-ma i'n air, ha lacka ow brusyans a'n powdir a dhôwysys vy in harber. Covva wyw nyns o brynyow grugek màn mars esa ow eskerens i'n ebron, ha res o dhybm trouvya ken sort a sentry. Th'esen vy ow meras moy ow flesour wàr an pow glas dres an grib, rag my dhe gafos cosow ena, ha treven a veyn.
Adro dhe whegh eur gordhuwher me a dheuth mes a'n hal dhe ryban gwydn a fordh, ow qwia golans cul neb gover a'n stras ahës. Hedre ven vy orth hy sewya, th'esa an gwelyow ow plegya dhe fydny, an glyn êth wàr wastattir, ha my ow tos wharê dhe aswy a neb ehen i'n meneth, mayth esa udn chy dygoweth ow pyffya y vog i'n tewlwolow. Th'esa an fordh ow swarvya dres pons, ha den yonk posys wàr an crenel.
Th'esa ev ow megy pib hir a bry hag ow studhya an dowr dre spectaclys. In y dhorn cledh yth esa lyvryn hag udn bës ow qwetha plâss. Yn lent ev a wrug declêmya –
As when a Gryphon through the wilderness
With wingèd step, o'er hill and moory dale
Pursues the Arimaspian
[Kepar ha pàn ella Gryfon dre'n gwylfos, askellek y stap, dres bryn ha nans an hal, ow châcya an Arymaspyan (Milton)]
Ev a drailyas in udn blynchya pàn sonas ow stap vy wàr an men alwheth, ha me a welas bejeth, maw y fysmens, plesont ha lywys der an howl.
"Gordhuwher dâ dhywgh," ev a lavaras yn sad. "Nosweyth brâv yw rag kerdhes."
Th'esa odour a vog towargh hag a neb golyth saworek ow tryftya i'n air mes a'n chy.
"Yw an tyller-na tavern?" me a wovydnas.
"Dh'agas servys," yn medh cortes. "An tavernor ov vy, sera, hag yma govenek why dhe ôstya genen dres nos, rag – ha my ow leverel an gwir – ny veu coweth dhybm nans yw seythen."
Me a dednas ow honen wàr an crenel in bàn ha lenwel ow fib. Th'esen vy ow trouvya kefrysyas martesen.
"Yonk ow'why ha soodh tavernor dhywgh solabrës," yn medhaf.
"Ow thas a veu marow bledhen alebma ha kemyna an negys dhybm. Tregys ov vy obma gans ow dama wydn. Soodh dhyfreth dhe dhen yonk, heb bos ow galwans dôwysys."
"Py galwans?"
Ev a rudhyas, heb wow. "Whensys oma dhe screfa lyvrow," yn medh.
"Ha pana jauns yll den gwetyas dhe well?" me a wrug cria. "Dar, mar venowgh me a wrug predery ost tavern dell vedha rackor flour!"
"Indella ny vëdh i'n jëdh hedhyw," ev a worthebys yn fen. "Indella par hap i'n dedhyow coth may fedha prierynas ha balladoryon ha tebel-ladron ha côchys post wàr an fordh. Ken th'yw lebmyn. Nyns eus nagonen ow tos obma, marnas kerry tan leun a venenes tew, hag anjy owth hedhy rag prës ly, ha pùscador pò dew i'n gwaynten, ha'n wobrenoryon sport godn mis Est. Nyns eus devnyth brâs dhe gemeres orth hedna. Whensys oma dhe weles bewecter, dhe viajya der an bÿs, ha dhe screfa kehaval ha Kipling, Conrad. Saw whath ny spêdys vy tra vëth, ma's dylla nebes gwersyow in Chamber's Journal."
Me a vera orth an tavern, owrek a'y sav i'n howlsedhas, ha'n brynyow gell dh'y gilva.
"My re wandras hës dâ dre'n bÿs, ha ny vydnama despîsya ancarjy a'n par-ma. A gresow'why nag eus aventur dhe gafos ma's i'n Drova pò mesk gwelhevyn in hevys rudh? Par hap why yw cowethys gans aventur i'n very prës-ma."
"Dell usy Kipling ow leverel," yn medh, glewa y wolok, hag ev a wrug devynes neb gwers adro dhe romans ow try an naw eur pymthek.
["Romance!" the season-tickets mourn, / "He never ran to catch His train, / But passed with coach and guard and horn – / and left the local – late again!" / Confound Romance! ... And all unseen / Romance brought up the nine-fifteen." (Kipling)]
"Ot obma whedhel gwir dhywgh, ytho," me a grias, "ha wosa mis y hyller gwil novel anodho."
A'm eseth wàr an pons in tewlwolow medhel a vis Mê, th'esen vy ow racka whedhel spladn. Ha'n gwir o va in oll y lînednow, kyn whrug vy chaunjya an manylyon. Me a bretendyas y bosama den brâs bal a Kimberley, troblys meur dre PAD [Prenas Adamantys Dyfednys – Sowsnek: Illicit Diamond Buying 'IDB'] ha dyskeveror a sherewys. Anjy a'm châcyas dres an keynvor, ha ladha ow nessa cothman, ha cafos lebmyn ow olow avy.
Me a wrug racka yn tâ, res yw alowa dhybm. Me a bortreyas fo dres an Calahary bys in Afryca Alman, an dedhyow a sehes ow crasa, an nosow paly blou rial. Me a dhescrefas omlath warbydn ow bêwnans i'n viaj tre, ha lymna an moldrans in Portland Place avell nampyth a'n hackra. "Ow whelas aventur th'esow'why," me a grias. "Wèl, why a'n jeves obma. Yma an dhewolow orth ow helghya vy, ha'n creslu orth gà helghya ynsy. Resegva yw, ha my determys dh'y gwainya."
"Ren ow thas!" ev a whystras, owth anella sherp aberveth, "Rider Haggard ha Conan Doyle glân yw an hôll-dra."
"Why a'm crës, dhana," yn medhaf, meur ow ras.
"Heb mar na martesen," hag ev a istynas y leuv. "Me a grës pynag oll a vo dres kynda. Ny vydnam mystrestya tra vëth ma's normalyta."
Pòr yonk o va, saw den may hallen vy fydhya ino sur.
"Dell hevel, anjy a gollas an olow rag tro, saw res yw dhybm omgeles copel a dhedhyow. Yllowgh ry gwestva?"
Ev a'm cachyas vy er elyn in y frethter ha tedna tu ha'n chy. "Why yll keles mar gles obma dell vewgh in toll mûs. Me a wra gwil na vydna nagonen naneyl ow clattra ahanowgh. Ha why a vydn gasa moy devnyth dhybm a'gas aventurs par hap?"
Pàn entrys vy in portal an tavern, me a glôwas polsans a jyn tan i'n pellder. Otta va, ow hothman vy, sylûet wàr dewlwolow an West: an airen udn askel.
Ev a boyntyas chambour dhybm wor'tu delergh an chy, ha golok vrav dres an gwastattir mes anodho, hag ev a ros franchys a'y rom studhya, leun a dhyllansow iselbris a'y auctours moyha kerys, lies aga crug. Ny welys vy an dama wydn bythqweth, ytho desmygy y bos hy keth dh'y gwely. Y fedha benyn goth, Margit hy hanow, ow try an prejyow boos dhybm, ha'n tavernor ow qwil tendans warna vy pùb eur oll. Me a'n jeva whans a dermyn ragof ow honen, ytho me a settyas oberen dhodho. Th'esa jyn dywros ganso, ha ternos me a'n danvonas rag prena paper nowodhow an jorna, a vedha ow tos gans an post warbarth i'n androw. Me a wrug gorhebmyn lagasow ôpyn prest, rag may halla ev merkya pùb fygùr estrednek a ve va orth y weles, hag aspia glew orth kenyver carr hag airen. Esedhys veuv vy ena rag whythra orth lyvryn Scudder in ewn dywysycter.
Hanter-dëdh ev a dheuth tre, ha don an Scotsman. Nyns esa tra vëth ino, marnas neb dùstuny keworrys gans Paddock ha'n lethor, ha menegyans unweyth arta, dell o screfys de, an moldror dhe vos gyllys dhe'n North. Saw yth esa artykyl hir, daspryntys mes a The Times, ow tùchya Carolydes ha'n plit i'n Balcanyow, kyn nag esa mencyon vëth a vysyt dhe Englond. Me a wrug ryddya ow honen a'n tavernor dres an dohajëdh, rag my dhe hedhes ogas flàm i'm sarchyans a'n cîfer.
Dell derivys solabrës, cîfer nyverek o va, ha dre gevreth arbrevy gomplek me a dhyskeveras yn tâ lowr pandr'o an elvednow gwacter ha'n elvednow poyntyans. Ancombrynsy brâs o an ger alwheth, ha pàn esen ow predery a'n geryow possybyl, neb mylyon pò moy, yth êth vy dyweres yn tien. Saw adro dhe deyr eur me a'n jeva awen sodyn.
An hanow Julia Czechenyi a wrug luhesy i'm cov. Scudder a lavaras hy dhe vos meur hy bry in negys Carolydes, hag y teuth dhybm i'm brës dell ylly bos prevys i'n cîfer.
Ha sowyn. Th'esa an pymp lytheren in "Julia" ow tysqwedhes savla an vogalednow. A, hòn o J, an degves lytheren i'n abecedary, ytho fygùryes X i'n cîfer. E, hòn o U = XXI, hag indella rag. Th'esa "Czechenyi" ow tysqwedhes an nyveren dhe bùb kesson a vry. Yn uskys me a screfas an rester-na wàr bîss paper ha dallath redya Scudder ha'y folednow.
Wosa hanter-our th'esen vy ow redya gwydn ow bejeth, ha'm besias ow qweskel wàr an voos avell wàr dabour.
Me a wrug tôwlel golok mes a'n fenester hag aspia carr touryas, brâs y vyns, ow tos tro ha'n tavern, an glyn in bàn. Ev a savas orth an daras, hag y teuth son a dus ow skydnya. Dell hevelly, th'esa dew anedha, dew wour, côta stanch i'ga herhyn ha cappa brethyn wàr gà fedn.
Wosa deg mynysen an tavernor a dheuth cosel i'n chambour, ha'y lagasow bryght aga frobmans.
"Ma dew bollat wàr woles, eus orth gàs whelas," ev a whystras. "Mowns y i'n gynyowva, hag eva dowr Alban ha sôda. Anjy a wrug govynadow ahanowgh ha leverel bos govenek dhedhans a'gas metya obma. O! hag anjy a wrug gàs descrefa pòr dhâ, agas botas ha'gas cris kefrës. Me a worthebys why dhe vos obma newher ha gyllys wàr jyn dywros hedhyw vyttyn dhe ves, hag onen a'n bollatys a gùssyas avell palor dowrgledh."
Me a dhescas aga semlant dhyworto. An eyl o gwas tanow, tewl y lagas ha bojek y abrans, th'esa y gela ow minwherthyn pùpprës hag ow côwsel stlav wàr y davas. Estren vëth o naneyl na'y gela. Ow howeth yonk a'n jeva certuster a hedna.
Me a gemeras pîss paper ha screfa an geryow-ma i'n Almaynek kepar ha pàn vêns y radn a lyther –
... Men Du. Scudder a'n dyskeveras, saw pymthek nos whath ny ylly gwil tra vëth. Ha my dowtys lebmyn mar callam obery neppyth a brow, spessly awos Carolydes dhe vos ansur a'y dhevîs. Saw mar mydn Mêster T cùssulya, oll ow ehen a wrama vy ...
Me a'n contrefêtyas teg lowr, ha'y semlant o neb folen lows a lyther pryva.
"Tanowgh hebma wàr nans ha leverel ev dhe vos trouvys i'm chambour, ha govyn orta dascor an folen dhybm mar y'm cafons y."
Wosa teyr mynysen me a glôwas an carr dhe waya, ha meras kel in mes a'n groglen hag aspia an dhew fygùr. Th'o an eyl den mon, y gela den smoth; hèn o cowlsùm dhe'm ragwhythrans.
Y teuth an tavernor brâs y frobmans. "Gàs paper a's dyfunas glew," yn medh lowen leun. "An gwas tewl êth gwydn avell bedh in dadn ergh ha cùssya yn iffarnak, ha'n den corfak a'n jeva hager-dâl ha whyban wàr y vin. Anjy a wrug tylly gà dewas gans hanter-sovran, heb gortos an mona munys."
"Now hèm yw an pëth a wrew'why gwil," yn medhaf. "Kemerowgh gàs dywros ha mos dhe Newton Stewart dhe'n Pedn-gonstabyl. Rewgh descrevyans a'n dhew dhen, ha leverel y bosowgh aga drog-dyby dell esens y maglys neb maner i'n moldrans in Loundres. Why a wor desmygy rêsons. An dhew a vydn dewheles, sur certan. Ny dhowns y haneth, rag anjy dhe'm holya dewgans mildir wàr an fordh. Mès vorow avarr. Gwrewgh gorhebmyn orth an creslu bos obma in kensa terry an jëdh."
Ev a dhalathas dhe'n fordh kepar ha flogh clor, ha my ow conys nôtyansow Scudder whath. Pàn dheuth arta ny a wrug kynyewel warbarth, ha res o dhybm, in comen-ewnder, sùffra may hylly ev pùmpya mes ahana vy derivadow. Me a whedhlas showr adro dhe helgh an lions ha Bresel an Matabele, ha my ow predery i'n kettermyn fatell o negysyow a'n par-na mater idhyl mara pe comparyes dhe'n pëth esa orth ow dydhana i'n eur-ma. Pàn êth ev dhe'n gwely yth en vy esedhys pelha, dhe'n dyweth lyvryn Scudder. Ena th'esen vy ow megy erna dhrehevys an howl, rag na wodhyen vy cùsca.
Adro dhe eth eur me a wrug aspia devedhyans a dhew gonstabyl ha serjont gansa. Anjy a worras aga harr in chy côcha, warlergh brenyans a'n ost, hag entra dhe'n tavern. Wosa ugans mynysen, mes a'm fenester, me a welas secùnd carr ow tos dres an gwastattir dhyworth an qwartron contrary. Ny dheuth ev dhe'n tavern, mès sevel dew cans lath alês, in goskes splat a goos. Me a verkyas an re esa ino fatell wrussons y lewyas wàr dhelergh kyns dyberth orto. Mynysen pò dew, ha me a glôwas aga stappys wàr an rabmen orth an fenester wàr ves.
Porposys en vy dhe omgudha i'm chambour, ha gortos pùb wharvedhyans. Dell hevelly dhybm, mar kyllyn vy settya an creslu ha'm helhysy moy peryllys an eyl gans y gela warbarth, y fedha nampyth dhe'm les ow sewya dre hap. Saw lebmyn y teuth tybyans warna vy, o dhe well. Uskys lowr me a screfas nôten a râss dhe'm ost, egery an fenester, hag omdhroppya tawesek ajy dhe brysken grows. Heb bos aspies, me a dremenas dres an vanken, slynkya tenewen neb is-streth ahës, ha gwainya an bednfordh a'n tu pell dhe'n splat a wëdh. Ot an carr, meur y dacluster in splander an myttyn, saw th'esa an doust warnodho ow testa viaj hir. Me a'n tanyas, lebmel dhe eseth an lewyor, ha mos ladrus wàr an gwastattir in mes.
Dystowgh ogatty, an fordh a godhas, may feu an tavern mes a'm gwel, saw th'esa an gwyns ow try son dhe'm clôwans a levow engrys.
CHAPTRA 4
AVENTUR A'N RADYCAL OMBROFYOR
Gwra desmygy fatell esen vy ow trîvya an carr-na, dewgans y varghnerth, toth men wàr fordhow fresk an hal in myttyn spladn a vis Mê. Ow tôwlel golok dres ow scoodh wostallath, ha whythra, meur ow fienasow, pùb nessa stubm i'n hens; ena lewyas lows ow lagas, scant dyfun lowr rag remainya wàr an fordh. Rag yth esen vy ow predery yn whyls a'n pëth a gefys in lyvryn Scudder.
An denyk bian a wrug derivas gow brâs dhybm. Oll y whedhlow adro dhe'n Balcanyow ha'n anarkystyon Yêdhowek ha Kescùssulyans an Sodhva Dramor o flows flour, ha Carolydes kekefrës. Flows dien glân, bytegyns, nyns o màn, dell wreth clôwes. Me a wrug hapwary pùptra, pàn dhalethys, wàr gresy whedhel Scudder, ha tùllys veuv vy ganso. Ot y lyvryn hag ev ow whedhla story aral. Saw ny veu cas genef a'n ky a'm brathas kyns – th'esen vy ow cresy hebma oll.
Praga? Ny worama. An gwir a seny uhel anodho in mes, ha gwir o an kensa whedhel whath, mar kyller convedhes, in maner goynt warlergh y spyrys. An 15ves mis Efen a vedha dëdh a denkys, tenkys brâssa ès ladhans a neb den a'n Cresvor. Mar vrâs o va, ma na wren vy blâmya Scudder a'm gwetha mes a'n gwary hag ev ow whansa sensy an cartednow in dorn heb coweth. Pòr gler o dhe'm brës y feu hedna y borpos. Ev a wrug derivas dhybm neptra a sonas yn frâs lowr, mès an dra wir o mar vortal y vrâster, may feu ev – an dyskeveror anodho – whensys dh'y wardya inter y dhêwla y honen. Ny wren y vlâmya. Crefny a berylyow kyns oll, res alowa, y feu hedna y nas.
Th'esa an hôll-dra dhe weles i'n covnôtyans – an aswiow, re bo cler, ev a vensa gà hollenwel a'y gov y honen. Ev a screfas y benfentydnyow inwedh, hag yth esa wrynch stranj ganso a ry dhedha valew nyverek ha'ga hesposa, ha'n sùm ow musura gwirionsys pùb chaptra in y whedhel. Pùbonen a'n peswar hanow lytherednys o penfentyn, hag yth esa den, Ducrosne, ha valew pymp rÿs dhodho, ha pymp o oll an ughboynt; ha pollat aral, Ammersfoort, ha valew try ryptho ev. Nyns esa i'n lyvryn ma's corf eskern a'n whedhel – hedna, hag udn lavaren goynt a'y sav lower tyller intra cabmvahow. ("Nawnjek stap warn ugans") o an lavaren-na; hag orth an dewetha treveth hy a veu screfys indelma— ("Nawnjek stap warn ugans, me a's comptyas—morlanow 10.17 w.h."). Ha my heb hy honvedhes badna.
Kensa oll, me a wrug desky an negys nag o goheles bresel. Yth esa bresel ow tos, mar sur avell Nadelyk: arayes veu hy, yn medh Scudder, pell alebma, mis Whevrel 1912. Carolydes a vedha ocasyon dh'y dallath. Carolydes o ragerhys, dowt vëth, dhe gashya y jecken an 14ves mis Efen, dyw seythen ha peswar dëdh wosa an myttyn hedhyw a vis Mê. Th'esen vy owth ùnderstondya warlergh covnôtyans Scudder na ylly tra vëth lettya hedna i'n bÿs. Gwethysy Epyrôtas parys dhe dhyscrohedna dama wydn, th'o cows a flows heb moy.
Yn nessa, sowthan brâs vedha an vresel-ma orth an Vreten Veur. Mernans Carolydes a wre gorwheles an Balcanyow, ha Viena a vydna kemeres hy radn, ow ry gwarnyans godrosus. Ny vedha hedna dâ gans Rùssya, hag y fedha geryow pooth. Saw Berlîn a vydna gwary rol gwrior cres, ha denewy oyl wàr an dowrow, erna alla hy cafos chêson gwyw dhe gedrydn, kemeres an chêson-na, ha cronkya wàr agan pydn in nebes ourys. An towl, th'o tôwlys indelma, ha tôwlys fest yn sley. Mel hag arethyow teg, ena strocas in dadn dewlder. Hedre ven ny ow côwsel whath a borposys hag a vodh dâ Jermany, y whre tardhegow kerhydna gàn arvor ny yn tawesek, ha lestry sedhy ow cortos pùb gorhal omlath.
Mès yth esa hebma oll ow cregy wàr an tressa tra, o settys dhe wharvos an 15ves mis Efen. Ny wrussen vy ùnderstondya cabmen na ve my dhe vetya udn jëdh i'n termyn passys gans sodhak Frynkek dhe neb jeneral, ow tewheles in mes a Afryca a'n West, hag ev ow terivas dhybm taclow pals. Intredha, fatl'esa whel dâ ha kefrysyans dhe wir inter Frynk ha'n Vreten Veur, in despît a'n folneth côwsys i'n Seneth, ha jeneralys a'n dhyw wlas ow metya traweythyow, rag omgùssulya tùchyng gwythres kebmyn mar pedha bresel. Wèl, mis Efen neb sodhak a'n brâssa a vydna dos a Parys, hag y fedha dysqwedhys dhodho derivadow kyn fe a'n Morlu Bretednek Tre ha'y drevnans orth dallath gwerryans. Poken tra gepar, dhe'n lyha, dell wodhyen vy convedhes; wàr neb cor, neppyth a bris dres ehen.
Saw an 15ves mis Efen y fedha tus erel in Loundres – tus erel, na yllyn vy ma's desmygy pyw. Scudder o pës dâ dh'aga henwel an "Men Du". Nyns êns y kefrysysy, mès eskerens vortal dhyn; hag anjy a vydna trailya an gevarweth, Frynk hy meder, dh'aga fockettys aga honen. Ha remember, kevarweth dhe ûsya o hy – dhe ûsya kyns pedn seythen pò dew, gans godnys brâs ha torpêdôs uskys, in tewlder neb nos a hâv, adhesempys.
Hèm o an whedhel a wrug vy dyscudha in rom dhelergh in tavern powdir, ha vu dres lowarth cawl dhyworto. Hèm o an whedhel esa ow sia i'm empydnyon pàn esen vy ow lesca i'n carr touryas brâs a'n eyl glyn dh'y gela.
Ow hensa desmygyans, hèn o screfa lyther dhe'n Pedn-venyster, saw ombrederyans cot a'm perswâdyas na vedha vas. Pyw a vydna cresy ow whedhel? Res o dysqwedhes sin, neb arweth prevy, ha nev a wodhya pandra ve hodna! Kyns oll, y tal dhybmo pêsya in rag, parys dhe wil an pëth a res pàn dheffa taclow bys in athvetter, na ny vedha ober êsy – creslu an hôll-wlascor, garm uhel orth ow sarchya, hag aspiysy an Men Du owth helghya scav ha tawesek wàr ow lergh.
Nyns esa porpos pòr gler i'm viaj, saw th'esen vy ow lewyas dhe'n ÿst herwyth an howl, rag my dhe berthy cov a'n mappa, fatell vedhen vy devedhys dhe vro a bollow glow ha trevow whel mar mydnen vy mos dhe'n north. Skydnys veuv vy dhywar an hal wharê. Th'esen vy ow tremena dres dol ledan orth ryver. Me a lewyas mildiryow a fos park ahës, ha gweles castel brâs der aswy i'n gwëdh. Me a lescas dre dreveglosyow penty sowl, ha dres strêmys cosolek wàr stras, ha ryb lowarthow spladn a spern gwydn ha chainys owr. An tireth o mar dhown in cosoleth, ma na yllyn vy cresy, scantlowr, bos an re o whensys dhe'm ladha ow sewya neb le wàr ow lergh; na cresy naneyl fâssow rownd an weryn-ma dhe vos cow gwag kyns pedn mis, mar ny wren vy cafos lùck moyha marthys, ha tus dhe vos a'ga groweth yn farow wàr welyow an Sowson.
Orth hanter-dëdh entrys veuv vy in treveglos hir ha tanow, ha whans dhybm a hedhy ha debry. Hanter-hës dre'n tyller yth esa Sodhva an Post, hag a'y sav wàr hy stappys an bostvêstres ha neb creswas bysy ow redya telegram. Pàn wrussons y ow gweles, anjy a dhyfunas scon, ha'n creswas a wrug avauncya, derevys y dhorn, ha cria hedh.
Namna veuv vy fol lowr rag obeya. Ena tybyans a dheuth in udn luhesy dell yw an pellscrif i'm kever ow honen; dell veu ow hothmans i'n tavern unverhës intredha hag intentys dhe'm gweles arta, ha dell veu êsy lowr gansa pellscrifa descrevyans ahanaf ha'n carr dhe dheg pendra warn ugans may hallen vy martesen tremena dredha. Scant ny wrug vy relêsya an frodn adermyn. Hag i'n prës-na, th'esa an creswas ow talhedna cûgh an carr heb codha ves erna wrug vy bonkya in y lagas, dorn cledh.
Me a wodhya convedhes nag o an bednfordh tyller salow, ha trailya aberth i'n fordhow scoch. Ober cales o hedna heb mappa, rag yth esa peryl a gafos fordh amêthva ha drehedhes in poll heyjy pò garth mergh, ha my heb perthy strech a'n par-na, hag ow cresy yn scon pana wocky o ladra an carr. A ny vedha an cowrvil gwer-ma gedyans glew dhe'm trouvya der oll Scotlond? Mar y'n gassen ha mos wàr dreys, dyskeverys via va in bohes our ha my scant arâg i'n resegva.
Kyns oll, res porres o dos bys i'n fordhow pelha dhyworth tus. Me a's cafas heb caletter, ow tos ha lewyas ryb is-awan ow resek bys i'n dowr brâs, ha hedhes in glyn aberveth ha brynyow serth i'm kerhyn, ha fordh kepar hag alwheth corkyn wàr an eyl pedn, owth ascendya bys in culva. Obma ny wrug vy metya gans den vëth, mès hùmbrynkys en vy re bell dhe'n north, ytho me a drailyas sherp dhe'n ÿst wàr hager-fordh idn ha dos wàr an dyweth dhe hens horn dewblek brâs. I'n pellder awoles me a welas ken valy ledan ha tyby my dhe drouvya tavern dygoweth dresto par hap, rag an nos. Ogas lebmyn an gordhuwher, my o uthyk gwag, rag na wrug vy debry tra vëth warlergh hawnsel, saw dyw dorthen yn unsel, pernys dhywar gert pebor.
I'n very prës-na me a glôwas son i'n ebron, ha lô! ot an airen dyowlak, ow neyja isel, hanter-ugans mildir ader dro a'n soth, hag ow tos uskys in nes.
Fur lowr en vy dhe remembra fatell esen in danjer tydn an airen hedre ven wàr wûn ôpyn, ha nag esa chauns vëth dhybm ma's drehedhes goskes a dhel i'n valy. My êth an vre wàr nans mar uskys avell luhesen las, ha screwya ow fedn adhedro, bÿth pàn ve dhe beryllya, rag meras orth an jyn melygys. A verr speyss y teuth vy dhe fordh inter ke losow, ow skydnya in glyn down o trehys dre neb gover. Ena th'esa darn a goos tew may whrug vy lehe ow thoth.
Desempys agledh me a glôwas corn ow longya dhe garr aral, ha convedhes gans euth dell esa copel a beulyow yet dhyraga vy poran, ha fordh pryva ow tos dredha bys i'n carrhens. Ow horn vy a roncas in ewn angùs, mès re holergh. Me a frodnas yn nerthek, saw th'esen vy owth herdhya re grev in rag, hag otta carr aragof hag ow slynkya dhybm adreus. Neb secùnd moy, hag y fia gwreck wordhy a'n jowl. Me a wrug an udn pëth o possybyl, ha resek sqwat aberth i'n ke adhyhow, ow trestya neptra vedhel dhe vos dresto.
Assa veu camgemeryans. Ow harr a slyppyas maner amanyn der an ke, nena trebuchya dyflas ha codha wàr rag. Heb dowt vëth a'n sewyans ow tos, me a savas scav wàr an eseth, ha'm porpos o labma dhe ves. Saw scorren spern a'm knoukyas wàr ow brèst, ow lyftya hag ow sensy, hag oll an olcan ker, udn tona pò moy, êth ha slynkya in dadnof, ow terlebmel in udn lesca yn frâs, ena droppya pymthek troos'hës bys in tervans ha torrva wàr wely an strem.
***
Yn lent, an spern a'm gasas dhe wary. Wostallath yth esen vy ow sedhy wàr an ke, ena pòr glor wàr dhelyowek a lynas. Pàn veuv vy lavuryes bys in sav, dorn a'm gemeras er ow bregh, ha lev kescolodnek ha cler y own a wovydnas mars en vy golies.
Me a gafas dell esen vy ow meras orth den yonk ha hir, gwyskys in lagatoryon ha côta Ùlster a lether, hag ev ow carma bednath wàr y ena hag ow cryhias dyharasow. Dhe'm part vy, pàn veu an anal dewhelys, th'en vy pës dâ, moy ès ken brës. Fordh pòr wyw o hy a vos ryddys a'n carr.
"My dhe vlâmya, sera," my a worthebys. "Lùck dâ na wrug vy addya denladhans dhe'm rol a wrÿth fol. Hèm yw dyweth dhe'm tro vôtor dre Scotlond. Bos dyweth dhe'm bêwnans y halsa."
Ev a dednas euryor in mes ha'y examnya. "Why yw ewn sort a was," yn medh. "Yma dhybm pymthek mynysen heb devar, ha nyns yw ow chy ma's dyw vynysen pell. Me a vydn dha wysca ha dha vaga ha dha worra cles dhe'n gwely. Ple ma dha hernes, ytho? Usy va i'n streth gans an carr warbarth?
"I'm pocket yma," yn medhaf, ow qwevya scubylen dens. "Den Gwlasva ov vy, ow viajya dyfardel.
"Den Gwlasva," ev a grias. "Re'm fay, why yw an very den dell esen vy ow pesy wàr bedn dêwlin. Ow'why, par hap benegys, scodhyor a'n Kenwerth Frank?"
"Ov," yn medhaf, heb tybyans vëth pandr'o y styr.
Ev a ros what dhybm wàr scoodh ha'm kemeres dh'y garr in udn fystena. Wosa teyr mynysen ny a wrug hedhy arâg penty tedna godn, attês y syght ha desedhys inter gwëdh pin, hag ev a'm gedyas aberveth. Ev a'm hùmbroncas dhe jambour wostallath ha tôwlel hanter-dewdhek a'y sewtys dhyragof, ha'm sewt ow honen sqwerdys oll dhe gloutys. Me a wrug dôwys onen lows a saya blou, ha dyffrans hewel teg orth ow dyllas kyns, ha benthygya gùdhùgen lyn. Ena ev a'm gelwys dhe'n gynyowva, mayth esa remenant a brës wàr an bord, ha nôtya bos dhybm pymp mynysen rag debry. "Why yll gorra croust i'gas pocket, ha ny ow tebry soper pàn dheffen ny arta. Res yw dhybm bos in Hel an Masons eth eur, pòken yn harow y fydn ow mainor crîbya an blew warna vy."
Me a gemeras hanaf a goffy ha nebes hàm yêyn, hag ev sevys wàr strayl an olas, ow whedhla prest.
"Kefys oma genowgh in deray an jowl, Mêster –; hag in gwir, ny leversowgh dha hanow. Twisdon? Yw Tommy Twisdon, cothwas i'n Rejyment Try Ugans, gàs goos martesen? Nag yw? Wèl, an Ombrofyor Lybral ov vy dhe'n randir-ma, hag y feu cùntellyans gwaitys haneth in Brattleburn – hòn yw an chif-tre dhybm, ha cadarnla iffarnak dhe'n Torys. Arayes yw dell dheffa Crumpleton, an pedn-venyster kyns i'n wlasva – why a wor, ha côwsel haneth abarth dhybmo, hag argemydnys yw yn freth hag yn fen, ha trustrum settys der oll an tyller. Dohajëdh me a recêvas pellscrif dhort an vylen, fatell eus anwesva warnodho in Blackpool, hag otta vy gesys dhe wil an hôll-dra yn tygoweth. Whensys en vy dhe gôwsel deg mynysen ha res dhybm lebmyn a bêsya dewgans, ha kynth esen vy owth omdormentya dres try our rag desmygy nampyth, ny allama durya mar bell, dowt vëth. Now y tal dhywgh bos gwas dâ ha ry gweres. Scodhyor owgh a'n Kenwerth Frank ha why yll leverel dh'agan tus dell yw an Dyffres-Trad mothow brâs dre bùb gwlasva. Pollat gwlasva yw helavar yn teg, kenyver onen – unweyth a pen avy! Y fedhama sensys dhywgh rag nefra."
Scant nyns eus tybyans vëth dhèm ow tùchya an Kenwerth Frank, dhodho abarth pò wàr y bydn, saw ny wodhyen vy chauns aral a gafos ow forpos. An den jentyl yonk-ma o meur re lenkys in y galetter heb merkya dell o fest coynt, govyn orth den ùncoth, neb a fyllys scantlowr a verwel namnygen, hag a gollas carr mil gyny, arethya in y le in cùntellyans, knack desempys. Saw nyns esa an otham ow codhevel dhèm predery a goyntys vëth, na dôwys pyw a rolla gweres dhybm.
"Assentys," yn medhaf. "Kyn nag ov vy arethor dâ, me a vydn adro dhe Austrâlya derivas nebes ha tabm."
Gans an geryow-ma govyjyon oll an osow a neyjas dhywar y dhywscoth, ha meur y rassow ha lowena. Ev a lendyas côta lewyas brâs – ha bythqweth ny dheuth ev bys i'n qwestyon prag y whrug vy dallath in tro vôtor heb côta gwyw – hag ev ow tevera fethyow sempel y istory personek i'm scovornow pàn esen ny ow slynkya an fordhow podnek ahës. Omdhevas o va, ha'y norter orth y ôwnter – ankevys yw hanow an ôwnter dhybm, saw th'esa i'n Cabynet, ha'y arethyow dhe redya i'n paperyow nowodhow. Ev êth oll adro dhe'n bÿs wosa gorfedna in Kergraunt, ha'y ôwnter ow cùssulya entra dhe'n wlasegeth rag na'n jeva soodh. Dell hevel, nyns o an eyl party gwell ganso ès y gela. "Pollattys dâ in pùbonen a'n dhew," yn medh, jolyf y lev, "ha showr a dhrog-wesyon inwedh. Lybral ov vy, dre rêson ow theylu dhe vos Whyg pùpprës." Saw kynth o va mygyl i'n bolytygieth, crev y teuth y vreus orth taclow erel. Ev a dhyskeveras my dhe wodhvos tabm dâ ow tùchya mergh, ha gerya tavas leun a'n resoryon i'n Derby; ha lies y dowlen rag gwellhe y sethorieth wodn. Oll warbarth, den pòr lân hag onest o va, ha leugh glëb.
Pàn esen ny ow passya der dre vian, dew greswas a sînas rag may whrellen ny sevel, ha gwil dh'aga lugern shînya warnan.
"Gwrewgh gava, Syr Harry," yn medh onen. "Deskys on ny dhe whelas certan carr, ha'n descrevyans hevelep dh'agas carr why."
"Pòr dhâ," yn medh ow ost, ha my owth aswon grâss dhe Dhuw a'n vaner fel mayth en vy drÿs in sawder. A'y wosa ny wrug ev côwsel na felha, rag y breder dhe lavurya lebmyn in dadn y areth a dheu. Th'esa y vin prest ow seny croffal, ow qwandra th'esa y lagasow, ha me a dhalathas ombarusy rag nessa meschauns. Me a sarchyas nampyth a allen leverel dhe'm part avy, mès ow brës o mar sëgh avell men. Desempys y feun ny hedhys dhyrag daras in strêt, hag yth esa tus jentyl, roscolm dh'aga gwysk, orth agan wolcùbma gans meur a dros.
Th'esa pymp cans i'n hel, nes lowr – benenes dre vrâs, lower pedn mol, ha tus yonk ugans anedha. An caderyor, menyster codna-gwydn eglos ha dewfrik rudh ganso, a wrug drem drefen nag esa Crumpleton ena, omgôwsel a'y anwesva yn trâmatek, ha testa a'm govys dell en vy "hùmbrynkyas lel a'n breusyow Austrâlyan". Th'esa dew greswas orth an daras, hag esperans dhybm anjy dhe verkya an dùstunyans-ma. Ena Syr Harry a dhalathas.
Bythqweth ny glôwys vy tra gepar. Cabm na wodhya ev gwil areth vëth. Yth esa covnôtyans ganso, bùshel brâs, dhe redya anodhans in mes, ha bÿth pàn wrella ev dyberth ortans ev a godhas in stlevyans hir. I'n eyl prës ev a remembra neb lavar deskys dre gov, composa y geyn, ha'y dheclarya in gis Henry Irving, hag in y gela th'o va plegys dobyl rag whyrny mes a'y scrifow. Euvereth uthyk o pùptra kefrës. Ev a wrug mencyon a'n "godros Alman", ha leverel hedna dhe vos desmyk Tory rag kemeres gwiryow dhyworth bohosogyon dre hyg, ha rag lettya liv brâs an gwellheans socyal, saw yth esa "an lavur kesunyansek" orth y gonvedhes hag ow wherthyn an Torys dhe scorn. Whensys o va dhe lehe agan Morlu in prov a'gan fëdh dâ, ha danvon gwarnyans godrosus dhe Jermany, fatl'o res dhedhy gwil an keth hedna poken y fydnen ny cronkya yn tydn. Ev a lavaras dell vedha an Vreten Veur ha Jermany, adar an Torys, gonesyjy warbarth in cres ha gwellheans. Me a berthy cov a'n lyvryn du i'm pocket! Cothmans Scudder, ass o brâs gà bern wor'tu ha gwellheans in cres!
Bytegyns, y areth a veu dâ genef neb fordh goynt. Th'esa whecter an den ow tewynya hewel in mes adrëv an teyl mayth o va peskys ganso. I'n kettermyn, begh poos a veu drehevys dhywar ow freder. Nyns en vy arethor marthys, saw milweyth gwell ages Syr Harry.
Me a sowenys dâ lowr pàn dheuth ow thro vy. Me a dherivys myns esa i'm cov ow tùchya Austrâlya, ha pesy i'm pedn na ve Austrâlyan vëth i'n tyller – pùptra a'n party lavur i'n wlas hag a dhyvroans dy hag a'n servys ûnyversal ena. Ankevys veu gwil mencyon a'n Kenwerth Frank, saw me a lavaras nag esa Tory vëth in Austrâlya, nagonen ma's Lavur ha Lybrals. Rag hedna y sonas hùrê yn uhel, ha my a wrug aga dyfuna yn teg i'n prës may talethys declarya pana negys spladn a ylly an Empîr bos dhe'm breus mars esen ny ow qwil agan gwelha ehen.
Oll warbarth, ow areth a's teva spêda lowr. Saw gans an menyster nyns en vy dâ màn, ha pàn worras hebma vôta grassys in rag, ev a wrug henwel areth Syr Harry "fur ha doth" ha leverel fatell veu dhe'm areth vy "frethter an mainor dyvroa".
Pàn esen ny i'n carr arta, gwyls o spyrys ow ost wosa collenwel an oberen. "Areth vryntyn, Twisdon," yn medh. "Now, why a wrewgh dos tre gena vy. Dygoweth oma, ha mar mydnowgh godrega nebes dedhyow me a wra profya spâss dhe byskessa adhevîs."
Ny a dhebras soper tobm – ha my whensys dhodho yn fen – ena ny a wrug eva gròg i'n stevel megy, rom brâs ha lowenek ha tan predn ow crackya cosel ino. Dell hevelly dhybm, an very prës may hallen vy gorra ow cartednow dhe'n bord o devedhys. Me a wely in lagas an den-ma y vos a'n sort may hyllyth gorra trest.
"Golsow, Syr Harry," yn medhaf. "Ma genam tra lowr y bris dhe leverel dhys. Gwas dâ osta, ha me a vydn côwsel dhe blebmyk. A ble whrusta cafos an folneth venymus a wrussys arethya haneth?"
Y fâss êth in coodh. "O mar dhrog dhana?" a wovydnas, meur y edrega. "Tanow lowr y sonas hy dhe wir. Me a gafas an brâssa radn anedhy mes a'n Progressive Magazine ha pamflettys usy an mainor benegys ow ry dhybm heb hedhy. Saw sur ny gresyth Jermany nefra dhe werrya orta ny?"
"Gwra an qwestyon-na wosa whegh seythen, ha ny vëdh otham vëth a worthyp," yn medhaf. "Mar tedh hag attendya udn hanter-our, my a vydn derivas whedhel."
Th'esof ow qweles an rom bryght-na whath, ha'n pednow carow ha'n pryntys coth wàr an fosow, ha Syr Harry sevys fyslak wàr amal men an olas, ha my a'm groweth in chair medhel, ow côwsel. Dell hevelly, neb den aral en vy, ow sevel adenewen, ow coslowes ow lev ow honen, ow prusy gwirionsys ow whedhel gans rach. Th'esen vy ow terivas kensa treveth an gwir poran, kebmys dell wodhyen y gonvedhes, hag y feu sawyans teg dhybm, rag an dra dhe dhos compes i'm brës. Ny wrug vy plynchya màn. Ev a glôwas oll adro dhe Scudder, ha'n lethor, ha'n lyvryk cov, ha'm gwrÿth in Gallowey. Pòr frobmys o va wharê, hag ow kerdhes strayl an olas arta hag arta.
"Ytho dell welyth," me a fynsyas, "yma genes i'th chy an den usy an creslu ow whelas rag an moldrans in Portland Place. Dûta yw danvon dha garr rag dry an creslu ha'm dascor. Dowtys ov vy nag allama scappya pell. Y wher hager-wall, ha my gans collel i'm asow udn our warlergh an dhalhen. Byttele, th'yw dûta dhis, dell os dynasyth uvel dhe'n laha. Kyns pedn mis martesen y fëdh drog genes, saw nyns eus chêson vëth a bredery hedna."
Th'esa ev ow meras orta vy, glew ha sur y lagasow. "Pandr'o dha soodh in Rôdêsya, Mêster Hannay?" ev a wovydnas.
"Injynor bal," yn medhaf. "Me a gùntellas ow radn heb gowegneth, ha meur plesour i'n gwrians."
"Nyns yw galwans a'n par-na onen dhe wadnhe colonecter, certan."
Me a wharthas. "Ogh, tùchyng hebma, ow holon yw crev lowr." Me a gemeras colhan helgh a'y sensor wàr an fos, ha gwil prat coth an Mashôna ha'y thôwlel ha'y hachya i'm min. Ma otham a nebes colon stordy worth hedna.
Th'esa va ow meras orta vy gans minwharth. "Nyns eus whans a brov dhybm. Asen gocky ov vy wàr arethva martesen, mès arvrusy den a worama heb mar. Nyns osta moldror vëth na fol naneyl, ha my ow cresy te dhe leverel an gwir. Me a vydn dha scodhya. Now, pëth a allama gwil?"
"Kensa tra, me a'th pës a screfa lyther dhe'th ôwnter. Res yw dhybm omdava gans tus an Governans nepprës kyns an 15ves mis Efen."
Ev a dednas wàr y vinvlew. "Ny wra gweres màn. Hèm yw negys an Sodhva Dramor, ha nyns usy ow ôwnter maglys i'n mater. Dres hedna, ny wreth y berswâdya nefra. Nâ, me a vydn mos pelha whath. Me a vydn screfa dhe'n Scrivynyas Parhus i'n Sodhva Dramor. Ow thas besyth yw ev, hag onen a'n gwelha i'n bÿs. Pandr'yw dha whans?"
Esedhys veuva orth tâbel rag screfa warlergh ow dythyans. An ascorn anodho: mar pëdh den cries Twisdon (gwell dhybm glena orth an hanow-na) ow tysqwedhes kyns ès an 15ves Efen, y tal y dhyghtya yn cuv. Dell wrug ev screfa, Twisdon a vedha prevy y bona fides dre'n passêr "Men Du" ha dre whybana 'Annie Laurie'.
"Pòr dhâ," yn medh Syr Harry. "Otta gis fytty. Hanow ow thas besyth, ha my ow cows anodho, yw Syr Walter Bullivant, ha ty a wra y gafos in y benty powdir, tregys ena rag Pencast. Yma ogas dhe Artinswell ryb Dowr Kennet. Gorfednys. Now, pandr'yw an nessa tra?"
"Te yw a'n keth hirder dell ov vy. Gwra lendya dha gotha sewt brethyn. Na fors py stoff, mars yw an colour unweyth contrary dhe'n dyllas a wrug vy dystrôwy dohajëdh. Ena dysqwa mappa a'n vro ha gwra styrya dhybm fâss an pow. Yn tewetha, mar teu an creswas ha'm sarchya, na wra ma's showya an carr i'n glyn. Mar teu an parcel aral, gwra derivas my dhe gemeres train uskys dhe'n soth wosa dha gùntellyans."
Ev a wrug gwil, pò dedhewy, oll an taclow-ma. Me a drohas an remenant a'm minvlew, ha crambla ajy dhe sewt auncyent a'n stoff yw henwys kemysk grug, dell gresaf. Th'esa an mappa ow ry neb nôcyon a'm omgelgh, ha'n dhew dra eus whans anedha – ple hyller jùnya orth an chif-hens horn dhe'n soth ha pana randiryow esa moyha gwyls in ogas.
Dhe dhyw eur ev a'm dyfunas mes a gùsk in chair medhel an stevel megy, ha'm hùmbroncas, plynchys ow lagasow, aberth i'n nos tewl ha sterednek. Ev a gafas dywros coth in crow toulys ha'y dascor dhybm.
"Kensa tro adhyhow, ryb an coos sab wàr vàn," ev a'm charjyas. "Kyns terry an jëdh ty a vëdh in mesk an brynyow. Ena gwra dehesy an dhywros in neb kenegen ha mos kerdhes dres an gonyow. Te yll passya seythen intra bugeleth, ha bos in sawder kepar ha pàn vesta in Gyny Nowyth."
Me a wrug trosella wàr hensy grow meneth ha serth, yn tywysyk in bàn, erna veu an ebron gwadn hy duder orth myttyn. Pàn êth an nywl kescar dhyrag an howl, th'esen vy in bÿs gwer ha cowrek, ha glyn ow codha a bùb tu, ha gorwel glas i'n pellder. Obma, wàr neb cor, y fedha nowodhow a'm eskerens dhe gafos abrës.
CHAPTRA 5
AVENTUR A'N OBERWAS FORDH HA SPECTACLYS GANSO
Me a sedhas wàr very crib an gulva ha reckna stock ha savla.
Wàr ow lergh th'esa an fordh owth ascendya dre fâls i'n brynyow, o glyn gwartha dhe neb ryver a vry. Arâg yth esa spâss gwastas a udn vildir martesen, oll leun a bollow kenegen ha garow y dosow, ha'n fordh ow codha dresto in ken glyn serth wàr nans, dhe blain mayth êth y dhysclerder glas tedhys bys i'n pellder. Agledh hag adyhow th'esa breow gwer, rownd aga scodhow ha mar leven avell crampeth, mès dhe'n soth – hèn yw, agledh – th'esa golok got a vrynyow uhel ha grugek, ha my ow perthy cov aga bos an colm brâs a veneth a wrug vy dôwys in sentry. Th'esen vy wàr neb both cres dhe bow uheldir efan, hag ow qweles pùptra esa in gway dres lies mildir. I'n buthynyow iselha ès an fordh, hanter-mildir wàr ow lergh, yth esa chymbla neb penty ow megy, heb sin vëth a vêwnans denyl marnas hedna. Th'esa garm an kernwhyly yn udnyk, ha tynkyal a woverow bian.
Yth o seyth eur lebmyn, nes lowr, ha pàn esen vy whath ow tarya my a wrug unweyth arta clôwes an keth pols-na, drog y dhargan, i'n ebron. Desempys y feu convedhys dhybm dell ylly ow flâss a brow bos maglen wir. I'n tyleryow gwer ha mol-na, nyns esa covva dhe bedn paly kyn fe.
Esedhys en vy, heb gwaya, heb govenek, ha'n polsans ow tevy. Nena me a wrug aspia airen ow tos mes a'n ÿst. Th'esa hobma neyjys uhel, mès droppyes lower cans troos'hës hedre ven vy ow meras orty, ha hy ow tallath kelhy adro dhe'n colm a veneth, kelgh culha pùb tro, kepar ha pàn ve falhun owth omdrailya kyns ès codha wàr bray. Lebmyn th'esa hy ow neyja pòr isel, ha'n aspior inhy a'm merkyas. My a welas an dhew dhen i'n airen, dell esens y ow qwil examnyans ahanaf dre dhewweder.
Yn sodyn an airen a dhalathas eskyna in troyllyow uskys, ha scon yth esa hy ow fysky arta dhe'n ÿst, bys may feu hy spot munys in glas an myttyn.
Constrînys en vy i'n tor'-ma dhe bredery yn fen. Ow eskerens a'm trouvyas, ha cordon adro dhybm a vëdh an nessa stap. Ny wodhyen vy pygebmys tus esa i'ga danjer, saw me o certan y fedhens y lowr. Aspies veu ow dywros gans an airen, ytho y fydnens y tyby my dhe scappya an fordh ahës. Dhana me a'n bo chauns whath wàr an hal adhyhow pò agledh par hap. Me a herdhyas an dhywros cans lath dhywar an fordh, ha'y thôwlel in toll mûs aberveth, may whrug hy sedhy inter dowrles ha pawyow bran an dowr. Ena me a wrug ascendya wàr dolgh mayth esa golok i'n dhew valy aberveth. Nyns esa tra vëth in gwayans wàr an ryban gwydn hir ow qwia dredha.
My re dherivys nag esa goskes i'n hol dyller rag cudha udn logosen in fo. An hal o leun a wolow clor ha fresk, ha'n jëdh owth avauncya, bys mayth esa howlecter saworek dhedhy kepar ha'n glasweltir Soth-Afrycan. Dâ via an tyller genam in ken termyn, saw i'n eur-ma th'esa va, dell hevelly, orth ow thaga vy. An wûn frank o fosow an pryson, hag air lybm an brynyow o anal an dhorgell.
Me a wrug tôwlel bath – pedn adhyhow, kil agledh – hag y codhas pedn, ytho me a drailyas dhe'n north. A verr speyss my a dheuth dhe dâl crib, o fos scodhya dhe'n gulva. Me a wely an bednfordh dres deg mildir martesen, ha pell warnedhy th'esa neppyth ow qwaya, ha hèn o carr tan, dhe'm desef. Dres an grib me a vera wàr wûn las hag efan, ow codha in glydnow cosak dhe ves.
Now, ow bêwnans wàr an glasweltir a ros dhybm lagasow scowl, ha my ow qweles taclow may ma otham dhe'n moyha tus a weder aspia ... Wàr an leder dhyraga vy, dyw vildir ader dro, th'esa nebes tus owth avauncya kepar ha beaters in udn rew orth helgh godn ...
Me a skydnyas mes a wel adrëv lînen an ebron. An fordh-na o degës wàr ow fydn, ha res o prevy an brâssa brynyow a'n soth dres an bednfordh. Th'esa an carr a verkys vy kyns ow nes'he, saw pell o va whath, ha nebes ledrasow pòr serth aragtho. Me a bonyas scav, ow plattya yn isel, marnas i'n cowyow, hag in dadn bonya th'esen vy ow lagata orth tâl an vre dhyragof. Esa tarosvan pedn dhybm, pò esen vy ow qweles fygùrs – onen, dew, pò moy – ow qwaya in glyn in hans dhe'n gover?
Mars os kerhydnys a bùb tu in neb splat a dir, nyns eus ma's udn chauns a dhiank. Res yw gortos i'n splat, ha gasa dha eskerens dh'y whythra heb dha gafos. Hèn o fara fur, saw fatell yllyn vy, mar pleg, mos mes a wel in tyller kepar ha lien bord? Parys vien vy dhe encledhyas ow honen in lis bys i'n codna pò dhe wrowedha in dadn dhowr pò dhe grambla i'n uhella gwedhen. Saw nyns esa predn vëth a wëdh, an pollow kersek o lagednow bian, an gover o sygerans tanow. Nyns esa tra vëth ma's grug cot, ha fydny an vre vol, ha'n bednfordh wydn.
***
Nena in pleg munys a fordh, ryb crug a veyn, me a gafas oberwas an fordh.
Ev o nowyth devedhys, hag yth esa va ow tôwlel y vorthol dhe'n dor yn sqwith. Ev a wrug meras orta vy, skeusus y lagas, ha dianowy.
"Melygys re bo'n jedh rugam gara'n bugel'ans!" yn medh, kepar ha pàn ve va ow côwsel orth oll an bÿs. "Kens thom mester i'n lavur vy. Lebben my ew kethwas dhe'n Governans, stegys ort amal an vor, ha lagajow cloav dhebm, ha keyn vell crobman."
Ev a gemeras an morthol, gweskel neb men, gasa an toul dhe godha ha cùssyans ganso, ha gorra y dhêwla dhe'n scovornow. "Roy mercy dhebm! Ma'n pedn o'tardha!" ev a grias.
Fygùr gwyls o va, an keth hës ha my, nes lowr, mès meur stubmys y geyn, seythen a varv wàr an elgeth, ha spectaclys brâs a gorn wàr y fâss.
"Ny ellama wil," ev a grias arta. "Gas an Arwhythror dhe notya'm fowt. Ma otham a'n gwely dhebm."
Me a wovydnas pandr'o an trobel, fest apert kyn fe.
"An trobel ew dr'erom i'n omvedhowy. Newer ow merh Merran a veu demedhys, hag anjei o'tauncya bys peder eur myttyn. Thera me ha nebes gwesyon erel agan eseth hag o'th eva, hag otta vy obma! Der rugam spia'n gwin pan o va rudh, ass ew dieth broas!"
Unverhës en vy ganso, tùchyng an gwely.
"Esy ew cows," ev a groffolas. "Bes my rug gawas carten bost de'ndrow, ha hei o'lawl Arwhythror nowyth an for'ow dhe vysytya hedhyw vyttyn. E ra dos heb throv'a vy, poken e ra throv'a vy mes a'm rowl, ha war neb cor thom den dys'res. My vedn mos dhe'n gwely ha lawl nag oma salow, bes ma dout na vo gweres dhebm, rag anjei dhe'm gweles vy ha'n anyehes a'm sort kefres."
Ena y teuth awen dhe'm brës. "Os aswonys dhe'n Arwhythror nowyth?" me a wovydnas.
"Na, cabmen veth. Nynj ujy e mas udn seythen i'n soodh. Ma va o'resek adro in carr bian, ha whensys dhe wovyn an very perveth mes a wihen mow."
"Ple ma dha drigva?" me a wovydnas, ha'y vës andyblans a dhysqwedhas dhybm an penty ryb an gover.
"Wèl, dhe'th wely arta," yn medhaf, "ha cùsk in cres. Me a vydn kemeres dha whel rag tro, ha metya gans an Arwhythror."
Ev a wrug meras orta vy heb convedhes. Nena, may talathas an towl egery in y vrës ancombrys, y fâss êth howlek i'n minwharth gwag longus dhe'n pedn medhow.
"Ass ow'whei pollat da," ev a grias. "Esy lowr vedh y wil. My re worfednas an crug a veyn-na, tho nynj eus otham terry muy kens hanter-dedh. Kemerow' an grava, ha drei meyn lowr, mes a'n mengledh war'n vor dres ena, rag gorra ken crug vorow. Alexander Turnbull ew hanow vy, seyth bledhen i'n greft, hag ugans kens a vugel'a, reb Dower Leithen. Thujy cothmans o'th henwel vy Ecky, traweyth'ow Specky, rag ow spectaclys, ha por wadn an wolok vy. Gwrewgh cows ort an Arwhythror yn jentyl, ha crei e Syr, ha fedh e plesys teg. My vedn dos arta, hanter-dedh sur."
Me a wrug benthygya y spectaclys ha'y hot mostys plos; dysky côta, crispows, gùdhùgen, ha ry dhodho rag don dh'y benty; benthygya, inwedh, y stùbba dyflas a bib pry dhe'm taclow gwaryva. Heb whetha y gorn, ev a dhysqwedhas poyntys sempel a'm ober ha dallath adroos dh'y wely. Gwely y gosten kyn fe, th'esa nampyth in goles a votel kefrës, dell dybyn. Me a besy wàr Dhuw y fedha ev mes a wel kyns ès ow hothmans vy dhe dhos i'n fram.
I'n tor'-ma th'esen vy ow qwil oll rag omwysca dhe'm rol gwary. Me a wrug egery ow cris orth an gùdhùk – blou ha gwydn o va, comen-checker, dyllas aradror y gis – ha dyscudha codna mar howlys avell kenyver gwycor a'n fordhow. Me a rolyas ow brehellow, hag otta ragvregh wyw dhe neb ferror, gell ha garow in dadn greythednow coth. Me a wrug gwydna ow botas ha berrow an lavrak gans doust an fordh, ha kelmy an stoff in bàn dre gorden orth an dhêwlin. Ena me a dhalathas chaunjya ow vysach. Gans dornas a dhoust me a wrug dowrnos adro dhe'm codna, le nag esa Mêster Turnbull in y wolgh Sul ow mos dresto, pùb lycklod. Me a rùttyas cals a vost i'n howl-losk wàr ow bohow kefrës. Lagasow oberwas yw nebes faclys pùpprës, ytho me a ros tùch a bodn dhe'n dhew, ha gwil effeth molys dre rùttyans crev.
An breghtanow provies gans Syr Harry a veu gyllys gans ow hôta, saw th'esa croust an oberwas fardellys in coverchyf rudh ha parys dhe'm servys. Me a dhebras, brâs ow blas, lower tregh tew a scons ha keus, hag eva nebes a'n tê yêyn. I'n coverchyf yth esa paper nowodhow a'n vro, kelmys gans corden ha danvenys dhe "Mêster Turnbull" in solas dh'y bowes hanter-dëdh, dell o apert. Me a wrug trùssa an fardel arta, ha desedha an paper rybof yn hewel.
Nyns en vy contentys a'm botas, mès dre bôtya mesk an veyn me a spêdyas bejeth men growyn warnodhans, arweth dell yw ûsys orth skyjyow an oberwas. Ena me a wrug densel pùb ewyn ow besias erna veu aga fedn trogh ha dygompes. Sur ny vydna an dus settys wàr ow fydn hepcor merkya manylyon vëth. Me a dorras onen a'n lâcys ha daskelmy yn cledhek, ha lowsya an aral, may fe an lodrow loos ha tew ow whedhy dres an gwartha. Whath nyns esa sin vëth a neptra wàr an fordh. Res o an carr, a welys vy hanter-our alebma, dhe vos gyllys tre.
Cowlwrÿs veu ombarusyans, ha me a gemeras an grava ros ha dallath viajya inter a'm tyller ha'n mengledh cans lath in kerdh.
Th'esof ow perthy cov a fordhor coth in Rôdêsya, a wrug lies tra goynt in y vêwnans, hag ev ow leverel dhybm udn jëdh an art kevrînek a soweny in neb rol, dell yw hedna leun-dyby teythy an rol der oll an brës. Nefra ny yllyth y ventêna, yn medh, mar ny wreth perswâdya dha honen y bosta an very person. Ytho me a dhegea pùb preder ken ha trailya oll ow brës dhe fordhow ha'ga mendya. Me a dhesmygy fatl'yw an penty gwydn bian ow olas vy, me a remembra an bledhydnyow a vugelyans ryb Dowr Leithen, me a wre dhe'm preder chersya cùsk in gwely box ha botel iselbris a wyras Alban. Ha whath ny dhysqwedhas tra vëth wàr an fordh wydn hir.
Traweythyow th'esa davas ow qwandra dhywar an grug rag lagata orta vy. Kerhyth a londyas flop wàr boll i'n gover ha dallath pyskessa, heb attendya moy ès dell ven vy men mildir. Ha me a bêsya, ow rolya an behow a veyn, ha'm kerdh o stappys poos longus dhe'n den galwansek. My êth tobm yn scon, ha'n doust wàr ow fâss a veu chaunjys dhe rowyn fast ha glenus. Solabrës yth esen vy ow nyvera an ourys erna wrella gordhuwher gorra finweth dhe lavuryans undon Mêster Turnbull.
Desempys y feu lev cras dhywar an fordh, ha pàn dherevys vy ow golok me a welas carr Ford bian a dhyw eseth, ha den yonk, rownd y vysach, ha hot cales crèn ganso.
"Os Alexander Turnbull?" ev a wovydnas. "My yw Arwhythror nowyth Fordhow an Conteth. Tregys esos in Blackhopefoot, hag yma an radn inter Laidlawbyres ha'n Riggs in dha jarj? Wèl! Hës mynsek yw hedna, Turnbull, ha byldyes crev lowr. Nebes medhel udn vildir alebma, ha dhe'n emlow yma otham a'ga glanhe. Gwra dyghtya. Myttyn dâ. Ha my aswonys dhys lebmyn kyns an nessa tro."
Cler, ow thùllwysk o dâ lowr dhe dhecêvya an Arwhythror, awos brawagh brâs anodho. Me a bêsyas ow whel, ha pàn esa myttyn ow tevy dhe hanter-dëdh ow cher a veu gwellhës gans daromres uvel. Carven an pebor a dheuth dres tâl an vre, hag ev ow qwertha dhybm sagh a desednow jynjyber cales, ha my ow corra in pockettys ow lavrak rag gorotham. Ena bugel a dremenas gans deves, ha gwil nebes anês warna vy pàn wovydnas yn uhel, "Ple ma Specky dhan?"
"I'n gwely ha'n drog torr warnodho," me a worthebys, ha'n bugel ow tremena in rag ...
Orth very hanter-dëdh y teuth carr brâs ow scolkya an vre tro ha my, ow slynkya drestof, hag ow sevel cans lath abell. An tredden ino a skydnyas kepar ha pàn vednons y istyna an garrow, ha kerdhes dhybm yn lent.
Dew a'n dus-ma me a welas kyns, dre fenester an tavern Gallowey – onen tanow, sherp, tewl; an aral attês ha minwharth wàr y vejeth. Dhe'n tressa th'esa syght a drevesyk – milvedhek, martesen, pò tiak tir bian. Gwyskys o va in lavrak lows pednglin, gwadn-drehys, ha'y wolok o mar vryght ha mar war avell lagas an yar.
"Myttyn dâ," yn medh an dewetha-ma. "Ass eus whel brav hag êsy dhys."
Ny wrug vy derevel ow fedn orth aga devedhyans, ha lebmyn, mayth esens y ow côwsel, me a wrug composa ow heyn yn lent hag yn tydn, warlergh maner an oberwesyon; trewa yn fen, warlergh maner fest genesyk i'n Iseldiryow Alban; ha meras ortans yn stark kyns gortheby. Trailys yth o lagasow tergweyth dew warna vy, na nyns êns y fyllys a verkya tra vëth.
"Ma lacka whel, ha ma ober gwell," yn medhaf yn solempna. "Gwell via dhebm gas whel whei, esedhys oll an jedh war gas tin ha war gas pluvak. Whei ha'gas kerry broas, mown'jei o'terry'm for'ow vy! Mara pe dhe nei an peth yw gan gwir, fia res dhe whei mendya gas myshew gas honen."
Th'esa an den bryght y vejeth ow meras orth an paper nowodhow desedhys ryb fardel Turnbull.
"Dell welam, th'esta ow recêva dha baperyow abrës," yn medh.
Me a dôwlys wolok warnodho yn lows. "Ea, abres defrei. Anjei rug pryntya an paper-na de Sadorn d'wetha, tho nynj oma holerth mas wheddyth."
Ev a'n kemeras, ry golok got dhe'n drigva screfys warnodho, ha gorra arta dhe'n dor. Th'esa onen a'n re erel ow meras orth ow botas, ha ger i'n Almaynek ow kelwel an cowsor dh'aga gweles.
"Yma breus dhâ dhys a votas," yn medh. "Cabm na veu an re-ma gwrÿs gans keryor a'n vro."
"Na vowns," yn medhaf iredy. "Fown'jei gwres in Loundres. Kefys dhort an den jentyl, esa obma warleny rag an hel'godn. Now pandr'o'n hanow ev?" Ha me a wrug cravas ow fedn yn tygof.
Unweyth arta an den smoth a gowsas i'n Almaynek. "Deun wàr rag," yn medh. "An gwas yw gwiryon lowr."
Anjy a worras udn dewetha qwestyon.
"A welsta nebonen ow tremena myttyn avarr? Wàr dhywros martesen, pò adroos."
Namna godhys vy sqwat i'n vaglen, ow terivas fatell êth dywrosyas drestof in golow loos orth terry an jëdh. Saw fur veuv vy, hag aspia an peryl. Me a fâcyas ombredery pòr dhown.
"Ny rugam savel a'm gwely varr," yn medhaf. "Gor now, ow merh veu demedhys newer, ha nei oll wor'kyffewy bys holerth. My rug egery daras an chei dhe seyth eur ha nynj era den veth war'n vor i'n pres-na. Woja my dhe dhos obma in man, ny veu mas an pebor ha'n bugel a Ruchill, ha whei tus jentyl."
Onen a ros dhybm cygar, a wrug vy sawory dewfrik dour ha gorra in fardel Turnbull. Eskynys vowns y dh'aga harr, ha mes a wel in teyr mynysen.
Ow holon a labmas, scafhës yn frâs, saw me a bêsyas rolya an veyn. Ha hèn o dhâ, rag an carr a dheuth arta wosa deg mynysen, hag onen a'y dus ow qwevya dhybm. An gwelhevyn-na, nyns esa tra vëth gesys gansa dhe jauns.
Me a fynsyas an bara keus, ha fynsya a verr speyss an veyn inwedh. An nessa stap o desmyk du. Ny yllyn vy durya in whel êwna an fordh-ma termyn hir. Duw truedhek a wrug gwetha Mêster Turnbull aberth in y benty, mès y fedha trobel mar mydna va dysqwedhes. Certan lowr en vy an cordon dell o stroth adro dhe'n glyn whath, ha my dhe vetya apposyoryon mars ellen vy ha kerdhes neb qwartron. Saw scappya o res porres. Coraj den vëth ny yll sùffra aspians moy ès udn jëdh.
Me a wortas i'm tyller bys pymp eur ader dro. I'n termyn-na my a wrug ervira mos dhe benty Turnbull wàr nans, inter dew wolow, ha kemeres chauns a dremena dres an brynyow i'n tewlder. Saw desempys y teuth ken carr an fordh ahës, ha lent'he aragof nebes lathow. Sordyes o gwyns clor, ha'n lewyor whensys dhe dùchya cygaryk.
Carr touryas o hebma, ha'n delergh leun a fardellow kemyskys. An udn den esedhys ino – dre verkyl ev o aswonys dhybm. Marmaduke Jopley o an hanow, ha despît teg o ev dhe wrians oll an bÿs. Sort a mainor lynaja o va, ha'y negys o fecla pùb kensa mab, pùb arlùth yonk ha rych, pùb benyn goth ha fol. "Marmie" o fygùr menowgh, dell wodhyen, in gwariow dauns, seythednow pôlô, mansyons an powdir. Drog-tavasek sley o va, abyl dhe slynkya mildir wàr y dorr bys in pùbonen mayth esa bryntynsys pò neb mylyon. Pàn dheuth vy dhe Loundres, comendyans negys a'm beu dhe vetya ganso, hag ev a veu cortes lowr ha govyn orta vy kynyewel in y glùb. I'n tyller-na ev a wrug bobauns boll, ow padera adro dh'y dhùchesow, erna dhros y snobuster whejans i'm briansen. Me a wovydnas orth ken onen a'y wosa, prag na wrella den vëth y bôtya bonk, ha'n gorthyp dhybm – pùpprës y fydn an Sowson ry revrons dhe'n gwadnha reydh.
Wàr neb cor, otta va lebmyn, fin y dhyllas, spladn y garr nowyth, hag ev ow mos, dell o apert, dhe vysytya re a'y gothmans mar vrav. Folneth sodyn a'm sêsyas, ha dyson me a labmas i'n delergh aberveth ha settya dalhen in y scoodh.
"Lowena dhis, Jopley," me a grias jolyf. "Metyes yn tâ, sos!" Ev a gemeras scruth uthyk. Y elgeth êth in coodh hag ev ow meras orta vy stag. "Pyw an jowl os tejy?" ev a lavaras, in udn dhiena.
"Hannay yw ow hanow vy," yn medhaf. "Den Rôdêsya, a nyns eus cov?"
"Duw benegys, an moldror!" yn medh ev, tegys y lev.
"Ewn poran. Ha moldrys a vëdh nessa onen, ow melder, mar ny wreth dell vydnama pesy. Roy dhybm dha gôta-na. Ha'n cappa kefrës."
Ev a wrug dell erhys, awos euth dh'y sensy oll. Me a wyscas y gôta lewyas brav, ha'm lavrak plos ha cris checker in dadno. Th'esa dhe'n côta botodnow bys in y dop, ytho an fowt a wùdhùgen o cudhys. Me a settyas an cappa wàr ow fedn, ha keworra manegow dhe'm aparell. Transformys veu an oberwas podnek in udn pols dhe dhen a'n lewyoryon moyha kempen in oll Scotlond. Wàr bedn Mêster Jopley me a settyas hot grysyl Turnbull, ha dyfen orto gorra dhe ves.
Ena, ha nebes caletter ino, me a drailyas an carr. Ow forpos o dewheles wàr an fordh may teuth ev solabrës: rag an aspioryon a wrug y weles kyns, ytho dre lycklod ny vydnens y lettya gàn tremen, na nyns o fygùr Marmie ha my hevelep màn.
"Now, a flogh wheg," yn medhaf. "Gwra sedha qwiet teg ha bos maw dâ. Nyns eus whans vëth dhybm a'th shyndya. Ny vydnama ma's benthygya dha garr, udn our pò dew. Saw mar mynta gwil prattys, pò egery dha vin kyns oll, gorra tro a wrama dhe'th codna jy. Savez?"
Plesour a veu lewyas gordhuwher teg. Ny a wrug resek eth mildir an valy in nans, dre dreveglos ena, hag ena, ha ny yllyn vy bos heb merkya tus coynt aga semlant ow crowdra ryb an fordh. An re-ma o an aspioryon, ha gansans y fia lowr dhe leverel orta vy mar teffen ha mos in gwysk aral pò in ken company. An dra dell o, th'esens y ow meras orthyn, bohes aga bern. Nebonen a wrug tava y gappa in salusans, ha me a worthebys gans grâss.
Th'esa an tewlwolow ow tos pàn wrug vy trailya in glyn adenewen, a lêdya aberveth in neb cornel dhybobel a'n brynyow, dell esen vy ow perthy cov a'n mappa. Gesys veu an treveglosyow yn scon wàr ow lergh, gesys pùb bargen tir, gesys an pentiow ryb an fordh kefrës. Wharê ny a dheuth dhe hal wag mayth ylly an nos duhe an howlsedhas ha'y dewydnow i'n pollow kersek. Obma ny a savas, ha me a wrug gorthtrailya an carr yn hegar ha dascor dhe Vêster Jopley oll y bëth.
"Gromercy milweyth," yn medhaf. "Moy dhe les osta ages dell dybys. Now kê in kerdh ha cafos an creslu."
Pàn esen vy a'm eseth wàr an run, ow meras dell esa lugern kil an carr ow lehe, my a ylly consydra an lies par a drespasseth a wrug vy sampla solabrës. Contrary dhe'n vreus kebmyn, nyns en vy moldror, mès my a veu gowek ansans, faitour dyveth, ha lader fordh gans tast merkys dhe gerry ker.
CHAPTRA 6
AVENTUR A'N HENDYSCANSYTH MOL
Me a wrug passya an nos in plâss gwastas wàr an run, in goskes bùlien vrâs mayth esa an grug ow tevy hir ha medhel. Campya, th'o yêyn an negys-na, rag nyns esa dhybm na côta na crispows. Yth esa an re-na gans Mêster Turnbull, ha lyvryn Scudder kefrës, ha'm euryor ha – lacka oll – ow fib ha'm pors backa. Nyns esa genef ma's ow mona i'm grugys, hag ogas ha hanter-pens a desednow cales jynjyber in pocket ow lavrak.
Me a dhebras soper a hanter a'n tesednow, ha dre gramyas dhe'n grug down ajy me a gafas tomder a neb ehen. Ow spyrys êth scaffa, ha my ow kemeres delît kyn fe i'n gwary toll cudh mad-ma. Bys lebmyn y feu dhybm lùck marthys teg. An lethor, an tavernor lienak, Syr Harry, an oberwas, ha Marmie gocky, th'êns y oll darn a fortyn dâ heb ken. Neb fordh, th'esen vy owth omsensy my dhe soweny, drefen an kensa spêda, i'n hol dra.
An chif-trobel o dell en vy pòr nownek gwag. Bÿth pàn wrella Yêdhow omladha y honen i'n Cyta, dre dedn godn, ha'n cùrunor ow qwil whythrans, ûsadow an paperyow nowodhow yw derivas an den tremenys dhe vos "dâ y bask". Remembrys dell yw genef, yth esen ow predery na vensens y ow cria vy dâ y bask mars ella ow gwarr terrys in toll kenegen. A'm groweth yth esen owth omdormentya – rag ny wrug an tesednow jynjyber ma's poosleva gloos an gwacter – dre berthy cov a bùb poynt a vytel dâ na wrug vy estêmya in Loundres kyns. Intredhans oll, selsyk cras Paddock ha raskyon saworek a vacken, hag oyow pôchys ha sêmly – ass wren gà dysprêsya yn fenowgh! Ha'n golythyon esens y ow parusy i'n clùb, ha certan mordhos settys wàr an bord yêyn, ha tebel-ewl anedhy wàr ow ena. Yth esa ow freder neyjys dres pùb sort a voos mab den, ha my ow tôwys wàr an dyweth stêk chy porter ha qwart a goref wherow, ha keus pebys a'y wosa. In yêwnadow a'n tybmyn dainty-ma heb govenek, me a godhas dhe gùsk.
Me a dhufunas pòr yêyn, pòr dhywethyn i'm mellow, udn our pò ogas wosa terry an jëdh. Yn syger y teuth cov pleth esen vy, rag my dhe vos sqwith ha dhe gùsca yn town. Kensa oll, me a welas an ebron laswydn dre roos rug, yn nessa scoodh vrâs a vre, yn tressa ow botas ow honen gorrys glanyth in bùsh lus. Me a wrug omdherevel wàr ow dywvregh ha meras i'n valy in nans, ha'n udn wolok-ma o chêson lowr a lâcya an botas, ha men muscok ow hast.
Rag yth esa tredden awoles, le ès qwartron mildir dhyworta vy, dysplewys kepar ha gwynsel wàr an run, hag ow qweskel an grug. Marmie a gemeras dial warnaf heb hockyans vëth.
Me a gramyas mes a'm plâss gwastas bys in goskes bùlien brâs, ha drehedhes dhianedhy in cledh bas esa ow ledry bejeth an meneth in bàn. Hebma a'm lêdyas wharê dhe wolans cul neb streth, may whrug vy crambla bys in top an grib. Mes a'n tyller-na me a veras wàr dhelergh, ha gweles na veuv vy dyskeverys na whath. Yth esa an helhysy ow sarchya dres an run heb fystena hag ow qwaya wàr vàn.
Me a'm gwetha adrëv lînen an ebron ha ponya hanter-mildir ader dro, bys may feuv vy, dhe'm breus, a-ugh pedn awartha an glyn. Ena me a dhysqwedhas ow honen, ha dyson y teuth vy merkys gans onen a'n dus adenewen, hag ev ow passya ger dhe'n re erel. Me a glôwas criow awoles ow seny in bàn, ha gweles an sarchyoryon dhe jaunjya gà heveryans. Me a wrug wis a gildedna dres lînen an ebron, saw in le a hedna my êth ha dewheles an fordh mayth êth vy kyns, hag in speyss ugans mynysen yth esen vy adrëv an grib, hag ow meras dres ow flâss cùsca. Dhe'm plegadow me a spias mes a'n wologva-na fatell esa an helgh ow frosa an vre a-ugh an glyn in bàn, wàr olow fâls yn tien.
Aragof yth esa lower qwartron a yllyn vy mos, ha me a dhôwysas crib orth elyn dhe'n grib mayth esen vy in tor'-ma, rag may fe glyn down settys intra my ha'm eskerens yn scon. An omassayans a wrug tobma ow goos, ha my ow kemeres joy a'n very brâssa in oll an dra. Me a dhebry in udn gerdhes, hawnsel a'n remenant poltrus a'n tesednow jynjyber.
Ny wodhyen vy ma's nebes bian adro dhe'n powdir, ha nyns esa tybyans vëth dhybm a'n pëth a vydnen vy gwil. Trest a'm bo dhe grefter ow garrow, saw th'o convedhys pòr dhâ fatell esa an re wàr ow lergh certan owth aswon fâss an pow, ha'm nycyta tell o pràl poos. Me a wely dhyragof keynvor a vrynyow, ow trehevel pòr uhel a'n soth, mès wor'tu ha'n north ow terry dhe gribednow efan, ha nansow ledan bas intredha. Th'esa an grib a dhôwys ow sedhy, apert, wosa mildir pò dew bys in hal a'y groweth kepar ha pocket i'n uheldir. Hòn o qwartron maga tâ avell pùb aral, dell hevelly.
Ow injyn a dhros nebes bleynyans – ugans mynysen martesen – hag y feu les udn glyn adrëv dhybm kyns ès my dhe aspia pedn an kensa helhysy. An creslu a somonas skians a'n vro dh'aga socour, hèn o cler, ha wàr an dus i'm syght yth esa semlant a vugeleth pò gwethysy gam. Anjy a wrug garma pàn y'm gwelsons y, ha my ow qwevya leuv. Dew a herdhyas aberth i'n glyn ha dallath ascendya wàr ow crib, ha'n erel ow remainya a'ga farth aga honen. Th'esa argraf dhybm a gemeres radn in neb gwary scovarnak ha keun mes a'm dedhyow scol.
Saw pòr scon y talathas bos gwary heb drog dhe le. An wesyon-ma wàr ow lergh o tus crev ha wàr gà splat gà honen. Pàn wrug vy meras wàr dhelergh, me a welas nag esa ma's try ow sewya yn tydro, ha me a wrug desmygy an re erel dell ethons y in kelgh rag contraweytya orthyf. Fowt a wodhvos a'n vro, y hylly hedna bos dyswrians dhybm, hag ervirys veuv vy diank a'n vagel a glydnow bys i'n pocket a hal aspies genam a'n badnow in mes. Encressya pellder o res porres, rag scappya an helgh, ha my abyl dhe wil hedna, dell hevelly, mar kyllyn vy cafos leur compes. Mar pe unweyth prysk goskes, me a vensa assaya scolkya nebes, saw wàr an ledrow noth-ma y fia kelyonen dhe weles mildir abell. Hirder ow garrow ha salowder ow anal, re bowns y oll ow govenek, mès yth esa otham a dir êsya, ha my heb bos menedhor. Merhyk Afrycânor, ass o yêwnes dhybm a onen dâ!
Me a herdhyas nerthek brâs in rag ha skydnya dhia'm crib ha wàr an hal in nans, kyns ès fygùr vëth dhe dhysqwedhes wàr lînen an ebron adhelergh. Me a dremenas dres streth, ha drehedhes pednfordh in culva inter glydnow. Dhyraga vy nyns esa ma's park efan a rug ow ledry dhe grib in bàn, ha cùrun goynt a wëdh awartha, kepar ha pluv. I'n vanken ryb an fordh yth esa yet, ha trûlergh a laswels ow lêdya dhyworto, an kensa todn a wûn adreus.
Me a labmas dres an vanken ha sewya an trûlergh, ha'n gwels wosa nebes cans lath a wrug cessya – peskytter mayth ellons y mes a wel a nebonen wàr an bednfordh – ha bos sodynly fordh pòr dhâ, gwethys gans rach dell o apert. Heb dhowt yth esa ow mos dhe neb chy, ha my ow tyby mos dy kefrës. Bys lebmyn th'esa ow fortyn heb fyllel, ha'm gwelha chauns owth omgafos i'n drigva bell-ma par hap. Wàr neb cor yth esa gwëdh in hy herhyn, ha'ga styr o covva wyw.
Ny wrug vy mos an fordh, mès kerdhes ryb an streth orth tenewen an fordh adhyhow, mayth esa an reden ow tevy down ha'n gladnow ow provia skew a valew. Ha maner dhâ o hodna in gwir, rag kettel veuv vy i'n cow, ena me a dôwlys golok wàr dhelergh ha gweles an helgh devedhys dhe'n grib awartha, may whrug vy skydnya namnygen.
Wosa hedna ny vydnen vy meras wàr dhelergh namoy; nyns esa termyn lowr. Me a bonyas tenewen an streth ahës, ha cramyas der an tyleryow ôpyn, ha kerdhes radn vrâs i'n gover y honen. Me a drouvyas penty forsâkys, ha deys towargh tarosvanus in udn rew, ha lowarth overdevys. Ena th'esen vy in mesk gora yonk, ow tos pòr scon in amal dor plynsys a sabwëdh stubmys gans an gwyns. Ena in mes, me a spias chymblys an chy, esa ow megy, nebes cans lath agledh. Me a wrug dyberth orth tenewen an streth, tremena dres banken aral, ha dos pòr sodyn wàr lesyn garow. Golok got dhelergh a wrug afydhya nag esen vy a wel dhe'n helgh màn, hag ev heb passya kensa tolgh an wûn na whath.
An glesyn o tyller garow fest, trehys gans fylgh dhorn adar jyn falhas, ha plynsys gans blejyowegow a rugros prysclowek. Dew gulyak du, nag yw ÿdhyn kebmyn in lowarth, a wrug derevel dhe'n air pàn dheuth vy nes. An chy dhyragof o chy tiak dell yw ûsys wàr an wûn, hag askel meur hy fâssow addys dhodho, ha lim gwydn hy fosow. Stegys wàr an askel-ma th'esa veranda gweder, hag aspies dre'n gweder y feu bejeth den jentyl ha coth, ow meras orthyf yn whar.
Me a gerdhas, mar dhydros dell yllyn, dres an or a rabmen bre hag entra dhe dharas egerys an veranda. Th'esa rom plesont ajy, gweder a'n eyl tu, ha showr a lyvrow a'y gela. Yth esa lyvrow dhe aspia kefrës in ken rom moy aberveth. Wàr an leur th'esa câssys, adar mosow, a'n par yw dhe weles in hendrajy, leun a vathow ha toulys coynt a ven.
Th'esa desk toll dêwlin in cres an rom, ha'n den jentyl coth ha hegar esedhys orto, ha'y scrifow ha'y gevrolyow egerys aragtho. Bejeth an den o rownd ha lenter, kepar ha Mêster Pickwick, spectaclys brâs settys fast wàr vleyn y dhewfrik, ha top y bedn o mar vryght ha mar vol avell botel weder. Ny wayas ev màn ha my owth entra, mès ev a wrug derevel y abransow clor ha gortos erna wrellen vy côwsel.
Ober cales o derivas orth estren, ha scant pymp mynysen dh'y wil, pyw en vy ha pëth esa whans dhybm, ha gwainya y socour. Ny wrug vy assaya. Th'esa neppyth in lagas an den dhyragof, neppyth mar lew ha leun a wodhvos, ma na gefys ger vëth. Ny wrug vy ma's meras stag orto ha stlevy.
"Ow fystena th'esowgh, dell hevel, a gothman," yn medh ev yn lent.
Gans ow fedn me a sînas tro ha'n fenester. Th'esa hy ow ry golok dres an wûn dre aswy i'n dor plynsys, ha dysqwedhes certan fygùrs hanter-mildir dhyworta ny, ow lavurya der an grug.
"Hâ, convedhys," yn medh, ha kemeres dewweder aspia, mayth esa va ow whythra an fygùrs dredha dour.
"Foesyk dhort jùstys, th'yw apert. Wèl, ny a vydn apposya pàn vo termyn frank. I'n tor'-ma, pryvetter terrys gans creslu cledhek an pow, th'yw ow breus wàr y bydn. Kewgh i'm rom studhya, may whrewgh gweles dew dharas adâl. Kemerowgh an daras agledh ha degea wàr agas lergh. Ena why a vëdh salow teg."
Ha dewhelys dh'y bluven a veu an den dres kynda-ma.
My a wrug dell o erhys, ha cafos ow honen in rômyk tewl idn, ha smyllyng a gemygyon ino, heb golow marnas fenester vunys hag uhel i'n fos. An daras a lescas clyck wàr ow lergh kepar ha daras cofyr saw. Me a gefys sentry heb y wetyas unweyth arta.
Byttele, nyns en vy attês. Th'esa neppyth i'n den jentyl coth-ma owth ancombra hag ow corra euth. Re barys ha heforth a veuva, ogas kepar ha pàn ve worth ow gortos. Hag y lagasow o sley, uthyk sley.
Ny dheuth dhybm son vëth i'n tyller tewl-na. Kebmys dell wodhyen, th'esa an creslu ow sarchya der oll an chy, ha pàn wrêns y defry, sur y fedha whans godhvos pandr'esa adrëv an daras-ma. My a strîvyas gwetha rêwl i'm enef dre berthyans, hag ankevy dell en vy mar wag.
Nena y teuth gwell cher. Scant ny ylly an den jentyl coth naha prës boos, ha me ow tallath desmygy hawnsel dhybm arta. Backen hag oyow, anjy a vëdh terry nown, ha my ow tesîrya an brâssa radn a hanter-hogh, ha hanter-cans oy gensy warbarth. Hag i'n very tecken mayth esa dhe'm ganow devera govenek, y sonas clyck, ha'n daras owth egery.
Me a dheuth dhe wolow howl in mes ha cafos mêster an chy a'y eseth in cader vrehek dhown i'n stevel henwys y rom studhya, hag ow meras orta vy gans golok a wovyn.
"Yns y departyes?" yn medhaf.
"Departyes yns y. My a's perswâdyas why dhe vos tremenys dres an bryn. Ny dhôwysaf an creslu dhe dhos inter my hag onen esof owth enora gans delît. Myttyn a fortyn dâ yw hebma dhywgh, Mêster Richard Hannay."
Pàn esa va ow côwsel, crohen y dhewlagas a wrug crena, dell hevelly, ha codha nebes dres y lagasow loos ha glew. Wàr nùk, y teuth lavaren Scudder dhybm arta i'n pedn, hag ev ow tescrefa den mayth esa an moyha scruth anodho in oll an bÿs. Scudder a lavaras fatell wodhya an den-na "gwil cûgh dh'y lagasow kepar ha falhun." Ha my ow convedhes i'n very prës-na y bosama kerdhys strait poran in caslÿs an envy.
Ow hensa desmygyans, taga an vylen coth veu hedna, ha scappya dhe'n air ôpyn. Oll gwaitys o an porpos-na, dell wodhyen, rag ev dhe vinwherthyn clor, ha sîna gans y bedn dhe'n daras wàr ow lergh.
My a wrug omdrailya, ha gweles dew servont, ha pùbonen ow sensy pystol orta vy.
Ow hanow a'n jeva in gwir, mès bythqweth ny vetyas ev genama kyns. Ha pàn dheuth an preder-ma ha gwibya dre'm brës, my a wrug aspia chauns tanow.
"Ny worama pandr'yw gàs styr," yn medhaf in lev brathus. "Prag y'm criowgh Richard Hannay? Ainslie yw ow hanow vy."
"Wèl?" yn medh, ha minwherthyn whath. "Yma dhywgh henwyn erel heb mar. Na wren ny strif a neb hanow."
Th'esen vy ow dascùntell ow honen solabrës, ha predery na vedhen vy betrayes der ow gwysk wàr neb cor, heb còta vëth na crispows na gùdhùgen. Me a gemeras ow fâss moyha crothak, ha derevel scodhow.
"Why a vydn ow dascor wosa pùptra, a wrewgh? Drog-cast yw hedna, hyg ha fâlsury. Re'n jowl, aspia an carr tan melygys, unweyth na wrellen vy hedna! Ot an mona! Mollath Duw warnowgh!" Ha me a wrug dehesy peswar sovran wàr an bord.
Ev a egoras y lagasow myjyn. "Ogh nâ, ny vadnaf agas dascor. My ha'm cothmans, ny a wra gwil acord pryva bian genowgh, hèn yw oll. Why a wor nebes re, Mêster Hannay. Why yw onen codnek dhe blain an gwary, heb bos codnek lowr."
Th'esa va ow côwsel gans omfydhyans, saw me a welas dalathfos a dhowt in y vrës.
"Ogh, abarth Duw, sevowgh orth gerya," me a grias. "Yma pùptra wàr ow fydn. Ny'm beu poynt vëth a fortyn abàn wrugama londya in Leith. Pana dhrog yll bos, mar mydn den anfusyk, gwag y dorr, cawas bohes vona in carr tan trogh? Ny wrug vy ma's hedna'n udnyk, ha rag hedna th'en vy treddyth tormentys gans creswesyon a'n pla dres brynyow a'n pla. Gwalgh leun a'm beus. Gwrewgh, a welhevyn, dell yw plesour dhywgh! Ned Ainslie, ny vydn ev omlath na whath."
Dell welys, yth esa an dowt ow tevy.
"A wrewgh derivas dhybm, mar pleg, agas gwrians agensow?" ev a wovydnas.
"A vêster, ny allama màn," yn medhaf, ha kynyans gwyw dhe'n begger i'm lev. "Ny wrug vy debry tabm vëth na hedhyw na de. Rewgh dhèm ganowas a vytel, ha why a glôw an gwir, Duw in test."
Res o my dhe dhysqwedhes ow gwacter i'm fâss, rag ev a sînas dhe onen a'n dus dhyrag an daras. Darn a basty yêyn a veu drÿs dhybm, ha gwedren a goref, ha me a's loncas kepar ha porhel – poken kepar ha Ned Ainslie, rag my dhe ventêna ow gnas. In cres a'm croust, adhesempys, ev a gowsas orthyf i'n Almaynek, mès me a drailyas orto mir marow avell fos meyn.
Ena me a dherivys ow story – fatell wrug vy londya mes a worhal in Leith, devedhys dhia Arhangelsk, nans o seythen, ha mos fordh dres tir dhe'm broder in Wigtown. Scant veu ow mona – me a hyntyas yn tyscler tro ha gwary medhow – ha my in esow lowr pàn dheuth vy warbydn toll i'n ke losow, ha meras dredho hag aspia carr tan brâs a'y wroweth i'n streth. Me a whythras orto nebes, rag desky an pëth a wharva, ha cafos try sovran wàr an eseth hag onen moy wàr an leur. Nyns esa den vëth ena, na sin vëth a'n perhen, ytho me a gemeras an bathow dhe'm pocket. Saw neb fordh an laha a'm aswonys. Pàn wrug vy whelas chaunjya sovran in shoppa pobas, an venyn êth ha gelwel an creslu, ha nebes a'y wosa, pàn esen vy ow colhy an bejeth in ken streth, namna veuv vy crefys, na ny veuma dienkys ma's dre forsâkya côta ha crispows.
"Me a ro an mona dh'anjei arta," me a grias, "rag scantlowr ny veu prow dhybmo vy. Beghya an vohosogyon, dhe'n dus pedrys-na th'yw gà nas. Now, mêster, mar pew'why onen a gafas peswar pens, ny venja den vëth gàs trobla."
"Gowleverel, why a'n gyll yn tâ, Hannay," yn medh.
My êth in codnar. "Dyweth dh'agas foly, mollath Duw! Ainslie yw ow hanow, heb martesen, na ny wrugama clôwes hanow Hannay in oll ow dedhyow vy. Gwell via dhybm an creslu avellow'why ha'gas Hannay ha'gas prattys sym a bystol ... Nâ, mêster, gevowgh dhèm, hedna ny vydnen vy leverel. Sensys ov vy dhywgh a'n vytel, ha gromercy mar y'm gesowgh dhe wary ha'n helgh gyllys in kerdh."
Dell o apert, th'esa penpleth poos warnodho. Bythqweth ny vetyas ev genama, dell wodhes, ha'm semlant chaunjys sur dhyworth a'm skeusednow yn frâs, mars esa onen gans ev. Brav lowr en vy ha gwyskys fin in Loundres; lebmyn th'en vy gwyll gwir.
"Ny vadnaf agas gasa dhe wary. Mars owgh an den a leverowgh why, spâss a'gas bÿdh yn scon rag afydhya gàs gwiryonsys. Mars owgh an den may cresaf vy gàs bos, dowtys oma na wellowgh an golow nefra namoy."
Ev a wrug seny clogh, ha tressa servont a dhysqwedhas mes a'n veranda.
"Dro an Lanchester wosa pymp mynysen," yn medh. "Y fëdh tredden orth prës ly."
Nena ev a veras orta vy stark ha hir – hèn o an prov moyha cales oll.
Th'esa neppyth ùncoth ha dyowlak i'n dhewlagas-na, yêyn, spîtys, dres natur, ha sley yn iffarnak. Th'esens y orth ow huda kepar ha lagasow an sarf. Iny brâs a'm kemeras dhe besy y vercy ha dhe brofya omjùnya wàr y barth. Ha mar tedh ha consydra fatl'en vy porposys fast der oll an negys, ty a wel dell resa an iny dhe vos tra fysycal yn tien, gwacter empydnyon mesmeryes hag in dadn vêstry creffa spyrys. Saw me a wrug perthy dredhy neb fordh ha gwenwherthyn kefrës.
"Ha my aswonys dhywgh, a vêster, kyns an nessa tro," yn medhaf.
"Karl," ev a gowsas i'n Almaynek orth onen a'n dus dhyrag an daras, "ty gorr an pollat-ma i'n withva erna dheffen vy arta, ha te a vëdh in dadn ow danjer rag y wardya."
Anjy a'm hùmbroncas mes a'n stevel heb strech, ha dew bystol dhe'm dywscovarn.
***
An withva o rom glebor y gnas, i'n radn a'n tyller o chy an tiak kyns. Nyns esa ledn wàr an leur dygompes, na tra vëth dhe sedha warnodho saw form scol goth yn unsel. Yth o tewl dall, rag pùb fenester dhe vos cudhys gans keas stroth. Me a wrug dyskevera in udn balvala fatell esa boxys ha ballyers ha seghyer a neb stoff poos sevys an fosow ahës. Th'esa fler a gewny ha bal sqwattyes der oll an tyller. Ow jailers a drailyas an alwheth i'n daras, ha my ow clôwes an wethysy wàr ves dre stankyans a'ga threys.
Me a sedhas i'n tewlder yêyn-ma, ha pòr vorethek ow cher. An den coth o gyllys i'n carr rag kemeres an dhew smat a wrug omwel genama de. Now, anjy a'm gwelas in rol an oberwas, hag y fedhens y ow perthy cov ahanaf, rag my dhe vos gwyskys i'n keth dyllas. Prag yth esa oberwas ugans mildir mes a'y dyller, ha helghyes gans an creslu? Wosa qwestyon pò dew anjy a vedha very nes dhe'n gwir. Dre lycklod, metys gans Mêster Turnbull a vowns y i'n mên-termyn; gans Marmie kefrës; pùb lycklod y fedhens y ow tesmygy an gevren intredhof ha Syr Harry, nena an hôll-dra a vedha mar gler avell gwrys. Py chauns a'm bo in chy an wûn-ma gans try vylen ha'ga servons ervys?
Th'esen vy ow predery a'n creslu gans hireth solabrës, hag anjy ow trôsya lebmyn dres an brynyow in helgh a'm tarosvan. Dhe'n lyha anjy o kestrevesygyon ha tus onest, hag y fedha aga dyghtyans cuffa ages an estrenyon vedhrosus-ma. Saw ny vensens y gwil vry a'm whedhel. An tebel-gothwas ha'y hager-grohen dhewlagas a ryddyas y honen anedha scon lowr. Dell hevelly dhybm, yth esa brîbyans i'n constableth, pùb lycklod. An den a'n jeva lytherow screfys gans menystrys an Cabynet, pòr wirhaval, ow ry kenyver comodyta rag plottya warbydn an Vreten Veur. Gis ûla, a'n very par-na th'yw omdhon a'gan gwlasegeth i'n Pow Coth.
An tredden a vydna dos tre rag lîvya, aga thry, ytho ny vedhen vy ow cortos moy ès dew our. Gortos dyswrians, rag na yllyn vy desmygy scappyans a'n drog-vyshyf-ma. A pe dhybm unweyth coraj Scudder! Rag franchys a'm beus dhe amyttya nag esen vy ow cafos colonecter meur. An udn dra esa ow kenertha, hèn o only y bosama serrys brâs. Th'esa codnar vryjys inof, ha my ow predery an try aspiyas dell gafsons y poynt a brow orta vy. Wèl, re biv ow corra tro in codna wàr onen anedha kyns ès anjy dhe'm ladha!
Dhe voy me a bredery, dhe voy me a veu woud, ha res o dhybm sevel in bàn ha kerdhes der an plâss. Me a brovas an keasow, mès anjy o a'n sort yw degës gans alwheth, ha ny yllyn aga gwaya. Avês yth esa clùckyans clor a yer i'n howl tobm. Ena me a wrug tava in mesk oll an seghyer ha'n boxys. Ny yllyn egery an boxys, ha'n seghyer o leun, dell hevelly, a daclow par ha byskyttys ky ha sawor a ganel dhedha. Saw i'm viaj adro dhe'n rom me a drouvyas dornla wàr an fos, ha hedna wordhy a whythrans, dell dybys.
Daras amary fos o va – sort a gùbert cries press in Scotlond – ha degës in dadn alwheth. Me a'n shakyas, ha hedorr o va, martesen. Heb gwell tra dhe wil, me a settyas nell wàr an daras-na, ow cafos dalhen i'n dornla dre ûsya ow galosys in cabester. Wharê ev a dorras sqwat, hag own a'm beu an tros dhe somona ow gwethysy. Me a wortas polta, nena dallath examnya estyll an amary.
Th'esa lu a daclow coynt warnedha. Me a gafas nebes tanbrednyer in pocket ow lavrak ha rùttya golow. Dyfudhys veu wosa tecken, saw ev a wrug dysqwedhes tra a bris. Yth esa neb stock a dorchednow tredan wàr udn estyllen. Me a gemeras onen, ha cafos hy bos ow qwythresa yn tâ.
Gans an dorchen dhe'm gweres me a whythras pelha. Th'esa botellow ha câssys a stoff dyvers ha coynt y fler, kemygyon heb dhowt rag arbrovow, hag yth esa tergh a wyver cober fin, ha lies kengel a syjan tanow hag urys. Th'esa box a dardhoryon, ha cals a gorden rag fûsys. Wàr udn estyllen in hy hil dewetha me a gafas box a basbord gorm ha tew, hag ino câss predn. Me a'n egoras, yn harow, hag otta whegh bryck loos aberveth, pùbonen dyw vêsva ha dyw vêsva in pedrak.
Me a gemeras onen hag ev ow mos dhe vrows êsy i'm dorn. Ena me a brovas y smyllyng ha gorra ow thavas dhodho. A'y wosa me a sedhas rag predery. Nyns esen vy injynor bal yn euver, ha my owth aswon lentonît pàn y'n gwelys.
Gans onen a'n bryckys-ma y hyllyn vy gwil dhe'n chy tardha dhe dymynygow. Me a ûsyas an stoff-ma in Rôdêsya, ha godhvos y nerth. Saw soweth, nyns esen vy orth y wodhvos yn kewar. Ankevys veu myns an lanow ha'n fordh ewn a'y barusy, na nyns en vy sur a'n termyn ha'y recknans. Godhvos a'y nerth o dyscler kefrës, rag kyn whrug vy ûsya an stoff solabrës, th'esa va intra'm besias lebmyn dhe'n kensa tro.
Saw chauns o va, ha nyns esa ken onen vëth. Peryl meur o va, mès y gontrary o certuster du ha diambos. Mar mydnen vy ûsya an stoff, an chauns o pymp worth onen, dell recknys, y fedhen vy ow neyja sqwattys bys i'n gwëdh awartha; mès mar ny vydnen, th'esa lycklod brâs my dhe vos tregys i'n lowarth kyns gordhuwher, in toll whegh troos'hës y dhownder. Res o dhybm y gonsydra i'n very maner-na. Nyns o an dhargan ma's asper, an eyl fordh ha'y ben, saw wàr neb cor yth esa chauns, dhybmo vy ha dhe'm gwlas.
Remembra Scudder bian, y'm tros hedna dhe'm determyans. Th'o an lacka prës in oll ow bêwnans martesen, rag cas yw genef ervira taclow a'n par-na in goos yêyn. Me a rathas, bytegyns, coraj lowr warbarth rag gwasca ow dens yn tydn ha lettya an liv a dhowtys uthyk o parys dhe'm overcùmya. Me a dhegeas ow brës wàr aga fydn ha fâcya my dhe wil arbrof mar sempel avell tanow creft Guy Fawkes.
Me a gafas tardhor, ha'y staga orth dew droos'hës a fûs. Ena me a gemeras qwartron bryck lentonît, ha'y encledhyas ogas dhe'n daras in dadn onen a'n seghyer in crig i'n dor, ha fastya an tardhor ino. Scant ny wodhyen vy hanter a'n boxys-na mars êns y dynamît. Mars o contens an amary devnyth tardha a'n ehen-ma, prag na ve stoff kepar i'n boxys? Dhana y fedha neyj gloryùs i'n nev dhybmo, ha dhe'n servons Alman, ha dhe neb erow a'n pow oll adro. Th'esa peryl inwedh an tardh dhe wil tardha i'n amary dhe'n bryckys erel, rag ankevys veu dhybm radn vrâs a'n myns a wodhyen vy tùchyng lentonît. Saw tyby an possybyltys, th'o heb prow vëth. Uthyk an chauns, mès res y gemeres.
Me a settyas ow honen knack in dadn legh an fenester, ha tùchya an fûs. Ena me a wortas tecken pò try. Taw marow – nyns esa ma's drayl botas poos i'n dremenva, ha clùckyans cosel an yer i'n tomder wàr ves. Me a gomendyas ow enef dhe'm Gwrior, hag omwovyn ple fedhen vy wosa pymp secùnd.
Dell hevelly, todn veur a bothter êth herdhyes dhia'n leur in bàn, ha cregy udn pols bros i'n air. Ena an fos adâl dhybm a luhesys bys in melen owrek hag omdedha in taran a dhystrùcsyon a wrug mortholya an empydnyon in glus. Nampyth a godhas warnaf, ha cronkya ow scoodh gledh wàr hy amal.
Nena, dell gresaf, me a veu clamderys.
Res yw ow clamder dhe vos heb durya scant moy ès nebes secùndys. Th'esa sensacyon a vos tegys in mog melen ha tew, ha my ow strîvya dhe dhos mes a'n atal orth ow threys. Neb le wàr ow lergh yth esa air fresk dhe verkya. Kilbostow an fenester o dyfygys, ha'n mog ow scùllya der an sqward skethrek dhe'n hanter-dëdh a hâv in mes. Me a wrug stap dres hy fedn codhys, hag omgafos in garth, a'm sav in nywl borr wherow. Th'en vy gyllys fest clâv ha parys dhe wheja, saw me a worras an esely in gwayans, ow mos in udn drebuchya dall in rag, ha dhia'n chy in kerdh.
Th'esa shanel melyn bian ow resek in adyt predn a'n tu aral dhe'n garth, ha my ow troppya inhy. An dowr goyeyn a'm dasvêwas, ha skians lowr whath i'm pedn rag desmygy scappyans. Me a herdhyas ow honen an shanel in bàn, mesk an lis slynk, erna wrug vy drehedhes ros an velyn. Ena me a wrug gwengel dre doll an ehel aberth i'n velyn goth, ha codha wàr wely us. Higednys veu kenter orth tin ow lavrak, ha tos a gemysk grug gesys wàr ow lergh.
An velyn o sqwattys termyn hir. An skeulyow o poder dre henys, ha'n logas brâs a wrug knias tell brâs in leur an soler. Crenys clâv wheja en vy, hag yth esa ros i'm pedn ow trailya prest adro, mès ow scoodh gledh ha'm bregh gensy o, dell hevelly, paljies oll. Me a wrug meras mes a'n fenester ha gweles bos nywl whath cregys a-ugh an chy, ha mog ow tylla dre fenester avàn. A worrys vy tan i'n plâss? A mydna Duw! Rag yth esa criow sowthenys dhe glôwes a'n tu aberveth.
Saw nyns esa termyn lowr dhe darya, rag an velyn-ma dhe vos covva wadn, pòr apert. Pùb sarchyor a vydna sewya an shanel, ha certan en vy an helgh dhe dhallath kettel wrellons y cafos nag esa ow horf i'n withva. Mes a fenester aral me a welas bos clomyer coth a veyn a'y sav a'n tu pell dhe'n velyn. Mar kyllyn vy dos dy heb gasa olow, kefys vedha gwell covva martesen, rag y fedha ow eskerens, dell wren vy argya, ervirys my dhe vos scappyes dhe'n tir ôpyn, mar mydnens y cresy ow gallos gwaya, hag anjy ow sarchya nena wàr an wûn.
Me a gramyas an skeul drogh dhe'n dor, ha tôwlel usyon alês wàr ow lergh rag cudha an olow. My a's tôwlys wàr leur an velyn inwedh, ha wàr an troosow, mayth esa an daras cregys wàr vahow trogh. Me a wrug gîky mes, ha gweles bos splat meyn cauns gwag intra my ha'n clomyer, le na vedha olow dhe weles. Cudhys o va kefrës, grâss e dhe Dhuw, gans treven an velyn dhyworth pùb syght a'n chy brâs. Me a slynkyas dres an spâss, dos bys i'n clomyer dhelergh, ha whelas fordh rag crambla in bàn.
Hèn o onen a'n oberow moyha cales dell wrug vy assaya bythqweth. Yth esa ow scoodh ha'm bregh owth hùrtya yn iffarnak, ha kebmys ow whans a wheja, kebmys scafter dhe'm pedn, namna veuv vy codhys. Saw me a'n spêdyas neb maner. Dre ûsya meyn valek hag aswiow i'n menweyth ha gwredhen idhyow stordy, me a dheuth dhe'n top wàr an dyweth. Yth esa crenel bian, hag adrëv dhodho my a gafas tyller rag growedha. Ena my êth in clamder, gis coth hag êsy, wàr rag.
My a dhyfunas ha pedn genef ow facla, ha'n howl ow shînya smat wàr ow fâss. Termyn hir yth esen vy a'm groweth heb gwayans, rag an mog uthyk a wrug, dell hevelly, lowsel ow mellow, ha'm empydnyon gesys sogh. Th'esa sonyow ow tos dhybm mes a'n chy – tus ow côwsel ronk aga briansen ha môtor ow polsa in carr a'y sav. Th'esa bùlgh bian i'n crenel, may whrug vy gwengel dhedhy ha cafos neb golok dhe'n garth. My a welas fygùrs dhe dhos in mes – servont ha'y bedn lystednys, ena yonca den in lavrak pednglin. Th'esens y ow whelas nampyth, hag ow nessa tro ha'n velyn. Nena onen anodhans a wrug aspia tos an padn wàr an genter, ha cria orth an aral. Anjy êth aga dew i'n chy arta ha kerhes dew moy rag meras. Me a welas fygùr rownd ow frêdhor kyns, hag aswon kefrës an den stlav wàr y davas par hap. Me a verkyas bos pystol gansans oll.
Hanter-our yth esens y ow pylla an velyn. Me a's clôwas dell esens y owth omwheles in udn bôtya an ballyers, hag ow tedna an plankys poder in bàn. Ena anjy a dheuth in mes, ha sevel knack in dadn an clomyer, ow têry gwyls. An servont ha'n lysten ganso, th'esens y ow rebukya hedna yn fen. Me a's clôwas dell esens y ow fysla gans daras an clomyer, ha tecken uthyk my a waitya aga devedhyans avàn. Ena anjy a wrug chaunjya porpos, ha mos i'n chy arta.
Dre dhohajëdh tobm tydn, yth esen vy a'm groweth, pebys cras, wàr an to. An chif-torment o sehes. Ow thavas êth serth kepar ha gwelen, ha'n dra o lacka vëth rag my prest dhe glôwes deverans clor a dhowr yêyn mes a shanel an velyn. Th'esen vy ow meras resegva an gover bian, le mayth esa va ow tos dhywar an wûn, hag i'm desmygyans my a'n holyas bys in gwartha an glyn, mayth esa va sur ow tylla mes a benfenten pòr yêyn, ha reden ha best er in hy herhyn. Me a vensa ry mil bens rag troghya ow fâss inhy.
Golok deg a'm bo dres oll an kelgh a hal. Me a welas an carr ow fysky in kerdh gans dew vylen ino, ha den wàr geyn merhyk ow marhogeth dhe'n ÿst. Dhe'm breus, th'esens y orth ow sarchya, ha re bo dhedha sowenyans!
Saw me a welas neppyth ken, o brâssa y les. Th'esa an chy wàr hothfyans a wûn, wàr hy very topyn ogatty, neb o cùrun settys wàr sort a wastattir, ha nes ages an brynyow meur, whegh mildir pell, nyns esa uhella tyller vëth. An top y honen, dell wrug vy compla solabrës, o bodny mynsek a wëdh – sab dre vrâs, ha lower gwedhen on, lower fawen kefrës. Wàr an clomyer th'esen vy dhe'n keth level ha pedn an gwëdh, abyl dhe weles an pëth adhelergh. Nyns o an coos gwëdh oll dredho, th'o kelgh only, hag yth esa spâss hirgren ino a wels glas, fest hevelep dhe bark brâs crycket.
Desmygy pandr'o, qwyck ha scon veu hedna. Ot airenva, airenva gudh. Dôwysys o an plâss pòr sley. Rag mar mydna nebonen aspia airen ow skydnya obma, ev a gressa hy bos gyllys dres an vre in hans dhe'n gwëdh. Drefen an plâss dhe vos wàr dolgh in cres kelhenva vrâs, pùb aspior in pùb qwartron a vensa tyby an airen dhe vos passys mes a wel, adrëv an vre. Ny vensa den vëth convedhes, marnas onen pòr ogas, nag o an airen tremenys màn, mès skydnyes in cres an coos. Y halsa whythror wàr onen a'n uhella brynyow godhvos an gwir, mar pe gweder aspia ganso, saw nyns esa ma's bugeleth ow mos dy, ha bugeleth ny's teves daffar spia. Pàn wrug vy meras dhywar an clomyer, yth esen vy ow qweles lînen las i'n pellder, ha my ow codhvos hy bos an mor, hag ow serry brâs a'n preder dell ylly agan eskerens racana dowrhensy Bretednek mes a'n tour a wôlva gel-ma.
Ena me a gonsydras an chauns dell o deg worth onen my dhe vos dyskeverys mar teffa an airen arta. Ytho, growedhys oll an dohajëdh, me a yêwny devedhyans a'n tewolgow, ha pòr lowen en vy pàn sedhys an howl a-ugh an brynyow brâs i'n west, ha'n dysclerder inter dew wolow ow slynkya dres an wûn. An airen a veu holergh. An tewlwolow o avauncys dâ pàn glôwys vy polsans eskelly, ha'y aspia ow volplânya dh'y thrigva i'n coos. Th'esa lugern ow terlentry nebes termyn; ha dos-ha-mos, showr anodho, orth an chy. Ena y codhas tewlder, ha taw.
Du peg o an nos, grâss hodna dhe Dhuw. An loor o gyllys pell in hy whartron kilgans dewetha, heb drehevel bys holergh. Ow sehes o re vrâs dhe darya moy, ytho ogas dhe naw eur, kebmys dell yllyn vy reckna, me a dhalathas skydnya dhe'n dor. Ny veu êsy, ha hanter-fordh me a glôwas daras dhelergh an chy dhe egery, ha gweles dewyn lugarn wàr fos an velyn. Nebes mynysow dyflas th'esen vy ow cregy i'n idhyow ha pesy wàr Dhuw, pynag a ve den an lugarn, na wrella ev dos dhe'n clomyer nes. Ena an golow êth vansyes, ha me a dhroppyas, mar dawesek dell yllyn, dhe'n pry cales an garth.
Me a gramyas wàr ow thorr in goskes banken a veyn, bys may teuth vy in oryon an gwëdh esa adro dhe'n chy. Mar cothfen y wil, me a vensa whelas myshevya an airen, rag na alla hy neyja, saw euver a vedha pùb assay in oll lycklod, dell wrug vy convedhes. Sur lowr en vy bos neb defens dhe'n chy in y gerhyn, ytho my êth der an coos wàr ow feswar, hag ow palva pùb mêsva dour. Dâ veu hedna, rag me a dheuth warbydn gwyvren wharê, dew droos'hës a-ugh an dor. Mar pen vy trebuchys warnedhy, heb dhowt hy a wrussa dhe glogh seny i'n chy, ha my kychys teg.
Cans lath pelha, me a gafas ken gwyvren dhesedhys fel wàr vin gover bian. Dresto th'esa an hal, ha gyllys veuv vy down in reden ha grug kyns pedn pymp mynysen. A verr speyss me a bassyas dres scoodh an tolgh i'n glyn bian mayth esa shanel an velyn ow resek in mes. Deg mynysen a'y wosa, yth esa ow fâss i'n benfenten, ha my ow lenky lower pynta a'n dowr benegys.
Saw ny wrug vy powes, erna veu hanter-dewdhek mildir settys inter my ha'n drigva hager hy mollath.
CHAPTRA 7
AN PESCADOR PLUV SËGH
Me a sedhas wàr vre awartha, ha reckna stock ha savla. Lowen nyns en vy, rag an grassow naturek a'm scappyans o cudhys in dadn dhysconfort fysycal ha cloud ahas. Mog a'n lentonît a wrug posnya in gwir, hag oll an ourys a bobas tobm wàr an clomyer ny rosons y scodhyans. Th'esa drog pedn warna vy, meur y wask, ha my mar barys dhe wheja vell an gath. Ha pelha, ow scoodh o hager hy flit. Dhe'm kensa breus, ny veu moy ès brew crohen, saw th'esa hy ow whedhy, na ny yllyn vy ûsya ow bregh gledh.
Ow forpos o whelas penty Mêster Turnbull, dascafos ow dyllas, ha lyvryn Scudder spessly, ena trouvya pedn-lînen an hens horn ha mos arta dhe'n soth. Dell hevelly, dhe sconha y fydnen vy omdava gans den an Sodhva Dramor, Syr Walter Bullivant, dhe well y fedha dhyn ny oll. Ny yllyn vy, dhe'm breus, cafos moy a dùstuny ès dell esa genef solabrës. Ny resa marnas recêva pò sconya ow whedhel. Ha me a vedha, wàr neb cor, in gwell charj ganso ev ès mesk an Almanas dhyowlak-ma. Wosa oll an aventurs, th'en vy inclynyes moy caradow dhe'n creslu Bretednek.
Nos sterednek marthys clor o hy, ha my ow cafos fordh heb caletter brâs. Me a wodhya fâss an pow, deskys a vappa Syr Harry, ma nag eus otham ma's a lewyas poynt pò dew dhe'n west a soth-west rag dos dhe'n gover may whrug vy metya kyns gans an oberwas. In oll ow viajyans, bythqweth ny wodhyen hanow dhe'n tyleryow dyvers, saw in very gwir an gover-ma o ragdhowr an Tweed, dell gresaf. Me a recknas an pellder dhe vos êtek mildir ader dro, ha styr hedna o my heb gallos dos dy kyns myttyn. Ytho res o dhybm omgeles neb plâss, rag yth en vy fygùr re hager ow syght dhe vos gwelys in golow an howl. Nyns esa côta dhybm, na crispows, na gùdhùgen, na hot naneyl. Ow lavrak o drog-drogh, ha'm bejeth ha'n dhêwla o du drefen an tardh. Ken poyntys a decter a'm bo, heb dhowt, rag ow lagasow dhe vos, dhe'm clôwans, gojek gwythy fest. Oll warbarth, nyns en vy gwel gwyw màn dhe len-Gristenyon an bednfordh.
Wosa terry an jëdh, hag a speyss a'n berra, my a assayas omwolhy in streth bryn, ena prevy penty bugel, rag ewl boos dhe vos warna vy. Nyns esa an bugel i'n chy, ha'y wreg o dygoweth, heb kentrevak nes ès pymp mildir. Benyn goth vas o hy, hag onen golodnek, rag kyn kemeras hy euth pàn wrug ow gweles vy, bool o parys dh'y dorn, ha hy bolùnjedhek dh'y ûsya orth kenyver drog-oberor. Me a dherivys my dhe sùffra coodh – ny leverys pana vaner – ha hy a wrug convedhes a'm semlant y bosama clâv lowr. Kepar ha Samarytan gwir, ny worras orta vy qwestyon vëth, mès hy a ros bolla leth ha spot a wyras Alban ino, hag alowa dhybm esedha polta ryb tan an gegyn. Porposys o badhya ow scoodh, saw th'esa gloos mar dydn, ma na yllyn hy gasa dh'y thava.
Ny worama hy breus a byw en vy – lader nos, codhys in edrega, martesen. Rag pàn vydnys vy tylly an leth dhedhy ha profya sovran, o an biadnha bath esa genef, hy a shakyas hy fedn ha leverel nampyth par ha "ry dhe'n re eus gwir dhodho". Orth hebma me a brotestyas maga crev, may whrug hy cresy y bosama onest, pò bos lycklod anodho, ha hy ow kemeres an mona ha ry dhybm brithlen nowyth ha cles, ha hot coth ow longya dh'y gour. Hy a dhysqwedhas fatell wrellen vy plegya an vrithlen adro dhe'm scodhow, ha pàn êth vy ha dyberth orth an penty-ma th'en vy imach bew a'n sort a dhen Albanek esos ow qweles in lymnans dhe gânow Burns. Wàr neb cor, my o gwyskys, moy pò le.
Tra dhâ o hedna, rag an gewar dhe jaunjya kyns hanter-dëdh in glûthglaw tew. Me a gafas scovva in dadn garrek valek ryb neb streth orth y droboynt, mayth esa dryft a reden marow ow provia gwely uvel attês. I'n tyller-ma th'esen vy ow cùsca bys gordhuwher, ha my o crobmys ha myserabyl glân pàn dhyfunys, ha'm scoodh knies gans gloos haval dhe dhrog dens. Me a dhebras an desen gergh ha'n keus a ros an wreg goth, ha dallath i'm viaj unweyth arta, tùch kyns an tewlwolow.
Me a sav orth derivas ow anken der oll an nos-na mesk an brynyow glëb. Nyns esa ster may hallen vy lewyas ortans, ha res o dhybm mos gwelha gallen herwyth cov a'n mappa. Dywweyth my êth mes a'm fordh, ha my a godha in pollow towargh yn tyflas. Nyns esa dhybm ma's deg mildir, dell wra an vran hy neyj, saw ugans y feu der ow stray. An dewetha hës a veu gorfednys gans gwasca dens, ha'm pedn pòr scav ha gwadn. Saw me a wrug drehedhes dhredhy, ha knoukya orth very terry an jëdh wàr dharas Mêster Turnbull. An nywl o isel ha tew, ha dhort an penty nyns o an bednfordh dhe weles.
Mêster Turnbull y honen a wrug egery an daras – dyvedhow, ha nebes moy ès dyvedhow. Gwyskys o va kempen in sewt du, auncyent mès gwethys yn tâ; dyvarvys veuva newher, adar kyns, dowt vëth; yth esa gùdhùgen lyn ganso; hag ev ow ton Beybel pocket in y dhorn cledh. Ny'm aswonys orth an dallath.
"Pyw ow'whei, o'tos hag o'crowdra obma myttyn an Sabot?" ev a wovydnas.
Kellys veu kevrif dhybm a'n dedhyow oll. An Sabot ytho, hèn o skyla an dynyta coynt-ma.
Th'esa ow fedn frobmys gwyls, ma na yllyn formya gorthyp kesclenus. Saw ev a'm aswonys, ha gweles y bosama clâv.
"Eus ow speckys gena jy?" ev a wovydnas.
My a's kemeras in mes a bocket ow lavrak ha'ga dascor.
"Whei ew devedhys rag gas jerkyn ha'gas crispows," yn medh. "Deus obma ajei. A Dhuw, gas garrow, thow'whei plit ithyk. Gortow' erna relham kerhes chair dhe whei."
Me a wodhya convedhes fyt a gleves sêson dhe vos warna vy. Th'esa cals a fevyr i'm eskern, ha'n nos glëb a'n dros in mes. Th'esa goly an scoodh hag effeth an mog ow kesudnya kefrës rag sqwattya ow yêhes pelha whath. Adhesempys, yth esa Mêster Turnbull ow qweres orth dysky dyllas, ha'm gorra dhe'n gwely in onen a'n dhew gùbert wàr amal fos an gegyn.
Ev o, an oberwas coth-na, mâta gwiryon i'm otham. Y wreg a veu marow lies bledhen alebma, hag ev tregys yn tygoweth abàn êth y vyrgh ha demedhy.
Dres an brâssa radn a dheg dëdh yth esa ev ow qwil dhybm oll an cheryans a resa. Nyns en vy ma's whensys dhe vos gesys in cres hedre ve an fevyr ow resek, hag ow crohen pàn veu myglys my a gafas an fyt dell wrug dhe'm scoodh yaghhe dâ lowr. Drog-termyn o va bytegyns, ha kyn feuma sevys mes a'n gwely wosa pymp dëdh, neb termyn moy o reqwîrys rag crefhe ow garrow vy arta.
An den-ma êth mes a'n chy pùb dëdh, ha gasa leth dhe'n jëdh ragof, ha degea an daras in dadn alwheth; ha dos tre gordhuwher rag esedha in cornel an olas hag in taw. Ny dheuth ken onen vëth i'gas nes. Hedre ven vy ow sawya, ny wrug ev ow throbla gans qwestyon vëth, bythqweth. Moy ès unweyth ev a gerhas dhybm an Scotsman dew dhëdh coth, ha my a verkyas an studh dell o gyllys cosel adro dhe'n moldrans in Portland Place. Nyns esa mencyon anodho, na ny yllyn vy trouvya ma's very nebes tùchyng tra vëth, saw certan Cùntellyans Kebmyn yn unsel – sort a gyffewy a'n eglos, kebmys dell wodhyen.
Udn jëdh Mêster Turnbull a gerhas ow grugys mes a neb trog tedna esa in dadn alwhedhow naw. "Ma cals arhans broas etto," yn medh. "Gwell dhe whei y gomptya ha checkya oll y vos ena."
Ny wovydnas ev màn a'm hanow vy. Me a wrug govyn orto, mar teuth nebonen ha vysytya, in udn whythra, warlergh ow frës ober fordh.
"Ea, thera den in carr tan. E rug govyn pyw gemeras ow le i'n jedh-na, ha me rug y sconya pecar ha pe va onen muscok. Saw therava covyn heb hedhy, tho me rug lawl, res e dhe vetya gen ow broder da, ujy tregys i'n Haunans hag o'rei gweres dhebm traweyth'ow. Gwas idhyl y drem o hedna, ha ny rugam understondya hanter y davas naneyl."
Fyslak en vy i'n dedhyow dewetha-ma, ha kettel veuv vy omsensys yagh me a wrug ervira departya. Yth o an 12ves mis Efen solabrës, ha dre hap y teuth hùmbrynkyas a vestas in udn bassya i'n myttyn-na, ow trîvya gwarthek dhe Moffat. Den cries Hislop o va, cothman dhe Turnbull, hag ev a dhebras hawnsel genen ajy ha profya ow degemeres in coweth.
Me a gonstrînas dhe Turnbull recêva pymp pens rag ow gwestva, hag ober veu cales lowr. Bythqweth nyns esa onen moy anserhak i'n bÿs. Ev êth stowt dyscortes, ha gohelus rudh y vejeth, ha kemeres an mona heb grâss wàr an dyweth. Pàn leverys kebmys en vy sensys dhodho, ev a wrug stlevy bos "neyl torn da tendel gela." A qwelles agan farwèl, ty a vensa desmygy bos dybarth in dyflassys.
Hislop o pollat jolyf y jer, hag ev ow clappya dres oll an gulva bys in valy howlek Dowr Anan wàr nans. Th'esen vy ow côwsel a varhajow Gallowey ha prîsyow davas, hag ev ervirys y bosama "pack-vugel" a'n vro – pynag oll a ve hedna. Th'esa ow brithlen ha'm hot coth, dell leverys kyns, ow qwil semlant Albanek brav a'n gwaryjy. Saw drîvya gwarthek yw lavur mortal lent, ha ny a spênas an moyha radn a'n jëdh rag mos hanter-ugans mildir.
Na ve dhybm colon mar leun a wovyjyon, my a vensa kemeres plesour a'n prÿjweyth-na. An ebron o glas spladn, ha'n vu ow chaunjya prest, dres brynyow gell ha dolow gwer pell, hag awhesydhas ow seny pùb eur oll, ha gelvynogas, ha goverow i'ga skydnyans. Saw dhybmo nyns esa attendyans vëth dhe'n hâv, ha bohes dhe gescows Hislop, rag yth esa an jëdh tenkysek ow nessa, an 15ves Efen, ha my re vehys a'm oberen ha'y haletter dyweres.
Me a dhebras con uvel neb tavern in Moffat, ha kerdhes dyw vildir dhe'n gorsaf, o stacyon kes'hens wàr an pedn-lînen. Train uskys an nos dhe'n soth, nyns o va gwaitys kyns hanter-nos, ha rag lenwel an speyss my êth dhe'n run in bàn ha codha in cùsk, rag sqwith en vy wosa oll an kerdh. Namna wrug vy cùsca re hir, ha res veu dhybm ponya bys i'n gorsaf hag entra dhe'n train scant dyw vynysen kyns an whyb. Gwy pluvogow garow an tressa class, ha sawor backa coth y vlas, y whrussons an re-ma kenertha cher marthys scon. I'm colon dhe'n lyha, yth esen vy ow mos in gavel orth an pëth a veu charjys dhybm.
***
Denewys veuma in Crewe i'n man-euryow in mes, ha res o gortos bys whegh eur rag kemeres train dhe Birmingham. Devedhys veuv vy in Reading dohajëdh, ha chaunjya orth train randirek esa ow viajya dre Bow Berek in y berveth. Wharê y teuth vy dhe direth a vuthynyow dowr ha goverow kersek syger. Eth eur androw, y whrug canjeon sqwith ha dyslywys a'n fordh hir – hanter-gonesyas, hanter-milvedhek – ha brithlen checker du ha gwydn degys wàr y vregh (rag nag esa coraj dhybm a'y wysca, soth dhe'n Or), y whrug hebma skydnya in gorsaf bian Artinswell. Th'esa lower pobel wàr an cay, ha gwell dhybm, dell dybyn, heb pesy kevarwedhyans bys may fen vy polta dhyworto.
An fordh a lêdya dre goos a faw brâs, ena in golans aberveth, ha trum glas an gonyow ow cîky dres an pelha gwëdh. Wosa Scotlond yth esa sawor poos ha plat dhe'n air, mès wheg heb worfen, rag an owrwern ha gwëdh kesten ha bojow laylock dhe vos cromdohow a flourys. Me a dheuth dhe bons wharê, mayth esa strem lent ha cler ow frosa in dadno, inter blejyowegow a baw bran an dowr, mar wydn avell an ergh. A-ughto th'esa melyn; ha fros an gores ow seny goyeyn ha wheg i'n tewlwolow saworys. Coselhës en vy neb maner hag attês i'n tyller-ma. My êth ha whybana, ow meras aberth i'n downder glas, ha'n gân dhe'm gwessyow th'o 'Annie Laurie'.
Pescador a gerdhas a'n ladn in bàn, hag ev inwedh ow tallath whybana, kettel dheuth i'm ogas. Ha'n gân a veu kescan, rag yth esa an den-ma ow sewya sewt dhybmo. Onen cowrek o va, gwyskys in lavrak gwlanen dygempen, ha hot ganso, ledan y vin, ha sagh canfas cregys wàr y scoodh. Ev a sînas orta vy gans y bedn, ha bythqweth kyns ny welys vy fâss moy codnek ha clor. Ev a wrug dh'y welen, bambou mon a dheg troos'hës, posa worth an pons, ha meras i'n dowr gena vy warbarth.
"Cler teg, a nyns yw?" yn medh, plesont y lev. "Gwell yw agan Dowr Kennet pùb dëdh ès Dowr Test. Mir orth an pysk brâs-na. Peswar pens, moy dre lycklod. Saw gyllys yw an eur neyja bejeth in bàn, ha ny yller aga themptya."
"Ny'n gwelama," yn medhaf.
"Mir dhan! Otta va! Dhyrag an cors, scant udn lath, knack arâg an darn a dhowr garow-na."
"My re'n gawas. Ha'y semlant kepar ha men du."
"Ytho," yn medh, ha whybana 'Annie Laurie', udn musur moy.
"Twisdon yw dha hanow, a nyns yw?" yn medh dres y scoodh, ha'y wolok fast whath wàr an strem.
"Nâ," yn medhaf. "Ogh fyllys! Twisdon th'yw." Rag tecken ow henhanow êth nakevys oll.
"Fur yw an brasyor pàn wor y hanow yn tâ," ev a wrug merkya, ha gwenwherthyn ledan orth lagyar, esa ow tos mes a skeus an pons.
My a savas serth ha meras orto. Meras orth an elgeth pedrak, an challa feljys ha ledan, an tâl lînednys ha plegow crev y vogh. Ha dallath cresy, otta kefrysyas wordhy wàr an dyweth. Y lagasow glas ha siansek, yth êns y pòr dhown aga golok.
Desempys ev a blegyas y dâl. "Methus yw, dhe'm breus," hag uhella y lev. "Methus, ha why abyl i'n corf, dell wrew'why bedha ha beggya! Why yll cafos prës boos mes a'n gegyn, adar mona vëth dhyworta vy."
Th'esa scafcarr ky ow passya, ha'n lewyor, den yonk, ow terevel y whyp rag salusy an pescador. Pàn veu hebma gyllys, ev a gemeras y welen in bàn.
"Ot ow chy," yn medh, ha dysqwedhes dhe yet gwydn, cans lath pelha in rag. "Gortowgh pymp mynysen, ena mos adro, bys i'n daras dhelergh." Ha nena ev êth ha dyberth.
Me a wrug dell veu erhys. Me a gafas penty teg ha glesyn ow resek dhe'n strem wàr nans, ha gwylcoos perfeth a gorswig ha laylock orth amal an trûlergh. An daras dhelergh o egerys solabrës, ha botler sad orth ow gortos.
"Dewgh an fordh-ma, syra," yn medh, ha'm hùmbrank, tremenva ahës, stairys dhelergh in bàn, ha dhe jambour plesont ha vu dhyworto tu ha'n ryver. I'n tyller-ma my a gafas cowl-aparell, o settyes parys dhybm. Gwysk gordhuwher hag oll an taclow ganso: sewt gwlanen gorm, cris, gùdhùgen, colm codna, daffar dyvarva ha scubylen blew, ha skyjyow kefrës, lether lenter. "Syr Walter a dyby dyllas Mêster Reggie dell vydn desedha dhwygh, syra," yn medh an botler. "Yma ev ow sensy nebes dyllas obma, rag ev dhe vysytya yn rêwlys lies pedn seythen. Golghva yw an rom kentrevak, ha my re wrug parusy keryn dobm. Kydnyow wosa hanter-our, syra. Te a glôw an gong."
An gwas sad a wrug kildedna, ha my a sedhas wàr gader vrâs, chynts hy hudhlen, ha lagata stark. Kepar ha neb anterlyk Nadelyk, desempys y feuv vy devedhys in mes a'm beggyans bys i'n confort glanyth-ma. Th'esa Syr Walter ow cresy ina vy, dell o apert, kyn na yllyn desmygy praga. Me a wrug meras orthyf ow honen i'n gweder, ha gweles pollat howl-lywys, gwyls ha lavuryes, pylednek y varv a bymthek nos, ha doust in scovornow ha lagasow, comen y hevys heb gùdhùgen, y dhyllas brethyn dyfurf, ha'y votas heb glanhe nans o ogas ha mis. Gwyll brav me a veu, ha hùmbrynkyas dâ lowr a vestas; hag otta vy gedys gans botler kempen i'n templa gracyùs hag attês-ma aberveth. Hag ot an gwelha tra oll – ny wodhyens y ow hanow màn.
Ervirys veuv vy dhe gemeres an pëth a ros an duwow, adar gwil penpleth dhybm. Me a'm dyvarvas, gwil troncas meur attês, ha gwysca gordhuwher i'n cris cracklyn glân, nag o drog-desedhys warna vy. Pàn wrug vy gorfedna, an gweder a dhysqwedhas den yonk, gwyw teg dhe bresentya.
Th'esa Syr Walter ow cortos i'n gynyowva hanter-tewl, mayth esa bord bian rownd golowys dre goltrebyn arhans. Syght an den – mar onest, mar fast ha salow y solva, personegyans a'n laha, a'n government, a'n sqwir ewn omdhon – hedna a wrug sowthana, ha gasa dhybm omsensy estren. Res o ev dhe vos heb godhvos an gwir i'm kever, poken ny vensa ev ow dhyghtya i'n vaner-ma. Ny yllyn vy degemeres y helder màn yn fekyl.
"Me yw moy sensys dhywgh ès dell yller gorra in geryow, mès res yw dhybmo clerhe an dra," yn medhaf. "Den oma heb drog, saw yma an creslu orth ow whelas. Res yw amyttya hebma, ha ny vëdh marth mar mydnowgh ow fôtya vy in mes."
Ev a wrug minwherthyn. "Cudyn vëth. Re bo heb drog dhe'th ewl boos! Hyllyn ny côwsel a'n taclow-ma wosa kydnyow."
Bythqweth ny dhebrys vy prës gans brâssa blas, rag ny'm beu tra vëth dre'n jëdh saw breghtanow an hens horn. Abarth dhybm Syr Walter a wrug oll y ehen, rag yth esen ny owth eva shampên dâ ha portwîn fin dres kynda a'y wosa. Namna gemeryn vy sterycks ha my esedhys ena, servyes gans gwas in udnwysk ha gans botler smoth, ha my ow perthy cov dell veuma bewys kepar ha robbyor teyr seythen, ha dorn pùb huny parys dhe'm sqwattya. Me a wrug whedhla adro dhe bùscas tîger in Dowr Zambêsy, parys dhe vrathy dha vesias dhe ves, mar mynta ry dhedha spâss, ha ny a wrug kescôwsel agan dew a sport obma hag ena i'n norvës, rag ev dhe helghya nebes in y yowynkneth.
Ny êth dh'y rom studhya rag eva coffy, stevel jolyf, leun a lyvrow ha trôfys ha dygempensys ha confort. Me a wrug determya, mar teffen ha ryddya ow honen a'n negys-ma ha prena chy dhybm, y fydnen vy trevna rom a'n keth par poran. Ena, pàn veu an hanavow coffy restrys dhe ves, ha cygar dhe bùbonen ow lesky dâ, an ost a dôwlys y arrow hir dres bregh y jair ha gorhebmyn dallath ow story.
"My re wrug obeya brenyans Harry," yn medh. "Ha'n brib a brofyas ev dhybm o hebma: why dhe dherivas neppyth dhe'm dyfuna. My yw parys, Mêster Hannay."
Me a verkyas, sowthan brâs, dell wrug ev cria ow hanow ewn.
Me a dhalathas orth an dalathfos. Me a wrug derivas sqwîthter ow enef in Loundres, ha'n nos mayth êth vy tre ha cafos Scudder ow clattra ownek wàr an troosow. Me a dherivys oll an pëth a wrug Scudder derivas dhybmo, a Carolydes ha kescùssulyans an Sodhva Dramor, ha'm ost ow qwil pors a'y wessyow orth hedna, ha gwenwharth ganso.
Ena my a dheuth bys i'n moldrans, hag ev gyllys solempna arta. Ev a glôwas a'n lethor ha'm godregas in Gallowey, ha fatell wrug vy assoylya nôtednow Scudder i'n tavern.
"Usons y genowgh obma?" ev a wovydnas sherp, hag anella hir pàn wrug vy dry an lyvryn mes a'm pocket yn trobm.
Ny dherivys vy tra vëth a'n contens. Ena me a dhescrefas ow metyans gans Syr Harry, ha'n arethyow i'n hel. Ev a wharthas meur y dervans orth hebma.
"A wrug Harry leverel flows pur? Ow cresy th'esom, heb let. Onen mar dhâ dell veu bythqweth yn few! Saw y ôwnter fol re stoffyas contron dh'y bedn. Gwrewgh pêsya, Mêster Hannay."
Ow dëdh in ober an fordh, y whrug hedna entanya nebes. Ev a wovydnas descrevyans dour a'n dhew was i'n carr hag yth esa va, dell hevelly, ow sarchya in y gov wàr dhelergh. Ev a veu hudhyk arta pàn glôwas anfeus an asen Jopley.
Saw an cothwas in chy an wûn a'n dros ev dhe sevureth. Unweyth arta, res o dhybm descrefa y semlant in manylyon.
"Mygyl, ha mol y bedn, ha cûgol dh'y lagasow kepar ha falhun ... edhen gwyls casadow ywa, sur! Ha why a wrug dynamîtya y ancarjy, wosa ev dh'agas selwel orth an creslu. Ober brâs y goraj veu hedna!"
Wharê me a dheuth dhe dhyweth ow gwandrans. Ev a savas lent in bàn, ha meras orta vy, dhywar strayl an olas.
"Why yll scubya an creslu mes a'gas brës," yn medh. "Nyns eus peryl vëth dhywgh a'n wlas-ma na'y laha."
"Ren ow thas!" me a grias. "Yw an moldror kychys?"
"Nag yw. Saw defendys ow'why, nans yw pymthek nos, dhywar rol an dus possybyl."
"Prag?" me a wovydnas, meur ow marth.
"I'n kensa le, rag my dhe recêva lyther dhyworth Scudder. Aswonys dhybm veu an den-ma, neb gradh, hag ev ow collenwel oberen dhybm traweythyow. Hanter-coyntwas, hanter-awenyth o va, mès onest heb nàm. Poynt a vexyans ganso: an maner dell vydna gwary prest y gartednow heb coweth. Ev a via euver dre hedna, hës ha hës, in kenyver Servys Cudh – soweth, rag yth esa ino talent arbednyk. Ev o, dhe'm breus vy, an den moyha colodnek i'n bÿs, rag pùb termyn yth esa va ow trembla der ewn-own, bytegyns ny yll tra vëth y daga. Me a recêvas lyther dhyworto, an 31sa mis Mê."
"Mès marow o va, nans o seythen, i'n jëdh-na."
"An lyther a veu screfys ha gorrys dhe'n post an 23sa. Dell yw apert, nyns esa va ow qwetyas mernans avarr. Dre vrâs yth esa y vessajys ow tos gans strech a seythen, dre rêson anjy dhe vos danvenys dhe Spayn in dadn gel, hag ena dhe Newcastle. Dyowl o va, heb dowt, rag cudha y olow."
"Pëth a screfas ev?" me a wovydnas yn hockus.
"Tra vëth. Marnas y vos in peryl, mès ow cafos harber gans cothman dâ, ha my dhe glôwes moy dhyworto kyns an 15ves mis Efen. Ny ros trigva vëth, mès ev a screfas y vos anedhys ogas dhe Portland Place. Dell hevel dhybm, y borpos o surhe gàs bos why glân mar teu neppyth ha wharvos. Pàn recêvys an lyther, my êth dhe Scotland Yard, examnya whythrans an cùrunor, oll an manylyon, hag ervira y bosow'why an cothman. Ny a wrug govynadow adro dhywgh, Mêster Hannay, ha desky agas bos den onest. Cler lowr o dhybm prag y whrugowgh vansya – an creslu, ha'n achêson aral kefrës – ha pàn dheuth gwadnscrif Harry, nena me ylly desmygy an rest. Th'esof ow qwetyas why dhe dhysqwedhes nans yw seythen."
Pana vegh a veu lyftyes dhywarna vy! Den frank en vy arta i'm brës, rag my dhe vos lebmyn settys only warbydn eskerens ow gwlas, adar laha ow gwlas.
"Now, gesowgh ny dhe weles an lyvryk cov," yn medh Syr Walter.
Ny a wrug moy ès our leun, ow redya dredho oll. Me a styryas an cîfer, hag ev o descor pòr lybm. Amendyes veu ow redyans ganso in bohes tyller, mès ewn lowr o an gweyth dre vrâs. Y feu y dremyn pòr sevur kyns gorfedna, hag ev esedhys polta heb côwsel.
"Ny wòn fatl'yw dhe ùnderstondya," yn medh wàr an dyweth. "Kewar yw udn dra, dhe'n lyha – an pëth a whyrvyth avorow. Fatl'an jowl êth hedna dyscudhys? Hèn yw hager lowr, y honen oll. Mès hebma kefrës! Gwerryans ha Men Du – whedhel kepar ha gordhrâma gwyls. A mednen vy trestya unweyth dhe vrusyans Scudder! Y natur o re vexus, tuedhyans a vos re romantek. Ev a'n jeva gnas an artyst, ow tesîrya pùb termyn may fe whedhel gwell ages porpos Duw. Lies gowvreus coynt a'n jeva inwedh. Serrys brâs o va warbydn Yêdhewon, rag exampyl. Warbydn Yêdhewon hag arhansorieth an Cyta.
"An Men Du," yn medh arta. "Der Schwarze Stein. Tra wyw dhe novelyk deneren! Hag oll an ger tùchyng Carolydes. Hòn yw an gwadnha radn i'n whedhel, rag Carolydes yw dremas a wra gordhurya agan dew, pùb lycklod dell worama. Nyns eus Stât vëth in Ewrop whensys dh'y remôvya. Dres hedna, th'esa ev namnygen ow truthya Berlîn ha Viena, hag owth obery dhe'm Menyster termyn pòr anês. Nâ! Scudder êth obma dhywar an lînednow. Ny gresaf dhe'n whedhel i'n radn-na, Hannay, mar mydnaf leverel dhe blebmyk. Devîsys yma neb last, hag Scudder a dhyskeveras re, ha kelly y vêwnans ragtho. Saw parys oma dhe lia, nag yw ma's negys aspiyas kebmyn. Yma certan Power Ewrôpek ow qwary hobba gans y gevreth aspiyas, ha scant nyns yw an gis a whel dainty. Abàn usy an Power-na ow tylly pùb gweyth herwyth sewyans, plenta ny vëdh nebes moldrans dh'y vebyon gal. Trevnans oll a'gan morlu yw sur an gosten, rag keworra hedna dh'aga hùntellva i'n Marineamt. Saw anjy a wra y worra dhe restryn – heb namoy."
I'n very prës-na y teuth an botler dhe'n rom ajy.
"Yma cows pell, dhia Loundres, Syr Walter. Mêster 'Eath yw, hag ev whensys dhe gôwsel orthowgh agas honen."
An ost a gerdhas dhe'n pellgowsor in mes.
Ev a dheuth arta warlergh pymp mynysen, gwydnyk y fâss. "Dyharas re bo dhe spyrys Scudder," yn medh. "Carolydes a veu ledhys dre wodn, haneth, nebes mynysow wosa seyth eur."
CHAPTRA 8
DEVEDHYANS A'N MEN DU
Ternos me a dheuth dhe'n stairys wàr nans rag debry hawnsel wosa eth our a gùsk benegys heb hunros vëth, ha cafos Syr Walter ow tycôdya pellscrif in mesk bara tesen ha marmelâda. Dell hevelly, tùch tarnsyes o erder an roslyw esa dhodho de.
"Our bysy a wrug vy in pellgowsans wosa why dhe vos gyllys dhe'n gwely," yn medh. "Me a besys wàr ow Menyster a vetya gans an Kensa Arlùth ha gans an Scrivynyas Bresel, hag anjy a vydn somona Royer mes a Frynk udn jëdh moy avarr. Yma an telegram-ma orth y sêlya. Ev a vëdh in Loundres dhe bymp eur. Coynt dell yw 'porhel' an ger cod rag Sous-chef d'Etat Major-General."
Ev a'm gedyas dhe'n sandys tobm, ha pêsya.
"Saw hedna ny gresaf màn dhe vos a brow. Mar peu gàs cothmans codnek lowr solabrës dhe dhyscudha an kensa arayans, codnek lowr yns y dhe dhyskevera an chaunj. Me a vensa offrydna oll ow fedn rag godhvos ple ma an dorrva i'gan kevrîn. Dell gresyn ny, nyns esa moy ès pymp den in Englond a wodhya Royer ha'y vysyt, ha bedhowgh sur, th'esa biadnha nùmber whath in Frynk, rag taclow kepar yw dyghtys i'n wlas-na dhe well."
Pàn esen vy ow tebry, ev a dhurya côwsel, ow ry leun-gyfyans, meur ow marth.
"A ny yll an trevnans bos chaunjys?" me a wovydnas.
"Gyll defry," yn medh. "Saw porposys on ny dhe woheles hedna mars yw neb maner. An trevnans yw ascoras a brederyans down dres musur, ha ny via chaunj vëth mar dhâ. Ha pelha, ùnpossybyl yw chaunjya nebes poyntys specyal in kenyver câss. Y hyller bytegyns amendya nampyth, dell dybaf, mar pëdh res porres. Saw ot an caletter, Hannay. Ny vydn ow envy gwary fol ha sqwychya pocket Royer pò gwil ken tra flohyl y gis. Anjy a wodhya kedrydn dhe vos sewyans a hedna, ha brâssa warneth dhyn. Aga meder yw cafos an manylyon, ma na wrella onen vëth ahanan merkya, rag mayth ella Royer dhe Parys tre, whath ow cresy oll an negys dhe vos mortal kevrîn. Heb spêda indella, y fedhons y fyllys, rag anjy dhe wodhvos y fëdh res chaunjya an hôll-dra peskytter may fo skeus genen."
"Dhana res yw dhyn tackya orth tenewen an Frank, erna vo dewhelys tre," yn medhaf. "Mar cressens y an godhvos dhe vos dhe gibya in Parys, anjy a vensa tria ena. Ytho res yw neb towl dhe vos tôwlys gansans, onen sley, mayth esons y ow reckna gwainya oll in Loundres,."
"Royer a vydn kynyewel in company ow Menyster, ena dos dhe'm chy vy, le may fydn peswar den metya ganso – Whittaker a Lÿs an Mor, my ow honen, Syr Arthur Drew, ha Jeneral Winstanley. An Kensa Arlùth yw clâv, ha gyllys dhe Sheringham. I'm chy Royer a wra recêva certan scriven dhyworth Whittaker, ena bos gorrys in carr tan dhe Portsmouth ha gorhal dystrôwy dh'y dhon bys in Le Havre. Y viaj yw re y bris rag train treth kebmyn. Nefra ny vëdh gesys heb coweth, na tecken vëth, erna vo devedhys wàr dir Frynkek yn saw. Ha Whittaker, bys may fo metyes gans Royer, an keth hedna. Cabm ny yllyn ny gwil moy, ha cales yw convedhes mothow fatell yllons y bos. Mès yma anês uthyk brâs warnaf, res alowa. Carolydes moldrys a wra dyfuna an jowl in pùb chanslereth dres Ewrop."
Wosa hawnsel ev a wovydnas mar codhyen vy lewyas carr.
"Wèl, why a vëdh ow lewyor hedhyw ha gwysca aparell Hudson. Th'owgh a'n keth brâster hag ev, nes lowr. Maglys owgh i'n negys-ma, ha ny vydnyn ny peryllya tra vëth. Yma tus dhybyta wàr agan pydn, neb na sav orth omsettyans in argel bowdir udn sodhak re y dhevar."
I'n very dallath may teuth vy ha trega in Loundres, me a wrug prena carr ha kemeres solas, ow rolya der Englond a'n Soth adro, rag may hallen vy desky, neb gradh, dorydhieth an pow. Syr Walter me a garyas dhe Loundres wàr an Bath Road ahës, ha toth dâ. Th'o myttyn medhel a Vetheven, heb gwyns, ha dedhewadow a des poos moy dhewedhes, mès delycyùs lowr o lesca der an trevow bian ha'ga strêtys hegar ha dowrhës, ha dres an lowarthow hâv in valy Tamys. Me a londyas Syr Walter orth y jy in Queen Anne's Gate dhe hanter wosa udnek abrës. Y fedha an botler ow tos i'n train, ha'n fardellow ganso.
Kensa oll, Syr Walter a'm hùmbroncas dhe Scotland Yard. Ena ny a wrug metya gans den jentyl kempen, dyvarf y vejeth, laghyas y vaner.
"My re dhros moldror Portland Place dhywgh," a wrug Syr Walter ow homendya.
An gorthyp a veu minwharth cabm y vin. "Ro wolcùm via hedna, Bullivant. Hèm yw Mêster Richard Hannay, a nyns yw? ha'n asran-ma frobmys anodho yn frâs nebes dedhyow kyns."
"Frobmys vëdh hy unweyth arta drefen Mêster Hannay. Yma showr a vater ganso dhe dherivas, adar hedhyw bytegyns. Rag neb skyla a boos, res yw gortos y whedhel, whath udn jorna. Nena, hag ot ow fromys, why a vëdh dydhenys teg, kefrës edyfies par hap. Gwrewgh afydhya, my a'gas pës, na vëdh Mêster Hannay gorrys dhe drobel namoy."
An afydhyans-ma a veu gwrÿs heb hockya. "Why yll dastallath gàs bêwnans i'n poynt may whrugowgh astel," a lavaras an den jentyl. "Yma agas ranjy, nag owgh whensys dhe vos tregys inhy na felha martesen, ow cortos agas devedhyans, ha'gas gwas ena whath. Bythqweth ny vewgh cùhudhys dhyrag tus, ytho ny a wra consydra nag eus ken vëth dhe omascûsya. Saw tùchyng hedna, heb dowt, why a vydn gwil agas plesour."
"Otham a'gas socour, MacGillivray, a vëdh kyns gorfen par hap," yn medh Syr Walter pàn esen ny ow tyberth.
Ena me a veu gesys ganso dhe wary.
"Dewgh ha metya genef avorow, Hannay. Scant ny dal dhybm leverel taw an bedh dhe vos a res porres. Ow hùssul dhywgh yw mos dhe'n gwely. Yma cùsk dhelergh dhe dylly genes, sùbmen vynsek sur. Gwell yw dhywgh scolkya pùb eur oll. Mar teffa onen a'gas cothmans a'n Men Du ha'gas aspia, y fia awhêr dhe wetyas."
***
My ha fowt oberen, hèn o sensacyon coynt. Fest wheg o, worth an dallath, bos den frank, neb a yll mos py le pynag may fydna heb own vëth. Scant udn mis yth esen vy in dadn gonstrînans an laha, mès gwalgh veu dhybm. My êth dhe'n Savoy hag erhy, dour glân, prës ly dâ glân, ena megy an gwelha cygar dell ylly an ostel provia. Saw th'esa ancres dhybm whath. Pàn wrug vy aspia den ow meras orthyf i'n esedhva, gorgîs a'm beus, hag omwovyn mars esa ev ow perthy cov a'n moldrans.
Wosa hedna me a gemeras taxy ha mos lies mildir bys in Loundres a'n North. Me a gerdhas tre, dre barcow ha resyow a dreven kenkyth ha rewjiow, ena dre hôvellys ha cragh-strêtys, ha kerdhes ogas ha dew our o va. Ha dredho oll yth esa dyfyk powes inof ow cressya. Dell hevelly dhybm, taclow brâs, taclow marthys brâs, yth esens y ow wharvos, pò y fedhens y ow wharvos scon, ha my, an dans i'n jynweyth, my o gorrys mes a'n gam. Th'esa Royer ow tira in Dover, Syr Walter ow tôwlel towl gans an bohes tus in Englond mayth o an kevrîn godhvedhys, ha neb le i'n tewlder yth esa an Men Du owth obery. Th'esen vy ow clôwes an peryl, ha'n godros a veschauns ow tegensewa hag inwedh, coynt i'm brës, yth esa tybyans dell yllyn vy only, adar ken onen, y drailya dhe ves, y wrydnya dhe'n dor. Saw nyns esen vy i'n gam na felha. Ha ken maner, fatell ylly bos? Menystrys an Cabynet hag Arlydhy Lÿs an Mor dhe'm amyttya i'ga hùssulyans aberveth nyns o lycklod brâs.
In gwrioneth yth esen vy ow tesîrya dierbyn kyn fe worth onen a'm try escar. Ha neb sewyans ow tos mes a hedna. Môvyes en vy gans an gwelhevyn-ma dhe yêwny comen-omlath, may hallen vy cronkya ha plattya nampyth. Yth esen vy ow serry brâs hag uskys.
Dewheles dhe'm ranjy tre, nyns esa ewl dhodho. Res vedha eneby hedna neb termyn, saw me a vydnas dylâtya bys vorow avarr, rag yth esa whath mona lowr genef, ha tyby cùsca nos in ostel.
Ow sorr a dhurya der an kydnyow a dhebrys in boosty wàr Jermyn Street. Nyns en vy gwag na felha, ha gasa dhe lower sant tremena heb tastya. Me a wrug eva radn vrâs a votel gwin Borgayn, mès gwell ny êth ow cher. Dybowes en vy, plâgyes, fyslak ow fara. Otta vy, pollat kebmyn pur, heb skentoleth arbednyk, saw yth esa otham ahana vy, th'en vy sur, a ry gweres neb fordh rag fynsya an negys-ma – hag ev oll myshevys hebof. Me a levery i'm pedn nag o moy ès gooth fol glân: bos an ober inter dêwla peswar pò pymp a'n dus moyha codnek i'n bÿs, ha nerth oll an Empîr Bretednek orth aga scodhya. Bytegyns ny veuv vy perswâdys. Dell hevelly, th'esa lev prest ow côwsel i'm scovarn, owth erya mayth ellen vy ha gwil orty, poken cùsk ny vedha dhybm, nefra namoy.
Ytho me a wrug ervira wortyweth, hanter wosa naw eur, mos dhe Queen Anne's Gate. Pùb lycklod ny vedhen vy amyttyes, mès assaya, y whre diaha dhe'm keskians.
Me a gerdhas Jermyn Street ahës, ha passya dres bagas a dus yonk wàr an gornel gans Duke Street warbarth. Gwyskys êns y gordhuwher, wosa kemeres kydnyow neb tyller, hag anjy ow pêsya tro ha hel ilow. Onen anodhans, Mêster Marmaduke Jopley.
Ev a'm aspias ha sevel stag.
"Re'm fay, ot an moldror!" ev a grias. "Hay, gwesyon, sêsyowgh e! Hannay yw, an den a wrug Mùrder Portland Place!" Ev a settyas dalhen i'm bregh, ha'n re erel owth hêsya i'm herhyn.
Nyns en vy porposys dhe brofya trobel, mès ow drog-jer a wrug dhybm gwary scogyn. Y teuth creswas, hag y talvia dhybm gwirleverel ha, mar nyns esa ev ow cresy, demondya hùmbrank dhe Scotland Yard, pò dhe'n nessa stacyon creslu dhe'n very lyha. Saw neb strech o dywodhaf dhybm i'n eur-na, hag aspia Marmie ha'y vejeth gwag a skians o moy ès dell yllyn vy perthy. Me a wrug bonkya gans dorn cledh, ha pës dâ teg veuv vy pàn y'n gwelys growedhys, hirder oll, in shanel an strêt.
Ena y talathas tervans scruthus. Th'esens y oll warnaf in udn labm, ha'n creswas a'm sêsyas wàr ow lergh. My a wrug spêdya nebes bobmyn dâ, rag me a vensa gà fetha oll, dell dybaf, mara callen vy boxesy in dadn rêwl, saw an creswas a'm sensys fast adhelergh, hag onen anodhans a grafas ow gùdhùk in y vesias.
Dre gloud du a godnar me a glôwas sodhak an laha ow covyn pandr'o an mater, ha Marmie, inter y dhens trogh, ow teclarya my dhe vos Hannay an moldror.
"Ogh, mollath Duw," me a grias. "Gwra dhe'n chet tewel. Bëdh war, constabyl, ha gas vy in cosoleth. Scotland Yard a wor pùptra i'm kever, ha tavasans brâs a'th fÿdh mar teffes ha mellya orta vy."
"Res yw dhywgh dos gena vy, a vab," yn medh an creswas. "Me a welas why dhe vonkya an den jentyl yn harow cruel. Ha pelha, why a dhalathas an dra: nag esa ev ow qwil drog vëth. Me a'gas spias. Dos heb froth, hèn yw gwell, 'ken res dhèm gàs carhara."
Fowt perthyans, ha sens ollgalosek na wrellen vy strechya cabmen, anjy a ros dhybm crefter gour-olyfans. Me a dôwlys an constabyl dhywar y dreys, sqwattya an den esa ow crafa i'm gùdhùgen, ha ponya, gwelha toth, wàr Duke Street ahës. Me a glôwas son a whyb whethys, ha tus ow stêvya in helgh.
Yma uskytter pòr dhâ dhybm, hag yth esa eskelly genef i'n nos-na. Me a dheuth dhe Pall Mall wàr nùk, ha trailya tro ha Park Sen Jamys wàr nans. Me a wohelas an creswas orth yettys an Palys, herdhya der an rûth a garyajys in entryng an Mall, ha medra an pons kyns ès an helhysy dhe dremena an carrhens. I'n tireth ôpyn a'n Park me a wrug herdhya dhe voy. I'n gwelha prës nyns esa ma's bohes tus, na ny whelas den vëth ow lesta vy. Gwystlys veu pùptra in hapwary rag hedhes bys in St Anne's Gate.
Pàn wrug vy entra dhe'n strêt cosel-ma, gwag a bobel o va, dell hevelly. Th'esa chy Syr Walter i'n radn gul, hag yth esa try pò peswar carr sevys dhyragtho wàr ves. Me a wrug lehe ow thoth nebes lathow dhyworto ha kerdhes scav dhe'n daras. Mar mydna an botler naha amyttyans, pò egery an daras re lent, my a vedha dyswrÿs.
Ny veuva lent. Egerys êth an daras knack pàn senys vy an clogh.
"Res yw omweles gans Syr Walter," yn medhaf, in udn dhiena. "Ow negys yw pëth a bris dres ehen."
Den meur y enef o an botler. Heb gwaya keheryn, ev a wrug sensy an daras egerys, ena y dhegea wàr ow lergh. "Syr Walter yw bysy, syra, ha comondys ov vy, na ve den vëth amyttyes. Why a vydn gortos martesen."
I'n chy-na, coth y gis, an kenseth o ledan, ha yth esa rômys wàr an eyl tu ha wàr y gela. Orth pelha pedn an kenseth yth esa kil bian, ha pellgowsor ha copel a jairys ino, ha'n botler a brofyas esedha i'n tyller-ma.
"Gwra convedhes," me a whystras. "Yma trobel rybon, ha my maglys in y gres. Saw Syr Walter a'n gor, ha my owth obery ragtho. Mar teu nebonen ha govyn, Esof obma? lavar gow."
Ev a sînas assentyans, ha wharê y feu voycys wàr an strêt, ha senyans gwyls orth an clogh. Nefra ny allaf estêmya den vëth moy ages an botler-na. Ev a wrug egery an daras, ha gortos govynadow gans fysment kepar hag imach grevys. Ena ev a wrug setha. Ev a lavaras chy py den o hebma, ha py arhadow esa ganso y honen, hag anjy a veu rewys yêyn i'n troosow hag in kerdh. Me a welas an hôll-dra mes a'm kil, hag y feuva gwell ès plain an gwary.
***
Nyns esen vy ow cortos termyn hir, kyns an clogh dhe seny unweyth arta. An botler a wrug amyttya an vysytyor nowyth-ma, heb hockyans vëth.
Pàn esa va ow tysky y gôta, me a wrug aspia pyw o. Ny yllyth egery paper nowodhow pò lyver termyn heb gweles an fâss-na – an varv loos ha trehys in shâp pal, an min tydn ha breselek, an dhewfrik sogh ha pedrak, ha'n lagasow glas ha glew. Me a wrug aswon Kensa Arlùth an Morlu, an den, dell o whedhlys, a vyldyas an Morlu Bretednek modern.
Ev êth dres ow hil, gedyes bys in rom wor'tu dhelergh. An daras-na pàn veu egerys, me a glôwas son a levow isel. Wosa degea, my o dygoweth arta.
Ugans mynysen yth esen vy ena a'm eseth, owth omwovyn pëth a wrellen vy scon. Certan sur en vy whath dell esa otham ahanaf, mès peur ha fatell ny wodhyen vy màn. Th'esen vy prest ow checkya'm euryor, ha pàn veu an eur slynkyes dhe hanter wosa deg me a bredery dell o res an kescùssulyans dhe dhewedha a verr speyss. Kyns pedn pymthek mynysen y fedha Royer ow fysky an fordh dhe Portsmouth ahës ...
Ena me a glôwas clogh ow seny, ha'n botler a dhysqwedhas arta. Daras an rom dhelergh êth egerys, ha Kensa Arlùth an Morlu a dheuth in mes. Ev a gerdhas drestof, ha tôwlel in udn bassya golok got i'm qwartron vy, ha rag tecken yth esen ny ow meras an eyl wàr y gela, tâl orth tâl.
Tecken, adar moy, mès lowr veu hy rag gwil dhe'm golon labma. Bythqweth ny welys an den brâs-na kyns, na ny wrug ev ow gweles vy naneyl. Mès i'n very pols y feu nampyth spryngys in y lagasow, ha'n pëth-na, th'o aswonvos. Tra certan yw aswonvos. Flyckrans scav ywa, neb elven a wolow, arlyw munys a dhyffrans, eus ow styrya udn dra, udn only. Y teuth hedna a'y anvoth, hag yth êth marow dystowgh, ha'n den ow tremena in rag. Mesk kerdroya a fancy gwyls, me a glôwas daras an strêt dhe dhegea wàr y lergh.
Me a gemeras lyver an pellgowsor ha checkya nyver y drigva. Omjùnyes veun ny dewhans, ha my ow clôwes lev neb servont.
"Usy y Arlottes i'n chy?" me a wovydnas.
"Y Arlottes a dheuth tre nans yw hanter-our," yn medh an lev, "ha gyllys yw va dhe'n gwely. Nyns yw ev yagh haneth. A vydnowgh gorra messach, syra?"
Me a wrug trehy an pellgows ha codha wàr jair, codha ogas oll warbarth. Ow radn i'n negys-ma, nyns o hy fynsyes na whath. Namna wrussyn ny fyllel a'y spêda, saw devedhys veuv vy abrës.
Strech vëth nyns o dhe wodhevel, ytho me a wrug kerdhes bold ha dyson dhe dharas an rom dhelergh hag entra heb knoukya.
Pymp vysach sowthenys a veras dhyworth bord rownd in bàn. Yth esa Syr Walter. Ha Drew, an Menyster a Vresel, aswonys dhybm warlergh y skeusen. Yth esa den tanow ha coth, Whittaker pùb lycklod, sodhak Lÿs an Mor. Hag yth esa Jeneral Winstanley, êsy dh'y aswon rag an greythen hir wàr y dâl. Dewetha oll, th'esa den berrdew, ha minvlew loos horn ganso, hag abransow bojek, ha'y lavar goderrys in y gres.
Tremyn Syr Walter a dhysqwedhy sowthan ha vexyans ganso.
"Otta Mêster Hannay, may hêwsys vy anodho solabrës," yn medh, oll dyharasus, dhe'n company. "Soweth, Hannay, nyns yw an vysyt-ma i'n ewn prës."
Diaha o dewhelys dhybm neb gradh. "Gesowgh ny dhe weles, sera," yn medhaf. "Dell hevel dhybmo, th'yw knack adermyn. Tus jentyl, leverowgh abarth Duw, pyw o an den hag êth in mes mynysen alebma?"
"Arlùth Alloa," yn medh Syr Walter, ow rudhya dre sorr.
"Nyns o ev badna," me a grias. "Yth o imach bew anodho, mès Arlùth Alloa nyns o màn. Ev o neb a wrug aswon pyw ov vy, onen a welys vy i'n mis tremenys. Scant ny veuva gyllys a'n troosow ha my ow pellgôwsel orth mêny Arlùth Alloa, hag anjy a lavaras ev dhe vos devedhys tre nans o hanter-our ha solabrës dh'y wely."
"Pyw – pyw –" a stlevys nebonen.
"An Men Du," me a grias, ha sedha wàr an chair may feu voydyes mar agensow, ow meras orth an pymp den jentyl adhedro, diegrys down kettep huny.
CHAPTRA 9
AN NAWNJEK STAP WARN UGANS
"Flows!" yn medh sodhak Lÿs an Mor.
Syr Walter a wrug sevel in bàn ha mos mes a'n rom, ha ny ow meras, trèm wag, worth an bord. Ev a dheuth arta wosa deg mynysen, asper y fâss. "My a gowsas orth Alloa," yn medh. "Kemerys in mes a'y wely – pòr grothak. Ev êth tre heb ardak, wosa kydnyow Mulross y ost."
"Mès muscok yw hobma," Jeneral Winstanley a dorras dres y gows. "Esos ow leverel yn sad an den-na dhe dhos obma ha sedha ryba vy ogas ha hanter-our, na ny wrug vy dyskevera an faintys? Res yw Alloa dhe vos mes a'y rêwl."
"A nyns yw an sotelneth ino convedhys dhywgh," yn medhaf. "Why o re bigys dre daclow erel rag ûsya dewlagas. Why a wrug degemeres Arlùth Alloa heb govyn vëth. A pe ken onen, why a vensa meras moy gàs rach, saw ev dhe vos obma, th'o an dra waitys, ha why oll in cùsk rag hedna."
Ena an Frank a gowsas, pòr lent, hag in Sowsnek dâ.
"An den yonk a'n jeves an gwir! Skentyl yw ev i'n enevieth. Agan eskerens, fol ny vowns y màn!"
Y dâl fur o trailys ernestly dhe'n cùntellyans.
"My a dherif whedhel dhywgh," yn medh. "Y wharva in Senegal nans yw lies bledhen. Tregys esen vy orth stacyon in perveth an pow, ha'm ûsadow o pyskessa rag barbellow brâs i'n ryver ha gwil dhe'n termyn passya. Yth esa casek Araby vian ûsys dhe dhon canstel ow croust – onen a'n sort gorm diogel o dhe brena in Tymbùktû i'n dedhyow coth. Wèl, udn myttyn yth esen vy ow cafos sport dâ, ha'n gasek o fyslak heb skyla. Yth esen orth hy clôwes, ow cryhias hag ow scrîja hag ow stankya, ha my orth hy hoselhe dre lev hedre ve preder wàr an pùscas. Yth esen orth hy gweles prest, dell wren vy soposya, dre gornel lagas, stegys dhe wedhen, ugans lath in nes. Wosa ogas ha dew our my ow tallath tyby a voos. My a wrug cùntell ow fùscas in sagh peglen, ha mos an strem wàr nans, tro ha'n gasek, ow tedna lînen der an dowr. Pàn dheuth vy dhe'n gasek, my a dôwlys an beglen wàr hy heyn ..."
Ev a wrug powes ha meras adro.
"An fler, hèn o gwarnyans lowr. Trailya pedn ha cafos lion gorthenebys warnaf, try throos'hës abell ... Dybror coth a dus, consydrys euthvil i'n bendra ... Remenans a'n gasek, oll goos hag eskern ha crohen, th'esens y dhodho adrëv."
"Pandra wharva?" me a wovydnas. Yth en vy helhor lowr rag aswon whedhel gwir heb dhowt.
"My a wrug herdhya an welen pyskessa aberth in y awednow, hag yth esa pystol genef. Ha'm servons a dheuth wharê gans godnys hir. Saw ev a worras y verk warnaf." Ev a wrug derevel dorn, ha fowt try bës anodho.
"Gwrewgh desmygy," yn medh. "Nans o an gasek marow moy ès udn our, ha'n hager-vil owth aspia orthyf in oll an termyn-na. Ny wrug vy gweles an ladhans màn, rag studh frobmys an gasek o tra ûsys, na ny wrug vy merkya hy dyfyk, rag nyns o an argraf anedhy ma's neppyth gellrudh, ha lion ow collenwel an part-na. A dus jentyl, mar kyllyn vy camwonys indella, in pow may ma sencys glew dhe vab den, y hyllyn ny, pobel vysy hag omgellys ha trevek, bos camdybys kefrës, prag na?"
Syr Walter a sînas agrians. Nyns o nagonen parys dhe gontradia.
"Saw nyns yw dhe gonvedhes," a wrug Winstanley pêsya. "Aga meder, th'o desky an trevnans in maner ma na wothfen ny. Now, nebonen ahanan heb moy, mar teffa ha gwil mencyon dhe Alloa a'n metyans haneth, nena'n hol dùll a via dyskeverys."
Syr Walter a wharthas yn sëgh. "Anjy a wrug dôwys Alloa, yma hedna ow tysqwedhes aga lymder. Py den ahanan a vensa côwsel orto ev a'n metyans-ma? Wèl, a vensa ev y honen côwsel a'n dra?"
Me a wrug remembra gnas tawesek Kensa Arlùth an Morlu, gerys mayth o rygthy alês, ha'y sorr uskys.
"Poynt a benpleth dhybmo," yn medh an jeneral, "hèn yw, pana brow dhe'n gwas aspiyas a via an vysyt obma? Lies folen a fygùrs ha henwyn ùncoth ny ylly don in y bedn in kerdh."
"Nyns yw cales," an Frank a worthebys. "Pùb aspiyas dâ re wrug desky ûsya cov fotografek. Kepar ha'gas Macaulay. A wrussow'why merkya na lavaras ev tra vëth, mès yth esa ow redya an scrifow-ma arta hag arta. Dell hevelly dhybm, y hyllyn ny desevos oll an manylyon dhe vos stampys dh'y vrës. Pàn en vy yonca, me a wodhya gwil an keth prat-ma."
"Dhana, ny yllyn ny ma's chaunjya an dowlen," yn medh Syr Walter, edrygys y lev.
Tremyn Whittaker êth pòr vorethek. "A wrussys derivas dhe Arlùth Alloa an pëth re wharva?" ev a wovydnas. "Na wrusta? Now, ny allama côwsel in cowl-surneth, saw namnag ov vy sur na yllyn ny gwil chaunj vëth a bris, mar ny vydnyn dastesedha dorydhieth Englond."
"Res yw leverel udn dra moy," y feu geryow Royer lebmyn. "Oll an termyn mayth esa an den-na i'gan mesk my a wrug côwsel heb sprall. My a wrug derivas nebes a dowlen vreselek ow Governans vy. Cubmyas a'm beu dhe leverel kebmys. Saw valew an derivadow yw lies mylyon mona dh'agan eskerens. Nâ, 'gothmans wheg, ny welama saw udn fordh. An den hag a dheuth obma, res yw y sêsya, ha'y gefrysysy, sêsya dystowgh."
"Duw in nev," me a grias, "ha ny heb gedyans vëth!"
"Ha pelha," yn medh Whittaker, "yma an post. Scon y fëdh an nowodhow danvenys in rag."
"Na vedhons," an Frank a lavaras. "Heb ùnderstondya ûsadow an aspiyas owgh why. Yn personek ev a gebmer y reward, ha delyfra yn personek y gevarweth. In Frynk ny a wor nebes lowr a'n kynda-ma. Yma chauns whath, mes amis. Res yw dhe'n dus-ma tremena dres an mor, res dhyn nyny sarchya dre worholyon ha gôlyas orth porthow. Cresowgh dhybm, an otham yw stroth rag Frynk ha rag an Vreten Veur kefrës."
Furneth sevur Royer a'gan dros in spyrys kebmyn neb fordh. Den snell y wythres o va mesk tus a gledhecter. Saw ny welys vy esperans wàr vysach vëth, na'y glôwes i'm colon naneyl. Ple hyllyn ny, mesk an hanter-cans mylyon tyller i'n enesow-ma, dalhedna an try vylen moyha codnek in oll Ewrop, ha'ga dalhedna kyns pedn dewdhek our?
***
Ena desempys y teuth awen dhybmo.
"Ple ma lyvryn Scudder?" me a grias orth Syr Walter. "Qwyck, a dhensa! Cov a'm beus a neppyth ino."
Daras in dadn alwheth a wrug ev egery in burô, ha ry an lyvryn.
Me a gafas an tyller perthynek. "Nawnjek stap warn ugans," me a redyas, hag unweyth arta, "Nawnjek stap warn ugans – me a's comptyas – Morlanow 10.17 w.h."
Th'esa den Lÿs an Mor ow meras orta vy kepar ha pàn ve y breder y bosama muscok.
"A ny welowgh? Gedyans yw," me a grias in mes. "Scudder a wodhya pleth esa an wesyon-ma ow sensy fow – ev a wodhya ple whrêns y qwyttya an wlas, kyn fydna ev gwetha hanow an plâss pryva. Ev a wodhya vorow dhe vos an very jëdh, orth neb tyller may teu morlanow seytek wosa deg."
"Anjy êth haneth martesen," yn medh onen.
"Nyns ethons y màn. Fordh a's teves, fordh gles ha kevrîn, ha ny vydnons y mos sconha ès dell yw towlednys. Almanas yw dhybm aswonys dâ, ha'ga holon leskys rag obery herwyth devîs. Ple wor'n jowl y hallaf vy cafos lyver Tâblys Tid?"
Scafhës veu Whittaker in y drèm. "Chauns yw, dhe wir," yn medh. "Deun! Dhe Lÿs an Mor."
Ny a wrug eskyna in dew a'n kerry tan esa ow cortos – pùbonen saw unsel Syr Walter, hag ev ow mos dhe Scotland Yard – rag "sordya MacGillivray ha'y lu," dell lavaras.
Der an tremenvaow gwag ny a gerdhas uskys, ha der an stevelyow brâs ha noth mayth esa an scùryoresow i'ga whel, erna dheuthen ny dhe rômyk ha'y fosow leun a lyvrow ha mappys. Ny a wrug dyscudha scrifwas anedhys, hag ev ow kerhes, mes a'n lyverva wharê, an Tâblys Tid cùntellys gans Lÿs an Mor. Yth esen vy esedhys orth an voos redya, ha'n re erel a'ga sav adro, rag my a gemeras, neb skyla, an whythrans in charj.
Yn euver. Th'esa cansow a vanylyon, ha seytek wosa deg, kebmys dell welyn, ow longya dhe hanter-cans tyller. Res o dhyn cafos fordh lehe an myns a bossybylta.
Me a settyas ow fedn intra'm dêwla hag ombredery. Neb entryng dhe'n desmyk-ma, a nyns o dhe gafos heb mar? Pandr'esa Scudder ow styrya dre screfa stappys? Me a wrug consydra stappys orth dock, mès mars o hedna y styr ny vydna ev, dhe'm breus, gwil mencyon a'n nùmber. Res o an tyller dhe vos plâss mayth esa stairys in lies set hag onen ow tyberth orth an re erel in stappys nawnjek warn ugans.
Nena tybyans trobm a'm beu, ha helerhy oll an euryow departya rag gorholyon tan. Nyns esa gorhal vëth ow tallath dhe'n brâstir dhe 10.17 w.h.
Prag y feu morlanow kebmys a bris? An tyller mars o neb porth, res o ev dhe vos plâss bian may hylly an mortîd bos a vern, poken gorhal keyn poos o va. Saw nyns esa departyans rêwlys a worhal tan orth an eur-na, ha nyns en vy inclynyes wàr neb cor dhe gresy anjy dhe viajya in gorhal brâs mes a borth kebmyn. Ytho res o an tyller dhe vos porth bian may fedha an tid a bris, pò cabm nag o porth vëth martesen.
Mès porth bian kyn fe, ny wodhyen vy convedhes styr an stappys. Nyns esa settys a stairys in porth vëth na welys vy bythqweth. Res o an tyller dhe vos plâss aswonys dre set specyfyk a stairys, may fedha an morlanow devedhys dhe 10.17. Oll warbarth, yth hevelly dhybm an plâss dhe vos neb hës arvor ôpyn. Saw penpleth prest o an stairys.
Ena me a wrug dewheles dhe avîsment moy ledan. Py tyller y fensa den departya dhe Jermany dre bùb lycklod? Den in hast, whensys dhe gafos trumach snell ha kevrîn? Ny vensa y wil orth onen a'n porthow brâs. Ny vensa y wil orth an Chanel nag orth Arvor an West, nag orth Scotlond, dre rêson, kebmer cov, ev dhe dhallath in Loundres. Me a wrug musura an pellder wàr an mappa, ha whelas omhevelly brës an envy. My a vensa settya Ostend pò Antwerp pò Rotterdam i'm meder, ha mora orth neb tyller wàr Arvor an Ÿst inter Cromer ha Dover.
Hebma oll o prederyans pòr lows, ha nyns esof ow pretendya ev dhe vos injyn pò sciensek. Sherlock Holmes nyns en vy badna. Yma opynyon dhybm bytegyns dell eus anyen genef a neb sort wàr gwestyonow a'n par-ma. Ny woram mar callaf hy clerhe glân, mès ow maner vy a wil, hòn o gorra conyng dhe nampyth kebmys dell yllyn, ha tuedhyans warnaf, pàn dheuth dhe fos wag, a dhesmygy dall. Hag ow gorthebow a vedha ewn teg, dre vrâs.
Ytho me a screfas oll ow rêsnans wàr bîss paper Lÿs an Mor. Otta va:
CERTAN LOWR
(1)
Tyller mayth esa lower set stairys; an stairys a vern yw decernys dre stappys nawnjek warn ugans.
(2)
Morlanow 10.17 w.h. Departya orth an arvor, nyns yw possybyl ma's gans morlanow.
(3)
Stappys yns y, adar stappys dock, ytho dre lycklod nyns yw an tyller porth.
(4)
Nyns eus gorhal tan rêwlys dhe 10.17. Main a garyans, res yw dhe vos gorhal tramp (bohes lycklod), lester gwary, pò côk pyskessa.
Orth an poynt-ma ow thybyans a veu hedhys. Me a wrug udn rol rêsnans moy, ha hy fednya 'Desmygy whath', saw my o mar sur a'n eyl avell y gela.
DESMYGY WHATH
(1)
An tyller yw arvor ôpyn, adar porth.
(2)
An gorhal yw bian – côk draylya, lester gwary, pò lancha.
(3)
An tyller yw neb plâss wàr Arvor an Ÿst inter Cromer ha Dover.
Awotta vy – ha coynt o, dell hevelly dhybm – esedhys orth an desk, ha Menyster dhe'n Cabynet, Caslewyth, dew sodhak uhel i'n Governans, kefrës ha Jeneral Frynkek, ow meras orthyf hedre ven vy ow whelas yn fen, orth gwadnscrif den marow, tedna kevrîn neb o negys bêwa pò merwel dhyn ny.
Syr Walter a dheuth ha jùnya, ha devedhys veu MacGillivray wharê. Ev a wrug danvon brenyans a wil gôlyas orth an porthow hag orth gorsavow an hens horn, rag cafos an tredden dell y's descrefys dhe Syr Walter. Saw nyns esa ev, na den vëth naneyl, ow cresy hedna a brow brâs.
"Ot an gwelha assoylyans dell allama gwil dhedhy," yn medhaf. "Res yw trouvya tyller may ma lower set stairys dhe'n treth wàr nans, ha nawnjek stap warn ugans dhe onen anedha. Dhe'm recknans, ev yw darn arvor ôpyn hag âlsyow mynsek orto, neb plâss inter an Wash ha'n Chanel. Kefrës, ev yw tyller may fëdh morlanow dhe 10.17, nessa nos."
Udn tybyans moy a dheuth dyson. "A nyns eus Arolegyth dhe Wethysy an Âlsyow pò gwas aral a'n keth par, hag Arvor an Ÿst aswonys dhodho?"
Whittaker a lavaras bos onen defry, ha hedna tregys in Clapham. Ev êth in carr rag y gerhes, ha'n rest ahanan a'gan eseth i'n rômyk-na hag ow côwsel a bynag oll a dheffa dhyn i'n pedn. Me a wrug tùchya pib ha dasleverel an hôll-dra unweyth arta, bys may feu sqwith an empydnyon.
Udn eur myttyn, ader dro, y teuth den Gwethysy an Âlsyow. Cothwas brav o va, ha syght sodhak a'n lu lestry warnodho, ha leun a revrons dh'agan company. Me a wrug gasa dhe'n Menyster Bresel y grows-examnya, rag dowt a'm bo, ev dhe regardya tauntyans pùb cows a'm part vy.
"Whensys en ny dhe wodhvos oll an tyleryow aswonys dhywgh wàr Arvor an Ÿst, may ma âlsyow, ha stappys, lower set anodhans, owth hùmbrank dhe'n treth wàr nans."
Ev a wrug predery nebes. "Py ehen a stappys yw gàs styr? Yma tyleryow pals may ma fordhow trehys der an âlsyow, hag yma dhe lies fordh udn stap pò dew inhy. Poken yw gàs mênyng stairys – hèn yw, stappys in res?"
Syr Arthur a drailyas y wolok tro ha my. "Agan mênyng yw stairys," yn medhaf.
Ev a wrug ombredery mynysen pò dew. "Nyns eus cov dâ dhybm a stairys. Gortow' pols. Yma tyller in Norfolk – Brattlesham – ryb gwel golf, may ma nebes stairys rag alowa dhe'n dus jentyl dascafos pel gellys."
"An tyller-na ny yll bos," yn medhaf.
"Dhan yma lies Kerdhva Vorrep, mars yw hodna gàs styr. Pùb resort orth gladn an mor a'n jeves onen."
Me a shakyas pedn.
"Res yw an plâss dhe vos meur le poblek ages an re-na," yn medhaf.
"Wèl, a jentylyon, nyns eus cov genam a dyller aral. Saw yma an Âls Crigh, dell wodhyr –"
"Pandr'yw?" me a wovydnas.
"An pentir brâs a galgh in Kent, ogas dhe Bradgate. Yma lies kenkyth warnodho wartha, ha dhe neb treven yma stairys bys in treth pryva wàr nans. Plâss fest uhel y don yw hedna, ha mydnas an dregoryon yw gwetha gnas pell dhort tus."
Me a wrug egery an Tâblys Tid yn harow, ha cafos Bradgate. Morlanow ena o 10.27 w.h. an 15ves mis Efen.
"Wortyweth, odour an olow!" me a grias meur ow frobmans. "Fatell wrav vy godhvos peur fëdh morlanow orth an Âls Crigh?"
"My yll leverel hedna, sera," yn medh den an wethysy. "Lendys a veu chy dhybm i'n very mis-ma in bledhen eus passys, ha my ûsys dhe vora pùb nos rag pyskessa mor down. An tid yw deg mynysen kyns ès Bradgate."
Me a dhegeas an lyver ha meras orth an company adro.
"Mars eus nawnjek stap warn ugans dhe onen a'n stairys-na, tus jentyl, assoylys yw an kevrîn," yn medhaf. "Whans a'm beus a'gas carr in kendon, Syr Walter, ha mappa ganso a'n fordhow. Mar mydn Mêster MacGillivray ry dhybm deg mynysen a'y dermyn, y hyllyn ny darbary, dell dybaf, neppyth rag avorow."
Th'o tra pòr wharthus, fatl'esen vy ow kemeres an negys in charj, mès anjy o plêsys lowr, ha wosa pùptra, th'en vy gwarior i'n show pùb dëdh oll a'y gensa dallath. Dres hedna, ober garow, hèn o ûsadow dhybm, ha'n dus jentyl-ma, uhel aga degrê, o re sley, ma na wrellons y wodhvos. Jeneral Royer, ev a wrug omry comyssyon dhybm. "My dhe'n lyha," yn medh, "yw lowen Mêster Hannay dhe rowtya an hôll-dra."
Warbydn hanter wosa teyr eur yth esen vy ow lewyas toth men dres kewÿth Kent in dadn lorgan, ha'n gwelha den in felshyp MacGillivray a'y eseth dhe'm tenewen.
CHAPTRA 10
LOWER PERSON OW KESKEVERYA DHE'N MOR
Myttyn gwydnrudh ha glas a vis Efen a wrug wolcùbma in Bradgate, ha my ow meras dhort Ostel Gryfon dres mor leven bys i'n gorhal golow a-ugh Bank an Culyak, hag ev scant brâssa, dell hevelly, ages merk clogh neyja. Mildir pò dew dhe'n soth ha meur nes dhe'n tir yth esa gorhal dystrôwy bian wor'ancar. Aswonys o an gorhal dhe Scaife, den MacGillivray, esa i'n Morlu kyns, hag a dherivys hanow an lester ha hanow y gomondyas, ytho me a wrug danvon pellscrif dhe Syr Walter.
Wosa hawnsel Scaife a gemeras, dhyworth mainor treven, alwheth dhe bùb yet ow longya dhe'n stairys wàr an Âls Crigh. Me a gerdhas ganso an treth ahës, ha sedha in neb kilen i'n âls pàn esa ev orth aga whythra, hanter-dewdhek anedha. Ny vydnen vy bos aspies, saw an tyller o dybobel glân i'n eur avarr-ma, hag in oll an termyn mayth esen vy wàr an treth ny welys tra vëth ma's an gwylanas.
Scaife a wrug moy ès udn our rag collenwel an ober, ha frobmys oll en vy pàn y'n gwelys ow tos dhybm hag ow checkya pîss paper. A wrug vy desmygy yn ewn? Wàr hedna, dell wodhyr, th'esa pùptra ow cregy.
Ev a redyas, lev uhel, nùmber a'n stappys i'n stairys dyvers. "Peswardhek warn ugans, pymthek warn ugans, nawnjek warn ugans, dew ha dewgans, seyth ha dewgans" hag "onen warn ugans" mayth esa an âls owth iselhe. Namna lebmys vy ha cria in mes.
Ny êth in udn fystena dhe'n dre arta ha danvon pellscrif dhe MacGillivray. Th'esa whans dhybm a hanter-dewdhek den, ha me a wrug erhy may whrellons y radna gà honen inter lower ostel specyfyk. Ena Scaife êth ha dyberth rag whythra orth an chy in pedn an nawnjek stap warn ugans.
Ev a dheuth arta gans nowodhow esa kefrës ow qwil penpleth hag ow confortya. Hanow an chy o Trafalgar Lodge, hag ev ow longya dhe dhen jentyl coth henwys Appleton – mainor stockys, omdednys, dell lavaras mainor an treven. Y fedha Mêster Appleton i'n chy termyn hâv yn fenowgh, hag yth esa tregys ena i'n eur-ma – nans o moy ès seythen. Scant ny yll Scaife cafos derivadow anodho, marnas ev o cothwas cuv, ow tylly y scot yn rêwlys, ha parys pùpprës dhe ry paper pymp dhe jeryta a'n vro. Wosa hedna, dell glôwys, Scaife a wrug dewana bys in daras dhelergh an chy, ow fâcya y vos mainor a jynys gwrias. Nyns esa ma's try servont: an goges, maghteth an parleth, ha maghteth an chy; hag yth êns y oll a'n sort poran o dhe gafos in mêny onest a'n rencas cres. Nyns o an goges onen a'n kynda kesclappya, ha hy a wrug degea an daras scon lowr wàr y bydn, mès Scaife a veu certan na wodhya hy tra vëth. Chy an gentrevogyon o drehevyans nowyth heb bos gorfednys na whath, a vedha covva dhâ rag aspians, ha'n genkyth a'n tu aral o dhe wobrena, ha'y lowarth o garow ha leun a brysk.
Me a wrug benthygya gweder aspia Scaife, ha mos dhe walkya an Âls Crigh kyns ly. My a wetha ow honen pell adrëv an treven kenkyth i'ga resyow, ha cafos gologva dhâ orth amal an gwel golf. Alena y'm bo vu a'n lin glaswels wàr an âls ahës, a'n esedhow settys ha spâss intra pùb huny, hag a'n splattys pedrak bian, railys aga he, ha plynsys gans bojow, mayth esa an stairys ow skydnya dhe'n treth. My a wely Trafalgar Lodge pòr gler, kenkyth a vryckys rudh ha veranda dhedhy, glesyn tenys dhelergh, ha lowarth blejyow dell o ûsys ryb gladn an mor, leun a gaja vothen ha gelvyn garan tanow. Th'esa gwelen baner, ha Baner an Udnyans, onen cowrek, ow cregy yn lows i'n air cosel.
Wharê me a spias bos nebonen ow tyberth orth an chy hag ow rôsya an âls ahës. Pàn wrug vy settya ow gweder warnodho, me a welas y bos cothwas, gwyskys in lavrak gwlanen gwydn, jerkyn saya blou, ha hot cala. Th'esa va ow ton dewweder brâs ha paper nowodhow, hag ev a wrug sedha wàr onen a'n scavellow horn ha dallath redya. Traweythyow th'esa ow corra an paper denewen ha trailya y dhewweder wàr an mor. Ev a vera polta orth an gorhal dystrôwy. Th'esen vy orth y aspia hanter-our, erna wrug ev sevel in bàn ha dewheles dhe'n chy rag lîvya, ha my ow mos dhe'n ostel arta i'n keth porpos.
Scantlowr nyns esa omafydhyans dhybm. An drigva gebmyn hag onest-ma, nyns o dell waitys. An cothwas o an hendyscansyth mol a'n tebel-jy tiak wàr an wûn, martesen. Pò nyns o, martesen. Edhen coth ha contentys o va, kepar ha dell esos orth y gafos in pùb mestre ha pùb tyller havysy. Mar pe whans dhys a gemeres tip a berson heb drog yn tien, pùb lycklod y fenses dôwys an den-ma.
Saw wosa prës ly, pàn esen vy a'm eseth in portal an ostel, ow cher a veu gwellys, rag me a welas an pëth mayth esa dhybm govenek anodho, ha meur own dhybm kyns, rag dowt my dhe fyllel a'y weles. Devedhys veu lester gwary a'n soth ha gorra ancar, adâl an Âls Crigh poran. An lester-ma o deg tona ha seyth ugans, nes lowr a'y semlant, ha me a verkyas hy dhe longya dhe'n sqwadron a'n baner gwydn. Ytho my êth dhe'n porth wàr nans, ha Scaife genama, hag arfeth den scath rag pyskessa dohajëdh.
Me a joyas dohajëdh tobm ha wheg. Ny a wrug cachya, agan dew, neb ugans pens a varvus ha pollak, hag ena wàr ves, wàr an mor glas a dodn dauncya, th'esen vy ow regardya pùptra in scaffa cher. A-ugh carrygy gwydn an Âls Crigh yth esen vy owth aspia an colours gwer ha rudh a'n kenkythyow, ha spessly an welen vrâs ha'y baner ryb Trafalgar Lodge. Dhe beder eur, ader dro, pàn wrussyn ny pyskessa lowr, me a wrug pesy orth den an scath a revya bys i'n lester gwary, esa a'y wroweth kepar hag edhen gwydn ha dainty, parys dhe fia nepprës dhe'n fo. Scaife a lavaras bos an lester scath uskys, sur, herwyth y dhesîn, ha jynys nerthek ino, heb dowt.
Hanow an lester o Ariadne, dell dheskys vy warlergh cappa onen a'n dus esa ow polsya an brestweyth. Me a gowsas orto, ha recêva gorthyp in radnyêth vedhel Essex. Ken marner a dhysqwedhas ha gorhebmyn dëdh dâ in tavas o Sowsnek a sort na ylly bos camgemerys. Den agan scath a wrug omdhal whar gans onen anedha tùchyng an gewar, ha nebes mynysow th'esen ny hedhys heb revya, ogas dhe bedn an tu dyhow arâg.
Ena desempys an dus a savas orth agan attendya hag iselhe gà fedn, ow tewheles dh'aga whel pàn dheuth sodhak dres an flûr. Pollat yonk o va, plesont ha glanyth y syght, hag ev ow covyn orta ny adro dh'agan pyskessa, in Sowsnek pòr dhâ. Saw nyns esa dowt vëth in y gever ev. Y vlew trehys re got, ha'y wùdhùgen ha'y golm codna arbednyk aga shâp, bythqweth ny via an re-ma teythy dhe Sows.
Y whrug hedna dry neb confort warnaf, mès pàn esen ny ow revya dhe Bradgate dre, nyns êth an dowtys gorth ina vy dyllys in kerdh. An pëth esa ow throbla, hèn o predery an eskerens dell wodhyens y bos Scudder an benfenten oll a'm gacodhvos, ha gedyans Scudder dell ros arweth dhe'n tyller-ma. Mar codhyens y an arweth dhe vos kefys gans Scudder, a ny vydnens y chaunjya gà thowlen? Aga spêda o re y bris, may hallons y peryllya maner vëth. Qwestyon Gretchen o, py gradh yth yw godhvos Scudder convedhys gansa? Th'esen vy newher ow leverel hardh y fedha an Almanas ow clena orth aga thowlen pùb termyn, saw mars esa neb skeus my dhe dhos wàr aga olow, y fedhens y felyon marnas anjy a's cutha. Th'esen vy owth omwovyn mars o cler dhe'n den newher, fatell veuva aswonys genama. Neb fordh th'en vy ervirys nag o cler màn, ha my ow sensy stag wàr hedna. Saw bythqweth ny veu an hôll-negys mar dyckly dell hevelly ev i'n androw-ma, i'n very prës may codhvia dhybm rejoycya, recknys yn rêsonek, orth sowenyans surhës.
I'n ostel me a vetyas gans comondyas an gorhal dystrôwy. Scaife a wrug ow fresentya dhodho, ha ny ow côwsel nebes warbarth. Ena me a wrug tyby gôlyas orth Trafalgar Lodge dhe vos otham dres our pò dew.
Me a gafas tyller wàr an vre pelha in bàn – in lowarth chy gwag. Alena me a'm bo leun-wolok dhe'n gort mayth esa dew fygùr ow qwary tenys. Onen o an cothwas, a welys vy solabrës; an aral o yonca pollat, ha colours neb clùb i'n gweth adro dh'y wast. Th'esens y ow qwary gans meur a gris, kepar ha dew dhen jentyl a'n Cyta ow tesîrya omassayans freth rag egery gà thell whesa. Ny alses desmygy golok moy inocent. Th'esens y ow cria hag ow wherthyn hag owth hedhy rag eva, pàn dhros maghteth dew gruskyn wàr dallyour. Me a rùttyas an lagasow ha govyn orthyf ow honen mars en vy an brâssa fol wàr oll an nor. Kyns, y feu kevrîn ha tewlder cregys adro dhe'n dus a'm helghyas dres gûn Alban in airen hag in carr tan, ha spessly adro dhe'n hendyscansyth dyowlak. Êsy o kevredna an bobel-na orth an gollel a wrug ebylya Scudder i'n leur, hag orth hager-injyn warbydn cres i'n bÿs. Mès otta dew dhynasyth anfel owth omassaya heb drog, a vydna mos ajy yn scon rag kydnyow a gis pùb jorna, le may fedhens y ow côwsel a brîsyow an varhas, a scorys moyha nowyth an crycket, hag a scavel an gow in Surbiton, aga mabmvro. Me a wrug roos rag cachya hôkys ha bryny kig, ha lô! dyw volgh dew a veu neyjys cabm aberveth.
Y teuth tressa fygùr wharê, den yonk wàr geyn dywros, ha sagh a welyny golf cregys wàr y scoodh dhelergh. Ev a gerdhas heb hast dhe lesyn an tenys, ha'n warioryon orth y wolcùbma meur aga thros. Yth esens y orth y vockya taunt yn caradow, dell o apert, ha'n tauntyans o uthyk Sowsnek y son. Ena an den berryk a sehas y dâl gans lien owrlyn, ha declarya bos res dhodho whelas keryn. Me a glôwas an very geryow – "Yma whës ewonek warna vy," yn medh. "Hebma, Bob, a wra lehe ow foos, ha'm pràl kefrës. Me a vydn dha dhefia vorow, ha ry dhys udn strocas pùb toll." Clôwes ny alses tra vëth moy Sowsnek agesso.
Anjy oll êth i'n chy aberth, ha'm gasa bobba precyùs dhe'm estêm. Dar, ny wrug vy pory obma park ewn? Martesen yth esa an dus-ma ow qwil plain an gwary; saw mars o 'della defry, pleth esa gà gweryn? Ny wodhyens y ow bos esedhys deg lath warn ugans dhywortans in bùsh a rugros. Ùnpossybyl yn tien o cresy an try gwas jolyf-ma dhe vos tus ken ès dell esens y owth hevelly – try Sows, tus kebmyn, whansek a sport, pobel a'n dre, sqwîthus, res alowa, mès gwiryon dhe blos.
***
Bytelle, th'esa try anodhans; hag onen o coth, hag onen o berryk, hag onen ow tewl ha tanow; ha'ga chy o kesson gans covnôtyans Scudder; ha hanter-mildir abell yth esa lester tan wor'ancar, hag udn sodhak Alman warnodho dhe'n lyha. Me a bredery a Carolydes growedhys yn farow, hag oll Ewrop ow trembla wàr amal dorgis, ha me a bredery a'n bobel esa gesys in Loundres, ow cortos wharvedhyans an nessa ourys in fienasow. Neb plâss, dowt vëth, yth esa iffarn orth y whel. An Men Du o trygh, ha mar kylly durya dre'n nos-ma a Vetheven, ev a vydna gorra y wain in arhow.
Dell hevelly, nyns esa ma's udn fordh – mos in rag kepar ha pàn na ve dowt badna; ha mar pedhen ow qwil fol ahanaf ow honen, bos fol brav teg. Bythqweth ny veu brâssa cas gena vy orth neb ober vëth i'm bêwnans. Dhe'm preder i'n prës-na, gwell via kerdhes ajy dhe fow anarkystyon, pùbonen parys ha'y wodn Browning, pò eneby lion gans godn pop orth y omsettyans, ages entra dhe drigva heudh try Sows hudhyk ha declarya dewedhys dell o gà gwary. Assa vedhens y ow qwil ges ahanama!
Saw desempys y teuth cov a neppyth a glôwys vy i'n termyn passys in Rôdêsya, dhyworth Peter Pienaar coth. My re wrug mencyon a Peter solabrës i'n derivas-ma. Ev o an gwelha fordhor dell aswonys vy bythqweth, ha kyns ès ev dhe drailya dhe onester, th'esa va pòr venowgh a'n tu gwynsak dhe'n laha, ha'n auctorytys orth y whelas yn fen. Kescows a'gan beu udn jëdh, ow tùchya tùllwysk, ha Peter ow styrya y dybyans, may feuv vy kemerys ganso yn frâs. Dell lavaras ev, nyns o teythy fysycal meur aga les – saw neb certuster perfeth, ol bës in exampyl – rag aswon foesyk, mars o va pòr sley in keladow. Peter a wrug wherthyn blew lywys dhe ves, ha barvow fâls kefrës, ha ken folnebow flohyl. Bern nyns o tra vëth saw an pëth esa Peter owth henwel "ayrgel".
Mar kylly den gorra y honen in omgelgh dyffrans yn tien dhyworth hedna mayth o va aspies ino kyns, hag – ot an radn a bris – gwary y rol oll acordyng dhe'n omgelgh-ma, ow farya kepar ha pàn na ve departyes orto bythqweth, ev a vedha penpleth vrâs dhe helerhysy moyha codnek an bÿs. Hag ûsys o Peter dhe dherivas whedhel, fatell wrug ev, udn jëdh, benthygya côta du ha mos dhe'n eglos ha kevradna an keth hympner gans an den esa orth y whelas. Mara pe hedna orth y weles kyns in company onest, ev a vensa y aswon; mès ny'n welas ma's ow ladha an golowys in tavern gans revolver.
Perthy cov a Peter, th'esa ow ry dhybm an kensa confort gwir in oll an jorna. Edhen coth ha down o Peter, ha'n wesyon esen vy ow châcya o ÿdhyn flour an edhenva. Esens y ow qwary dell wrug Peter ûsya gwary? Yma den fol owth assaya chaunjya y semlant: wàr dhen sley yma pùpprës an keth syght, mès dyffrans yw ev bytegyns.
Ha pelha, th'esa poynt aral a skians Peter i'm cov, onen o gweres pàn en vy oberwas an fordh. "Mars esos ow qwary neb rol, nefra ny yllyth y ventêna mar ny wreth perswâdya dha honen y bosta an very person." Y fia hedna bos styr an tenys. An pollattys-na, nyns esa otham dhedhans a wary rol, ny wrêns y ma's trailya dornla ha passya ajy dhe nessa bêwnans, neb o mar naturek dhedhans avell an kensa. Y fedha Peter ow leverel, yn fast, bos hebma, lavar gwag kynth o dh'y arenep, an brâssa kevrîn gans oll an drog-oberoryon moyha gà hanow.
Namnag o eth eur solabrës, ha my ow mos arta ha metya gans Scaife rag ry dhodho brenyans. Acordys veuv vy ganso fatell wrella ev araya y dus; wosa hedna my a wrug rôsya, rag nag esa ewl vëth a gydnyow dhybm. Me a wrug walkya adro dhe'n gwel golf dybobel, ena bys in neb tyller wàr an âlsyow pelha a'n north dhe'n kenkythyow in udn rew.
Wàr an fordhow bian ha kempen, nowyth aga gwrians, my a dheuth warbydn tus lavrak gwlanen ow tewheles mes a wary tenys ha dhywar an treth, ha gwethyas an âlsyow mes a'n gorsaf dywyver, hag asenas ha lordens ow medra tre. Dhe'n mor i'n tewlwolow dulas wàr ves my a wrug aspia golowys dhe anowy wàr Ariadne ha wàr an gorhal dystrôwy a'n tu soth, kefrës creffa golowys in hans dhe Vank an Culyak, ow longya dhe worholyon tan, mayth esa Dowr Tamys pedn aga fordh. An hôll-wolok o mar gosel sempel, may codhys vy tecken iselha i'm spyrys. Reqwîryes veu oll ow determyans rag kerdhes heb fysky tro ha Trafalgar Lodge orth hanter wosa naw.
Wàr an fordh dy me a gemeras darn ferv a gonfort orth syght a vilgy esa ow lesca ryb gwewen neb nors wàr rag. Ev a dhros cov dhybm arta a gy a'm bo in Rôdêsya kyns, hag a'n prës may whrug vy helghya ganso wàr Vrynyow Paly. Gavrewyk o gàn medras, an ehen loos, ha me a berthy cov fatl'esen ny ow sewya udn best, ha'gan dew, my ha ky, a'n collas glân. Yma milgy owth obery der y wolok, ha'm lagasow vy yw dâ lowr, mès an bogh-na êth ha sygera in mes a'n dirwedh. A'y wosa me a gafas fatell ylly vansya. Gweles an bogh, carrek loos an vre y gilva, scant nyns o êsya ès gweles bran wàr gloud taran. Nyns esa otham dhodho a fia dhe'n fo; nag a wil ken, marnas sevel heb gwaya, ha bos omdedhys dhe'n gilva mes a wel.
Desempys, ha'n covyon-ma whath ow resek der ow freder, my a wrug predery a'm present câss ha gorra an dyscas in ober. Nyns esa otham dhe'n Men Du a fo vëth. Yth êns y lenkys qwiet i'n dirwedh. Devedhys en vy wàr aga olow, ha my a wrug pockya hedna fast ajy dhe'm brës ha dedhewy nefra na wren vy ankevy. An dewetha ger, th'o ger Peter Pienaar.
My a wodhya bos tus Scaife orth aga stacyon lebmyn, saw nyns esa sin vëth a nagonen. An chy o sevys mar ôpyn avell plain an varhas, may hylly pùb den aspia orto. Dyberthys o va dhyworth fordh an âls dre rail try throos'hës y uhelder. Oll an fenestry o egerys wàr leur an goles. Golow goskesys ha levow clôwys, y whrug an re-ma dysqwedhes le mayth esa an dregoryon ow worfedna gà hydnyow. Pùptra o mar boblek ha mar lafyl avell basar cheryta. My a wrug egery an yet ha seny an clogh, owth omsensy dell en vy an brâssa fol wàr oll an norvës.
***
Yma den a'm kynda vy, neb re viajyas in tyleryow garow adro dhe'n bÿs, yma den a'n par-ma ow codhvos cowethya pòr dhâ gans dew rencas: ty yll aga henwel an rencas uhella ha'n rencas iselha. Yma den a'n par-ma orth aga honvedhes, hag anjy orth y gonvedhes ev kefrës. Heudh en vy gans bugeleth ha gwyllyow hag oberwesyon an fordh, ha plesont lowr yw bos gans pobel kepar ha Syr Walter ha'n dus may feuv vy metyes gansa newher. Ny allama styrya prag, mès feth yw. Saw an pëth nag yw den a'm par vy owth ùnderstondya, hèn yw bÿs an rencas cres – brâs, contentys, attês – an bobel usy tregys in kenkythyow ha mestrevow. Ny wor an den-ma fatl'yw taclow regardys gens anjy, ny wor aga conversacyon, hag ev mar wohelus ortans dell yw worth mamba du. Pàn wrug maghteth an parleth egery an daras, namna fyllys dhybm leverel.
Me a wovydnas omweles gans Mêster Appleton, ha hy a wrug ow hùmbrank ajy. Porposys en vy dhe gerdhes strait i'n gynyowva ha, der ow dysqwedhyans sodyn, kenertha i'n dus-ma neb plynch, fatell en vy aswonys dhedha, lowr rag confyrmya ow drog-dybyans. Saw pàn veuv vy hùmbrynkys i'n hel kempen-na, an tyller a wrug mêstry warna vy. Ot an gwelyny golf ha'n rackettys tenys, an hottys cala ha'n cappys, an manegow in udn rew, an manal a lorhow, dell yllyth aga hafos in deg mil jy Bretednek. Th'esa bern a gôtys ha dyllas stanch, plegys glanyth, ow corhery cofyr derow coth; yth esa clock tas gwydn ow tyckya; ha padellow tobma, polsyes aga brest, wàr an fosow, hag airbosor, ha prynt a Chiltern ow qwainya resegva St Leger. An plâss o mar ewngryjyk avell eglos Anglycan. Pàn wrug an vaghtegh govyn ow hanow, my a'n ros automatek, ha hùmbrynkys veuv i'n stevel megy, a'n tu dyhow dhe'n hel.
An rom-na o lacka vëth. Nyns esa termyn lowr rag y whythra, saw me a welas group-skeusednow frâmys a-ugh an glavel ha gwrÿs, sur, in neb scol boblek pò ûnyversyta a'n Sowson. Ny'm beu ma's golok got, rag me a wrug cùntelles ow honen ha sewya an vaghteth. Saw re holergh. Hy a wrug entra dhe'n gynyowva ha ry ow hanow dh'y mêster, ha kellys veu an spâss dhe weles fatla via an tredden sowthenys.
Pàn gerdhys ajy, an cothwas orth pedn an bord o sevys in bàn hag omdrailys wàr ow fydn. Ev o gwyskys gordhuwher – jerkyn cot ha colm du – dell o an aral kefrës, hedna esen vy ow cria i'm brës an den berryk. An tressa den, an pollat tewl, o gwyskys in sewt saya blou ha gùdhùgen vedhel wydn, ha colours neb clùb pò scol gensy.
Cowntnans an den coth o perfeth. "Mêster Hannay?" yn medh, hockus y lev. "Eus desîr dhywgh cùssulya genef? A sos, gortow' pols. My a dheu arta, i'n by and by. Gwell yw dhyn ny mos dhe'n stevel megy."
Omfydhyans ny'm bo, ùns vëth, mès constrînys veu warna vy jùnya i'n gwary. Me a dednas chair dhybm hag esedha.
"Dell gresama, metyes on ny kyns," yn medhaf, "ha why ow codhvos oll ow negys, dhe'm breus."
Gwadn o an golow i'n rom, saw kebmys dell yllyn vy gweles aga vysach, th'esens y ow qwary an rol 'sowthan brâs' yn abyl teg.
"Martesen, 'tesen," yn medh an cothwas. "Cov dâ ny'm beus, ha res yw, gevowgh dhèm, gorra gàs negys in geryow, sera, rag ny'n gworaf màn, soweth."
"Wèl dhana," yn medhaf, ow leverel folneth pur dell hevelly – "devedhys ov vy rag derivas bos an tùll dyskeverys. Yma warrant genama rag agas dalhedna, a dus jentyl, oll agas try."
"Dalhedna," yn medh an den coth, hag y semlant diegrys glân. "Dalhedna! Duw in nev, prag?"
"Rag an moldrans a Franklin Scudder in Loundres an 23sa, dewetha mis."
"Ny glôwys an hanow-na bythqweth kyns," yn medh an cothwas, ha'y lev leun a varth.
Onen a'n re erel a gowsas in mes. "Hèn o Mùrder Portland Place. Me a redyas adro dhodho. Ren ow thas, a nyns ow'why muscok, sera? A ble teuthow'why?"
"Scotland Yard," yn medhaf.
A'y wosa y feu taw dien a gowl-vynysen. Th'esa an cothwas ow meras stark wàr y blât ha fysla orth knofen, patron pur a benpleth wiryon.
Ena an den berryk a wrug côwsel. Ev a stlevys tabm in udn hockya, kepar hag onen esa dour ow tôwys y eryow.
"Na vëdh anies, êwnter wheg," yn medh. "Errour wharthus yw, certan; saw y hyll happya traweythyow, hag amendya yw pòr sempel. Prevy agan inocens ny vëdh tra gales. Y hallaf vy dysqwedhes dell esen vy tramor an 23sa mis Mê, hag yth esa Bob i'n yêhesva. Yth esta jy in Loundres, ha ty yll clerhe an pëth esos ow qwil."
"Indella'n gwir, Percy! Th'yw sempel lowr, heb mar. An 23sa! Hèn o an jëdh wosa demedhyans Agatha. Gas vy dhe weles. Pandr'esen vy ow qwil? My a dheuth mes a Woking i'n kensêwha, ha lîvya gans Charlie Symons i'n clùb. A'y wosa – eâ defry, me a wrug kynyewel orth Gwerthoryon an Pùscas. Yma cov dhybm, rag na veu an pùnch dâ gans ow thorr, ha my ternos nebes anyagh. Dhe'm cregy, ot an box cygarow a dhrys vy mes a'n kydnyow tre." Ev a wrug dysqwedhes kysten wàr an bord, ha wherthyn anês.
"Dell gresaf, sera," yn medh an den yonk, ow côwsel orta vy yn uvel, "why a wel agas bos camdybys. Whensys on ny dhe vos heweres dhe'n laha, dell yw pùb Sows, ha whans vëth ny'gan beus, gweles tus Scotland Yard ow qwil felyon anedha gà honen. A nyns yw gwir, êwnter?"
"Gwir dhe wir, Bob." Th'esa an cothwas, dell verkys, ow tascafos y lev. "Dhe wir, ny a wra oll agan ehen rag gweres an auctorytys. Saw – saw hèm yw govynadow re. Ny allaf y sùffra."
"Assa vëdh Nellie dydhenys!" yn medh an den berryk. "Hy a laver pùb termyn ty dhe verwel rag sqwîthter wortyweth, heb tra vëth dhe wharvos orta jy nefra. Now otta tra an jowl dhis," hag ev a dhalathas wherthyn pòr blesont.
"Eâ, re'm fay. Pana hap! Assa vëdh whedhel dâ pàn vydnam y dherivas i'n clùb. Wèl, Mêster Hannay, y coodh dhèm serry, rag showya inocens, saw ges re vrâs yw! Ha'm tecken a scruth, namnag yw gyvys dhis! Dowt a'm beu, ha'th semlant mar drist, my dhe vos kerdhys in udn voldra dre'm cùsk."
Ny ylly bos plain an gwary, re wiryon o, mollath Duw. Th'esa ow holon i'm skyjyow. Dyharas ha voydya o kensa preder dhybm. Mès yth esen owth argya genef fatell o res pêsya bys i'n dyweth, ha kyn fe scorn oll an Vreten Veur warna vy. Dyscler o golow an coltrebydnyer wàr an bord, ha rag cudha ancombrynsy me a savas in bàn, kerdhes dhe'n daras hag anowy sqwych an golow tredanek. An splander sodyn a wrug dhedha plynchya, ha my ow redya aga fâss a'm sav.
Penpleth hogen! Onen coth ha mol, onen tew, onen tewl ha tanow. Nyns esa tra vëth i'ga semlant contrary dhe'n gorgîs, anjy dhe vos an tredden a'm helghya in Scotlond, mès tra vëth naneyl nyns esa, may hyllens y bos aswonys dredho. Ny allama clerhe, gav e dhybm, prag na veu dhybm contentyans – my, onen a wrug meras, in rol oberwas an fordh, orth dew anodhans, down i'n lagasow, hag in rol Ned Ainslie meras in dewlagas an tressa kefrës, ha cov dâ genef, ha gallos rêsonus aspia. Th'êns y, dhe'm syght, an very dus dell wrêns y pretendya poran. Na ny alsen vy testa gà aswon, nagonen a'n try.
I'n tyller-na, i'n gynyowva blesont-na, ha'y lower trenkravyans wàr an fosow, ha pyctour a venyn goth wyskys in brodnlen a-ugh an glavel, ny welyn vy tra vëth rag aga helmy dhe'n vylens wàr an wûn. Th'esa box arhans a cygarygow rybof, ha me a welas y vos gwainys gans Mêster Percy Appleton, a Glùb Sen Beda, in tournay golf. Res o dhybm glena fast orth Peter Pienaar, hag omlettya rag ponya heb hedhy mes a'n chy.
"Wèl," yn medh an cothwas yn cortes, "ow'why confortyes wosa gàs whythrans, sera?"
Ny yllyn vy gorthyp vëth.
"A vëdh kesson gans gàs devar, gasa an dra wharthus-ma dhe godha? Hèn yw oll dhe wetyas. Ny wrav vy croffal vëth, mès why yll convedhes an dra pygebmys yw vexyans arâg pobel onest."
My a shakyas pedn.
"Dhe'm cregy," yn medh an den yonk. "Hèm yw gorthter re!"
"Owgh why determys dh'agan constrîna in gorsaf an creslu?" a wovydnas an den berryk. "Y fia an gwelha fordh, martesen, saw contentys ny vedhowgh why a greslu an vro, dell dybaf. Me a'm beus an gwir dhe weles gàs warrant, mès nyns ov vy parys dh'agas cably. Ny wrewgh ma's agas dûta. Saw res alowa, mater uthyk treus yw. Pandr'owgh porposys dhe wil?"
Ny yllyn vy tra vëth saw somona ow thus ha dalhedna an tredden, pò confessya ow hamwonys ha voydya. Mesmeryes veuv vy a'n hol dyller, a'n airgelgh a wiryonsys hewel – gwiryonsys, ha sowthan kefrës hag awhêr ôpyn hag onest wàr an try bejeth.
"Ogh, Peter Pienaar," a wrug hanaja ina vy, ha rag tecken th'esen vy pòr ogas dhe dhampna ow honen in pedn pyst, ha pesy aga fardon.
"I'n mên-termyn, prag na wren ny nebes bryj," yn medh an den berryk. "Spâss a vëdh dhe Vêster Hannay ombredery, hag yma otham dhyn pùb eur oll a beswora dhe'n gwary. A worowgh bryj, sera?"
Me a wrug assentya kepar ha pàn ve galow kebmyn i'm clùb. Oll an negys a'm mesmeryas. Ny êth ajy dhe'n stevel megy, mayth esa moos dharbarys dhe gartednow, ha taclow profyes dhybm rag megy hag eva. Me a sedhas orth an voos in hunros dell hevelly. An fenester o egerys ha'n loor, spladnys dres an âlsyow ha'n mor, o tid brâs a wolow melen. Th'esa lorgan i'm pedn kefrës. An tredden a dhascafas aga halmynsy, ha côwsel êsy – cows leun a yêth isel a'n par a glôwyth in pùb clùbva golf. Th'esa golok goynt warnaf, heb dhowt, ena a'm eseth, ow plegya tâl ha'm lagasow in stray.
Ow hespar i'n gwary o an den yonk ha tewl. Gwarior teg lowr ov vy orth bryj, saw res o my dhe wil crehy i'n nos-na. Th'esens y ow qweles fatell veuv vy gorrys in penpleth, hag anjy attês dhe voy rag hedna. My a vydna meras prest orth aga fâss, saw ny wrug vy trouvya tra vëth. Dyffrans nyns o gà thremyn only; anjy o dyffrans i'ga very essens. Glenys en vy oll othobmak orth geryow Peter Pienaar.
***
Ena nampyth a'm dyfunas.
An cothwas a worras y gartednow wàr an voos rag tùchya cygar. Ny's kemeras in bàn dystowgh, mès posa in y jair wàr dhelergh, ha'y vesias ow frappya scav wàr bedn y lin.
Hèn o an gwayans poran mayth esa cov dhybm anodho, abàn veuv vy sevys dhyrag an cothwas i'n chy tiak wàr an wûn, ha'y servons ha'ga fystol wàr ow lergh.
Tra vunys, tecken y dhuryans, ha mil worth onen o an chauns bos ow golok dhe'm cartednow i'n prës-na, ha'n chauns gyllys dhe goll. Saw kellys ny veu ha, wàr nùk, an air êth cler dhybm. Neb skeus a veu lyftys dhywar ow brës, hag otta vy ow meras orth an tredden, hag orth aga aswon, leun hag yn tien.
An clock wàr an glavel a weskys deg eur.
Y whrug an try fâss dhyragof chaunjya heb let, ow tyscudha gà hevrîn. An den yonk, ev o an moldror. Lebmyn my a wely hacter ha cruelta, le na welys kyns ma's cher dâ. Y gollel ev, certan, a wrug berya Scudder stag i'n leur. Den a'n keth ehen a worras an bùlet in Carolydes.
Th'esa vysach an den berryk ow tedha ves, dell hevelly; ow tasformya hedre ven vy ow meras orto. Fâss ny'n jeva, mès cans vysour a wodhya ev gwysca warlergh plegadow. An gwas-na, y fedha den bryntyn i'n gwaryjy heb mar. Ev a veu Arlùth Alloa newher, martesen. Bò ny veu. Na fors. Th'esen vy owth omwovyn mars o ev an pollat a wrug helerhy Scudder i'n very dallath, ha gasa y garten orto. Scudder a lavaras y vos den stlav wàr y davas, ha my ow tesmygy fatell ylly stlav a'n par-na keworra euth.
Saw an cothwas o an flour anedha. Empydnyon pur, rewys, doth, towlgar, mar dybyta avell morthol êthen. Egerys veu ow golok i'n tor'-ma, ha ny wodhyen vy màn ple feu an cufter gwelys kyns. Y jalla o kepar ha dur storvys, ha'y lagasow a'n jeva golêwder andenyl neb edhen. Me a bêsya orth an bryj, ha pùb secùnd yth esa hâtyans ow tevy dhe voy i'm colon. Namna veuv vy tegys ganso, na ny yllyn gortheby pàn gowsas ow hespar. Bohes termyn whath y hyllyn vy godhevel aga hompany.
"Hay! Bob! Gwel an eur," yn medh an cothwas. "Prës yw mos dhe'th train. Bob a res departya haneth dhe Loundres," ev a geworras, ow trailya dhybm. Th'esa an lev ow seny lebmyn avell gow iffarnak.
Me a veras orth an clock, ha namnag o hanter wosa deg.
"Soweth, res yw dhodho dylâtya y viajyans," yn medhaf.
"Ogh, re'n jowl," a lavaras an den yonk, "ha why heb omry i'n flows-ma. Mos yw dhybm res porres. Gwrewgh covnôtya ow thrigva, ha me a vydn ry gaja, pynag a vo gàs whans."
"Nâ," yn medhaf. "Gortos yw res."
I'n very pols-na y whrussons y convedhes, th'o apert, bos an gwary devedhys bys i'n dewetha tro. Perswâdya fatell en vy scogyn, th'o hedna gà udn govenek, ha fyllys veu. Saw an den coth a gowsas unweyth arta.
"My a vydn mewghya ow noy. Y tal hedna gàs contentya, Mêster Hannay." O fancy? A wrug vy clôwes hynt a hockyans i'n lev smoth-na?
Gwrug defry, rag pàn dhôwlys golok warnodho, crohen y dhewlagas a godhas i'n very cûgh falhunek o stampys i'm cov dre vrawagh.
My a whethas ow whyb.
Ledhys knack obma th'êth an golowys. Dywvregh grev a'm crafas adro dhe'n wast, ha cudha ow fockettys may hylly pystol bos degys.
"Schnell, Franz," a grias lev, "das Boot, das Boot!" I'n keth pols me a welas dew a'm felshyp dos dhe lorgan an glesyn in mes.
An den yonk tewl a labmas dhe'n fenester, mos dredhy, ha dres an ke isel, kyns ès dell alla dorn y dava. My a wrug omdôwlel gans an cothwas, ha'n rom lenwys a dus yn scon. Me a welas an den berryk dhe vos dalhednys, saw th'esa ow golok stag dhe'n plit avês dhe'n chy, mayth esa Franz ow ponya dres an fordh tu ha rail an entryng dhe stairys an treth. Onen a'm felshyp a'n sewya, mès heb chauns vëth. Alwhedhys veu yet an stairys adrëv an foesyk, ha my a'm sav hag ow meras yn stark, ha'm dêwla wàr wodhùk an cothwas, ha termyn lowr may halla den skydnya an stappys-na dhe'n mor.
Desempys ow frysner a wrug diank dhyworthyf ha dehesy y honen wàr an fos. Y feu clyck kepar ha colpes pàn ve tednys. Ena y teuth son taran isel, pell pell in dadn an dor, ha der an fenester me a welas cloud a dhoust calhek owth herdhya mes a shafta an stairys.
Nebonen a sqwychyas an golow rag.
Th'esa an den coth ow meras orta vy, ha'y dhewlagas ow lesky.
"Diogel yw va," ev a grias. "Ny yllowgh holya adermyn ... Gyllys ywa ... trygh yw ... Der 'Schwarze Stein' ist in der Siegeskrone."
Th'esa moy i'n lagasow-na ès vyctory kebmyn. Kyns, yth esens y in dadn gûgh kepar hag edhen prêdhya; lebmyn, th'esens y ow tywy gans gooth an hôk. Gwres wydn ha fanatyk a lesky ina, ha me ow convedhes dhe'n kensa tro pana uthyk veu an dra may whrug vy erya wàr y bydn. An den-ma o moy ès aspiyas. Neb tebel-fordh, ev o gwlascaror inwedh.
Pàn veu an carharow gorrys in udn dynkyal wàr godna y vrehow, me a lavaras dhodho yn tewetha.
"Re bo govenek Franz dhe berthy y vyctory heb gu tydn! Y coodh derivas dhys. Ma Ariadne intr'agan dêwla nans yw udn our."
***
Hanter-cans dëdh a'y wosa, dell wor oll an bÿs, ny êth dhe werryans. Omjùnys veuv vy dhe'n Army Nowyth i'n kensa seythen. Ha grâss e dhe'm experyens in Bresel an Matabele, me a gafas comyssyon a gapten heb ardak. Saw dhe'm vreus vy, me a wrug ow gwelha gonys kyns ès kemeres an câky.
GERVA
Glossary
Definitions have generally been confined to those relevant for the story. To keep the glossary to a manageable length the listing excludes the most common words. These are best looked up in Gerlyver Kescows – A Cornish Dictionary for Conversation (Ian Jackson, Agan Tavas 2017), for which an up-to-date spell-checker is available at www.skeulantavas.com. If you need grammar, by far the most helpful book is Desky Kernowek (Nicholas Williams, Evertype 2012).
The format and abbreviations in the glossary are the same as in Gerlyver Kescows, with one refinement. In this listing a middle dot following a vowel sound shows that primary stress is on that syllable (in cases where it is not the penultimate syllable); a double vertical line after a disyllabic word indicates that both syllables are more-or-less evenly stressed.
For words / forms that have been used to represent Scottish dialect speech, consult the separate list at the end.
a bùb tu phr on all sides
a verr speyss phr shortly, soon
a wel dhe2 prep in sight of
a'n côstys-na phr from those parts
a'n lu lestry phr naval
a'n pla phr damned, blasted
abe·ll adv from / at a distance
abrë·s adv timely; punctually
ableth m ability
acceptya v accept
acordyng dhe prep according to
addya v add
adenewen adv aside, on the side
adhedro· adv around
adhele·rgh adv = dhele·rgh
adhesempys adv = desempys
adreu·s adv across
adroo·s adv on foot
adyt m adyttys aqueduct
aflythys adj callous, cold-blooded
Afrycânor m Afrycânoryon Afrikaner
ahas adj severe
airbosor m airbosoryon barometer
airen f airednow aeroplane, aircraft
airen udn askel f airednow monoplane
airenva f airenvaow aerodrome
Alban m Albanas Scot(tish)
Albanek adj Scottish
alê·s adv apart, away; far and wide
alînya v align
Alman adj/m Almanas German
Almaynek m German (language)
amala wàr2 v border
amaya v dismay
Ame·rycan adj/m Ame·rycans American
amêthva f amêthvaow farm
a·methyst m amethystyow amethyst
amyttyans m admittance
An Âls Crigh f The Ruff
An Balcanyow pl The Balkans
an baner gwydn m the white ensign
An Chanel m The [English] Channel
An Drova f The Tropics
An Dyffres-Trad m Protection
an eyl ... y ben phr = an eyl ... y gela feminine reference
an gwellheans socyal m social reform
an Iseldiryow Alban m the Scottish Lowlands
An Kenwerth Frank m Free Trade
an lavur kesunyansek m organized labour
an man-euryow pl the small hours
an nor m the world
an norvës ‖ m the world
an rest m = an remenant
An Selaqwy The Selakwi
An Sodhva Dramor f The Foreign Office
an vrâsyon pl [the] important people
An Wash The Wash
anarkyst m anarkystyon anarchist
ancarjy m ancarjiow hermitage
ancow m death
andenyl adj inhuman
andro·w m late afternoon, early evening
androwweyth adv in the late afternoon / early evening
anedhyas m anedhysy resident
anedhys adj resident
anfel adj guileless
anfeus m ill-fate
angra v anger
anies see bos anies
anken m misery
anowy sqwych phr switch on (a light)
ansans adj unholy
Antwerp f Antwerp (Antwerpen)
aparell m outfit
apposya v question (sb)
apposyor m apposyoryon questioner
aradror m aradroryon ploughman
arayans m arrangement
arâ·g prep = dhyra·g
arbednyk adj special
arethor m arethoryon speaker, orator
argel f retreat
Arhangelsk f Archangel (city)
arhansor m arhansoryon financier
arlottes m lordship
arolegyth m arolegydhyon inspector
arta hag arta phr up and down, back and forth
artykyl ancow m artyclys obituary
arvor m coast
arwhythror m arwhythroryon surveyor
Arymaspyan adj/m Arymaspians Arimaspian
ascorn an câss phr gist of the matter
ascra f breast-pocket
ascûsya v excuse
askellek adj winged
aspior m aspioryon observer
aspiyas m aspiysy spy
assembla v assemble, put together
assentyans m assent, agreement
astra·nj adj = stranj
aswiak adj sketchy
aswonvos m acquaintance, recognition
auncyent adj ancient
Austrâlyan adj/m Austrâlyans Australian
Austryan adj/m Austryans Austrian
automatek adj automatic
avà·n adv = wàr vàn
avîsment m consideration(s)
awhê·r m distress, concern
ayrgel m = airgelgh ‖
backa garow m shag
bad-ober m = drog-ober
balek adj projecting
ballador m balladoryon ballad-maker
bambou· m bamboo
band brest m bandys brass band
Baner an Udnyans m The Union Jack
bank m bancow bank (earth, sand)
Bank an Culyak m The Cock Sands
banken f bankednow dyke
bara tesen m [English] muffins
barbel m barbellow barbel (fish)
basa·r m basa·rs bazaar
Beda m Bede
bedha v dare
bedhrosus adj ghoulish
begger m beggers beggar
beggyans m begging
begh m beghyow load
beghya v burden
behus adj onerous
bejeth m = vysach
Berlî·n f Berlin
bern m bernow stack
berr lavarow phr short conversation
berrdew ‖ adj plump, short and stout
berrdhorn ‖ m shorthand
berryk adj plump
berya v skewer
best m moss
besydhya v baptize, christen
betraya v betray
bewecter m liveliness, life
beweth m lifestyle
bewgraf ‖ m bewgrafow biography
Beybel m Bible
blas m taste
blejyowa v flower
blejyowen f blejyow flower
blejyowek f blejyowegow bed (of flowers)
bleynyans m start (on others in a race)
bobau·ns m pomposity
bodny m bonies clump
body m bodys body
bogh m bohas buck
bohes weyth phr once or twice
bohosogyon pl poor people
bojek adj bushy
bold adj bold
bonkya v bash, hit
bord lestry m bordys sideboard
Borga·yn Burgundy
borr adj fat, thick, dense
bos m bojow bush
bos anies phr be worried / flustered
bos cabmdybys v be mistaken
bos in check pooth phr be in the soup
bos intentys dhe2 phr + verb-noun be determined to
bos keth dh'y wely phr be bedridden
bos unverhë·s v agree
botellya v bottle
both f bothow boss (on shield)
bothan m bothadnow hump
botler m botlers butler
bran gig f bryny kig carrion crow
bras m conspiracy, treachery
brâs y blas phr with great relish
brasyor m brasyoryon conspirator
brawagh m brawahow terror
brentynsys m nobility
brenyans m instructions
Bresel an Boers f The Boer War
Bresel an Matabele f The Matabele War
breselek adj military
breselus adj aggressive, pugnacious
brestweyth ‖ m brasswork
Bretednek adj British
brethyn [tre] m homespun, tweed
brib m brîbys bribe
brîbyans m bribery, graft
brith y lagas phr wall-eyed
brithlen ‖ f brithlednow plaid
broder dâ m breder dhâ brother-in-law
brows col crumble
browsyon col wreckage
brusy v judge, assess
brusyans m assessment
brybour m brybours vagabond, beggar
bryght adj bright
bryj m bridge (game)
bryn m brynyow hill
Brynyow Paly The Pali Hills
Bùda f Buda (part of Budapest)
bugel m bugeleth herdsman
bugelya v herd
bugelyans m herding
Bùlawayô f Bulawayo
bùly brâs col bùlien vrâs boulders
burô· m burô·s bureau (desk)
bùshel m bùshlys bushel
buthyn m buthynyow meadow
byldyans m byldyansow building
bylen adj vicious, horrible
bystlek adj bilious, liverish
cably blam wàr2 phr fix the blame on
cabm na2 phr = cabmen na2
cabm y vin phr wry[-faced]
cabmdybys see bos cabmdybys
cabmvagh ‖ m camvahow bracket (parenthesis)
cadarnla m cadarnleow stronghold
cader Bath f caderyow bath-chair
cader vrehek f caderyow brehek armchair
caja vothen f marguerite
câky adj/m khaki
calgh m chalk (mineral)
calhek adj chalky
calmynsy m calm, composure
camgemeres v mistake, misunderstand
camgemeryans m mistake
cân f cânow poem
canel m cinnamon
ca·njeon m ca·njeons freak
cardhen f cardhednow thicket
carharow [dêwla] pl handcuffs
carr touryas m kerry touring-car
carrhens ‖ m carhensy highway, carriageway
caryans m transport
casek A·raby f casygy Arab mare
cashya v cash
caslewyth m caslewydhyon field-marshal
caslÿs ‖ m caslÿsyow headquarters
cawl col cawlen cabbage(s)
certuster m certainty
chainys owr pl laburnum
challa m challys jaw[bone]
chambrour m chambrours valet
chanslereth m chancellery
charjya v make responsible for
checker adj/m check (pattern)
cheryans m care
chet m chettys lad, fellow
chy côcha m treven coach-house
chy dylla m treven publishing firm
Chycâgo f Chicago
chyffar m trafficking, trade
chynts m chintz
cîfer m cîfers cypher
clatter m clatter; chatter, rigmarole
clattrans m clattering
clavel f clavellys mantelpiece
cledhecter m clumsiness, fumbling
cleves sêson m malaria
clomyer m clomyers dovecot
clôwans m hearing
clùbva f clùbvaow clubhouse
clùckyans m clucking
clyck m/sound clyckys click
clycket m clyckettys latch
codha warbarth phr collapse
codna-gwydn adj weaselly
cofyr saw m cofrow safe
coges f cogesow cook (female)
côk draylya m cûcow trawler
côk [pyskessa] m cûcow fishing-boat
colhan helgh f colanow hunting-knife
collwëdh ‖ col collwedhen hazels
coltrebyn m coltrebydnyer candlestick
comen-checker adj/m vulgar check
comen-omlath m vulgar scrap
comendyans m introduction (to sb)
como·dyta m facility
comondyas m comondysy commander
co·mpany m company
compas adro· m compassys circumference
compla v = campolla
comyssyon m comyssyons commission (task)
con f conyow evening meal
conar f rage
confyrmya v confirm
conqwerrour m conqwerrours victor, conqueror
constableth m constabulary
constabyl m constablys constable
constrînans m constraint
consùl m consùlys consul
consydra v consider
contentyans m satisfaction
conteth m contethow county
contradia v contradict, gainsay
contron col contronen maggots
conyng adj/m clever(ness)
coraj m courage
cordon m cordons cordon
cores f coresow weir
cornwhylen f cornwhylas [green] plover
cors col corsen reeds
corswig ‖ col corswigen guelder-roses
cosak adj wooded
côta stanch m côtys aquascutum
côta Ùlster m côtys ulster
cothwas ‖ m cothwesyon old man
co·verchyf m coverchyvys handkerchief
covnôtya v make a note (of)
covnôtyans m notes
cowan f cowanas owl
cowethya v associate
cowethyas m cowethysy partner
cowntnans m (personal) manner
cowr m kewry giant
cowrvil ‖ m cowrvilas [great] brute
cows v = côwsel
cowsor m cowsoryon speaker
coynach m coinage
coyntwas ‖ m coyntwesyon crank
crack m/sound crack, snap
cracklyn adj/m crackling
crackya v crack, snap (sound)
crackya codna phr headlong
crafa v grasp
cragh-strêt m cragh-strêtys mean street
cras adj crisp
crasa v parch
crenel m crenellys parapet
cressya v = encressya
creswas ‖ m creswesyon policeman
creun m creunyow pool, store
cria v call
crians m calling, crying
crîbellek adj drooping (moustache)
crîben f crîbednow ridge
crobman m cromanow sickle
co·codryl m cocodrylys crocodile
cromdo ‖ m cromdohow dome
cronkya yn tydn phr knock into a cocked hat
crothak adj grumpy, surly
crow toulys m crowyow tool-shed
crowdra v lounge, loiter
crowdror m crowdroryon loafer, loiterer
crows-examnya v cross-examine
cruelta m cruelty
cryhias v whinny
cryjyk m cryjygyon believer
cùbert m cùbertys locker, cupboard
cudhans m hiding
cufter m kindness
cûgh m cûhas hood
culva f culvaow pass
culyak du m culyogas black grouse
cùrunor m cùrunoryon coroner
cùssyans m swearing
cyga·r m cygarow cigar
cy·tysan m cy·tysans citizen
dâ y bask phr well-nourished
dalhednans m arrest[ing]
dalowr ‖ inter = dâ lowr (deliberately sub-standard spelling)
dans m dens cog
darbar m kit
das f deys stack
dascùntell y honen phr pull oneself together
dasformya v form again
daskelmy v retie
daspryntya v reprint
dastallath v start again
dastesedha v readjust, alter
decêvya v deceive
declêmya v declaim, recite
defens m defence
degensewa v impend
degensow adv recently
Degol Martyn m Martinmas
degor m degoryon porter (for luggage)
dell wodhyer phr of course
'della adv = indella
delycyùs adj delicious
delyowek f delyowegow bed (of leaves)
den an Cresvor ‖ m tus Dago
den Gwlasva m tus Wlasva Colonial
den jentyl m tus gentleman
den payon m tus dandy
deneren f denerednow penny piece
denewen adv = adenewen
denladhans m homicide
densa m good man
denyk m denygyon little man
denyl adj human
departya v depart
departyans m departure
dervyn v deserve, require
descrefa v describe
descrevyans m description
desî·r m desîrys desire, wish
desmyk du phr difficult puzzle
determya v determine. decide
determyans m determination, decision
determys dhe2 phr determined to
devî·s m device, contrivance, plan
devîsya v devise, contrive, plan
dewblek adj double
dewetha sentens m sentencys sentence of death
dewha·ns adv straightaway
dewlagas du eyes (pair)
dhan adv = dhana
dhe blos phr sordidly
dhèm = dhybm
dhe'm plegadow phr pleasingly
dhewedhes adv = adhewedhes
dhort prep = dhyworth
dhyra·g tus phr publicly
diaha m coolness (freedom from fear)
dial m revenge
dianeth adj desolate, deserted
dianowy gogô efan phr yawn one's head off
dianowyans m yawn[ing]
diena v gasp, pant
diogel adj salted (horse)
diogelya v safeguard
dock m dockys dock
dol f dolow dale, haugh; kink, tangle
domhel v overthrow
dor plynsys m planting, plantation
dorgell ‖ f dorgellow dungeon
dornas m dornesow handful; hand (cards)
dos dh'y rêwl phr recover one's wits
dos-ha-mos m coming and going
dôtya wàr v be very fond of
dowr m dowrow river
dowr tobm Frynkek m French brandy (typically cognac)
dowrhe ‖ v water
dowrhens ‖ m dowrhensy waterway
dowrles ‖ m pondweed
dowrnos ‖ m dowrnosow watermark
dowrvargh ‖ m dowrvergh hippopotamus
dowtyans m doubt[ing]
draght m draghtys draught (drink)
drayl treys phr shuffle of feet
dre adv = tre (back)
dre blegadow phr please
dre bùb lycklod phr most likely
dre gov phr by heart
dre hap phr by chance
drehevel v = derevel
drehevyans m building, construction
drem m lament
dremâ·s m good man
dres hedna phr besides, moreover
dres musur phr immense
dres natur phr unearthly
drîvya v drive
drog torr m belly-ache, colic
drog-dybyans m suspicion
drog-galneth m blackguardism
drog-tavasek m drog-tavasogyon scandalmonger
drog-was m drogwesyon criminal; blighter
droppya v drop
dryft m dryftyow drift
dryftya v drift
dùches f dùchesow duchess
duder m blackness
duhe ‖ v blacken
dulas ‖ adj dark blue
dù·stuny kerhydnek m circumstantial evidence
dùstunyans m testimonial
dûta m dûtys duty
dybobel adj unfrequented, deserted
dybowes adj restless
dybrow adj profitless, useless
dydros adj noiseless
dyflasa v feel revulsion
dyflassys m disgust
dyfreth adj dull
dyfurf adj shapeless
dyfygya v give way, collapse
dyfyk m dyfygyow absence
dygabma v straighten [out]
dygempen adj untidy
dygempensys m untidiness
dygôdya v decode
dygof adj forgetful
dyharasus adj apologetic
dy·nyta m dignity
dyowlak adj devilish, infernal
dynamîtya v dynamite
dy·nyta m dignity
dysapperya v disappear
dysclerder m dimness
dysclerya v obscure
dysconfort m discomfort
dyscrohedna v skin
dyske·veror m dyskeveroryon discoverer
dyslywa v discolour, stain
dyson adv straightaway
dysplewyas v spread out
dysprêsya v disparage, turn one's nose up at
dysqwedhes v = omdhysqwedhes
dystrùcsyon m destruction
dyswrians m undoing, ruin[ation]
dythyans m dictation
dyvarf adj clean-shaven
dyverans m drip[ping]
dyvroans m emigration
dyweres adj helpless, hopeless
dywscoth du shoulders (pair)
dywscovarn du ears (pair)
dywvron du breast, chest (high register)
dywwewen du heels (pair)
dywy v blaze, flame
dywysycter m earnestness
ebylya v peg, pin
edhen dynya m ÿdhyn decoy
edhen prêdhya m ÿdhyn bird of prey
edhenva f edhenvaow aviary
edrega f repentance
edyfia v edify
Efen m = mis Metheven
effethya v [have an] effect
egeryans m opening
elven f elvednow spark
encressya v increase
eneby v face
enevieth f psychology
ensompel m ensomplys example
entra (dhe, in) v enter
entryng m entrance
Epyrôt m Epyrôtas Epirote
er adj fresh
erby·dn inflecting prep against
e·rnestly adv earnestly
erya v defy, insist (defiantly)
esperans m hope
êsya comparative easier
euver adj useless, futile
euvereth m rot, rubbish
ewngryjyk adj orthodox
Ewrôpek adj European
Eyndek adj Indian
facla v burn
faclys adj inflamed
fâcya v pretend
faintys m imposture
faitour m faitours imposter
falhun m falhunas falcon, hawk
falhunek adj hawk-like
fâ·lsury m falsehood
fanatyk adj fanatical
fanja v get [hold of]
fardella v package
farya v behave
fâss an pow phr the lie of the land
faw col fawen beeches
fecla v fawn (on), toady
fëdh dâ m good faith
felshyp m friendship
ferror m feroryon blacksmith
fers adj fierce
fevrus adj feverish
fler m stink
flohyl adj childish
flop sound flop
flyckrans m flicker[ing]
fo m fleeing, flight
foesyk m foesygyon fugitive
fog f fogow focus
folnep m folnebow folly
folneth m foolishness
foly m folly, fooling
fordh scoch f fordhow (= scochfordh) by-way
fordhor m fordhoryon scout
form scol f formys school form (bench)
fortyn m fortune
fotografek adj photographic
fow f fowys lair
franchys m freedom
Frank m Francas Frenchman
Frankmason m Frankmasons Freemason
frethter m eagerness
frodn f brake(s)
froth m ado
fur ha doth phr statesmanlike
fûs m fûsys fuse (for explosive)
fycsyonek adj fictional
fydhya in v rely on
fydny f bent
fygùrya v figure
fylgh f fylghyow scythe
fylm m fylmys film
fynsya v finish
fysky v rush, speed
fyslak adj restless
fysment m fysmens feature / expression (on face)
fyt m fyttys bout
fytty adj proper, just the thing
gaja m security (for an obligation)
gal adj disreputable, vulgar
Ga·llowey m Galloway
galosys pl braces
Galycyan adj/m Galycyans Galician
gam wàr dhelergh m gâmys return match
ganowas m ganowesow mouthful
gans hedna phr besides, moreover
gans meur a gris phr with great zest
ganso y honen [oll] phr alone
gara v = gasa
garma v call (especially of animals)
garth m garthow yard
gasa dhe wary phr set free, let go
gasa oll inter keun ha bryny phr let things slide
gavel f gavelyow grip
gavrewyk loos f gavrewygas rhebok
gedyans m clue(s)
gellrudh ‖ adj tawny
gwelen baner f gwelyny flagstaff
gelvyn garan m geranium
gelvynak m gelvynogas curlew
gelwel orth v call upon, appeal to
gerya [tavas leun] phr jaw [away]
gesyor m gesyoryon joker
gîky v peep (look)
gis coth phr old-fashioned
gladn an mor phr the seaside
glasweltir m glasweltiryow veld
glaswydn ‖ adj pale blue
glenus adj clinging
glew adj keen, intense
gloos f glosow ache, pain
glus predn m wood pulp
glyn m glydnow glen
gobrena v rent, hire
gobrenor m gobrenoryon tenant
goderry v interrupt
godewl adj dusky
godn hir m godnys rifle
godn pop m godnys popgun
godnys brâs pl artillery
godref f godrevy [little] homestead
godregas m godregasow [short] stay
gohebyth m gohebydhyon reporter, correspondent
gohelus adj evasive
gojek gwythy phr bloodshot
golans m vale / valley (small)
golêwder m luminosity
golgh m wash
gôlva f gôlvaow look-out
golyans m sailing
gôlyas m/v watch (surveillance)
gonesyas m gonesysy workman
gong m gongow gong
gonys m work, service
gordhrâma m gordhrâmas melodrama
gordhurya v outlast
gorfen m finish, end
gorhal dystrôwy m gorholyon destroyer
gorhal golow m gorholyon lightship
gorhal omlath m gorholyon battleship
gorhal tan m gorholyon steamer
gorhal tramp m gorholoyon tramp (cargo ship)
gorlavuryans m overwork
gorqwitha v take precautions
gorra v take (sb somewhere in a vehicle)
gorra in arhow phr bank
gorra in rag phr propose
gorra tro in y godna phr wring his neck
gorth adj contrary, stubborn
gortheneby v confront
gorthter m contrariness, stubbornness
gorthtrailya v turn (by reversing)
gorwheles v overturn
goskesy v shade
'gothmans form of address = a gothmans
gour-olyfans m gour-olyfansow bull elephant
government m government
gowleverel v lie
gowvreus ‖ f gowvreusow [false] prejudice
goyeyn adj cool
grâss m grace
grassans m thankfulness
Grêk adj/m Grêcas Greek
grêvons m grievance, complaint
gròg m grog
group-skeusen f group-skeusednow group photograph
grow col gravel
groweth m lying [down]
growyn m grit
grugek adj heather-covered
grugros ‖ col grugrosen rhododendrons
gryfon m gryfons griffin (old spelling gryphon)
grysyl adj ghastly
gu m woe
gùdhùgen f gùdhùgednow collar
gùdhùk m throat (external)
Gùrca m Gùrcas Gurkha
gwacter m hunger
gwain m gain, winnings
gwalgh m surfeit
gwallus adj casual
gwanbeskys adj ill-nourished
gwadnboynt ‖ m gwanboyntys weak point
gwanlînen f gwanlînednow faint line
gwadnscrif ‖ m scrawl
gwarnyans godrosek m ultimatum
gwarrgren ‖ adj slouching
gwartha adj upper
gwary dauns m gwariow ball
gwary medhow m gwariow spree
gwary scovarnak ha keun m gwariow game of hare and hounds
gwary toll cudh m game of hide-and-seek
gwasca y dhens [yn tydn] phr grit one's teeth
gwask f pressure
gwastattir m gwastattiryow plateau
gwaya-mir m cinema
gwayans m movement
gwëdh pin col gwedhen pines
gwel golf m gwelyow golf course
gwelhevyn col gentry
gwella v improve
gwellheans m improvement, reform
gwels col grass
gwelsek f gwelsegow grassy spot
gwelv f gwelvow lip
gwengel v wriggle
gwenwharth ‖ m grin
gwenwherthyn v grin
gwernek adj boggy
gwerthjy m gwerthjiow shop
gwerthor pùscas m gwerthoryon fishmonger
gwesyk m gwesygyon little fellow
gwestva f accommodation
gweth adj worse
gwethyas gam m gwethysy gamekeeper
gwevya v wave
gwibya v dart, dash
gwigh mogh col gwihen whelks
gwil + quantity of time phr take (that much time)
gwil ala·rm phr give the alarm
gwil crehy phr make a very bad job (of sth)
gwil fors a2 phr care about
gwil mêstry wàr2 phr master
gwil oll y ehen phr do one's best
gwil tendans dhe2 / wàr2 phr wait on
gwil troncas phr have a bath
gwil wis phr (a2) pretend (to)
gwir adv = in gwir
gwirleverel v tell the truth
gwirleveryas m gwirleverysy truthful person
gwiryonsys m reliability
gwlanen f flannel (fabric)
gwlascaror m gwlascaroryon patriot
gwrath f radius
gwrior m gwrioryon maker
gwrys m crystal
gwy f gwiow weave, texture
gwydna v whiten
gwylfos m wild(s), wilderness
gwyll m gwyllyow tramp
gwynsel f gwynsellow fan
gwyras f gwyrosow spirit (liquid)
gwyras Alban f whisky
gwyvren f gwyvrednow [thin] wire
gyny m gyniow guinea
Gyny Noweth New Guinea
ha'n brës mes a'y rêwl phr while of unsound mind
hag indella rag phr and so on
hager-vil m hager-vilas brute
hal f hallow moor[land]
hàm m ham
Hamborg f Hamburg
handlor m handloryon handler
hanter-ugans num 'dozen' (as approximate number)
hap m [chance] happening
happya v happen
happyans m happening
hapwary m/v gamble
Har Magedon phr Armageddon
hast m haste
hast men phr in great haste
hâtyans m hate, hatred
haunans ‖ m haunansow cleuch (steep valley)
heb ardak phr straight, without delay
heb dhowt phr = heb dowt
heb drog phr innocent, harmless
heb gowegneth phr honestly
heb ken phr without cause, undeserved
heb whetha y gorn phr without more ado
heb wow adv actually
heb y dacla phr untidy
hedhes ogas flàm phr be getting warm (referring to search)
hedhyw vyttyn phr this morning
hedorr adj flimsy
heforth adj easy
hegar adj kind, obliging
hel ilow m helow music-hall
helavar adj eloquent
helavarder m eloquence
helder m hospitality
helerghyas m helerhysy detective
helerhy v trace
helgh m hunt[ing]
helghyas m helhysy pursuer
helhor m helhoryon hunter
hendyscansyth m hendyscansydhyon archaeologist
hendrajy m hendrajiow museum (of antiquities)
hens m hensy roadway
henys m old age
hës m height (of person)
hës ha hës phr from end to end, completely
hêsya v flock, swarm
heudh adj joyous, cheery
hevelep adj (dhe2, ha) similar (to)
hewel adj conspicuous
heweres adj helpful
hewolder m vigilance
higedna v hook, catch
hirder m length; height (of person)
hirdravel m hirdravellys trek
hirethek adj wistful, longing
hockus adj hesitant
hogen adv still
hogh m hohas hog
ho·stlery m ho·stlerys inn
hot cales crèn m hottys bowler hat
hothfyans m swell[ing]
hôvel m hovellys slum
howl-losk m sunburn
howl-lywys adj brown (suntanned)
howla v sun
howlecter m sunniness
huda v fascinate
hudhyk adj merry, cheerful
hùmbrynkyas a vestas m hùmbrynkysy drover
hùrê· interj/m hurray; cheer
hyg f hygyon trick (to cheat sb)
hympner m hympners hymn book
hynon f fine weather
hynt m hyntys hint
hyntya v hint
idhyl adj feeble
iffarnak adj hellish, infernal
imach bew a2 phr the living / spitting image of
imach grevys phr graven image
Imperyalydhek adj Imperialist
i'n by and by phr by and by, in a moment (soon)
i'n kensa le phr in the first place
in check pooth see bos in check pooth
in comen-êwnder phr in common decency
in dadn alwheth phr locked
in dadn alwhedhow naw phr (emphatic version of in dadn naw alwheth) locked fast
in dadn danjer (nebonen) rag phr answerable (to sb) for
in dadn do phr indoor(s)
in danjer prep at the disposal of
in danjer tydn prep at the mercy of
in esow phr destitute
in exampyl phr = rag exampyl
in gwayans phr moving
in gwel prep in the eyes of
in kendon phr on loan
in màn phr = in bàn
in nans phr = wàr nans
in nes phr near
inclynya v incline
injyn adj/m ingenious; ingenuity
i·nocens m innocence
i·nocent adj innocent
intentys dhe2 see bos intentys dhe2
inter dew wolow phr at dusk
iny m impulse
is-awan f is-awenow tributary
is-streth f is-strethow tributary burn
jailer m jailers jailer
jeneral m jeneralys general
jornal m jornals journal
joya v = enjoya
jùparty m danger, jeopardy
jyn gwrias m jynys sewing- machine
jyn neyja m jynys aeroplane, aircraft
ke losow m keow hedge[row]
kefrysyas m kefrysysy ally
kekefrë·s adv = kefrë·s (emphatic)
keheryn m keherydnow [small] muscle
kel adj hidden, secret
keladow m secrecy
kelhenva f kelhenvaow amphitheatre
kelhy v circle
kelly kevrif a2 phr lose count of
kelyllyk m kelylygow penknife
kemeres in charj phr take charge of
kemeres le phr replace
kemeres sterycks phr become hysterical
kemyna v bequeath, leave
'ken conj = poken
kenak m kenogas worm
kenegen f kenegednow bog
kengel f kenglow hank
kenkyth f kenkythyow villa
Kensa Arlùth an Morlu ‖ m The First Sea Lord
kensêwha m late morning
kentrevogeth m kentrevogedhow neighbourhood
kentrydna v spur [on]
Kentùcky Kentucky
kenwerthek adj commercial
kepa·r adj like that
kerdhes m walking
kerdhva an Morrep ‖ f kerdhvaow marine parade
kerdroya f labyrinth, maze
kerhyth f kerhydhas heron
kernwhyly pl = cornwhylas
kernyas m kernysy bugler
kersek adj reedy
keryn f keryny tub
keryor m keryoryon shoemaker
kescan f kescanow chorus
kescar adj/m separate, apart; separation
kesclappya v gossip
kesclenus adj coherent
kescolodnek adj sympathetic
keskeverya v converge
kespar m & f kesparow partner
kesson m kessonyow consonant
kes-sùffror m kes-sùffroryon fellow sufferer
kestrevesyk m kestrevesygyon compatriot, fellow countryman
keth dh'y wely see bos keth dh'y wely
kevalavor m kevalavoryon capitalist
kevarhow pl investments
kevarwedhyans m directions
kevoth m wealth
kevredna v link
kewar f weather
kewÿth ‖ col hedgerow(s)
keyn poos phr heavy-draught (ship)
keynvor ‖ m keynvorow high seas, ocean
kil-ledrek adj sloping backwards, receding
kilbost ‖ m kilbostow jamb
kilen f kilednow nook, recess
kilfordh ‖ f kilfordhow siding
kilgans ‖ m kilgansow crescent
knack obma phr immediately
knackya v crackle
knias v gnaw
kydnyk m kynygow proposal
kyfyans m confidence (confiding sth)
kyns gorfen phr later on
kynvan m whining
kynyans m whine, whining
kynyewel v dine
kynyowva f kynyowvaow dining-room
kysten f kystednow box (mostly in fixed expressions)
lâcya v fasten; lace up
lader fordh m ladron highwayman
lader nos m ladron burglar
ladhans m killing
ladrus adj thieving
lagata v eye, gaze (at)
lagatoryon pl goggles
laghyas m lahysy lawyer
lagyans m [s]plashing
lagyar ‖ f lagyer moorhen
lancha m lanchys launch (boat)
lanow m charge (quantity of explosive)
lappya v caper, cavort
last m nastiness
lavar gwag m lavarow platitude
lavrak [lows] pednglin m lavregow knickerbockers (pair)
lavuryans m toil
lavuryes adj haggard
laylock col lilac
le m leow place (mostly in fixed expressions)
le may(th) relative where
le na relative where ... not
lebmyk m lemygow sip
ledras m ledrasow gradient
leghven ‖ m leghveyn paving-stone
lemen prep except
lenter adj shiny, polished
lent'he ‖ v slow down
le·ntonît m lentonite
lescans m swing[ing]
leskys y golon phr passionate
lesta v hinder, stop
lester gwary m lestry yacht
lether lenter m patent leather
lethor m lethoryon milkman
leugh glëb m leuhy callow youth
leur m ground
leur goles m ground floor
leuv f hand
leverel an gwir phr tell the truth
levryth m fresh milk
lien moos m lienyow = lien bord
lienak adj literary
lim gwydn m whitewash
lin m lînow line, strip
lînen an ebron phr the skyline
lô interj lo [and behold]
logh f lohow loch
lorgan m moonlight
lorden m lordens clown
lorgh m lorhow walking-stick
Lodhyan Lothian
lowenek adj cheery
lower m a good deal (quantity)
lowr y bris phr pretty important
lowsethes m slackness
lowsya v loosen
ly m liow oath, vow
ly f lîvyow lunch
lycklod m likelihood, probability
lydn meneth f lydnow tarn
lyftyans m lift (terrain)
lîvya v lunch
Lÿs an Mor m The Admiralty
lytheredna v spell [out]
lythergyst f lythergystyow letterbox
lytherwas m lytherwesyon postman
lyver mappys m lyvrow atlas
ly·verva f lyvervaow library
lyvryk cov m lyvrygow notebook
lyvryn m lyvrydnow small book
lywa v make up (face)
ma verb = yma
m'alla phr = may halla
mabmvro ‖ f mamvroyow home- town; fatherland
mad adj mad
magel f maglow tangle
maghteth an chy f meghtythyon the housemaid
maghteth an parleth f meghtythyon the parlourmaid
magly v involve
mainor arhansek m mainoryon broker
mainor stockys m mainoryon stockbroker
mainor treven m mainoryon house-agent
mâkya v pretend
manal m manallow sheaf
mansyon m mansyons mansion
marghnerth ‖ m horsepower
marmelâda m marmalade
marow deu phr dead and gone
marowjy m marowjiow mortuary
mêstry v master
medra v aim (for)
megyans m upbringing
mell m mellow joint
melyga v curse
men cauns m meyn cobblestone
men growyn m granite
mendya v = amendya
menedhor m menedhoryon mountaineer
menweyth ‖ m stonework, masonry
mercy m mercy
merk clogh neyja m merkys bell-buoy
merkyl m merclys miracle
merkys adj marked, remarkable
mes a'y rêwl see ha'n brës mes a'y rewl
mesmerya v mesmerize
mestre ‖ f mestrevow suburb
Metheven m = mis Metheven
methus adj disgraceful
meur y dacluster phr spick and span
meur y edrega phr rueful
meur y fâssow phr pretentious
meur y hanow phr famous
meur y ras phr grateful
mewghya v go bail for
meyster = mêster (deliberately sub-standard spelling)
Mil Nosweyth hag Onen phr Arabian Nights
milgy ‖ m milgeun ‖ greyhound
milweyth adv a thousand times
min m minyon lips, mouth
mir m look, expression
mis Efen m = mis Metheven
mêny m mênys household
mes a wel phr (a2) out of sight (of)
modern adj modern
moldrans m murder
moldror m moldroryon murderer
molgh f molhas thrush
mollath f molothow curse
molys adj bleary
mona munys m [small] change
moos f mosow table (mostly in fixed expressions)
moos omwysca f mosow dressing-table
moos redya f mosow reading-desk
mora v put to sea
mortal m mortals mortal
mortîd ‖ m tide(s)
mos i'n avel gans phr get to grips with
mos wàr y gabm phr keep calm
mowns v = ymowns
mùrder m mùrders murder
mûs m moss
musur m musurow measure; bar (music)
mygyl adj bland
mynysow pl = mynys col
myserabyl adj miserable
myshyf m ruin, disaster
mystrestya v distrust, mistrust
na whath phr with express negative yet, with implied negative not yet
nader ruglen f nedras rattlesnake
nakevys adj = ankevys
nans m nansow valley, dale
neb cor phr = wàr neb cor
neb gradh phr to some extent
neb rêson phr for some reason
nebes anyagh phr off-colour, seedy
nerthek adj powerful
nes lowr phr = ogas lowr
nessa v approach
nevek adj heavenly
newores m dying
neyja an bejeth phr rise (fish)
neythyans m nesting
nôcyon m nôcyons notion
norma·lyta m normality
norter m nurture, breeding
nors f norsys nursemaid
nosweyth adv/f [in the] evening
novelyk m novelygow [short] novel
noys m din
ny·cyta m ignorance
nyverek adj numerical
ol bës m olow fingerprint
ollnerthek adj overwhelming
omascûsya v apologize
omassayans m [physical] exercise
ombarusy v prepare (oneself)
ombarusyans m preparation
ombrederyans m meditation, reflection
omdhehesy v fling oneself
omdherevel v raise oneself
omdhroppya v drop (oneself)
omdormentya v torture oneself; rack one's brains
omdowl m fight
omdôwlel v struggle
omdrailya v turn around intr
omgafos v be found, be situated
omgeles v hide (oneself)
omgelgh m surroundings
omgellys adj preoccupied
omgemeres v take on, assume
omgôwsel v soliloquize
omglôwes v feel (sensation, emotion)
omgudha v hide (oneself)
omherdhya v surge
omladha v commit suicide
omladhans m suicide
omsensy v consider oneself, feel
omvedhowy v be / get drunk
omweles gans v interview, see (meet)
omwil v turn oneself into, pretend to be
omwovyn v ask oneself, wonder
omwysca v get dressed
on col onen ash trees
onester m honesty
onyk m enygow little lamb
Oste·nd f Ostend
ôstya v stay (as guest)
othobmak adj desperate
outraya v outrage
overdevys adj overgrown
ow melder phr my dear
ownek adj fearful, frightened
owrwern ‖ col owrwernen limes (trees)
pack-vugel m pack-bugeleth pack-shepherd
pâcya v pace
padel tobma f padellow warming-pan
padera v patter
pajer num = peswar
palor dowrgledh ‖ m paloryon navvy
palva v here = palvala
pamflet m pamflettys pamphlet
paper pymp m paperyow fiver
par adj (ha) like
par m parow kind
pa·ragraf m paragrafow paragraph
parcel m parcels group (of people)
pardon interj/m pardon
parhus adj continuous
Parys f Paris
passêr ‖ m passeryow password
paw bran an dowr m pawyow water-buttercup
pawa v paw
pebor m peboryon baker
pedn medhow m pednow drunkard
pedn pyst m pednow fool
pedn-gonstabyl m pedn-gonstablys chief constable
pedn-lînen f pedn-linednow mainline
pednfordh ‖ f penfordhow highway, highroad
pednscav ‖ adj giddy
pedn-venyster m pedn-venystrys prime minister
pednya v head (letter etc)
peg m pitch (substance)
pellgows ‖ m telephone call / conversation
pellgowsans m telephoning
pellscrif ‖ m pellscrifow telegram, wire
pellscrifa v telegraph, wire
pendra f pendrevow village
pendroppya v nod (drooping head)
penelyn m penelydnow elbow
penpaly m penpalias bluetit, tomtit
penpleth f puzzlement, perplexity
pens m = puns
penscolyans m [time at] college
penti·r m pentiryow headland
penty m pentiow cottage
penty sowl m pentiow thatched cottage
personegy v embody
personek adj personal
perthy v endure
perthy fydhyans in phr take on trust
perthynek adj relevant
perveth m pervedhow inside, interior
peryllya v risk
pescador pluv sëgh m pescadoryon dry-fly fisherman
pesky v feed, fatten
pew verb possess, own
pîss paper m pîcys bit of paper
plâgya v pester, persecute
plank m plankys plank
plegys dhe2 phr inclined to
plêsya v please
plottya v plot
plottyans m plotting, conspiracy
plyghtya v pledge (promise)
plynchya v start; blink
plynchyans m flinching
pôchya v poach
podn m [fine] dust
podnek adj dusty
pogrom m pogromys pogrom
pollak m pollogas pollack, lythe
pôlô m polo
polsa v beat, throb
polsans m beat[ing], throb[bing]
poltrus adj powdery
polytygieth f politics
poos m weight
pooth adj [very] hot
porter m porter (drink)
porthor m porthoryon porter (at door)
porva f pasture
possybylta m possybyltys possibility
postvêstres f postvêstresow post-mistress
pothter m [great] heat
Pow an Glaswels phr The Blue-Grass Country (Kentucky)
Pow an Penrî·n phr The Cape (South Africa)
Pow Berek m Berkshire
power m powers power (political)
poyntya v appoint, allocate
poyntyans m punctuation
pràl m prallow handicap
pray m prey
prederyans m thinking, thought
prêdhor m prêdhoryon captor
prieryn m prierynas pilgrim
pryns m pryncys prince
prynt m pryntys print
prysclowek adj scrubby
prysk col prysken shrubs, bushes
pùb lycklod phr = dre bùb lycklod
pùnch m punch (drink)
pychya v jab, stab
pyffya v puff
pylednek adj ragged
pylla v ransack
pymthek nos phr a fortnight
pystyl m pystyllow waterfall (in the hills)
qwart m qwartys quart
qwestyon Gretchen phr the crucial question
qweth f qwethow scarf
qwiet adj quiet
qwyck adj/interj quick
qwyt adv quite, completely
qwyttya v quit, leave
rabmen m gravel
racana v rake
racka v tell stories
racket m rackettys racket
rackor m rackoryon storyteller
radnyëth ‖ f ranyêthow dialect
ragvregh f ragvrehow forearm
ragwhythrans m reconnaissance
rail m railys railing
raskyon pl shavings
ratha v rake
re Dhuw phr by God (exclamation)
re'n jowl phr Hell (exclamation)
rebukya v rebuke
regardya v regard, look upon
rejoycya v rejoice
relêsya v release
re·menant m re·menans remnant, remainder, rest
res verb is necessary
rescous m rescue
rêsna v reason
rêsnans m reasoning, conclusion(s)
rêson m rêsons reason
resor m resoryon runner
reso·rt m resortys resort (seaside etc)
restry dhe ves phr clear away
revolver m revolvers revolver
rewa·rd m rewardys reward
rewjy m rewjiow terraced house
rêwlys adj regular
Rôdêsya f Rhodesia (now Zambia / Zimbabwe)
rol negys f rôlyow agenda
roma·ns m romance
rômyk m rômygow little room
roscolm ‖ m roscolmow rosette
roslyw ‖ m rosiness
Rotterda·m f Rotterdam
run m runyow hillside
ryddya v (a2) rid (of)
sab col saben firs
Sabot m Sabbath
sabwëdh ‖ col firs
salow adj safe and sound
salowder m soundness
salusy v salute
salusans m salute
Sama·rytan adj/m Sama·rytans Samaritan
sampla v sample
sar m sars tsar
sarchya v search (for)
sarchyans m search[ing]
sarchyor m sarchyoryon searcher
sarf f syrf snake
saw ... yn unsel phr save, except
saworek adj fragrant, savoury
saworys adj scented
sawyans m recovery
saya m serge
scafcarr ‖ ky m scafkerry dog-cart
scafhe ‖ v lighten, relieve
scantlowr ‖ adv + optional negative hardly at all, scarcely at all
scappyans m escape
scochfordh ‖ f scochfordhow byway
scogyn m scogydnow fool
scolkya v sneak, steal
scolkyans m sneaking, skulking, crawling
sconyor lycour m sconyoryon teetotaller
scorjya v flog
scorn m scorn; laughing-stock
scowl m scowlas kite (bird)
screfa m writing
screwya v screw
scrifwas ‖ m scrifwesyon clerk
Scrivynyas Parhus m Permanent Secretary
scùryores f scùryoresow charwoman
sedha = esedha
sêlya v seal
sêmly adj shapely, handsome
Sen title St
Senega·l Senegal
sensacyon m sensacyons sensation
seny croffal phr mutter
senyans m sounding, ringing
sera m sir (addressing sb)
serjont m serjons sergeant
sêsya v seize
seth m sethow jar
sethorieth wodn f shooting (sport)
settya pols y wythy in stêvyans phr set his pulse racing
seyth an cùrunor phr the jury (at inquest)
shampê·n m champagne
shanel an strêt m shanels gutter
shanel melyn m shanels mill-lade
shekel m shekels shekel
sherewa m sherewys gangster
shînya v shine intr
showr (a2) phr a lot (of)
showya v show, display
siansek adj whimsical
skentoleth m knowledge, wisdom
skentylsys m wits
sket adv headlong
skethrek adj ragged
skeusus adj suspicious, fishy
sky-resek m/v ski(ing)
skydnyans m descent
skyjyow pl = eskyjyow
slynk adj slippery
slynkya v crawl
smat adj/m smattys rough; ruffian
smoth adv smooth, sleek
snobuster m snobbery
sôda m soda
sodynly adv suddenly
sojeta ancow m sojetys mortal
solas m solace; amusement
soler m soleryow loft
solva f establishment
so·mona v summon
sompel m somplys sample; example
sordya lu phr mobilize (military)
sorn m sernow nook
sovran m sovrans sovereign
sowena m prosperity, success
sowenyans m success
sowlek adj stubbly
Sows m Sowson Englishman
sowyn adj prosperous, successful
sowynyans m prosperity, success
spectaclys pl spectacles
spêda f speed
spern gwydn col hawthorn(s)
spia v = aspia
spîtys adj malignant
spryngya v spring up
sqwadron m sqwadronys squadron
sqwîthter enef phr boredom
sqwychella v throw a switch
sqwychya pocket phr pick a pocket
stacyon m stacyons station, post
stag ena phr on the spur of the moment
stanch adj waterproof
stankyans m stamping (feet)
stark adv fixedly
sterednek adj starry
stevel f stevelyow room
stewany v thrash
stlav wàr y davas phr with a lisp
stlaveth trew m splutter[ing]
stlevy v stutter
stlevy in udn hockya phr stammer
stlevyans m stutter[ing]
stoff m fabric, material
stoffyas m stuffing
storvya v starve / chill (to death)
story m storys story
stowt adj stubborn
stranjer m stranjers stranger
stras m lowland
stray m wandering (off course)
strem m strêmys stream
streth f strethow burn
strif m strife, quarrel
strik adj/adv swift(ly)
stùbba m stùbbys stub
styryans m explanation
sùbmen f sumednys sum
surneth m certainty
swarvya v swerve
syger adj sluggish
sygerans m trickle
syjan m silk
syker m alcohol (beer, spirits)
sylûe·t m sylûettys silhouette
Syr title Sir
syra m = sera
tackya v fix (to sth)
tâl in tâl phr face to face
talas m talasow payment
tallyour m tallyours salver
talvesygeth m talvesygethow value
Tamys Thames
tanowgh imperative take
tardh m explosion
tardhek f tardhegow minefield
tardhor m tardhoryon detonator
taredna v thunder; roar
tarnsya v tarnish
tarya v tarry, hang about
tas besyth m tasow godfather
tastya v taste
tastyans m taste
tauntyans m cheek, impertinence
tavasans m scolding
tavernor m tavernoryon innkeeper
tedhlester m tedhlestry crucible, melting-pot
te·legram m telegramow telegram
tenkys m fate
tenkysek adj fateful
terlebmel v buck, skip
terlenky v gulp
terlentry v glint
terlonk m gulp[ing]
ternos adv the next day
têry v argue (fiercely)
tes poos phr sultriness
test m testow witness
testa v attest, swear
tewel v be silent
Tewton m Tewtonas Teuton
th' particle = yth
tid m = mortîd
tip m tîpow type
tirwedh ‖ f tirwedhow landscape
tôkynva f tokynvaow booking-office
tolgh m tolhow hillock
toll whesa m tell pore
tomder m heat, warmth
topyn m topydnow top
torgh m tergh coil
torpêdo m torpêdos torpedo
Tory adj/m Torys Tory
towargh col peat
towlen f towlednow [set of] plans
towlgar ‖ adj calculating
tra gelys f taclow kelys secret
train treth m trainow boat train
tramor ‖ adj/adv oversea(s)
transformya v transform
tredden m three men
treddyth m three days
trega v dwell
tregor m tregoryon dweller, occupant
trèm f look (on face)
trembla v tremble
tremen m crossing, passing; decease
tremenor m tremenoryon one who passes
tremis m three months
treneyj m flutter[ing]
trenja adv the day after tomorrow
trenkravyans m etching
treus adj adverse, awkward
trevek adj urban
trevesyk m trevesygyon rustic, countryman
trevnans m organization, disposition(s)
trew m spit[ting]
tria (pronounced 'treya') v try
tro vôtor f troyow môtor motor tour
trobm adj sudden, immediate
troboynt ‖ m troboyntys crook (in stream)
trôfy m trôfys trophy
troghva f troghvaow cutting
trosya v plod
truedhek adj merciful
trum m trumyow back, ridge
trumach m sea-voyage
truthya v flatter, cajole
trygh adj triumphant
tu ha prep = wor'tu ha
tùchyng prep concerning
tuedhys adj inclined
tùllwyscor m tùllwyscoryon man of many disguises
tyckya v tick [off]
Tymbùktû· f Timbuctoo
tymynygow pl smithereens
tynkyal v tinkle, clink
uhel y dhegrê· phr eminent
uhelbow m hill country
ùncoth adj unfamiliar, unknown
undon adj monotonous
unplek adj single
ùns m ùnsow ounce
unverhë·s see bos unverhës
unweder m unwedrow monocle, eyeglass
unweyth mar conj provided that, so long as
ûnyversal adj universal
ûnyve·rsyta m ûnyve·rsytys university
ura v oil
us col chaff
usyon pl bits of chaff
uvel dhe'n laha phr law-abiding
vàn adv = avàn
vell prep = avell
venymus adj poisonous
veranda m verandas veranda
very adj very
ves adv = dhe ves
vëth adv even (with comparative)
vexus adj trying, annoying
vexya v worry, annoy
vexyans m annoyance
viajya dyfardel phr travel light
viajyans m travel, journey
Viena f Vienna
vogalen f vogalednow vowel
volplânya v vol-plane
vorow adv = avorow
vôta grassys m vôtys vote of thanks
voydya v = avoydya
voys m voycys voice
vylen m villain, ruffian
vysach m face
vytel col food
walkya v walk
wàr bedn dêwlin phr on his knees
wàr bigow dreyn phr edgy, on tenterhooks
wàr nùk phr in an instant
wàr vejeth phr on the surface
wàr y beswar phr on all fours
warlergh plegadow phr at will
warneth m awareness, caution
wartha adv = awartha
Wella bian m sweet-william
Westfâlyan adj/m Westfâlyans Westphalian
w.h. abbreviation (= wosa hanter-dëdh) p.m. (post meridiem)
whansek a sport phr game-playing
wharvedhyans m happening, event
what m whattys pat
wheddyth m six days
whedhel ascorn pedn leugh phr tall tale
whedhla v tell a tale; gossip
whejans m vomit[ing]
whës ewonek m lather (sweat typical of a horse)
whyb f whybow whistle
Whyg adj/m Whig
whyrny v croon
whythror m whythroryon observer
wor'ancar phr at anchor
woud adj angry
wrynch m wrynchys trick, knack
Yêdhowek adj Jewish
yêhesva f yehesvaow sanatorium, nursing home
yêth isel f slang
yêthor m yethoryon linguist
yêwnadow m yearning
yêwnes m yearning
yn edrygys adv ruefully
yn fekyl adv on false pretences
yowynkneth m youth
Zambêsy Zambesi
Below is a list of words / forms used in occasional passages which, in the original, represent Scottish dialect speech. Diacritical marks have been omitted deliberately in these passages. Many particles have been dropped. The definite article an and the particle yn are very frequently abbreviated to 'n.
agan eseth = a'gan eseth
ajei· = ajy
anjei· = anjy
anyehes = an- + yêhes (no-weel-ness in the original)
broas = brâs
bes = mès
bugel'a = bugelya
chei = chy
cloav = clâv
crei = cry
defrei· = defry
Deg'l = Degol
de'ndro·w = de androw
der = dell
dhebm = dhybm
dout = dowt
dower = dowr
dr' = dell
dref'n = drefen
drei = dry
dwetha = dewetha
dys'res = dyswrës
e = ev
era = esa
etto = in it
ew = yw
for'ow = fordhow
fown'jei = y fowns y
gara = gasa
gawas = cafos
gela = y gela
hei = hy
hel = helgh
hebm = hèm
henjy = hensy
hen'ys = henwys
holerth = holergh
ithyk = uthyk
jei = jy
kens = kyns
lagajow = lagasow
lawl = leverel
lebben = lebmyn
madn = màn
mas = ma's for marnas
merh = myrgh
mow = mogh
mown'jei = ymowns y
muy = moy
myshew = myshyf
nei = ny we
neyl = an eyl
newer = newher
nynj = nyns
o' = ow (particle)
ort = orth
o'th = owth
othom = otham
ova = o va
o'whei = owgh why
pajer = peswar
plyght'as = plyghtyas
ra = a wra
reb = ryb
relham = wrellen vy
rowl = rewl
rug = a wrug
rugam = [a] wrug [vy]
savel = sevel
savam = [y] savaf [vy]
scon'or = sconyor
sew'ans = sewyans
speckys = spectaclys
tempt'es = temptyes
tendel = ow tendyl
the·rava = yth esa [ev]
therom = yth esof [vy]
thew = yth yw
tho = ytho
thom = yth ov vy
thow'whei = yth owgh [why]
throv'a vy = ow throuvya vy
thujy = yth usy
traweyth'ow = traweythyow
ujy = usy
varr = avarr
vedn = vydn
vor = fordh (2nd state)
whei = why
woja = wosa
wor = [w]orth
yn froas = yn frâs
An text-ma: 11 Hedra 2020