Arnold Bennett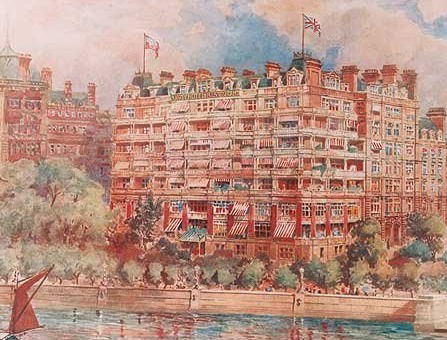 Ostel Savoy, circa 1904
Lymnans gans Harold Oakley
Chaptra 1
AN MYLYONAIR HA'N TENDYOR
Kernowek © 2023 Ian Jackson
Yma Gerva awoles
"Agas bodh, syra?"
Jules, chif-tendyor famos an Babylon Veur, a inclynya yn furvus wor'tu ha'n den, hewol y vejeth ha cres y vloodh, a wrug entra namnygen i'n rom megy rag sedha lowsys wàr gader ganstel i'n eyl cornet ryb an gwederjy. Yth o 7.45 nosweyth tesek a vis Efen, ha'n kydnyow i'n Babylon Veur o parys dhe'n bord. Tus a bùb myns, oos, kenedhlegeth, ha'n gwysk gordhuwher dynam adro dhodhans yn kehaval, yth esens obma hag ena der oll an stevel efan ha bohes hy golow. Odour blejednek dainty a whetha in mes a'n gwederjy, ha tynkyal fenten ow tos ganso. Yth esa an wesyon, in danjer Jules, kettep pedn, ow taromres yn tawesek wàr an lies leurlen blew tew a'n Ÿst; ha'n servyours omberthys gans sleyneth an jùglour; ha kenyver arhadow kemerys ha colenwys i'n vaner vysy dhown-na yw kevrîn a berthyn dhe'n tendyor yn udnyk a'n class adhevîs. An airgelgh o onen a bowes, a galmynjy, o tîpek i'n Babylon Veur. Ùnpossybyl dell hevel o pùb wharvedhyans a ylly shyndya undoneth nôbyl ha cosolek an hanvos in selva mar berfeth hy menystrans. Mès scon y wher, i'n keth nos-ma, an brâssa omwhelyans dell wodhevys an Babylon Veur bythqweth.
"Agas bodh, syra?" a leverys Jules unweyth arta, ha'n dro-ma y teuth skeus escaruster hautîn dh'y lev; otham côwsel dywweyth orth cosmer ny vedha dhodho ûsys.
"Ô!" yn medh an den hewol y vejeth, cres y vloodh, ow terevel worteweth y vir. An den, feythus y nîcyta a Jules, na fors py uhel a ve hedna, y whrug gasa y lagasow dhe derlentry pàn aspias tremyn an tendyor. "Doroy dhèm udn Cussyn El."
"Drog genef, syra. Ny glêwys yn ewn."
"Doroy dhèm udn Cussyn El, ha gwra mar pleg heb scùll termyn."
"Mars yw dewas Amerycan, dowtys ov na vo genen, syra." Lev Jules a sonas rewys dyblans, ha nebes tus erel i'n rom a dôwlys kilwolok anês, kepar ha pàn vednons sconya pùb deray dhe'n cosoleth kebmyn. Neb gradh y's confortyas syght a'n den esa in cows orth Jules, rag oll y semlant o longus dhe'n arbenygor-na, an Sows re beu viajys alês, neb a wor decernya an eyl ostel orth hy ben dre bur anyen, hag a wor scon ple hyller gwil tros yn onest, ha pleth yw dhe gomendya an keth omdhon dell dheleth i'n clùb. An Babylon Veur o ostel may resa pùbonen omdhon dell goodh in y glùb.
"My ny dybys y vos genowgh, saw dowt vëth why a yll y gemysky, i'n ostel-ma kyn fe."
"Nyns yw ostel Amerycan, syra." An despît dre dowl i'n lavar o cudhys in dadn don a blegyans uvel yn conyng.
An den hewol y vejeth, cres y vloodh, a wrug composa y geyn ha meras yn hebask wàr Jules, esa ow tedna y varv scovarn rudh o brâs hy hanow.
"Kebmer gwedren gwyras vian," yn medh, hanter gorhebmyn, hanter perthyans dâ y jer, "dever inhy myns haval a maraschino, dehen, ha crême de menthe. Na wra cabùly; na wra shakya. Doroy e dhèm. Ha gwra leverel dhe'n bar-tender –"
"Dhe'n bar-tender, syra?"
"Lavar dhe'n bar-tender may whrella nôten a'n receyt, rag yma lyckly me dhe erhy Cussyn El pùb gordhuwher kyns kydnyow hedre vo an awel brav."
"My a dhanvon an dewas dhywgh, syra," yn medh Jules in ton abell. Ot y dhewetha seth, may whrug meneges dredhy nag o va kepar dell eus kenyver tendyor ken, hag y fedha seul a vydna y dhyghtya heb revrons ow qwil hedna yn pòr beryllys.
Warlergh nebes mynysow, pàn esa an den hewol y vejeth, cres y vloodh, ow tastya an Cussyn El, y feu Jules esedhys orth Mêstresyk Spencer, o rowtores sodhva an Babylon Veur. An sodhva o cabynet brâs lowr, dyberthys dre dhyw fos gweder slynkya, ha gans vu wàr an kenseth ha'n rom megy. Nyns o ma's radn vian gwrës i'n tyller-ma a'n whel screfa perthynus dhe'n ostel hûjes. Chif-porpos an plâss o provia dhe Vêstresyk Spencer hy fow, ha hobma mar aswonys ha maga fysy avell Jules y honen. Dhe'n moyhariv a'n ostelyow arnowyth yma scrifwas gorow rag menystra an sodhva. Saw an Babylon Veur a's teva rêwl in excepcyon. Mêstresyk Spencer a veu scrifwas an sodhva nans o pell – ogas ha'n very kensa prës may talathas an Babylon Veur istyna hy chymblys cowrek bys i'n ebron – ha hy o whath remainys in hy soodh in spit dhe bùb chaunj i'n ostelyow erel. Hy dyllas o wordhy pùpprës in syjan du plain, ha brocha adamant bian ganso, bondys ardhorn heb nàm, ha gols melen cryhys – hy semlant i'n eur-ma o an keth semlant esa dhedhy lies bledhen andyblans solabrës. Hy bloodh – ny'n gor den vëth saw hy, ha ken onen pàr hap, ha dhe nagonen nyns o bern. Lînednow grassyùs ha dynyak hy fygùr o heb repref; ha spessly gordhuwher hy o tegen vas may hylly neb ostel bos prowt anedhy yn whiryon. Hy godhvos a *Bradshaw [*euryador an trainow], a servycyow an gorholyon tan, hag a dowlen kenyver gwaryjy ha hel ilow o sompêr; bytegyns ny wrug hy viajya bythqweth, nyns êth bythqweth dhe waryjy pò dhe hel ilow. Yth esa hy, dell hevelly, oll hy bêwnans in hy fow sodhogyl, ow tylla kevarwedhyans dhe ôstysy, ow pellgôwsel orth an lies adran, pò down a'y eseth in kescows pryva gans cothmans specyal a'n felshyp, kepar hag i'n present termyn.
"Pyw yw Nyver 107?" Jules a wovydnas orth an venyn dyllas du-ma.
Mêstresyk Spencer a wrug whythra hy lyfryow acowntys.
"Mêster Theodore Racksole, Evrok Nowyth."
"My a gresys dyson y vos Evrok-Nowedhor," yn medh Jules, hag astel cot in y gows o leun a vênyng, "mès ev a wor talkya Sowsnek mar dhâ avell my pò ty. Ev a vynn erhy 'Cussyn El' – hager-gemmysk a maraschino ha dehen – pùb gordhuwher. My a wra gwetyas na drecko omma termyn hir."
Mêstresyk Spencer a worthebys dre vinwharth grym. Cria Theodore Racksole 'Evrok-Nowedhor' o tybyans a dhebrena hy sens a hûmour, ha'n sens-na heb fyllel dhedhy glân. Hy a wodhya iredy, hag a wodhya y whodhya Jules, fatell o an Theodore Racksole-ma yn certan an very Theodore Racksole heb parow, an tressa a'n rycha tus i'n Stâtys Udnys, ytho lyckly lowr i'n bÿs. Byttele hy a wrug jùnya dhe barty Jules dewhans. Nyns esa marnas udn Racksole, hag i'n kepar maner only udn Jules, ha Mêstresyk Spencer, dre anyen, a radna y sorr ev a'n wolok shâmus a dhen, na fors pywa, mylyonair pò Emprour, ow tesevos erhy 'Cussyn El', drog-vryjyon a maraschino ha dehen, ajy dhe oryon an Babylon Veur. In bÿs an ostelyow yth o nôtys i'n present termyn y bos, kefrës ha'n perhen, try duwsys i'n Babylon Veur – Jules, an chif-tendyor; ha Mêstresyk Spencer; ha moyha galosek oll o Rocco, an chif-kegynor, ha gober hebma a dyw vil an vledhen, ha penty predn ryb Lydn Lûcern. Pùb ostel vrâs in Northumberland Avenue ha worth Tommen Dowr Tavos a wrug assaya cachya Rocco, may fe dynyes qwyttya an Babylon Veur. Penhelygen. Rocco a wodhya'n tâ na ylly ascendya uhella y soodh ès maître hôtel an Babylon Veur – ostel na argemydna hy honen bythqweth, nag esa ow longya dhe gowethas strothys, mès o an lêder êsy inter ostelyow Ewrôpa – lêder in prîsyow ker, lêder in exclûduster, lêder i'n nas kevrînek-na yw henwys 'stil'.
Desedhys worth an Dommen, an Babylon Veur, in despît dh'y musurow bryntyn, o plâss bian pàn ve hevellys dhe dreven erel a'n côstys-na. Nyns esa inhy ma's tryhans ha hanter cans chambour, saw yma dyw ostel i'n qwarter mildir adro a's teves whe cans ha peswar cans chambour an eyl ha'y gela. Wàr an tu aral, an Babylon Veur hy honen oll in Loundres a's teva entryng gwir dyblans rag vysytyoryon Rial, ha hèm o devnyth pùb dëdh. An Babylon Veur a reckna an jorna dhe vos gwastys mar ny ylly gwesty, dhe'n lyha, pryns a Jermany pò Maharâja neb Stât Eyndek. Félix Babylon – an den mayth o besydhys, heb menek màn dhe les'hanow Loundres, an ostel wàr y lergh – pàn wrug fùndya an ostel in 1869 ev a veu determys dhe provia gwestva a vedha gwyw dhe Vyterneth, ha bêgel gwarak o hebma dh'y vleynorieth vyctoryùs. Mab udn perhen ostelyow hag arhansor Swytsek, ev a dhevîsyas cowethyans gans nùmber brâs a'n sodhogyon in lesyow Ewrôpa, heb sparya mona in y gever. Lies mytern ha nebes prynsesow o ûsys dh'y elwel Félix, ha dhe vencyon a'n ostel gans lyberta avell 'Chy Félix'; ha Félix ow tesky tell o hedna pòr vas dh'y genwerth. An Babylon Veur o menystrys i'n keth spyrys-ma. An 'nôta' in hy folycy o fara doth, pùb eur fara doth, hag es, sempleth, argeles. An tyller o kepar ha palys in dadn gudh. Sin owrek nyns esa a-ugh an to; na nyns esa ger styrya vëth orth an entrans. Y kerdhys strêt bian o scoren a'n Strand; y whelys byldyans rudh plain adhyragos, ha darajow lesca a vahogany, ha sodhak adrëv pùb a'n dhew-ma; yth egery an darajow heb tros; yth entres; yth eses in Chy Félix. Ôstya mars o dha borpos, ty pò dha gadnas a re dha garten dhe Vêstresyk Spencer. Ny wres govyn rol an prîsyow wàr neb cor. Ny godha dhe dhen vëth govyn pana bris i'n Babylon Veur; an prîsyow o uhel dres ehen, mès ny wodhyes compla an re-ma nefra. Presentys wàr dhyweth dha dregas y fedha scot, berr ha scant a'n manylyon sqwith, hag y'n deles heb geryow. Ty a gefy cyvylta stâtly, heb namoy. Den vëth ny wrug pesy orthys a vysytya; na ny wre nagonen leverel govenek ty dhe vysytya arta. Y sevy an Babylon Veur pell a-ugh castys a'n par-na; y tefia kesstrîvyans dre dhyscowntya an dra yn tien; ha rag hedna yth o lenwys ogasty pùb rom dres an sêson.
Mars esa udn mater ow trobla an Babylon Veur ha'y aflythy moy ès pùb aral, hèn o bos comparys orth, pò myskemerys in le, neb ostel Amerycan. Yth o an Babylon Veur omsettys yn crev warbydn manerow Amerycan a vytel, dewas, ha gwest – saw manerow Amerycan a dhewas yn arbednyk. Avy Jules, ytho, pàn wrug Mêster Theodore Racksole pesy provia Cussyn El, a vëdh convedhadow.
"Eus cowethes gans Mêster Theodore Racksole?" a bêsyas Jules y gescows gans Mêstresyk Spencer in udn wovyn. Ev a worras pooslev scornus wàr bùb sylaben in hanow an ôstyas.
"Mêstresyk Racksole – yma hy in Nyver 111."
Jules a hedhys tecken, ha tava y varv scovarn gledh mayth esa a'y groweth wàr y wùdhùgen wydn lenter.
"Ple ma hy?" a veu y gwestyon stowt.
"Nyver 111. Ny yllyn vy gwil ken. Nyns o rom aral dhe gafos gans golghva ha gwyskva i'n keth leur-na." Yth esa dhe lev Mêstresyk Spencer ton appêlya ascûs.
"Prag na gôwsys orth Mêster Theodore Racksole ha Mêstresyk Racksole na yllyn ny profya rom vÿth?"
"Rag Babs dhe vos i'm ogas hag ow clôwes."
Ny vedha ma's try ferson in oll an bÿs ow lavasos henwel Mêster Félix Babylon der an berrheans gwariek ha spîtys-ma: Babs – an tredden o Jules, Mêstresyk Spencer, ha Rocco. Jules a'n desmygas. Na'n codnek na'n bolder ny via dhe nagonen saw ev.
"Gwra Mêstresyk Racksole may fydna trailya haneth hy rom," yn medh Jules wosa astel pols unweyth arta. "Gas henna dhymmo vy. My a'n rester. Au revoir! Yth yw teyr mynysen dhe eth eur. Haneth my a gemmer mêstry ow honen i'n gynyowva." Ha Jules a dhybarthas, ow rùttya y dhêwla wydn fin in maner lent hag ombrederus. Y dhevos y honen o hebma – rùttya y dhêwla in gway troyllek coynt, ha'n gwythres ow meneges frobmans dres ûsadow dhe vos in nes.
Eth eur poran y feu an kydnyow servyes i'n salle à manger brâs teg – ha'n stevel-ma chast mès spladn in càn hag owr. Worth bord bian ogas dhe onen a'n fenestry yth esa benyn yonk a'y eseth heb coweth. Hy fows a gria Paris, saw hy fâss a gria Evrok Nowyth yn certan. Yth o fâss omgontrollys ha gorhanus, fâss benyn o cowl-ûsys dhe wil pandra bynag a vydna, pesqweyth a vydna, pynag oll maner a vydna: fâss benyn a wrug desky dhe gansow a dus, gorowrys ha yonk, an myster lel a hedhes ha kerhes: fâss benyn berswâdys dre neb ugans bledhen, may feu hy chersys re gans a'n gerens, dhe sensy hy honen kehaval yn fenow dhe Sar Oll an Rùssyas. Ny vëdh benenes a'n par-ma gwrës ma's in Ameryca, ha leun-vlejyowa ny vydnons marnas in Ewrôpa, yw formyes dh'aga breus gans Furneth Duw dh'aga dydhana.
An venyn yonk orth an fenester a wrug tôwlel golok dhysfaverus wàr rol an vytel. Nessa, hy a wrug meras adro dhe'n gynyowva, estêmya an ôstysy, mès ervira bos an stevel hy honen nebes idn ha plain. Tressa, hy a veras der an fenester, o egerys; ha leverel in hy honen bos Dowr Tavos ryver dâ lowr i'n tewlwolow, saw nag o va màn mar dhâ avell Dowr Hudson, mayth esa chy dh'y thas wàr an ladn, teythiak y gis, cans mil dollar y valew. Worteweth, hy a dheuth dhe rol an vytel arta ha declarya, dre wessyow teg o tednys in pors, na hevelly bos tra vëth dhe dhebry.
"Drog genam te dhe resa gortos, Nella." Yth o Mêster Racksole, an mylyonair a goraj brâs a vedhas erhy Cussyn El in rom megy an Babylon Veur. Nella – hy ewn hanow o Helen – a vinwharthas orth hy thas gans rach, ow corwetha dhedhy hy honen an gwir rebukya mar mydna.
"A das, yth os holergh pùpprës," yn medh.
"Nefra nag ov, marnas in degolyow," ev a geworras.
"Pandr'eus dhe dhebry?"
"Tra vëth."
"Dhana gas ny dhe dhebry hedna. Gwag ov vy. Nefra nyns ov gwacka, syger pàn viv yn sad."
"Consommé Britannia," hy a dhalathas redya rol an vytel, "Saumon d'Ecosse, Sauce Génoise, Aspics de Homard. Ogh, re'm fay! Pyw a garsa debry oll an lomen-ma in gordhuwher par ha hedhyw?"
"Saw hobma, Nella, yw an gwelha kegynieth in Ewrôpa," ev a wrug protestya.
"A das," yn medh hy, heb perthynuster dell hevelly, "a wrusta ankevy y fëdh ow fedn bloodh avorow?"
"A wrug vy ankevy bythqweth dha bedn bloodh, a vyrgh moyha costly?"
"Dre vrâs ty re beu tas plegadow lowr," hy a worthebys yn wheg, "ha rag dha rewardya me a vëdh pës dâ hevleny gans ro pedn bloodh a'n iselha pris dell resys dhybm i'm bêwnans. Saw me a'n kebmer haneth."
"Wèl," yn medh, hir y berthyans, hag ev parys dhe bùb sowthan, kepar dell wrug Nella desky bysy dh'y thas nans o pell, "pandr'yw?"
"Hebma yw. Gas ny dhe gemeres stêk fylet ha botel coref Bass dh'agan kydnyow haneth. Y fëdh sant teg dres ehen. Màl lybm yw genef anodho."
"Saw stêk ha coref, a Nella guv," ev a grias in mes, "in Chy Félix! Nyns yw possybyl! Gans hedna, ny yller alowa dhe venyn yonk, whath le ès try bloodh warn ugans, eva coref Bass."
"Stêk ha Bass a leverys vy, ha gans try bloodh warn ugans yth av 'vorow in for' peswar warn ugans."
Mêstresyk Racksole a settyas hy dens gwydn bian yn fast.
Y sonas pas whar. Jules o sevys rypthans. Awos spyrys aventurus – ken styryans ny ylly bos – ev a dôwysas an bord-ma dh'y servycyow y honen. Avell ûsadow ny vedha Jules ow tendya dhe'n kydnyow. Ny wre va ma's bargesy yn lagajak, kepar ha capten wàr bons lewyas in gôlyas an mâta. Seul esa ow menow'hy an ostel yn rêwlys a sensy y vos onorys pàn vydna Jules serha worth y vord.
Theodore Racksole a wrug hockya dres udn prës, ena dylla an arhadow gans cowntnans a sevureth brav.
"Stêk fylet rag dew berson, ha botel coref Bass." Hèm o in bêwnans Theodore Racksole y hartha dêda oll, kyn na veu colon ow fyllel dhodho in lies terstuth tremenys.
"Nyns usy wàr rol an vytel, syra," yn medh Jules, an den dydrygh.
"Ny vern. Gwra cafos. Yma whans dhyn anodho."
"Dâ lowr, syra."
Jules a gerdhas bys in daras an gegyn, heb gwil moy ès faintya meras dredho, ha dos dystowgh arta.
"Yma Mêster Rocco ow salujy, syra, hag edrek a'n jeves na yll servya stêk ha Bass haneth, syra."
"Mêster Rocco?" a wovydnas Racksole yn scav.
"Mêster Rocco," a dhasleverys Jules yn stordy.
"Ha pyw yw Mêster Rocco?"
"Mêster Rocco yw agan kegynor, syra."
Dhe Jules yth esa an keth tremyn dell ve dhe onen pejys a stryrya pyw o Shakespeare.
An dhew dhen a veras an eyl orth y gela. Yth hevelly anhegol, Theodore Racksole, neb o gloryùs, neb a berhedna mil vildir a hens horn, trevow lowr aga nùmber, ha try ugans vôta i'n Congress, bos hebma defies gans udn tendyor, pò gans ostel tendyoryon. Saw indelha yth o. Keyn medhel Ewrôpa pàn vo herdhys warbydn an fos, ny yll rejyment a vylyonairs gor-askella. Yth esa dhe Jules an tremyn cosel a dhen crev ha sur a fetha oll. Y fysment a levery: "Ty a weskys warnaf unweyth, ow escar a Evrok Nowyth, saw ny wreta gweskel dywweyth!"
Ha Nella? Hy a wodhya gnas hy thas, ytho ragweles wharvedhyans a ylly bos dhe les, hag yth esa hy ow cortos an stêk gans trest. Nyns esa dhedhy ewl debry yn frâs, ha rag hedna gortos ny gostya.
"Gav dhèm termyn cot, Nella," yn medh Theodore Racksole, isel y lev, "dyw vynysen, ogas lowr, y teuma arta," ha kerdhes strîk in mes a'n salle à manger. Ny wrug den vëth i'n stevel aswon an mylyonair, rag ev dhe vos ùncoth in Loundres, ow vysytya Ewrôpa dhe'n kensa treveth in moy ès ugans bledhen. Aswonys a pe gans nebonen, ha hedna ow merkya trèm y vejeth, an den-na a wrussa kerna rag tròm-tardhans abyl dhe dhehesy oll an Babylon Veur bys in Tavos dhe ves. Jules a wrug omdedna dhe gornet yn stratêjek. Setha a wrug ev; re bo dh'y gontrary lebmyn an torn. Deskys o Jules der experyens dyvers hir bos an ôstyas gyllys dhe goll, namna vëdh pùpprës, mara prev conqwerrya an tendyor. Dhe'n tendyor y'n jevyth mar lies poynt a brow in pùb kesstrîf a'n par-na.
GERVA – GLOSSARY
Definitions have generally been confined to those relevant for the story. To keep the glossary to a manageable length the listing excludes the most common words. These are best looked up in Gerlyver Kescows (Ian Jackson).
On-line at https://www.skeulantavas.com/vocabulary/gerlyver-kescows-2nd-edition
If you need grammar, by far the most helpful book is Desky Kernowek (Nicholas Williams, Evertype 2012).
aflythy v offend, put (sb's) back up
an Dommen See Tommen [Dowr] Tavos
appêlya v appeal
argeles v retreat (from cares etc)
arhansor m arhansoryon financier
astel cot m pause
aventurus adj adventurous
Babylon proper name Babylon
bargesy v hover
barv scovarn f side whisker(s)
bedha v dare
bêgel gwarak m bêgelyow keystone
berrheans m abbreviation
blejednek adj flowery
blejowya v bloom
bond ardhorn m bondys wristband
cabynet m cabynettys cabinet, office
cader ganstel f caderyow canstel basket chair
calmynjy m calm, serenity
càn m whiteness
conqwerrya v conquer, subjugate
convedhadow adj understandable
conyng adj clever
coraj m courage
costly adj costly
cowethas strothys f cowethasow limited company
cowethes f cowethesow (female) companion
cryhy v frizz
cussyn m kiss
cyvylta m civility
debrena v tickle
dêda m dêdys deed
deleth verb it is fitting
devîsya v contrive
devos m devosow rite, custom
dewhans adv without hesitation, immediately
drog-vryjyon m [nasty] concoction
duwsys m duwsysow deity, god
dydrygh adj invincible, imperturbable
dynam adj flawless
dyscowntya v discount
dysfaverus adj unfavourable, disapproving
dyson adv without a word, immediately
es m ease, quietude
escaruster m hostility, disapproval
exclûduster m exclusiveness
Eyndek adj Indian
faintya v pretend
famos adj famous, celebrated
felshyp m staff
feythus adj beautiful
fow m fowys den, lair
Furneth Duw m [Divine] Providence
fysment m fysmens feature(s), face
gols m [head of] hair
gôlyas m watch (duty period on ship)
gor-askella v outflank
gorhal tan m gorholyon steamship
gorowrys adj gilded
gorwetha v reserve
grym adj grim
gùdhùgen f gùdhùgednow collar
gwariek adj playful
gwastya v waste
gwedren gwyras vian f gwedrednow liqueur glass
gwest f lodging
gwesty v accommodate, entertain
hanvos m/v exist(ence)
hautîn adj proud, august
heb parow phr unique
hebask adj calm, placid
hedhes ha kerhes phr fetching and carrying
hel ilow m helow music-hall
hewol adj alert
inclynya v bend
jùglour m jùglours juggler
kenedhlegeth m kenedhlegedhow nationality
kenseth m kensedhow lobby, entrance-hall
kilwolok ‖ f kilwologow ‖ sideways / askance look
kynyowva f kynyowvaow dining-room
lagajak adj observant
lenter adj gleaming
les'hanow ‖ m les'henwyn ‖ nickname
lomen f mess (dish)
lyberta m liberty, familiarity
Lydn Lûcern place-name Lake Lucerne
lÿs m lesyow court (royal etc)
lyver acowntys m lyfryow ledger
maharâja m maharâjas maharajah
mahogany m mahogany
menek m menegow reference
menow'hy v frequent
mir m gaze
moyhariv ‖ m majority
mylyonair m mylyonairs millionaire
myskemeres v mistake
myster lel m true art (of doing sth)
nîcyta m ignorance
nôbyl adj noble
nosweyth adv/f [in the] evening
ombrederus adj meditative
omgontrollys adj self-possessed
omwhelyans m upset, upheaval
penhelygen adv without success
penty predn m pentiow chalet
perthynuster adj relevance
plegyans m submission
pons lewyas m ponsow bridge (of ship)
pywa pron = pyw
qwyttya v quit, leave
ragweles v foresee
rebukya v rebuke, scold
rejyment m rejymentys regiment
repref m reproach
rom megy m rômys smoking-room
rowtores f rowtoresow woman in charge
sar m sars tsar
scornus adj scornful, contemptuous
scrifwas ‖ m scrifwesyon ‖ clerk
scùll m waste
selva f establishment
sempleth m simplicity
serha v attach intr
setha v shoot
shâmus adj scandalous
sparya v spare
spîtys adj spiteful, mean
stâtly adj stately
stêk fylet m filleted steak
stevel f stevelyow apartment, room
stil m style
stratêjek adj strategic
strîk adj swift
styryans m explanation
Swytsek adj Swiss
syger adj idle
tardhans m explosion
tendya v wait (upon)
tendyor m tendyoryon waiter
terlentry v twinkle
tesek adj warm, sultry
Tommen [Dowr] Tavos place-name the Thames Embankment
trailya rom phr change rooms
tredden m three people
trega v dwell, stay
tregas m stay
trèm f look
troyllek adj spiral, roundabout
tynkyal m/v tinkle
undoneth m monotony
vyctoryùs adj victorious, triumphant