A.S.D. Smith 'Caradar'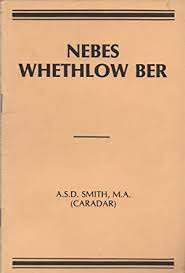 With thanks to Nicholas Williams for his version of this story, which can be found in A.S.D. Smith (Caradar) Whedhlow Kernowek (Evertype 2010)
This text Ian Jackson
There is a Glossary at the end
The story was first published as part of the collection Nebes Whethlow Ber in 1948. Our principal historical source for Cornish prose is John Tregear's translation of Bonner's Homilies, which was only discovered in 1949. Caradar's prose is therefore based on the earlier verse texts, and at times it strays from the criteria for ordinary prose in traditional Cornish that we would normally apply today. Scholars of revived Cornish will prefer to read what Caradar originally wrote. This edited version of the story is specifically for today's learners of the language. Caradar's individual style is preserved. But words and verb-forms nowadays considered to be exclusively high diction have been replaced. And a few substitutions have been made for lexical items no longer used in revived traditional prose, or only used with a different sense-range.
Onen a'm gwella cothmans yw Jack Hartland, yw lemmyn Esel an Seneth rag M ...
Nans yw nebes bledhynnyow, ow whel a'm kemeras dhe wlasow tramor, hag ena y feuma teyr bledhen. Whe mis kyns dyweth an termyn-na my a dhegemeras lyther dhyworth Jack, ow leverel ev dhe vos demedhys hag owth inia warnaf may teffen dhe driga seythen ganso ev ha'y wreg yonk pàn ven vy dewhelys tre.
"Ty a 'fÿdh pyskessa dâ omma," yn medh ev, "ha dâ vÿdh gans Joan dha wolcùmma." Ev a ros descrevyans bew a Joan y wreg, hag yth o splann dhe weles bos an eyl ow cara y gela yn town.
Warlergh an whe mis my êth tre, ha scon wosa henna my a gafas ow honen i'n train ow tothya tro ha'n dreveglos pell mayth o trigys an dhew.
Nefra ny allaf ankevy an loos a'm kemeras dhe'n kensa vu a'm beu a Joan. Benyn yonk kynth o hy, teg hy fâss ha'y form, hy a's teva blew maga whynn avell an ergh. Bytegyns, warlergh an pÿth a scrifas Jack dhymm, whe mis kyns, hy blew o gellrudh!
An nos-na, pàn o Jack ha my esedhys orth an tan i'n lyverva, ha Joan gyllys dhe'n gwely, yn medh Jack desempys: "Marth yw genes, heb mar, cafos ow gwreg mar wynn hy blew? Bytegyns indella hy ny veu a'y oos," ha miras pell orth an tan ev a wrug, sad y dhewlagas, kepar ha pàn wrella perthy cov a neppÿth trist. Ena yn medh ev: "Own y feu, a drailyas hy blew yn whynn."
My a'm beu nebes caletter ow tesmygy fatell ylly henna bos, ha'n dhew-na mar hudhyk warbarth.
Jack a welas an govynadow in ow fâss, hag yn medh ev: "My a vynn leverel dhis oll an câss, mès awos Duw, bÿdh war, my a'th pÿs, na vennes leverel ger a'n dra dhedhy hy." Wosa my dhe dhedhewy gwil warlergh y vodh, yth êth Jack wàr rag indelma:
"Dell wodhes, Joan ha my a wrug demedhy nans yw whe mis. Onen a'gan cothmans, cuv y gnas, hag a veu mes a dre i'n termyn-na, a brofyas dhyn y jy rag may hallen spêna agan mis mel in cosoleth. Yn tâ my a berth cov a'n jÿdh may whrussyn mos dy. Dhyn ny yth o an chy pÿth adhevîs, ow sevel dell esa in cres an pow, ha'n ryver ow resek i'gan ogas. Gwethyades an chy o benyn hanter-cans bloodh, Mêstres Webber orth hy hanow, onest hy semlant neb a wrug agan metya orth an daras. Hy a gemeras Joan adhewhans in dann hy askel hag a dhysqwedhas an chy dhedhy, ha my êth dhe wandra adro dhe'n lowarth, o onen teg ha leun a flourys. Pàn dhewhelys dhe'n chy, yth o an tê parys, ha Mêstres Webber o gyllys wàr dhelergh dhe'n gegyn.
"Yn medh Joan in unn wherthyn: 'Esta ow cresy in secùnd syght, Jack? Mêstres Webber re beu ow clappya a 'neppÿth' a dal wharvos i'n chy-ma. 'Ordenys yw gans nev,' dell lever hy. Bytegyns hy ny wor màn pandra vÿdh an 'neppÿth'-na.
"'Na ny worama namoy,' my a worthebys, 'marnas hy a vo nebes clâv hag in otham a vedhegieth.'
"Tremena a wrug an dedhyow. Ny a's spênas in pyskessa ha kerdhes i'n pow adro. Bytegyns yth esa neppÿth ow posa wàr vrÿs Joan, dhymm dell hevelly, rag my dhe weles golok brederus in hy dewlagas traweythyow.
"Unn jÿdh, ha ny owth esedha ryb an ryver, my a wovynnas orty: 'Pandra wher dhis, ow melder, ha ty ow tewel mar bell?'
"'Ow predery yth esen a'n pÿth a leverys Mêstres Webber dhymm hedhyw myttyn,' yn medh hy.
"'Pÿth a veu henna?'
"Hy a leverys neb mollath dhe godha wàr an chy-ma, ha hy a'm pesys mayth ellen in kerdh abrÿs. 'My ny allaf diank a'm tenkys,' yn medh hy, 'henna yw ordenys gans nev. Mès ny res dhywgh why hy godhevel genef vy.' Neppÿth a'n keth sort-na hy a leverys lies treveth kyns, mès i'n tor'-ma scruth own a's kemeras, mayth esa hy ow crena.
"Abàn esa ow gwreg ow côwsel indella, my a whilas gwella hy cher, ow tysqwedhes gockyneth an dra in unn wherthyn. Hag ena ny a gowsas a neppÿth aral.
"Nebes dedhyow wosa henna y feu res dhymm colenwel an dedhewadow a veu gwrÿs genef nebes mîsyow kyns, ha mos dhe ves rag arethya dhe gùntellyans a dus in ow randir a'n pow mayth en vy Esel an Seneth ragtho. Ow gwreg ny vynna my dhe vos, mès fatell yllyn y woheles ny wodhyen, ha my a wrug oll myns a yllyn rag hy hebaskhe. My a dhedhewys dewheles an keth nos-na, mar dhewedhes kyn fe an eur, ha res o dhedhy bos pÿs dâ a'n ambos-na. Edrek a'm bÿdh bys venary na wrug avy gortos tre an nos-na."
Ow hothman a worras y dhorn wàr y lagasow, kepar ha pàn vynna cudha neb tra anwhek, kyns ès côwsel arta:
"Ty a yll convedhes nag esen vy ena ow honen, indella ny worama leverel poran pandra wharva. Bytegyns y hyller gorra an tymmyn warbarth ha lenwel an aswiow o gesys gans ow gwreg in hy derivadow a'n dra, môvys dell o hy ha hanter-marow gans euth.
"My êth dhe ves yn scon wosa hanter-dÿdh, ha Joan êth genef bys in gorsaf an hens horn. Wosa an train dhe'm kemeres in mes a'y gwel, hy a dhewhelys dhe dre, mar calla gweres Mêstres Webber ow qwil whel an chy. Honna a's teva marth a weles bos Joan dewhelys, ow tyby hy dhe vos gyllys in kerdh genef vy.
"Mêstres Webber a hevelly bos isel hy spyrys, owth hanasa yn fenowgh, ha wàr an dyweth ny ylly Joan y wodhaf na fella, ha hy a leverys: 'Pandra wher dhis, Mêstres Webber ger? Kemmer colon! Gwella dha jer! Osta clâv, martesen? Lavar dhymm.'
"Mêstres Webber a viras orty pell heb côwsel. Ena yn medh hy in unn hanasa yn town: 'My a'gas gwarnyas, hag yma an termyn devedhys, dell yma own dhymm. Ot! yma an ùncothfos ow nessa, dell esof owth omglôwes in ow eskern. Nefra ny welaf dÿdh aral ow tardha.'
"Yth o drog gans Joan hy clôwes, ha hy êth i'n lowarth rag scrifa lytherow, ha Mêstres Webber a dhros an tê dhedhy i'n lowarth. Wosa tê, Joan a assayas redya lyver, bytegyns hy ny's teva whans a redya nag a wil tra vÿth. Neb sqwîthter o devedhys dresty. Hy a leverys 'Nos dâ' dhe Vêstres Webber, neb o esedhys syger i'n gegyn, hag êth avarr dhe'n gwely.
"Scon hy a gùscas.
"Neb son a's dyfunas. Hanter-dyfun, hanter in cùsk dell o, hy a dyby bos Mêstres Webber whath i'n gegyn. Hy a viras orth hy euryor: hanter wosa onen! Pandra ylly an venyn gwil i'n gegyn in cres an nos? Hy a vynna poran sevel ha mos dhe weles, pàn glôwas son treys owth eskyna an grîsys: son nebonen possa wàr y dreys ages Mêstres Webber. Ow crena rag ewn euth, heb gwaya màn, hy a woslowy orth an treys-na ow nessa. Ha hy hanter a'y eseth, hanter a'y groweth i'n gwely – ha'y dewlagas stag wàr dharas an chambour, hy a glôwas nebonen ow tava dorn an daras, kefrÿs son omgows ha wherthyn isel. Ena dorn an daras a veu trailys ha nebes ha nebes an daras êth yn egerys, ha neb den a dheuth aberveth, hag ev ow clappya orto y honen ha wherthyn yn isel in y vriansen, uthyk y glôwes.
"Namna wrug Joan scrîja, bytegyns neppÿth a wrug hy lettya ha hy a dewys, hag indella hy a sawyas hy bêwnans, nyns eus dowt i'n bÿs. Miras orth an tarosvan hy a wrug ha'y dewlagas alês.
"Henna a gerdhas tro ha'n tan hag esedha in cader ha'y geyn tro ha Joan, an eyl torn ow clappya orto y honen, tres aral ow wherthyn yn isel in y vriansen, kepar ha pàn ve neppÿth orth y dhydhana meur. Inter y dhêwla ev a sensy neb pùsorn gans meur rach. Lemmyn ev a worras an pùsorn wàr y dhêwlin hag a dhalathas y dava, in unn glappya ha wherthyn yn isel kepar ha kyns. Heb fysky màn, ev a dhalathas dysmailya an gweth esa adro dhodho. Ena adhesempys neppÿth poos, rônd, a wrug diank in mes a'y avel ev ha rolya wàr an leurlen yn splann dhe weles.
"An dra-na o penn Mêstres Webber.
"Scrîja a wrug Joan i'n tor'-ma, ha wàr unn lamm hy a savas ha mos avell seth dre an daras ha fia dhe'n fo mes a'y skians an grîsys wàr nans hag aberth i'n parleth, mar calla diank dre an fenester. Kyns hy dhe hedhes an fenester, honna a veu herdhys yn egerys gans nebonen a'n tu avês, ha Joan a godhas inter an brehow a nebes tus esa ow sevel ena. Re erel a wrug settya dalhen i'n den muscok ha'y hùmbrank in kerdh.
"Nyns o pell wosa henna may whrug avy hedhes an chy," yn medh Jack. "Yth esa Joan a'y groweth wàr an sôfa, ha medhek ow menystra dhedhy. Ganso yth esa gwethyas an foljy may teuth an muscok anodho. Yn medh an gwethyas: "Kettel wodhyen bos dienkys an muscok-na, ny a dheuth omma desempys, rag i'n keth chy-ma ev a ladhas y wreg y honen deg bledhen alemma, ow trehy hy fenn.
"Nebes wosa henna Joan a veu kemerys fest yn clâv gans terthen an empynnyon, ha treynya pell a wrug an venyn vohosak inter bew ha marow. Pàn dheuth dh'y ewn skians arta, ny wodhya hy tra vÿth a'n wharvedhyans uthyk-na. Dre vercy Duw, yth esa gwagla in hy hov dres an termyn-na.
"Mès hy blew êth yn whynn avell an ergh."
GERVA – GLOSSARY
Definitions have generally been confined to those relevant for the story. To keep the glossary to a manageable length the listing excludes the most common words. These are best looked up in Gerlyver Kescows (Ian Jackson).
On-line at https://www.skeulantavas.com/vocabulary/gerlyver-kescows-2nd-edition
If you need grammar, by far the most helpful book is Desky Kernowek (Nicholas Williams, Evertype 2012).
a'n tu avês phr outside
a dal verb phr + verb-noun is bound to
adhewhans adv immediately
awos Duw interj for God's sake
bodh m wish, will
bys venary phr for ever
cader f caderyow chair
foljy m foljiow madhouse
gavel f gavelyow grip
gwagla m gwagleow empty space, void
gwethyades an chy phr the housekeeper (female)
hebaskhe ‖ v calm, mollify
mercy m mercy
mes a dre phr away from home
mes a'y skians phr out of one's wits
mollath f molothow curse
omgows m talking to oneself
parleth m parledhow parlour
tardha v break (day)
terthen an empynnyon phr brain fever
tothya v speed
(Caradar wrote spêdya, which nowadays rather means 'succeed')
trehy penn phr behead
treynya v linger
triga v stay
ùncothfos m unknown thing, vague premonition
wherthyn in y vriansen phr chuckle