Anna Sewell
Kernowek © 2020 Ian Jackson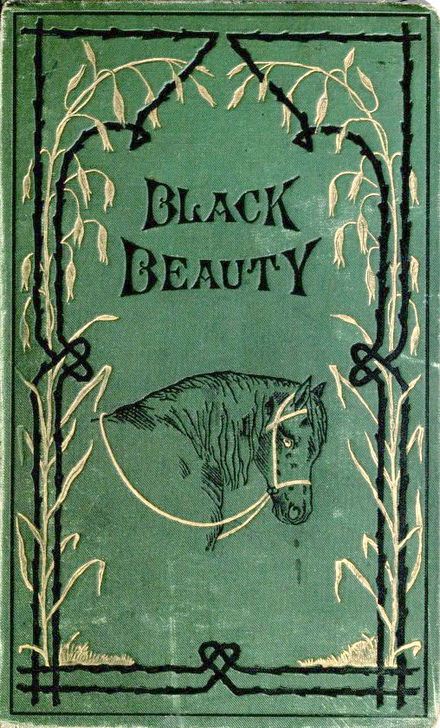 Cudhlen an kensa dyllans, 1877
Chaptra 1
OW HENSA TRIGVA
Yma Gerva orth pedn dewetha an chaptra.
An kensa plâss, may whrug vy perthy cov dâ anodho, o pras plesont brâs, ha poll a dhowr cler ino. Yth esa nebes gwëdh ow tôwlel skeus wàr an poll, ha brodn hag alaw ow tevy i'n downha pedn. Dres an kewÿth a'n eyl tu ny a vera wàr wel erys; meras a'y gela, dres yet, orth chy agan mêster, esa desedhys ryb an fordh. In hans dhe'n pras awartha yth esa dor a sabwëdh plynsys; wàr woles yth esa gover frosek, ha banken serth valegys a-ughto.
Pàn esen vy whath yonk, my o mêthrys gans leth ow mabm, rag ny yllen vy debry gwels. Dëdhweyth yth esen vy ow ponya rypthy, hag a'm groweth nosweyth in hy ogas. Pàn o an gewer tobm, ny a sevy ryb an poll in goskes an gwëdh; ha pàn o yêyn, y'gan bo crow tobm wheg in nes dhe'n dor plynsys.
Kettel veuma tevys lowr rag debry gwels, y fedha ow mabm ow mos dëdhweyth dh'y whel, hag ow tos nosweyth arta.
Adar my, yth esa whegh ebol yonk i'n pras. Cotha êns y agesof; re anodhans o ogas mar vrâs avel mergh gowl-devys. Y fedhen vy ow ponya gansans, ha gwil sport teg. Ny a vedha ow ponya warbarth adro hag adro dhe'n park, maga fen dell wodhyen ny. Traweythyow yth esen ny ow qwary nebes garow, rag yn fenowgh y fydnens y brathy ha pôtya, kefrës ha ponya.
Udn jëdh, may feu showr a bôtyans, ow mabm a wrug cryhias, rag may teffen vy dhedhy; hag yn medh hy: "Yma whans dhybm ty dhe attendya an pëth a vydnaf leverel. An ebylyon tregys obma yw ebylyon wordhy, mès ebylyon carrvil yns y, heb bos deskys in manerow dâ, dell wodhyr.
"Ty yw megys yn tâ ha genys yn tâ; dhe'th tas yma hanow brâs i'n côstys-ma, ha dha hendas a wrug gwainya an Hanaf dywweyth orth resegva Newmarket; dha henvam a's teva whecka gnas ès kenyver margh aral, ha bÿth ny wrusta gweles my dhe vrathy na dhe bôtya, dell wòn.
"Govenek a'm beus ty dhe devy clor, dâ dha omdhon, heb desky drog-vanerow nefra. Gwra dha whel gans bolùnjeth dâ; derevel dha dreys yn tâ pàn vy gobonya, ha nefra na wra brathy na pôtya, in gwary kyn fe."
Bythqweth ny wrug vy ankevy cùssul ow mabm; my a wodhya hy bos margh fur ha coth, ha'gan mêster orth hy estêmya yn frâs. Hy hanow o Dùches, saw liesgweyth ev a vydna hy gelwel Tegen.
Agan mêster o dremâs. Ev a ry dhyn boos dâ, gwest dhâ, ha geryow cuv; hag ev ow côwsel orthyn mar guv dell vedha va ow côwsel orth y flehesygow. Yth esen ny oll orth y gara, ha kerys o va gans ow mabm spessly. Pàn wrella y aspia orth an yet, y fedha hy ow cryhias dre joy, ha gobonya bys dhodho. Y fedha ev orth hy falva hag orth hy chersya, hag ow leverel, "Wèl, a Degen! Fatla dha Dewlyk bian?" Du aflenter en vy, ytho ev a'm cria Tewlyk.
Ena y fedha ow ry dhybm darn a vara, o pòr dhâ, ha traweythyow ev a'n jeva caretysen dhe'm mabm. Oll an vergh a vydna dos dhodho, mès ny dew o an moyha kerys, dell gresaf. Yth esa ow mabm orth y dedna dhe'n dre pùb dëdh marhas in caryach scav.
Yth esa maw aradar, Dyck, ow tos ajy dh'agan park prës ha prës rag mora i'n ke. Pàn wrella debry myns esa ewl dhodho, ev a vydna gwary gans an ebylyon an pëth o henwys "sport" ganso ev, ow tôwlel gwelyny ha meyn wàr aga fydn rag gwil dhedhans ponya. Nyns en ny meur troblys ganso, rag y hyllyn ny ponya pell dhyworto, mès traweythyow y whrug neb men gweskel ha hùrtya.
Udn jëdh yth esa an maw ow qwary indelma, heb godhvos bos an mêster i'n nessa gwel; saw otta ev ena, owth aspia orth an pëth a happya. Dres an ke ev a labmas heb let, ha cachya Dyck er y vregh, ha gwil boxas wàr y scovarn, may wrug hedna uja dre bain. Kettel wrussyn ny gweles an mêster, ny a bonyas in nes rag meras pynag oll a wharva.
"Dregyn!" yn medh, "dregyn! yw helghya an ebylyon. Nyns yw an kensa tro, nag an secùnd tro naneyl; saw an dewetha tro a vëdh hy, heb mar. Dar! kebmer dha vona ha mos tre; nyns eus whans vëth dhybm a'th cafos i'm bargen tir nefra namoy." Ytho ny welsyn ny Dyck arta, bythqweth.
Danyel coth, an gwas esa ow mentêna an vergh, o maga clor avell agan mêster, ytho ny oll o gwydn agan bÿs.
GERVA
Glossary
Definitions have generally been confined to those relevant for the story. To keep the glossary to a manageable length the listing excludes the most common words. These are best looked up in Gerlyver Kescows – A Cornish Dictionary for Conversation (Ian Jackson, Agan Tavas 2017), for which an up-to-date spell-checker is available on the Vocabulary tab at www.skeulantavas.com. If you need grammar, by far the most helpful book is Desky Kernowek (Nicholas Williams, Evertype 2012).
The format and abbreviations in the glossary are the same as in Gerlyver Kescows, with one refinement. In this listing a middle dot following a vowel sound shows that primary stress is on that syllable (in cases where it is not the penultimate syllable); a double vertical line after a disyllabic word indicates that both syllables are more-or-less evenly stressed.
ada·r prep apart from
alaw col water-lilies
a'y wroweth phr lying [down]
banken f bankednow bank
beawty m beauty
bolùnjeth m will
boxas m boxesow cuff, blow
brodn col rushes
bÿth adv never (reinforced negative)
carrvil ‖ m carvilas cart-horse
cryhias v neigh, whinny
dëdhweyth adv in the daytime
dor plynsys m plantation
dregyn m mischief, harm
dremâ·s m good man
dùches f dùchesow duchess
ebol m ebylyon colt
flehyk m flehesygow little child
frosek adj running
gobonya v trot
gwels col = glaswels
happya v happen
hendas m hendasow grandfather
henvam f henvabmow grandmother
in nes dhe2 prep = in ogas dhe
kewÿth col hedge[row]
liesgweyth adv many times, often
maga5 adv so, as
men adj see yn fen
mentêna v look after (animals)
mêthryn v feed (a youngster with milk)
mora v no inflection gather blackberries
nosweyth adv in the evening
pôtyans m kicking
sabwëdh ‖ col fir trees
showr a2 phr a lot of
trigva f trigvaow dwelling, home