Jack London
Kernowek © 2022 Ian Jackson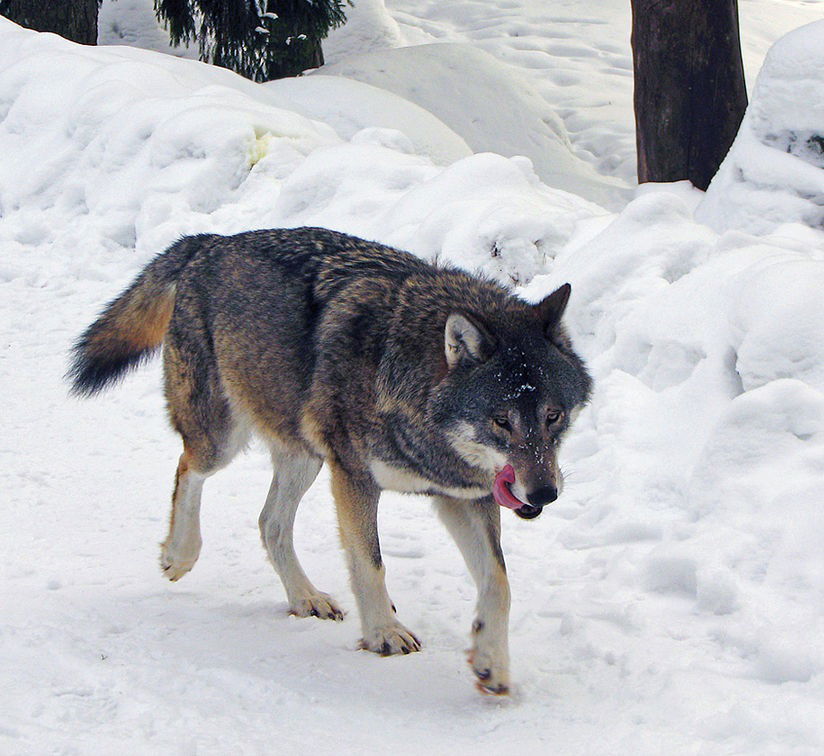 Y kefyr an cummyas rag an skeusen-ma orth
https://commons.wikimedia.org/wiki/File:Wolf_Kolm%C3%A5rden.jpg
Chaptra 1
An Kiglergh
Yma Gerva orth an penn dewetha
Tewl o an forest sprûs, hag asper ryb an ryver rewys a bùb parth. An gwëdh o dystryppys gans dewetha gwyns a'ga gwyscas gwynn a rew, hag yth esens ow posa, dell hevelly, an eyl dh'y gela, du ha dargan-drog, i'n golow gyllys gwann. Taw efan o rainys der an pow. Oll an pow y honen o gwastyans, dyvew, heb gway vëth, mar dhyberthys, mar yêyn, mayth esa ino spyrys nag o unweyth tristans. Hynt a wharth yth esa, mès wharth moy uthyk ès pùb tristans – wharth heb merth, kepar ha min an Sfynx, wharth yêyn, par ha'n rew, ha kevrennak i'n anwhecter longus dhe dhyfaladêwder. Yth esa furneth eternyta, meur y vêstry ha dres kescomûnyans, ow wherthyn awos euvereth an bêwnans ha lavur an bêwnans. An Dyfeth o va, gwyls, rewys y golon, Dyfeth an North.
Saw bêwnans i'n tyller yth esa bytegyns, in mes i'n pow, hag owth erya. Lînen a geun a lavurya an ryver rewys ahës, ha tùch a'n bleydh i'ga syght. An blew warnodhans o leun a rew. Yth esa an anal ow rewy i'n air kettel dheuth a'ga min, owth êthenna in ewon a veu sedhys wàr vlew aga horf ha gwrysys dhe yey. Yth esa hernes lether wàr an keun, ha stegys êns y gans sygyow lether dhe garr slynkya o dreggys dhelergh. Dhe'n carr nyns esa gosel vëth. Ev o gwrës a rusk besow tew, hag oll y enep a'y eseth wàr an ergh. Greuv an carr o trailys in bàn, kepar ha rol barchemynek, rag constrîna myns hûjes an ergh medhel bys in danno, ha henna ow whethfy avell tonn dhyragtho. Wàr an carr, kelmys yn tiogel, yth esa box brâs, cul, hirbedrak. Yth esa taclow erel wàr an carr – lennow, bool, pot coffy ha lejer ganso; mès an dra moyha hewel, ow lenwel an moyha rann a'n carr, yth o an box brâs, cul, hirbedrak.
Arâg an keun, wàr skyjyow ergh ledan, y lavurya den. Adhelergh dhe'n carr y lavurya den aral. Wàr an carr, i'n box-na, yth esa tressa den, ha'y lavur ev o due – an Dyfeth a wrug y fetha ha'y sqwattya bys na wre hemma gway vëth na strîvyans vëth nefra namoy. Nyns yw an Dyfeth ûsys dhe gara gwayans. An bêwnans yw despît dhodho, rag an bêwnans yw gwayans; ha porpos an Dyfeth pùb dëdh yw dystrêwy gwayans. Yma va ow rewy an ryver rag gwitha na alla resek dhe'n mor; yma ow trîvya an sùgan in mes a'n gwëdh erna vowns y rewys i'ga holon alosek; ha moyha fers oll ha moyha uthyk yma an Dyfeth ow pyltya hag ow cropya mab den dhe omdhascor – mab den, an moyha dybowes a bùb bêwnans, prest in rebellyans warbynn an dyth may fo res dhe genyver gwayans dos wosteweth dhe cessyans an gway.
Saw arâg ha dhelergh, heb aha, ha dydrygh, y lavurya an dhew dhen nag o marow na whath. Aga horf o cudhys in pelour ha lether kyfethys yn fedhel. Blew lagas ha bohow ha gwessyow o mar gednys gans gwrys an anal rewys, ma nag o gà fâss dhe weles. Rag hemma yth esa semlant dh'aga dew a warior gis tarosvanus, gwas orth encledhyas neb edhen corf in bÿs an bùckyas gwynn. Saw yth êns y tus in dann hemma oll, tus ow tewana an pow a wastyans hag a vockyans hag a daw, tus idhyl o porposys dhe unn aventur cowrek, owth offrynna gà honen warbynn gallos bÿs mar bell, mar estren, bohosak a bols avell an spâss inter an ster.
Y travalyens y heb cows, owth erbysy an anal rag whel aga horf. A bùb tu yth esa an taw, ow qwasca warnodhans gans presens o tavadow. Ev a nâsya aga brës kepar dell wra dowr lies airgelgh y dhownder nâsya corf an sedhor. Ev a's compressa gans poos an efander dydhyweth ha'n rêwl na yller hy chaunjya. Ev a's compressa bys in skylyow moyha aberveth aga brës, ow qwasca in mes anedha, kepar ha sùgan in mes a'n grappa, oll an fekyl-gwres ha'n exaltyans ha'n lies honen-valew nag yw gwyw i'n ena dhenyl, erna wodhyens y convedhes fatell êns y creaturs lymytys ha bian, namow ha mottys, ow môvya gwann aga felder ha bohes aga furneth in mesk gwary ha kesqwary elementys dall an gwylfos meur.
Passys veu unn our, ha'n nessa our. Y talathas fyllel golow dyscler an jëdh cot heb howl, pàn cry faint ha pell a dheuth dres cosoleth an air. Ev a stêvyas in bàn, uskys y fysk, erna wrug drehedhes y uhella nôta, le may turya, tynn ow teglena, ena mos marow yn lent. Y halsa bos kynvan enef o kellys, na ve neb conar drist dhodho ha whans nownek men. An den arâg a drailyas y wolok ha'y lagasow o lavar dhe lagasow an den dhelergh. Ena, hag intredhans an box cul, hirbedrak, an eyl a wrug inclynya dh'y gela an penn.
Y teuth secùnd cry, ow qwana an taw gans lymder kepar ha najeth. Oll an dhew dhen a wodhya tyller an son. Yth esa va dhelergh, neb plâss i'n ergh ledan a wrussons y tremena nowyth dresto. Tressa cry a dheuth in gorthyp, kefrÿs adhelergh hag agledh dhe'n secùnd cry.
"Orth agan helghya mowns y, Bill," yn medh an den arâg.
Son y lev o hos hag afreal. Poos ganso, dell hevelly, veu côwsel.
"Kig yw scant," a worthebys y goweth. "Nans yw lower dëdh na welys ol conyn vëth."
Wosa hemma ny wrussons y cows namoy, mès sherp o gà scovarn rag criow an helgh esa whath ow sordya dhelergh.
Gans tewlwolow y a drailyas an keun ajy dhe vagas sprûswëdh wàr lann an dowr ha gwil camp. An eler, ryb an tan, a servya avell se ha moos. Yth esa an keun-bleydhas, oll warbarth a'n tu aral dhe'n tan, ow kenkya in unn scrynkya an eyl orth y gela, heb dysqwedhes whans vëth a wandra in kerdh bys i'n tewlder.
"Dar, a Henry, mowns y 'cortos nes dres ehen dhe'n camp," Bill a gomplas.
Henry, neb o plattys ryb an tan rag gorra pot an coffy, ha darn rew etto, a sînas agrians. Ny wrug ev côwsel erna veuva esedhys wàr an eler ha dallath debry.
"Y a wor ple mowns y diogel," yn medh. "Gwell yw gansa debry boos ès bos boos. Fur lowr yns y, an keun-na."
Bill a shakyas y benn. "Ogh, nor'vy."
Y goweth a wrug meras orto yn coynt. "Otta lavar an kensa tro ahanas nag yns y fur."
"Henry," yn medh an aral, ha densel an fav esa ev ow tebry in unn gùssulya, "a ny wrusta merkya fatell êth an keun in clôwyowgh pàn esen vy orth aga boosa?"
"In gwir, y a wrug gwil fresca froth ès dell yw ûsys," yn medh Henry hag assentya.
"A Henry, pan lies ky eus dhe ny?"
"Whe."
"Wèl, Henry …" Bill a wrug hedhy tecken, rag may halla y er gwainya brâssa mênyng. "Dell esen vy ow leverel, Henry, yma whe ky dhyn. Me a gemeras whe pysk in mes a'n sagh. Me a ros unn pysk dhe bùb ky, ha, Henry, th'esa fowt dhèm unn pysk.
"Te a gomptyas yn camm."
"Yma whe ky dhyn," a dhasleverys an aral heb emôcyon. "Me a gemeras whe pysk in mes. Ny gafas Unn Scovarn pysk vëth. Me êth dhe'n sagh arta ha kerhes dhodho y bysk."
"Nyns eus dhyn ma's whe ky," yn medh Henry.
"A Henry," Bill a bêsyas, "ny vynnaf leverel yth êns y oll keun, saw th'esa seyth a gafas pysk."
Henry a cessyas heb debry, rag tôwlel golok dres an tan ha comptya an keun.
"Nyns eus ma's whe i'n eur-ma," yn medh.
"Me a welas an aral ow ponya 'ves dres an ergh," Bill a nôtyas, dyblans y don doth. "Me a welas seyth."
Y goweth a wrug meras orto in kescovedhyans, hag yn medh, "Dâ vëdh genef a'm colon pàn vo an viaj-ma oll gorfennys."
"Pandr'yw styr a henna?" Bill a wrug demondya.
"Tell usy gàn carg-ma owth ania jy, ha te ow mos ha gorweles."
"Me a'm beus an keth preder," Bill a worthebys yn sad. "Ytho, pàn y'n gwelys ow ponya 'ves dres an ergh, me a wrug meras wàr an ergh hag aspias y olow. Ena me a gomptyas an keun hag yth esa whe anodhans. Yma an olow dhe weles whath i'n ergh. A vynta meras orta? Me a wra showya dhis."
Ny wrug Henry gortheby, mès densel ha tewel bys pàn dheuth in very penn an prÿs gans dewetha hanaf a goffy. Wosa glanhe y vin gans kil y dhorn, ev a leverys:
"Th'yw dha breder dhan dell veu –"
Cry hir y gynvan, trist y gonar, in mes a neb plâss i'n tewlder, a wrug goderry y gows. Ev a'n stoppyas rag golsowes; ena ev a worfennas y lavar gans gwevyans a'y dhorn tro ha son an cry, "– onen anodhans y?"
Bill a sînas assentys. "Malbe damm a vensen cresy nampëth ken ès henna. Te dha honen a verkyas oll an tervans a wrug an keun."
An eyl wosa y gela, yth esa criow, ha criow gortheby, ow trailya an taw dhe hùbbadùllya. A bùb tu y sordya an criow, ha'n keun a dhysqwedhy aga own, gyllys warbarth in gròn mar ogas dhe'n tan, may feu aga blew goleskys gans an tomder. Bill a dowlys moy cunys warnodho, kyns ès tùchya y bib.
"Dha spyrys, dell hevel dhèm, yw sedhys tamm isel," yn medh Henry.
"A Henry …" Ev a sugnas y bib yn ombrederus rag nebes termyn, kyns pêsya. "A Henry, yth esen vy ow predery tell vëdh hemma fest gwynna y vÿs ès me pò te hogen."
Ev a dhysqwedhas an 'hemma' dre bock wàr nans a'n bës brâs tro ha'n box mayth esens y a'ga eseth warnodho.
"Me ha te, Henry, pàn ven ny marow, gwynn agan bÿs mar pëdh meyn lowr dres agan caryn dh'y witha ev rag an keun."
"Saw nyns eus pobel dhyn, na mona hag oll, dell esens dhe hemma," Henry a worthebys. "Scant nyns eus mona dhèm na dhyso rag encledhyas pell dhort tyller an tremenyans."
"An dra muskegy dhymmo, Henry, hèn yw pollat a'n par-ma, neb o arlùth pò haval in y bow y honen, ha na veu bythqweth troblys tùchyng sosten pò lennow, prag y fynna ev mellya in kenyver cornet innyal an nor – hèn yw an pëth na allaf ùnderstondya."
"Y whrussa bêwa bys in henys teg mar teffa unweyth ha remainya tre," y feu Henry unver.
Bill a egoras y anow dhe gôwsel, ha chaunjya ervirans. In le a henna, ev a wrug poyntya wor'tu ha'n fos a dewlder esa ow qwasca a bùb parth ader dro. Ny veu desmyk a form vëth i'n cowl-dhuder; nyns esa ma's dewlagas ow colowy kepar ha regythen. Henry a dhysqwedhas gans y benn neb secùnd dewlagas, ha neb tressa. Kelgh a'n lagasow lenter a veu settys dhe'n camp in y gerhyn. Traweythyow dewlagas a wrug gwaya, pò mos mes a wel, hag apperya arta wosa tecken.
Encressys veu deray an keun, hag y a wrug ponya, desempys aga own, bys in tu ogas an tan, ow plynchya hag ow slynkya adro dhe arrow an dus. In oll an kesstrîf onen a'n keun a veu trebuchys wàr amal an tan, hag ev owth uja gans gloos hag euth, ha'n air o leun a fler y vlew goleskys. An kedrynn a wrug dhe'n kelgh a lagasow môvya rag tecken yn tybowes hag omdenna nebes kefrÿs, saw yth êth arta qwiet kettel veu an keun coselhës.
"Henry, malbe bùlettys a'gan beus."
Bill a worfennas y bib hag yth esa va ow qwil gweres dh'y goweth rag gorra an golhes a belour ha lenn wàr scorr an sprûs a wrug ev lêsa dres an ergh kyns soper. Henry a sonas ronk, ha dallath dylâcya y whybanoryon.
"Dro dhe'm cov, py lies cartryjen eus dhis whath?" ev a wovynnas.
"Teyr," y feu an gorthyp. "Ha me ow whansa tryhans. Nena me a dhysqwa warnedha, mollath Duw i'ga glas!"
Ev a shakyas dorn yn serrys orth an lagasow pòr lenter, ha dallath posa y whybanoryon ev yn tiogel dhyrag an tan.
"Hag ow whansa spÿs an yêynder-ma dhe vos due," ev a bêsyas. "Hanter cans in dann an rewboynt nans yw dyw seythen solabrÿs. Hag ow whansa, a Henry, na wrussen vy bythqweth dos i'n viaj-ma. Nyns usy ow plegya màn. Th'esof owth omsensy coynt anodho. Ha me ow whansa, gweles an viaj gorfennys, ha me ha te a'gan eseth ryb an tan in Fort McGurry i'n very prÿjweyth-ma hag ow qwary crybaj – ot oll ow whans."
Unn ronk arta, ha Henry ow cramyas ajy dhe'n gwely. Namnag esa va ow cùsca, ha lev y goweth orth y dhyfuna.
"Dar, Henry, an aral, neb a dheuth ha cafos pysk – prag na wrug an keun omsettya warnodho? Th'esof ow perthy awhêr a'n dra."
"Awhêr dres otham, a Bill," y teuth an gorthyp hunek. "Bythqweth ny veusta mar vexys kyns. Sens dha glap lemmyn, ha cùsca, ha ternos te a vëdh oll in poynt dâ. Dha dorr yw dystemprys, ot ancres dhis."
An dhew dhen a gùscas, owth anella yn fen, tenewen orth tenewen, in dann an keth hudhes. An tan êth dhe lusow, ha'n lagasow lenter a glôsyas an kelgh a wrussons y tôwlel adro dhe'n camp. Yth esa an keun in unn bonny ownek, ow teskerny fâssow bÿth pàn dheffa dewlagas in nes. Unweyth aga thervans a veu mar vrâs, may whrug Bill dyfuna. Ev a savas in bàn gans rach, na wrella trobla cùsk y goweth, ha tôwlel moy cunys wàr an tan. Pàn wrug henna facly arta, kelgh an lagasow a dennas pella dhyworto. Bill a worras golok wallus orth an keun i'ga gròn. Ev a rùttyas y dhewlagas ha meras ortans yn lemma. Ena ev a gramyas arta i'n lennow aberveth.
"Henry," yn medh. "A Henry."
Henry a wrug hanaja, ow passya a gùsk bys in dyfuna, ha demondya, "Pandr'yw camm i'n tor'-ma?"
"Tra vëth," y teuth an gorthyp; "marnas bos seyth anodhans arta. Namnygen me a's comptyas."
Henry a recêvas an derivadow-ma gans ronk a slyppyas bys in rogh, hag ev ow tryftya tre dh'y gùsk.
Ternos vyttyn y feu Henry an kensa dyfunys, hag ev a fêsyas y goweth in mes a'n gwely. Golow an jëdh o pell try our whath, kyn feu whegh eur solabrÿs; hag i'n tewlder Henry a wrug parusy hawnsel, ha Bill ow rolya an lennow hag ow tarbary an carr kyns kelmy oll.
"Dar, Henry," ev a wovynnas sodyn, "ny leversys pan lies ky eus dhe ny?"
"Whe."
"Camm." Bill a'n declaryas yn trygh.
"Seyth ytho?" Henry a wrug govyn.
"Nâ, pymp; gallas onen."
"An jowl!" Henry a grias engrys brâs, ha gasa an gegynieth rag dos ha comptya an keun.
"An gwir a leverta, Bill," yn medh wosteweth. "Gallas Berryk."
"Hag ev êth kepar ha luhesen pàn veu unweyth dalethys. Ny welys ma's mog."
"Chauns vëth," Henry a dhetermyas. "Y a'n loncas bew. Owt warnedha! Sur yth esa owth ola brâs pàn êth dh'aga fengasen aberveth."
"Pùpprÿs o va ky fol," yn medh Bill.
"Saw ny dal ky fol màn bos mar fol hag omladha indella." Ev a whythras an remnant a'n parra, pollansek y wolok, ow sùmya teythy pùb best dystowgh. "Sur ny vensa ken onen gwil in ketelma."
"Ny yllyn aga herdhya gans cûlbren dhort an tan," Bill a wrug agria. "Ha me pùb termyn ow cresy bytegyns bos nampëth camm in Berryk."
Awotta scriven bedh ky marow wàr fordh Pow an North – le scant ès scriven bedh lies ky aral, ages bedhscrif lies den.
GERVA – GLOSSARY
Definitions have generally been confined to those relevant for the story. To keep the glossary to a manageable length the listing excludes the most common words. These are best looked up in Gerlyver Kescows (Ian Jackson). On-line at https://www.skeulantavas.com/vocabulary/gerlyver-kescows-2nd-edition
If you need grammar, by far the most helpful book is Desky Kernowek (Nicholas Williams, Evertype 2012).
afreal adj unreal
aha m awe
ancres m disquiet
anwhecter m grimness
bedhscrif m bedhscrîvyow epitaph
berryk adj fatty
besow col besêwen birches
bonny m bonias cluster
bùcka gwynn m bùckyas ghost
cartryjen f cartryjennow cartridge
caryn m carynas carcase
cessyans m cessation
clôsya v draw closer
clôwyowgh m hullaballoo
creatur m creaturs creature
cropya v crush
crybaj m cribbage
cûlbren m cûlbrennyer club
deglena v palpitate
denyl adj human
deskerny v snarl
dryftya v drift
duder m blackness
due adj over
dybowes adj restless
dydhyweth adj unending
dydrygh adj indomitable
dyfaladêwder m infallibility
dylâcya v unlace
dystryppya v strip
dyvew adj lifeless
edhen corf phr ghoul
element m elementys element
erya v defy
eternyta m eternity
euvereth m futility
exaltyans m exaltation
facly v flame
faint adj faint
fâssow as adv menacingly
felder m cunning
fêsya v rout
fler m smell (unpleasant)
forest m forestys forest
froth m tumult
fysk m hurry
glas m maw
golesky v singe
gorweles v hallucinate
gosel f gosêlyow runner
greuv m front
gròn m huddle
gwallus adj casual
gwarior gis m masque
gwastyans m desolation
gwayans m movement
gwevyans m wave
gwres f ardor
gwrysa v crystallize
helgh m hunt
helghya v hunt
henys m old age
hirbedrak adj oblong
hynt m hyntys hint
idhyl adj puny
innyal adj God-forsaken
kedna v coat
kenkya v bicker
kescomûnyans m communication
kescovedhyans m commiseration
kesqwary v interplay
kiglergh m trail of meat
kyfethya v tan
kynvan m wail
lejer m frying-pan
lenter adj gleaming
lymder m shrillness
men adj eager
merth m mirth
mêstry m mastery
mockyans m mockery
motta m mottys mote
muskegy v madden
nâsya v affect
ombrederus adj meditative
omdhascor m submission
ownek adj fearful
parchemyn m parchment
pollansek adj speculative
presens m presence
pyltya v harry
qwiet adj quiet
rainya v reign
regyth col regythen live coals
rewboynt m freezing-point
rogh m snore
scriven bedh f scrivennow epitaph
scrynkya v snarl
se m sêys seat
sedhor m sedhoryon diver
sfynx m sfynxow sphinx
skyl m skylyow recess
sosten m food
sprûs col sprûsen spruces
sprûswëdh col sprûswedhen spruce trees
spÿs m spell (of time)
syg f sygyow trace
tarosvanus adj ghostly
tavadow adj tangible
ternos adv next day
tervans m row, uproar
travalya v trek
tremenyans m decease
trygh adj triumphant
unver adj unanimous
vexya v vex
whybanor m whybanoryon moccasin
yey m ice