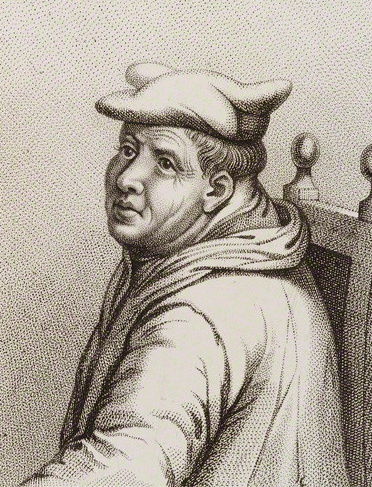 EDMUND BONNER
Epscop Loundres
(Gravyans warlergh portreyans a'n whêtegves cansvledhen)
KENSA HOMYLY
(1555)
Trailys dhe Gernowek gans John Tregear
Gorrys dhe Gernowek Dasvêwys gans Ian Jackson
ha spellys in Kernowek Standard
(2023)
This version has been based on the text published by Christopher Bice in 1969, which was itself drawn from a fuller but unpublished edition by Robert Morton Nance. You can find the Bice text at Wikisource. A much needed modern critical edition is currently in preparation. Until the new edition is available any KS version can only be a temporary stop-gap and must be treated with appropriate caution.
Mutations have been regularized In line with expectations for modern literary Cornish; grammar has been slightly adjusted in a few places; some textual difficulties have been resolved. John Tregear employed a vocabulary containing many loan-words. Ever since Nance's first assessment many have argued Tregear's Cornish is poor or his work was shoddy. But in the mid-16th century the vocabulary of English too was being significantly enriched by borrowing. Many words that now seem very English originally had a more universal flavour while also being a mark of learned discourse. Moreover Tregear was writing at a time of considerable bilingualism. The element of 'code-switching' in his prose tends to confirm he was comfortable using both languages rather than suggesting his Cornish was weak. His language should be seen as progressive, a still vigorous Cornish response to the intellectual stimulus of the era, and an important foundation for Cornish today. Loan-words have therefore been assimilated in most cases.
Yma an profet Davyth i'n peswar ugans ha nawnjegves salm owth exortya oll an bobel dhe ry prais hag onour dhe Dhuw, ha dh'y servya in lowender, ha gans perfect colonnow dhe rejoycya in syght agan creator ha redêmer. Yma an profet Davyth owth alejya helma kepar ha dell ywa sùffycyent caus a'gan redempcyon: Scitote quoniam ipse est Dominus, ipse fecit nos et non ipsi nos. Henna yw dhe leverel in agan yêth ny: "Godhvedhowgh fatell yw Duw agan arlùth ny, hag ev yw agan gwrior ny, rag ny – ny wrussyn gul agan honen."
Rag in dêda neb a wrella predery a'n creacyon a vab den ha pondra yn tâ in y remembrans byhan dell o agan dallath, ny wor gul ken ès ry onour, laud ha prais dhe Dhuw neb o y gwrior ha creator. Rag in creacyon a bùb tra aral vysybyl ny wrug Duw an Tas a Nev ma's comondya, hag acordyng dh'y vlonojeth oll creatùrs a veu gwrÿs gans an ger a Dhuw. Saw in creacyon a vab den an Tas a ûsyas solempnyta brâs, ha lower nôtabyl cyrcùmstans.
An kensa tra ujy ow tùchya an creacyon a vab den, an tas a leverys: Hic faciamus hominem. "Omma ny a wra gul den", an geryow-na o; an geryow a Dhuw an Tas, côwsys warlergh an vaner a'n bobel, dhe Dhuw an Mab, an secùnd person, ha dhe'n Spyrys Sans, an tressa person; côwsys warlergh an vaner a'n bobel pàn vowns y ow mos dhe wul nampÿth a ober brâs. Rag nena tus a gemmer avîsment brâs kyns dallath aga ober. Inwedh y a wra jùnya gans an gwella ha'n furra cùssulyow a alla bos kefys.
An keth cyrcùmstans eus ow folya helma yw moy surra prov ha declaracyon a'n tender kerensa a Dhuw an Tas dhe vab den, pàn wrug leverel: "Gesowgh ny dhe wul den dh'agan symylytûd ha hevelep ny." Lemmyn merkyowgh, tus vas, pandra wrug Duw an Tas ragon ny in agan creacyon. Ev a'gan gwrug ny in dêda in hevelep dh'y imach ev y honen. Rag henna, pandra alsa ev gul moy ragon? Yth yw benefyt ha confort brâs ragon ny dhe gonsydra agan bos ny creatys ha formys haval dhe'n imach a Dhuw y honen.
Lemmyn rag may hallowgh ùnderstondya an mater-ma dhe well ha dhe blainya, why a wra ùnderstondya nag o an hevelep a dhen haval dhe Dhuw in bodyly semblans, hèn yw dhe leverel in y gorf only. Rag why a res ùnderstondya ha cresy fatell yw an Duwsys spyrys ha not substans a gorf, ha'n keth hevelep ha symylytûd-ma yth esa i'n ena, an pÿth o endewys gans celestyal qwalytas. An re-na yw dhe vênya: ùnderstondyng, remembrans, ha blonojeth gans lower gyft moy a grâss.
Hag omma yth yw dhe vos nôtys inwedh neb a wrug Duw leverel: "Gas ny dhe wul dh'agan hevelep ny agan honen." Dre hemma ev a ros dhyn ny dhe ùnderstondya fatell eus try ferson i'n Drynsys, so whath nynj yw ma's unn Duw. Hag in henna, an Drynsys, Tas a leverys: "Gas ny dhe wul den." In hemma yma an Drynsys ow sygnyfia plûralyta, hèn yw nùmber a bersons. Arta in henna ev a leverys "dh'agan hevelep ny ha symylytûd." Ny wrug leverel "dh'agan symylytûdys ha dh'agan hevelenep." Dre hemma yth yw sygnyfies an ûnyta inwedh a'gan natur ha substans.
Whath rag procêdya pelha rag decernya an creacyon a dhen, why a wra ùnderstondya an secùnd chapter a'n lyver a Moyses gelwys Jenesys in specyal maner ha fordh. Yma ow recordya an several gwra a dhen, magata a'y gorf worto y honen, hag inwedh a'y ena worty hy honen. Ha rag tùchya an corf a vab den yma an scryptour ow leverel i'n secùnd chapter a Jenesys: "Duw a'n formyas ha'n shâpyas in mes a'n nor." Dre henna yth esa Duw ow nôtya ha shâpya mab den ugh oll an creatùrs erel myns a wrug Duw creatya ha gul. Rag ny wren ny redya in tyller vÿth i'n scryptour fatell wrug Duw shâpya na formya mab den, ma's ev a'n gwrug, ha dre an comondment a Dhuw an nor a dhros in rag bestas peswartrosek ha'n dowr in kepar maner a dhros in rag pùscas, hag ÿdhyn i'n air. Saw corf mab den only yma an scryptour ow leverel fatell wrug Duw y shâpya ha'y wul, ha concernyng ena mab den yth yw scrifys i'n secùnd chapter in Jenesys fatell wrug Duw anella in corf den, gans dew cyrcùmstans kepar dell yw acomptys marvelùs excellency a dhen a-ugh oll creatùrs erel, dre henna mayth yw declarys an excêdyng dader a Dhuw, dhe vab den dysqwedhys.
Lemmyn pàn wrug Duw in maner a'n par-ma creatya ha gul den, ev a'n gwrug sovran rêwler ha penn wàr oll an pùscas i'n dowr, wàr an ÿdhyn i'n air, ha wàr oll an bestas i'n nor. Eâ, inwedh ev a'n gwrug mytern hag emprour i'n norvÿs. Ha whath pelha ages helma inwedh ev a worras mab den dhe drega in paradîs. Ena yth esa an moyha plesont jardyn a ylly bos. Ena yth esa plentys a bùb kynda a frûtys, beawtyfùl teg ha wheg dhe veras warnedha. Eâ, ha delycyùs dhe dhebry ha dhe dhen rag maga warnedha. Saw unn kynda a frût an Tas Duw a jarjyas mab den na wrella mellya na tùchya worto wàr bain merwel a vernans. Hèn o mernans a'n corf ha'n ena inwedh. Henna o an frût a'n wedhen yw gelwys i'n scryptour an Wedhen a Wodhvos a'n Dâ ha'n Drog. Kepar dell wrug an Tas a Nev dre wondrys marthùjyon hag aneth fordh gul Adam an kensa den bythqweth a veu, in kepar maner ev a wrug Eva. In stranj maner a fordh dh'agan hevelep ny ev a wrug Eva an kensa benyn bythqweth a veu: a unn asowen a denewen cledh Adam kemerys in mes. Ha'n venyn an Tas a's gwrug perfect, ha's lenwys gans an gyftys-na o Adam inspîrys gansa.
Pandra alsen ny predery fatell ylly Duw gul moy ragon in agan creacyon dell wruga gul? Parda ev a wrug an Ena Imortal, hèn yw tra a'n par-na a wrella contynewa nefra heb dyweth! Ev a'n lenwys inwedh gans an moyha syngùlar gyftys kefrÿs a natur ha specyal grâss inwedh: an corf a vab den in stât a oryjynal inocens. Hèn yw dhe vênya yêhes, nerth, comeliness, gans qwalytas erel i'n uhella degrê a berfecsyon. Whath an termyn may feu den gwrÿs nynj esa ino fowt vÿth, na lùst, desîr, concùpyscens, na lùst vÿth dhe dhrocoleth, naneyl nynj o diek dhe wul obereth vÿth, na nynj esa ino gwanegreth na cleves, na lacka vÿth a gwalyta a dra vÿth. An corf a dhen nena o obedyent dhe'n ena, ha'n ena oll hôlly obedyent dhe Dhuw.
Indella in agan part ny Duw agan creator ha gwrior a wrug agan gul gans perfecsyon, gans kyndnes brâs ha kerensa ha favour kepar ha tas kerenje'ek. Yma an scryptour ow leverel hag affyrmya evydently fatell veu oll an creatùrs gwrÿs dâ ha perfect in aga creacyon. Vidit Deus omnia quae fecit erant valde (Jenesys 1). Henna yw dhe leverel: "Duw a welas pùb kynda a wruga gul, hag yth êns very dâ." An dra-ma yw lel jeneral in oll creatùrs concernya agan creacyon. Hag yth yw in certan degrê a excellency dhe vos veryfies in den rag tùchya an estât a'y oryjynal inocency. Indelma ny a yll gweles ha percêvya fatell o pùptra excellent ha perfect.
Rag henna ny a gotha dhyn bos inflamyes dhe voy dhe gara ha dhe servya Duw agan gwrior ha creator kerenje'ek. So in mar veur dell yw an stât-na kellys, ha mab den dre an coll a henna codhys in extrêm mysery ha wretchedness, yth yw dhe vos consydrys in agan part ny, fatell veu mab den drës dhyworth an keth stât-na benegys, dhe myserabyl stât a dhrocoleth.
An kethsam poynt-na remembrys yn tâ yw sùffycyent caus ha grownd dhyn ny dhe renowncya ha naha pehosow hag abhorrya oll drocoleth ha pegh rag an grêvùs towl a vab den a dheuth dre behosow.
Pegh o an pÿth a wrug dhe'n Tas a Nev hùmbrank mab den in mes a baradîs. Pegh o an pÿth a wrug dhe'n kig strîvya gans an spyrys ha'n spyrys warbynn an kig. Pegh o an pÿth a dhros mab den dhe sùffra cleves, gwanegreth, dysêsys hag infyrmytas. An pÿth a wra mab den sùffra omma i'n bÿs-ma oll yw rag pegh. Pegh o an caus a wrug dhe oll an issew a Adam hag Eva dhe vos genys in stât a dhampnacyon.
So yma rann ahanowgh a vynsa martesen godhvos pelha fatell veu mab den kyns oll drÿs dhe beha. Rag an ùnderstondyng a henna gesowgh ny dhe gafos recours dhe'n tressa chapter a Jenesys. Ino yth yw scrifys fatell wrug an wîly serpent, an tebel-el, dos dhe Eva hag a leverys dhedhy hy: Quare dedit vobis Deus mandatum? "Praga a wrug Duw ry dhe why comondment na wrellowgh debry a bùb gwedhen in paradhys." Dhodho ev an venyn a worrebys hag a leverys: "An frût eus in paradîs ny a dheber, ma's an frût a'n wedhen eus in nes in cres paradîs Duw a'gan dyfennas na wrellen tùchya na mellya gensy; rag mara ten, ny a verwy. Nena medh an serpent dhe'n venyn: "Nâ, ny wrewgh merwel, saw Duw a wor peskytter may tepprowgh anedhy why a vÿdh kepar ha Duw ha'gas lagasow a vÿdh clerhës ha why a vÿdh kepar ha duwow hag a wra godhvos an drog ha'n dâ. In nena an venyn a welas y bos an frût dâ dhe dhebry ha teg dhe syght hy lagasow ha plesont dhe veras warnedha, hy a gemeras rann a'n frût hag a'n debras hag a ros part dhe'n gwerrer Adam hy hoth hag ev a dhebras. Indelma dre an provocacyon ha'n temptacyon a'n tebel-el den a godhas kyns oll in pegh.
Rag hemma kepar dell res dhyn ny pùb eur oll abhorrya pegh hag omwetha dhyworto rag an mysery ha'n anken brâs a ven ny drÿs ina dre begh, in kepar maner ny a res casa an tebel-el ha'y bower, ha dhe'n ùttermost dh'agan gallos avoydya y demptacyons ha'y sùccessyons, ha godhvos fatell veun ny dredha i'n dallath hùmbrynkys dhe beha, rag kepar maner dell wrug ev temptya agan hendasow ny, Adam hag Eva. Indella ev a vÿdh maga bysy pò bysya worth agan temptya ny lemmyn ha pùb eur kepar dell laver an Abostel Peder, ow recordya i'n pympes chapter i'n kensa pystyl, ow leverel indelma: "Yma agas escar an tebel-el, kepar ha lion owth uja, ow mos adro, ow whelas rag agas devôrya." An keth adversary-ma dhe vab den a wrug dysdainya an happy ha'n felycyta bêwnans a'n jeva Adam hag Eva in paradîs. Rag henna ev ny wrug cessya dre greft ha dre gwestyonow adro dhe Eva, neb o an gwanha in power ha'n medalha vessyl, bys may whrug gul dhedhy terry comondment an Tas ha, dre an dêda-na a wrussens, dysobeya Duw. Y a gollas an oryjynal inocency stât a vown'jy in aga creacyon ha pàn o va kellys ny vynna an corf obeya an ena, na'n ena ny vynna obeya Duw, mès pùptra in den o trailys an pÿth awartha dhe woles. Eâ, ha dre henna y a godhas inwedh in necessyta a temporal mernans a'n corf, hag in stât a eternal dampnacyon, an pÿth yw lacka oll, hag in mernans heb dyweth kefrÿs a'n corf ha'n ena.
Saw lemmyn martesen yth hevel dhe jùjment rann a'n bobel nag o offens Adam hag Eva mar vrâs, rag na wrussens ma's debry an aval ha rag henna nynj o aga fowt mar vrâs awos deservya mar vrâs pùnyshment. Gesyn ny dhe gonsydra an cyrcùmstans a'n dra, ha nena ny a wra wharê percêvya nag o offens bian ma's very grêvùs ha poos. An kensa, an pÿth a wrug Duw comondya mab den dhe refrainya dhyworto, yth o tra êsy lowr dhe forberya ha dre rêson a henna y offens o dhe vrâssa. Ha pelha ages hemma, pàn ve den gwarnys arâg dorn rag omwetha dhyworth peryl ha danjer a wra codha warnodho ma's ev a gemerra weth dhodho y honen, ha mar teu ha gul an dra a wra an peryl skynnya anodho wosa y bosa gwarnys, y fowt yw dhe vrâssa ha dhe voy. An tressa, dhe le inclynacyon a'n jeffa den dhe begh, dhe voy ha dhe vrâssa yw y begh mar teu ha gul an dra. Adam hag Eva yth esa dhedha inclynacyon dhe oll, not dhe'n onen na dhe aral. An peswora, mar teu den ha recêva royow brâs dhyworth y gothman pò y sovran, mar teu i'n by and by ha terry blonojeth y sovran ha'y dhysplêsya, an fowt ha'n dysobedyens dredho yw gwrÿs dhe vrâssa. An dra a wrug Adam hag Eva debry nyns o ma's aval, so whath debry an kethsam aval-na i'n keth câss-na o dysobedyens brâs warbynn Duw, ha dredho oll lynyath mab den a veu corrùptys ha nyns o vas. Fatell ylly an wedhen ha'n barrow ow tos mes a'n wrëthen-na bos vas? Rag henna yma Sèn Powl in y epystyl dhe'n Romans i'n pympes chapter ow leverel: "Dre an offys a unn den pegh a dheuth wàr oll an bobel dhe gondempnacyon." Hag i'n kethsam chapter-na yma Sèn Powl ow leverel in kepar porpos: "Dre an dysobedyens a unn den meur a dheuth dhe vos pehadoryon." Arta yma Sèn Powl i'n kethsam chapter-ma ow cows: "Pegh a dheuth omma dhe'n bÿs dre unn den, ha dre begh y teuth mernans, hag indella mernans a bassyas dhe oll an bobel."
Indelma, tus vas, why a glôwas kyns oll a'n kerenje'ek kerensa a Dhuw dhe vab den dre henna may whruga creatya mab den mar wordhy maner. Nessa, why a glôwas a'n myshyf a dheuth dhe vab den dre behosow. Ha'n tressa, pana extrêm escar dhe vab den yw an tebel-el. I'n nessa homyly wosa helma why a wra clôwes an excêdyng mercy a Dhuw fatell wruga delyvra mab den dre marvelùs maner, dhia'n stât a dhampnacyon.
Rag henna dhe gonclûdya rag an present termyn-ma, helma a vÿdh rag agas exortya why na wrellowgh fyllel pùb dÿdh ha pùb our dhe ry grâss dhe Dhuw galosek rag y dhader dhyn ny dysqwedhys wàr agan creatya. Rag ny wrug Duw agan creatya ny pobel an bÿs heb rêson, skians hag ùnderstondyng. Rag an veyn ev a greatyas heb rêson, an brût bestas heb rêson. Saw ev a ros dhyn ny nôtabyl qwalytas ha powers, an pÿth eus dhe greatùrs erel ha pelha ages henna ev a blanjas inon ny partycùlarly rêson hag ùnderstondyng, ha lower qwalyta aral in corf hag in ena; severally dhe'n natur a vab den only, ha not comen dhe vab den ha dhe greatùrs erel.
Hemma yw pelha inwedh dh'agas exortya why dhe remembra pana vysery ha drocoleth a dheuth dhe vab den dre begh. Ha dre begh a'n par-na dhe hevelep rann a'n bobel nyns o ma's bian, henna yw dhe ùnderstondya dre dhebry an aval. Dre exampyl a henna me a drest why a vÿdh cyrcùmspect dhe avoydya oll kynda pehosow ha dysobedyens kyn fe an dra vÿth mar nebes in y natur y honen, beva dre gomondment Duw, bò dre neb on ny dre obedyens kelmys dhe servya. Ha spessly dre gomondment Duw.
Fînaly, helma yw rag agas exortya why lemmyn wàr an dyweth dhe gonsydra fatell eus dhyn ny dedly escar. Henna yw an tebel-el, neb a vÿdh pùb eur ow whilas rag agan dry dhe dhystrùcsyon. Hag yma pùb eur oll ow travalya hag ow conys gans oll an mainys a ylla dhe wonys inon ny an pÿth a wruga gonys in agan hendasow Adam hag Eva. Rag henna gwren ny kemeres with ha'y avoydya, inwedh y overcùmya gans oll y drainys ha'y antylly. Henna re wrauntya dhyn ny oll Trynjys an Tas, an Mab, ha'n Spyrys Sans. Dhodha re bo onour ha glory sine fine. Âmen.