KES'HENS MUGBY
IS-FORDH NYVER ONEN. DEN AN ARWEDHYOW
Charles Dickens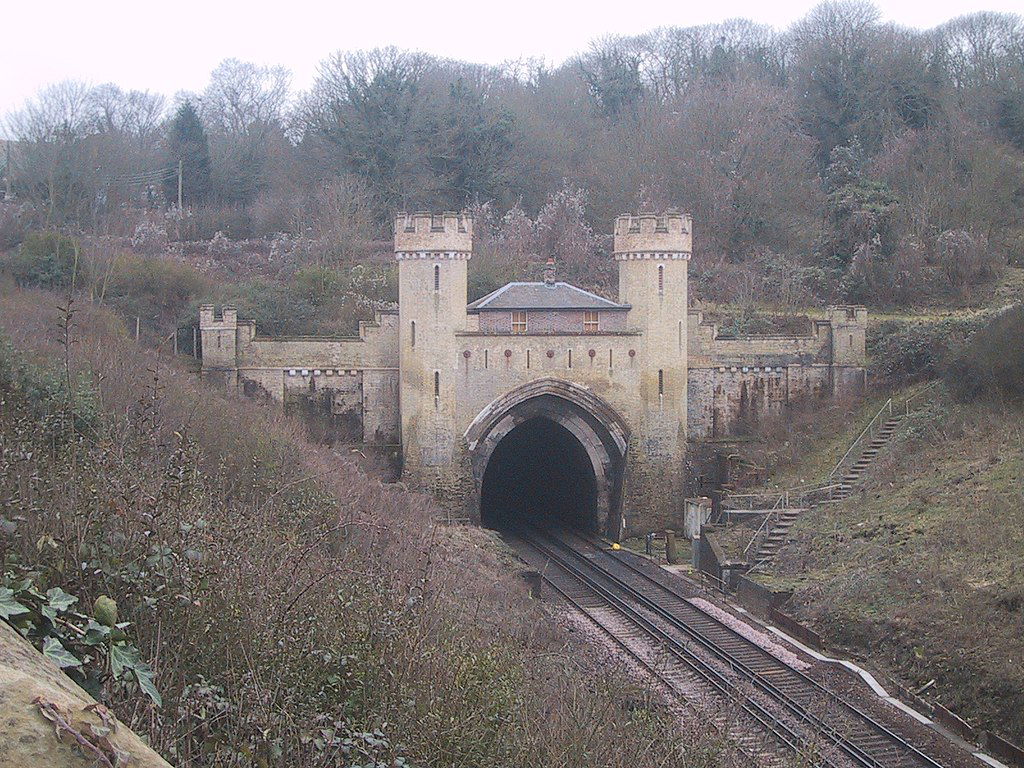 Keyfordh Clayton, Entryng North
Kernowek © 2023 Ian Jackson
Yma Gerva awoles
Raglavar gans an trailyor
In 1866 y whrug apperya nyver specyal, dhe'n Nadelyk, a'n lyver termyn All the Year Round, an jornal golegys gans Charles Dickens. Tîtel an nyver-ma o Mugby Junction, ha dyvers auctours a gemeras shara rag plethy whedhlow a'n kes'hens fycsyonek, ha'y roosweyth a lînednow. An caracter cres yw presentys i'n kensa darn: onen na wodhyr gelwel marnas 'Barbox Brothers', hanow an gowethas o dhodho oll an gorwel, bys pàn omdednas dhyworty rag whythra taclow avês dhe dyller clos y genwerth. An caracter-ma yw an whedhlor i'n darn Den an Arwedhyow, o screfys gans Dickens y honen.
An "droglam hegof" mayth eson ny ow redya anodho i'n whedhel-ma yw growndys, gwirhaval lowr, wàr an Clayton Tunnel Crash, meschauns brâs a wharva ogas dhe Brighton in 1861, marow may feu 23, ha 176 golies.
DEN AN ARWEDHYOW
"Halô! Wy 'woles!"
An den pàn glôwas lev ow kelwel, yth esa a'y sav orth daras y gabyn; hag in y dhorn baneryk fardellys dhe beul berr. Rêsonek via soposya, drefen shâp an grownd, na ylly bos hockyans vëth py qwartron y feu an lev devedhys. Saw in le a veras in bàn dhe'n tyller mayth esen vy wàr amal an droghva serth, poran a-ugh y bedn, ev a wrug omdrailya ha meras an Hens Horn ahës. In y vaner a wil hebma yth esa coyntys, kyn na alsen vy leverel pandra màn. Mès coyntys lowr o va dhe dedna ow merkyans, ha'y fygùr gwrÿs cot ha gorskeus'hës kyn fe, in downder an cledh; ha'm fygùr vy awartha, badhyes in golow crowsak orth dyweth an jëdh, mayth esa otham formya howl-ledn a'm dorn kyns ès aspia an den yn tâ.
"Halô! Wy 'woles!"
Wosa meras an Lînen ahës, ev a wrug omdrailya unweyth arta ha derevel y wolok, ha gweles ow fygùr awartha.
"Eus trûlergh may hallaf dos bys dhywgh rag kescows?"
Ev a vera worthyf avàn heb gortheby, ha my ow meras orto ev in nans, heb inia dhe dhasleverel ow qwestyon trufyl re scon. I'n prës-na y feu crèn andyblans i'n dor hag i'n air, desempys ow mos in polsans garow, ha fysk ow tones uskys in rag, may whrug vy tromlabma wàr dhelergh, kepar ha pàn y'n jeva nerth dhe'm tedna wàr woles. Ha'n êthen, myns a veu ascendys dhe'n le mayth esen vy awartha, kettel o passys dhe neyja wàr an dirwedh dhe ves, my a wrug meras anowyth in nans, ha gweles an den ow fardella an baner arta, wosa y dhysqwedhes pàn êth an train tremenys dresto.
My a nowedhas ow qwestyon. Wosa speyss may hevelly bos an den owth attendya stag, ev a wrug môcyon gans fardel an baner tro ha poynt a'm keth level vy, ogas ha tryhans lath dhyworthyf. My a grias "Pòr dhâ!" ha mos dhy. Ena, pàn whythrys dour adro, my a gafas ryban igam-ogam a gerdhva skydnya: ha my a's sewyas.
An droghva o down dres ehen, crackya codna dres kynda. Hy o trehys dre garrek yêyn ha glëb, ow sygera dowr dhe dhownha dhe voy. Rag hedna an kerdh o hir lowr rag alowa dhybm remembra fatell wrug an den showya an fordh-ma in udn dreylya, dell hevelly, pò oll a'y anvoth.
Wàr an trûlergh-ma pàn en vy skydnys lowr rag aspia an den arta, my a'n gwelas fatell esa sevys inter clethrednow an hens mayth êth an train namnygen, ha'y stauns o parys, dell hevelly, dhe'm apperyans. An dorn cledh yth esa orth an elgeth, ha'n elyn cledh-na ow powes wàr y dhorn dyhow, o crowsegys dres y vrèst. An stauns a'n jeva kebmys gwaityans, kebmys hewolder, may whrug vy, meur ow marth, astel kerdhes rag tecken.
Wosa dallath arta wàr woles my a wrug hedhes level an hens horn ha dos dhodho nes, ha gweles y vos den melenyk tewl y vejeth, ha barv dewl ganso, hag abransow nebes poos. Tyller y whel o pell dhyworth tus, na ny welys vy bythqweth plâss moy morethak agesso. A bùb tu yth esa fos a garrek lybm ha glëb devera, ow keas oll an vu ma's skethren ebron. An golok i'n eyl qwartron: only pêsyans cabm a'n pyt isel-ma. An cotta golok dhe'n qwartron aral: awotta golow rudh trist in hy dyweth, ha'n trista entrans aberth in keyfordh dhu mayth esa neb gnas in crefter barbarùs an benserneth ow tavlethy dyglon ha dyfen. Bohes howl a wodhya cropya bys i'n tyller-ma, mayth esa fler dorek marwyl dhodho; hag yth esa kebmys gwyns yêyn ow fysky dredho, may feu ewn scruth warna vy, kepar ha pàn wrellen dyberth in mes a'n bÿs naturek.
Y teuth vy, kyns ès ev dhe waya, mar ogas may halsen y dava. Nag ena ny remuvyas ev unweyth y syght dhywarnaf, mès ev a gerdhas udn pâss wàr dhelergh, ha derevel udn dorn.
Ot obma argel bell (y leverys vy), may kibys whans a wodhvos anedhy ha my ow meras orty awartha. Anvenowgh o vysytyoryon, tyby dell vydnen; hag ev plegys dhe wolcùbma onen traweythys, a'm bo govenek? Inof ny wely ma's enef o degës oll y vêwnans in fînyow stroth ha, gyllys dhe wary worteweth, esa ow kemeres les nowyth sordyes in oberow brâs a'n par-ma. Indelha my a gowsas; saw càm nyns ov vy sur a'm very ger – ny woraf egery kescows vëth yn êsy, ha dres hedna yth esa neppëth i'n den-ma ow corra brawagh dhybm.
Ev a wrug meras in maner moyha coynt orth an golow rudh in nes ganow an geyfordh, ow whythra gans y wolok ader dro, kepar ha pàn ve neppëth anodho ow fyllel; wosa hedna ev a veras orta vy.
O an golow-na radn a'y jarj ev? A nyns o?
Ev a worthebys medhel y lev: "A ny worowgh tell yw?"
Y teuth preder uthyk dhe'm pedn, ha my ow redya an lagasow stag ha'n fâss tewl, y vos ev spyrys, adar den. My a vydna polla i'n dedhyow a'y wosa mar'n jeva clevejyans in y vrës.
Torn ow honen, my a gerdhas udn pâss wàr dhelergh. Saw pàn y'n gwrug, my a verkyas neb own cudh ahanaf in y wolok. Y fêsyas an preder uthyk.
"Th'esowgh ow meras orthyf," yn medhaf, ha'm minwharth o tydn, "kepar ha pàn ve dhywgh euth ahanam."
"Yth esa dowt dhèm," ev a worthebys, "mars ewgh gwelys genama kyns."
"Py le?"
Ev a wrug poyntya dhe'n golow rudh-na in y wolok.
"Ena?" yn medhaf.
Adhesempys pòr war ahanaf, ev a lavaras (saw heb son vëth), Eâ.
"A bollat dâ, pandra vensen vy gwil ena? Bytegyns, bedhens dell yll bos, ny veuv ena bythqweth, dell worowgh tia."
"Dell woraf martesen," ev a worthebys. "Eâ, dell woraf yn tefry."
Glanhës veu y vaner, ha'm maner vy in ketelma. Ev a wortheby dhe'm cows heb iny, ha'y eryow o dôwysys yn tâ. Esa lies whel dhe wil i'n tyller-na? Esa: hèn o dhe leverel, yth esa lower tra in y jarj. Kewerder ha hewolder o reqwîrys anodho, saw whel gwir – lavur corforek – scant nyns esa màn. Chaunjya certan arweth, diogely certan golowys, ha trailya traweythyow neb dornygel horn: nyns esa kepar whel dhe wil nahen. Tùchyng an lies our hag ev y honen oll, myns o dhybmo kebmys bern, ny ylly ev gortheby lemen gwythres ûsys y veweth dell veu formyes bys in devos indelha. Ev a wrug omdhesky udn tavas estren obma 'woles – omdhesky a pe godhvos y redya, heb ewnleveryans marnas desmyk dyscler. Inwedh ev a wrug studhya ranrîvyow ha nyverow degyl, ha prevy nebes aljebra. Saw ev o – ha mab kefrës pàn o va kyns – gwas gwadn orth fygùrs. A resa dhodho, pàn o va wàr dûta, gortos pùpprës oll i'n shanel air glëb-na; hag a ny ylly nefra ascendya in mes a'n fosow uhel-na a veyn? Wèl, yth esa hedna ow powes wàr euryow ha wàr cyrcùmstancys. Pàr termyn y fedha bohes trafyk wàr an Lînen, pàr termyn meur; ha'n keth hebma ow tùchya certan euryow a'n jëdh hag a'n nos. In awel deg, ev a ûsya dôwys spanellow rag kerdhes a'n skeus isel-ma in bàn; saw pùb eur oll y hylly an clogh tredanek y sompna ev, ha doblys o y anês pàn esa ow colsowes ragtho i'n prejyow-na: y golon o scafhës ytho dhe le ès gena vy dhe wetyas.
An den a'm hùmbroncas ajy dh'y gabyn, mayth esa tan in olas, bord screfa ha lyver sodhogyl rag certan covath, daffar telegrafek ha'y fâss dialya ha'y najedhow, ha'n clogh bian o complys kyns. Pàn wrug vy leverel ev dhe ascûsya mar mydnen nôtya y vos deskys dâ, ha (govenek y hyllyn vy côwsel heb offendya) onen deskys dres an gre socyal-na, ev a wrug merkya fatell o ankessenyans a'n par-ma dhe gafos in lies ensampyl mesk pùb cùntellyans a dus; tell glôwas bos indelha i'n oberjy, i'n creslu, ha kefrës i'n devîs othobmak-na, Lu an Wlas; ha tell wodhya bos indelha, moy pò le, in kenyver felshyp a'n hens horn. Nans o pell hag ev den yonk (cresy mar kyllyn, a'm eseth i'n cabyn-na; scant ny ylly ev y honen), yth o va studhyor a fylosofy naturek, vysytyor in arethyow academyk; mès ev êth yn whyls, scùllya y jauncys, skydnya, bythqweth derevel arta. Blam vëth ny godha a hedna. Awot y wroweth wàr wely a worras ev. Meur re holergh dhe wil aral.
Myns a wrug vy cot'he obma, ev a'n lavaras qwiet y vaner, ha'y wolok sad ha tewl o rydnys intra my ha'n tan. Yth addya ev an ger 'Sera' traweythyow, ha spessly i'n prÿjweyth may campollas y yowynkes: kepar ha pàn vydna govyn orthyf convedhes nag esa va ow pretendya bos ken ès dell y'n kefys. Lower gweyth y feu y gows goderrys gans an clogh bian, hag ev a resa redya messajys, ha danvon gorthebow. Unweyth yth o res dhodho sevel worth an daras wàr an tu'vês, ha dysqwedhes baneryk pàn dremena train, ha cria neb ger dhe'n lewyor. Y whre an den colenwel y dûtys in fordh marthys kewar ha dywysyk, dell o dhybm apert – owth hedhy y gestalkyans i'n very sylaben, hag ow cortos in taw erna ve pynag oll negys cowlwrës.
Wàr verr lavarow, yth esen vy owth arvrusy bos an den-ma onen a'n dus moyha diogel i'n gober-na, marnas hebma yn unsel: dywweyth, hag ev ow talkya, y torras y gows, trailya y fâss wor'tu ha'n clogh bian pàn NA sonas, egery daras an crow (o pùb termyn dhe dhegea, ow lettya an tebel-lëbor), ha meras in mes, tro ha'n golow rudh in nes ganow an geyfordh. Ha pùb torn y teuth ev arta dhe'n tan gans an keth cowntnans anstyradow a wrug vy merkya kyns, heb gallos gwell defînya, pàn esen ny an eyl dhyworth y gela mar bell.
My a lavaras, ow sevel in bàn rag departya: "Namna wrussowgh dhybm sensy my dhe vos metyes gans den contentys lowr."
(Res yw avowa fatell leverys hebma rag sordya nagh.)
"Me o contentys i'n termyn eus passys, dell gresaf," ev a worthebys, ha'y lev isel, par ha'n kensa cows; "saw troblys oma, sera, troblys."
Ev a vensa daskelwel an geryow mara calla. Solabrës y's lavaras bytegyns, ha my a's cachyas qwyck.
"Pëth owgh troblys ganso? Pandr'yw an trobel?"
"Pòr gales yw dh'y dherivas, sera. Fest pòr gales yw côwsel anodho. Mar tewgh ha'm vysytya arta, me a wra saya styrya."
"My yw whensys dhe vysytya arta, heb mar vëth. Lavar dhybm, peur fëdh hedna?"
"Me a worfen an torn a whel-ma myttyn avarr, sera, ha dallath ow nessa torn deg eur avorow dhe nos."
"My a vydn dos udnek eur."
Ev a wrug aswon grâss dhybm, ha mos genef in mes a'n daras. "Me a dhysqwa ow golow gwydn, sera," yn medh in y lev isel arbednyk, "erna gaffowgh an fordh in bàn. Pàn y's caffowgh, na elwowgh ger vëth! Ha pàn vowgh avàn, na elwowgh ger vëth!"
Yth esa y vaner ow qwil dhe'n tyller hevelly yêynha, saw ny leverys vy ma's "Orth agas bodh."
"Ha pàn deffowgh wàr woles, avorow dhe nos, na elwowgh ger vëth! Gesowgh vy dhe wovyn, ha ny ow tyberth. Prag y whrussowgh garma 'Halô! Wy 'woles!' hedhyw gordhuwher?"
"Tybyans vëth!" yn medhaf. "My a wrug garma neppëth haval –"
"Ny veu haval, sera. Y feu an very geryow. Me a's gor yn tâ."
"Kyn fêns y an very geryow - my a's lavaras, heb dowt, dre rêson my dh'agas gweles awoles."
"Ha ken rêson, a nyns esa?"
"Pan rêson ken a ylly bos i'n bÿs!"
"A nyns esowgh owth omglôwes tell vowns y kerhys dhywgh in neb fordh o gornaturek?"
"Nag esof."
Ev a worhemydnys nos dâ, ha sensy y wolow yn overbydn. My a gerdhas an Lînen ryb an clethrednow dhe bow (ha percêvyans pòr anwhek warnaf rag dowt neb train dhe dhos adrëv dhybm), erna gefys an trûlergh. Êsya o eskyna ès skydnya, ha my a dhewhelys dhe'm gwesty heb drog-hap.
[Y fëdh contynewys]
GERVA – GLOSSARY
Definitions have generally been confined to those relevant for the story. To keep the glossary to a manageable length the listing excludes the most common words. These are best looked up in Gerlyver Kescows (Ian Jackson).
On-line at https://www.skeulantavas.com/vocabulary/gerlyver-kescows-2nd-edition
If you need grammar, by far the most helpful book is Desky Kernowek (Nicholas Williams, Evertype 2012).
aljebra m algebra
ankessenyans m incongruity
anowyth adv anew, again
anstyradow adj inexplicable
argel f argelow sequestered place
ascûsya v excuse
avorow dhe nos phr tomorrow night
baneryk m banerygow [small] flag
barbarùs adj barbarous
berr adj short
brawagh m alarm, fear
càm ny phr not ... at all
caracter m caracterow character
clethren f clethrednow rail
cot'he v condense
crackya codna phr precipitate
crèn m shaking, vibration
cropya v penetrate
crowsegy v cross
daskelwel v recall
degyl adj decimal
deskys dâ phr well educated
devîs m resource
devos m custom, routine
dhe bow phr down (in direction away from main station)
dorek adj earthy
dornygel f dornygellow [crank]handle
drog-hap m mishap, unpleasant adventure
ewnleveryans m correct pronunciation
fardella v roll up, furl
fâss dialya m fâssow dial
felshyp m staff
fêsya v put to flight
fler m stench
fycsyonek adj fictional
fylosofy m philosophy
fysk m rush
glëb devera phr dripping wet
gornaturek adj supernatural
gorskeus'he ‖ v overshadow
gre socyal m station (social)
hegof adj memorable
hewolder m watchfulness
howl-ledn ‖ f howl-lednow ‖ sunshade
is-fordh ‖ f is-fordhow ‖ branch line
keas v shut out
kerdhva f kerdhvaow walkway, path
kes'hens m kes'hensy junction
kestalkyans m discourse
lemen prep except
Lu an Wlas phr the Army
marwyl adj deadly
melenyk adj sallow
merkyans m attention
morethak adj dismal
oberjy m oberjiow workhouse
omdhesky v teach oneself
othobmak adj desperate
overbydn ‖ adj overhead
penserneth f architecture
percêvyans m sensation
pêsyans m continuation
polla v consider, speculate
polsans m pulsation
qwiet adj quiet
shanel m shanellow channel
skethren f skethrednow strip
sompna v call, summon
spanell f spanellow short calm period
speyss m = spÿs
telegrafek adj telegraphic
tirwedh f tirwedhow landscape
torn a whel phr shift (work pattern)
trafyk m traffic
traweythys adj occasional
treynya v hang back, be reluctant
troghva f troghvaow cutting
tromlabma ‖ v jump suddenly, start
whedhlor m whedhloryon narrator
yowynkes m youth