Marhak wàr an Plainys
Owen Wister
Kernowek © 2022 Ian Jackson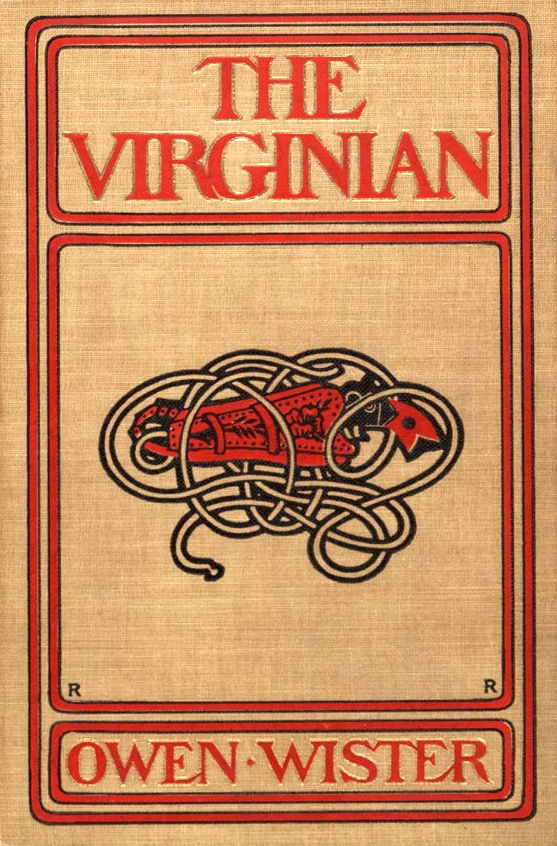 Cover of the first edition
Chaptra 1
Intrat ille homo
Yma Gerva orth an penn dewetha
Th'esa neb vu, neb tra dhe verkya, ow tynya syght an viajyoryon, tus kefrës ha benenes, orth an fenester. Ytho me a savas in bàn ha tremena der an caryach rag gweles hemma pandr'o. Me a welas kew ryb an hens horn, ha parcel adro dhedhy a dus ow wherthyn, hag aberveth yth esa troyll doust, ha mergh in cres an doust ow lappya gwyls, ow packya clos, ow coheles in dann bonya. Merhygow gwarthek êns y, in corlan lonnow, hag onen anodhans ow sconya bos kychys, na fors pyw a vynna tôwlel lovan. Yth esa dhyn termyn lowr rag miras orth an sport-ma, awos agan train dhe astel, may halla an margh tan carga dowr orth an argh, kyns ès dos bys in cay gorsaf Medicine Bow. Gans henna yth en ny whegh our holergh, hag ewl vrâs warnan a dhydhanans. An merhyk i'n gorlan o fur, ha scav y lythyow. A welsta bythqweth fatell wra boxesor sley, cosel sad y syght, sensy golok orth y escar? Golok a'n par-ma a worras an merhyk wàr bùb unn den a gemerra an lovan. Y hylly an den mâkya arvrusy an gewar, o teg; pò côwsel in unn fecla orth sevylyak yn tywysyk; ny amowntya poynt. An merhyk a wodhya convedhes. Tùlla ny wrug faintys vëth. Bÿsfelder a'n jeva an best-ma. Y wolok heb goderry o fastyes wàr dhyssemblans an escar, ha poster y drèm vargh a dherevys an mater-ma bys in comedy pur. Ot an lovan neyjys wor'tu ha'y benn, hag ev solabrÿs in ken plâss; ha'n vergh mara codhons wherthyn, sur y feu lowender pâls ena i'n gorlan. Traweythyow an merhyk a wrug torn yn tygoweth; mès dos skewys sket mesk y vreder, hag y oll kepar ha pùscas jolyf aga hevva a stêvya adro dhe'n gorlan, ow pôtya an doust dhe bonn, ha (dell vynnen vy cresy) ow wherthyn ujow brâs. Der gweder fenester agan Pullman y teuth dhyn tùmas an carnow dregynus, ha'n cùssyans crev in ges an vuwghwesyon. I'n very prÿs-na me a welas dhe'n kensa tro neb den, o aspiyas, hag esa a'y eseth wàr yet uhel an gorlan. Rag ev a gramblas lemmyn dhe'n dor, ha tonecter ganso kepar ha trusyans keherow an tîger, smoth hag êsy, yn frôsek in dann y grohen. Y whrug pùb huny aral troyllya an lovan yn hewel, ha rann a's dros bys in uhelder scoodh. Y vregh ev ny's gwelys dhe ascendya na dhe waya màn. Dell hevelly, th'esa va ow sensy an lovan yn isel, ryb y arr. Saw par ha sarf sodyn me a welas an cabester dell êth istynys ha codha ewn; ha'n dra y feu cowlwrës. An merhyk kychys-ma pàn gerdhy ajy, ha trèm warnodho gwyw dhe dharas an eglos, nena th'esa gàn train owth avauncya lent bys i'n gorsaf, ha nebonen a wrug leverel, "An den-na a wor y negys."
Saw dyssertacyon an tremenyas, testen cachya dre lovan – res o dhymm kelly henna, awos bos Medicine Bow gorsaf penn ow fordh. Me a wrug gorhemmyn farwèl dhe'm kesviajyoryon, ha skynnya, avell estren, aberth in pow brâs an gwarthek. Hag omma, wosa le ès deg mynysen, me a dhescas nowodhow a'm gasas dhe omsensy estren yn tefry.
Y feu ow fardellow kellys; ny vowns y devedhys i'm train; yth esens y neyjys neb plâss i'n dhyw vil vildir o tremenys. Y feu wàr vin den an fardellow ger a gonfort fatell vedha tremenysy ow tos yn fenowgh wàr stray dhort aga hofrow, mès dre vrâs y whre 'hofrow aga hafos wàr an dyweth. Wosa profya an kenerthans-ma ev a drailyas dh'y whel in unn whystra, ha my plynsys fast in rom an fardellow in Medicine Bow. Otta vy, heb coweth vÿth in mesk an clojow ha'n boxys, ow sensy whath tôkyn ow fardellow, ha serrys, ha forsâkys. Yth esen vy ow miras stark orth an ebron ha'n plainys der an daras, saw ny welys an avrewyk ow splanna i'n fuelen, na golow an howlsedhas, mar veur in Wyoming. Dre vexyans y feu ow syght dellys orth pùptra saw ow grêvons vy: ny welys ma's cofyr kellys. Ha me a vynna croffolas "Ass yw innyal an tyller-ma!" pàn dheuth, adhesempys wàr an cay avês, lev lent:
"Esta mos dhe dhemedhy unweyth arta? Ogh na wra!"
Lev a'n Soth o va, lev clor, ha drailys pùb ger; ha secùnd lev a dheuth in gorthyp desempys, trogh ha crowsek:
"Arta nag ew. Pyw a laver th'ew arta? Pyw a dherivys orta chy in neb câss?"
Ha'n kensa lev a worthebys in unn jersya:
"Dar! Y'n derivys dha dhyllas Sul, Ôwnter Huwyk. Ma'n dyllas o'cria demedhyans uhel lowr.
"Na elta nia vy!" yn medh Êwnter Huwyk, garow y domder.
Ha'n aral a bêsyas yn clor, "An manegow, a nynj yns y an very dyllas a wrusta don dhe'th temedhyans, an dewetha torn?"
"Na elta nia vy! Na elta nia vy!" th'esa Êwnter Huwyk lemmyn owth uja.
Solabrÿs y feu ow hofyr ankevys; gyllys o ponvos; me a wrug merkya an howlsedhas, ha dhymm nyns esa whans marnas moy a'n keth kescows. Rag dyhaval o myns a glôwys i'm bêwnans bys i'n eur-na. My êth dhe'n daras ha miras in mes wàr gay an gorsaf.
Syger a'y sav ena worth an fos yth esa den tanow ha yonk ha cowrek, tecka ages pyctours. Y hot ledan ha medhel a wrug ev pockya wàr dhelergh; yth esa coverchyf cogh aflenter ow codha lows an colm dhywar an conna, hag unn bës brâs o behys i'n grugys cartryjen gwyskys yn ledrek dres y glun. Ev o devedhys, y feu cler, lies mildir mes a neb le in hans dhe'n gorwel efan, dell esa an doust warnodho ow showya. Gwynn a'n doust o an botas. Loos a'n doust o oll an gwysk. Th'esa colour tewedhak y fâss ow shînya dredho yn tyslyw, kepar ha semlant an aval gwlanek wàr an gwëdh i'n sêson sëgh. Saw nefra ny ylly aflander viajya na fowt kempensys tarnyshya an golowyjyon esa ow tewynya in mes a'y yowynkes ha'y nerth crev. An cothwas mayth obery geryow an den-ma orto yn fell – ev o crîbys ha strîlys bys in bùrnys teg, gour prias, scubys ha garnyshys; saw goev ha'y henys! A pen vy an venyn nowyth, me a gemersa an cowr, doust kyn fe.
Wàr neb cor ny wrug ev gorfenna y gereth na whath.
"Dar! Te a stagas dyllas demedhy wàr bùb darn corf!" yn medh ha drailya pùpprÿs, lemmyn meur y varth. "Pyw yw an benyn fortydnys dhe'n dreveth-ma?"
Dascrena, dell hevelly, a vynna an cothwas. "Bysca na veu ken benyn! A rêta cria y bojama Mormon?"
"Dar! An –"
"Cria y bojama Mormon? Nena gra henel radn a'n grageth vy! Gra henel dyw. Gra henel onen. Ota bold lowr?"
"– wedhowes-na a Laramie neb a ros promys –"
"Flows!"
"– saw sodynly an medhek a erhys aireth a'n Soth ha –"
"Flows! Fâls-alarm ota."
"– rag hedna ny veu tra vëth dh'agas dyberth ma's hy skevens. Hag a'y woja namna wrussys udnya gen Cattle Kate, mès –"
"Che ew fâls-alarm!"
"– mès y feu hy cregys."
"Pleth ujy'n grageth in oll an ger-ma? Dyswa'n grageth! Deus ytho!"
"An servyades tew-na in Rawlins may whrusta ry an canary dhedhy –"
"Bysca na rugam demedhy hy. Bysca na rugam –"
"Saw, Ôwnter, mar ogasty! Ha hy o'corra lyther dhis rag styrya hy bos demedhys dhe wystlor yonk a gartednow i'n very dëdh kyns dell veu hy solempnyta tôwlys gena jy, ha –"
"Ogh, che ew trufyl; che ew meppyk; na rêta chy mowntya màn –"
"– ha afydhya na vedha hy nefra nakevy boosa an canary."
"Ma'n wlas-ma o'lenel a veppygow," yn medh an cothwas, ha gorleskyans in y lev. "Gallas genjy." Y feu plesour apert dhodho sqwattya indelma. Ha'y dhewlagas ow plynchya awos gwaityans nowedhys. Th'esa an tormentyor hir ow pêsya heb chaunj dh'y dremyn poos, ha bern clor in y lev ev –
"Fatl'yw yêhes an venyn anfusyk-na –"
"Ogh kê rag! Gra denewy despît! Gra denewy wàr venyn glâv in hy anken!" An dhewlagas a blynchyas gans plegadow batalyas.
"Despît? Ogh Ôwnter Huwyk, nâ nâ!"
"Caletter vëth! Despît nevra na ra durya!"
"Dar! Ha'w holon pòr scafhës pàn dhalathas hy dascafos hy hovyon. Wosteweth pa glôwys, th'erens y terivas bos ogas hag oll hy hovyon devedhys arta. Hy a berthy cov a'y thas, ha'y mabm, ha'y whereth ha'y breder, ha'y hothmans, ha'y floholeth lowen, hag oll hy gwrëth marnas yn udnyk dha fâss dhejy. Th'era gaja an vebyon y whra hy dos bys in hedna kefrës, woja termyn. Mès kekebmys, me a recken, warlergh an cleves mar uthyk a veu warnedhy, scant na yller y wetyas."
Rag gortheby dhe'n geryow-ma Êwnter Huwyk a brofyas fardel vian a dhros dyson in mes a'y bocket. "Assa wosta tra vëth!" ev a wharthas in grèg. "Mir! Gwel e! Otta bysow vy a rug hy danon dhebm arta, ha hy re varys rag demedhy. Dar nag ujy hy perthy cov ahanam? Hâ-hâ! Fâls-alarm ota pùb termyn."
Den an Soth a worras moy a fienasow in ton y lev. "Dhana te a vydn ry an bysow in rag dhe'n nessa, hag oll in udn rew!" ev a grias in mes. "Ogh Ôwnter Huwyk, na wra mos dhe dhemedhy anowyth! Pana brow in demedhyans?"
"Pana brow?" an gour prias a wrug dasseny meur y scorn. "Hm! P'ota tevys in bàn, che a beder ken."
"Me a breder ken, heb mar, pa vo ken oos dhèm. Th'yw freder vy gwyw dhe dhen pajer bloodh warn ugans, ha dhyso ma preder try ugans bloodh."
"Hanter cans!" a scrîjas Êwnter Huwyk, ha lemmel dhywar an dor.
Den an Soth a gemeras ton omgeredhus. "Now fatla wrug vy nakevy y bosta hanter cans," yn medh isel y lev, "ha te o'tesky hedna dhe'n vebyon gen kebmys rach dres an dewetha deg bledhen!"
A welsta cockatow bythqweth – an kynda gwynn ha crîbel dhodho – pàn yw serrys gwyls dre dhespît? Y fëdh an edhen-ma ow terevel y bluv, oll anodhans, kettep huny. I'n keth vaner y whedhas Êwnter Huwyk: gwysk, minvlew, ha barv wynn wlanek. Heb unn ger namoy ev a wrug eskyna wàr an train dhe'n Ëst, a dheuth in mes a'n gilfordh rag y dhelyfra adermyn.
Hemma bytegyns ny veu an praga nag êth kyns in kerdh. Kenyver prÿjweyth y halsa scappya dhe rom an fardellow pò kildenna dhe spâss a dhynyta erna dheffa an train i'n gorsaf. Saw yth o apert dell gafas an cothwas neb sort a joy i'n braggyans-ma. Ev o devedhys solabrÿs i'n oos may ma ow cosa mar pedhyn ny kevrennys dhe genwerth an gerensa, na fors pan vaner.
A'n gwas-ma ha'n train ganso dhe'n Ëst a wrug departya yn lent, ow mos aberth i'n keth pellder may teuth avy alena. Yth esen vy ow miras stag warnodho ha'y fordh dhe âlsyow dystant an wharheans. Nebes ha nebes ev a veu bian i'n efander-na heb hedhy, ernag o vanyshys pùb ol a'y bresens saw cuden wann a vog wàr ebron an gordhuwher. Lemmyn arta dhe'm preder y teuth ow hofyr kellys, ha Medicine Bow owth hevelly hager-splat heb wolcùm vÿth. Yth êth gorhal a neb ehen ha'm gasa vy yn tygoweth wàr enys in mor estrennek; th'esa an Pullman owth êthenna attês dh'y borth tre, ha my – fatell yllyn vy trouvya ranch Judge Henry? Pleth esa Sunk Creek in oll an gwylfos-ma, heb nosow tir? Nyns esa 'creek' na dowr vÿth ow frôsa omma dhe'm syght. Ow ost vy a wrug scrifa y fynna ev metya genef i'n gorsaf, rag may hallon ny drîvya dhe'n ranch. Ny wodhyen vy moy. Nyns esa ev i'n tyller. Ny veuva gwelys agensow gans den an fardellow. An ranch o re bell, sur lowr, rag kerdhes dy, haneth. Ow hofyr – me a gafas dell esen vy truan ow whilas golok whath a'n train o gyllys mes a wel dhe'n Ëst; ha convedhes i'n very prÿs-na bos an den hir ow miras orthyf yn sad, – mar sad dell esa kyns ow miras orth Êwnter Huwyk der oll aga hescows reveth.
Pàn welys an lagasow stegys warnaf ha'n bës behys i'n grugys cartryjen, neb certan whedhlow a viajyoryon a'n côstys-ma a dheuth omherdhys in ancres dhe'm cov. Êwnter Huwyk abàn veu departys, a vedhen vy ow kemeres y le: gelwys, rag ensampyl, dhe dhauncya wàr an cay orth mûsyk a vùlettys medrys yn glanyth?
"Me a recken y bosowgh why an sera erom o'cortos," yn medh an den hir.
GERVA – GLOSSARY
Definitions have generally been confined to those relevant for the story. To keep the glossary to a manageable length the listing excludes the most common words. These are best looked up in Gerlyver Kescows (Ian Jackson). On-line at https://www.skeulantavas.com/vocabulary/gerlyver-kescows-2nd-edition
If you need grammar, by far the most helpful book is Desky Kernowek (Nicholas Williams, Evertype 2012).
adermyn adv on time
aflander m grubbiness, dinginess
aflenter adj dull (colour)
ancres m disquiet
anowyth adv anew, afresh
argh f arhow tank
benyn nowyth f benenes bride
boxesor m boxesoryon boxer
braggyans m banter, teasing
bùrnys m burnish, finish
buwghwas m buwghwesyon cowboy
bÿsfelder m quality of a 'man of the world'
canary m canarys canary
cartryjen f cartryjednow cartridge
chersya v caress
cockatow m cockatows cockatoo
cogh adj scarlet
comedy pur m high comedy
corlan lonnow f corladnow corral
cothwas m cothwesyon old man
coverchyf m coverchyvys handkerchief
crîbel f crîbellow topknot
crowsek adj cross, querulous
cuden f cudednow skein
cùssyans m cursing, swearing
dalla v blind
dascrena v vibrate
drailya v drawl
dregynus adj mischievous
dydhanans m entertainment
dyslyw adj dusky
dyson adv forthwith
dyssemblans m dissembling
dyssertacyon m dissertation
faintys m feint
fecla v feign
fell adj cruel, deadly
floholeth m childhood
fortydnys adj lucky
fowt kempensys phr shabbiness
fuelen f sage-brush
gaja m gajys bet (literally, stake)
garnyshya v garnish
gavrewyk f gavrewygas antelope, pronghorn
golowyjyon pl radiance, splendour
gorleskyans m incineration, withering fire
gour prias m gwer bridegroom
grèg m cackle, cackling
grêvons m grievance
gwedhowes f gwedhowesow widow
Gwlas an Werhes place-name Virginia
gwystlor a gartednow phr card-player (gambler)
henys m old age
hevva f shoal, school (of fish)
howlsedhas m sunset
innyal adj wild, god-forsaken (place)
intrat ille homo stage direction enter the man
keher m keherow muscle
kekebmys = kebmys (emphatic)
kenerthans m boost, encouragement
kesviajyor m kesviajyoryon fellow-traveller
kevrenna v link
kew f kewyow enclosure
kilfordh f kilfordhow siding
lappya v leap (acrobatically)
lyth m lythyow limb
mâkya v pretend
meppyk m meppygow kid (young man)
miras stark phr stare
nos tir m nosow landmark
omgeredhus adj self-reproachful
omherdhya v intrude
packya v huddle, pack together
par ha = kepar ha
parcel m&f group, band (of people)
ponn m light dust
ponvos m care, trouble
poster m gravity, seriousness
praga m reason
presens m presence
ranch m ranchys ranch
reveth adj remarkable
scorn m scorn
servyades f servyadesow waitress, 'biscuit-shooter'
sevylyak m sevylyogyon bystander
sket adv straightway, like a shot
skewya v screen, shelter
smoth adj smooth
sodynly adv suddenly
strîlya v curry
syger adj languid
tarnyshya v tarnish
tewedhak adj weather-beaten
tonecter m undulation
tormentyor m tormentyoryon tormentor
trusyans m modulation
tùmas m tùmasow thud, thump
vexyans m annoyance, vexation
wàr neb cor phr by no means (reinforcing a negative)
yowynkes m youth