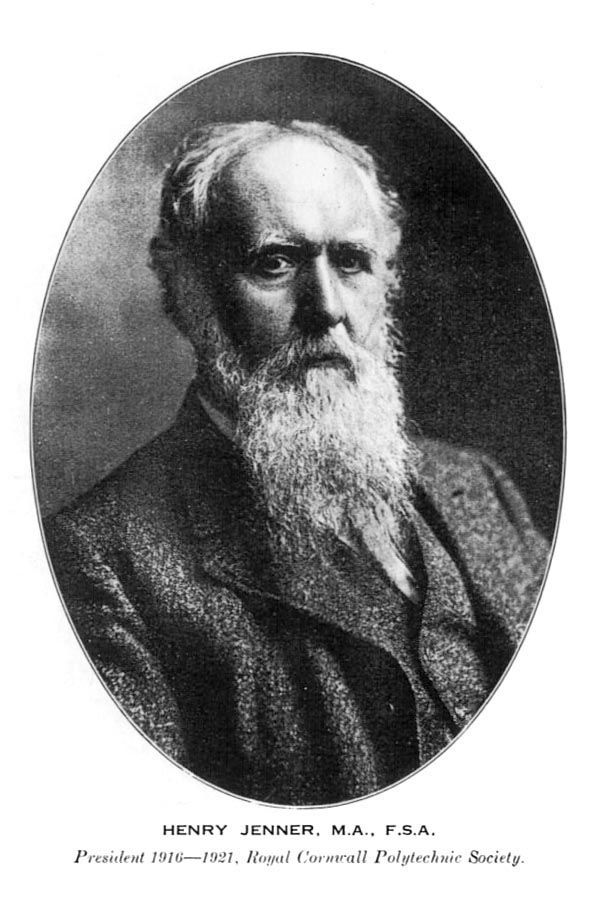 Dhe'm Gwreg Gernowek 'To my Cornish wife' is the first poem ever to appear in revived Cornish. It is the dedication at the front of Henry Jenner's A Handbook of the Cornish Language, which was published in 1904.
Respelled in Kernowek Standard
Kerra ow Holon! Benegys re vo
Gans bennath Duw an jëdh a'th ros dhymmo,
Dhe whelas geryow gwann pàn dheuth avy,
Tavas dha dasow, ha dhe'th trouvya jy.
In cov an jëdh splann-na eus pell passyes;
In cov udn jëdh lowenek, gwynn gàs bës,
Wàr Garrek Loos i'n Coos, eus in dann skeus
Eskelly Myhal El, o gàn gwithyas;
In cov lies dëdh wheg in Kernow dâ,
Ha ny mar yonk – na whecka 'vell eur-ma
Dhymmo a dhug genef an gwella tra,
Pàn dheuth avy in kerdh, in oll bro-na;
Dhyso my re lever dha davas teg,
Flogh ow empynnyon vy, dhe'm kerra Gwreg.
As originally spelled
Dhô'm Gwrêg Gernûak
Kerra ow Holon! Beniges re vo
Gans bennath Dew an dêdh a 'th ros dhemmo,
Dhô whelas gerryow gwan pan dhetha vî,
Tavas dha dassow, ha dhô 'th drovya dî.
En cov an dêdh splan-na es pel passyes;
En cov idn dêdh lowenek, gwin 'gan bês,
War Garrak Loys en Côs, es en dan skês
Askelly Myhal El, o 'gan gwithes;
En cov lîas dêdh wheg en Kernow da,
Ha nŷ mar younk—na whekkah vel êr-ma
Dhemmo a dhîg genev an gwella tra,
Pan dhetha vî en kerh, en ol bro-na;
Dheso mî re levar dha davas teg,
Flogh ow empinyon vî, dhô 'm kerra Gwrêg.