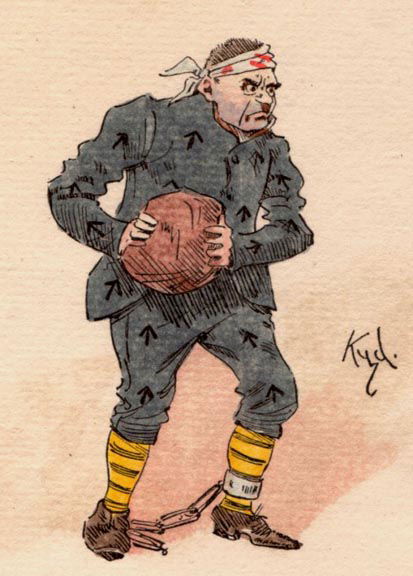 Charles Dickens
Lymnans gans
J. Clayton Clarke (Kyd)
Kernowek © 2020 Ian Jackson
Chaptra 1
Yma Gerva orth an pedn dewetha.
Hanow teylu ow thas o Pirrip, ha'm hanow besyth yw Philip, ytho mes a'n dhew hanow ny ylly ow thavas flohyl gwil tra vëth hirra na clerra ès Pyp. Me a wrug henwel ow honen Pyp, ha me a vedha gelwys indella.
Yth esof ow terivas hanow teylu ow thas dell o Pirrip, wàr auctoryta y vedhven ha'm whor – Mêstres Joe Gargary, a veu demedhys dhe'n ferror. Bythqweth ny welys vy ow thas nag ow mabm, na ny welys aga semlant naneyl (rag aga dedhyow o pell kyns dedhyow an skeusen), ytho pòr afrêsonus me a gemeras kensa fancy a'ga gnas dhyworth an vedhveyn. Shâp an lytherednow wàr ven ow thas a ros dhybm tybyans coynt ev dhe vos gour pedrak, berryk, tewl y fysment, ha'y vlew du todnek. Mes a form ha natur an covscrif Inwedh Georgiana Gwreg Dhodho, y teuth ervirans, i'm brës vy a veppyk, dell veu ow mabm brith hy bejeth, hag anyagh. Sensys oma dhe bymp losanj bian a ven, pùbonen troos'hës-ha-hanter y hirder, arayes in udn rew glanyth ryb an bedh, hag o sacrys dhe gov a'm pymp brederyk vy – neb a wrug hepcor dendyl bêwnans, avarr dres ehen i'n omdowl ollkebmyn – yth ov sensys dhe'n re-na rag ow crejyans fast anjy dhe vos genys wàr geyn ha'n dhêwla in pockettys an lavrak, bythqweth heb aga thedna mes, i'n studh-ma a'n hanvos.
Agan tireth o pow an heskyn, ryb an ryver, ha'n mor ugans mildir dhyworthyn, musurys dell esa an ryver ow qwia. An kensa a'm argrafow moyha bew hag efan a'n bÿs ha'y honensys, y feu hedna, dell hevel dhybm, gwainys in neb androw hegof ha yêyn y awel. I'n termyn-na my a wrug dyskevera gans certuster, an tyller lobm-ma, overdevys gans lynas, fatell o va an gorflan; ha Philip Pirrip, trevesyk a'n bluw, tremenys, inwedh Georgiana gwreg dhodho, tell êns y marow hag encledhys; ha tell o Alexander, Bartholomew, Abraham, Tobias, ha Roger, flehygow dhe'n dus tremenys, marow hag encledhys inketella; ha'n gwylfos tewl ha plat avês dhe'n gorflan, crowsegys dre lies banken, tobmen ha yet, ha chattel kescar ow pory warnodho, tell o an heskyn; ha'n lînen isel, plobm hy lyw in hans dhedhy, tell o an ryver; ha'n fow bell ha gwyls, mayth esa an gwyns owth herdhya mes anedhy, tell o an mor; ha'n fardel bian a grenans, ow kemeres own a bùptra ha codhys in olva solabrës, fatell o Pyp.
"Taw tros!" a grias voys uthyk, ha den a savas desempys in bàn, mesk an bedhow ryb portal an eglos. "Gway vëth, che dhyowlyk bian, poken me'dregh dha godna jy!"
Den scruthus, garow y dhyllas loos, ha carhar horn brâs wàr y verr. Den heb hot, ha terrys y skyjyow, ha clout coth kelmys adro dh'y bedn. Den glehys dredho in dowr, ha mostys dredho in lis, hag evredhys gans meyn, ha trehys gans pîcys a flynt, ha pigys gans lynas, ha sqwerdys gans spedhes; neb esa ow cloppya, hag ow crena, hag ow cromyal, crev ha stark y wolok; ha'y dhens ow clattra in y anow pàn y'm sêsyas er ow elgeth vy.
"Ogh! Na drogh codna vy, syra," me a wrug plêdya in ewn euth. "Y praydha, na wra, syra."
"Lavar dha hanow!" yn medh an den. "Snell!"
"Pyp, syra."
"Unweyth arta," yn medh an den, ow meras glew orthyf. "G'ra lawl."
"Pyp, Pyp, syra."
"Dysqwa pleth esta tregys," yn medh an den. "Gwra poyntya dhe'n plâss!"
Me a wrug poyntya le mayth esa agan pendra, wàr an keyndir plat in mesk an gwern ha'n gwëdh dybednys, mildir pò moy dhyworth an eglos.
An den, wosa meras orta vy polta, a'm trailyas pedn dhe'n dor, ha gwakhe ow fockettys. Nyns esa tra vëth inans ma's darn a vara. Pàn dheuth an eglos arta dh'y rêwl – rag an den o mar nerthek sodyn, mayth êth an eglos ha cryghlebmel dhyragof, ha my owth aspia an tour in dadn ow threys – pàn dheuth an eglos dh'y rêwl, dell leverys, otta vy esedhys wàr vedhven uhel, ow trembla, ha'n den ow tebry an bara kepar ha bleydh.
"Che gei yonk," yn medh ev, ha lyckya y wessyow. "Ass ew tew dha vohow."
Tew defry, dell gresaf, kynth en vy re vian i'n termyn-na orth ow bloodh, ha gwadn lowr.
"Dar, a venjen aga debry?" yn medh an den, ha shakya y bedn in godros. "Ha my hanter-porposys dhe wil."
Me a wrug pesy dywysyk na wrella màn, ha sensy dhe strotha an bedhven mayth en vy gorrys; part ow qwetha eseth dhybm; part ow qwetha rag ola.
"Now golsow!" yn medh an den. "Ple ma dha vabm?"
"Ena, syra!" yn medhaf vy.
Sowthenys, ev a wrug ponya pols, sevel stag, meras dres y scoodh.
"Ena, syra!" me a styryas yn ownek. "Inwedh Georgiana. Hòn yw ow mabm."
"Hô!" yn medh, ha dos arta. "Hag ew hedna dha das gen dha vabm warbarth?"
"Yw, syra," yn medhaf; "ev kefrës; trevesyk a'n bluw, tremenys."
"Hâ!" ev a wrug croffolas, in udn bredery. "Pyw esos jy tregys ganjo? – bew mar pesta wàr rag, ha my whath heb ervira."
"Gans ow whor, syra – Mêstres Joe Gargary – gwreg dhe Joe Gargary, an gov, syra."
"Gov, in gwir?" yn medh. Hag ev a wrug meras orth y verr.
Wosa meras tewl orth y verr hag orta vy, lower tro, ev a dheuth nes dhe'm bedhven, ha'm kemeres er an dhywvregh, ha'm inclynya wàr dhelergh, kebmys dell alla sensy; may hylly y lagasow meras moyha crev wàr nans hag aberth i'm dewlagas vy, ha'm dewlagas vy ow meras yn tyweres in bàn dh'y lagasow ev.
"Now golsow," yn medh, "an qwestyon ew, mar pes gerys dhe vewa. Wosta pëth ew liv dur?"
"Goraf, syra."
"Ha wosta pëth ew vytel?"
"Goraf, syra."
Wosa pùb qwestyon ev a dheuth ha'm inclynya nebes moy, rag gwil brâssa sens a dhywerester ha peryl.
"Che doroy dhèm liv dur." Ev a wrug inclynya arta. "Ha che doroy dhèm vytel." Inclynya arta. "Che'ra kerhes aga dew." Inclynya arta. "Poken kelly orta vy dha golon hag avy." Inclynya arta.
Me a gemeras own uthyk, mar bednscav, mayth esen vy ow clena orto gans oll ow dêwla, ha leverel, "Mar kesowgh dhybm sevel serth, dre blegadow, syra, par hap me a vëdh whensys dhe wheja le, attendya moy."
Ev a ros dhybm udn droyll dres kynda, may whrug an eglos lappya dres hy hulyak gwyns hy honen. Ena ev a'm sensy er an dhywvregh, serth wàr an men awartha, ha pêsya gans an ger scruthus-ma:
"Che doroy dhèm, vorow avarr, an liv-na ha'n vytel-na. Che doroy pùptra dhèm, dhe'n Ganonva goth dres ena. Che g'ra hedna, ha bëth na lavar mencyon na ry sin a weles den par ha my, na den vëth oll, ha che'vëdh gerys dhe vewa. Mar ny'redh, pò mar ny garsa cola orta vy, unweyth myjyn, dhana'fëdh colon hag avy sqwerdys mes, ha rôstys, ha debrys. Now, nynj oma oll ow honen, dre debyth par hap. Ma den yonk gena vy, in dadn gel, ha comparys orto my ew udn El. An den yonk-na, ma o'clôwes ow ger. An den yonk-na, ma dhodho maner gevrîn ha pryva, kemeres neb maw, ha'y golon, ha'y avy. Euver oll ew dhe neb maw assaya y gudha rag an den yonk-na. An maw ell lùwhedha y dharas, bos tobm teg in y wely, mailys cles, dyllas an gwely tednys dres y bedn, teby y vos attês ha diogel, bùs an den yonk-na vedn slynkya ha slynkya, tawesek bys dhodho ajei, ha'y sqwardya oll egerys. Th'eroma qwetha i'n tor'-ma, na ell an den yonk-na gwil myshyf orta jy, ha brâs an caletter dhèm. Pòr gales ew sensy an den yonk-na dhort dha bervedhow. Now, pandr'ew dha worthyp?"
Me a lavaras y fydnen vy kerhes an liv, ha kerhes kebmys vytel trogh dell allen vy, ha dos dhodho i'n Ganonva, avorow avarr.
"Lavar Duw re byma gweskys marow mars ew gow!" yn medh an den.
Me a lavaras, hag ev a'm gorras dhe'n dor.
"Now," ev a wrug sewya, "che remember an pëth a'rusta promyssya, ha che remember an den yonk-na, ha che kê tre!"
"No – nos dâ, syra," yn medhaf, in udn hockya.
"Scantlowr!" yn medh ev, ha meras adro, dres an tir plat ha yêyn ha glëb. "Pe unweyth me dhe vos qwylkyn. Pò zylly!"
I'n kettermyn ev a wrug crapya y gorf, esa ow teglena, inter y dhywvregh – crapya kepar dell vydna gwetha y honen rag codha dhe dybmyn – ha cloppya tro ha fos isel an eglos. Hedre ven ow qweles y dhybarth, ow trettya gans rach in mesk an lynas, hag in mesk an dreys esa gorher dhe'n tolhow glas, yth hevelly dhe'm lagasow yonk fatell esa ow coheles dêwla an dus varow, owth istyna dour in mes a'ga bedh, rag settya dalhen in y ufern ha'y dedna wàr woles.
Pàn dheuth dhe fos isel an eglos, ev a wrug crambla dresty, kepar ha den mayth yw y arrow crobm ha dywethyn, ena ev a drailyas rag meras orta vy. Pàn wrug vy aspia hedna, my a drailyas ow fâss tro ha tre, ha gwil dhe'm garrow aga moyha ehen. Saw wharê me a wrug meras dres ow scoodh, ha gweles dell esa ev ow mos in rag wor'tu ha'n ryver, whath ow crapya y honen in y dhywvregh, ha trettya sqwith an treys in mesk an veyn vrâs esa desedhys wàr an heskyn obma hag obma, avell sarn pàn ve tydn an glaw, ha pàn ve morlanow.
Nyns o an heskyn nena ma's lînen leven dhu hir, ha my ow sevel rag meras wàr y lergh; ha'n ryver o ken lînen leven, adar moy, heb bos maga ledan, heb bos mar dhu; ha nyns o an ebron ma's lînednow hir, engrys rudh ha tew du, kemyskys. Wàr amal an ryver me a yll decernya, dyscler, an dhew dra in oll an wolok-na, esa dhe weles serth a'ga sav; onen a'n re-ma o an wolowva, pëth o gweres dhe'n varners ow lewyas – kepar ha balyer, heb y gelhow, wàr beul – darbar hager y semlant pàn ves in ogas; an dra aral o cloghprednyer, ha chainys ow cregy inans, hag a wrug sensy morlader kyns. An den, yth esa ow cloppya tro ha'n crogla-ma, kepar ha pàn ve an morlader dasvewys, ha skydnys, hag ow tewheles rag baha y honen arta in bàn. Diegrys veuma pàn dheuth dhybm an preder-ma; ha'n chattel ow terevel aga fedn rag meras warnodho, ha my owth omwovyn mars esa an keth preder dhedhans y. Me a wrug aspia oll adro rag cafos an den yonk hag uthyk, mès ny welys sin vëth anodho. Saw i'n prës-na me a gemeras own unweyth arta, ha ponya tre heb hedhy.
GERVA
Glossary
Definitions have generally been confined to those relevant for the story. To keep the glossary to a manageable length the listing excludes the most common words. These are best looked up in Gerlyver Kescows – A Cornish Dictionary for Conversation (Ian Jackson, Agan Tavas 2017), for which an up-to-date spell-checker is available at www.skeulantavas.com. If you need grammar, by far the most helpful book is Desky Kernowek (Nicholas Williams, Evertype 2012).
The format and abbreviations in the glossary are the same as in Gerlyver Kescows, with one refinement. In this listing a middle dot following a vowel sound shows that primary stress is on that syllable (in cases where it is not the penultimate syllable); a double vertical line after a disyllabic word indicates that both syllables are more-or-less evenly stressed.
ajei· adv = ajy
andro·w adv/m [in the] late afternoon
angra v anger
banken f bankednow dyke
bedhven ‖ m bedhveyn ‖ tombstone
bejeth m face
berr f berrow lower leg
berryk adj stout
bëth adv ever (strengthens negative imperative)
bùs conj = mès
brederyk m brederygow little brother
canonva f canonvaow battery (artillery)
carhar horn m carharow iron (fetter)
certuster m certainty
chattel col cattle
che pron = te
cloghprednyer pl gibbet
cloppya v limp
covscrif ‖ m covscrifow memorial inscription
crapya v grip, hug
crenans m shivering
crogla m crogleow place of execution
crowsegy v cross, intersect
cryghlebmel v go head over heels
culyak gwyns m culyogas weather-cock
deglena v shudder
dewlagas du [pair of] eyes
dhèm inflected prep = dhybm
dhort prep = dhyworth
dos [arta] dh'y rêwl phr calm down, recover
dre2 conj = dell
dyowlyk m dyowlygow little devil
dyweres adj helpless
dywerester m helplessness
dywvregh du [pair of] arms
ell verb = yll
ew verb = yw
ferror m feroryon blacksmith
flehyk m flehygow little child
flohyl adj childish
flynt m flint
fow f fowys lair
fysment m fysmens facial feature(s), complexion
ganjo prep = ganso
gara v = gasa
gen prep = gans
gena vy phr = genef
glew adj sharp, keen
golowva f golowvaow beacon
gov m govyon smith
gwëdh dybednys col gwedhen pollards
gwern col gwernen alder-trees
hanow besyth m henwyn christian name
hegof adj memorable
heskyn m marsh
hirder m length
inclynya v tilt
inketella adv in the same way
kei m = ky
kescar adj scattered
keyndir ‖ m in-shore
lappya v do acrobatics
lawl v = leverel
liv f lîvyow file
losanj m losanjys lozenge
lower tro phr several times
lùwhedha v = alwhedha
ma verb = yma
meppyk m meppygow little boy
morlader m morladron pirate
myjyn m tiny bit
nerthek adj strong
nynj particle = nyns
ollkebmyn adj universal
olva f weeping, crying
omwovyn v ask oneself, wonder
orta jy phr = orthys
orta vy phr = orthyf
overdevys adj overgrown
par ha phr like
pe unweyth + infinitive construction if only
pednscav ‖ adj giddy
pendra f pendrevow village
pervedhow pl insides
pîss m pîcys piece
promyssya v promise
trembla v tremble
scantlowr adv hardly [at all]
sêsya v seize
skyjyow pl = eskyjyow
sarn f sarnow causeway, stepping-stones
sodyn adj sudden
spedhes col spedhesen briers
stark adv fixedly (of looking)
syra m sir (addressing sb)
teby v = tyby
tobmen f tomednow mound
todnek adj wavy, curly
tolgh m tolhow mound
trettya gans rach phr pick one's way
trevesyk a'n bluw phr of this parish
tydn adj intense
vorow adv = avorow
voys m voycys voice
vytel col food, victuals
wàr rag phr = in rag
wàr woles phr = awoles
zylly f = sylly