Winifred Holtby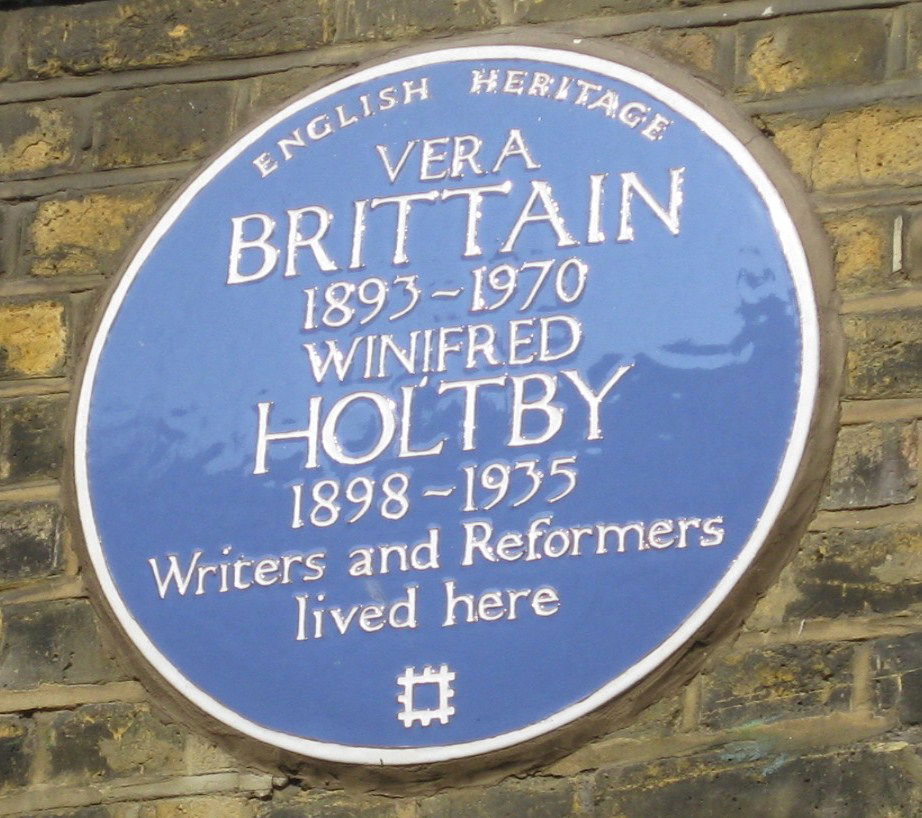 Lehen wàr 58 Doughty Street, Loundres
Chaptra 1
MYRGH WYDN AN ARLÙTH SEDGMIRE OW QWETYAS HENAVAK
Kernowek © 2020 Ian Jackson
Yma Gerva awoles
An jëdh a vis Efen o lêsys adro dhe Blâss Maythorpe, dyfurf, heb worfen, dargan a dhrog. Ny'n jeva shâp vëth – prës kydnyow kefrës in dyfyk, rag Elsie, esa ow pobas, a ros dhe Myj tesen hàm ha nebes aval, may fe croust herwyth bodh gensy, ha'n re-na debrys lies our alebma.
'Pe unweyth an glaw dhe cessya, hy a vensa mos mes a'n chy dhe bras an vergh, hag assaya an gwary tôwlel pel denys dres hy scoodh, owth omdrailya dhe gafos py le whrug codha; poken hy a vensa turya downha aberth i'n geyfordh esa hy ow qwil i'n das a'n kergh fustys; poken y fensa hy crambla in meryswedhen an avalednek isel – solas dyfreth, saw gwell ès sedha obma ha'y dewfrik wàr qwarel fenester hy chambour; agès aspia orth hanaf loos an ebron dyslyw tewl, ow qwasca lasny brith an dirwedh.
Erow hag erow, yth esa Myj ow qweles a'y fenester an mor hothfys ledan a lasneth in y wolgh glaw, an gwerlas glëb a wels gwaneth, an glasvelen sëgh a sowl heb bos erys, an glasny todnek crygh a wels pras heb bos trehys, an bonias tewl a wëdh: elow, on, sycamorwëdh. Nyns esa bre, nag eglos, na pendra. Dhia Maythorpe wor'tu ha'n soth ha Pow Lynn nyns esa tra vëth ma's lies gwel, lies banken, lower amêthva kescar, Hayl Leame avell barryas dywel, ha'n iseldir ow terevel dhe dolgh pò sedhy dhe boll bogh in tonecter clor, kepar ha pàn wrella potor cowrek gwasca y vës brâs, obma scaffa, obma possa, wàr bry whath govelus an norvÿs.
Tirwedh dyfreth, dell brederys Myj Carne. Heb tra vëth dhe wharvos inhy.
'Pe unweyth breder ha whereth, rag gwary gansans.
'Pe unweyth nag o an lyvrow i'n chy mar dhyfreth – mès novelys sport êns y, lyvrow stâbel, Debrett, cowl-set a scrifow Syr Walter Scott, kevrolyow kelmys a Ladies' Realm –
'Pe unweyth dâ gensy redya –
'Pe unweyth na leverys Tasyk hy bos re goth lebmyn dhe wary gans an flehygow Beachall hag Appleton.
'Pe unweyth nag êth Mêstresyk Malt tre rag cherya tas clâv. Mêstresyk Malt a wrug croffolas warbydn an chy ha deraylya Elsie. Ny garsa hy debry kevals yêyn orth prës ly hag y fedha hy ow cria Myj lent hy skians. Pùb tro y fedha hy ow praisya hy dyscoryon kyns, ha res o anjy dhe vos honenwiryon hegas vian, dell brederys Myj. Awos hedna, lessons ha descajoresow pryva omdednys, o gwell gensy ès an hireth ha'n undoneth syger-ma.
'Pe unweyth nag esa Myj ow perthy own a vergh, abàn dheuth Beawty Du ha codha warnedhy, ha hy ow tyfuna i'n nos, owth uja, ow teglena, ha Doctour Campbell owth erhy, nefra na wrella hy marhogeth arta. Scafhës veu colon Myj dres ehen. Pobel a wrug leverel bos marhogeth ha helghya plesours spladn, dybarow. Yth esa hy ow cresy. Saw plesours êns y, orth hy breus hy honen, dhe hepcor yn tien.
Saw govenek Tasyk o tùllys. Prest yth esa hy ow tùlla y wovenek. Whans a'n jeva y vyrgh dhe vos teg ha prowt ha diown, kepar ha'y mabm, mès Myj o tanow, hager-vludh, ownek, ha spectaclys gensy, ha barr owr dres hy dens. Hag y fedha ow kemeres sterycks uthyk, ow tôwlel hy honen dhe'n leur, ow pôtya, ow scrîja. Yth esa neb jevan owth entra dhedhy. Pòr aswonys dhedhy o an den i'n Beybel ha tebel-spyrys ganso. Otta hy oll dâ ha whar ha cortes, ha desempys y teuth an teweth ha'y sêsya heb rêson, ha'y whyppya bys in conar. Hag a'y wosa yth esa hy owth omglôwes clâv ha gwadn dredhy. Nyns o bewa gans tebel-spyrys tra êsy màn.
'Pe unweyth Tasyk dhe dhos tre, dhe lowenhe, dhe gescôwsel, dhe dherivas dhedhy fatl'yw bos dhôwysys henavak.
Dohajëdh a wrug durya bys vycken ha bys venary solabrës.
Dell hevelly dhe Myj, hy a wrug passya moy ès hanter hy bêwnans strothys i'n chy, ha glaw wàr an fenester, ow cortos nebonen ha'y dhos tre ha'y gescows orty. Saw pòr venowgh ha Tasyk devedhys, y fydna ev esedha tawesek, owth eva dowr Alban sôda, heb cowetha vëth ma's oll an lymnans oyl tewl a'n hendasow i'n stevel kydnyow, ha'n portreyans teg hag uthyk a Vabm; pò y fydna lavurya, ow posa orth y dhesk, owth addya colovednow fygùrs na vedha nefra cowl-sùmyes, awos bos coodh marhas, awos bos gober an wesyon doblys, awos bos an wesyon owth obery hanter an termyn kyns ha'n prîsyow fast heb chaunj. Myj a wodhya an terstuth amêthek yn tâ.
Teylu Carne, dell wodhya hy, nyns êns y Bohosogyon. Yth esa bohosogyon tregys in penty; th'esa teylu Carne tregys in Plâss, o an brâssa chy in lower mildir, ha stevel megy ganso ha rom haunsel ha try set a stairys ha leur awartha heb bos ûsys na felha, ha rôsva neb hanter mildir hy hirder. Ôwnter William, broder Tas, an yonca, o pednser tregys ogas dhe Harrogate, ha dew garr tan ganso; ha Sîra Wydn, Arlùth Sedgmire, na welas hy bythqweth, o Baron wàr Or Kembra, tregys in castel. An rielder-ma, th'o radn ertach Myj. Na fors py lies sqward in hy fows, na fors pana don crev a'n côstys-ma wàr hy hows, pygebmys omdhon gwyls, ow scrîja hag ow wherthyn dre bùb skyber ha boujy gans flehes an bendra warbarth, hy a wodhya whath an selven spladn esa orth hy mentêna. Pàn wrug crowdror hy aspia esedhys wàr an fos, ow trewa sprus keres i'n ballyer dowr gans flehes mêny Beachall, ha govyn, "Pandra via breus an wre'ty jentyl mar teffa hy ha gàs gweles, a vowysy bian?", Myj a worthebys, "My yw an wre'ty jentyl."
Ha hodna o hy defry. Hy thas o sqwier, kefrës tiak kyn fe. An chy o plâss, ha'n hanafow arhans wàr vord lestry i'n stevel kydnyow tarnsyes kyn fe, na nyns esa den vëth a'n servons namoy, marnas Elsie, rag egery pàn veu knoukyans orth an daras, ha rag rôstya an kig davas, ha rag scùrrya leur an gegyn.
Yth esa splander ow remainya; saw otham mona o tôwlys in skeus dresto. Tasyk o mêster a'y stât, saw sevys adrëv Tasyk yth esa an Arhanty. Ny yllens y gwil hebma, na hedna, na lies tra ken, awos dyfen a'n Arhanty. Ny ylly teylu Carne prena carr tan, dasterevel stâbel, gwary pôlô, desky margh resegva, vysytya Loundres, pò plansa hudh nowyth, awos an Arhanty, an Arhanty, an Arhanty.
Na nyns o mona oll an trobel. Mêster Castle o clâv, ha Mêstres Castle orth y attendya, hag yth esa Dolly Castle, drÿs tre in mes a servys afînys in Kingsport, ow mûtya crothak, ha'n vebyon ow croffolas, ha Chy Hinds gyllys in drog-studh, ha Tasyk gesys dhe goll heb Chif-gonesyas Castle.
Ha mar nyns o Tasyk nies lowr gans an Arhanty ha Castle ha mona ha Myj, ev o troblys pùb dëdh oll awos Mabm – Mabm, an venyn bryght ha gay ha rial, hag oll an chy orth hy gortos. Saw clâv o hy, ha tregys in clojy cûr pryva, heb dewheles. 'Pe unweyth Tasyk dhe dhos tre yn scon, pës dâ a'y vos henavak.
'Pe unweyth an devysogyon le trist.
Mes a fenester orth tâl an chy, yth esa golok wàr fordh dhia Kiplington ahës. Par hap, ha Myj ow tyby, mars ella hy dy, y halsa aspia Tasyk ow trîvya gans Hicks i'n scafcarr, ha gwevya dhodho, ha ponya an stairys dhe'n dor ha'y wortos in garth an stâbel, ha'y wolcùbma.
Hy êth ha gwandra yn lent der an dremenva wàr an kensa leur, ow strechya in udn dhowtya, may fe dhe'n denkys chauns teg.
Bÿth pàn ve whans brâs dhedhy a neptra, y fedha hy ow nyvera bys hanter-cans, ha secùnd hanter-cans a'y wosa, kyns ès gasa hy honen dhe gresy dell hylly wharvos martesen.
Hy a wrug hedhy dhyrag daras Chambour Brâs an Ôstyas ha nyvera hanter-cans. An mebyl i'n rom-na o cudhys in dadn lienyow doust a lyn Holland. Yth esa udn bellen vrest ow fyllel orth goles an gwely. Myj a wrug hy dyscrewya kyns, pàn esa hy ow qwary ena warleny, ha gasa dhe godha, heb gorra arta.
Hy êth wàr rag bys in Rom an Bacheler ha nyvera hanter-cans. Smyllyng doust, ha cor botas, ha backa. Smyllyng gorow. Saw nans o lies bledhen ny gùscas gour vëth i'n rom-na.
Yth esa hy ow trusy wàr an stairys bys i'n secùnd soler, istynys der oll an chy coth hir. Lebmyn hy o pell dhyworth cana Elsie i'n gegyn. Yth esa idhyow overdevys wàr an fenestry. Ha scorr kesten ow tewlhe. Saw an paper fos gwydnrudh in Chambour an Goges a gollas y golour bys in melenwydn aflan, marnas wàr an pedrogow may feu pyctours cregys kyns. Pùb fram gwely horn o noth; orth an fos yth esa dyw eskys a'ga groweth, ûsys ha due, ow whedhy yn tesedhys dhe vùnyons Coges, hag ow tysqwedhes gothen drogh, fow dhe gefnys nans o pell. In trogow tedna egerys an bord omwysca, Myj a gafas dew bydn blew solabrës, brâs ha du; tro a dâpa, ha'n doust manbluvak warnedhy; ha caja greftus. Saw pàn wrug hy kemeres an gaja in bàn, warleny hâv, gorlosten a bonyas in mes, ha'n gaja a veu gesys dhe godha in dyflassys: forsâkys wàr an leur ryb an eskyjyow, ha gorher box coth, ha torgh a grîbyon blew loos.
Egery an fenester o cales, saw Myj a wodhya pùb wrynch, ha herdhya an fram stubmys in bàn, ow try cowas a dhel paint launyes. Hy êth wàr bedn dêwlin ha meras orth topyow bojow laylock, tohow stâbel, ha bryckys kewniek rudh an garth dhelergh. In hans dhe'n tohow yth esa Fordh Kiplington, ow qwia mesk an gwelyow glas glëb in kerdh.
Mar mydna'vy degea lagasow ha nyvera bys cans, Myj a brederys, my'yll aspia y dhevedhyans.
Hy a wrug degea an lagasow. Hy a wrug nyvera. Mès an termyn a sevys stag. Heb fin, dyfurf, drog y dhargan, an termyn a vydna byrla an chy ow codha dhe vrows.
Na yll. Hedna, na yll. Hedna ny yllons y demondya ahanaf, Myj a brederys, ha'y euth ow cressya. Hy a settyas dalhen in legh an fenester, mayth esa an glaw ow troppya.
Hy a wrug degea hy lagasow ha nyvera, ow pesy in taw, na ve devar vëth govydnys orty namoy. Mar mydna hy pesy, mar mydna hy nyvera, dar, nyns o lowr dh'aga dyserry, Ynsy, ha dry hy thas tre, hag ev henwys henavak.
Res o porres. A ny ylly hy clôwes carn margh ow clattra, son an rosow ow lagya dre bollen wàr an fordh?
Hy a screwyas hy lagasow fast yn tegës. Naw deg seyth, naw deg eth; yth esa ev ow nessa, hy whegyn, hy Duw, hy thas; naw deg naw. Ogh, hy a vydn ry dhedhans musur ewn; hyga ny vydn hy.
"Cans!"
Hy a wrug y gria uhel hag egery an lagasow ha gweles carven leth Mêster Dickson ow trailya aberth in garth an stâbel.
Hy fejadow a veu fyllys.
Nena hy a brederys, ha'n scruth avell bobm tydn, "Drog-labm a'n jeva. Ymowns y ow try an corf marow tre in carven an leth, dell veu Mêster Banner drÿs in mes a wel an hel." Namnag o hy clâv in hy euth.
Saw Mêster Dickson a skydnyas serth y stauns in mes a'n garven, ow fria Dolly, ha mos in udn stankya bys i'n daras dhelergh, may whrug Elsie y salusy.
"Usy an Mêster chy?"
Corf marow, ytho, ny gafas.
"Ma va in Flintonbridge, ow qwil bos dôwysys henavak."
Elsie, kepar ha'n moyha part a'y henedhel i'n weryn, o teyr-yêthek. Hy a wor côwsel Sowsnek an BBC orth hy arfedhor, Amerycan an cynema orth hy howetha, ha radnyêth Pow Evrok orth lethoryon coth hag Eli Dickson intredhans.
"Nag yw, dhana. Astell yw'n henavak."
"Ny gresama."
"My re'n clôwas namnygen, dhort Mêstres Tadman, ha hy ow mos dhe Kingsport wàr an kyttryn hag ow clôwes orth neb gwas in Flintonbridge."
"Ny gresama màn. Gàn Maggie 'rug gweles Mêster Tubbs in Kingsport, de Merher an seythen passys, neb a lavaras bos an dra mar sur vell ancow. Hag ev yw consler."
"Col or'vy, Astell yw'n henavak. Gwas socyalydhek. 'Njy a wrug whedhla dr'yw Carne in dyfyk mona, hag in cort an conteth ny garsa den vëth sewya henavak."
"Dyfyk mona? Mêster Carne? Muscok osta."
"Dhana prag na vydn ev mendya ow boujy? Otta govyn vy. Ev'rug dedhewy nans yw dewdhek mis ha lebmyn ma'n teyl ow resek dhia'n garth bys i'n lêty. Scon 'fëdh gwesyon governans wàr geyn avy ..."
An dhew êth aberth i'n chy. An daras dhelergh a dhegeas in cronk.
Ny vern màn. Hager-dhen coth, ha pyllen vian a varv ganso, ha hot blonegek. Mousak o va.
Myj a wrug browsya launow paint intra besias tanow plos.
Pana wir a's teva tus a lettya hy thas, thas, thas rag cafos oll y whans! Pana styr – sewya henavak in cort an conteth?
Ogh, ass wrug hy tùlla y wovenek. Dar, ny wrug hy pesy lowr? Predery lowr? Mar teffa ha nyvera bys mylyon, ny via lowr rag dyserry an destnans.
Yth esa nerth an denkys, sevur hag escarus, ow skeus'he an chy.
Tasyk nyns yw henavak.
Myj, myrgh wydn Arlùth Sedgmire, a wodhya an pëth yw res y wil.
Gans gwelvow kesweskys ha tan ow lesky in hy bohow melenyk, hy êth in mes a jambour Coges ha dallath dhe'n stairys wàr nans, ha'n fenester egerys whath, mayth esa an glaw ow cropya ajy hag ow sygera der an crig i'n ledn oyl rag glebya an estyll poder, ha nam gell ow lêsa dres nen an Rom North.
Hy êth, kepar ha vyctym dhe'n sacryfîs, aberth in Rom Mabm.
Hèn o chambour brâs ha'y fâss dhe'n soth, wàr an kensa leur, ha vu dhyworto dres an glesyn ha lowarth an ros, ha'n helyk ha poll an heyjy. Abàn veu Mêstres Carne degys in mes, sowthenys, resystens vëth, hy rebellyans dyfudhys, yth esa an chambour ow cortos pùb eur oll, parys dh'y devedhyans tre. Degës o an croglednow; der aga thaffeta glas, dyslywys ha pedrys i'n plegow, nyns o an golow ma's whystrans, ha skeusow a'n arhans, a'n gweder, a'n predn know Frynk ow qwaya i'n myrour brâs. Wàr an bord omwysca, an lower dehen o sëgh i'ga seth, ha'n vernys ewynas browsys dhe bolter, an dowrow wheg desehys mes a bùb botel gweder trehys mesk an lîvyow ha'n pydnys ha'n gweljow bian. A'ga crog i'n lower dylasva yth esa powsyow forsâkys Mêstres Carne; hy deg dyweskys warn ugans, pùb eskys wàr bredn; hy thry gwysk marhogeth; hy clôk mynk ha paly.
Pàn nag eus dhe Myj neptra well dh'y wil, y fedha hy ow tos obma in bàn, rag whythra. Bythqweth ny wrug den vëth dyfen, na deraylya dell vydnens y deraylya pàn wrellons y cafos hy bos ow redya lytherednow kerensa Elsie mes a'n box byskyt blou wàr vord omwysca an meghtythyon. Bythqweth ny wrug den vëth hy hafos i'n whythrans-ma. Y fedha hy owth egery trogow tedna leun a gambryk brôsys, lavant ha pelednow camfor y smyllyng. Y fedha hy ow prevy manegow ha lienyow codna ha powsyow gordhuwher, ow stoffya an dhywvron gans paper owrlyn pò lodrow syjan rolys. Y fedha hy ow kerdhes in udn dhysqwedhes dhyrag an myrour lesca. Hy o hy mabm. Hy o myrgh Arlùth Sedgmire. Hy a godhas gans Tas in kerensa, Carne a Maythorpe, wàr wel an hel. Ev a wrug hy don dhe'n alter, ha'y herens ow molethy. Th'esens y ow pockya poll in mes a fenestry aga hastel, ow shakya dorn, ha hy dyserytys heb sols vëth. An molothow o hy thenkys yêyn. Hy o clâv, prysonys. Nefra ny ylly Myj hy vysytya. Molothow, th'esa lyfrêson anodhans dhe gemeres dre bystry. Yth esa Myj owth assaya pystry pùb dëdh oll, ow tesmygy rûnyow ha gorhanow dh'y honen.
Tro ha tro y feu otham dhedhy, ha'n otham ow tefia rag may whrella hy devar uthyk, lower onen. Martesen, kibya scorren pàn esa an scafcarr ow fysky in dadny, pò posa pell mes a fenester rag tava barren idhyow, pò crambla dres styll cres an skyber awartha, gawlak a-ugh an leur cauns men. Saw nans o teyr bledhen yth esa hy owth eneby chalynj cres – gwethys rag neb terstuth pàn falla oll hy asnodhow erel.
Y teuth dhedhy hunros.
I'n hunros-ma yth esa hy ow qwary gans taclednow hy mabm, gwyskys in côta paly du ha hot pluvys brâs, ow kerdhes in udn dhysqwedhes, pàn godhas euth warnedhy yn trobm.
Y fedha hy euth, kefrës dell vedha hy crowsecter, ow skydnya heb gwarnyans in mes a gosoleth ha sawder, ha'y danvon in scrîjans, in conar, tro ha'n gegyn, tro ha'n stevel kydnyow, py le pynag mayth esa golow ha tan ha pobel leun-devys. Saw mes a'n euth hunrosys-ma ny wrug hy fia dhe'n fo. Hy a wrug trailya dhe Dhuw, wàr bedn dêwlin, gwyskys in paly ha lâss ha pluvednow, ryb an ottoman mayth esa an pelours sensys orth goles gwely hy mabm, ha hy a wrug pesy hedre ve gordhuwher ow cressya ha'n chambour ow tewlhe, bys may hylly adrëv clos hy besias aspia daras rom omwysca hy thas dhe egery yn lent, yn lent, ha dyskevera – pandra?
Bythqweth ny wodhya. An scrij may whrug hy dyfuna dredho a dhrîvyas an godhvos dhe ves.
Saw hy o sur, alena rag, ha dybyta hy certuster, dell vedha res, udn jëdh, gwil prevy hy honen inketelma.
Hèm o an hens scappya. Hèm o an pëth esens y, Ynsy, ow temondya. Only indelma hy a ylly servya hy thas, restorya hy mabm, ha dry dhe Maythorpe arta an lowender a henwhedhel, pàn esa an hanafow pôlô arhans wàr an bord lestry ow qwynkya, ow terlentry, ha'n wer owth eva down warlergh dëdh hir a hel, owth eva yêhes hy mabm an venyn nowyth, an venyn vrav, an venyn a veawty, ow terevel aga gwedren, ow tôwlel, gwag, dhe vrêwy wàr an wainscot, pàn o an glesydnow trehys fin kepar ha paly in dadn dreys an benenes jentyl, ow kerdhes hell in skyjyow syjan, ha'n chambours leun a wolow tan, ha dowr pooth in oll an canys megys, ha seban teg y sawor wàr an bordys omwolhy.
Ogh, Myj a dhescas, dhyworth Coges, ha Hicks ha Castle, fatl'o maner Plâss Maythorpe in termyn y glory.
Ow trembla, ha cronk dh'y fols, ha'y lagasow bryght der own, der ervirans, hy a wrug egery an dhylasva, ha plynchya orth pùb gwigh a'n daras.
Ot an jerkyn paly a'y grog, an losten gis braggya mar lêsys avell côta lader fordh, ot an gùdhùk uhel, an ragvrehellow ha jabot a lâss. Hy a wrug mailya an losten in hy herhyn, botodna an jerkyn a-ugh hy raglen a goton; hy a wrug araya an lâss gyllys melen, an blethen, an pockettys. Hy a wrug kemeres mes a'y baper owrlyn an hot du brâs dres ehen ha'y settya a'n eyl denewen wàr hy hudydnow dygempen a fay. Yth esa hy blew lyw logas ow cregy a bùb tu dh'y fâss minak ha crev y vodh.
Gwil an dra o res porres. Eneby hy destnans o res porres. Dhe'n very eur-ma y whrug poyntya oll an pendroppyans, an pockyow elyn, an lavar goderrys, an whedhel berrhës bÿth pàn dheffa hy hag apperya. Oll an clerheans in temygow adro dhe'n terros ha'n fo ha'n tewlder, adro dhe'n vabm "druan", "drog hy thenkys" pò "anfusyk", trajedy Maythorpe, "trobel" an tas, a wrug lêdya bys i'n eur uthyk, anwoheladow-ma.
Hy fygùr a dremenas, in udn drebuchya, dres myrour an dhylasva. Hy a blynchyas, ow qweles hy semlant grotesk. Hy a godhas wàr bedn dêwlin ryb an ottoman, ha'y bejeth trailys dhe dharas an rom omwysca. Hy hot a rolyas dhe'n eyl tenewen, poos gans y vegh a bluvednow. Hy a wascas hy dêwla dhe'n lagasow, ha'n avallow settys stark.
"Agan Tas ny, eus in nev ..."
Hy a wrug dallath yn lent hag yn crev.
Dre hy besias yth esa hy ow meras orth an golow gordhuwher glas dres natur, an gwely, an myrour. Yth esa hy euth owth inia warnedhy dhe bêsya, ow terevel hy lev moy ha moy, erna labmas hy in leun-bonyans a-ugh an "gallos ha'n gordhyans, bys vycken ha bys venary, âmen," ha lavasos heb let, "A Dhuw, me a'th pës, gwra benega Tas ha Mabm ha yaghhe Mabm ha'y dry arta tre ..."
Hy lagasow o egerys whath, bytegyns ny wely hy tra vëth na felha, saw unsel an myrour ledrek. Hy lev a seny tydn ha varys, ha budhy pùb son aral. Ny wodhya na felha an pëth a levery, "ha'y dry arta tre, awos Crist, awos Crist, awos Crist."
Yth esa an daras owth egery. Kepar ha'n destnans yth esa ow lesca wor'tu ha hy. I'n myrour hy a welas an pëth na welas in hy hunrosow – an fygùr hir du, an bel danek a fâss.
"Awos Crist! Awos Crist! Awos Crist!" hy a wrug scrîja, wàr hy threys, ow qweskel dhyworty in scruth a gonar hy thas, o sevys, ow qweles y wreg, in 1918, muscok, in hy gwysk a lader dandy an fordh, ha hy orth y weskel dhyworty in tardh hystêrya, kefrës ha declarya hy bos torrak gans y flogh.
GERVA – GLOSSARY
Definitions have generally been confined to those relevant for the story. To keep the glossary to a manageable length the listing excludes the most common words. These are best looked up in Gerlyver Kescows (Ian Jackson).
On-line at https://www.skeulantavas.com/vocabulary/gerlyver-kescows-2nd-edition
If you need grammar, by far the most helpful book is Desky Kernowek (Nicholas Williams, Evertype 2012).
a'n eyl denewen phr sideways position
a'y grog phr hanging
afînys adj refined, smart
aflan adj dingy
alter m alteryow altar
âme·n interj amen
amêthek adj agricultural
an norvÿs ‖ m the earth, the world
an wre'ty jentyl f the lady of the house
ancow m death
anwoheladow adj inevitable
apperya v appear
attendya v tend, care for
aval lagas m avallow eyeball
avalednek f avalenegow orchard
awo·s Crist phr for Christ's sake
ba·cheler m ba·chelers bachelor
barren f barednow sprig
baron m barons baron
barryas m barryasow barrier
beawty m beauty
begh m load, burden
bejeth m face
benyn jentyl f benenes lady
benyn nowyth f benenes bride
berrhe· v curtail
bës brâs m besias thumb
bludh adj delicate
bodny m bonias clump
bohosogyon pl poor people
bord lestry m bordys sideboard
bord omwolhy m bordys wash-stand
bord omwysca m bordys dressing-table
bos m bojow bush
botodna v button
boujy m boujiow cowshed
braggya v swagger
brows col crumbled stuff
browsya v crumble
bryght adj bright, brilliant
bùnyon m bùnyons bunion
bys vycken ha bys venary phr for ever and ever
byskyt m byskyttys biscuit
cambryk m cambric
camfor m camphor
cana m singing
certuster m certainty
chalynj m chalynjys challenge
chif-gonesyas m chif-gonesysy foreman (industrial / agricultural)
clerheans m enlightenment
clojy cûr pryva m clojiow nursing-home
coges f cogesow cook (female)
consler m conslers councillor
conteth m contethow county
cressya (encressya) v increase
cria v call
crîbyon pl combings
cronk m cronkys thump
cropya v penetrate, probe
crothak adj grumpy
crowdror m crowdroryon tramp
crowsecter m temper (angry)
dandy bound adj gallant
das f deys stack
dasterevel v rebuild
deglena v shudder
deraylya v scold
descajores pryva f descajoresow governess
desk m deskys desk
dhe'n eyl denewen phr sideways motion
dhort prep = dhyworth
diown adj fearless
dowr wheg m dowrow perfume, scent
dr' conj before vowel in bos = dell
dres natur phr unearthly
droppya v drop, drip
dyflassys m disgust
dyfreth adj dull
dyfurf adj amorphous
dygempen adj untidy, tumbled
dyserry v propitiate
dyse·ryta v disinherit
dyslyw tewl phr dun
dyslywa v discolour, fade
dywel adj unseen
dyweskys du pair of shoes
dywvron du bodice (of dress)
elow col elowen elms
eneby v face, confront
entra v (dhe2) enter
ertach m heritage
fay f fayes fairy
fin f fînyow end, limit
fo m flight (fleeing)
fow f fowys lair
fusta v thrash
fysky v rush
garth m garthow yard
glasneth / glasny m green (of vegetation)
glasvelen adj/m tawny green
goderry v interrupt
golgh m wash
gordhyans m glory (in the Lord's Prayer)
gorlosten f gorlostenas earwig
govelus adj malleable
grote·sk adj grotesque
gùdhùk m collar
gwels gwaneth col wheat in blade
gwelv f gwelvow lip
gwerlas ‖ adj/m bluish green
gwevya v wave
gwigh m squeak, creak
hàm m ham
Hayl Leame m the Leame Estuary (fictionalized Humber)
heb worfen phr endless(ly)
hegas adj hateful
hel m = helgh
helyk col helygen willows
henavak [an dre] m henavogyon alderman
hendas m hendasow ancestor
herwyth bodh phr as you like
hirder m length
honenwiryon pl prigs
hothfy v swell
hudh m covert
hystêrya m hysteria
inketelma adv in this same way
iseldir m iseldiryow low-lying plain
jabot m jabot
jevan m fiend
kemeres sterycks phr fly into a passion
kewniek adj moss-covered
kerdhes hell phr saunter
kerdhes in udn dhysqwedhes phr parade
keswasca (kesqwasca) v compress
kig davas m mutton
knoukyans m knock(ing)
know Frynk col knofen walnuts
lader fordh m ladron highwayman
laun m launow flake
launya v flake
lavant m lavender
laylock m lilac
ledn oyl f lednow oilcloth
ledrek adj slanting
leun-bonyans m gallop
lethor m lethoryon milkman
lêty m lêtiow dairy
liv f lîvyow file
lyn Holland m holland (cloth)
manbluvak adj fluffy
megys adj muffled
melenwy·dn adj/m cream
melenyk adj yellowish, sallow
meryswë·dh col meryswedhen medlar trees
minak adj pointed (of face)
mis Efen adv/m = mis Metheven
molethy v curse
mollath f molothow curse
musur m musurow measure
myjyn m tiny bit
mynk m myncas mink
myrour m myrours mirror
nies adj = anies
omglôwes v feel (in oneself)
on col onen ashes (trees)
o·ttoman m o·ttomans ottoman
overdevys adj overgrown
ownek adj afraid
paper owrlyn ‖ m tissue paper
'pe unweyth phr + infinitive construction if only
'pe unweyth na2 phr if only ... not past reference
pastel vro f pastellow riding (in Yorkshire)
pendra f pendrevow village
pendroppyans m nodding
penty m pentiow cottage
plâss m plâssyow hall, mansion
plethen f braid
pluvys adj plumed
plynchya v start, flinch
pock elyn m pockyow nudge
poll m head
poll bogh m pollow dimple
pollen f polednow puddle
pôlô m polo
portreyans m portreyansow portrait
potor m potoryon potter
Pow Evrok m Yorkshire
Pow Lynn m Lincolnshire
praisya v praise
predn eskys m predyer shoe tree
prowt adj proud
radnyêth ‖ f ranyêthow dialect
raglen f raglednow overall
ragvrehel m ragvrehellow cuff
restorya v restore
resystens m resistance
rom omwysca m rômys dressing-room
rûn m rûnyow rune
rielder m splendour
sacryfîs m sacrifice
salusy v greet
scafcarr (scavgarr) ‖ m scafkerry dog-cart
screwya v screw
scrîja v screech, scream
scrîjans m screeching, screaming
scùrrya v scrub
sêsya v seize
seth m sethow jar
settys stark phr staring (of eyes)
sewya in cort phr sue
sîra wydn m sîrys gwydn grandfather
skeus'he (gorskeus'he) v overshadow
skyjyow pl = eskyjyow
socyalydhek adj socialist
sôda m soda
solas m solace, entertainment
sols m solsow shilling
sowl col sowlen stubble
spectaclys pl spectacles
sprus keres col sprusen cherry-stones
sqwier m sqwieryon squire
stevel kydnyow f stevelyow dining-room
stevel megy f stevelyow smoking-room
styll m styllyow rafter
sycamorwë·dh col sycamorwedhen sycamores
syger adj leisurely
syjan m silk
taclednow pl things
ta·ffeta m taffeta
tâl an chy phr the top of the house
tanek adj blazing
tarnsya v tarnish
tebmyk m temygow fragment
tenkys f fate
terlentry v glitter
terros m doom, disaster
teyr-yêthek adj trilingual
tirwedh ‖ m tirwedhow landscape
todnek adj billowing
tolgh m tolhow mound
tonecter m undulation
torgh m tergh coil
torrak adj pregnant
trobm adj sudden, abrupt
trusy v dawdle
tydn adj keen, painful
undoneth m monotony
wainscot m wainscot
whedhla v tell a tale
whyppya v whip
wrynch m wrynchys trick