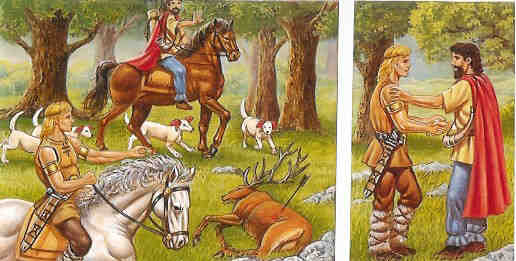 Here is the first episode of Pwyll, Prince of Dyfed (Pwyll Pendefig Dyfed) from the Welsh Mabinogion
Cornish by A.S.D. Smith 'Caradar' 1934
Edited by E.G.R. Hooper 'Talek' 1968
This text Ian Jackson 2020
Originally the translation was spelled in Unified Cornish (UC). This has been transcribed into Kernowek Standard (KS). Caradar's archaized high diction has been retained. It is well suited to reflect the style of the Welsh original. A few changes have been made where revived Cornish grammar / vocabulary has changed since Caradar's day. These are all numbered, and listed at the end.
Pwyll Pensevyk Dyved o arlùth wàr seyth keverang Dyved. Hag ev trigys1 in Arberth, y bennlÿs, whans o dhodho mos helghya.
An rann a'y dir a vynna helghya o Glyn Cuch, ha'n nos-na ev êth wàr y fordh2 a Arberth ha dos bys in3 Llwyn Diarwyd. Hag ena y feu an nos-na.
Ha ternos, in yowynkneth an jëdh, sevel a wrug ha dos dhe Lyn Cuch, rag dyllo y geun i'n coos. Y whethas an corn ha dallath an helva, ha holya y helgeun, ha kelly y gescowetha.
Hag ev ow colsowes orth lev y vagas hel, y clêwas lev neb bagas aral hag y nyns êns unnlev, hag yth esens ow tos erbynn y vagas ev. Hag ev a welas lanergh i'n coos, o leven y donn. Ha pàn dheuth y helgeun dhe vin an lanergh, ev a welas carow arâg an bagas hel aral. Hag in ogas dhe gres an lanergh, ot an4 bagas esa wàr y lergh ow talhenna ino ha'y dêwlel dhe'n dor.
Ena y firas orth lyw an keun, heb predery a viras orth an carow. Hag a'n helgeun oll re welsa i'n bÿs, bythqweth ny welsa keun o unnlyw gansa y. Ha'ga lyw o gwynn golow splann ha'ga dywscovarn o cogh. Ha kepar dell derlentry gwynder an keun indella y terlentry coghter aga dywscovarn.
Gans henna ev a gerdhas dhe'n keun ha châcya dhe ves an re-na a lathsa an carow, ha boosa y geun y honen wàr an carow. Hag ev ow settya y geun warnodho, y whelas marhak ow tos warlergh an keun wàr geyn margh brâs loos brith, helgorn adro dh'y vriansen, hag ev gwyskys in helwysk a wlân5 gell-losyk dâ. Ha gans henna an marhak a dheuth bys dhodho ha leverel indelma: "A Arlùth, gòn pyw osta, ha'th wolcùmma6 ny wrav.
"Martesen," yn medh Pwyll, "ty yw a kemmys bry ma na dhegoth dhys gul henna."
"Yn tefry," y whorthebys, "nyns yw ow bry a'm let."
"Pÿth yw, ytho, a Arlùth?" Pwyll a wovynnas.
"Re'm fay," yn medh ev, "dha ancothfos dha honen yw, ha'th fowt cortesy."
"Py fowt cortesy a welyth inof vy?"
"Ny welsys brâssa fowt cortesy bythqweth7 in neb den," yn medh ev, "ages châcya dhe ves an bagas a lathsa an carow, ha boosa dha geun dha honen warnodho. Hèm o dyfyk cortesy; ha kyn na allaf bos dialys warnas," yn medh ev, "re'm ena, my a wra dhis moy bysmêr ages pris cans carow."
"A Arlùth," yn medh Pwyll, "mar qwrug camm, my a vynn prena dha gerensa."
"Fatell vynnowgh why hy frena?"
"Herwyth dha reouta. Mès ny wòn pyw osta."
"Mytern cùrunys my yw i'n wlas mayth ov devedhys anedhy."
"Arlùth," yn medh Pwyll, "Duw re'th sowenno. Ha pàn wlas osta devedhys anedhy?"
"A Anown," y whorthebys, "Arawn, Mytern Anown ov."
"Arlùth," yn medh Pwyll, "fatell gafaf dha gerensa jy?"
"Ot omma'n fordh y'n kefyth," yn medh ev. "Yma unn den ha'y dir ow sevel adâl ow thir vy, neb usy bynytha ow ton bresel er ow fynn, hag ev yw Havgan, dhyworth Anown; ha dre ow delyfrya vy a'n pla-ma, ha henna yllyth gul heb caletter, ena y kefyth ow herensa."
"My a wra gul henna gans lowena," yn medh Pwyll, "ha ty, lavar dhymm fatell yllyf y wul."
"My a vynn leverel dhis," yn medh ev, "ot omma'n fordh may hyllyth: my a vynn gwruthyl ambos crev genes jy. Indelma y whrav gul; y rov dhyso ow le vy in Anown hag y rov dhys gwreg an tecka re welsys a'y ûs may cùsco hy genes pùb nos, hag y whorraf ow roth ha semlant warnas sy ma na vo na maw an stevel na sodhak na den vÿth8 aral re beu orth ow holya pùpprÿs a wothfo nag osta my ow honen. Henna a vÿdh avorow hag alena rag bledhen, pàn wren ny dierbyn i'n tyller-ma arta."
"Eâ," yn medh Pwyll, "mès kyn fiv ena bys in dyweth an vledhen pàn dôkyn a'm bÿdh may hyllyf aswonvos an den a gêwsyth anodho?"
"Unn vledhen a'n nos ma," yn medh ev, "yw an termyn yw settys intredho ev ha my may whrussen omvetya ryb an rës. Ha ty a vÿdh ena i'm hevelep vy. Unn bomm a wredh ry dhodho ha ny'n jevyth bewa na fella. Hag ev, mar a'th pÿs a ry dhodho bomm aral, na'n ro màn, pygemmys pynag a'th pesso ev, rag my pàn wrug indella, ev a dheuth hag omlath9 genef ternos mar dhâ fest avell kyns."
"Eâ," yn medh Pwyll, "mès pandra wrav i'n mater a'm10 gwlascor ow honen?" Yn medh Arawn, "My a wra gul na wothfyth i'th wlas, na den na benyn, nag ov ty; ha my a wra mos i'th le tejy."
"Lowenek ytho," yn medh Pwyll, "yth av in rag."
"Dyblans, heb let, y fÿdh dha fordh,11 ha ny vÿdh tra a'th let erna dhyffy aberth i'm gwlascor, ha my ow honen a vynn dha hùmbrank."
Y'n hùmbroncas ev erna dheuth dhe wel an lÿs ha'y anedhow. "Ot omma'n lÿs ha'n wlas," yn medh ev, "ha ty a's pew. Kê dhe'n lÿs. Nyns eus ena nagonen a'th aswon; ha pàn welly an wrÿth usy inhy, ty a wra godhvos ûsadow an lÿs."
Mos dhe'n lÿs a wrug e. Hag i'n lÿs ev a welas lies hunjy, hel, ha stevel, hag anedhow in mesk an tecka nefra re welsa den. Hag yth êth dhe'n hel rag dysky y dhyllas. Ha tus yonk ha pajys a dheuth ha'y dhysky ev. Ha kettep onen pàn êth aberveth a'n wolcùmmas.12 Dew varhak a dheuth ha dysky y helwysk dhywarnodho13 ha gorra warnodho owrwysk a baly.
An hel a veu dhyghtys hag ot y whelas an teylu ha'n coscar dos aberth i'n hel ha'n coscar o an tecka ha'n gwella dyghtys den vÿth re welsa, ha'n Vyternes a dheuth gansa, ha hy o an tecka wreg a veu gwelys bysqweth.14 Adro dhedhy yth esa owrwysk a baly splann. Hag ena y êth dh'omwolhy ha dos dhe'n mosow hag esedha a wrussons indelma: an Vyternes a'n eyl tu dhodho ev, ha yarl, del gresy, a'n tu aral. Ha dallath kêwsel a wrug gans an Vyternes. Hag a oll an gwrageth re welsa ev, hy o an sempla15 ha'n moyha jentyl hy gnas ha'y hows.
Ha dâ o gansa an boos ha'n dewas, an cana ha'n gowethas. Hag a'n lÿsow oll re welsa ev wàr an norvÿs, hèm o an lÿs leuna a voos ha dewas, a lestry owr ha tegynnow rial.
An termyn a dheuth may cotho dhedha mos cùsca. Ha dhe gùsca yth ethons, ev ha'n Vyternes. Kettel dheuthons dhe'n gwely, trailya y fâss dhe ves a wrug e, ha'y geyn dhedhy hy. Hag a'n eur-ma bys i'n jëdh nessa ny leverys dhedhy ger vÿth. Ternos whecter hag omgows caradow a veu intredha. Pana gerensa16 pynag a veu intredha i'n jëdh, ny veu unn nos bys in penn an vledhen o ken ès dell veu an kensa nos. Ha'n vledhen-na a veu ganso spênys gans helghya hag ilow ha lowender ha kerensa hag omgêwsel gans cowetha, erna dheuth an nos a veu settys rag an omlath. Ha pàn dheuth an nos-na, nyns o den vÿth, kyn feva trigys in penn pella an wlas, na'n jeva cov a'n dierbyn.
Pwyll a dheuth dhe'n tyller, ha ganso uheloryon an wlascor; ha kettel dheuth ev dhe'n rës, unn marhak a sevys in bàn ha leverel indelma: "Â, gwelhevyn, goslowowgh yn tâ. Inter an dhew vytern yma'n omlath-ma, ha henna inter dew gorf aga honen. Yma pùbonen anedha ow sensy qwarel dhe dir ha gwlascor y gela, ha saw vedhowgh in kettep penn mès gasa an omlath inter aga dew."
Ha gans henna an dhew vytern a nessas, an eyl erbynn y gela in cres an rës.
Ha gans an kensa omsettyans an den o in le Arawn a weskys Havgan in cres begel y gosten may feu felsys inter dyw rann ha terrys y arvow, ha Havgan y honen a veu degys dhe'n leur, hës y vregh ha'y wuw, dres dyber y vargh, hag ev a gafas bomm mernans.
"A Arlùth," yn medh Havgan, "pandra dal dhys ow mernans vy? Nyns esen ow covyn tra vÿth orthys ha ny wòn prag y fynnyth ow ladha. Mès abarth Duw, an dra abàn veu genes dalethys, bedhens gorfennys."
"A Arlùth," yn medh Pwyll, "edrek a'm bÿdh martesen a'n pÿth a wruga dhis. Neb a vynno, gwrens ev dha ladha, my ny'n gwrav."
"Ow thus lel," yn medh Havgan, "degowgh vy alemma. In gwir17 yma ow mernans cowlwrës. Nyns eus fordh may hyllyf agas rêwlya na fella."
"A dus dhâ," yn medh an den o in le Arawn, "omgùssulyowgh ha cafos pyw a dalvia bos tus dhymmo."
"Arlùth," yn medh an dus, "kettep onen a dal bos, rag nyns eus mytern dres oll Anown saw unsel ty."
"Eâ," yn medh ev, "neb a dheffo yn uvel, ewn yw y dhegemeres; ha neb na dheffo yn whostyth, bedhens constrînys dre nerth cledhydhyow."
Hag ena kemeres omach an dus a wrug, ha dallath tryhy an wlas; ha ternos erbynn hanter-dëdh yth esa an dhyw wlascor in y allos ev.
Ha henna pàn veu gwrës, ev a gerdhas wor'tu ha'n tyller ordenys ha dos dhe Lyn Cuch. Hag ev pàn dheuth dhy, Arawn, Mytern Anown a dheuth er y bynn, ha lowen ow an dhew dhe omweles arta.
"Duw re dallo dhis dhe wir," yn medh Arawn, "rag dha gerensa dhymm. My re glêwas anodho, hag yn tefry, pàn dhyffy dha honen dhe'th wlascor," yn medh e, "ty a wra gweles an pÿth oll re wrug avy ragos."
"Pypynag oll re wrussys ragof, Duw re dallo dhys."
Ena Arawn a ros dhe Pwyll18 Pensevyk Dyved y ewn furv ha semlant, hag ev kekefrÿs a gemeras y furv y honen.
Hag Arawn êth wàr y fordh19 tro ha'y lÿs in Anown; ha lowen o ganso gweles y goscar ha'y deylu, abàn na wrug aga gweles nans o bledhen; mès y ny wodhyens y vosa gyllys a'ga mesk, ha gansa nyns o marth moy ès kyns a'y weles ev ow tos. Ha'n jëdh-na a veu spênys gans lowender ha cowethas; hag ev a wrug esedha ha kêwsel orth y wreg ha'y uheloryon. Ha pàn veu gwell gansa cùsk ages gool, dhe gùsca yth ethons. Ev a hedhas y wely ha'y wreg êth dhodho. Kensa ev a wrug omgêwsel gans y wreg hag omry dhe dhallyans ha kerensa gensy.
Mès henna hy ny'n profsa nans o bledhen. Hag indella hy a brederys: "Abarth Duw, py ken brÿs usy dhodho haneth ages dell veu dhodho oll an vledhen?" Ha predery pell an dra a wrug hy. Ha wosa hy dhe bredery an dra, ev a dhyfunas ha kêwsel orty, ha dywweyth, ha tergweyth, ha gorthyp vÿth oll ny'n jeva dyworty. Yn medh ev, "Prag na vynta kêwsel orthyf?"
"My a lever dhis," yn medh hy, "abàn na wrug avy leverel kemmys i'n tyller-ma nans yw bledhen."
"Prag?" yn medh ev, "mès ny re beu prest ow kêwsel."
"Mewl re'm bo," yn medh hy, "mars o dallyans pò omgows intredhon ny oll an vledhen bys newher, a'n pryjweyth ny dhe vos mailys i'n hudhes,20 ha ty heb trailya dha fâss dhymm unweyth."
Hag ena ev a brederys: "Duw Arlùth, an coweth a'm beu – ass yw crev ha lel y gerensa!" hag ena y leverys dh'y wreg, "Arlodhes," yn medh ev, "bÿth na woffyth blam dhymm. Dew bedhens test, ny wrug vy na cùsca na growedha genes rag bledhen kyns newher."
Hag ena derivas oll an darfos dhedhy a wrug ev. "Re Dhuw a'm ros," yn medh hy, "ty re worras in gwir21 dalhen fast i'n coweth-na, abàn wrug ev sevel orth antel an corf ha bos lel dhys."
"Arlodhes," yn medh ev, "hèn o an preder a'm beu pàn wrug avy tewel genes."
"A henna nyns o marth," yn medh hy.
Pwyll Pensevyk Dyved kefrÿs a dheuth dh'y dir ha gwlascor ha dallath govyn orth bryntynyon an wlas fatell via y rêwl an vledhen-na, ha'y hevelly orth an pÿth re bia kyns.
"Arlùth," yn medhans y, "dha gortesy ny veu bythqweth mar veur; ny veusta nefra mar hegar; ny veusta mar barys dhe ranna dha bÿth ha'th vreus22 ny veu nefra gwell ages dell veu i'n vledhen-ma."
"Abarth Duw," yn medh ev, "rag oll an dader a'gas beu why a dal grassa dhe'n den re beu genowgh trigys; rag ot indella re beu an dra."
Hag ena Pwyll a dherivys pùptra orta. "In gwir, Arlùth," yn medhans y, "ro grâss dhe Dhuw bos genes cowethas a'n par-na ha na wra sconya dhyn ny an rêwl re'gan beu an vledhen-ma."
"Na wrav y sconya, abarth Duw," yn medh Pwyll.
Hag alena rag, an dhew vytern a wrug dhe vos crev an gerensa o intredha ha pùbonen an dhew a dhanvonas mergh, ha milgeun, ha falhunas ha pùb tegyn oll a alla bos plegadow dh'y gela. Ha drefen ev dhe driga an vledhen-na in Anown ha rêwlya ena mar dhâ, hag unnya an dhyw wlascor in unn jëdh dre y golonecter ha gallos, y collas an hanow Pwyll Pensevyk Dyved hag ev o gelwys Pwyll Penn Anown alena rag.
Substitutions reflecting changes in the grammar / vocabulary of revived Cornish since Caradar's day:
1 ow tryga > trigys
2 hens > fordh
3 bys dhe > bys in
4 otena'n > ot an
5 lan > wlân
6 tynerghy > wolcùmma
7 vythqweth > bythqweth
8 denbyth > den vëth
9 omladhas > dheuth hag omlath
10 yn kever ow > i'n mater a'm
11 hens > fordh
12 dynerghys > wolcùmmas
13 dywarnodho > dhywarnodho
14 vysqweth > bysqweth
15 sempella > sempla
16 kerensa > gerensa
17 purgwyr > in gwir
18 Bwyll > Pwyll
19 hens > fordh
20 hodhys > hudhes
21 purwyr > in gwir
22 breus > vreus