STORIES AND TALES OF OLD CORNWALL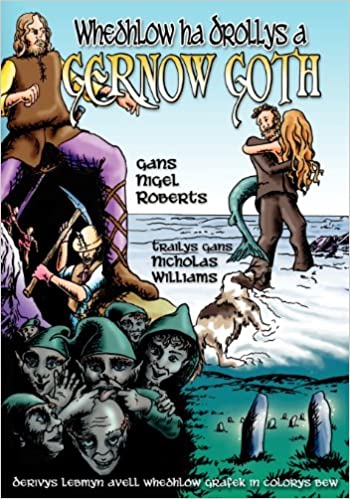 There is a glossary for reading this book with Gerlyver Kescows. Go to the Vocabulary tab at www.skeulantavas.com.
Whedhlow ha drollys a Gernow Goth yw viaj aberth in mystery henwhedhlow agan pow ny. Obma why a gav romans ha pystry; anethow ha traitury; sens ha pehadoryon; gorwer ha tebelwesyon. Yma kewry meur aga mêstry ow qwandra i'n menydhyow; carrygy kevrînek ow chaunjya dhe dus vew, ha tus cales aga fedn ow trailya de Sul dhe ven yêyn; yma drog-spyryjyon ow lêdya tus wàr stray; knoukoryon darosvanus ow trobla an balow; yma vertu a sawment in fentydnyow sans; ha morvoronyon, meur aga thennvos, ow qwil dhe dus dywith aga sewya aberth in morow Keltek. Nigel Roberts re wrug desedha an hengof rych-ma a whedhlow hag a lien gweryn rag agan dedhyow ny, ha'y dhasterivas sempel in form grafek spladn a wra plêsya pynag oll a garra delînyansow bryntyn ha whedhlow dâ. Yma kevrînow ha mysterys Kernow worth agas gortos ...
Published by Evertype 2011
Price on Amazon UK as at 10 August 2020
£19.92 Paperback New